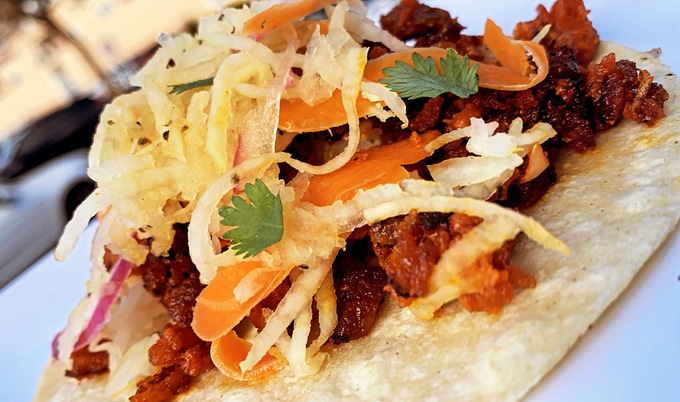 Fruity papaya-carrot-ginger slaw complements the tangy, savory fried tofu and mushrooms in these Filipinx-inspired tacos.
July 3, 2021
Known for its combination of tangy and fatty flavors, sisig is a common sizzling meat dish in the Philippines. Chef Reina Montenegro, of the San Francisco Bay Area's all-vegan Filipinx eatery Chef Reina, swaps in deep-fried tofu and sautéed mushrooms as the meaty subs in these tantalizing tacos.
What you need:
For the sisig:
4 ounces of firm tofu, pressed drained, and sliced into ½-inch thick slices
Neutral oil, for frying
2 tablespoons olive oil, divided
½ cup shiitake mushrooms
1 clove garlic, diced
½ cup diced onion
½ teaspoon grated ginger
½ cup diced green bell pepper
For the marinade:
3 tablespoons soy sauce
1 teaspoon white vinegar
Juice of ½ lemon
¼ teaspoon black pepper
For the papaya and carrot salad:
2 cups grated fresh green papaya
1 tablespoon salt
1 carrot, peeled and shredded
1 inch piece fresh ginger root, grated
½ cup white vinegar
1 cup water
½ cup sugar
8 corn tortillas, for serving
1 lemon, quartered for serving
What you do:
Into a deep saucepan over medium heat, add 2 inches of neutral oil and warm. Gently add tofu in batches and deep fry until crispy. Once slightly cooled, dice into ¼-inch pieces.
In a grill pan over medium heat, warm 1 tablespoon of olive oil. Add mushrooms and grill until charred, about 6 minutes. Once slightly cooled, chop into small pieces. Add tofu, mushrooms, garlic, onion, ginger, and bell pepper into a large bowl.
For the marinade, into a small bowl add all ingredients and mix well. Pour over tofu mixture and let marinate for 10 minutes.
In a pan over medium heat, warm remaining olive oil and add tofu mixture. Cook until vegetables are soft and tofu and mushrooms are lightly browned, about 10 minutes.
For the papaya and carrot salad, into a large bowl, add all ingredients, toss to coat, and place in refrigerator to marinate for 10 minutes.
In a pan over medium heat, warm tortillas on each side.
To serve, into each tortilla, scoop ¼ cup of tofu mixture and top with salad. Squeeze fresh lemon on top and eat warm.
Love vegan food and cooking as much as we do?
Get the BEST, editor-tested recipes inside every issue of VegNews Magazine. Find out why VegNews is the world's #1 plant-based magazine by subscribing today!