As the end of summer nears, bonfire pits have become a rare commodity and coming out for summertime s'mores isn't an easy feat. Allow yourself a good sigh, but then brighten up, because you can put your s'mores ingredients to good use at home. For the days that keep you from enjoying a firepit-torched s'more outdoors, look to one of these eight vegan recipes for an equally satisfying indoor treat.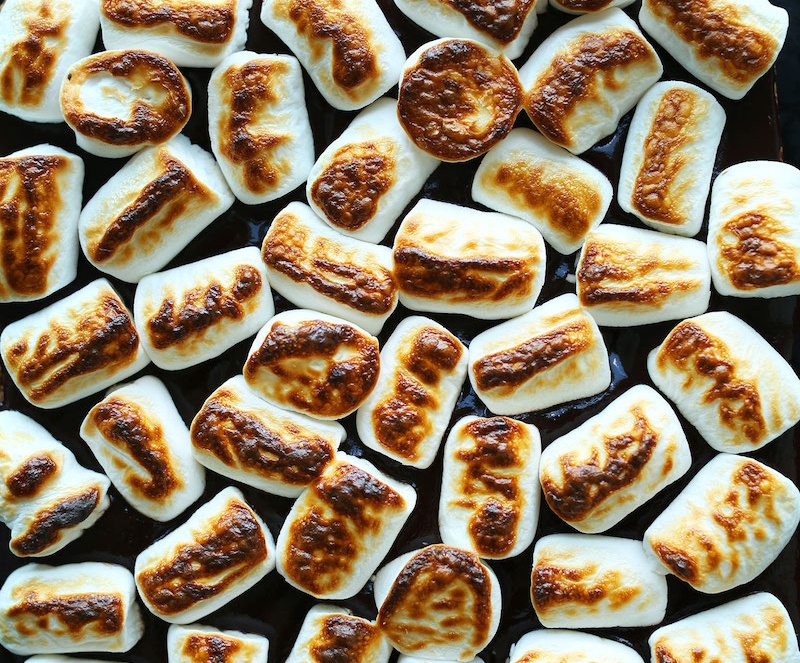 Minimalist Baker
1. S'mores Bars by Minimalist Baker
All that's missing from these gluten-free bars is the ash from the campfire—but we can easily go without that sooty seasoning. Dripping with vegan ganache, they're definitely for Team Chocolate. Drizzle on some peanut butter after torching the marshmallows for a dessert that rivals its muse.
Get the recipe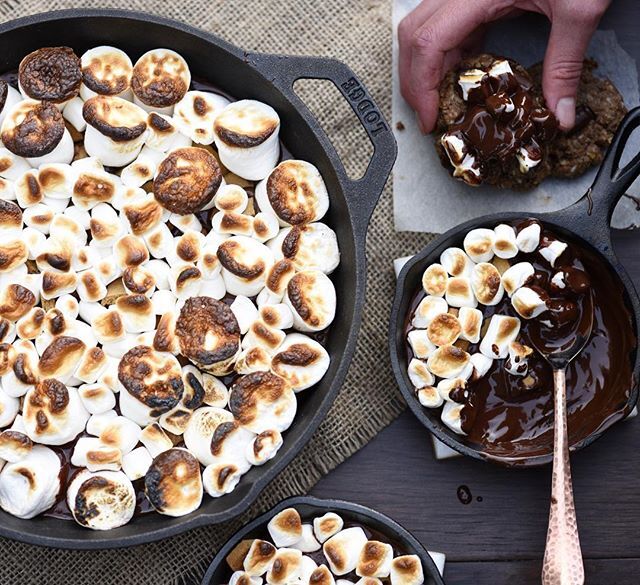 Crowded Kitchen
2. S'mores Dip by Crowded Kitchen
Oven-baked marshmallows layered on a bed of creamy, melted chocolate and dotted with graham cracker crumbs. What more can you ask for in this perfect, summertime dip? For double the fun, grab your favorite vegan cookies and dunk away!
Get the recipe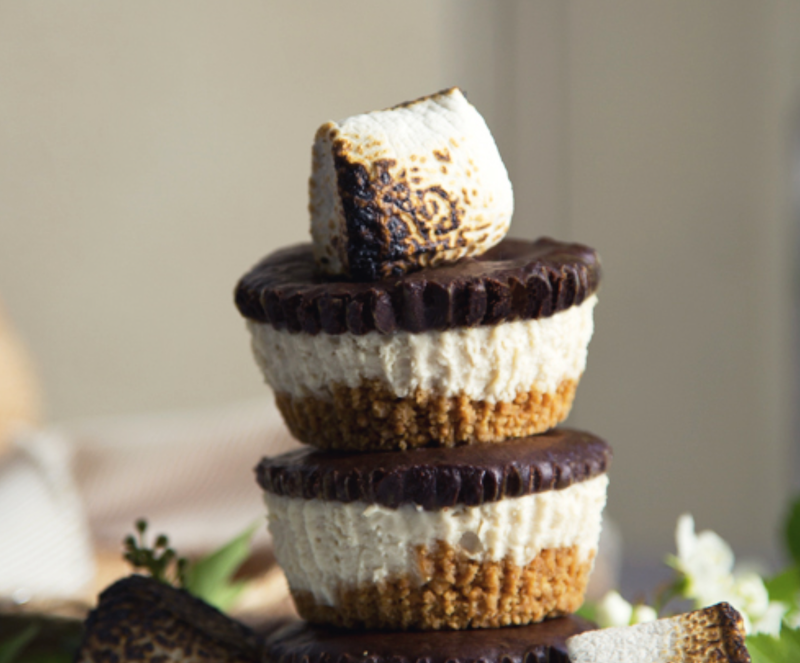 Pickles & Honey
3. No-Bake S'mores Cheesecakes by Pickles & Honey
When you can't even bare the thought of turning on your oven, these individualized no-bake treats are the perfect thing. They do require a bit of patience—two hours for freezing, plus a bit of fridge time—so plan ahead. If delayed gratification isn't your thing, enjoy a slightly less firm cheesecake and freeze the rest for later.
Get the recipe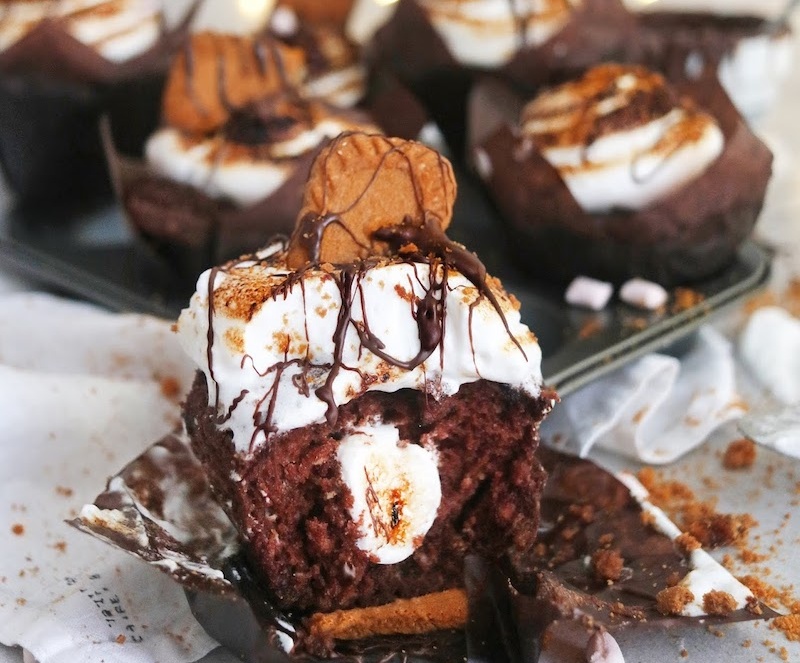 Little Blog of Vegan
4. S'mores Cupcakes by Little Blog of Vegan
For the marshmallow-lover, these chocolaty cupcakes include marshmallow elements in the topping and the filling. These multicomponent cakes feature a crunchy graham cracker crust, tender chocolate cake, marshmallow meringue filling, torched meringue frosting, and biscoff cookie toppers. It may seem like a lot of work, but the layers come together quickly, and you'll add these bakery basics to your arsenal of go-to recipes.
Get the recipe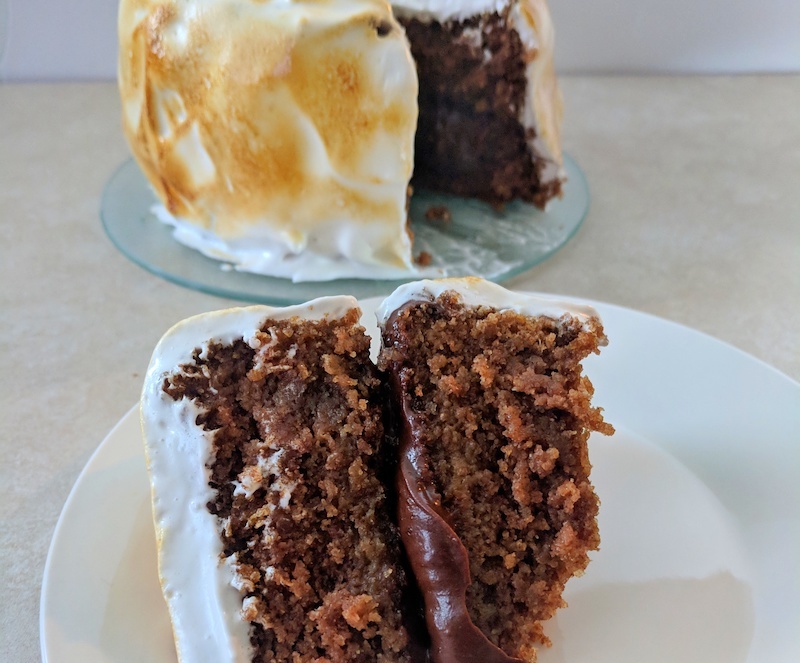 Vegan and Proud
5. S'mores Layer Cake by Vegan and Proud
This might be your new signature cake for birthdays, potlucks, and every other special occasion. You'll need to break out the blowtorch to scorch the vegan meringue frosting, but the effect is worth the investment. You can always use it again to make vegan crème brûlée or Baked Alaska.
Get the recipe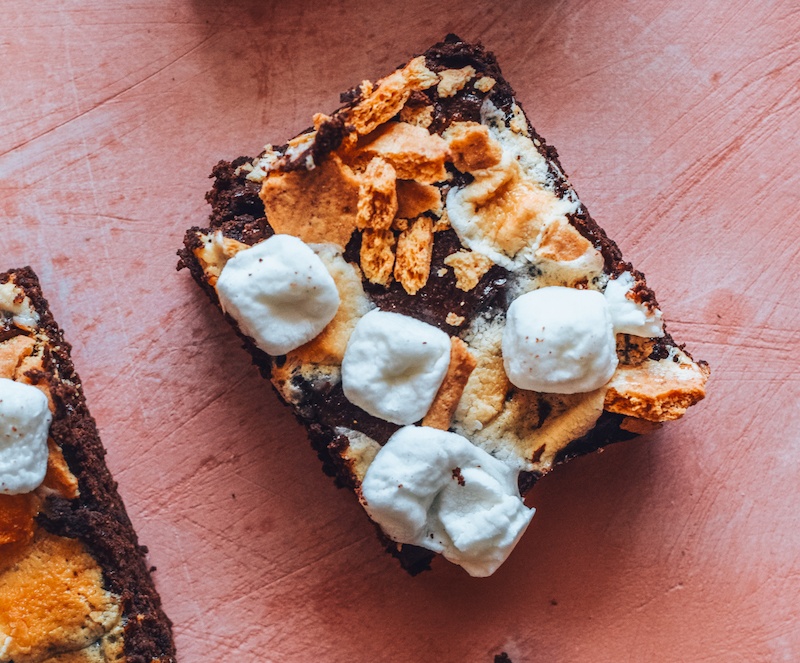 Food by Maria
6. S'mores Brownies by Food by Maria
Recipe developer and cookbook author Maria Koutsogiannis calls these Bomb as F**k Vegan Brownies, and it's not a hyperbole. We'll happily take a dense, fudgy brownie over plain graham crackers for our s'mores base any day.
Get the recipe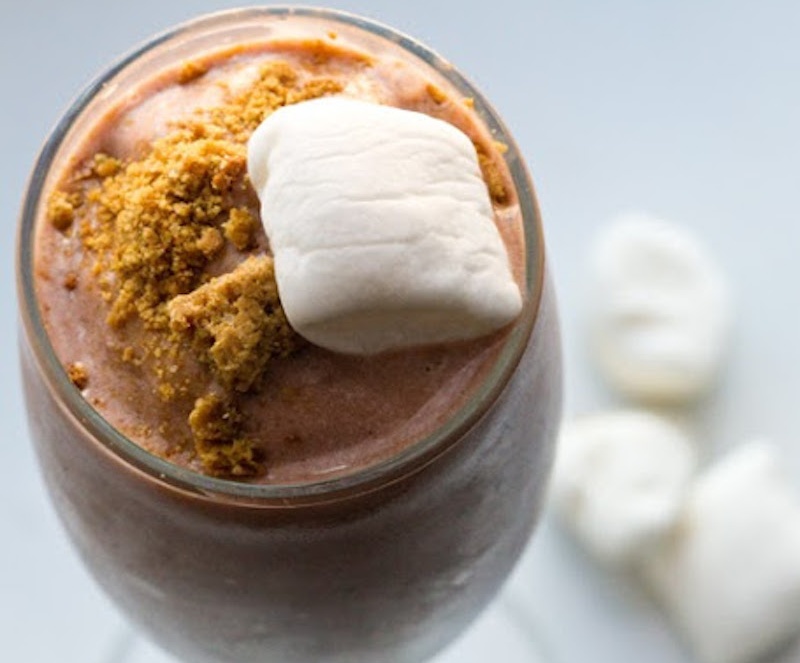 Healthy Happy Life
7. Chocolate S'mores Shake by Healthy Happy Life
Besides the vegan ice cream, this thick shake gets it creaminess from a frozen banana which means you get a full serving of fruit with your dessert—not that vegans have to worry about fulfilling their fruit quota. Stir in some large pieces of graham crackers, top with a stovetop-toasted marshmallow, and enjoy with a spoon!
Get the recipe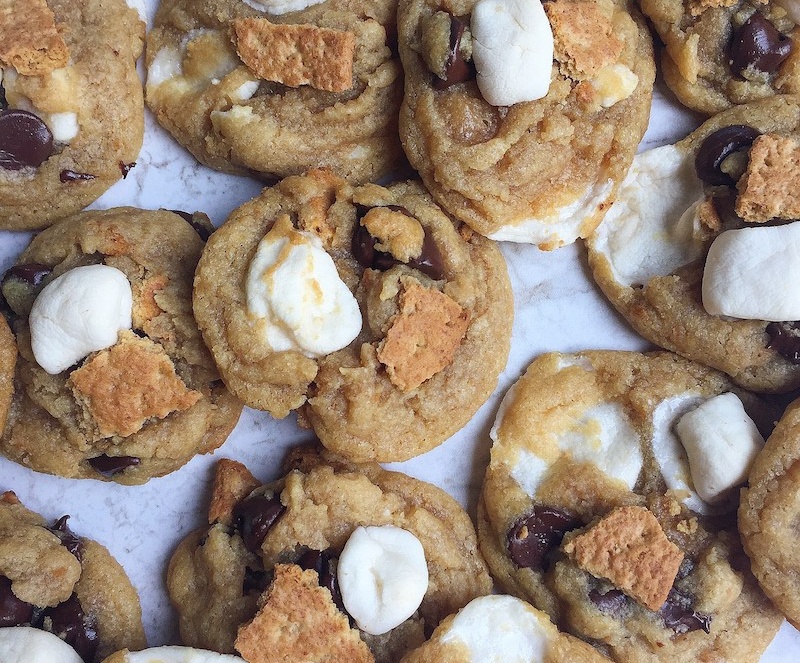 Six Vegan Sisters
8. Peanut Butter S'mores Cookies by Six Vegan Sisters
There is a time and place for a basic chocolate cookie, but this is not it. These beauties stand out amongst ordinary cookies with their bold chunks of chocolate, graham crackers, marshmallows, and gobs of peanut butter. If you truly believe there is no such thing as too many s'mores, stack a toasted marshmallow and large piece of dark chocolate between two warm cookies to create a s'mores cookie sandwich. S'mores on s'mores on s'mores!
Get the recipe
Tanya Flink is a Digital Editor at VegNews as well as a writer and fitness enthusiast living in Orange County, CA.
JUST LAUNCHED! Get our 10 Easy Vegan Summer Meals recipe book as a FREE instant download.
JUST LAUNCHED! Get our 10 Easy Vegan Summer Meals recipe book as a FREE instant download.