San Diego-based vegan brand Maya's Cookies recently debuted its newest cookie collection to celebrate Black History Month. Inspired by the work of Black icons, brand owner Maya Madsen crafted each specialty cookie to celebrate the impact of Black leaders. The Black-owned vegan brand also took extra care to incorporate ingredients from other Black-owned businesses.
Maya's Cookies
The Superhero is inspired by late actor Chadwick Boseman and his role in the celebrated Marvel film Black Panther. The double chocolate cookie features dark chocolate chunks made by Kanda Chocolates, a Black woman-owned company that sources its chocolate from Ghana, and is topped with a sprinkle of purple and silver edible glitter.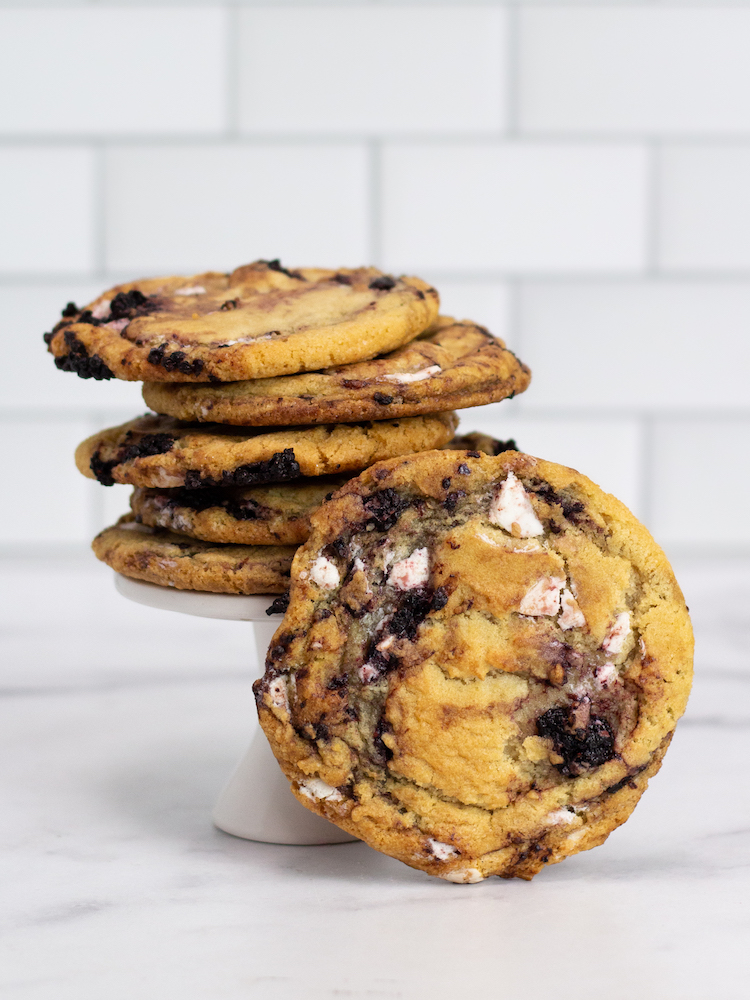 Maya's Cookies
The First Lady—dedicated to Michelle Obama, her mother Marian Robinson, and "generations of Black girl magic"—was crafted as a celebration of trailblazing Black women everywhere and those that raise them. Made using Madsen's classic sugar cookie as its base, The First Lady features white chocolate, a hint of lemon, and a jammy marionberry compote made using Cabernet Sauvignon from a Black-owned vegan winery.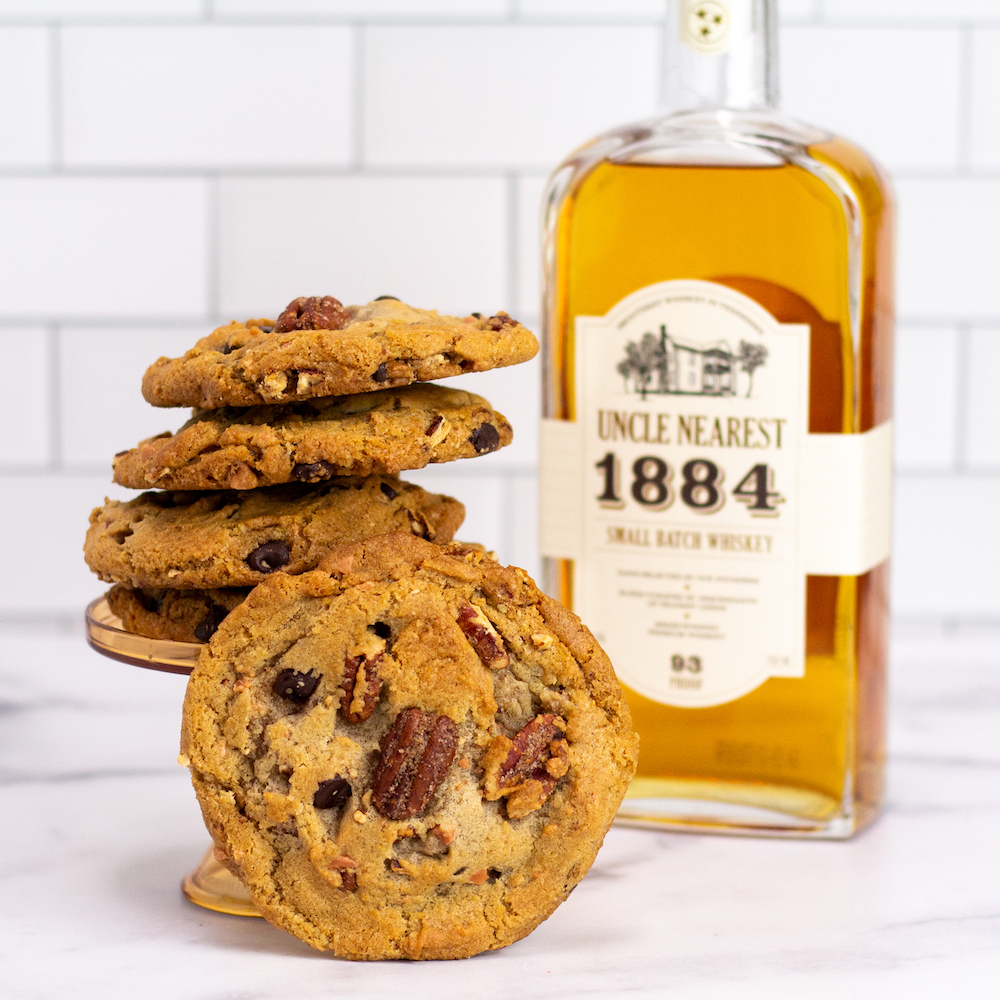 Maya's Cookies
The final cookie in the collection is The Uncle Nearest, which honors the world's first Black master distiller Nearest Green. This creation is dotted with whiskey candied pecans, chocolate chips, caramel chips, and includes a splash of Uncle Nearest Premium Whiskey.
"This year's Black History collection is a love letter to a few icons that have made a major impact on both my family and I throughout the years," Madsen said in a statement. "It is important to me to not only honor Black changemakers with these cookies but to use specialty ingredients from Black-owned businesses, as well."
The collection is available for purchase online with nationwide shipping, and individual flavors can be purchased at the brand's San Diego storefront.
Vegan cookies: a Black History Month tradition
Madsen's 2022 Black History Month cookie collection isn't the first time the vegan brand has launched specialty cookies to celebrate and amplify Black icons. Last year, Madsen's Black History Month collection featured cookies inspired by National Youth Poet Laureate Amanda Gorman who delivered the original poem "The Hill We Climb" during the 2021 presidential inauguration; legendary baseball player and hall-of-famer Hank Aaron who passed away last January at the age of 86; and legendary performer, Kennedy Center honoree, and subject of the 2020 film Dance Dreams: Hot Chocolate Nutcracker, Debbie Allen.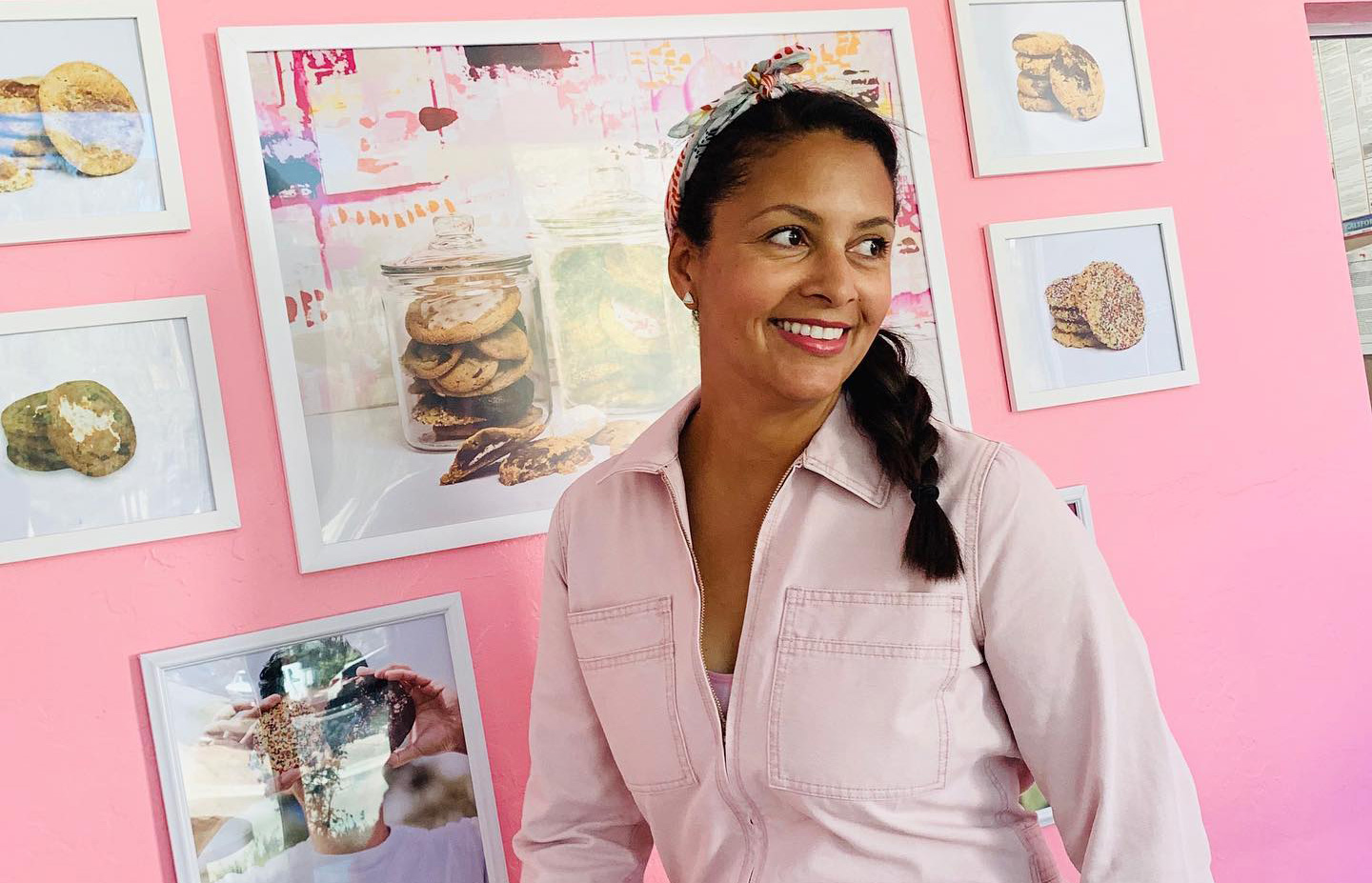 Maya's Cookies
Madsen's Black History cookie collections come after the business owner overcame a difficult period. At the onset of the ongoing COVID-19 pandemic, Maya's Cookies was hit especially hard and was forced to let go about half of its team. Following the resurgence of the Black Lives Matter movement in the summer of 2020, Maya's Cookies witnessed a 10,000-percent spike in sales.
Since then, the company has increased its staff, doubled the size of its kitchen, and secured a warehouse, shipping facility, and a brick-and-mortar storefront open to the public. This drastic surge has also helped Madsen continue mentoring other up-and-coming entrepreneurs and continue supporting other small businesses when sourcing ingredients and supplies.
For more about Maya's Cookies, read:
Vegan Brand Maya's Cookies Launches Vegan Cookie Subscription
Vegan Cookie Brand Comes Back from Brink of Closure with New Storefront
Maya's Cookies and By Chloe Create Cookies to Support Women Entrepreneurs