Hugh Jackman's Laughing Man Coffee has opened a fully vegan café in New York City called Laughing V. Located on Duane Street in the downtown Tribeca neighborhood, the café offers an array of house-made vegan sandwiches, sweets, pantry items, and more.
Laughing V is the product of successful vegan outreach by Chef Lauren Evans, a vegan and lifelong Tribeca resident. For a long time, Evans has been making an effort to ask local Tribeca restaurants to add vegan options. She is also a frequent customer at Laughing Man Coffee, a coffee brand which was founded by actor Hugh Jackman together with David and Barry Steingard in 2011. When she lobbied the Steingards for more vegan options, Evans tells VegNews they were very receptive and asked her to send them a few vegan suggestions.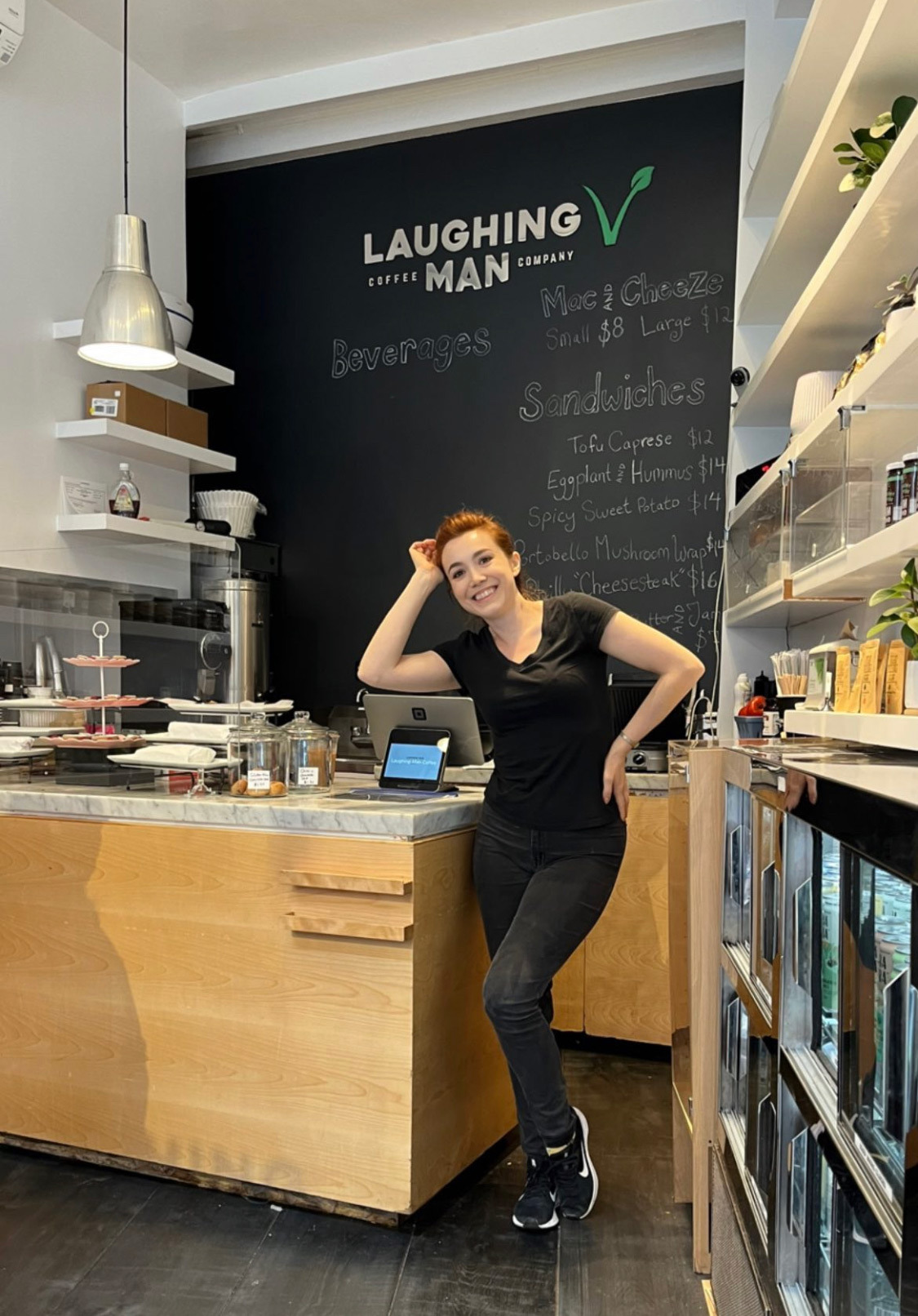 Laughing V/Instagram
Evans did far more than that: she developed a restaurant-ready, upscale menu of vegan appetizers, entreés, desserts, and more that thoroughly impressed the founders of Laughing Man, and thus Laughing V was born. That intricate menu proved a bit too ambitious for the small space available for Laughing V—which now operates right next door to the coffee shop—so Evans curated a more practical menu of vegan sandwiches and baked goods.
The vegan menu at Laughing V
Armed with little more than a panini press, Evans is now delighting customers with her Tofu Caprese Sandwiches, Philly Cheesesteaks, Spicy Sweet Potato Sandwiches and (her favorite) Portobello Mushroom Wraps with Pistachio Pesto. The chef also bakes her own vegan palmiers, Linzer cookies and whole wheat focaccia.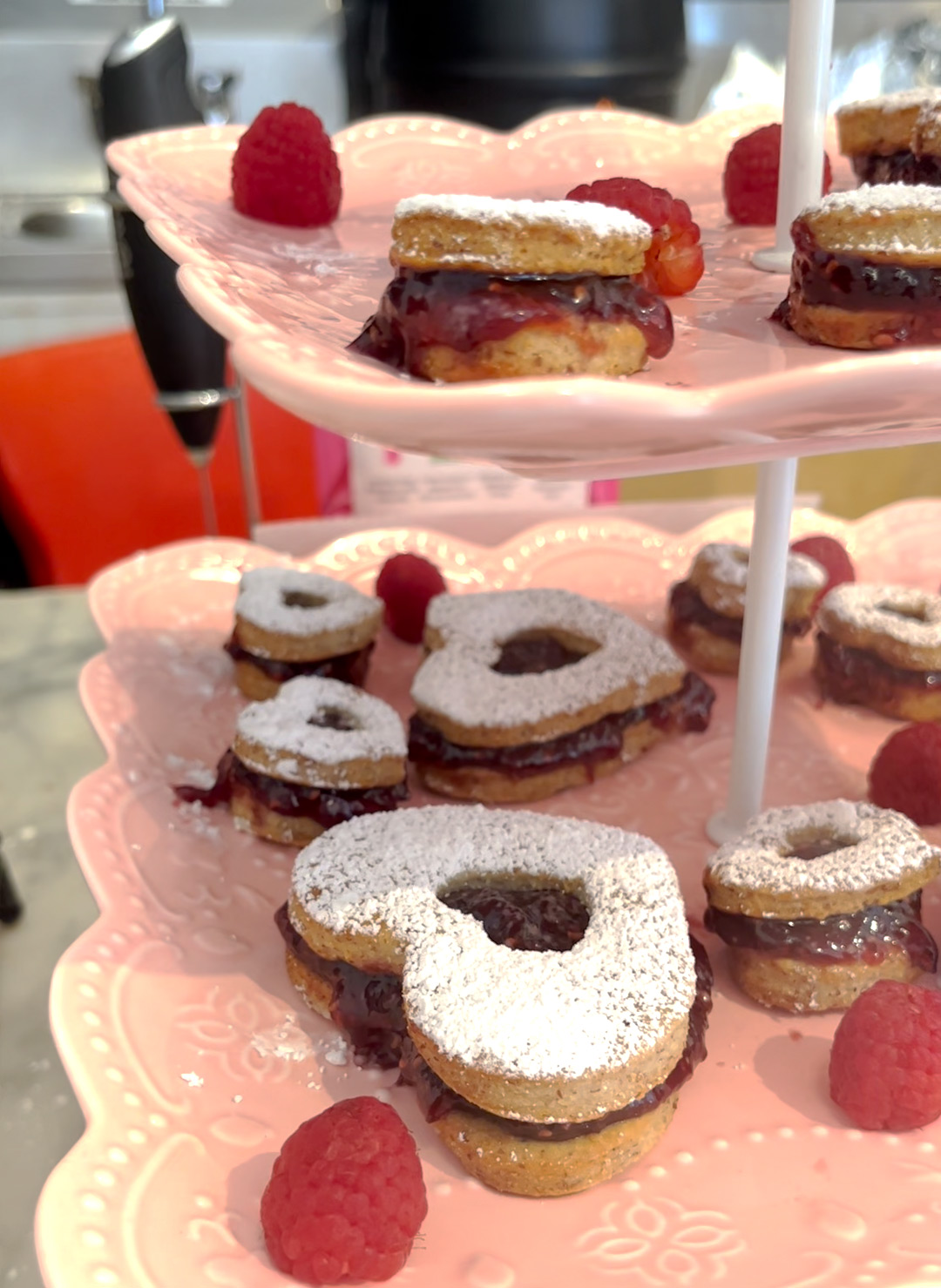 Matt Marshall
She adds a flash of color to the café beverage menu with her eye-catching hot pink "matcha," which is actually a caffeine-free concoction made with powdered dragon fruit, antioxidants, and no added sugar. The market also sells a few vegan staples such as jars of cashew cheese, flavored popcorn, almond pâté, vegan pudding mix and more.
Evans makes as much as possible from scratch and cooks with unprocessed plant-based ingredients, which allows her to offer healthier versions of otherwise heavy dishes. For the savory seitan used in her Philly cheesesteak sandwiches, for example, Evans uses a special recipe that incorporates Italian herbs and lentils which she carefully crafted to let people "feel full and satisfied, but not weighed down."
Laughing V brings vegan food to Tribeca
For a block surrounded by downtown skyscrapers (including the nearby Freedom Tower), this short stretch of Duane Street has a uniquely small-town feel, with a tiny park in the middle of the street. It's a bucolic block, but the area has never been especially vegan-friendly. Until recent decades, the buildings surrounding Laughing V were home to dairy, egg and whalebone businesses. Vegan food options have always been incredibly scarce.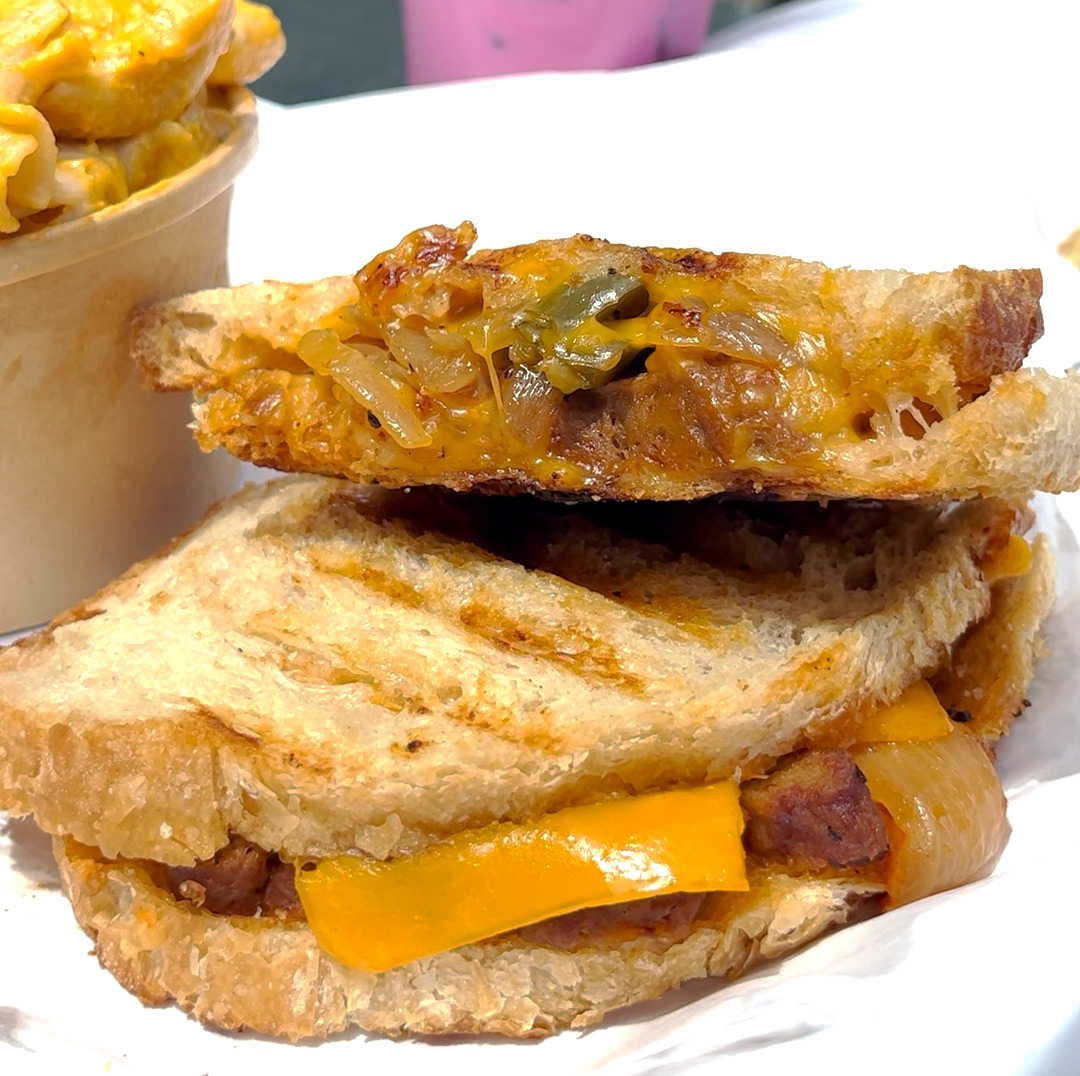 Matt Marshall
But, Laughing V's outdoor seating is now full of Tribeca locals enjoying vegan sandwiches and pastries. The reception has been overwhelmingly positive. Just a few days after opening, Laughing V sold out of its signature sandwiches within a few hours making it so that Evans had to drastically increase her food preparation to keep up with the demand.
One of Laughing V's first customers was lawyer Peter Nussbaum, who has lived on Duane Street for decades with his wife Gabrielle. Both are dedicated vegans who founded Tamerlaine Sanctuary to rescue animals from the food industry. "When I moved here 25 years ago, egg and butter trucks were parked on this block every night," Nussbaum told VegNews. "We were beyond excited to discover that an ethical vegan neighbor had opened a fully vegan café. I've already tried every sandwich on the menu and they're all amazing."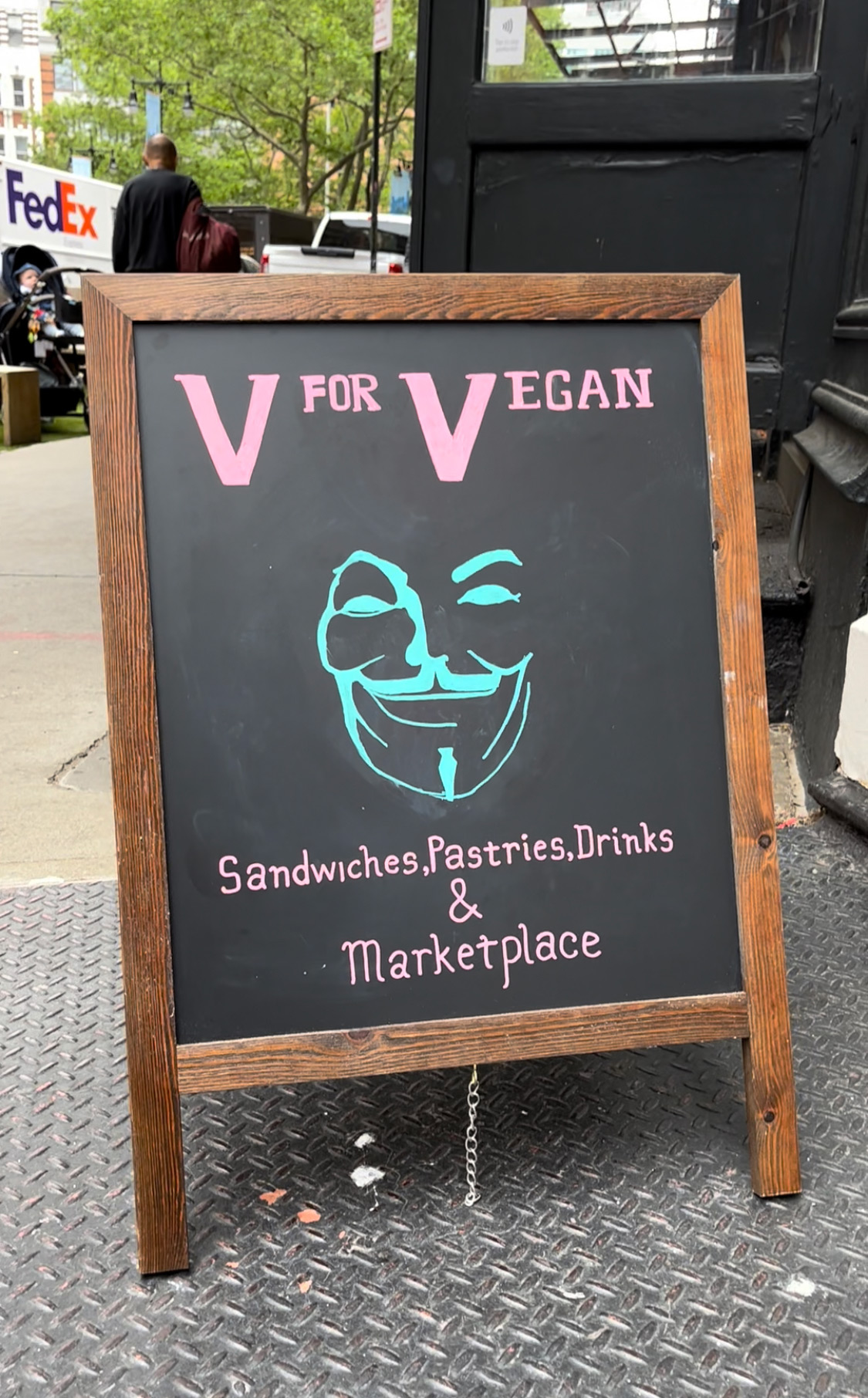 Matt Marshall
The future at Laughing V
Evans is developing new menu items, including a coconut curry dish with "a lot more exciting dishes to come." The ambitious upscale menu that she originally crafted may resurface for pop-up dinners in the much larger Laughing Man space next door. Fortunately, Laughing Man co-founders David and Barry Steingard have been incredibly supportive of the venture (their first vegan business venture).
As a true vegan foodie, Evans—who "went vegan for the animals and fell in love with the food"—plans to keep veganizing her neighborhood, meal by meal. Food is her form of activism that always goes back to one thing. "I care about the animals," Evans said. "That's what motivates me."
For more about vegan food in NYC, read:
NYC's Golden Krust Debuts Vegan Beyond Beef Jamaican Patties
NYC's Top Restaurant Eleven Madison Park Goes Plant-Based
20 NYC Bodegas Are Getting Vegan Fridges and Deli Menus