Israel-based startup ANINA Culinary Art, Ltd., is giving "ugly" produce a new, beautiful purpose with its vegan meals created to tackle food waste. The company uses its proprietary technology to create pods that feature thinly sliced and layered fruits and vegetables such as tomatoes, potatoes, and zucchini on the outside, and nutritious core fillings—including grains, pastas, and legumes—on the inside.
ANINA Culinary Art
The result is a ready-to-heat meal that only requires a cup of water and eight minutes in the microwave or on a stovetop. "ANINA is making a real impact on the food industry by mitigating food waste and turning it into innovative, plant-based products with an exciting look and feel," Anat Natan, ANINA's co-founder and CEO, said in a statement. "The result is a balanced, delicious meal with all the nutrients you need."
"ANINA is responding to a growing demand for making the most of unwanted veggies, and turning them into something artistic that appeals to the eye and palette," Natan said.
The proprietary technology lies in both the lamination process and how the composition of the meal performs in the microwave—where every portion is cooked optimally together, leaving a multi-textured experience with softer vegetables and toothsome grains. This creates the experience of a chef-cooked meal that can be replicated at home with just water and a microwave.
Turning food waste into beautiful vegan meals
The idea for ANINA was developed by ​​Esti Brantz and Meydan Levy, two eco-minded industrial design students who lived near a farmers' market in Jerusalem. The duo acquired leftover vegetables from the market to develop a broader solution to food waste and after two years of development, the concept for ANINA was born.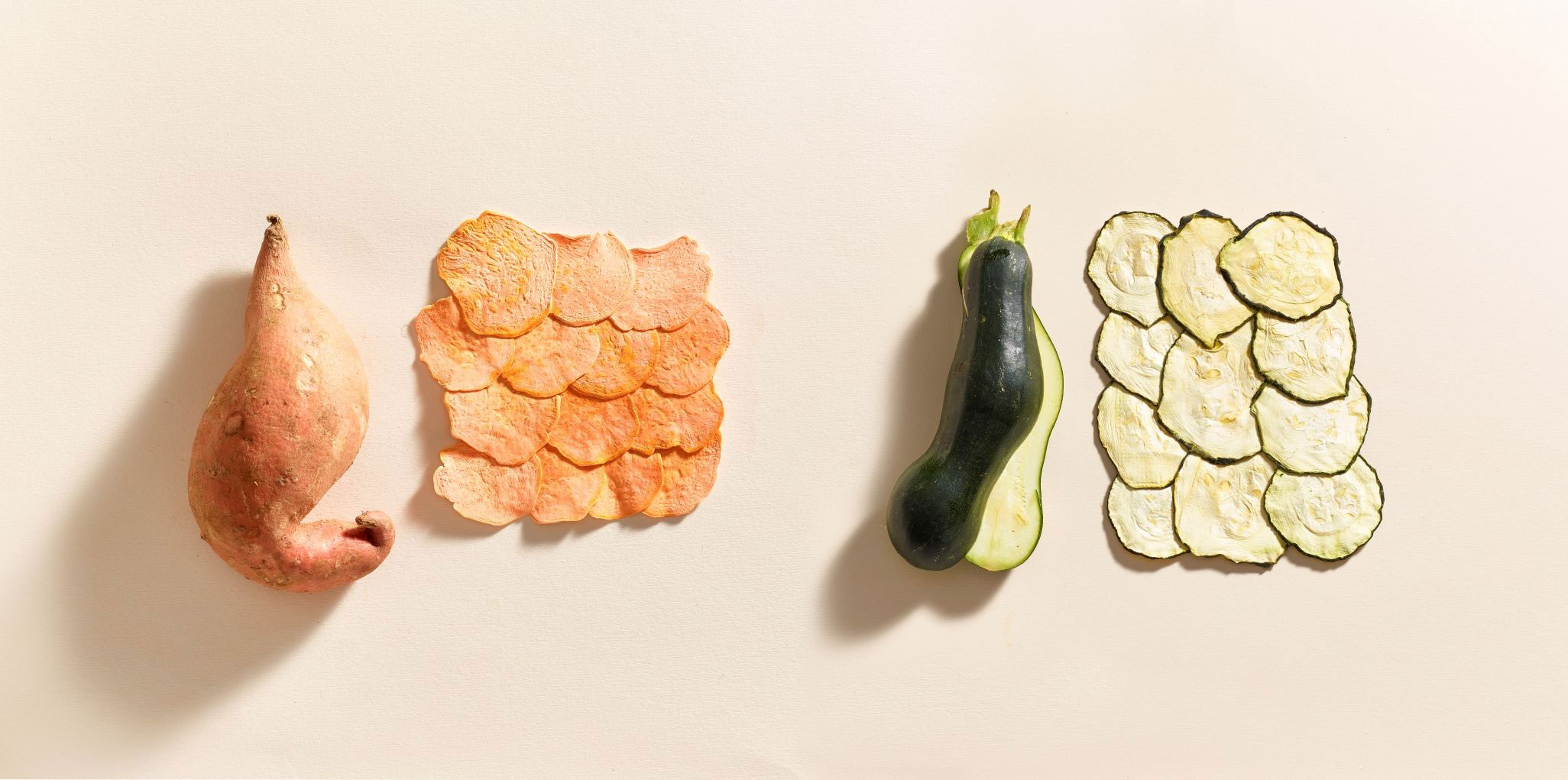 Yasmin & Arye Photographers
The vegetables that ANINA uses to create its pod shells were destined to be discarded due to cosmetic reasons such as size, shape, or blemishes, a major source of food waste that has nothing to do with the quality of produce but rather aesthetics.
ANINA solves this issue by presenting vegetables in an artistic way that gives them new beauty while maintaining their nutrition. "We produce these vegetable sheets with minimal processing, preserving the flavors, aromas, colors, and textures of the original vegetable," Mor Wilk, Vice President of R&D for ANINA, said in a statement. "The heart of our technology is the creation of vegetable sheets. The flexibility of these sheets enables us to form any 3D structure and create any recipe in a decorative pod, each set to its unique controlled cooking time."
In Israel, the startup produces three meal flavors: Pasta Primavera (vegetables, Italian herbs, and pasta); Mediterranean bowl (vegetables, bulgur wheat, and black lentils); and Vietnamese bowl (rice noodles and vegetables). Each meal is packed with two cups of vegetables, which comprises 40 percent of an adult's daily nutritional requirements.
Currently, the company is producing and distributing its meals locally in Israel but is looking to expand its manufacturing and distribution worldwide, including in the United States. "Following the successful product launch in Israel and the positive feedback we received from American millennials, we are set to bring our products to the US," Natan said.
Solving the food waste problem
Globally, approximately one-third of all food intended for human consumption is wasted annually. The US discards more food than any other country, with about 60 million tons of it going to waste every year, mostly for cosmetic reasons. These wasteful practices equate to income losses for farmers and higher prices for consumers.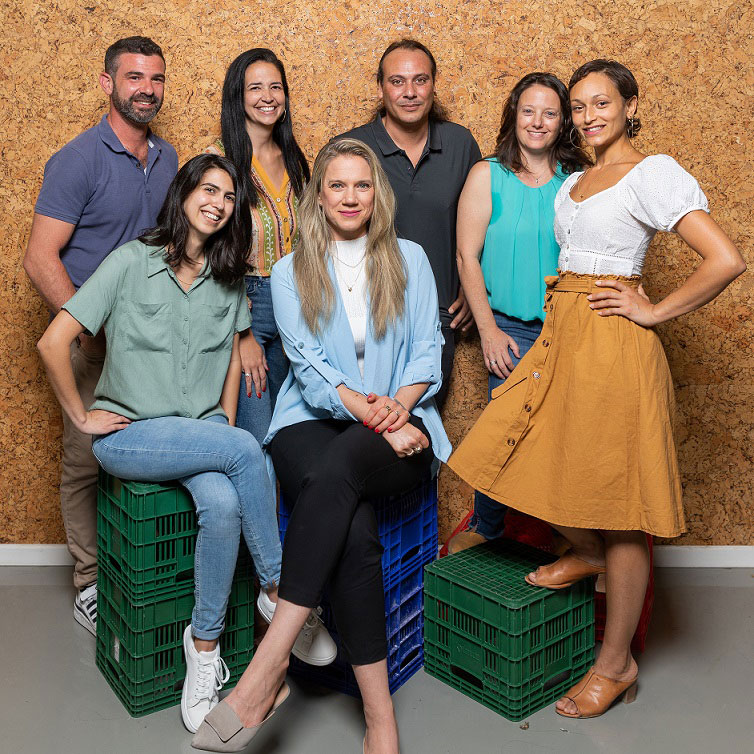 Eyal Toueg for The Marker
By reviving the beauty of ugly produce, Natan hopes that ANINA can make a meaningful impact on reducing food waste. "We're changing the way we eat," Natan said. "And we're shaping the future for a meaningful culinary consumer experience. The ANINA meal capsule also addresses today's fast-paced lifestyle, which too often forces consumers to compromise on the quality of the food they eat."
ANINA's artistic approach is one of the growing solutions to fighting food waste the vegan way. This week, New York-based food upcycling company Matriark Foods launched its climate-friendly vegan pasta sauce line, which is made from discarded vegetables, primarily tomatoes—one of the highest greenhouse gas emitters among produce dumped in landfills.
Anna Hammond was inspired to launch Matriark Foods after working as the Executive Director for The Sylvia Center, a food-education program that works with various portions of the food industry to solve the issue of food insecurity. The new sauce is available in climate-friendly cartons in three flavors: Gentle Marinara, Tomato Basil, and Spicy Arrabbiata.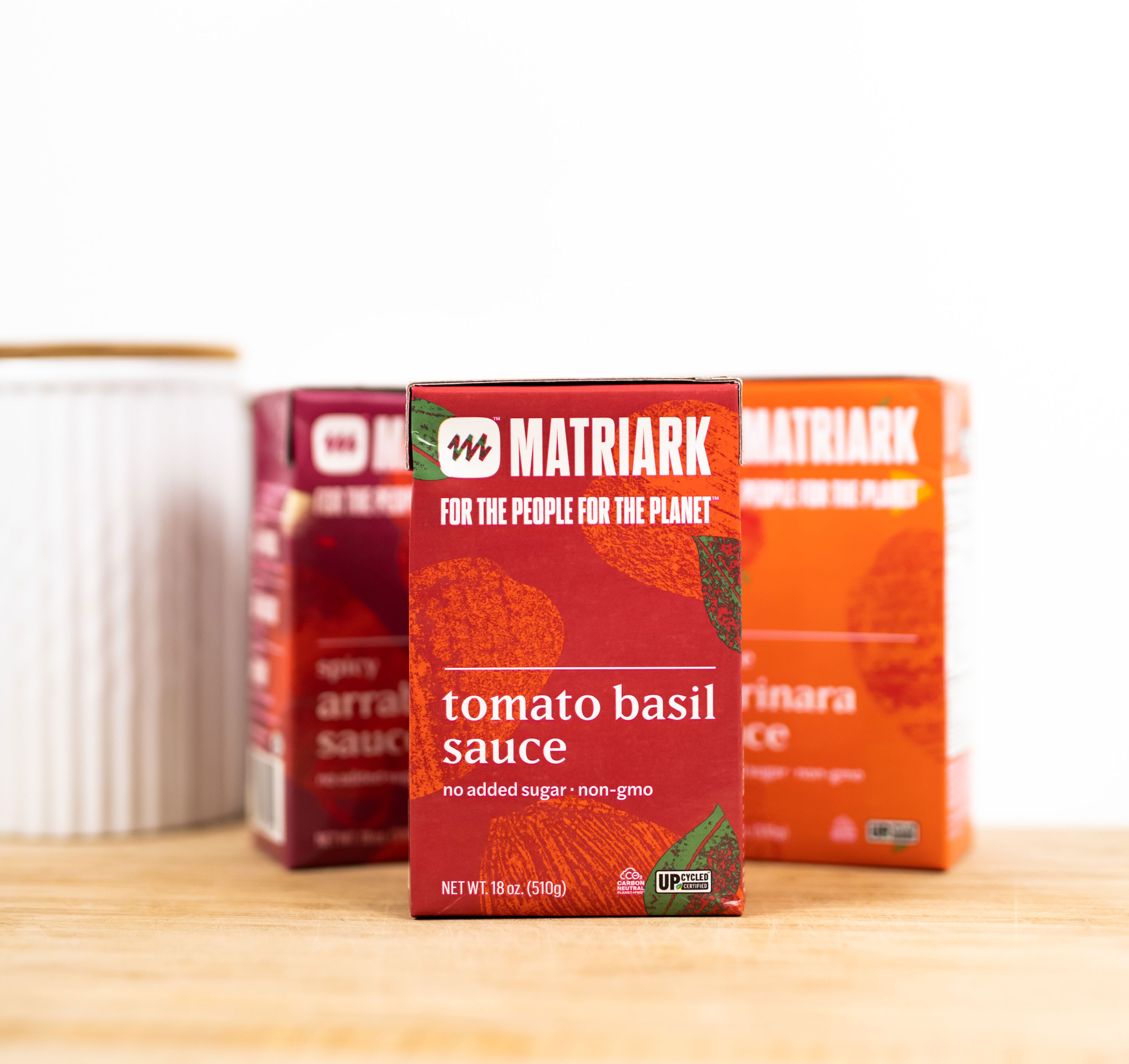 Matriark
Matriark uses upcycled tomatoes that it purchases directly from farmers despite them being too big, small, or blemished for the market and packs its sauces into climate-friendly cartons instead of glass. The resulting products feature 37 percent lower emissions than comparable pasta sauces according to a life cycle analysis by Planet FWD, a leading carbon management platform.
"Beyond creating delicious, climate-friendly products, our ultimate goal is to invigorate and accelerate a transformation of our food system," Hammond said in a statement. "We want to create a domino effect by empowering consumers to prevent food waste with the products they buy and to inspire all brands to support a more resilient and efficient food system that addresses the climate crisis."
For the latest vegan news, read: