In just five short years, the UK's supermarket aisles have changed beyond recognition. Now, the shelves are teaming with vegan meat, cheese, and milk options. Morrisons has its own Plant Revolution range, Marks & Spencer has Plant Kitchen, and in Sainsbury's, the Plant Pioneers selection is constantly expanding. In fact, right now, there isn't a major supermarket in the UK that doesn't have its own range of plant-based products. But in 2017, the story was quite different. Back then, there were only a handful of vegan options available in most retailers. But in the same year, with the help of American chef Derek Sarno, Tesco helped to change the game completely and set the tone for a truly plant-focused future of food in the UK.
Derek Sarno & Tesco: the plant-based dream team
In early 2023, Tesco announced that Sarno—a vegan chef and co-founder of plant-based food brands Wicked Kitchen and Good Catch—was set to leave his position at the chain as the director of plant-based innovation. In a statement announcing his departure, Sarno said he was "incredibly proud" of all of his achievements with Tesco. And, the truth is, without his role with the supermarket, the UK's grocery scene might have looked totally different.
The chef, who is also the author of The Wicked Healthy Cookbook, joined the Tesco team in the middle of 2017 with one mission: to elevate the UK's plant-based food scene, and show Brits just how versatile and delicious, but also how meaty, vegan products can really be. "For too long vegans have been overlooked, with many offerings that are available seemingly created to appease rather than truly please," he told the Guardian back in January 2018, just after his first Wicked Kitchen Veganuary range—which featured 18 vegan ready-meals—hit Tesco's shelves.
The launch was a resounding success, and chilled vegan food sales at the supermarket grew by 25 percent. As a result, Tesco doubled the range, and in October, began treating customers to plant-based versions of much-loved grocery staples, like pizzas, sausage rolls, and pies. And it all featured Sarno's beloved mushrooms, which, he believes, can be manipulated and seasoned to mimic the taste and texture of real meat.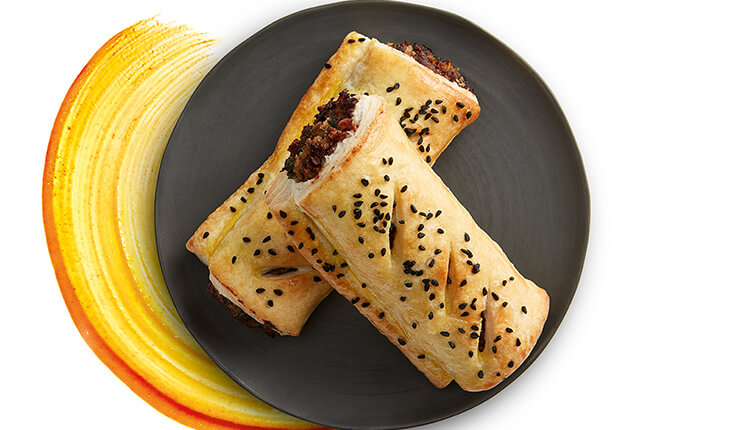 Tesco
"I haven't met a mushroom I'm not fond of," he told Vegan Food and Living in 2018. "These ones we're talking about are nothing like those white button mushrooms people are used to. There's a whole world of other fantastic mushrooms to cook with and we're just getting started."
In 2019, Wicked Kitchen was joined by Plant Chef, a family-focused, affordable vegan meat range, and products like fish-free fillets and breaded goujons hit the shelves. Plus, Sarno announced "dedicated plant-based and vegetarian zones" would be opening up in Tesco aisles. There was no doubt, flexitarianism and veganism were picking up speed, and Tesco was at the helm. In the following months and years, all of the UK's other major supermarket chains fought to keep up.
In the same year that Plant Chef launched, Sainsbury's announced Plant Pioneers was going to be available nationwide, Marks & Spencer revealed Plant Kitchen for the first time, and Plant Menu (previously called I Am Vegan) also hit the shelves at Aldi. In 2020, along came Asda's Plant Based range, in 2021, Vemondo landed at Lidl, and in 2022, Plant Revolution came to Morrisons.
Now, searching the term "vegan" on Tesco's online grocery store brings up more than 330 items, 40 of which are Plant Chef, while 36 are from the Wicked Kitchen brand. "Derek has been a central part of our drive to bring plant-based into the mainstream," said Sarah Bradbury, the supermarket's quality director, regarding Sarno's legacy with the brand. "It's no surprise the category at Tesco has gone from strength to strength under his leadership."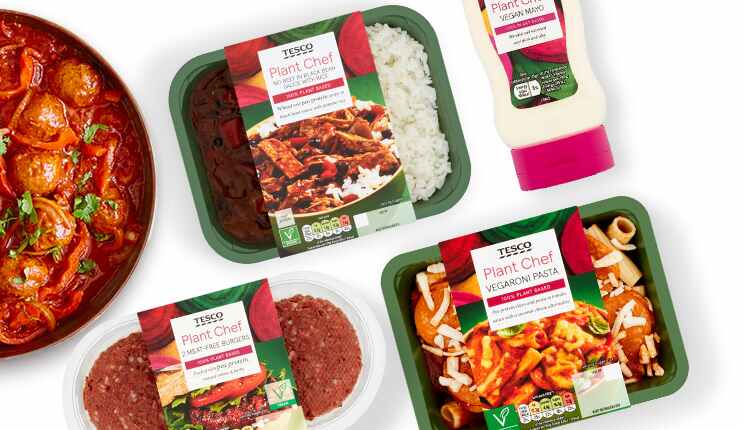 Plant Chef
What's next for Tesco?
Whatever supermarket you choose to shop at in the UK, you'll find a breadth of plant-based meat options. And customers are loving the range of choices. According to a report from ProVeg International, more than 30 percent of UK consumers like to buy vegan chicken breasts from the supermarket, while 29 percent like to buy vegan sausages, and 28 percent like to buy vegan minced meat. But there is room to grow: more than 20 percent would like more fish options, for example.
"The UK has the highest sales value in terms of plant-based meat and one of the highest shares of vegetarians and vegans," said Jimmy Pierson of ProVeg UK. "This report gives detailed insight into UK consumers' attitudes towards plant-based food and highlights the most lucrative opportunities for businesses in the UK."
But despite this, Tesco has revealed that following Sarno's departure, it will be going against the norm and moving forward with a new "veg-led" approach. The idea is to "usher in the next stage" of the supermarket's plant-based strategy, and let more vegetable-focused dishes, like edamame burgers and vegetable tray bakes, take center stage. But the goal remains the same: by 2025, it's aiming to increase plant-based sales by 300 percent.
"We're incredibly excited about what the next phase of our plant-based journey will bring," Breige Donaghy, Tesco's product and innovation director and who will be taking over Sarno's role, said.
"We know making healthy eating easy and accessible is key to delivering for our customers," she continued. "As we evolve our offer this year we will expand our ranges of 'veg-led' options, introducing some delicious new products which will help customers incorporate more veg into their diets whether they are vegan, vegetarian, or simply wanting to reduce the amount of meat they eat."
And as for Sarno? He's going to stay committed to advancing the plant-based movement, of course. He'll continue to produce content for Wicked Kitchen on YouTube, but first, he's having a well-earned rest, he told the Grocer. "I have loads of ideas I want to bring to life," he continued. "I'm open to opportunities as well."
For more on the UK food scene, read: