My tupperware's set, I've only eaten kale the past four days, and I'm ready for Eat Drink Vegan.
May 21, 2018
---
When I first accepted an internship at VegNews in 2015, back when I was a fresh-out-of-college San Francisco transplant, I was beaming. I'd get to put my writing to the test for a national magazine. I'd be able to work for an all-vegan company working to mainstream plant-based living to the masses. But above all, I'd get to eat.
Fast-forward to 2018 and the VegNews editorial offices have moved to my native Los Angeles, where my passion for vegan food will be put to the ultimate test this weekend at Eat Drink Vegan. We're the official magazine and media partner of the massive festival featuring more than 100 restaurants and food vendors, including big-time vegan names (like Minneapolis-based artisan meat and cheese-makers The Herbivorous Butcher; legendary Austin comfort-food cult-favorite Arlo's; and all the way from London: Temple of Seitan—the masters of vegan fried chicken), local LA hot spots (such as makers of my favorite torta Vegatinos; vegan egg wizards Ramen Hood; and nacho boat-slinging rising stars Cena Vegan), as well as the one company for which I'm a certified groupie … Kelly's Croutons.
But of course, it's not just about my taste buds. I'm going to Eat Drink Vegan with a mission: to show off how mouthwatering, mesmerizing, satisfying, fun, and inventive vegan food is. You can follow the VegNews team's coverage on Instagram, and if you want to send positive thoughts and energy to my waistline, I'll take that, too. Here are 40 of the things I'm hoping to snag this year.
Photo courtesy of Charly's Vegan Tacos
1. 12-hour-crafted vegan street tacos from Charly's Vegan Tacos, of Mexico's Yucatán Peninsula
Photo courtesy of The Herbivorous Butcher
2. The Country Fried Steak Doubles Down, with country-fried Ribeye Steak "buns" hickory bacon, eggy tofu, and sausage gravy, from The Herbivorous Butcher of Minneapolis
Photo courtesy of maloacamilee
3. Elote Dog, featuring a vegan frankfurter, grilled street corn, mayonnaise, cayenne, green onion, and lime, from Seattle's Cycle Dogs
Photo courtesy of Shake Shack
4. Black bean vegan veggie burger from NYC mainstay Shake Shack
Photo courtesy of hibbyvegan
5. Popcorn chicken from London's Temple of Seitan
Photo courtesy of vegangirl4ever
6. Organic almond-cashew soft-serve from Glendale's Yoga-Urt
Photo courtesy of mirandasmunchies
7. Hot sauce-doused Nashville Hot Shrooms from San Diego's Donna Jean
Photo courtesy of silviaryan
8. Mac Balls from the Pacific Northwest's favorite vegan bar No Bones Beach Club
Photo courtesy of Virtuous Pie
9. Stranger Wings pizza from Portland's Virtuous Pie, the 2017 VegNews Veggie Award winner for Restaurant of the Year
Photo courtesy of VegNews
10. Jackfruit rib plate from LA-based catering service Compton Vegan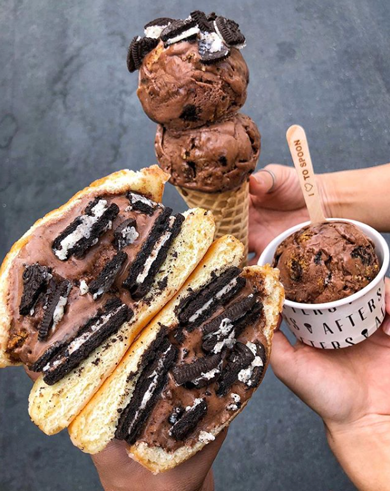 Photo courtesy of Afters Ice Cream
11. Choco Monster Milky Bun with chocolate ice cream, housemade vegan chocolate chip cookies, Oreos, and chocolate fudge from SoCal ice cream shop Afters Ice Cream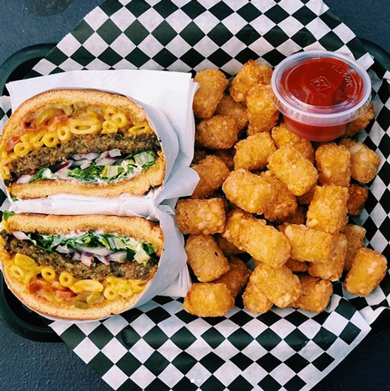 Photo courtesy of Arlo's
12. Mac and Cheeze Burger from Austin food truck Arlo's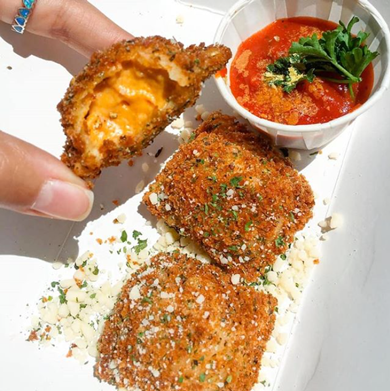 Photo courtesy of la_veganita
13. Toasted Ravioli from Orange County makers of "experimental plant-based dishes" Jayce Lab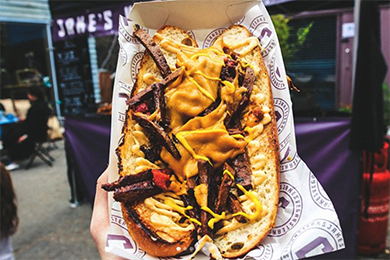 Photo courtesy of charlieharrisphotos
14. Cheese whiz-loaded vegan cheeseteaks from London's Jake's Vegan Steaks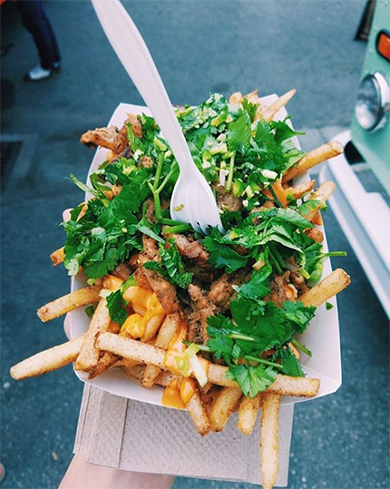 Photo courtesy of Mandoline Grill
15. Saigon Fries from LA-Orange County food truck Mandoline Grill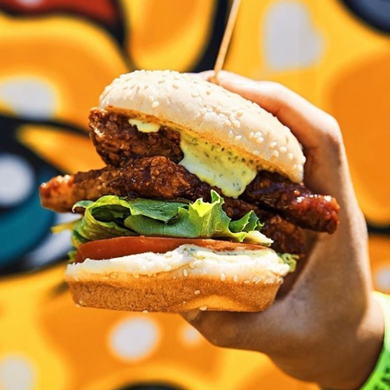 Photo courtesy of
16. Nashville Hot ChK'N Fried Tofu from Chickpea and Olive in New York City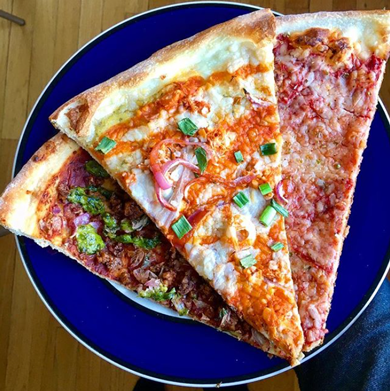 Photo courtesy of vegancatman
17. Thin-crust vegan pizza from the Pacific Northwest's Sizzle Pie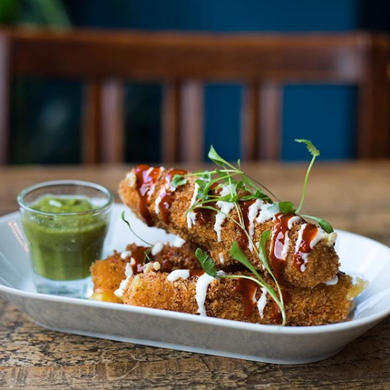 Photo courtesy of Club Mexicana
18. Deep Fried Cheeze Fries from London's Club Mexicana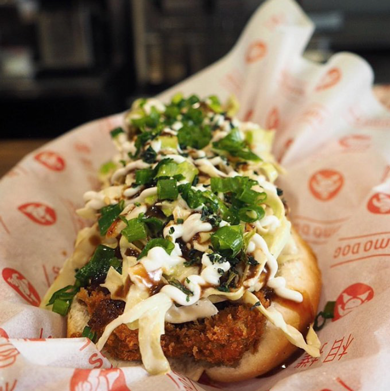 Photo courtesy of losvegangeles
19. Miso Katsu Vegan Dog from LA's Sumo Dog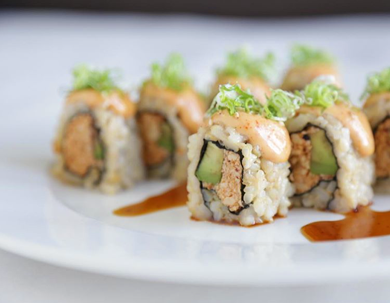 Photo courtesy of shojinlove
20. Vegan sushi from Shojin in LA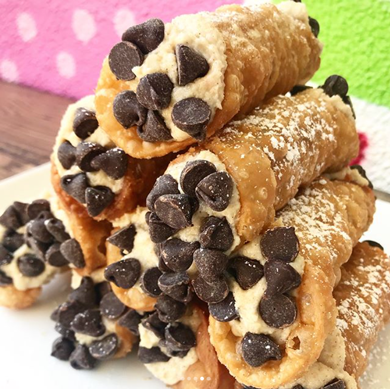 Photo courtesy of Clara Cakes
21. Chocolate chip cannoli from California-based baker Clara Cakes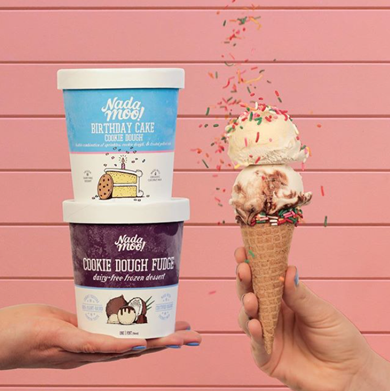 Photo courtesy of Nada Moo
22. Coconut milk ice cream from Austin ice cream company Nada Moo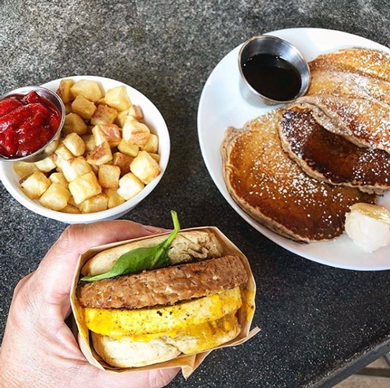 Photo courtesy of maui_blu
23. Vegan brunch and breakfast sandwiches from Orange County-based restaurant Seabirds Kitchen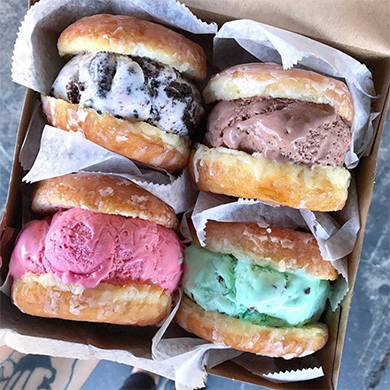 Photo courtesy of Donut Friend
24. Glazed doughnut ice cream sandwiches from Donut Friend in LA's Highland Park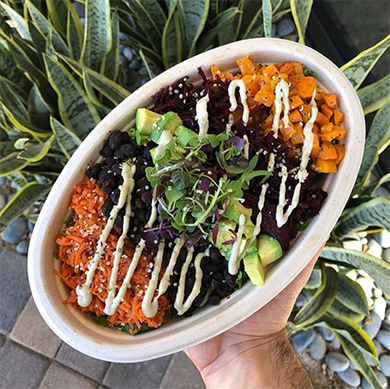 Photo courtesy of Vibe Organic Kitchen & Juice
25. Roaster butternut, ginger carrot, and avocado veggie bowls from Vibe Organic Kitchen & Juice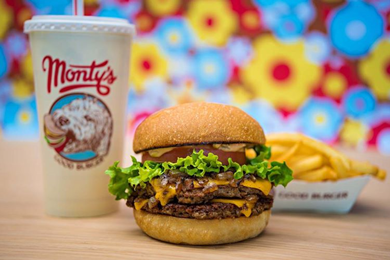 Photo courtesy of Monty's Good Burger
26. Double Impossible Burgers from Riverside, CA's Monty's Good Burger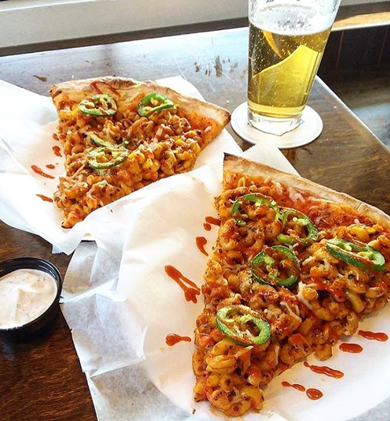 Photo courtesy of hardcoreherbivore
27. Sriracha-jalapeno-topped macaroni and cheese pizza from Long Beach's Pizzanista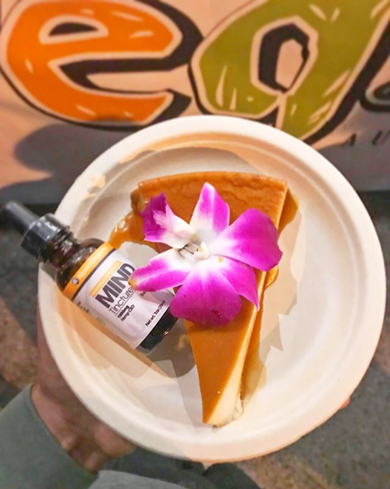 Photo courtesy of Vegatinos
28. CBD-infused flan from LA-based pop-up Vegatinos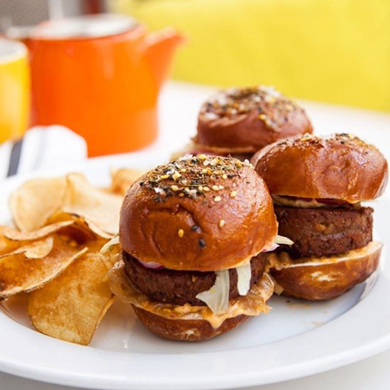 Photo courtesy of Little Pine
29. Sausage breakfast sliders on za'atar pretzel buns from Little Pine in LA's Silver Lake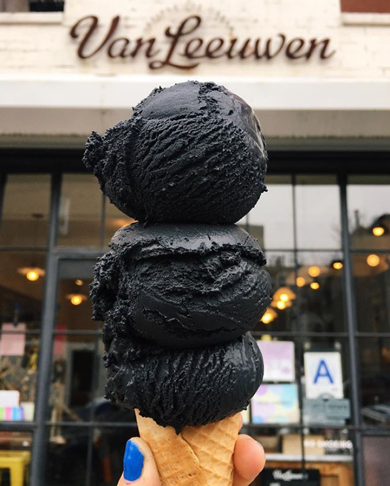 Photo courtesy of Van Leeuwen Ice Cream
30. Honeycomb-black ash Dark Matter ice cream from New York-based creamery Van Leeuwen Ice Cream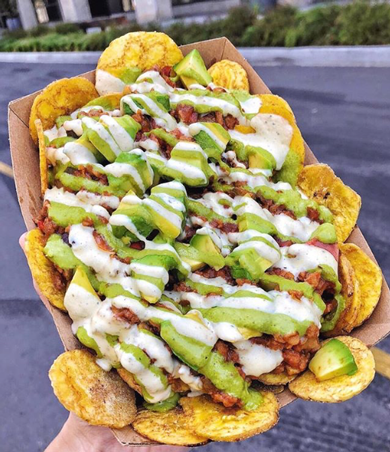 Photo courtesy of veganstreetfair
31. Plantain Picadillo Nachos from LA's vegan Cuban eatery Señoreata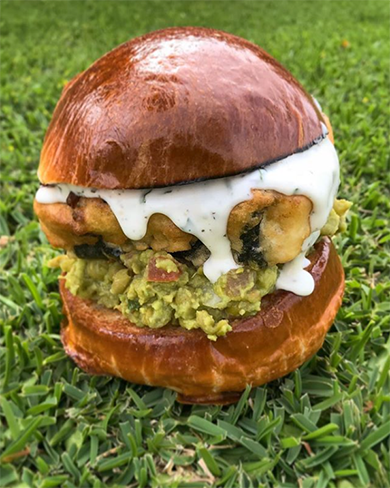 Photo courtesy of Pomodoro E Basillico
32. The Brit, featuring kombuca and beer-battered fried tofu, "guaca-peas," and tartar sauce from London's Pomodoro E Basillico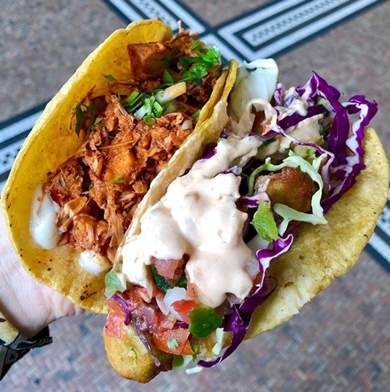 Photo courtesy of Sage Organic Vegan Bistro
33. Jackfruit and fried avocado tacos from LA's Sage Organic Vegan Bistro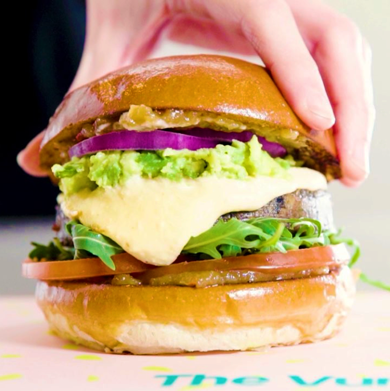 Photo courtesy of The Vurger Co.
34. Chloe's Truffle CheeseVurger, with truffle cheese, smashed avocado, and caramelized onions from London's The Vurger Co. and Chef Chloe Coscarelli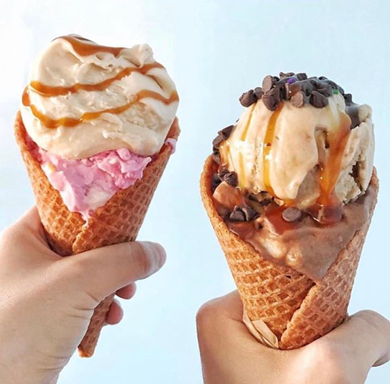 Photo courtesy of meganmarlow
35. Coconut ice cream from Hollywood ice cream shop Cocobella Creamery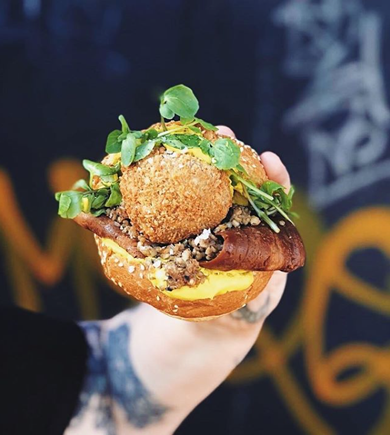 Photo courtesy of Sgaia's Vegan Meats
36. Breakfast brioche with vegan bacon, panko-crusted egg, haggis, hollandaise, and watercress from Sgaia's Vegan Meats in Scotland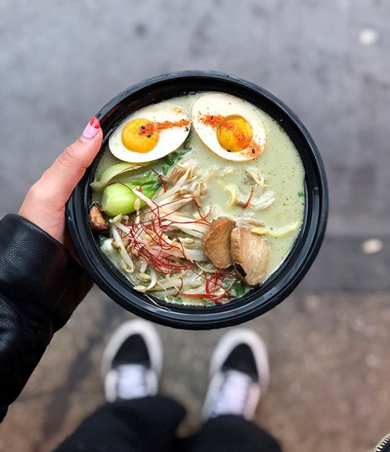 Photo courtesy of adrianosis
37. Garlic ramen from LA's all-vegan ramen shop Ramen Hood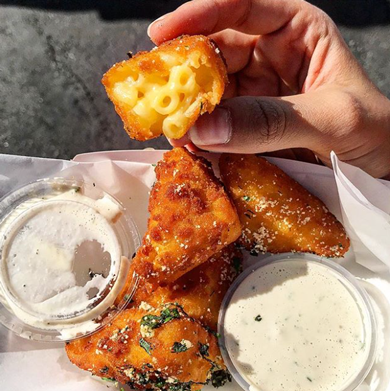 Photo courtesy of nishabalsara
38. Mac and Cheese Bites from LA vegan food truck Word of Mouth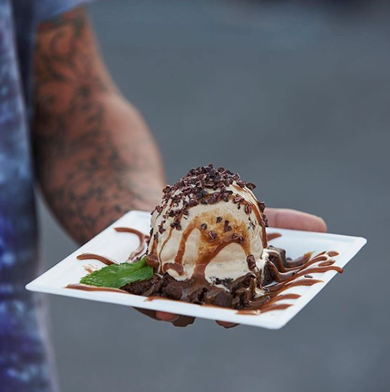 Photo courtesy of Charlie's Brownies
39. Gourmet vegan brownie sundaes from Charlie's Brownies in Los Angeles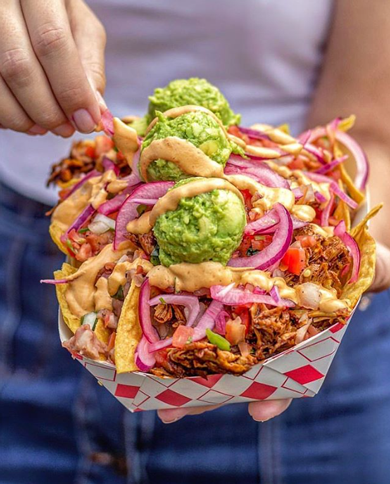 Photo courtesy of forkmeetsfood
40. Fully loaded Nacho Boats from LA's Cena Vegan
Richie Bowie is VegNews' Associate Editor whose first three stops at Eat Drink Vegan will be Cycle Dogs, The Vurger Co., and Virtuous Pie.