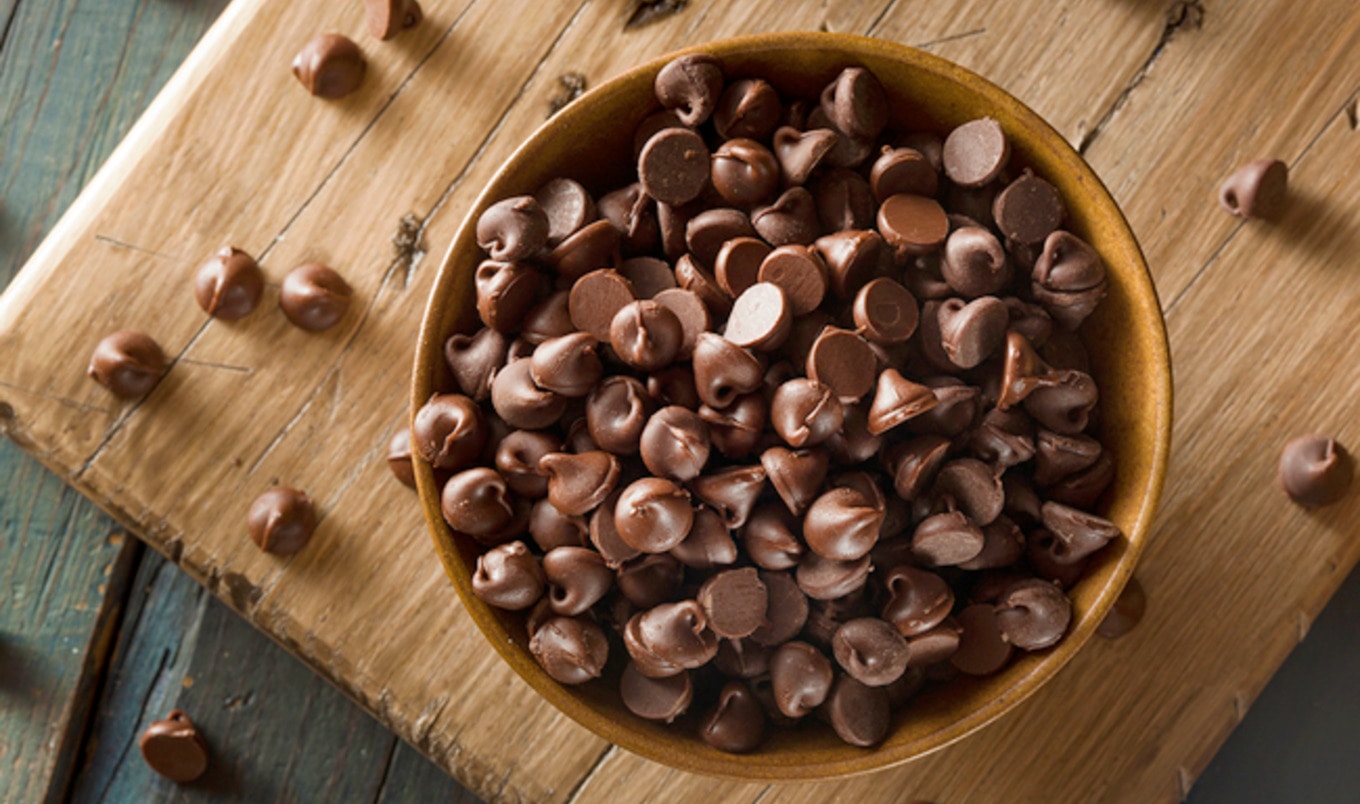 In honor of National Chocolate Chip Day, here are five new ways to eat the beloved chip—at breakfast, lunch, and dinner.
May 11, 2020
---
National Chocolate Chip Day is celebrated every May 15, so we thought there is no time like the present to dream up ways to consume chocolate chips. Vegan chocolate chips, of course. From dark to white to comeback carob, we're going beyond the cookie and taste-testing new ways to enjoy this beloved form of chocolate. Heck, we could whip up a batch of double-chocolate brownies or coconut-chocolate chip bars, but this is 2021. We demand more. Here are five ways to incorporate chocolate chips into your vegan meal repertoire.
Sprinkle on oatmeal
To maximize your daily chip consumption, you have to start early. And who doesn't need a little kick of cacao first thing in the morning? Heat up your oatmeal, pour in your favorite dairy-free milk, and sprinkle on your chip of choice. The chocolate will slowly melt, and heaven will ensue. We're loving the combo of oatmeal, coconut milk, dark chocolate chips, and fresh raspberries, but create your own dream bowl. Carob—which is caffeine-free, full of fiber, and has a nutty flavor—makes a great choice for breakfast toppings.
Stir into nut butter
Nut butters have come a long way since the peanut got pulverized. Just about any nut (or seed) can be made into rich, creamy butter, and blending a batch at home is as easy as whipping out your high-speed blender. But we're not here to talk butter—it's all about the chips. Stirring a handful of your favorite chips into homemade or store-bought nut butter takes things up a serious notch. Our favorite nut butter-chip combo? Slightly melt dark chocolate chips, stir into a jar of hazelnut butter, and voila! Our very own vegan Nutella. For an ultra-decadent combo, stir warmed butterscotch chips into pecan butter. Just sayin'.
Toss into salad
After trying chocolate in a salad, we're believers! Think of the chocolate chips as a sweet ingredient (like fresh or dried fruit) to balance out the savory greens, grains, or vegetables. We can't get enough of organic mixed greens, sliced fresh strawberries, a handful of dark chocolate chips, and a light drizzle of balsamic vinaigrette. We suggest going with a higher percentage of cocoa so the chips aren't overly sweet.
Simmer into chili
Mexico had it right all along: chocolate and chilies are made for each other. A good way to marry the two in American cuisine is in a hearty, slow-simmered chili. We like ours hot and sweet with plenty of black and red beans, chunky vegetables, assorted chillies, a generous pinch of cayenne, and a handful of chocolate chips. The sweet heat develops the longer it simmers, creating a chili that's thick, saucy, and divine. Plus, you can make this chocolate-loaded chili in the summer by utilizing a slow-cooker to keep the heat in your mouth and out of your kitchen.
Drizzle on an all-white sundae
We just constructed the all-white sundae, and it's nothing short of a masterpiece. Think vanilla (or coconut, or cashew, or almond) ice cream topped with shredded coconut, vegan marshmallows, macadamia nuts, and white chocolate chips. May we talk about white chocolate chips for a moment? Because they're amazing. In cookies, bars, hot chocolate, muffins, brownies, or any dessert you desire. They have to be purchased at your local vegan store or ordered online, but these chips make everything better.