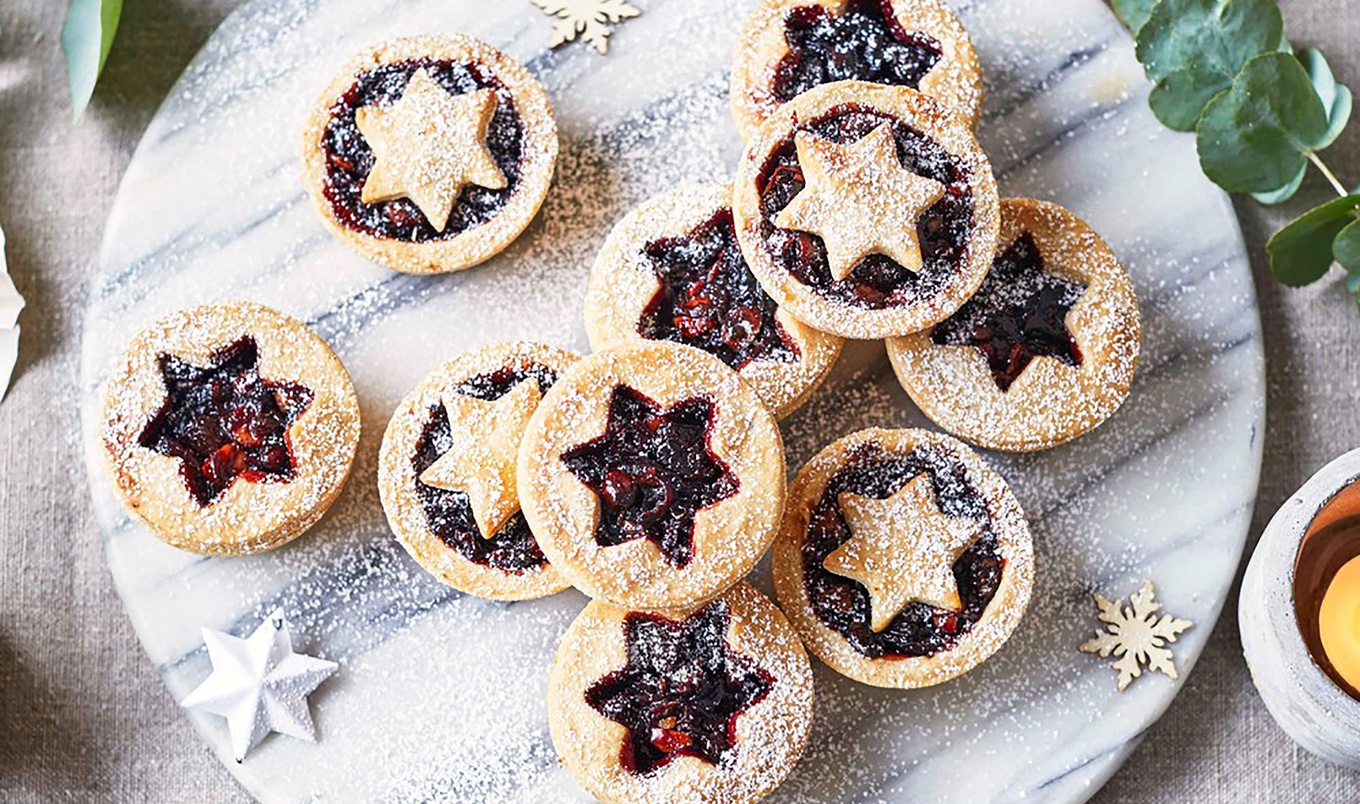 Whatever its geographic location, vegan Christmas food is delicious.
December 9, 2018
---
We all love a holiday table featuring a good lentil loaf or store-bought vegan roast, but this year, we've decided to add some international flavor (literally!) to our winter celebrations. The problem, of course, is that there are so many fabulous and festive meals to try. With this in mind, we're veganizing six global Christmas traditions to make our meals as diverse (and delicious) as possible.
1. Mexico—Ponche Navideño
Once you have your fill of sparkling apple cider, swap this classic holiday beverage for some homemade ponche navideño (aka, Mexican Christmas Punch). This warm, spiced, fruity drink is traditionally served during Las Posadas, a nine-day celebration that runs between December 16–24. Ponche Navideño is brewed by simmering seasonal fruit with sugar and warming spices such as cinnamon, tamarind pods, and tejocotes (a Mexican fruit somewhat similar to an apple). We love this recipe for two reasons: 1. it's naturally vegan; and 2. you can easily make it into an adult beverage with a bit of brandy or tequila! Check out The Kitchn's website for a step-by-step guide to making this tasty holiday treat.
2. Venezuela—Hallacas
For a festive dinner, try making hallacas. This Venezuelan dish is similar to Mexican tamales in that it is traditionally comprised of corn dough stuffed with an array of non-vegan foods, but our favorite plant-based version comes from author Terry Hope Romero's blog. Hallacas might be a bit labor-intensive, but the result is well worth the effort!
3. England—mince pie
This traditional British holiday dish dates back to the 16th century, though it has certainly evolved since then. The originals were savory, meat-filled pastries, but since then, bakers have transformed mince pies into sweet treats filled with a mix of dried fruit, spices, sugar, and brandy. And now, they're vegan! You can make your own vegan mince pie by following the BBC's recipe, complete with a hazelnut cherry filling and a flaky, buttery crust.
4. Finland—Porkkanalaatiko
Porkkanalaatiko is a Finnish carrot casserole served during the winter season. The original version is made of carrots, rice, and custard, but we found a vegan option by Finnish blogger Choco Chili. We found the recipe to be the most authentic, but just be sure to hit the translate button, unless, of course, you speak fluent Finnish.
5. Italy—Tortellini en Brodo
Tortellini en Brodo (translated to "tortellini in broth/soup") is a Northern Italian Christmas staple that's served as an appetizer or a full meal. We love Jamie Oliver's simple recipe for Tortellini & Spinach Soup (use the vegetable stock!), but when we have the time, we commit a few hours in the kitchen to make them from scratch. Mangiare!
6. France—Bûche de Noël
This year, skip the figgy pudding and try a festive Bûche de Noël. Literally translated into "yule log," this delicious dessert is a jelly-roll sponge cake decorated with frosting and powdered sugar to resemble a snowy log. Besides the cake flavor itself, the filling can be a simple vegan whipped cream, buttercream frosting, or a decadent mousse. For the decoration, pure confectioners sugar is perfect, or you can go all out with buttercream, marzipan, more frosting, or vegan marshmallows. To get started, check out Bon Appetit's decadent recipe for a chocolate mousse-filled sponge cake drenched in chocolate ganache!
Tanya Flink is a Digital Editor at VegNews as well as a writer and fitness enthusiast living in Orange County, CA.