In the popular Veganism Saved My Life series, we share stories of people who have witnessed extraordinary health overhauls thanks to a plant-based diet.
January 26, 2018
---
A dire diagnosis can turn your life into a timeline grimly defined by "before" and "after," making you face the unimaginable—the looming possibility of your early mortality. But for some, a frightening diagnosis is also an opportunity to heal. VegNews' annual feature, "Veganism Saved My Life"—available now in the January+February Health and Wellness Issue—features the heart-wrenching stories of five individuals whose lives were saved by veganism.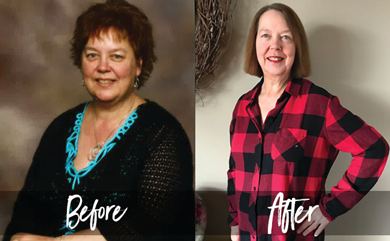 Name
Kate McGoey-Smith

Age
61

Lives in
Calgary, Canada

Diagnosis
Heart disease, type 2 diabetes, sleep apnea

Prognosis
Two to five years to live, lifelong blindness, lung transplant
How Kate Did It:
An average of three out of every million people are plagued with idiopathic pulmonary arterial hypertension—a degenerative disease that restricts blood flow to the lungs, weakening the heart—and Kate McGoey-Smith was one of them. Shortly after her shocking diagnosis, she found herself beholden to an oxygen tank, and given the deteriorating state of her health, had no choice but to stop working. The bad news kept coming when McGoey-Smith began to lose her eyesight (caused by a lack of oxygen to her eyes), developed diabetic retinopathy, and was prescribed a mixed cocktail of drugs. After being placed on a lung transplant monitoring list—one of her last signs that if she didn't undergo a radical change, death would be imminent—something serendipitous happened.

Flipping on the TV one night, she found herself watching the powerful, plant-promoting documentary Forks Over Knives. Intrigued and desperate, McGoey-Smith scheduled a consultation with famed plant-based medical doctor Caldwell Esselstyn, Jr. She promptly attended his workshop on the healing power of plants, and decided once and for all to take charge of her own healing. Teaching herself how to cook while she was still blind and unable to stand up, she was finally on her way to a radical recovery. Today, McGoey-Smith is down 110 pounds and nearly all of her symptoms have vanished—her last attempt to save her own life worked. Her risk for heart failure and dependency on medication both plummeted, she no longer needed a lung transplant, and, astoundingly, her eyesight has been fully restored—proving that without a doubt, Kate McGoey-Smith can finally see the full impact of veganism.

What Kate Eats In A Day
Breakfast
Oatmeal with blueberries and steamed greens

Lunch
Pita pizza with roasted vegetables, and a sweet potato with steamed broccoli and cauliflower cheese

Dinner
Potato-leek soup, kale salad with oil-free dressing, and steamed vegetables

Dessert
Vegan chocolate mousse

Snacks
Seasonal fruit, including berries, apples, and pears

Kate's Advice
"Your plant-based diet will prove that true healing is at the end of your fork!"
****
For more of VegNews' Veganism Saved My Life series, check out Brooklyn Borough President Eric Adams' story, heart attack survivor Paul Figueroa's story, and medical doctor Brook Goldner's story, and check back next week for more. And be sure to pick up a copy of the January+February issue of VegNews, on newsstands now!
****
Jasmin Singer (jasminsinger.com), the senior editor of VegNews, documented her own story of how veganism saved her life in her memoir, Always Too Much and Never Enough.