In the popular Veganism Saved My Life series, we share stories of people who have witnessed extraordinary health overhauls thanks to a plant-based diet.
January 5, 2018
---
A dire diagnosis can turn your life into a timeline grimly defined by "before" and "after," making you face the unimaginable—the looming possibility of your early mortality. But for some, a frightening diagnosis is also an opportunity to heal. VegNews' annual feature, "Veganism Saved My Life"—available now in the January+February Health and Wellness Issue—features the heart-wrenching stories of five individuals whose lives were saved by veganism. Here is the first.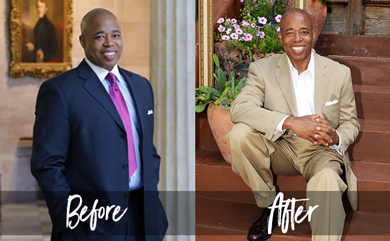 Name
Eric Adams
Age
57
Diagnosis
Type 2 diabetes, high blood pressure, high cholesterol
Prognosis
Lifelong medication, blindness, limb amputation
How Eric Did It
For Brooklyn Borough President Eric Adams, a startling diagnosis of Type 2 diabetes—complete with bouts of tingly hands and feet, and an emergency visit to the doctor due to a painful ulcer—led to a windy but clear path to Michael Greger, MD's book, How Not to Die. Told he would be on medication for the rest of his life, with the probability of long-term effects such as blindness and amputation, Adams took matters into his own hands.
In spring of last year, the former New York state senator switched out the meat-centric diet he had known his whole life with one that revolved around kale, beans, grains, fruit, and other vegetables in their most unprocessed forms. Just three weeks later, he woke up to find his extremities no longer tingled. Figuring he was onto something, Adams continued on his vegan journey, and three months later, his blood-glucose levels were completely normal—his diabetes had effectively been cured.
Now a vocal proponent of a plant-based diet, Adams has turned his personal victory into a citywide advocacy effort, holding public discussions at the Brooklyn Chamber of Commerce on the value of veganism; creating a policy that all events held at Borough Hall must include vegan options; and developing a New York City hub for doctors like Greger who specialize in plant-based nutrition as a means to long-term health. Much closer to home, this plant-powered ambassador has even gotten his mother to jump on the vegan bandwagon: In October, she joined him in the fight, hoping to see the same results as her son, who is changing the city—and the world—one salad at a time.
What Eric Eats In a Day
Breakfast
Oatmeal with kale, onions, and red cabbage
Lunch
Bean pasta with marinara sauce, tomatoes, and mushrooms
Dinner
Steamed cauliflower with cucumber, garlic, lemon, and balsamic vinegar
Dessert
Banana "nice cream"
Snacks
Flax seed chips with sweet potato and chickpea hummus, almonds, and apples
Eric's Advice
"The relationship between you and your doctor is a partnership, and you cannot rely on your doctor to dictate your health."
Jasmin Singer (jasminsinger.com), the senior editor of VegNews, documented her own story of how veganism saved her life in her memoir, Always Too Much and Never Enough.