In the popular Veganism Saved My Life series, we share stories of people who have witnessed extraordinary health overhauls thanks to a plant-based diet.
January 12, 2018
---
A dire diagnosis can turn your life into a timeline grimly defined by "before" and "after," making you face the unimaginable—the looming possibility of your early mortality. But for some, a frightening diagnosis is also an opportunity to heal. VegNews' annual feature, "Veganism Saved My Life"—available now in the January+February Health and Wellness Issue—features the heart-wrenching stories of five individuals whose lives were saved by veganism.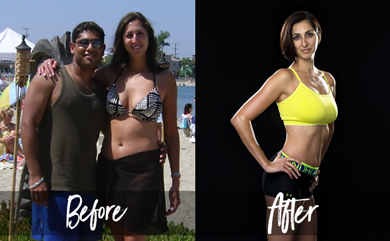 Name
Brooke Goldner, MD
Age
40
Diagnosis
Systemic lupus erythematosus, Stage 4 kidney failure, stroke
Prognosis
Six months to live, risk of death if pregnant, major stroke
How Brooke Did It
When Brooke Goldner was 16, she was was in stage 4 kidney failure due to a serious case of lupus. Initially told she had six months to live, Goldner defied all odds by staying alive with the help of intense chemotherapy, and upon completion, was able to wean herself off all medications. But her struggle was far from over.
When she entered medical school in her twenties, Goldner developed anti-phospholipid antibodies—a painful malady that causes blood clots, which in turn gave her double vision and even resulted in a stroke. She dealt with this new diagnosis by injecting her stomach with blood thinners every day, while stomaching the likely reality that she would never be able to bear children.
When all seemed lost, Goldner became romantically involved with fitness trainer Thomas Tadlock, who encouraged her to stop consuming cheese and eggs (she was a long-time vegetarian by that point). Trading in her animal products for a high-raw diet rich in fresh vegetables, after four months, Goldner no longer suffered from joint pain, migraines, fatigue, and more shockingly, her lupus and blood clot-inducing antibodies disappeared too. After two years of perfect lab results, she weaned herself off blood thinners, and four years later—even though she was still warned against it—Goldner became pregnant and gave birth to a baby boy. Now healthy as ever at 40, Goldner has dedicated her career as a medical doctor to advocating for disease prevention and treatment by way of vegetables.
What Brooke Eats In a Day
Breakfast
Green smoothie with kale, chia seeds, and pear
Lunch
Avocado sandwich on sprouted bread
Dinner
Spicy curry lentils with steamed broccoli, tofu, and peanut sauce
Dessert
Raw vegan cheesecake
Peaches, nectarines, and pears
Brooke's Advice
"Focus on what you want for your life and health, instead of what you think you might miss out on." 
****
For more of VegNews' Veganism Saved My Life series, check out Brooklyn Borough President Eric Adams' story, and check back next week for more. And be sure to pick up a copy of the January+February issue of VegNews, on newsstands now!
****
Jasmin Singer (jasminsinger.com), the senior editor of VegNews, documented her own story of how veganism saved her life in her memoir, Always Too Much and Never Enough.
After photo courtesy of Mellisa Schwartz