In the popular Veganism Saved My Life series, we share stories of people who have witnessed extraordinary health overhauls thanks to a plant-based diet.
January 23, 2018
---
A dire diagnosis can turn your life into a timeline grimly defined by "before" and "after," making you face the unimaginable—the looming possibility of your early mortality. But for some, a frightening diagnosis is also an opportunity to heal. VegNews' annual feature, "Veganism Saved My Life"—available now in the January+February Health and Wellness Issue—features the heart-wrenching stories of five individuals whose lives were saved by veganism. Here is the first.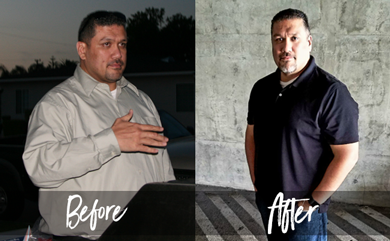 Name
Paul Figueroa
Age
43

Lives in
Stanton, CA

Diagnosis
Heart disease, stroke, gout

Prognosis
High risk of deadly heart attack, lifelong medication, early death

How Paul Did It:
Paul Figueroa's favorite foods were steaks, burgers, and pizza. So when he was just 40 years old and diagnosed with gout—a common affliction faced by those of Filipino descent like Figueroa—he didn't think for a second it was diet-related. His doctor didn't either, prescribing him medication to go along with the drugs he already took for sky-high cholesterol and blood pressure. A year later, a massive heart attack—known as the "widow-maker"—resulted in a full blockage of his left anterior descending artery and damage to 40 percent of his heart.

On the day he left the hospital, his cardiologist (the first doctor to make the connection between his condition and his food choices) recommended he watch Forks Over Knives. He watched it that same day, and—along with his wife and daughter—went vegan immediately. With his family's support, he fostered his newfound plant-based community and, at the same time, expanded his palate to thoroughly enjoy wholesome, plant-based meals. Figueroa started watching more documentaries, including those that spoke to the ethical and environmental reasons to adopt a vegan diet, such as Earthlings and Cowspiracy, all helping to solidify his conviction to his new way of life.

Two years later, his cholesterol and blood pressure have returned to normal, he has drastically reduced his risk of heart attack, and his favorite hobby, which was once eating, is now hiking. He recently trekked up to the famed Hollywood sign in Los Angeles, where he looked down at where he had been, and realized there was no going back.
What Paul Eats In A Day

Breakfast
Fruit smoothie with almond milk, berries, banana, turmeric, black pepper, flax seeds, rolled oats, and cinnamon

Lunch
Vegetable sushi with asparagus, cucumbers, carrots, and avocado

Dinner
Brown rice bowl with black beans, guacamole, corn, lettuce, and salsa

Dessert
Vegan cashew milk ice cream

Snack
Snap peas, carrots, and broccoli with hummus
Paul's Advice
"If you have been diagnosed with a chronic disease, you owe it to yourself and your family to adopt a vegan diet, as it provides the best chance for reversing your condition."
****

For more of VegNews' Veganism Saved My Life series, check out Brooklyn Borough President Eric Adams' story and medical doctor Brook Goldner's story, and check back next week for more. And be sure to pick up a copy of the January+February issue of VegNews, on newsstands now!

****
Jasmin Singer (jasminsinger.com), the senior editor of VegNews, documented her own story of how veganism saved her life in her memoir, Always Too Much and Never Enough.