In the popular Veganism Saved My Life series, we share stories of people who have witnessed extraordinary health overhauls thanks to a plant-based diet.
February 2, 2018
---
A dire diagnosis can turn your life into a timeline grimly defined by "before" and "after," making you face the unimaginable—the looming possibility of your early mortality. But for some, a frightening diagnosis is also an opportunity to heal. VegNews' annual feature, "Veganism Saved My Life"—available now in the January+February Health and Wellness Issue—features the heart-wrenching stories of five individuals whose lives were saved by veganism.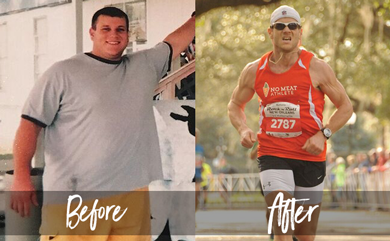 Name
Josh Lajaunie

Age
39

Diagnosis
Morbid obesity, depression, hypertension

Prognosis
Heart disease, early death, lifelong medication

How Josh Did It:
En route to a family vacation to Martha's Vineyard, Josh Lajaunie was told that, due to his size, the small plane on which he was a passenger would fly only if he moved closer to the front. Outwardly, he laughed it off, but obesity and heart disease ran in his family, and he had watched too many loved ones suffer from these deadly afflictions (heart disease affects a staggering 28 million Americans each year). When he got home and stepped on the scale, the word "error" was all that came up because it would read only up to 400 pounds.

Emboldened to make a lifestyle change, Lajaunie—who had once enjoyed sports immensely—laced up his running shoes only to find most physical activity left him out of breath. With a new determination to get into shape—but no firm grasp on how—he was turned on to the successes of ultra-marathoner and vegan Scott Jurek, and everything became clear. He traded in hamburgers for vegetables, and as his pounds melted off—230 of them—he realized he had a true gift. A marathoner was never something that Lajaunie, who had watched his father and grandfather both suffer heart attacks, would have thought of himself as. But after surprising himself by finishing a marathon in less than four hours, he completed his first 50k. Then he entered, and won, a 50-miler.

In 2016, the newly trim athlete competed in his first 100-miler, landing himself a cover spot on Runner's World magazine. Now stronger and faster than ever, Lajaunie has become a local celebrity in his small town of Thibodaux, where he uses his platform to advocate for veganism within his community. His biggest proponent remains his mother, who has enthusiastically followed in his footsteps, losing 100 pounds herself by going vegan. For Josh Lajaunie and his family, when it comes to lifelong health, going the distance is the name of the game.

What Josh Eats In A Day

Breakfast
Oatmeal with bananas, almond milk, and dates

Lunch
Fruit smoothie with greens, bananas, apple, turmeric, black pepper, and fresh mint

Dinner
Red lentils with a handful of greens, broccoli, Sriracha, and nutritional yeast

Dessert
Peanut butter or chocolate "nice" cream made with frozen cherries and bananas

Snack
Apples, almonds, and walnuts

Josh's Advice
"Just do! Assess the results objectively, and let that dictate your future decisions."
****
For more of VegNews' Veganism Saved My Life series, check out Brooklyn Borough President Eric Adams' story, heart attack survivor Paul Figueroa's story, 60 year-old vegan Kate McGoey-Smith's story, and medical doctor Brook Goldner's story, and check back next week for more. And be sure to pick up a copy of the January+February issue of VegNews, on newsstands now!
****
Jasmin Singer (jasminsinger.com), the senior editor of VegNews, documented her own story of how veganism saved her life in her memoir Always Too Much and Never Enough.