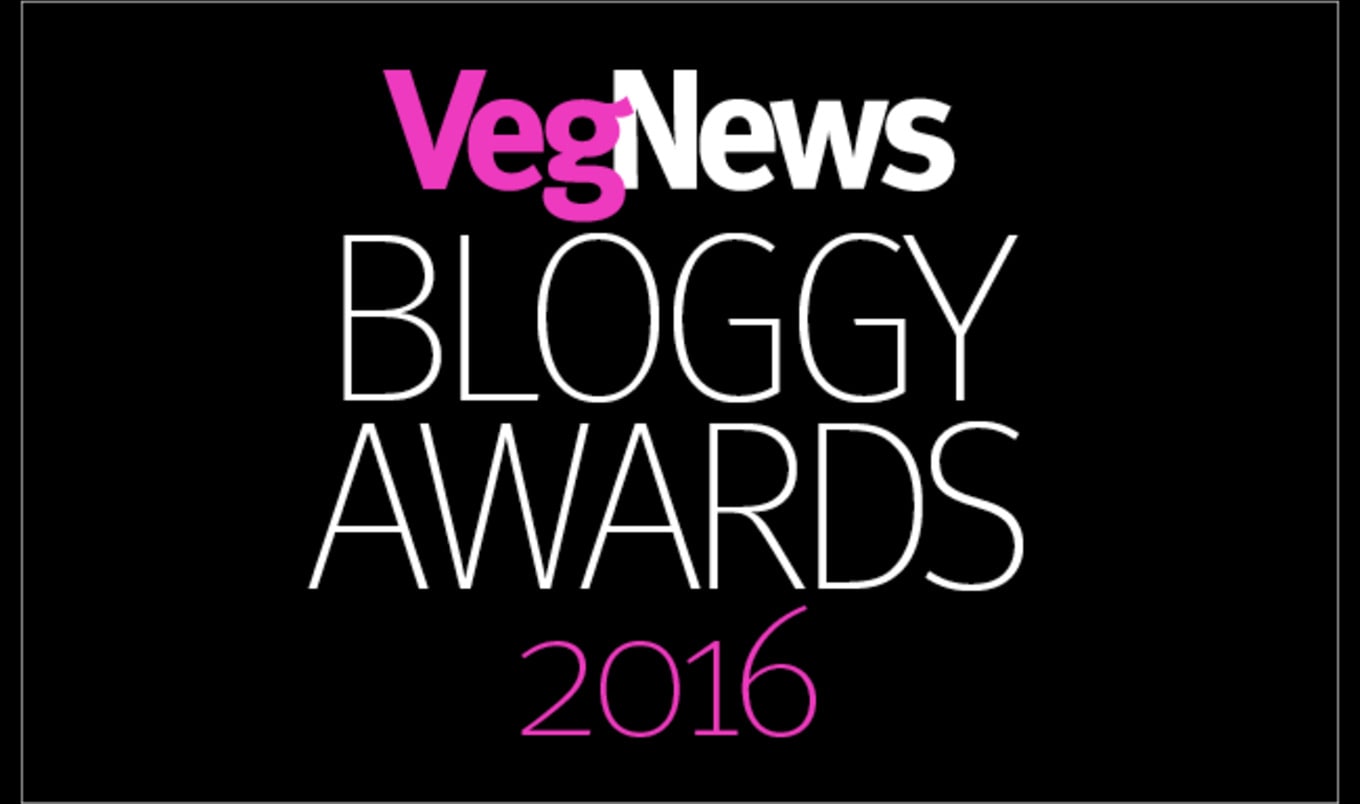 From recipes and travel to product reviews and lifestyle advice, if it's vegan, these 21 blogs have it covered.
July 24, 2016
---
It's 2016, and the ever-growing vegan landscape is changing at a rapid pace. With so much plant-based news breaking every day, we're thankful for the myriad blogs keeping us up-to-date on the latest recipes, products, restaurants, and everything in between. But which are the best of the best? We wanted to know the vegan blogs you can't live without, so we asked for your help in naming the best online destinations for all-things veg. Without further ado, here are the winners of the 2016 VegNews Bloggy Awards!

An Unrefined Vegan
Office-manager-turned-blogger/cookbook author Annie Oliverio shows her passion for food through dishes such as Vegan Coffee Cardamom Waffles, Chocolate-Covered Mocha Ice Cream Bites, and Peanut Butter & Jelly Vegan Poutine. Amazing recipes aside, Oliverio—who wrote Crave Eat Heal—also includes sections devoted to healthful substitutions and links to some of her favorite cookbooks.
Read this blog if: You want to learn about interesting ingredients like dulse, cacao nibs, and kombu.

Bite Size Vegan
Operated by Emily Moran Barwick, Bite Size Vegan is home to hyper-informative essays on the importance of a plant-based diet and an array of videos with subjects ranging from vegan humor to the ethics of horse riding. Barwick also provides fitness advice and shows viewers how to lift weights to get the healthiest vegan-powered bodies possible.
Read this blog if: You need motivation in the kitchen or at the gym
Black Vegans Rock
Founded by critical feminist blogger Aph Ko, Black Vegans Rock launched in 2016 to dismantle the idea that veganism is a "white person's thing." Daily posts feature personal stories, art, restaurant profiles, and other endeavors of black vegans worldwide, while weekly roundups spotlight prominent newsmakers including "300 Pound Vegan" David Carter and former NBA player John Salley.
Read this blog if: You're looking for a more inclusive approach to veganism.
Chocolate Covered Katie
From Gooey Chocolate Coconut Banana Bread to Chocolate Peanut Butter Protein Bars, Katie Higgins' blog is a one-stop shop for all-things chocolate. While all of Higgins' recipes are decadent, she keeps them kind (to your waistline) by using healthy ingredients, staying away from refined sugar, and keeping the calorie counts low.
Read this blog if: You're a self-professed chocoholic.

FatFree Vegan Kitchen
We salivate over Susan Voisin's array of healthy food, which includes her Oil-Free Waffle Iron Hash Browns, Guacamole Potato Skins, and Apple Pie Oatmeal Cookies. Or maybe we're lured in by her mouthwatering food shots. Whatever the case, our love affair with Voisin and her fat-free meals isn't fading anytime soon.
Read this blog if: You're looking for amazing vegan recipes without the fat.

Happy Herbivore
Lindsay S. Nixon's blog Happy Herbivore is a beacon of positivity. From chef-inspired meal plans that'll satisfy your taste buds (and your doctor) to weekly reader profiles of "herbies" who've reached great personal achievements though plant-based lifestyles, just a few minutes on this uplifting blog will put a smile on your face.
Read this blog if: Reading inspirational stories motivates you to be a healthier vegan.

Healthy Happy Life
On her site Healthy Happy Life, Kathy Patalsky provides healthy recipes that are both delicious and accessible. The bubbly blogger connects with followers through regular vlogs, travel features, and beautifully shot photographs of dishes such as Chunky Nutty Chocolate Banana Oat Bars and Cherry Berry Chia Seed Pudding. Patalsky also posts guides to making coconut whipped cream, choosing the proper matcha green tea, and how to shop for vegan cheese.
Read this blog if: You're looking for one of the most comprehensive vegan food blogs on the internet.

Minimalist Baker
Married couple Dana and John Shultz helm this mega-popular blog featuring sumptuous vegan and gluten-free fare. Dana's background in food styling and photography makes for visually stellar food, while each approachable recipe requires 10 ingredients or fewer, one bowl, or 30 minutes or less to prepare. Our advice? Make the Peanut Butter and Jelly Muffins tonight.
Read this blog if: Complicated cooking isn't your thing, but extraordinary food is.

Oh She Glows
Angela Liddon started Oh She Glows after a plant-based diet helped her defeat some health challenges. Now, the hugely successful blogger shares recipes such as Cauli-Power Fettuccine "Alfredo" and No-Bake Chocolate Fudge Cookies with beautiful photography and insightful commentary. In addition to running one of today's most popular vegan sites, Liddon also authored the New York Times best-selling The Oh She Glows Cookbook and recently launched an app by the same name.
Read this blog if: You want to learn how to strengthen your relationship with food until you glow from the inside out.

Olives for Dinner
Whether you visit Olives for Dinner for globally inspired recipes or to gawk at the stunning photography, you'll quickly discover that Erin Wysocarski and her camera-wielding husband Jeff run a mesmerizing blog. Posts explore everything from molecular gastronomy to unique recipes such as Watermelon Tuna Poke Bowl, Spicy Vegan Shrimp Cakes, and Mongolian Soy Curls.
Read this blog if: You need exciting recipe ideas to serve to meat-eating friends.

Sistah Vegan
What effect does the depiction of thin, white people in vegan marketing have on people of color? How does not acknowledging this racialized consciousness impact black female vegans? These are some of the questions dissected by A. Breeze Harper, PhD, who offers a critical look at today's ethical foodscape as a feminist theorist.
Read this blog if: To gain a deeper understanding of how veganism relates to gender, race, and class.

Sweet Potato Soul
Jenné Claiborne, a "Georgia Peach" living in New York City, crafts scrumptious, healthful food that's as bright and inviting as she is. Launched six years ago, Sweet Potato Soul is replete with reinventions of its namesake spud, while offering soul-warming favorites such as Plantain Empanadas and healthy treats like Raw Mango Macaroons.
Read this blog if: You love bursts of positivity and flavor.

The Sexy Vegan
When he's not crafting his VegNews column, Brian L. Patton is turning out chef-caliber recipes on his blog The Sexy Vegan. In addition to mouthwatering dishes such as Grilled Meatball Parm Sub and Mighty Mango Chick'n Sliders, readers are treated to interviews with prominent names in the vegan world, product and restaurant reviews, and insight into Patton's life as a vegan dad.
Read this blog if: You're sexy, and you know it.

The Vegan 8
Simplicity without sacrificing flavor is priority number one at Brandi Doming's The Vegan 8. The blogger focuses on recipes with eight ingredients or fewer, while eschewing oil and gluten. The Vegan 8 also includes allergy-friendly sections for those with special dietary needs, but right now, what you need is her Raw Vegan Cinnamon Spice Cheesecake Tart or Chocolate Chip Covered Cherry Muffins.
Read this blog if: You want a tasty meal but don't have many ingredients left in the fridge.
This Rawsome Vegan Life
Are you one of those people who's intimidated by raw food? If so, let Emily von Euw show you just how rawsome your diet can be. The wildly popular blogger/cookbook author posts healthy recipes (such as Red Kuri Squash Soup, BBQ kale chips, and Blueberry Coconut Smoothie)—plus raw health and beauty tips that'll have your skin aglow.
Read this blog if: You want to adopt a raw lifestyle but don't know where to begin.

Unconventional Baker
On Unconventional Baker, Audrey Snowe makes dessert easy, no matter your dietary restrictions. The baker/blogger first incorporated clean eating to combat health issues and now uses her site to showcase simple recipes free of gluten, dairy, eggs, and refined sugars. Snowe keeps readers engaged with recipes such as Emoji Cake, Cinnamon Bunny Cookies, and Classic Cashew Vanilla Birthday Cake.
Read this blog if: You've got a sweet tooth, and it won't go away without cake.

Vegan Mos
Ethan Ciment and Michael Suchman created Vegan Mos to share their passion for veganism through recipes, restaurant reviews, and commentary on human, animal, and LGBTQ rights. The couple also documents their travels to destinations such as Mexico City, where they report on finds like an all-vegan taco stand and vegan grocery store Vegan Ville.
Read this blog if: You want to live vicariously through avid vegan travelers and their adventures.

Vegan Richa
As the author of Vegan Richa's Indian Kitchen, Richa Hingle is an expert when it comes to making modern Indian food, and her blog, Vegan Richa, makes the cuisine approachable while tackling gluten-free and minimally processed recipes. Readers will be wowed by favorites such as Veggies and Lentils in Peanut Sauce, Jackfruit Chickpea Coconut Stir Fry, and Easy Chana Dal.
Read this blog if: The idea of eating chana masala every night is your dream life.
Vegansaurus
With an irreverent, oft-humorous voice, Vegansaurus brings together a collection of writers who report on daily news stories, in-depth product reviews, new restaurant openings, and fun features. Founded by Laura Hooper Beck—the weekend editor atCosmopolitan—the blog also covers more serious topics such as the battle against battery-caged chickens and spotlights victories in the vegan community.
Read this blog if: You want to laugh and learn at the same time.

Vegan Yack Attack
After going vegan, Jackie Sobon found herself taking hundreds of snapshots of her meals on her phone. This photo frenzy eventually became the impetus for Vegan Yack Attack, where followers find jaw-dropping imagery mixed with innovative recipes such as Supreme Nacho Burgers, Chipotle White Bean Salad Sandwich, and Fluffy Strawberry White Chocolate Pancakes.
Read this blog if: You eat with your eyes as much as your mouth
Will Travel For Vegan Food
For two years, Kristin Lajeunesse traveled the country to visit as many vegan restaurants as she possibly could. This journey is documented on her blog, which includes packing tips, video reviews, and interviews with local vegans in the places she visited. While she's no longer on the road like she used to be, Lajeunesse still updates regularly with topics such as "Every Vegan's Complete Guide to Portland, Oregon" and "The 26 Most Romantic Vegan Restaurants in the US."
Read this blog if: You're looking for a good vegan restaurant near—and far—from your home.