In 1998, a chef told 23-year-old Danielle Konya that there was "no such thing as a vegan dessert." The chef, someone she barely knew, probably had little clue of the decades-long legacy of world-class vegan desserts his comment would spark. Konya had no idea, either.
Back then, she says, you might find a dry, disappointing vegan brownie at your local health food store, or worse, carob chip granola. "But legitimate vegan bakeries did not exist," she recalls. So, armed with nothing but determination, a passion for animals, and a raging sweet tooth, Konya opened Vegan Treats, the world's first vegan bakery. All from a then-two-year vegan with no formal culinary training, no previous interest in being a pastry chef, and no capital? No problem.
Over two decades later, throngs of customers still line up daily for Vegan Treats' dazzling array of desserts. "Vegan Treats is legendary," says renowned cooking instructor and vegan pastry chef Fran Costigan. "I am astonished by the breadth of products they have—buttercreamy fondant cakes, beautiful bonbons, a gorgeous line of chocolates." And Konya's signature Peanut Butter Bomb—a chubby pyramid of Dutch chocolate cake filled and topped with mounds of peanut butter mousse and encased in Belgian chocolate? "Amazing," Costigan says.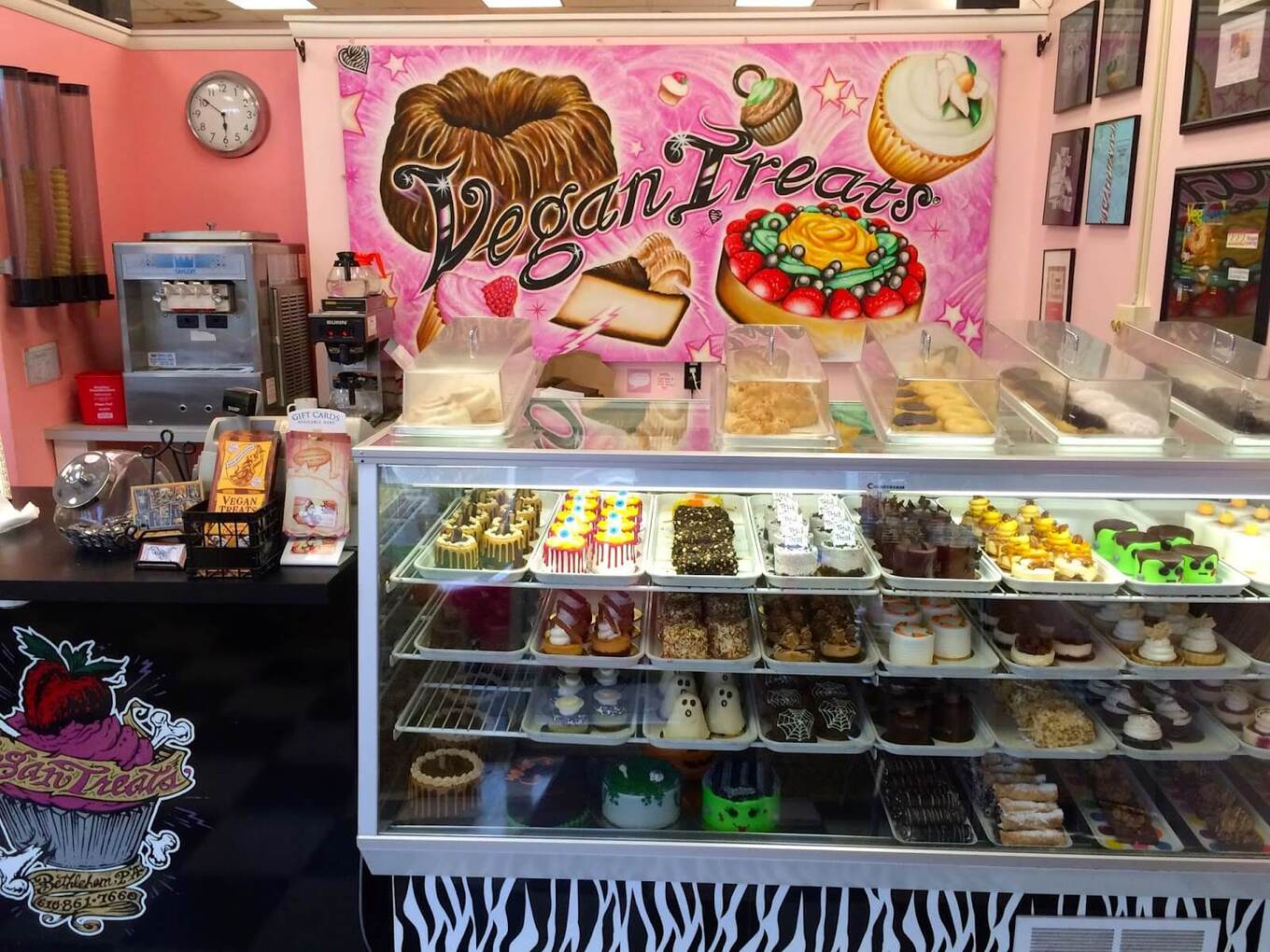 John McDevitt
How Vegan Treats began
How does someone who knows nothing about baking, vegan or otherwise, open their own bakery? Konya has her mother, Vicki Mowery, to thank. "My mother is the most incredible and supportive person in my life," she says. And Mowery wasn't just a source of emotional support—the skilled baker was actually Vegan Treats' first employee, handling all of the baking in those early days before passing the goods to her artist daughter to be turned into visual stunners.
Konya's own vegan pastry chef experience started with "a flop" when she tried—and failed—to veganize a family chocolate cake recipe. But, a self-proclaimed obsessive, she stayed with it, making cake after cake, tweaking ingredients and proportions until she made a vegan chocolate cake worthy of the Konya seal of approval. Lavished with billows of vanilla frosting, that cake marked a major milestone for Konya—it was the cake that turned the vegan dessert-doubting chef who had first sparked her journey into a true believer. His restaurant began carrying her desserts.
Soon, other restaurants started calling to place orders. Then The New York Times called. Then a TV legend. "We discovered Danielle's work through a mutual friend," says former The Daily Show host Jon Stewart and his animal-loving wife, Tracey. "We were blown away by her artistry and assumed her pastries couldn't possibly taste as good as they looked. Oh were we wrong." Now, Konya counts the celeb couple among her good friends, and the Stewarts say, "It isn't a celebration in our house without some Vegan Treats."

Jon Stewart even helped Vegan Treats get onto the air waves in 2017 when he sent an assortment of Konya's confections to the cast of ABC's The View to try on air after co-host Sunny Hostin expressed skepticism about how good vegan desserts could be. Vegan Treats saw a huge spike in sales.
EAT CAKE, SUNNY: Jon Stewart and family made @Sunny Hostin eat her words, literally — and it turns out vegan cake can be delicious! 🍰 pic.twitter.com/Coh3YspdUr

— The View (@TheView) October 5, 2017
For all the attention, accolades, and business that was beginning to roll in, there was something Vegan Treats lacked—outside funding. Konya worked 80-hour weeks, bootstrapping everything, and plowing all proceeds back into the business, which first operated out of her own kitchen. "My apartment was inundated with cakes." Too many working hours, not enough money, and not enough space—a plank-covered foosball table became the cake decorating station—clearly this was not a sustainable business model for such a rapidly growing business.
In 1999, Konya took over a nearby former deli space for $250 a month, and with zero financial support, that deli-turned-bakery is where what she calls "the Vegan Treats monster" was born. The space was an upgrade from her apartment kitchen, but still had limitations. "The only way you could make your way back to wash the dishes was to duck under a table," Konya recalls. By 2004, they'd already outgrown that space and moved into their current 4,500-square-foot storefront location. Today, 70 employees work around the clock producing roughly 800 cakes a day—way up from one of Konya's first big orders of 12 cakes.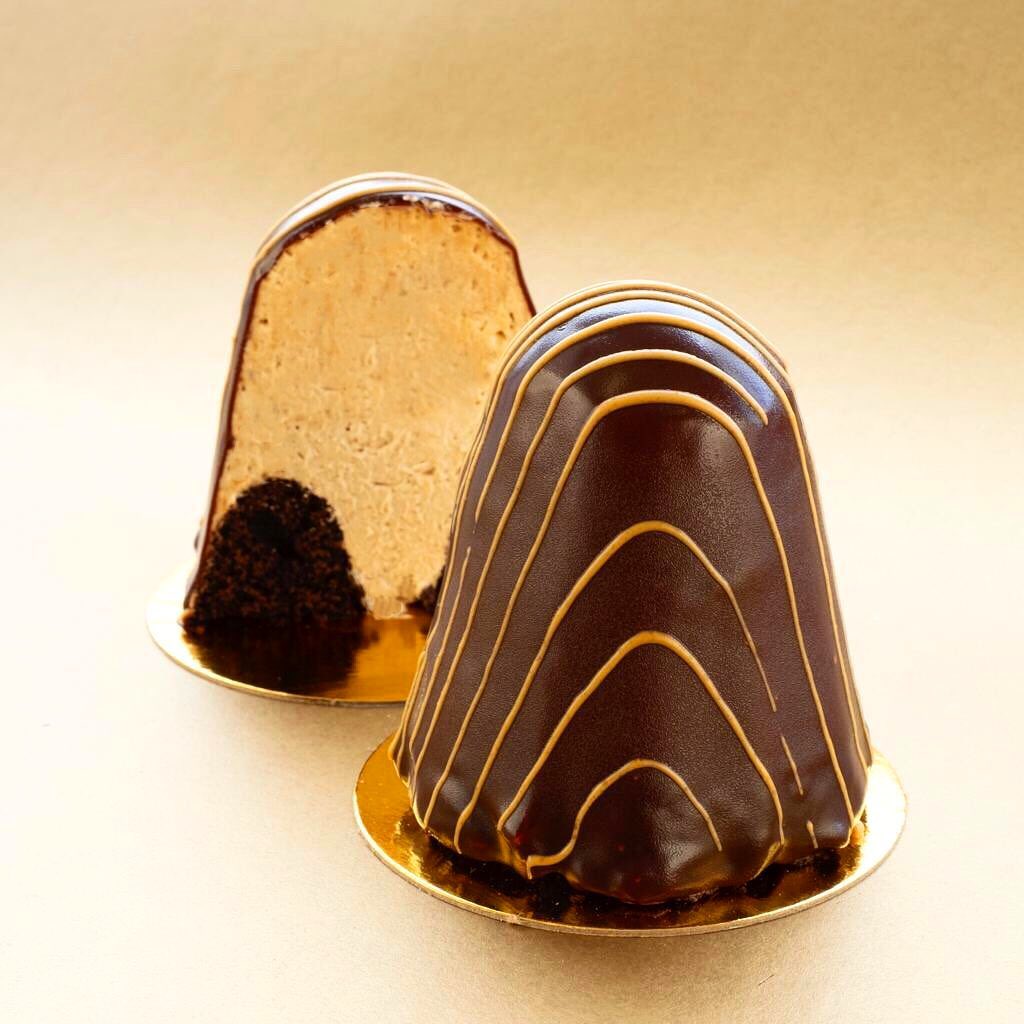 Stacey Emenecker
Along with those 800 cakes in 17 different flavors are the famed Peanut Butter Bombs, soft serve so good it earned rave reviews from Buzzfeed, 17 kinds of cookies, seven flavors of whoopie pies, cannoli (a Jon Stewart favorite) in four different varieties, nine types of pie ranging from all-American apple crumb to elegant French silk, 16 kinds of doughnuts, and over a dozen brownies. That brownie bonanza alone began 20 years ago with a single recipe—one Konya spent an entire year perfecting, and the one the bakery still uses today.
"Of course, now they're made in 60-quart mixer batches," Konya says, and they morph a dozen different ways. "As a crust for our brownie chunk cheesecakes, as a layer in our cream cheese brownie bars, as chunks in our pints of ice cream, as a variation to our brownie batter soft serve, in a cookie brownie bar," Konya rattles off. "Once the idea is figured out, there's no stopping how my brain works and the endless amount of things I want to make. Creativity is where I thrive."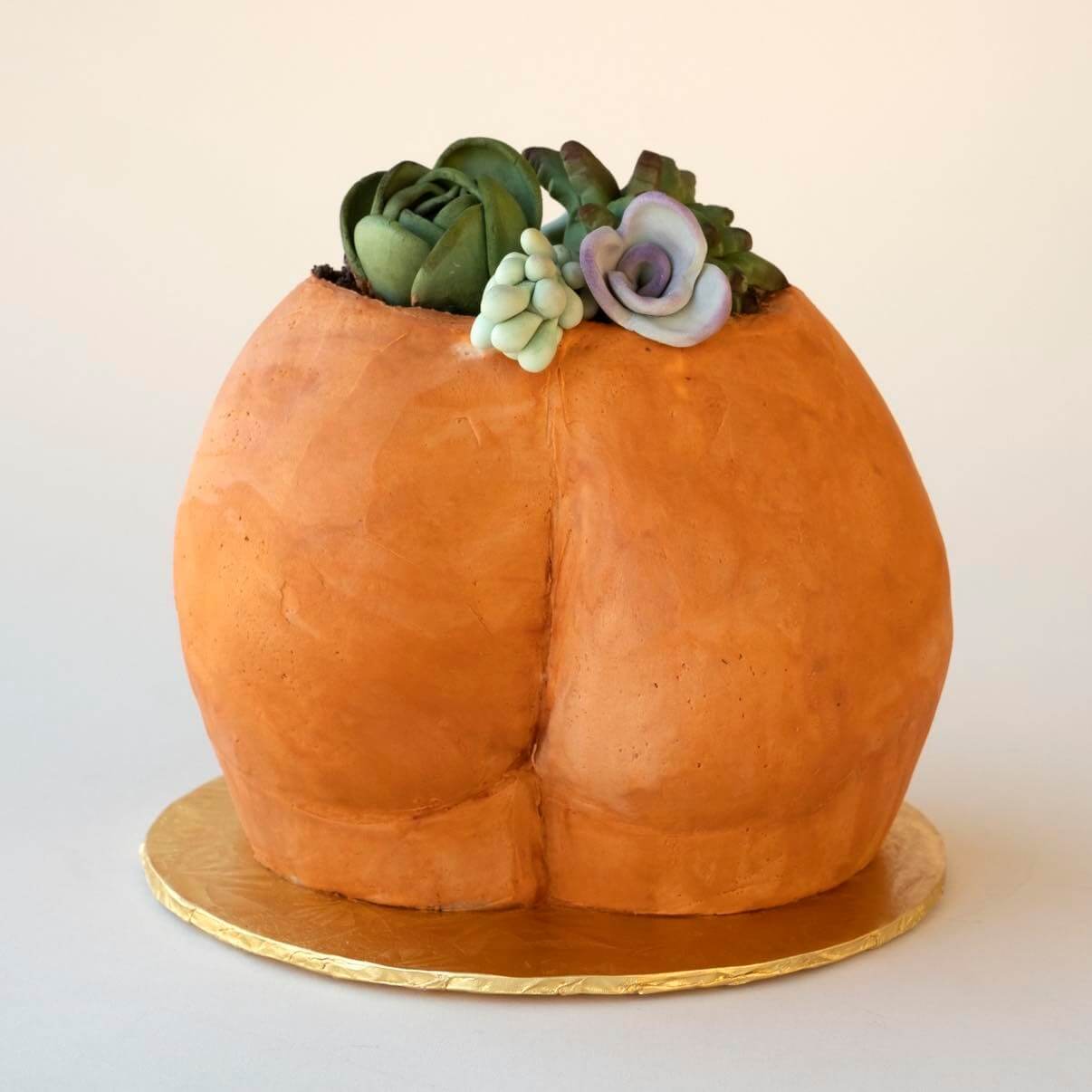 Vegan Treats
The rise of vegan
Creativity may be a Konya constant, but still, much has changed over the course of two decades. Some of the earliest restaurants that featured Vegan Treats on their menus have since folded, but a great many more have taken their place. Now you can find Vegan Treats' confections in more than 100 markets, cafés, and eateries in Pennsylvania and beyond—from New York and New Jersey to Delaware, Maryland, Virginia, and Washington, DC.
Another big change since Vegan Treats began are the products the bakery uses. Remember a time before vegan butter and aquafaba? Konya does. Her commitment to using ethically produced ingredients is no longer an obstacle to business, but a full-fledged selling point as access to such products have become easier to source over the years. Long before supermarket walls were lined with milks made from almonds, oats, cashews, hemp, or rice, Konya was working with what she calls "very brown soy milk." Today's new innovations are exciting and fun, she says, but the products aren't standardized—two different brands of cashew milk, for example, will perform two different ways. To Konya, though, "that's part of the fun. We get to play with all of these new ingredients. I learn a lot every time I experiment in the kitchen."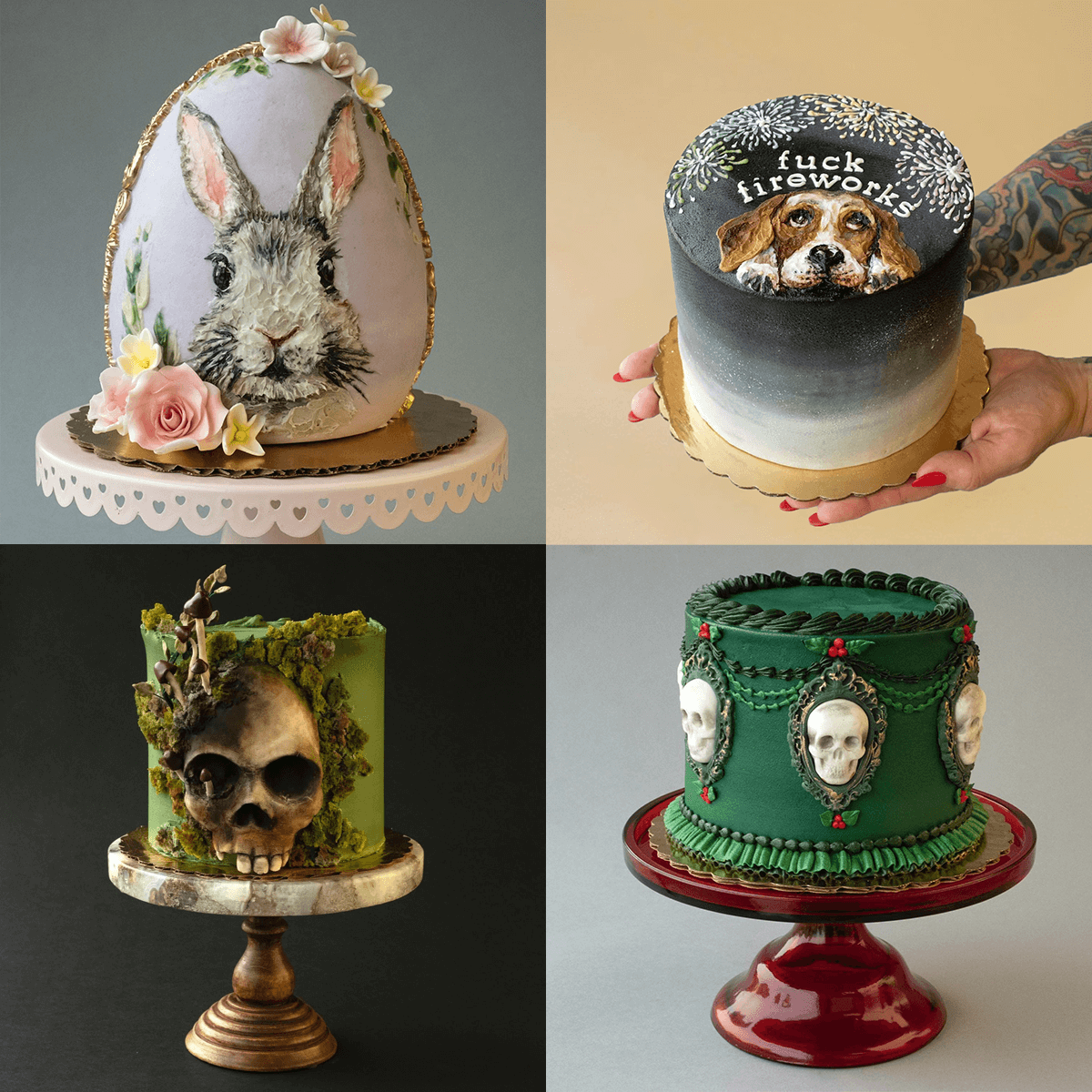 Vegan Treats
She no longer has to spend her days and nights feverishly baking and decorating her delights. "I still get my hands in the kitchen, but now I have the luxury of working with my very curated and hand-selected team. I draw ideas and then have my team execute them." She is an artist, after all.
Konya even draws her sales displays with full-color renderings of her desserts to make sure they're as pleasing to the eyes as possible. This is her trademark dedication to a standard of visual excellence that's as high as her standard for flavor—everything must pass the Konya taste test before it even makes it onto the menu. "The decision to go vegan came easy for me, but I was vegan for approximately 24 hours before I was craving dessert," says Konya. "I wasn't a dessert-is-the-best-part-of-a-meal kind of dessert lover, but a replace-the-meal-with-dessert kind of dessert lover." And 23 years in the business hasn't changed things. Konya still loves her desserts.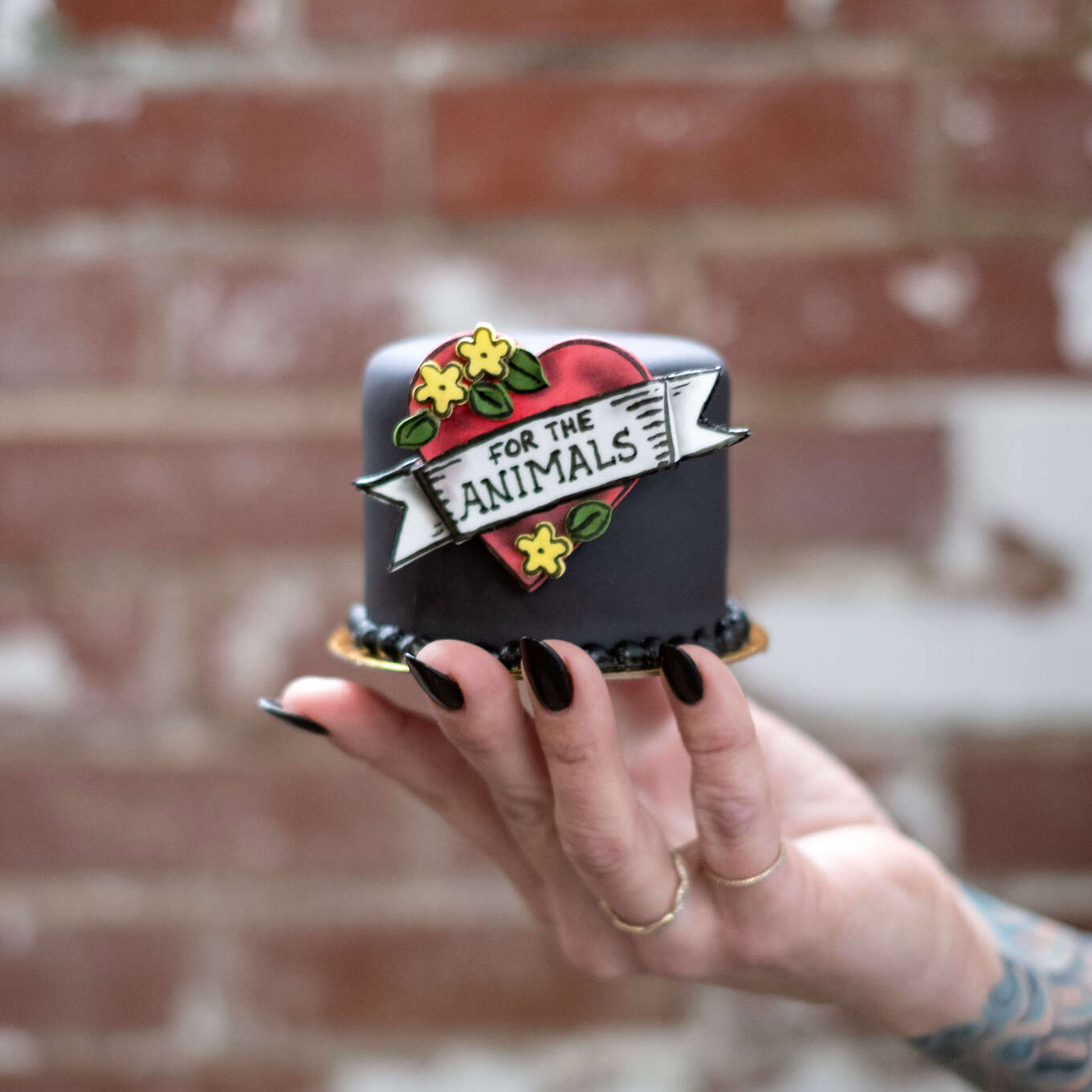 Stacy Emanaeker
In it for the animals
But, she loves animals even more. For years, Vegan Treats has donated thousands of cookies, cakes, and pastries to animal-rights organizations and events that align with Konya's beliefs. "Danielle is a champion for animals—donating her magnificent vegan treats to Farm Sanctuary events for nearly two decades," says Farm Sanctuary's Marie Jones. Participants get to indulge in a sweet vegan treat (or two), but what does Konya get out of it? The chance to spread that message even further, she says. To have a greater impact and to "stand with people in the vegan community who have been game changers."
For a new generation of conscious confectioners, though, Konya is the game changer. "I saw the success of Vegan Treats and realized it was possible to maintain my vision of forward-thinking, artfully delicious treats without compromising, and still be successful," says Maya Madsen, founder of San Diego's vegan cookie shop Maya's Cookies. "Vegan Treats is high quality, beautiful, and artisanal—exactly what I strive for."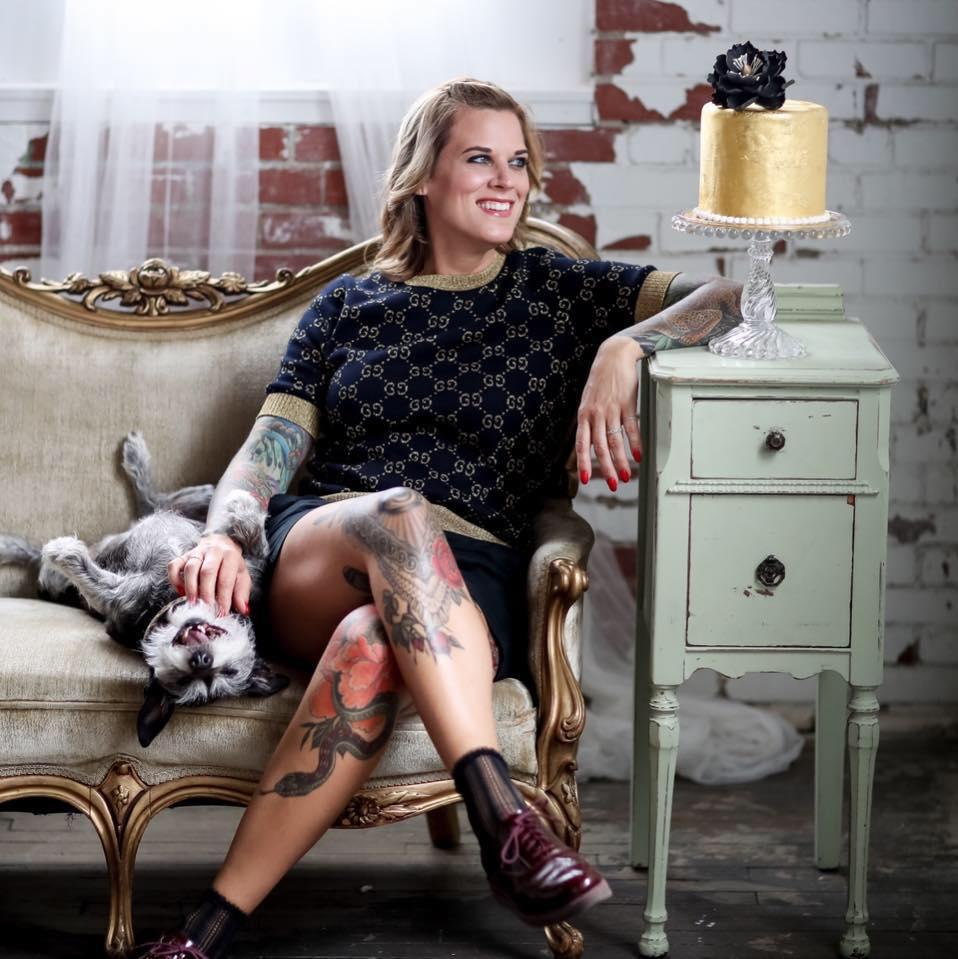 Danielle Konya/Facebook
What's next
For all its adoration and acclaim, Vegan Treats hasn't always been a treat to manage. "While I have no regrets about choosing a career path that aligns with my activism, if I had to do it over again, I don't think I would choose to own a bakery," Konya admits. At 46, she's devoted half her life to Vegan Treats and, even with the support of her beloved staff, finds herself with not enough down time to spend with her dog, Madeline, and Pumpkin, the cat. Some nights, Konya is so excited about developing a new recipe, she can't sleep. Other nights, she's preoccupied with onboarding a new employee or managing a distribution challenge.
Each year starts off at a mad dash to meet demands for Fatally Yours, Konya's limited-edition, gorgeously goth Valentine's Day chocolate collection. Before you know it, it's summer. "Veg fest season is insane," Konya says. So are, unsurprisingly, the holidays. Then there's managing the bakery itself. "Mondays in the middle of the afternoon, there's a line down the street in the snow or rain." When the economy tanked in 2008, the Vegan Treats machine never slowed down.
The pandemic, however, was catastrophic. One by one, restaurants the bakery supplied for years were forced to close, to the point that Konya considered shuttering Vegan Treats along with them. "We operated at net-zero and some weeks in the negative." Bills flooded in. The bakery endured staff layoffs. Finally, Konya secured a PPP loan, which went directly into funding payroll.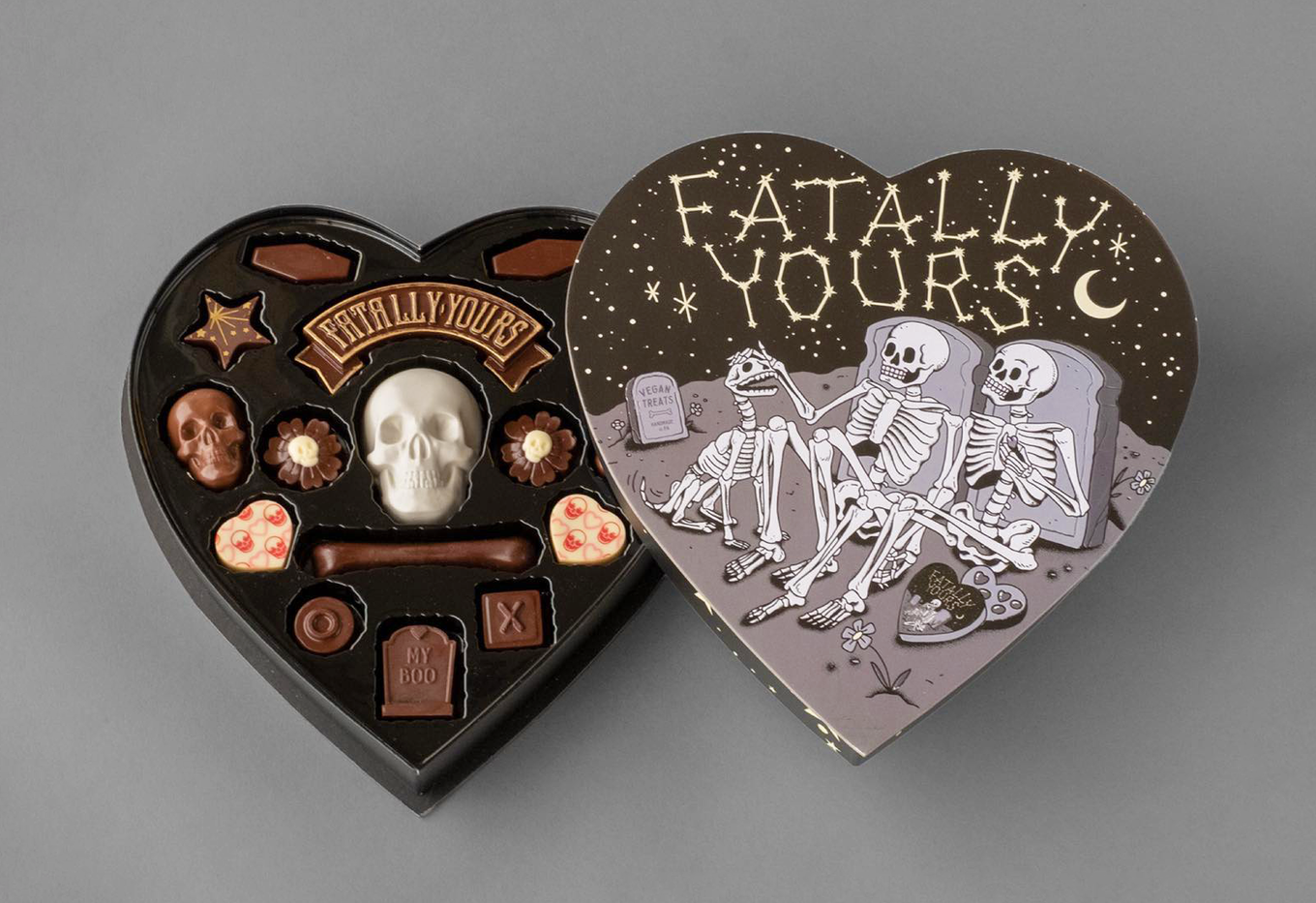 Vegan Treats
Vegan Treats implemented curbside pickup and deliveries. But Konya being Konya, took things further. If people couldn't come to Vegan Treats, Vegan Treats would come to the people with mail-order Quarantine Vegan Treats Survival Kits. The business made it through the pandemic, but its own survival depends on expansion. "We need to move, again," says Konya. "We are bottlenecked in every sense of the word. Something needs to give."
She's in tentative talks with investors as the bakery explores bigger space to accommodate manufacturing. The pressure is mounting, and growth has to be done with lots of care, but Konya admits: she's really excited—both for the new heights she can push Vegan Treats to as it navigates its second decade and beyond, and for the impact she can have on the lives of her customers and the lives she bakes to save. "I've never cared about baked goods. I cared about animals. Vegan Treats is my way of seducing people into thinking with their fork."
For the latest vegan news, read: