Pride is colorful. Pride is fun. Pride is a celebration—but it's more than just rainbows. While the items below focus on the literal sunshine and rainbows of Pride, we acknowledge that this month is about something far more important than promotional stuff. There are still people who do not feel safe being who they are, and that's not okay. So here's to celebrating Pride—not just until LGBTQ+ individuals are universally accepted, but for years and years to come.
Should you buy from Pride collections?
Branded Pride collections inspire mixed opinions from many people. While some believe that they are an effective way to raise money for queer-focused nonprofits, as well as raise awareness of issues facing the community, others believe it is just another opportunity for brands to jump on the bandwagon and make some more money.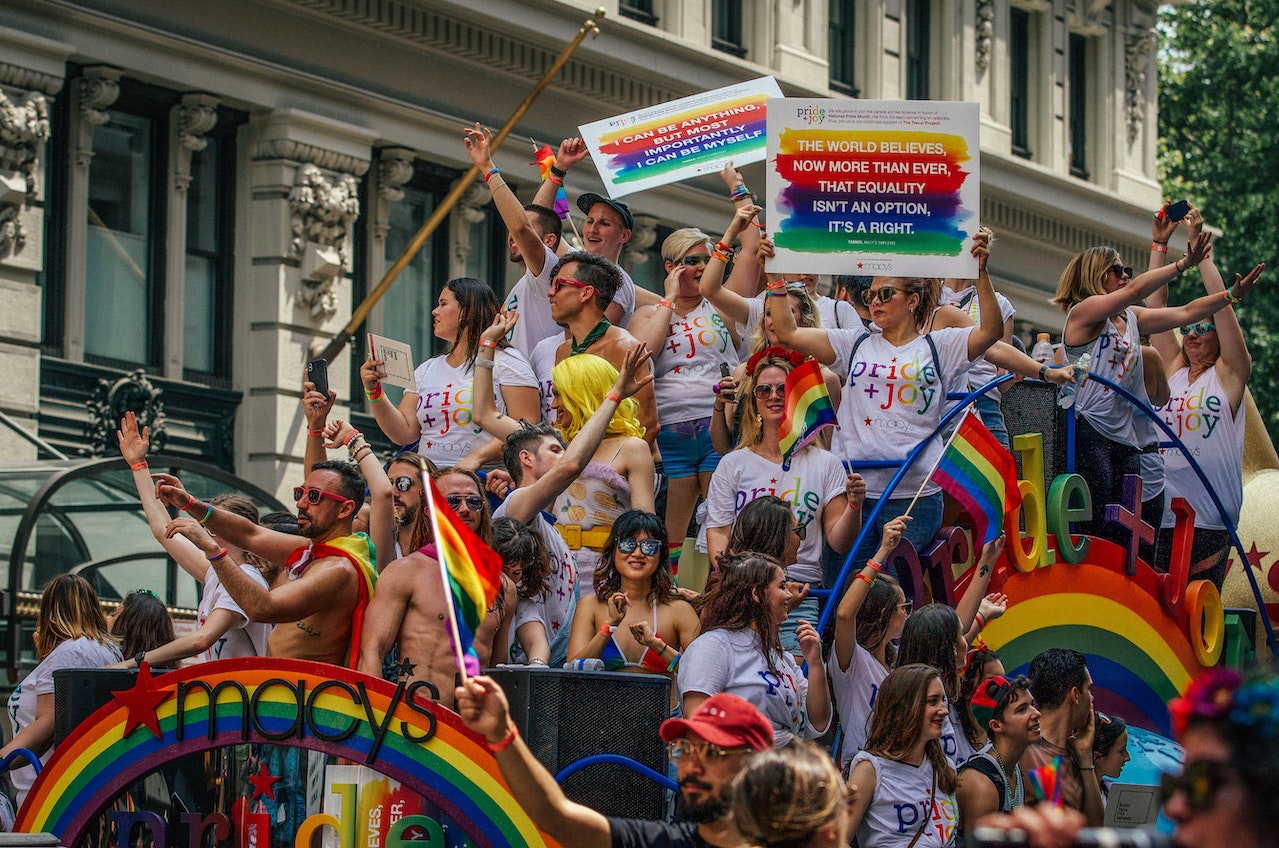 Following NYC/Pexels
If you're not sure whether to buy from a Pride collection, it's important to look for concrete partnerships and evidence of where the money raised is actually going. For example, if a brand is just selling rainbow-colored merchandise, with no speak of how this is going to actually benefit the LGBTQ+ community, it might be best to avoid it.
The vegan-friendly brands below are all dedicated to supporting nonprofits and organizations working to support and uplift the LGBTQ+ community this Pride Month.
Show your pride with these 8 vegan-friendly brands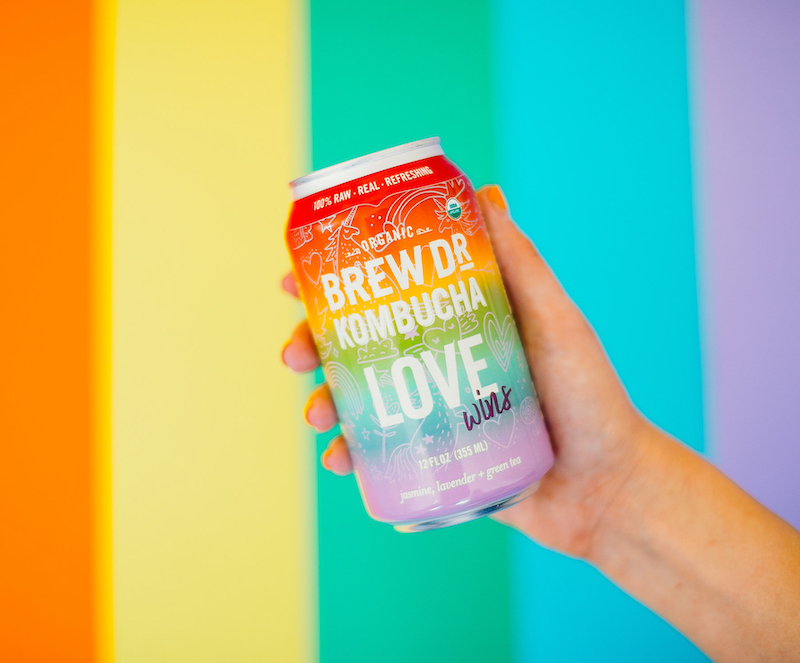 Brew Dr.
1Brew Dr. Kombucha
For the fifth year in a row, Brew Dr. is supporting The Trevor Project, this time, with a matching $50,000 donation. The rainbow-wrapped bottles can be found anywhere you typically purchase your Brew Dr. (see the store locator—for options ranging from liquor stores to gas stations, they're everywhere). The specialized brew is the brand's iconic Love flavor reincarnated with flavors of lavender, chamomile, and jasmine green tea.
FIND IT HERE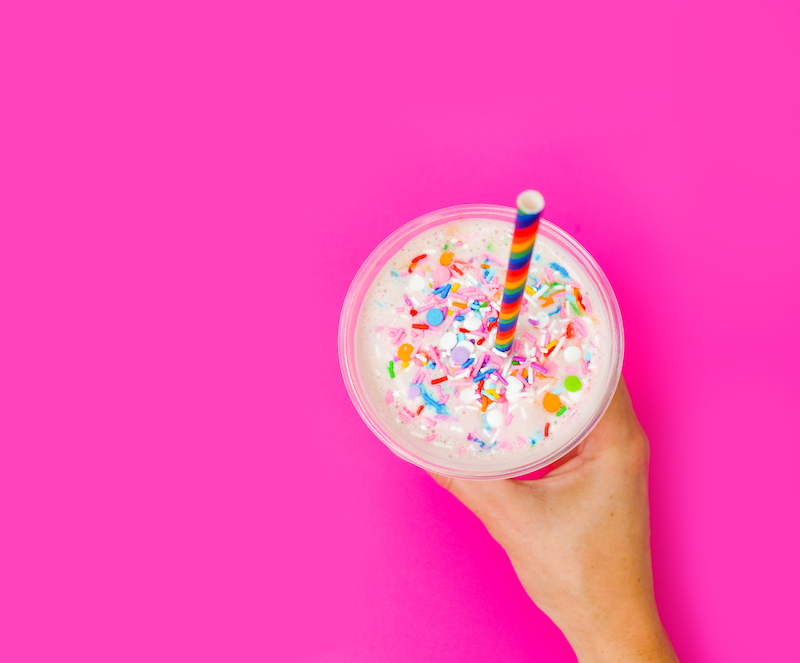 HipCityVeg
2 HipCityVeg milkshake
According to this Philly-based vegan eatery, you can never have enough sprinkles. The restaurant's returning strawberry-flavored Love Shake is doused with shimmery rainbow sprinkles and finished with a paper rainbow straw. Five percent of the shake's proceeds will be donated to William Way LGBT Community Center, a nonprofit organization that serves the LGBT+ population of Philadelphia.
FIND IT HERE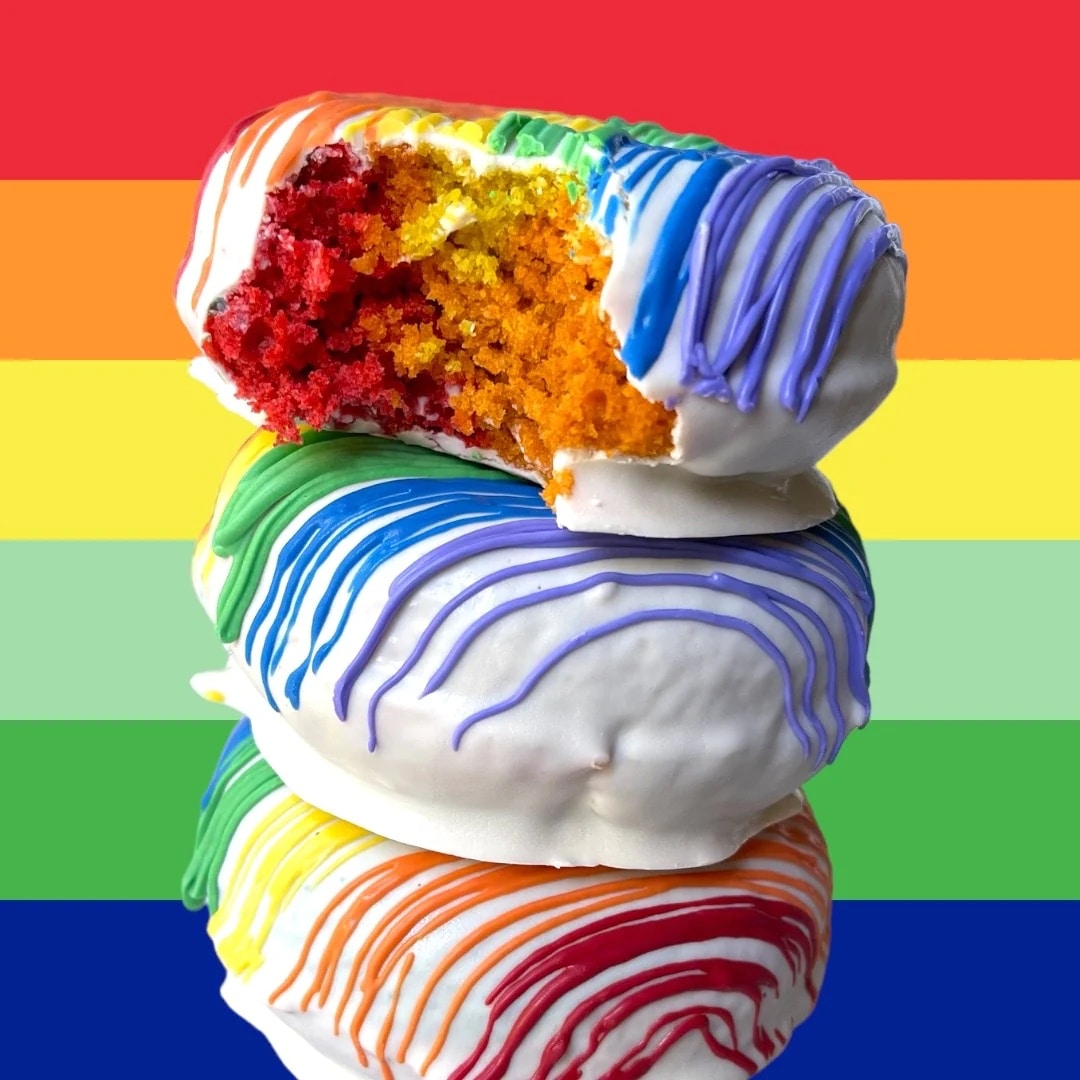 Karma Baker
3 Karma Baker doughnuts
This bakery is transforming doughnuts into donations. All proceeds from Karma Baker's rainbow doughnuts will be donated to The Trevor Project for the month of June. That's right—not five percent, not 10 percent, but 100 percent. If you're thinking of donating to an LGBTQ+ organization this month, might as well support a small vegan business and get something sweet all in one powerful transaction.
FIND IT HERE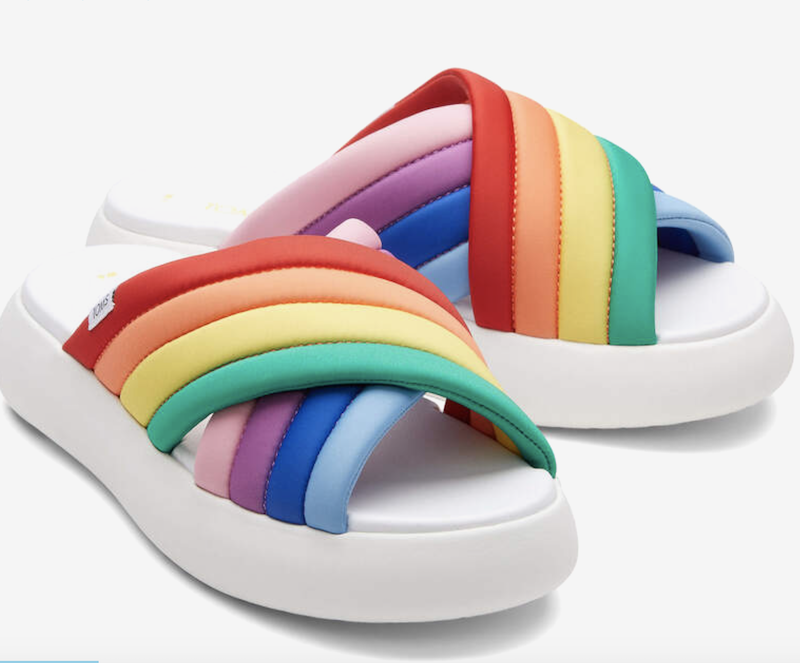 TOMS
4 TOMS Unity Collection
Support Pride year-round by rocking a pair of vegan-friendly kicks from TOMS' Unity Line. One-third of the proceeds from these items support various LGBTQ+ organizations such as Brave Trails—a leadership- and mental health-focused summer camp for LGBTQ+ youth.
FIND IT HERE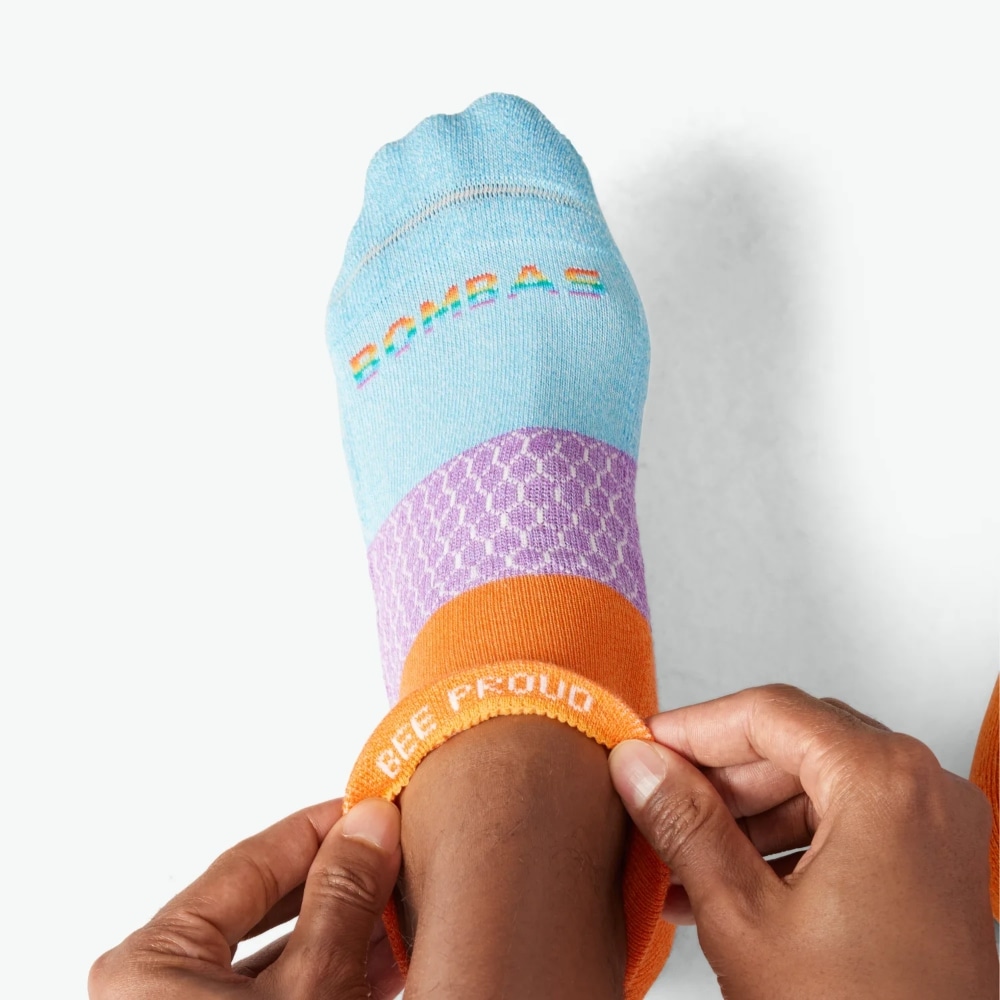 Bombas
5 Bombas Socks


Wear your Pride on your feet with Bombas Socks' 2023 Pride Collection. Each pair of vibrant, wool-free rainbow socks—choose from ankle, no-show, calf, and more, as well as underwear options—supports essential clothing donations to organizations supporting people experiencing homelessness, like the LGBTQ+ nonprofit the Ruth Ellis Center.
FIND IT HERE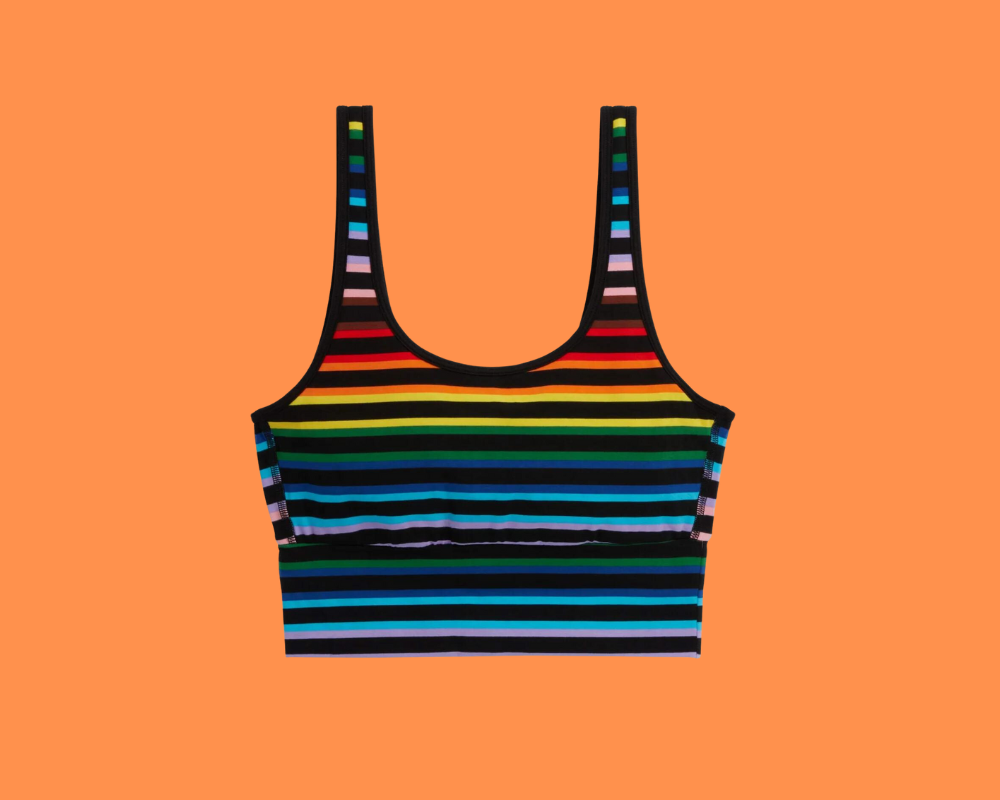 6 TomboyX
Made with organic cotton, TomboyX's underwear is sustainably produced, comfortable, and breathable, too. The queer-founded brand, which is dedicated to empowering the LGBTQ+ community all year round, is currently offering 25 percent off its range of Pride-themed rainbow items, which include racerback bras, hipster briefs, longline scoop bras, and boxer briefs.
FIND IT HERE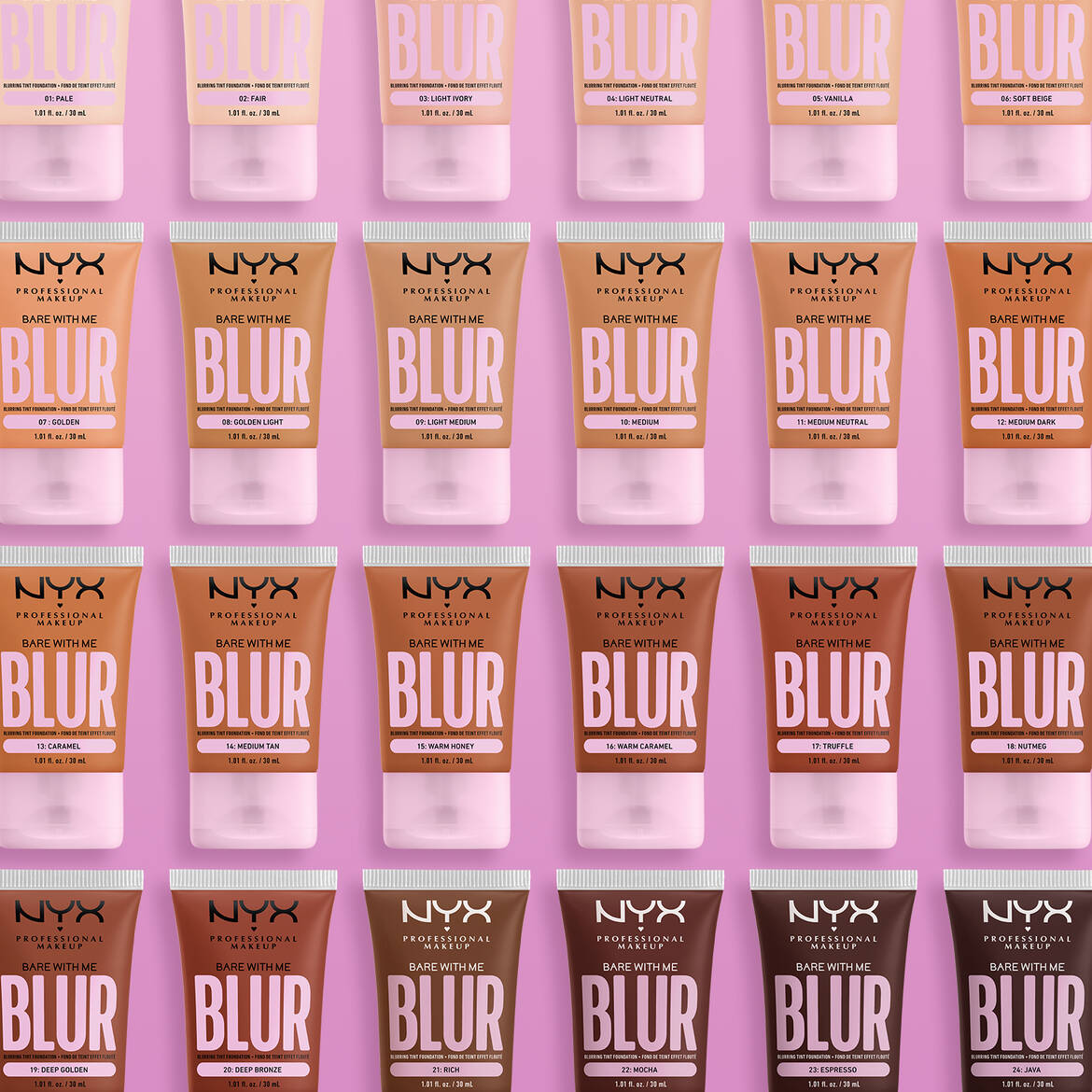 NYX
7 NYX
Vegan-friendly cosmetics brand NYX has partnered up with the Los Angeles LGBT Center to offer allyship training quizzes to its customers. It works like this: you take the quiz, learn how to be a better ally to the queer community, and then you are rewarded with a discount on your next order. The brand isn't totally vegan, but it has plenty of animal-free formulas to choose from, including foundations, moisturizers, lip creams, and more.
FIND IT HERE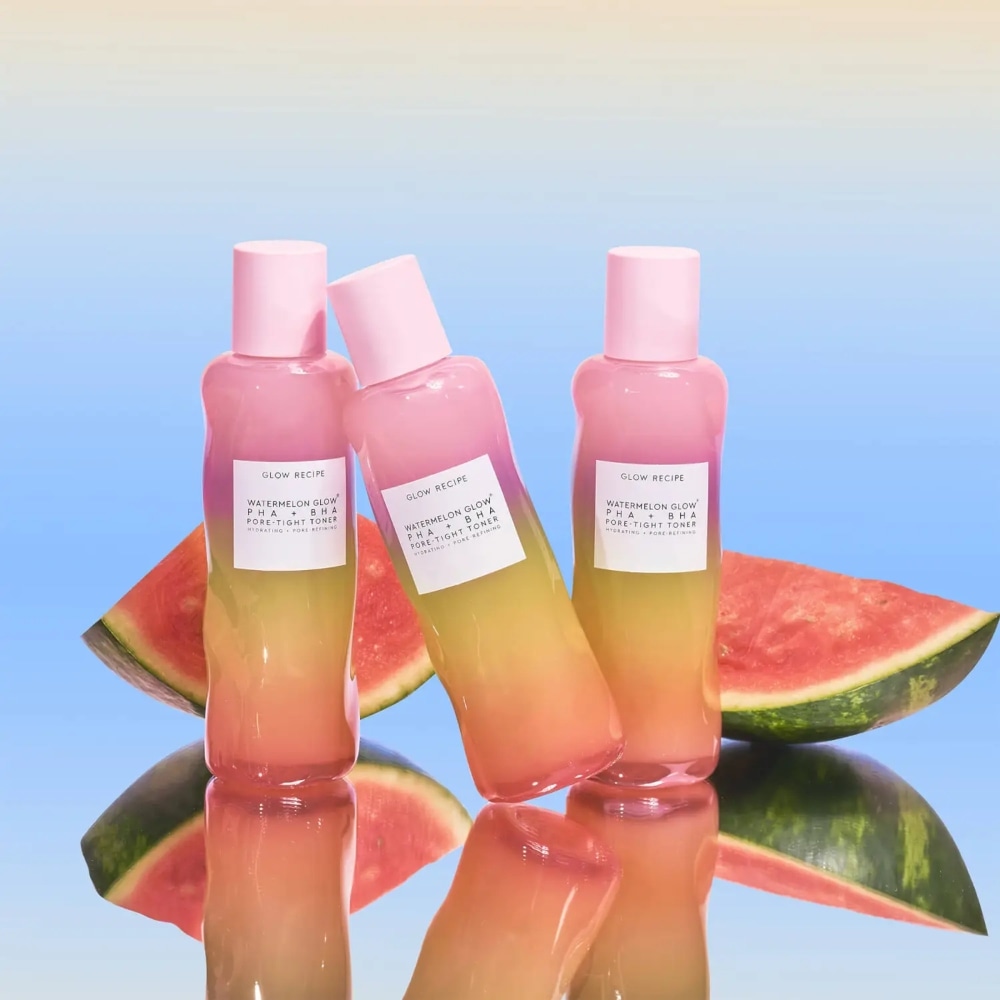 Glow Recipe
8 Glow Recipe
Take care of your skin and show your support for Pride at the same time with Glow Recipe's Pride Watermelon Glow PHA+BHA Pore-Tight Toner. The limited-edition skincare hero supports the It Gets Better Project, which is a nonprofit dedicated to uplifting the global LGBTQ+ community. Glow Recipe has committed to donating $15,000 to the nonprofit, as well as $15,000 worth of products.
FIND IT HERE
For more on vegan Pride, read:
Here at VegNews, we live and breathe the vegan lifestyle, and only recommend products we feel make our lives amazing. Occasionally, articles may include shopping links where we might earn a small commission. In no way does this effect the editorial integrity of VegNews.