Imagine if you could prepare for the next big game day gathering with your pals with just one trip to the grocery store. Thanks to Trader Joe's, you totally can. From your basics such as chips and dips to heartier fare to get your guests through halftime and beyond, this accessible, vegan-friendly grocer stocks everything you need. Pile your cart with these 13 game day essentials to feed everyone from a party of one to a super-sized bash.
Which snacks aren't vegan at Trader Joe's?
Trader Joe's continues to innovate and expand its vegan options—mostly by way of its own private label products—but sometimes it includes eggs or dairy in places you likely wouldn't suspect. We mention it here, because many of these items could blend seamlessly into any game day spread.
Flavored chips at Trader Joe's are often vessels of unexpected dairy. For example, the pickle-flavored Chip in a Pickle chips and the Organic Elote Corn Chip Dippers contain milk powder in their seasonings.
You'll also want to double-check the ingredient list of chocolate-covered products as most of these contain dairy. Unfortunately, the Chocolate & Peanut Butter Joe-Joe's and Dark Chocolate Peanut Butter Cups are off the table if you're eschewing animal products.
Finally, look before you buy when it comes to the trail mixes. The Rainbow variety and the Cashew Butter Covered Cashews both contain milk.
13 vegan game day snacks at Trader Joe's
There's no need to check the label on any of these items. All are game day- and vegan-approved.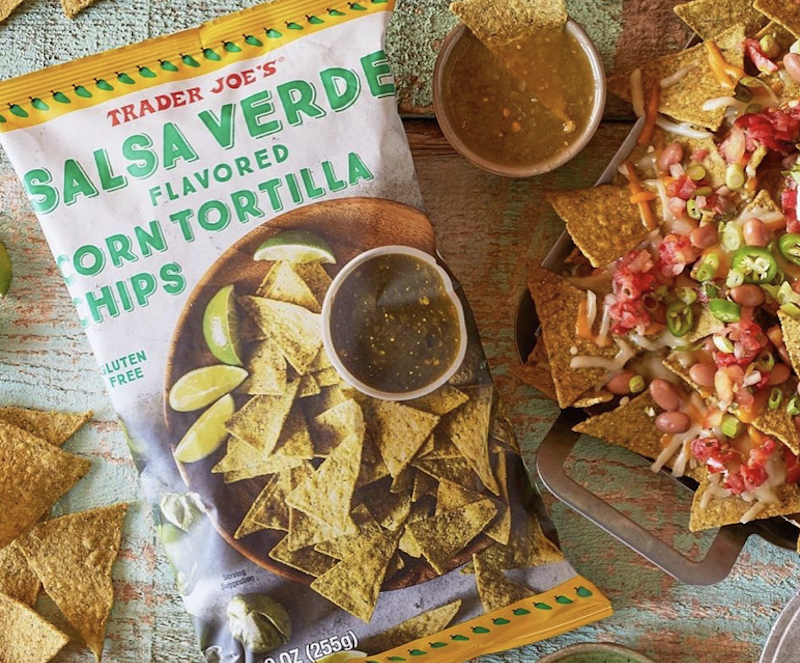 Trader Joe's
1 Chips and dips
No Game Day spread is complete without a smorgasbord of chips and dips. Go for your basic tortilla chips or be a little extra with Trader Joe's Plantain Chips or the super crispy Ridge Cut Potato Chips. The store has plenty of salsa options to choose from including the affordable, no-frills Thick & Chunky. You'll find ready-made guac, an assortment of hummus flavors, and the Caramelized Vegan Onion Dip in the prepared foods section. In desperate situations, we could survive off these dips alone and be perfectly content.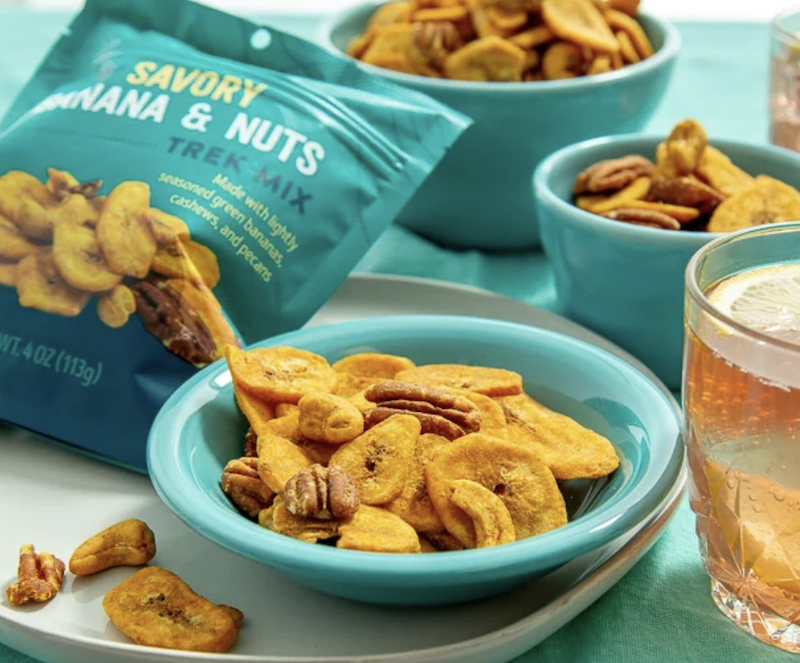 Trader Joe's
2 Savory banana and nut mix
Step up the obligatory mixed nuts game with this spiced trail mix-esque snack. It's made with green bananas that offer a surprisingly savory component, as opposed to the expected sweet crunch. Fill up all of your snack bowls with this addictive mix and pair with a few vegan beers.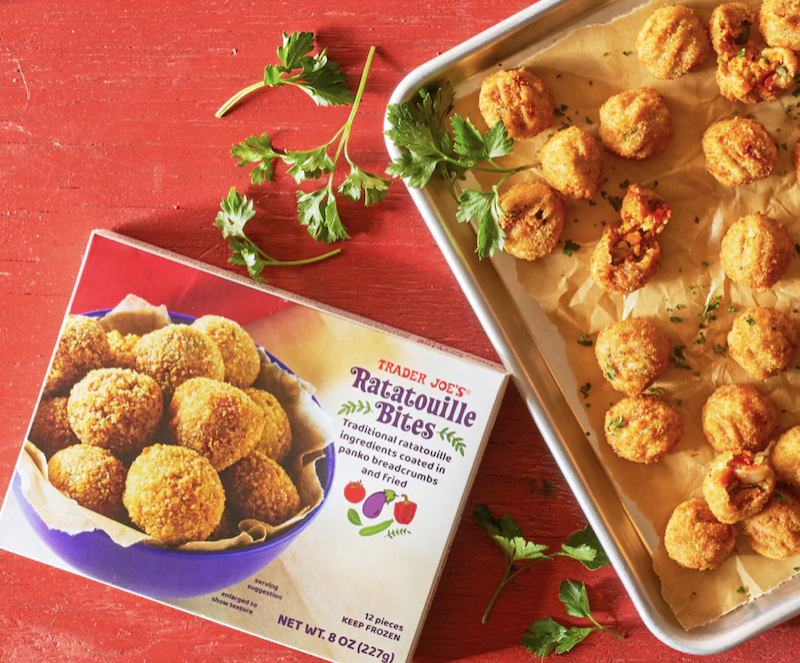 Trader Joe's
3 Ratatouille bites
Fried finger foods are game day staples, and these bite-sized bits of battered and fried veggies fit right in. Serve with warm marinara for an equally addictive snack beyond the usual mozzarella sticks.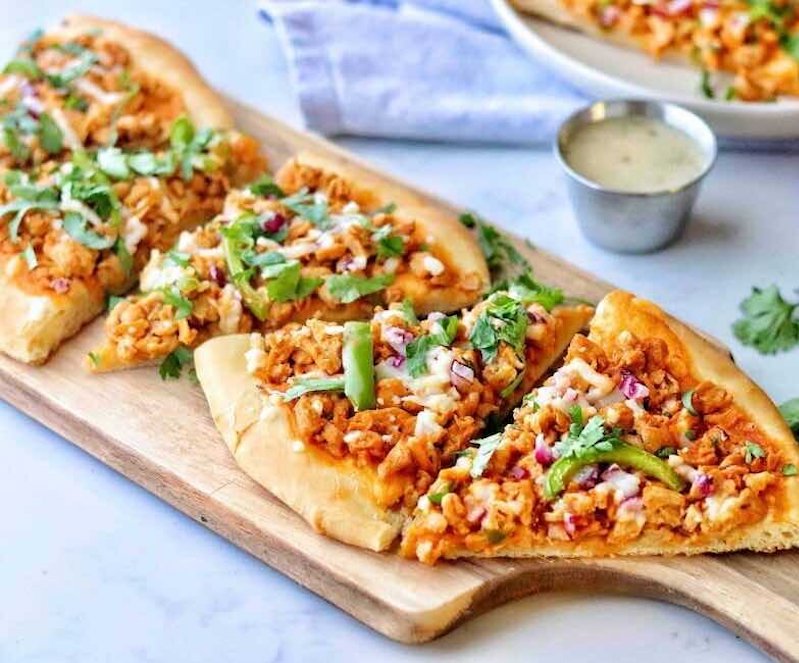 Abbot's Butcher
4 Pizza dough
Toss together party-sized vegan pizzas or create a make-your-own-pizza station with the help of this reliable, store-bought dough. All three flavor variations—Plain, Whole Wheat, and Garlic & Herb—are vegan-friendly. Grab a jar of the store's name-brand pizza sauce, a few veggies, and a bag of shredded vegan mozzarella on your way to the checkout line.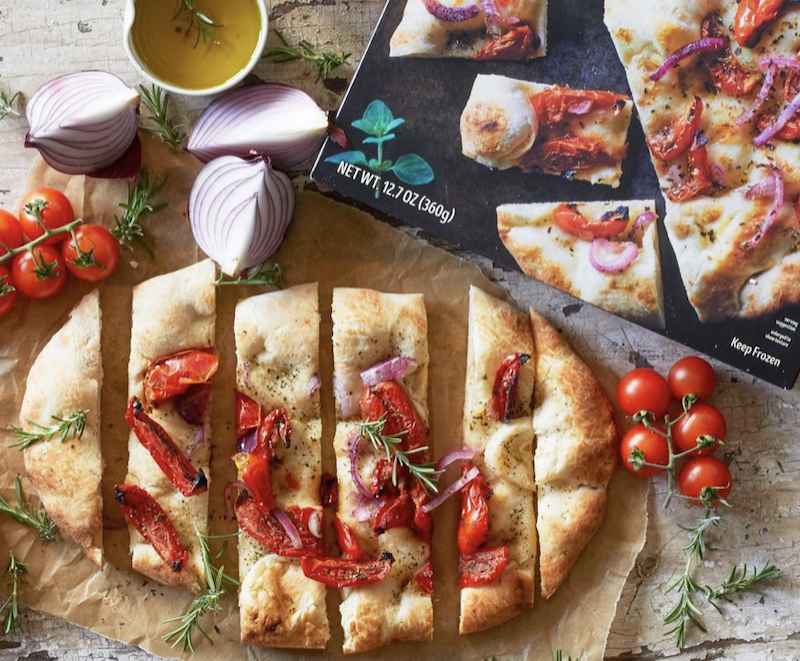 Trader Joe's
5 Tomato and onion focaccia
When you can't be bothered to make pizza, pop a few of these thick flatbreads into the oven. The focaccia base is wonderfully fluffy with just the right amount of chew—it doubles as one of the best frozen pizza crusts we've had, vegan or otherwise. The toppings on this focaccia are sparse—we recommend gussying it up with a few dollops of vegan ricotta, plant-based chorizo, and marinara.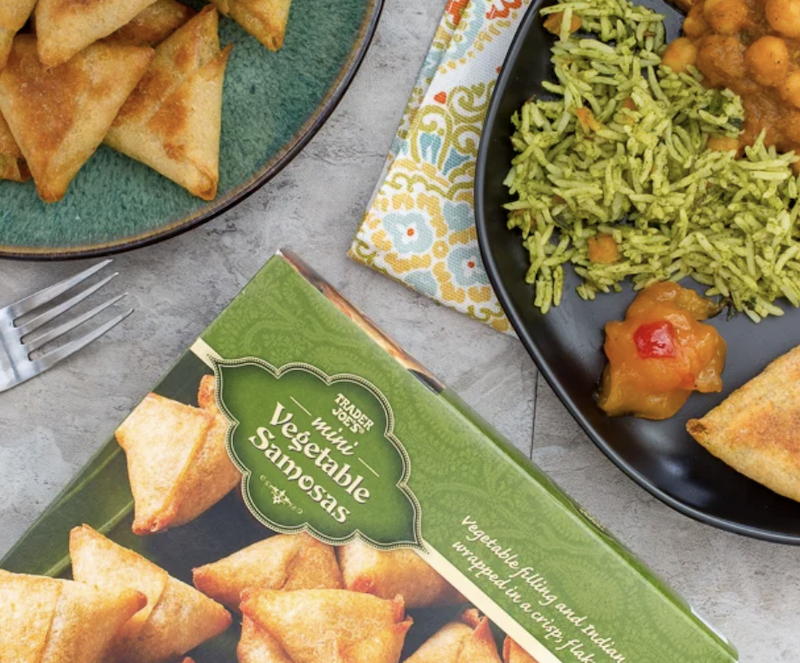 Trader Joe's
6 Mini vegetable samosas
Warm, flaky, and flavor-forward, Trader Joe's samosas are always a hit on game days and any day, really. Pair with a trio of mango, tamarind, or mint chutney for a dip display that puts hum-drum chips and guac to shame.
Trader Joe's
7 Chicken-less Crispy Tenders and Mandarin Orange Morsels
If your guests include a mixed company of vegans and omnivores, it's best to stock up on meatier options. Trader Joe's has you covered with these sticky-sweet orange chicken(less) bites as well as shareable classic vegan chicken strips. Pro tip: save your oven space and whip up the tenders in an air fryer.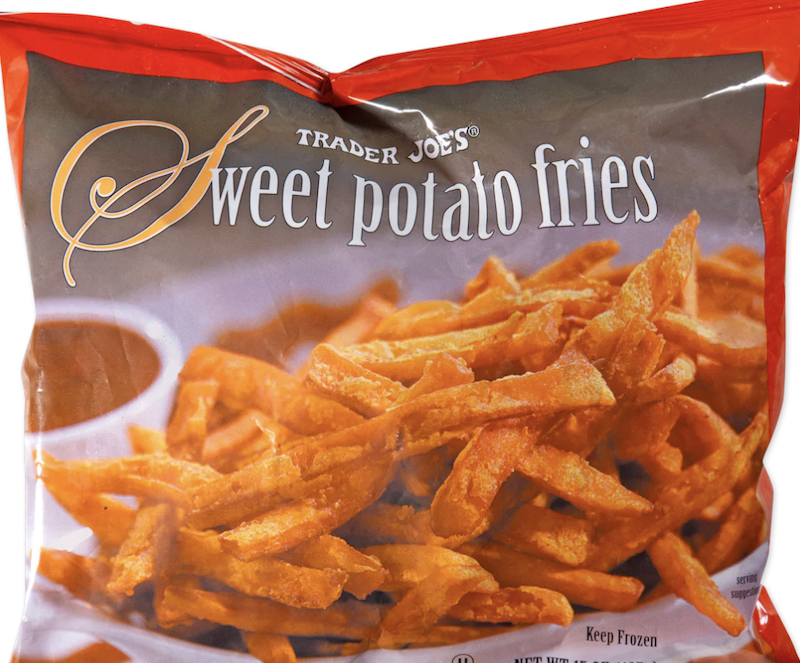 Trader Joe's
8 Frozen sweet potato fries
No need to labor away peeling potatoes. Pop these perfectly seasoned sweet potato fries into the oven and you're golden—as are the fries.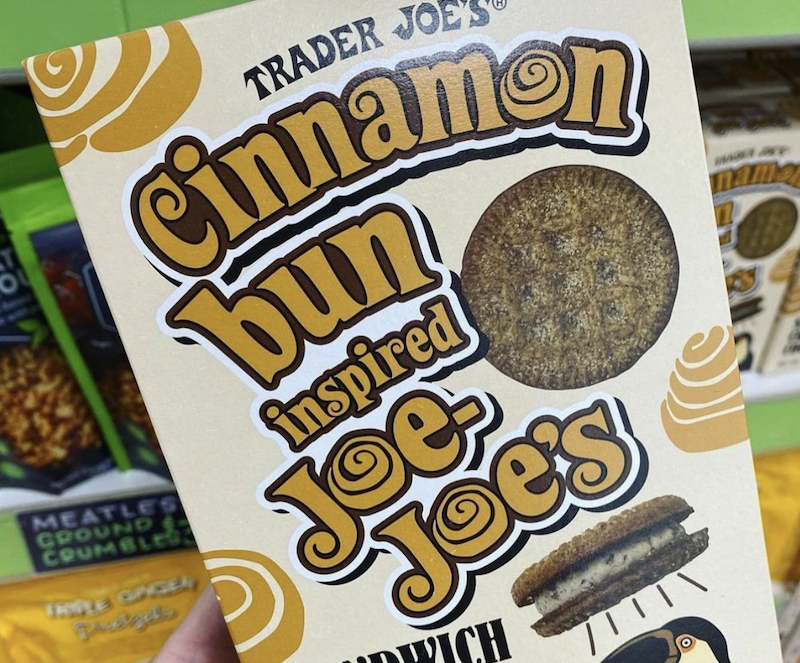 Kreg Sterns
9 Joe-Joe's
From the OG chocolate and vanilla creme to the newest Cinnamon Bun flavor, Joe-Joe's are always welcome at the party. Now, even the gluten-free variety is free of animal products (it used to contain eggs). Buy a few boxes for your get-together; they go fast! But remember, steer clear of the Chocolate & Peanut Butter flavor, as these contain dairy.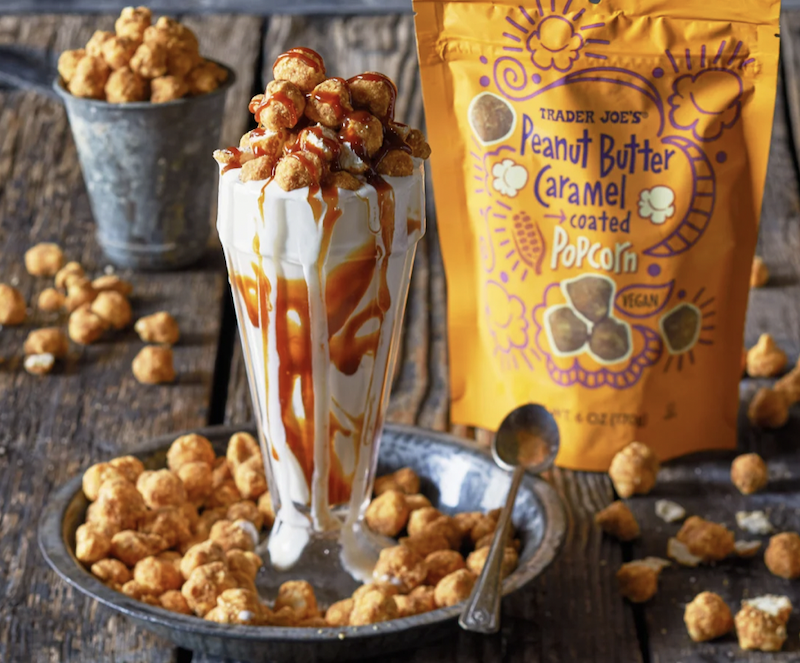 Trader Joe's
10 Peanut butter caramel-coated popcorn
Don't let the name deter you—this sweet-and-salty treat doesn't contain any animal ingredients. Buy a few more bags than you think you'll need because your guests will steadily paw through this airy snack before the first quarter is up.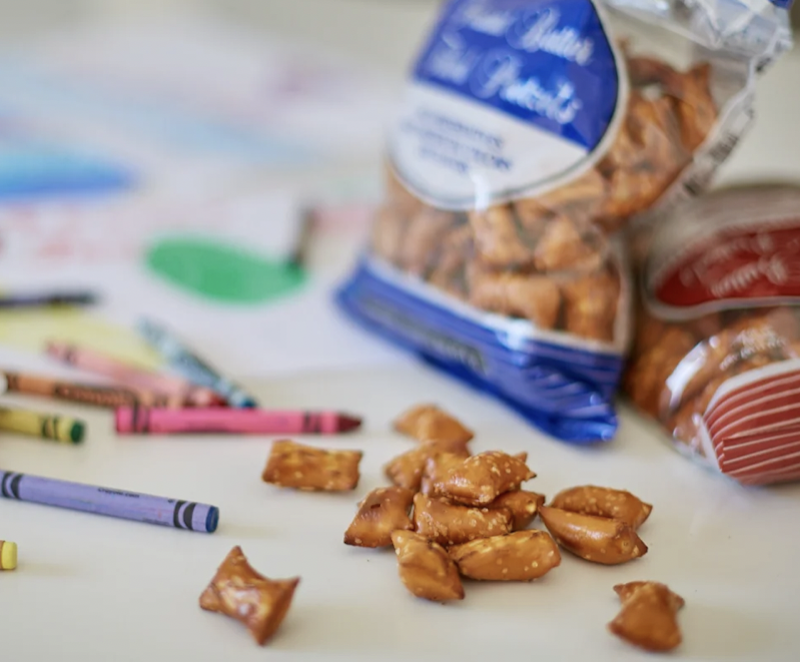 Trader Joe's
11 Peanut butter-filled pretzels
Whether you're five or 50, no one without a peanut allergy can resist these salty snacks. They're fantastic on their own, but we're eager to try them as dippers for the Chocolate Hummus. Hello sweet, salty, chocolate-peanut-buttery goodness.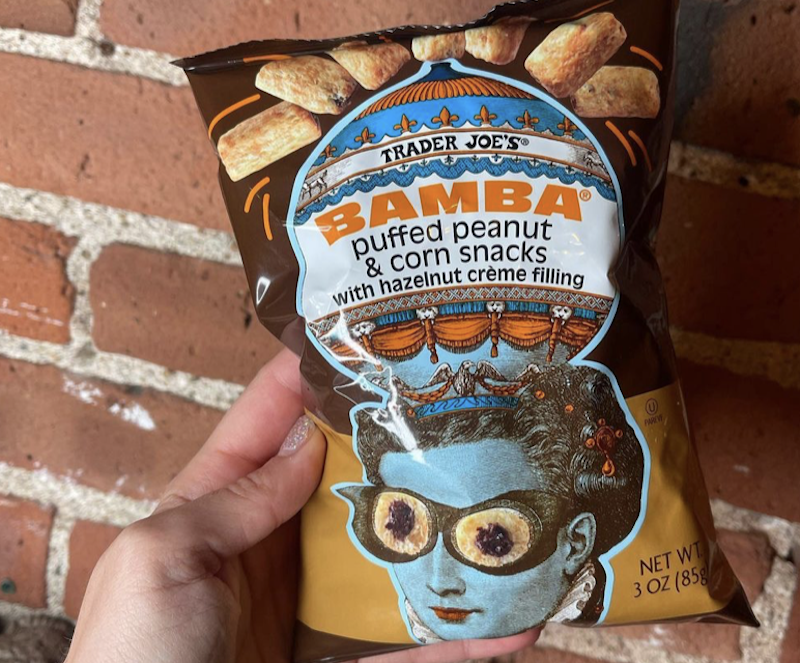 @vegexpertboston/Instagram
12 Bamba snacks
What's a Bamba peanut snack? Picture a cheese puff, but flavored with peanut butter instead of cheese—like a giant peanut buttery Cheeto. Are you sold yet? TJ's also makes Bambas with a dairy-free hazelnut creme filling. We're buying both.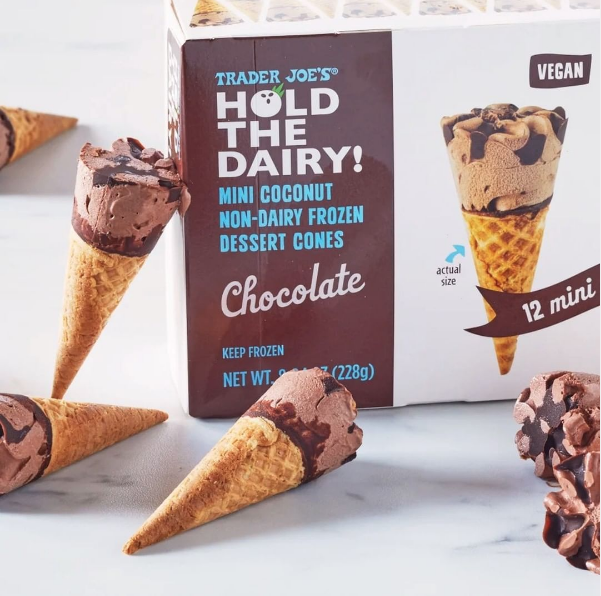 Trader Joe's
13 Vegan frozen novelties
In lieu of going through the hassle of handing out bowls and spoons, skip the pint of vegan ice cream and go straight for the miniature frozen non-dairy treats. Both the Vegan Cookies & Cream Vanilla Bean Bon Bons and the Hold the Dairy! Vegan Chocolate Mini Cones are the perfect shareable sweet treat. No presentation or serving plate necessary. Pass around the box at the party, and it will be empty by the time it gets back to you.
For more Trader Joe's finds, read: