The date was Monday, August 2, 2021. Six o'clock was rolling around, and we were just about to shut down our laptops and head off to enjoy two more hours of summertime sunshine when an email came through. The subject: Oh my Gourd! Pumpkin Spice is Coming! Then, another: Starbucks Introduces NEW Non-Dairy Pumpkin Spice Creamer. And another. And another. Vegan pumpkin-flavored products are now predating the iconic PSL, and we're still in our sustainably made swimsuits. Ready or not, pumpkin spice is here until January. From dairy-free cream cheese to coffee creamer and caramels, here are 11 vegan pumpkin spice products you can get right now.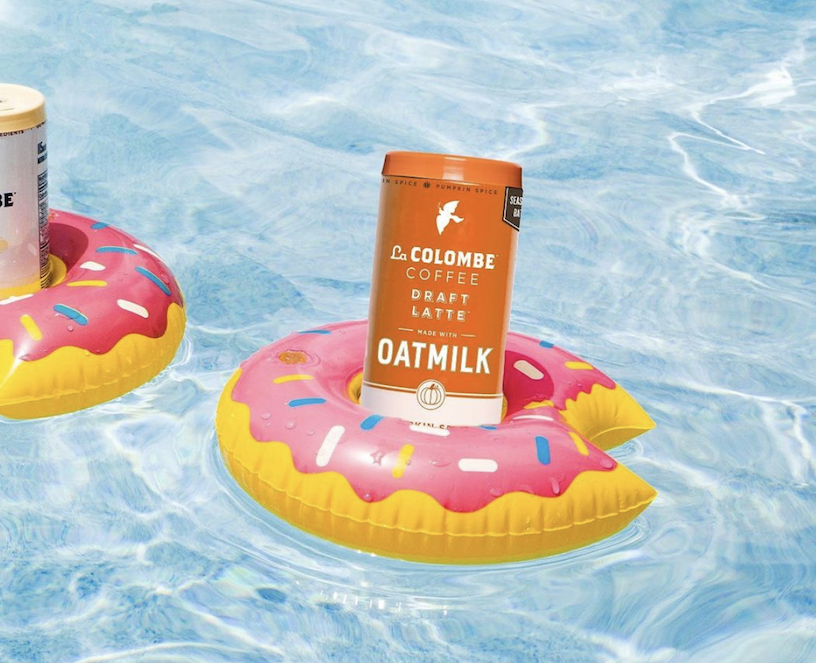 La Colombe
1. La Colombe canned coffees
Part third-wave coffee shop, part canned coffee manufacturer, La Colombe is debuting its first pumpkin spice-flavored beverage. The new Pumpkin Spice Oatmilk Draft Latte is a refreshingly cool take on the typically hot pumpkin spice latte. Crack a cold one on one of those unexpectedly warm fall days. Find these cans at retailers nationwide and online.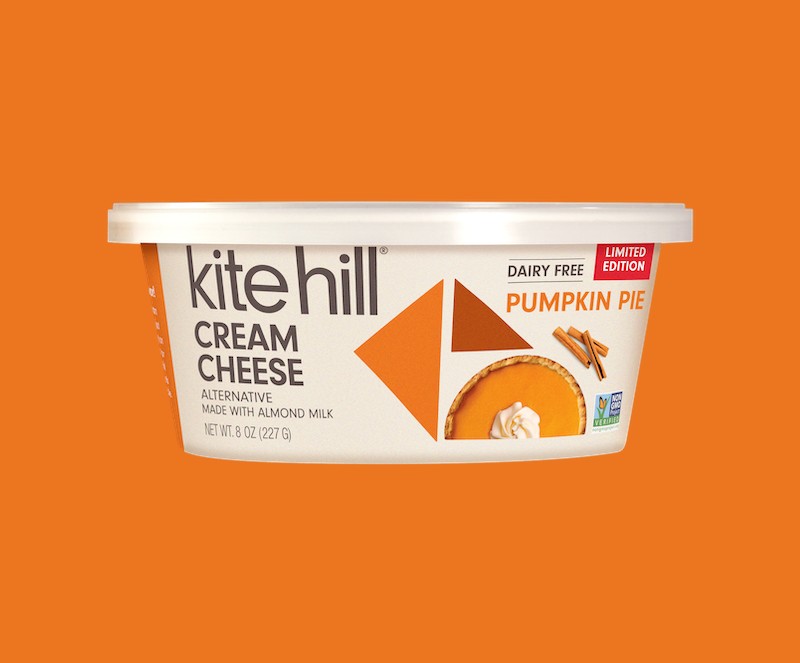 Kite Hill
2. Kite Hill cream cheese
Bagels and all that accompany them are controversial. To toast, or not to toast? Is a blueberry bagel even a bagel? Does New York really make the best bagels? Are Montreal-style bagels better? Kite Hill's new Plant-Based Pumpkin Pie Cream Cheese does not escape this controversy. Do the flavors of fall belong on a bagel? That's up to you to decide. One thing we can all agree on: this will make an excellent cream cheese frosting for vegan cream cheese-stuffed pumpkin muffins.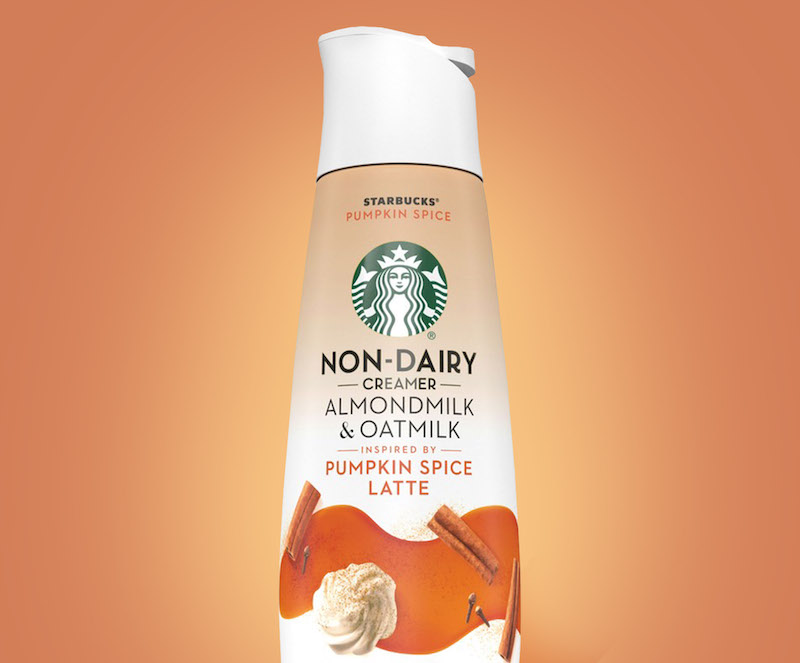 Starbucks
3. Starbucks' Non-Dairy creamer and cold brew
Will this be the year Starbucks finally slashes the dairy from its Pumpkin Spice Sauce? If not, make your own PSL-adjacent beverages at home with the chain's new Pumpkin Spice-flavored products. Available at grocery stores now, Starbucks launched a Non-Dairy Pumpkin Spice Creamer made with a blend of almond and oat milk and a Pumpkin Spice Cold Brew Concentrate. During the hottest month of the year, we advise trying out the cold brew first then switching to the coffee creamer when the crisp fall air actually sets in.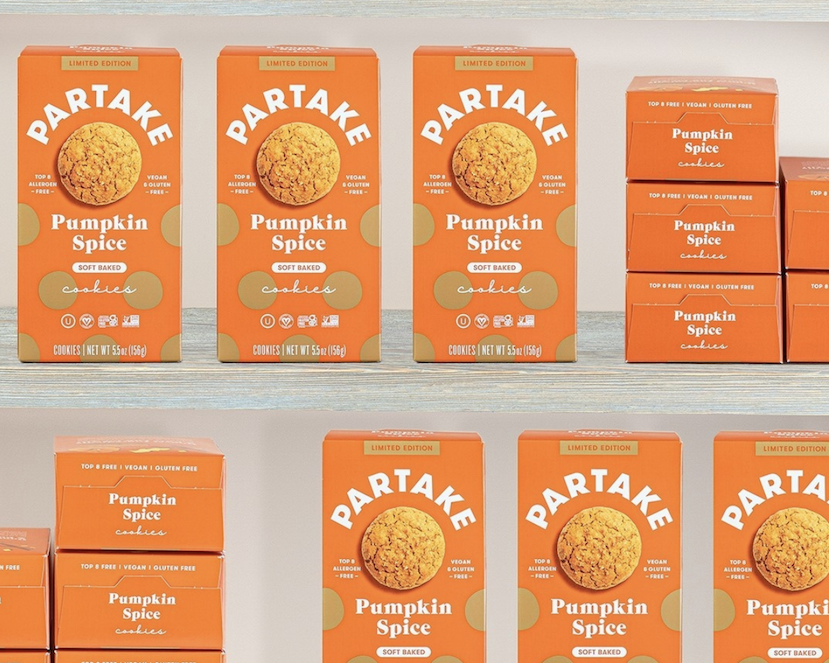 Partake
4. Partake soft-baked cookies
Those with food sensitivities or allergies are often resigned to experiencing seasonal treats vicariously through others. This cookie company has other plans. The soft-baked pumpkin spice flavor has returned to join the extensive lineup of Partake's vegan, gluten-free, nut-free, and soy-free cookie collection. Grab a box (or six) online and partake in the PSL season.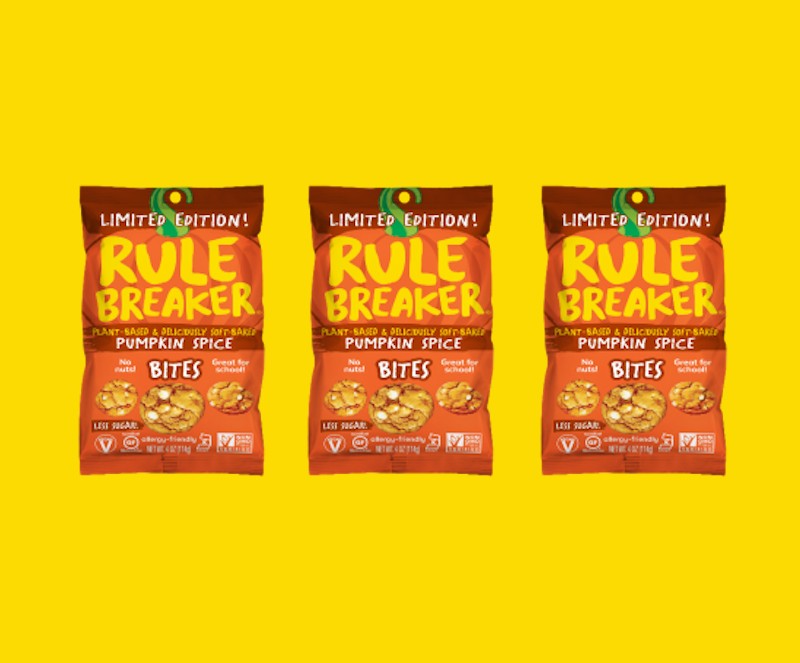 Rule Breaker
5. Rule Breaker blondie bites
The makers of the chickpea-based blondie have launched an addictively good new product that makes pumpkin spice more snackable than ever. Rule Breaker's new Pumpkin Spice Bites are soft, chewy, and packed with cozy, warming spices. Like the brand's other better-for-you-treats, these bites are primarily made with chickpeas and are free from the top 11 food allergens—including gluten and nuts. Besides snacking on them straight from the bag, try zapping them for a few seconds in the microwave and tossing them on a scoop of vegan vanilla ice cream. Hello, PSL blondie sundae. Stock up online or at supermarkets nationwide.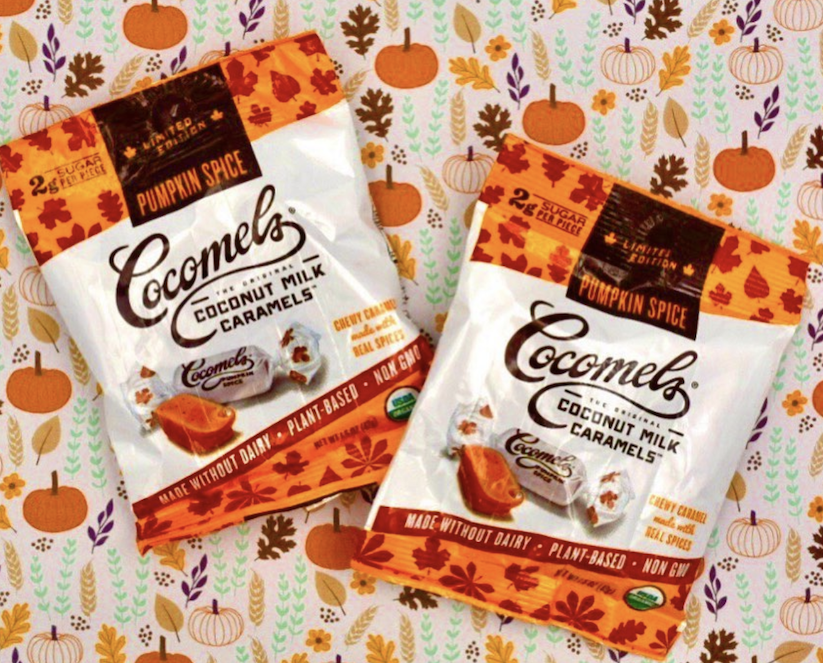 Cocomels
6. Cocomels Pumpkin Spice Caramels
They're back! Cocomels is flooding the candy aisle with its cult-favorite pumpkin spiced vegan caramels. Each chewy, two-bite treat is made with coconut milk and a blend of cinnamon, clove, and allspice. These caramels have already got us thinking about what to hand out at Halloween—Pumpkin Spice Cocomels and vegan peanut butter cups, obviously.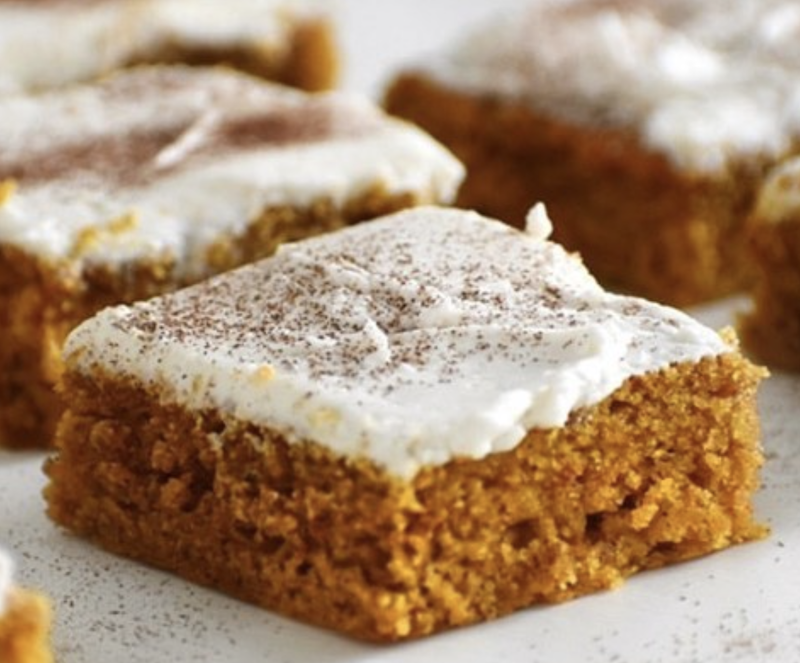 Miss Jones Baking Co.
7. Miss Jones Baking Co. boxed mix
Get a head start on fall baking with Miss Jones' new Mini Pumpkin Donut Muffin Mix. As is, the dry mix is organic and vegan. While the instructions call for eggs, you can prepare them using an egg replacer (see this article for all of your vegan egg replacement needs). Pro tip: use a regular or jumbo muffin tin, allow to cool, then pipe Kite Hill's pumpkin spice cream cheese into the center of these pumpkin muffins for a coffee shop-style treat at home.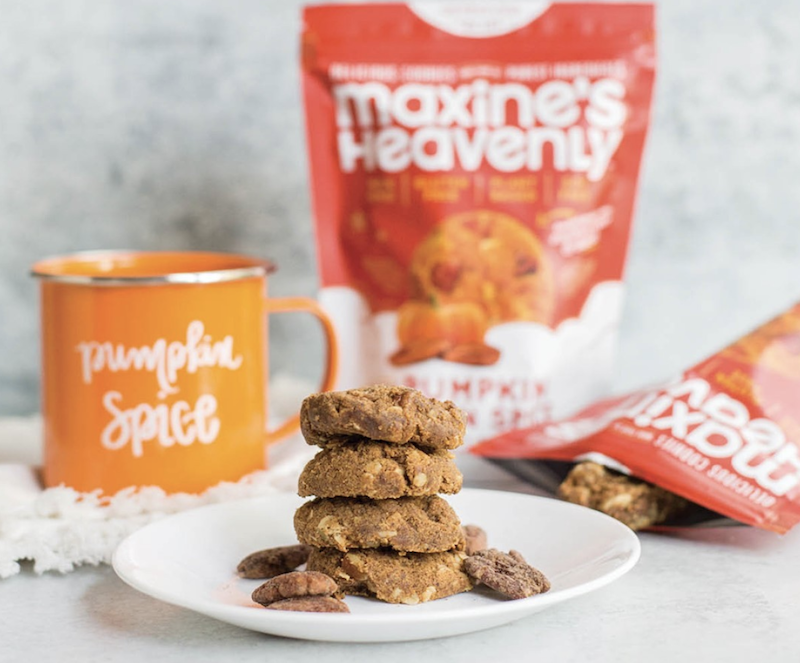 Maxine's Heavenly
8. Maxine's Heavenly cookies
The fan-favorite Pumpkin Pecan Spice flavor has returned for its encore! These soft-baked, two-bite morsels are gluten- and refined sugar-free, but that doesn't mean they're not addictive. Try the convenient two-cookie snack packs, or risk polishing off a whole bag in one (albeit delicious) sitting.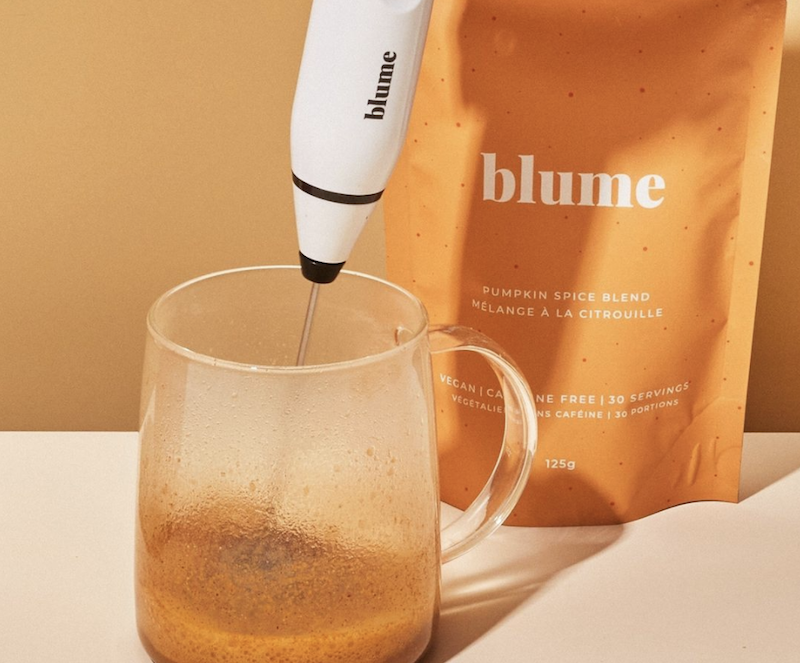 Blume
9. Blume superfood latte mix
Shocker: this plant-based pumpkin spice latte mix is made with actual pumpkin (most aren't—they're made with syrup). Want more? This quick mix is refined sugar-free and provides a dose of antioxidants and adaptogens to give you a lasting pick-me-up caffeine can't compete with. Yes, it's lovely stirred into steamed non-dairy milk and freshly pulled espresso, but it's also delightfully cozy mixed into a warm bowl of morning oats.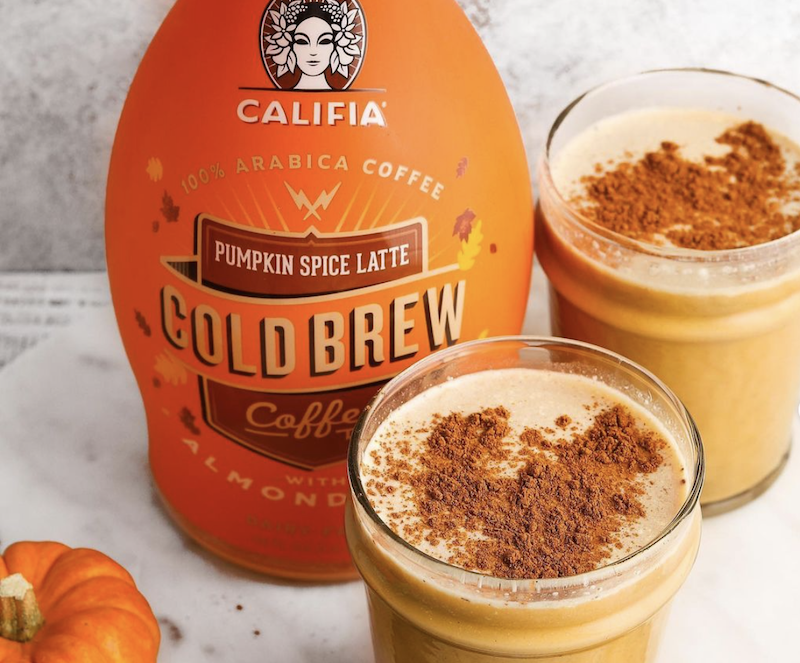 Califia Farms
10. Califia Farms cold brews and creamers
Califia's Pumpkin Spice Latte Cold Brew is the vegan equivalent of the Starbucks PSL. It's a universal signal that fall has come. Regardless of the fact that this popular bottled beverage is available beginning in late August, the sweet warming spices of this almond milk-based cold brew make us want to jump into a pile of autumnal leaves. The brand's line of pumpkin spice-flavored almond milk creamers have also returned.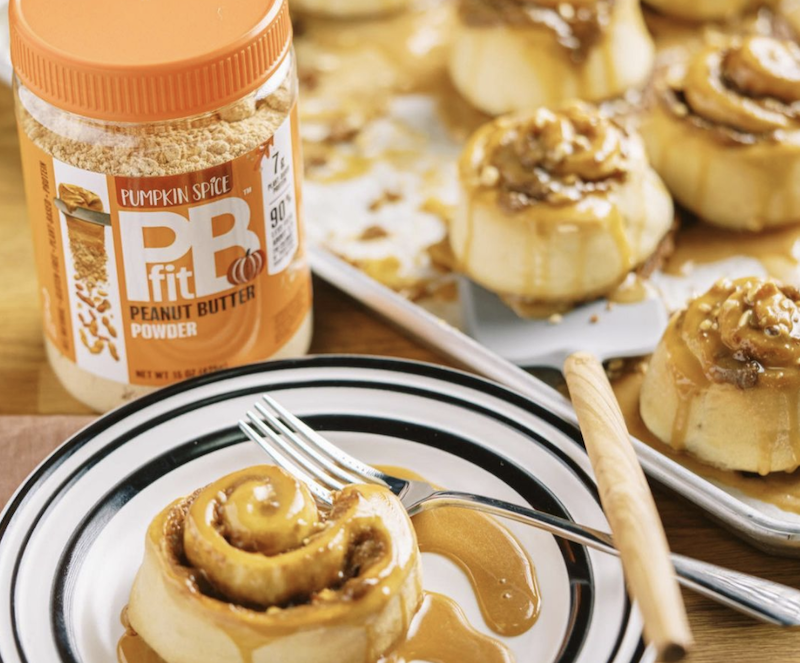 PBfit
11. PBfit powdered peanut butter
What is powdered peanut butter? It's borderline sorcery. Actually, it's basic culinary science surrounding dehydration, but the magic lies in the fact that unlike most "just add water!" products, the taste and texture are quite pleasant. Add a bit of fall cozy to your PB&J or blend the powder into a banana smoothie for a sweet, nutty, pumpkin-spiced treat.
Tanya Flink is a Digital Editor at VegNews as well as a writer and runner living in Orange County, CA.