Nowadays, the vegan food scene is rife with products like burgers, nuggets, sausages, and meatballs—all of which are hailed for their ability to not just look like meat, but also cook and taste like meat, too. But while plant-based protein may seem new and innovative to many Western consumers, it actually has a very long history in the East. According to Taste, in 10th century China, tofu-based vegetarian meat was often referred to as "small mutton" because it tasted similar to sheep meat.
This appetite for fake meat, food writer Fuschia Dunlop tells CNN, was largely linked to the rise of Buddhism in China, which originated during the Han Dynasty (206 BC to 220 AD). Monasteries would provide monks with strictly vegetarian food, but visitors would receive a banquet of delicious meats, only they weren't really meats at all—they were totally plant-based. "[The visitors] would expect [meat-based] meals and this was where the tradition came from," Dunlop says. "You'd get all the dishes you'd expect to eat at a banquet, but made from vegetarian ingredients."
Hundreds of years after the Han Dynasty, in 1849, the very first Chinese restaurant opened in the US. After that, more restaurants started springing up across the country, many opened up by Chinese people who had headed to the US amid the gold rush. This birthed a boom in demand for Chinese cuisine, and today, according to the Chinese American Restaurant Association, there are more than 40,000 Chinese restaurants in the US. Many of them offer mock meat and plant-forward dishes on the menu, but some have gone even further and are totally vegetarian or vegan.

If you want to sample delicious Chinese vegan food for yourself, here, in no particular order, we've gathered some of the tastiest spots across the US.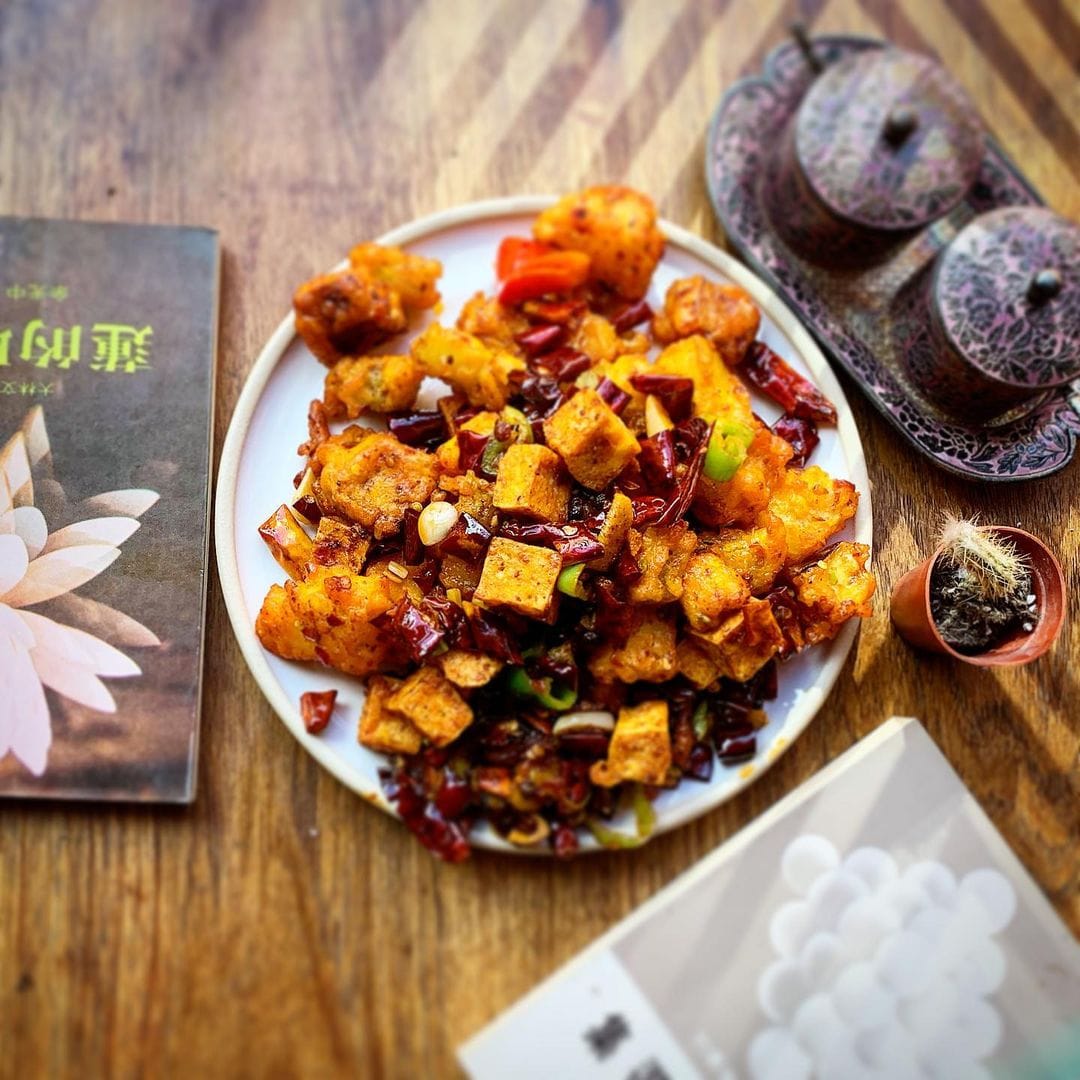 Spicy Moon/Instagram
1 Spicy Moon
New York, NY
Spicy Moon has two NYC locations, in the East Village and in the West Village. Both offer an array of Sichuan dishes, including Peppercorn Brussel Sprouts, Pea Leaves with Garlic, and Steamed Eggplant with Pepper Sauce. If you're not local to either restaurant, you can also order some of the chain's signature sauces online, like Vegan Szechuan Chili Oil, for example.
Check it out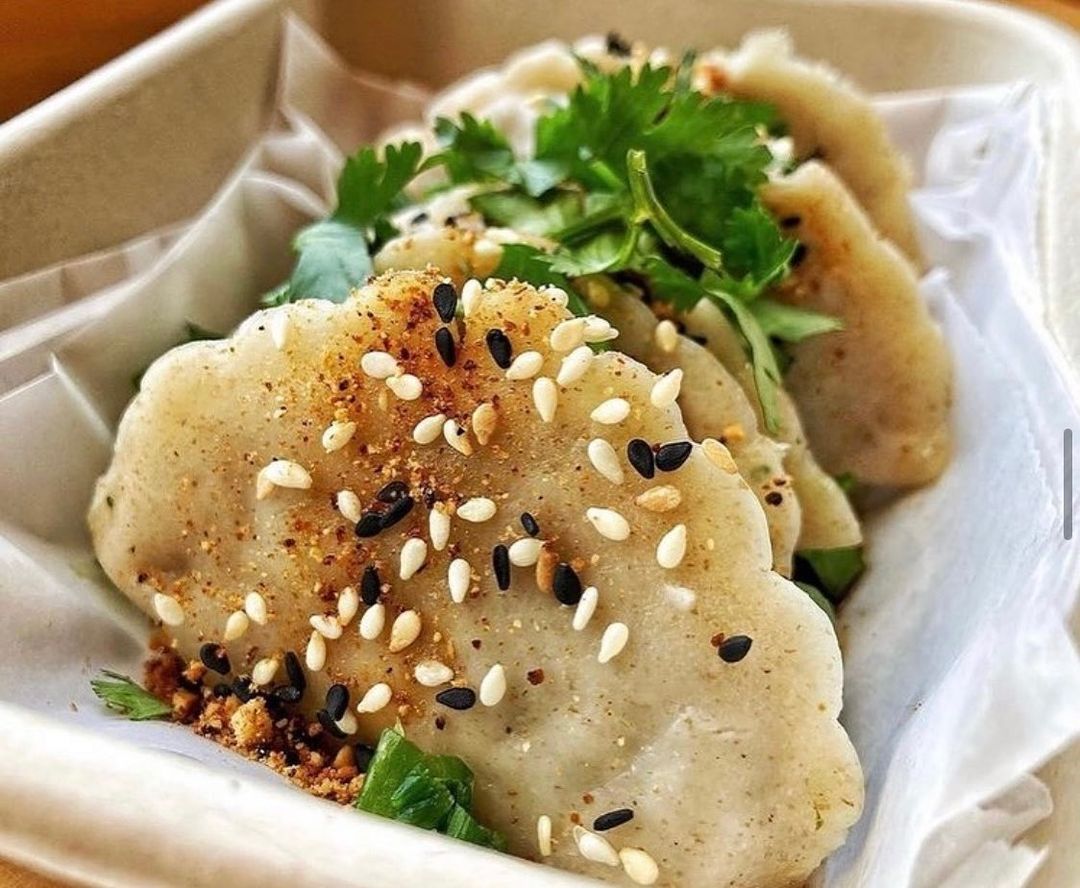 Pow Pow/Instagram
2 Pow Pow
Washington, DC
If you're looking for a tasty bite in DC, then Pow Pow has two spots: one in H Street Corridor and one in Franklin Square. As well as its popular range of Chinese dishes, like Sichuan Dumplings and Disco Stick Egg Rolls, the restaurant also serves fare inspired by Japan, Taiwan, and Korea.
Check it out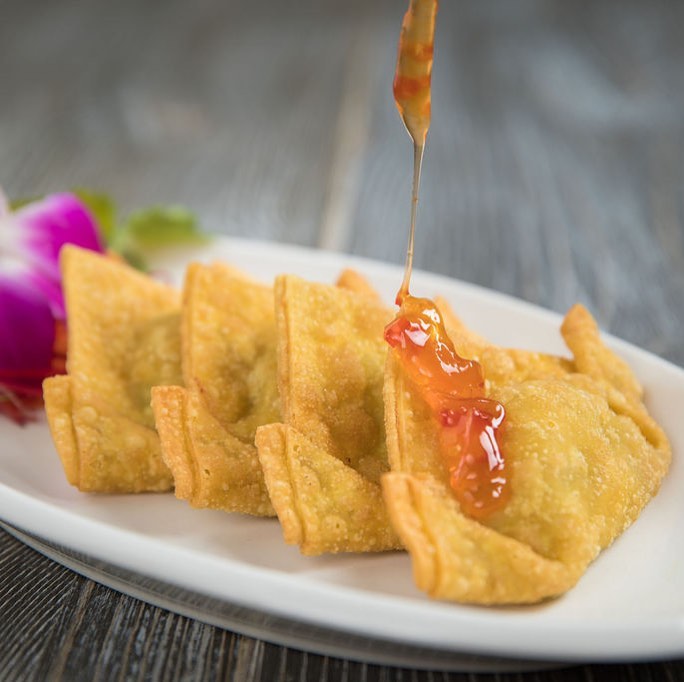 Veggie House/Instagram
3 Veggie House
Chicago, IL
Located in Chicago's Chinatown, Veggie House isn't totally vegan, but it is 100 percent meat-free. Dishes like the Veggie House Soy Beef served in zingy chili garlic sauce, and deep-fried Salt & Pepper Pumpkins are not to be missed.
Check it out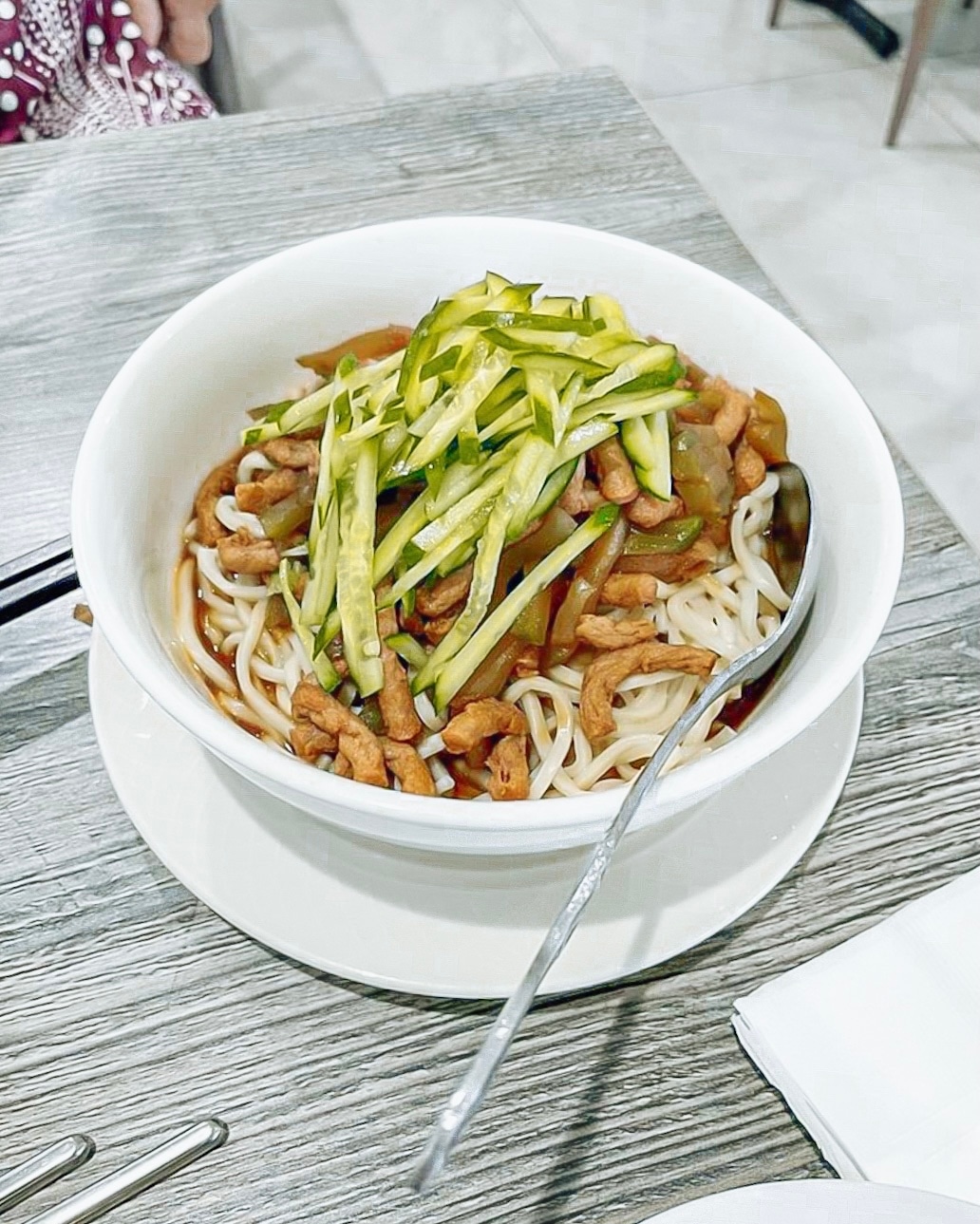 House of Fortune/Instagram
4 House of Fortune
Southern California
Find popular vegan Chinese restaurant House of Fortune in two California locations: Chino in San Bernardino County and Rowland Heights in Los Angeles. As well as deliciously indulgent dishes like deep-fried soy cheese wontons, you can find a range of mock meats on the menu, including tofu-based Crispy Goose and BBQ Pork.
Check it out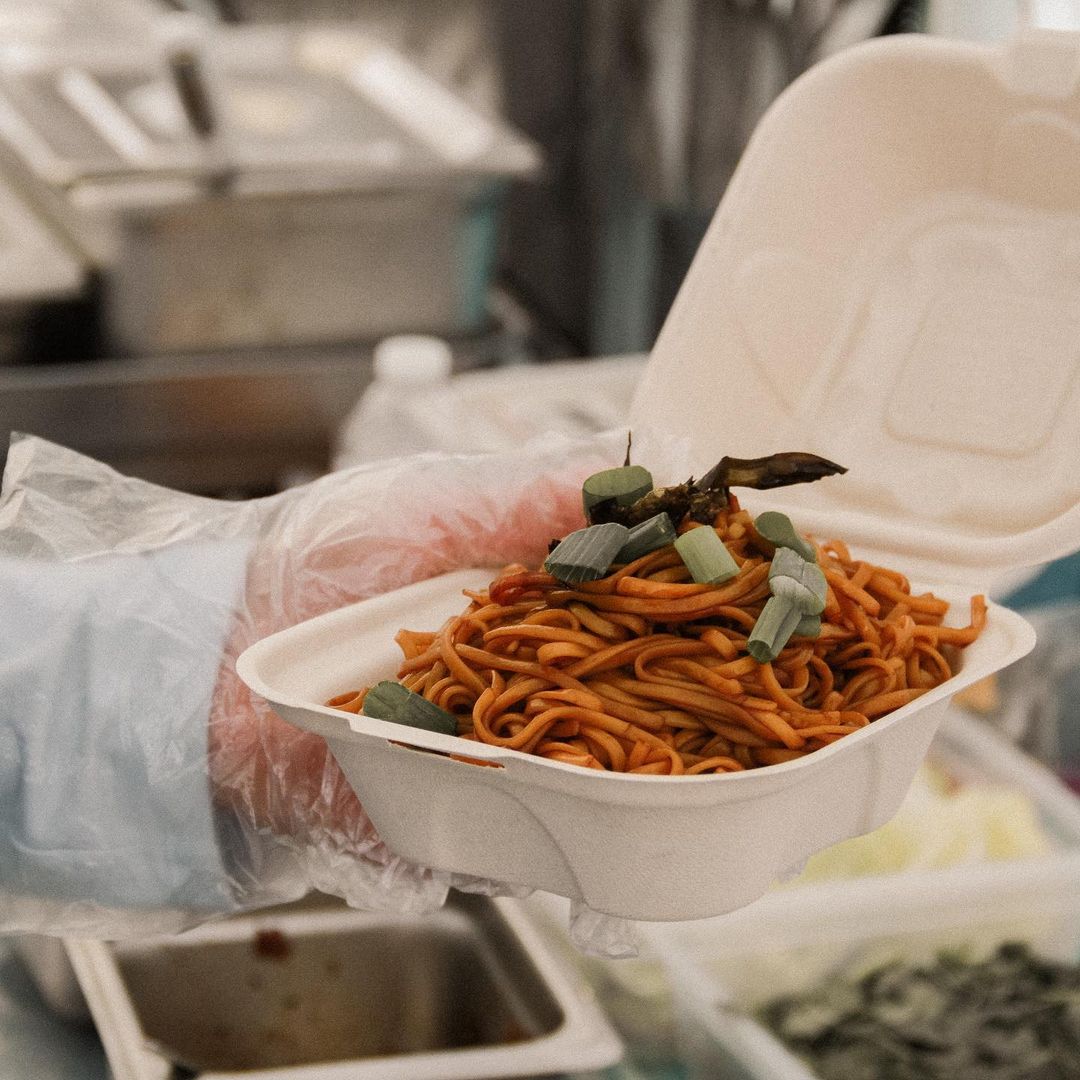 Stone Monkey/Instagram
5 Stone Monkey
San Diego, CA
Plant-based pop-up Stone Monkey specializes in bringing the "flavors of Shanghai" to the streets of San Diego, which involves serving everything from crispy Scallion Pancakes to Seaweed Tofu to Kao Fu Seitan. Keep an eye on its social media to find out where it's going to be next!
Check it out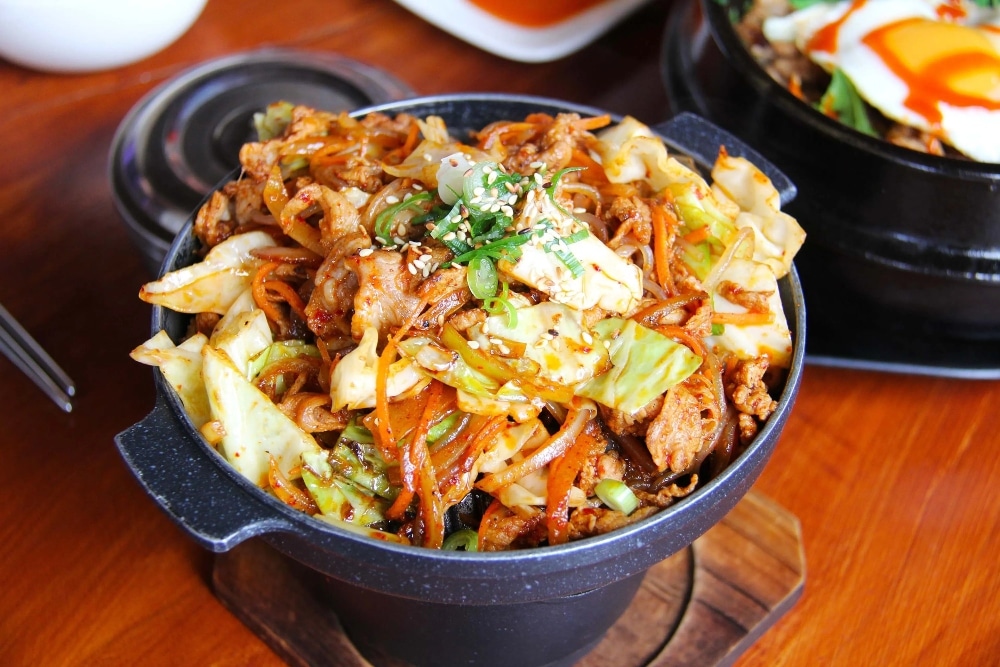 Vegan Tree
6 Vegan Tree
Matawan, NJ
Based in Matawan, NJ, Vegan Tree's aim is very simple: provide its local neighborhood with delicious and expertly-prepared vegan Chinese cuisine. Its specialty is its Vegan Tree Fried Rice, served in homemade suave sauce. But if you prefer fusion food, then you can also combine it with everything from vegan BLT wraps to Beyond Burgers at this plant-based joint.
Check it out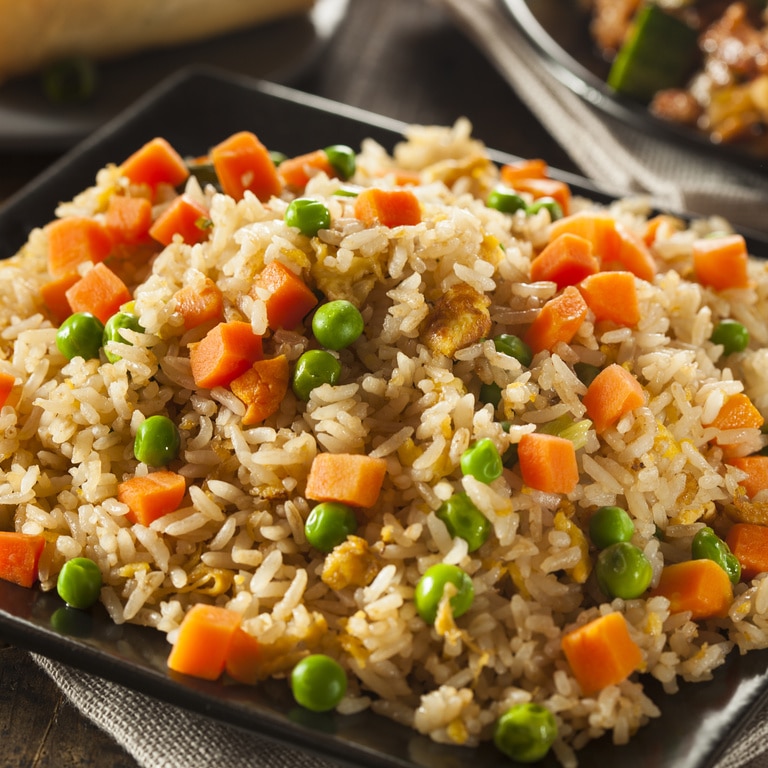 Yuan Su Vegetarian
7 Yuan Su Vegetarian
Portland, OR
Portland, OR is known for its thriving vegan food scene, so it makes sense that if you're in the area, and you're in the mood for plant-based Chinese food, then it doesn't disappoint. Check out Yuan Su Vegetarian for dishes like Veggie Seafood with Tofu Soup and Veggie Shredded Pork with Shredded Bean Curd.
Check it out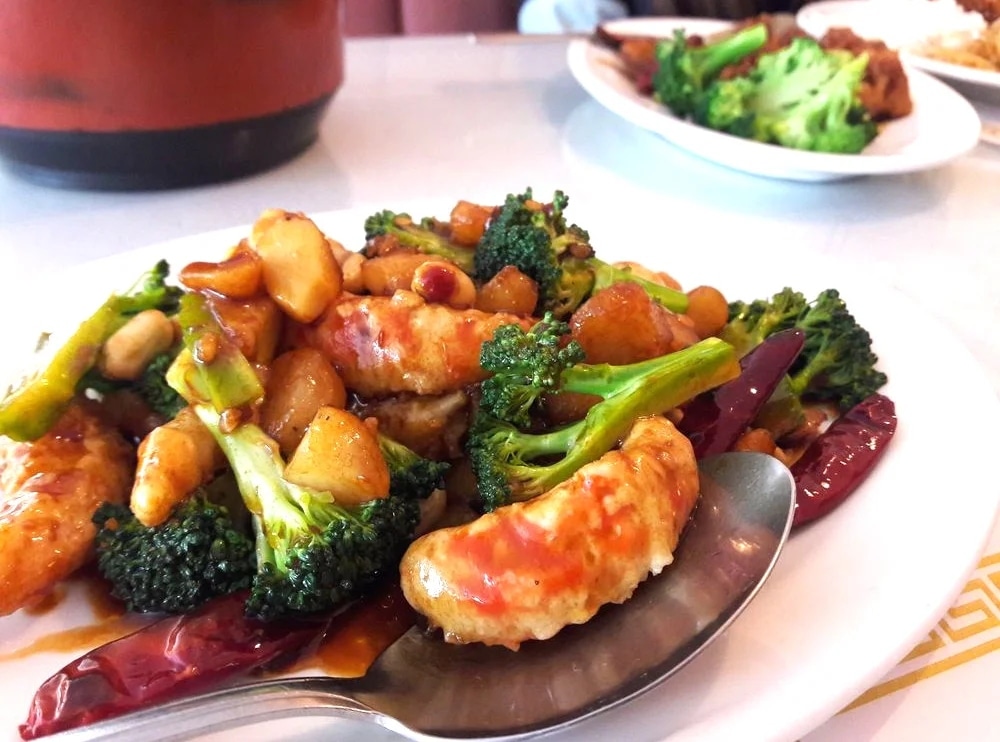 Garden Wok
8 Garden Wok
Los Angeles, CA
If you happen to be in Los Angeles and a craving hits for a Chinese banquet, then you should absolutely head down to Garden Wok in Tarzana. Treat yourself to the Buddha's Feast, which consists of plant-based versions of chicken, beef, tofu, and shrimp.
Check it out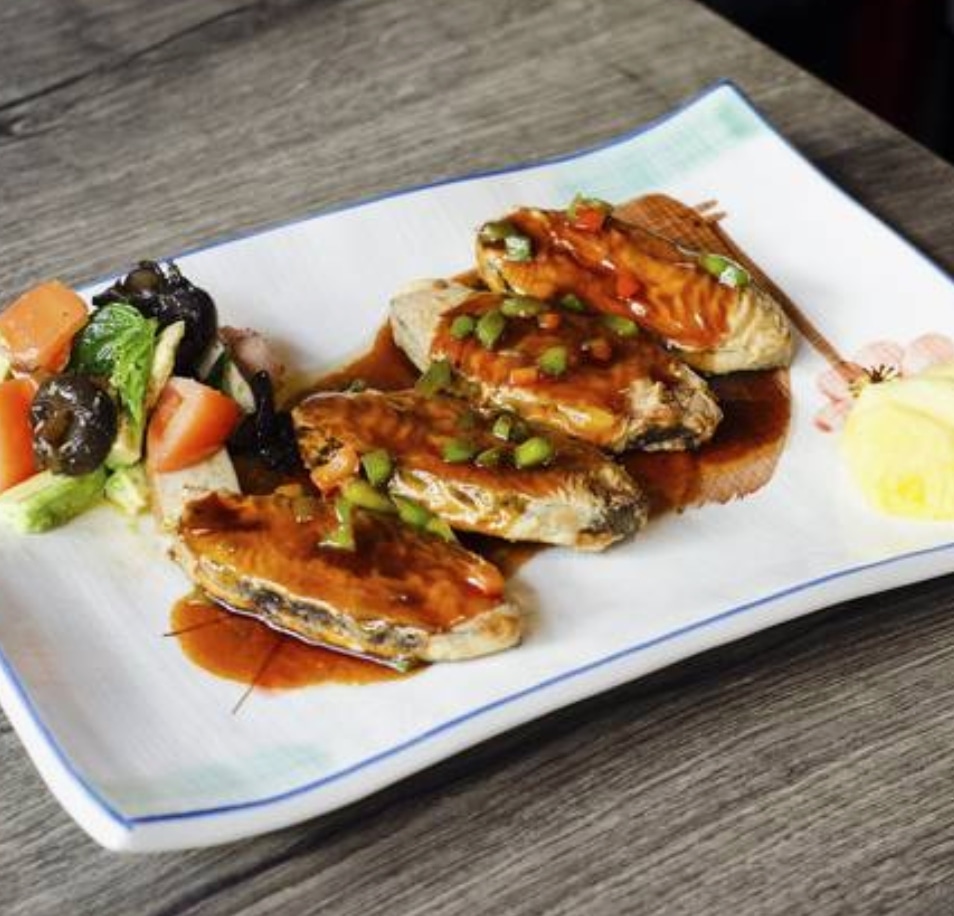 Unit Su Vege
9 Unit Su Vege
Philadelphia, PA
For more than a decade, the chef at Unit Su Vege has been dedicated to crafting delicious, meat-free Chinese dishes, and it shows. While some of the dishes on the menu are vegetarian, there are plenty of 100-percent vegan options to choose from, like Veggie Steak in Black Pepper Sauce, Kung Pao Dried Tofu, and Curry Potato.
Check it out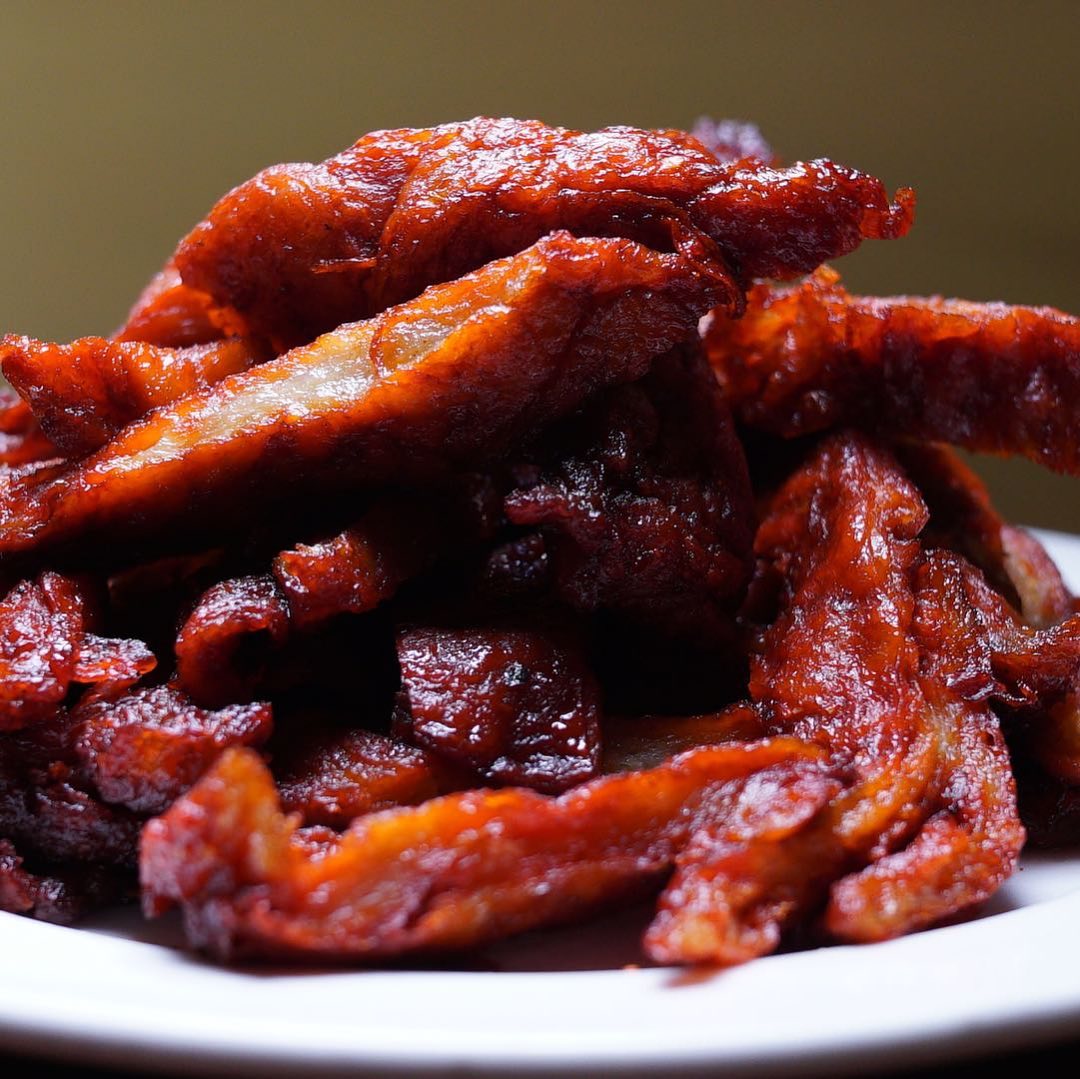 Bodhi Kosher
10 Bodhi Kosher Vegetarian Restaurant
New York, NY
Spicy Moon isn't the only standout vegan Chinese restaurant in New York. Another favorite with many locals is Bodhi Kosher Vegetarian Restaurant, which is loved for dishes like Mapo Tofu, Fried Sticky Rice Dumplings, and plant-based BBQ Meat.
Check it out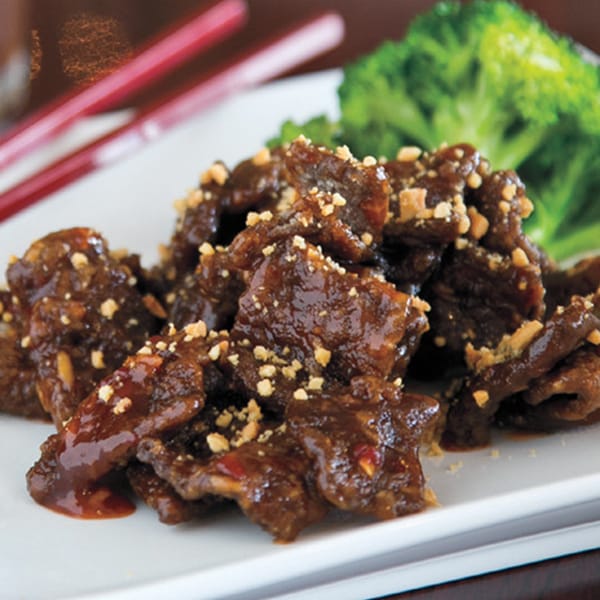 Chef Kenny's
11 Chef Kenny's
Las Vegas, NV
If you're a vegan meat-lover, then Chef Kenny's Asian Vegan Restaurant in Las Vegas will absolutely not disappoint. The range of choices includes everything from Spicy Vegan Crispy Beef to Veggie Geese to Vegan Peking Pork Chop. There's a reason why this place has earned a reputation as one of the go-to plant-based spots in Sin City.
Check it out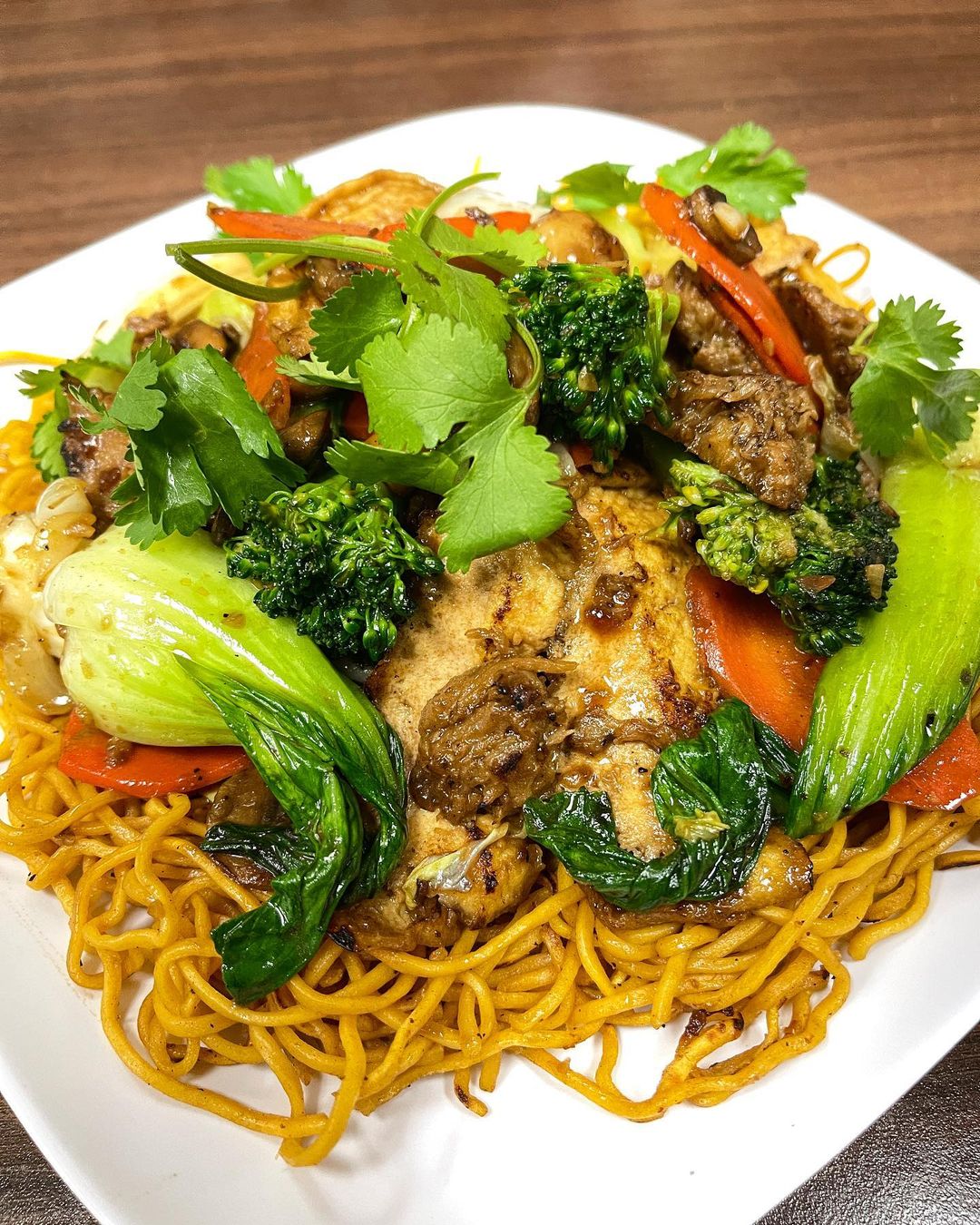 Loving Hut/Instagram
12Loving Hut
Multiple Locations
Originally founded in 2008 in Taiwan, Loving Hut has become an international favorite when it comes to vegan dishes. With locations across the western, central, and eastern USA, the menu includes several Chinese-inspired delights, including Golden Spring Rolls, Lucky Wontons, and Chow Fun.
Check it out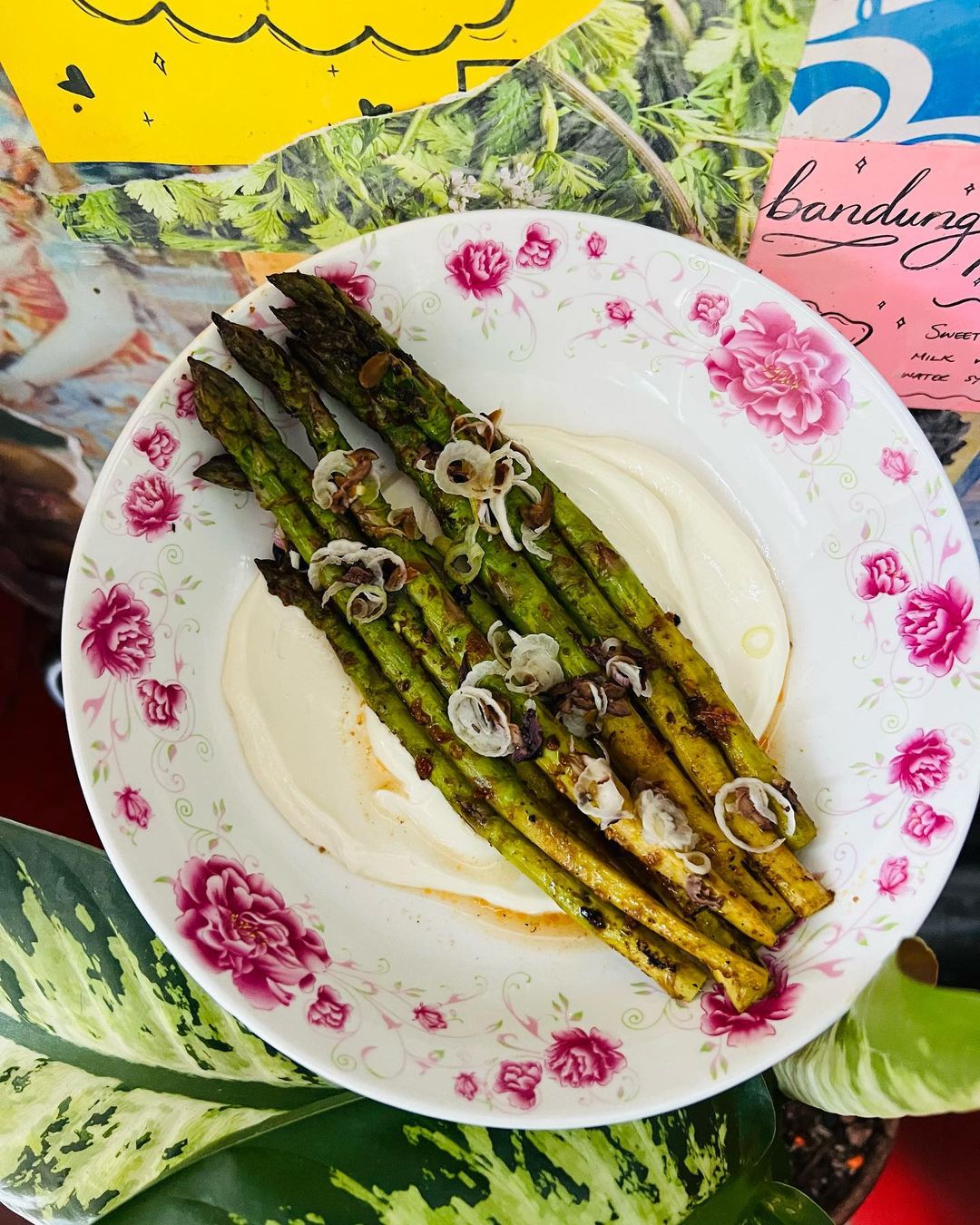 Lion Dance/Instagram
13 Lion Dance Cafe
Oakland, CA
Singapore's Teochew community, Eurasia, and the Chinese American diaspora are just a few of the inspirations behind the menu at Oakland's Lion Dance Cafe. Start with prawn-less crackers, before moving on to delicious options like shacha marinated asparagus with Chinese hot mustard and laksa, a spicy coconut and rice noodle soup.
Check it out
For more vegan restaurants, read: