In the US, it's not hard to find a fast-food joint. The market is, quite frankly, massive. In fact, the country's fast-food industry alone makes up just over one-third of the global market. The biggest chain is undeniably McDonald's, which is closely followed by competitors like Subway, Burger King, and KFC. But while they are loved by millions of Americans, they're not known for being health-focused. In Portland, however, one chain believes that fast food can combine convenience and nutrition, without sacrificing taste.

At Laughing Planet, most of the burritos, tacos, salads, and smoothies, for example, are made with nutritious whole food ingredients, but they're served up quickly and they're delicious, too. Here's everything you need to know about grabbing a quick and nutritious lunch or dinner at this vegan-friendly chain.
What is Laughing Planet?
Now, Laughing Planet is known as a Portland-based chain. But its journey didn't actually begin in Oregon. It was founded back in the 1990s, in Bloomington, IN. In 2000, however, the founder Richard Satnick relocated to Portland, moving the Laughing Planet headquarters with him. In 2012, the chain was sold to a group of people, including the current CEO Franz Speilvogel.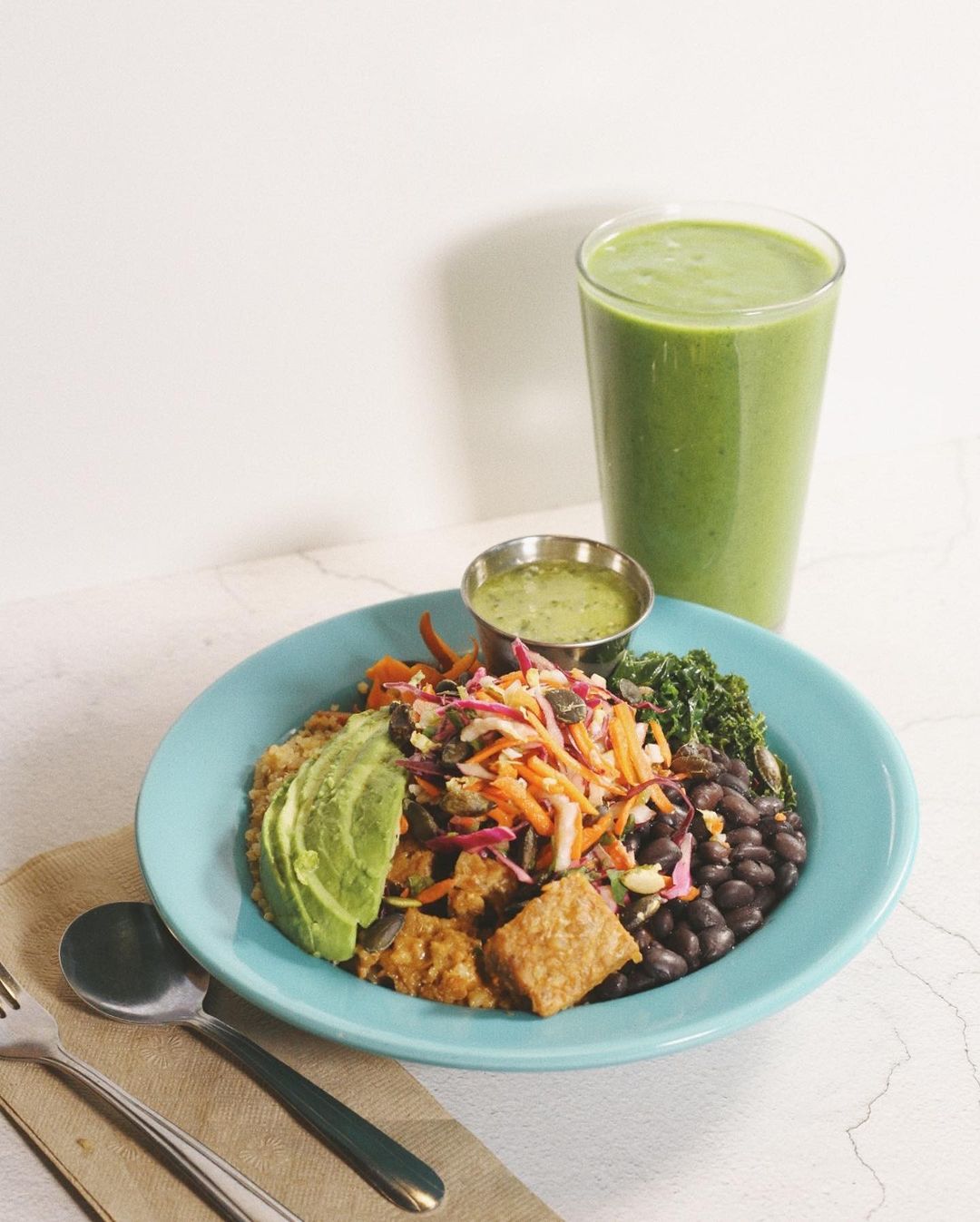 Laughing Planet/Instagram
Laughing Planet isn't 100-percent vegan, as it does serve meat and dairy, but a number of its Mexican-inspired menu items are entirely plant-based. It's known for its emphasis on sourcing ingredients from local food growers close to its locations, and many of its plant-based ingredients are verified as non-GMO and certified organic. Many are also accredited by Food Alliance, a nonprofit that ensures safe and fair working conditions, as well as environmental stewardship and the humane treatment of animals.
The chain is also known for taking good care of its employees. In 2015, it made headlines when it broke the restaurant industry mold and offered paid parental leave to its workers. At the time, Speilvogel said it "wasn't a business decision to do this, it was a human decision," before adding that, in terms of business, he thought it would still "pay off down the road."
How many Laughing Planet locations are there?
When Satnick sold the business, the chain had 10 locations. But over the last decade or so, Speilvogel and his team have added several more spots. Now, there are eight locations in Portland, and five more across Oregon, in Corvallis, Bend, and Eugene. There is also one Laughing Planet in Vancouver, Canada, and two in Reno, NV.
What is vegan at Laughing Planet?
If you're lucky enough to live near a Laughing Planet, and your stomach starts rumbling, you're in for a treat. The chain's menu has a number of tasty vegan options to try, including burritos, salads, tacos, and cookies too.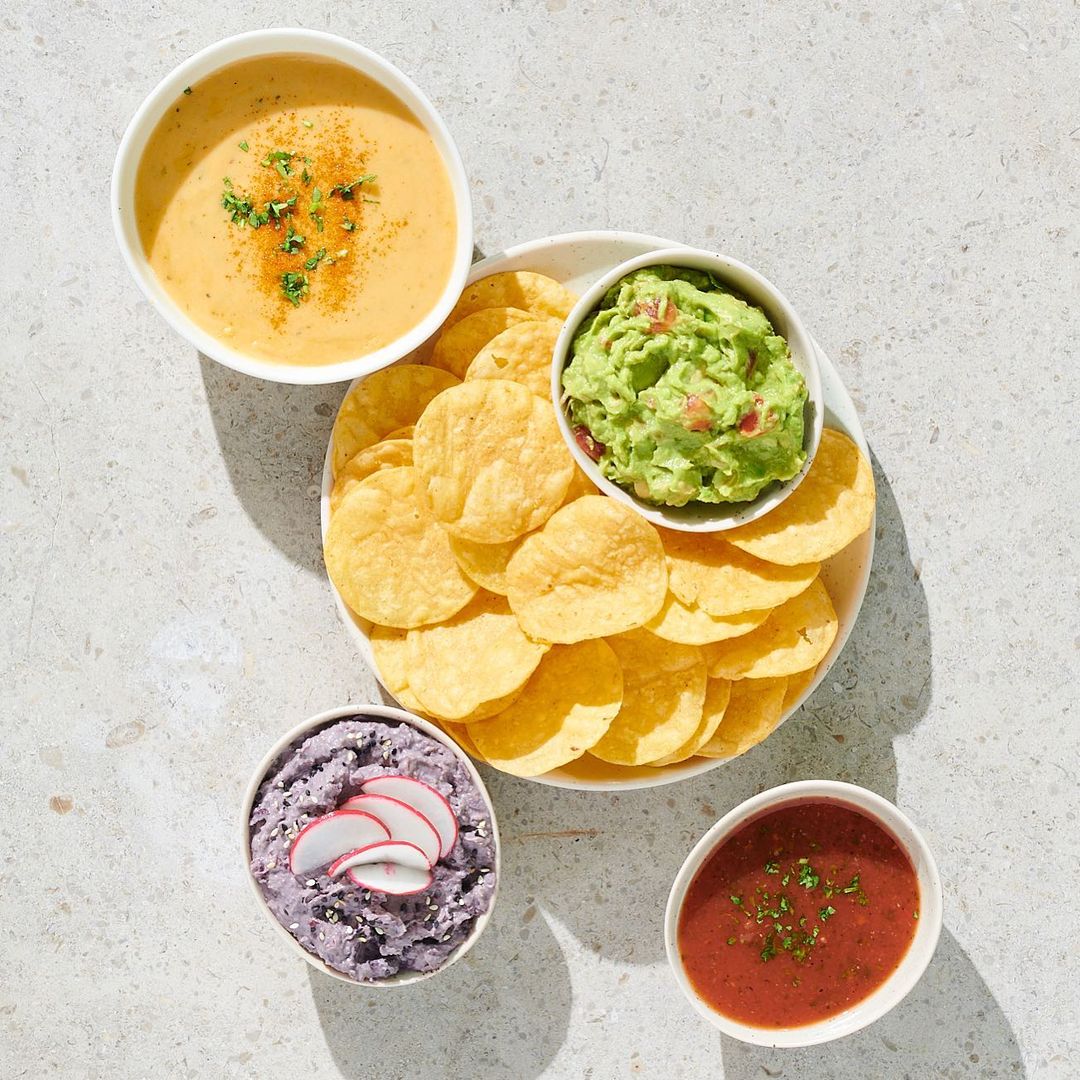 Laughing Planet/Instagram
1 Chips and dip
Let's be honest, chips and dip are universally loved. A humble bowl of tortillas accompanied by a delicious sauce is always going to go down well. At Laughing Planet, for dipping, you can choose from homemade salsa, fresh guacamole, or a pot of gluten-free black bean hummus.
2 Tacos
Treat every day like Taco Tuesday at Laughing Planet. While two of its options feature meat (beef and pork), you can also find a tasty mushroom taco—filled with meaty button and oyster mushrooms, sliced radish, and fresh guacamole—on the menu. Order it as a Lite Bite, or if you're feeling extra hungry, ask for a double.
3 Burritos
A lunchtime burrito is always an excellent idea. They're ultra-filling (so a great way to set you up for a busy afternoon) and often packed with yummy and nutritious ingredients. At Laughing Planet, there are a few meat-free burrito options. There's the Veggie & Black Bean Mini Burrito, for example, but it does include jack cheese.
However, the Thai Mini Burrito (packed with baked tofu, peanut sauce, spinach, jasmine rice, slaw, and pickles), is totally vegan. The Tempeh Royale, with tempeh (of course), pico de gallo, and sauteed kale, is another great plant-based choice.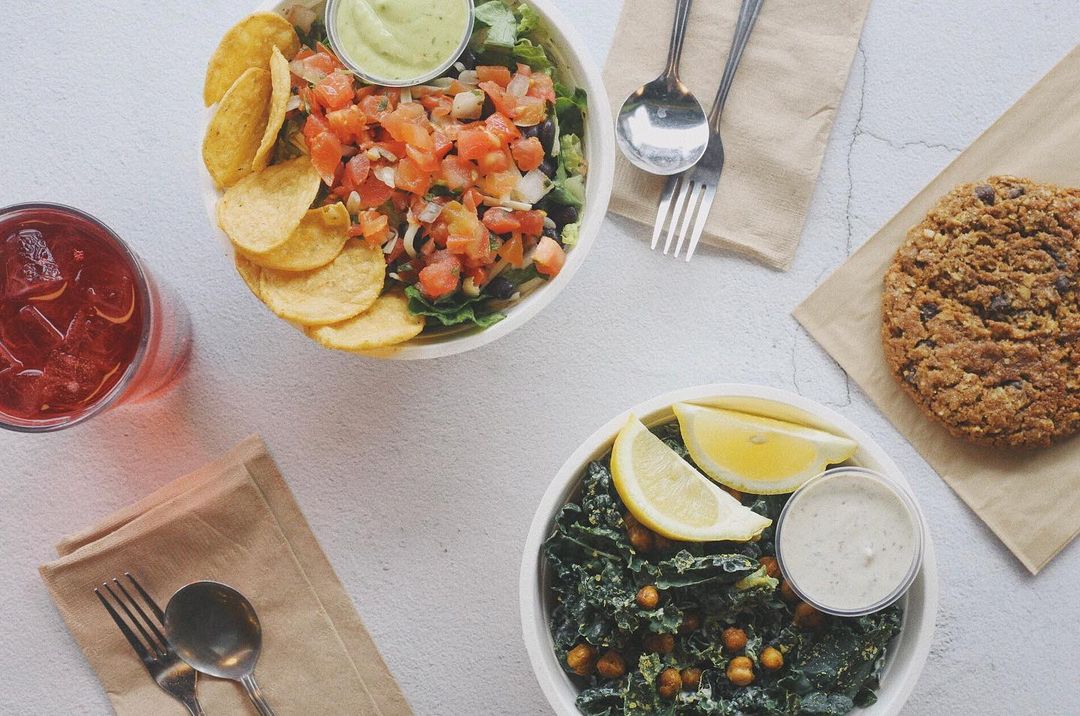 Laughing Planet/Instagram
4 Salads
If you're going for something light but satisfying, you can't go wrong with a salad. While all of Laughing Planet's options are totally meat-free, a few do contain cheese, so make sure you read the menu carefully before you order. The Simple Green, Kale Caesar, and Garden Salad with Quinoa are all 100 percent vegan. Plus, all of the dressings (which include Garlic Tahini, Vegan Caesar, and Roasted Red Pepper Sumac) are vegan, too.
5 Chili
A warm, hearty bowl of homemade chili is ideal for those days when all you want is comfort food. But if you can't be bothered to make it yourself, grab a bowl of Laughing Planet's House-Made Veggie Chili instead. It's packed with three different types of beans (pinto, black, and garbanzo), as well as vegetables and corn. Bonus: the chain also offers a vegan version of sour cream!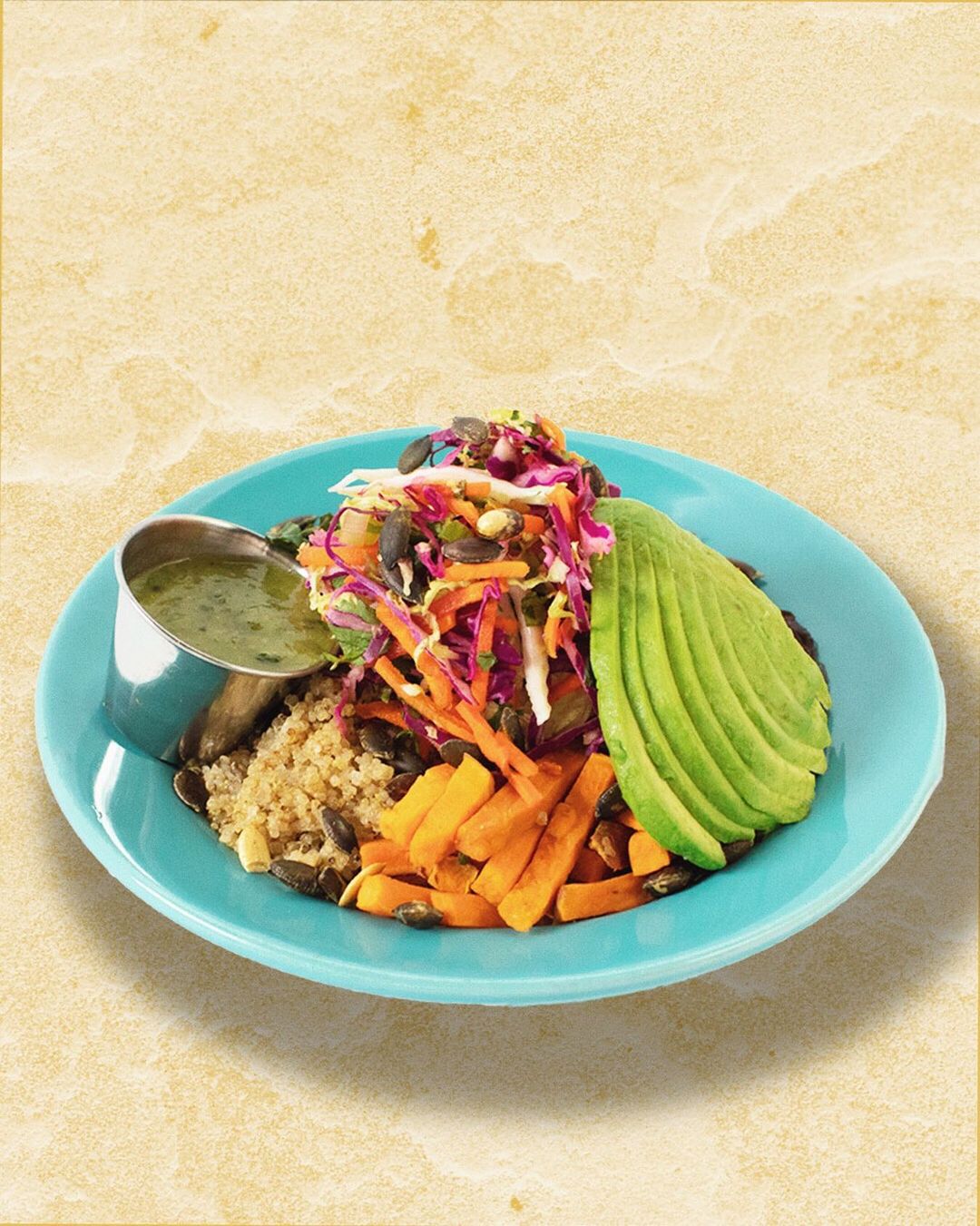 Laughing Planet/Instagram
6 Bowls
Bowls have become increasingly popular in recent years, and that's because it's a great way of packing in a lot of different nutritious ingredients, flavors, and textures. At Laughing Burrito, the bowl menu is extensive, but the Thai Bowl, the Harvest Bowl, and the Veggie Bowl are all made without animal products. If you like the sound of the Comfort Bowl, you can also swap the sour cream and cheese for vegan alternatives.
7 Sides
Sides make every meal better, that's just a fact of life. And the good news, at Laughing Planet, nearly every side option on the menu is totally vegan. There are beans, quinoa, tortillas, rice, sauteed mushrooms, sauteed kale, broccoli, yams, mashed potatoes, and more.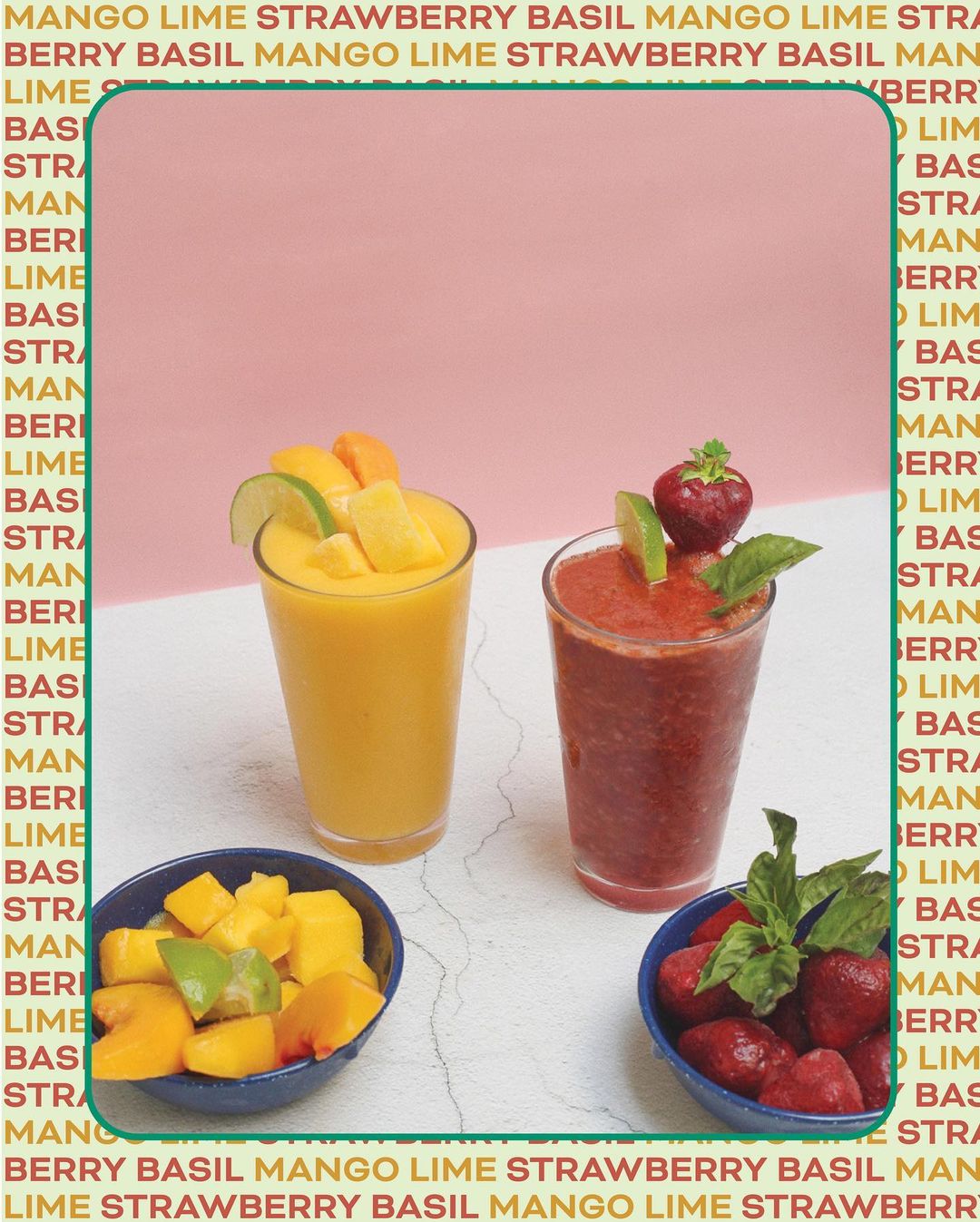 Laughing Planet/Instagram
8 Smoothies
If you're in the mood for alcohol, the chain always has an assortment of local beers and ciders on offer. Plus, there's a range of soft drinks, like kombucha, soda, and iced tea. But for those with a sweet tooth, the smoothies are a must-try. From the indulgent PB&J to the refreshing Mango Peach Lemon, all of the smoothie options are totally vegan.
9 Cookies
As much as we love its Mexican-inspired fare, another favorite at Laughing Planet has to be the cookies. The chain is always adding new flavors, and many of them are vegan, so make sure you don't leave without checking the cookie jar!