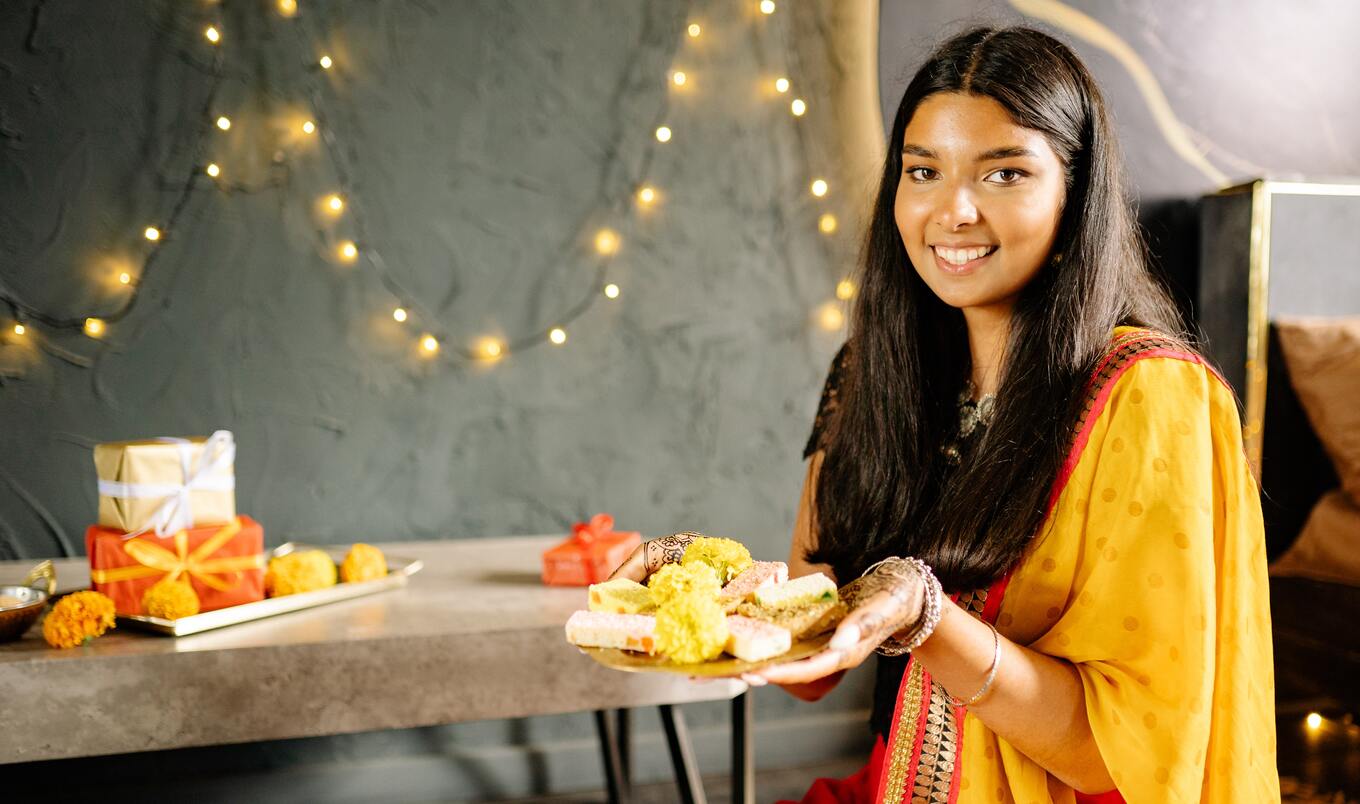 Celebrate the Hindu festival of light with dairy-free versions of some of India's favorite sweet treats.
November 12, 2023
---
Diwali is one of the largest and most important holidays celebrated in the Hindu religion, with devotees across the world adorning their homes with clay oil lamps and candles, or diyas, to symbolize the triumph of light and goodness over darkness and evil.
The five-day festival of light finds Hindus donning their best and brightest clothing, coming together for prayer in hopes of prosperity, and indulging in a variety of traditional sweets called mithais.
Are mithais vegan?
Mithais are often heavily reliant on cream, milk solids, ghee, and other forms of dairy, but thanks to vegan Indian food authority Richa Hingle of the blog Vegan Richa, we're ready to eat dairy-free barfi, gulab jamun, kheer, and kulfi.
With a few plant-based substitutions and Hingle's expertise, you'll be whipping up dairy-free, vegan mithais in no time.
5 vegan mithais recipes for Diwali
For traditional mithais sans animal products, check out these vegan recipes for Diwali.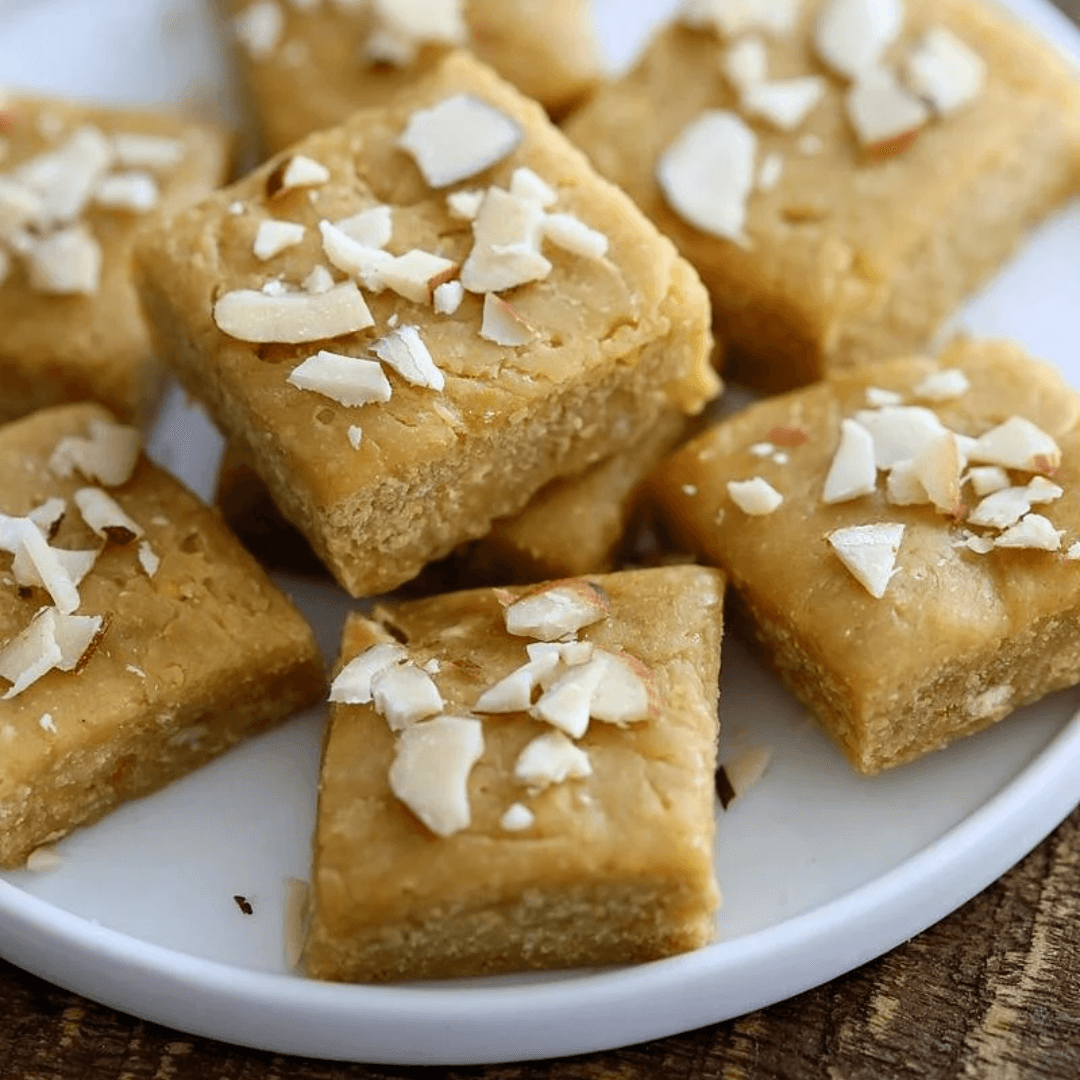 Vegan Richa
1 Barfi
The word barfi translates in Hindi to "snow," named after its soft texture and creamy white appearance. These customizable treats are common indulgences and can be found everywhere from birthdays and weddings to simple family get-togethers.
Traditionally made using both condensed milk and milk powder, barfi can seem somewhat unreachable with dairy-free parameters. Until now.
Vegan Richa's tip: Heat 1 cup non-dairy milk, ½ cup plus one tablespoon sugar, and 1 tablespoon coconut oil until boiling. Whisk in 2½ tablespoons cashew flour, reduce heat to medium-low, and continue to boil for 10 minutes until condensed milk consistency comes together.
Combine with roasted chickpea flour; flavorings such as cardamom, saffron, vanilla, or rose water; and top with slivered nuts for a dense, fudgy besan barfi.
Get the recipe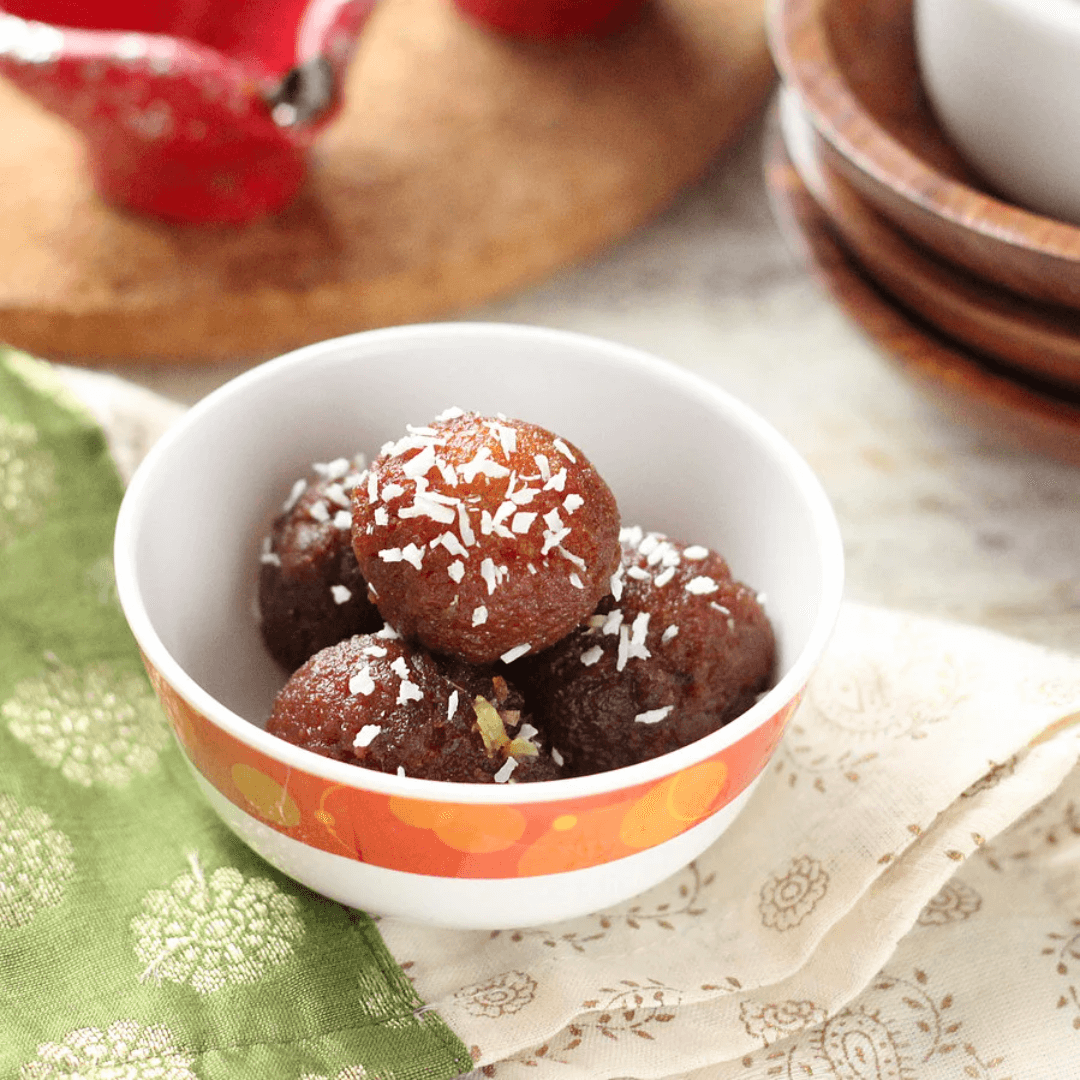 Vegan Richa
2 Gulab jamun
If there's one mithai with cross-cultural appeal, gulab jamun is it. Best described as fried Indian donut holes soaked in aromatic sugar syrup, there aren't many who can resist this ultra-popular decadence.
Recipes can call for milk solids (khoya), paneer cheese, and milk powder, but a vegan substitute does exist.
Vegan Richa's tip: Achieve a moist richness and a subtle seasonal flavor by incorporating sweet potato purée to your dough. Adding this secret ingredient to a mixture of wheat, cashew, and oat flours mixed with raw sugar and a dash of black salt creates a perfectly sumptuous base for gulab jamun.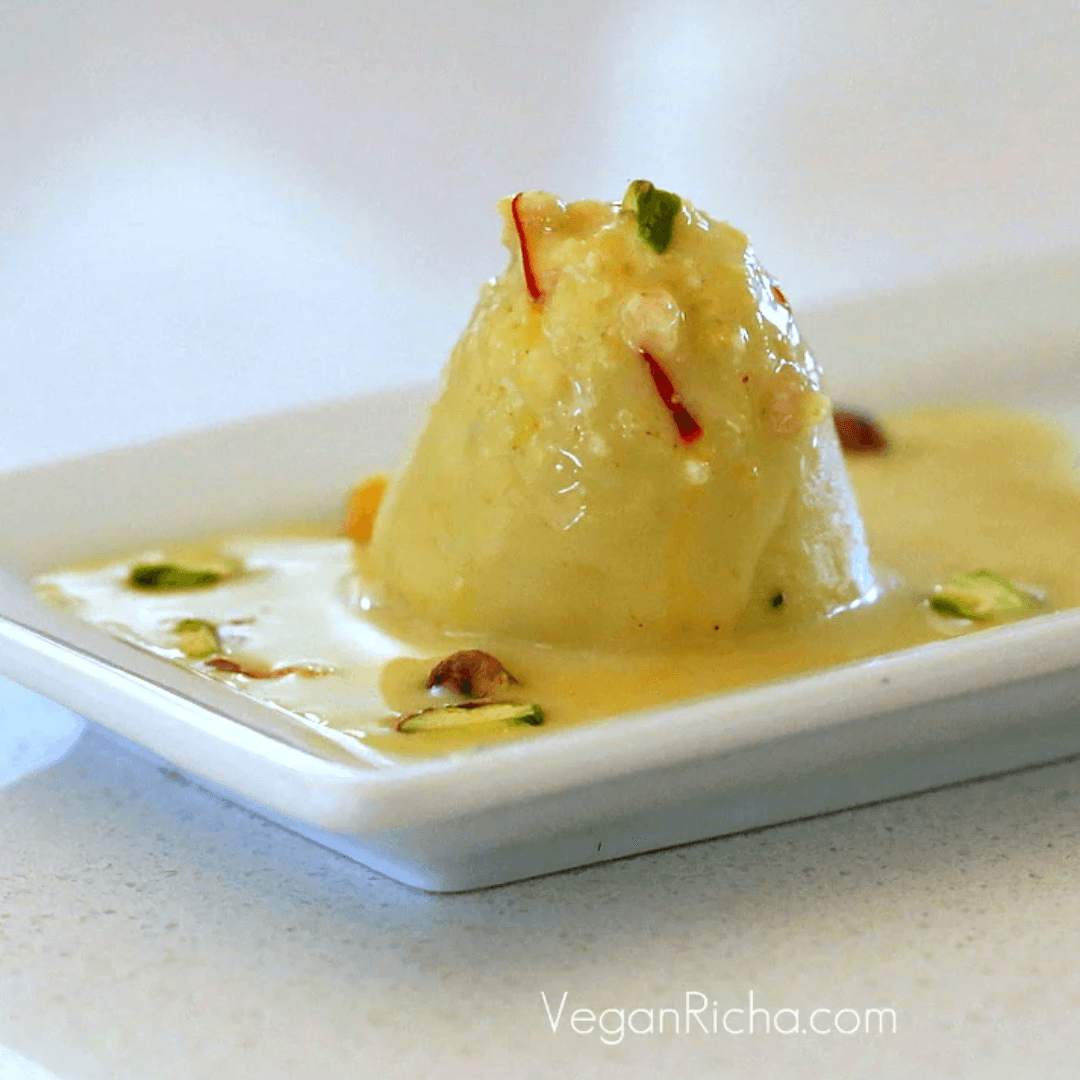 Vegan Richa
3 Kulfi
We may be gearing up for the winter holiday season, but ice cream is in order. Kulfi is a dense, unchurned ice cream usually made from condensed or evaporated milk and frozen in a clay pot. Kulfi walas are the Indian answer to the Western ice cream man, serving colorful nut-and cardamom-garnished kulfi on a stick or on a leaf.
Vegan Richa's tip: Almond milk combined with raw pistachio and almond flour and thickened with arrowroot or ground cashew will yield a luscious base for refreshing kulfi.
Up the complexity of your flavor profile by adding cardamom and black pepper or dark chocolate and crystallized ginger.
Get the recipe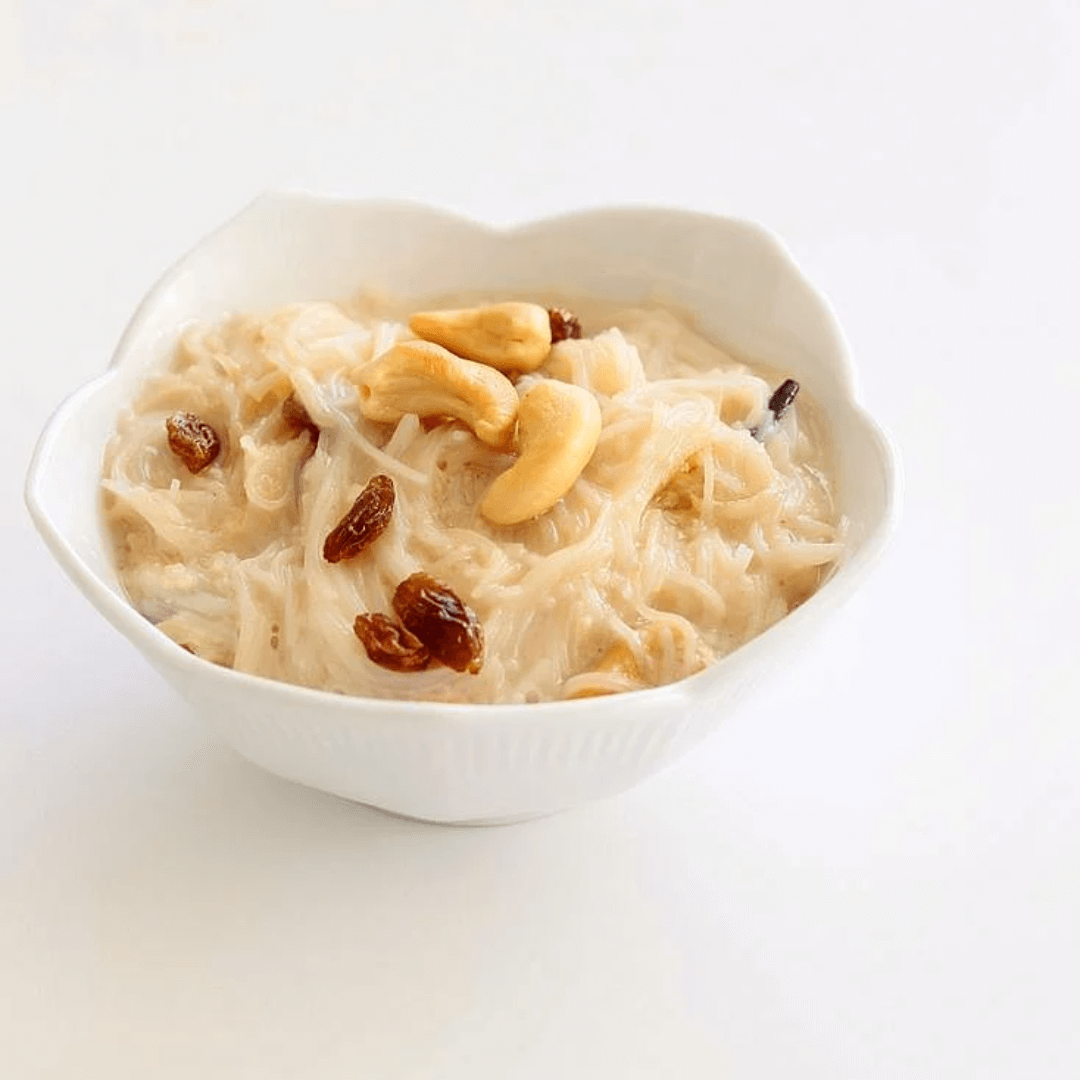 Vegan Richa
4 Kheer
If a big hearty bowl of pasta hits the spot on cold, wintry nights, kheer is the sweet mithai equivalent.
Also known as payasam, this creamy pudding is traditionally made with condensed milk, rice or vermicelli noodles, and sugar and is often flavored with nuts, raisins, cardamom, or saffron.
Legend has it that Lord Krishna disguised himself as a peasant and challenged a local king in the temple of Ambalappuzha to a game of chess, asking only for an increasing amount of rice per chessboard square as a reward if he won—the first square equaling one grain of rice, the second equaling two, the third doubled to four, the fourth equaling eight, and so on.
When Lord Krishna won the game and the king calculated his losses, he found that after 40 squares, he owed the peasant 18,447,744 trillion tons of rice. Lord Krishna then revealed his true identity and decreed that instead of a lump sum payment, the king may repay his debt by serving payasam to pilgrims, the homeless, or any travelers looking for shelter or a place to pray—a tradition that lives on to this day.
Vegan Richa's tip: Swap dairy milk for almond milk, toast your vermicelli, and fold in freshly roasted cashews and golden raisins for a delicious seviyan kheer.
Get the recipe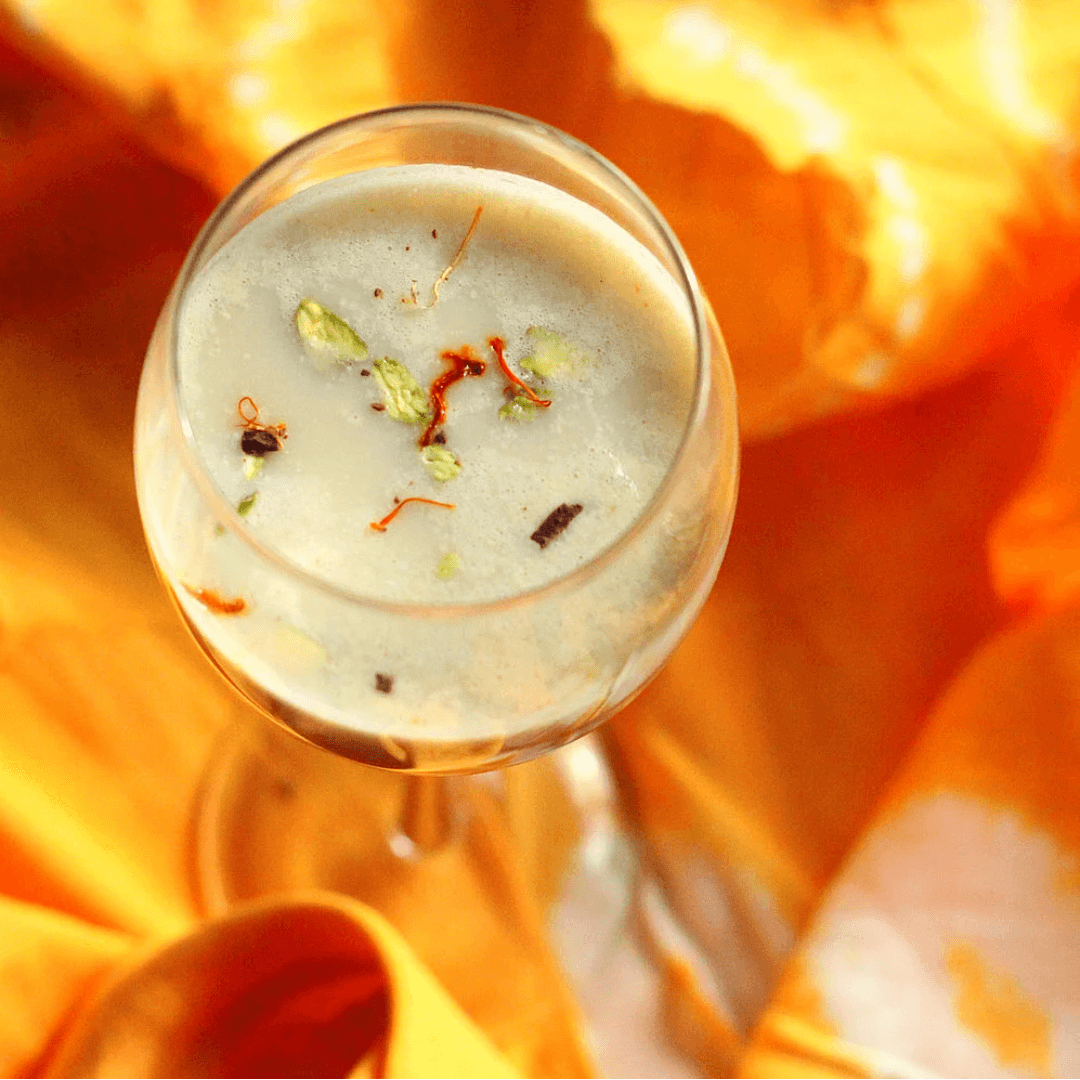 Vegan Richa
5 Thandai
Similar to kulfi, thandai is a cool, sweet refreshment popularly enjoyed during Holi, another significant Hindu holiday marking the beginning of spring and warmer weather. However, the nutty, spiced drink is a hit with people year-round, and especially during Diwali, thanks to its energizing and healthful properties.
Cardamom, fennel seeds, peppercorns, poppy seeds, rose petals, saffron, and watermelon seeds are toasted to coax out aromatic oils, pulverized into a fine powder, and then mixed with ground nuts, sugar, and chilled milk to create a piquant-yet-cooling beverage that gives celebrators the energy to keep up with festivities.
Vegan Richa's tip: Traditional milk-based thandai gets its body from the addition of finely milled almonds or cashews, so substituting almond milk ties together the flavors of this unique drink.
You can also swap out regular sugar for dates or maple syrup to add sweetness and depth before garnishing with chopped pistachio, saffron strands, or rosewater.
Get the recipe
For more vegan Indian recipes, read: