Halloween is a time to treat yourself, and sometimes, fun-sized candy just isn't enough of a treat. Ghoulish celebrations and a chill in the air make us crave something heartier than a single vegan caramel or peanut butter cup—we want death by chocolate cake, monstrous stuffed cookies, and black cocoa brownies as dark as our souls.
Vegan-friendly bakeries are whipping up equally horrifying and delightful treats this Halloween season, and many ship nationwide.
Vegan Halloween treats that ship nationwide
From orange-and-black confetti cookies to full-sized skull cakes, here are 13 vegan Halloween and fall-themed treats that will ship straight to your door. Order early, because these goodies tend to disappear!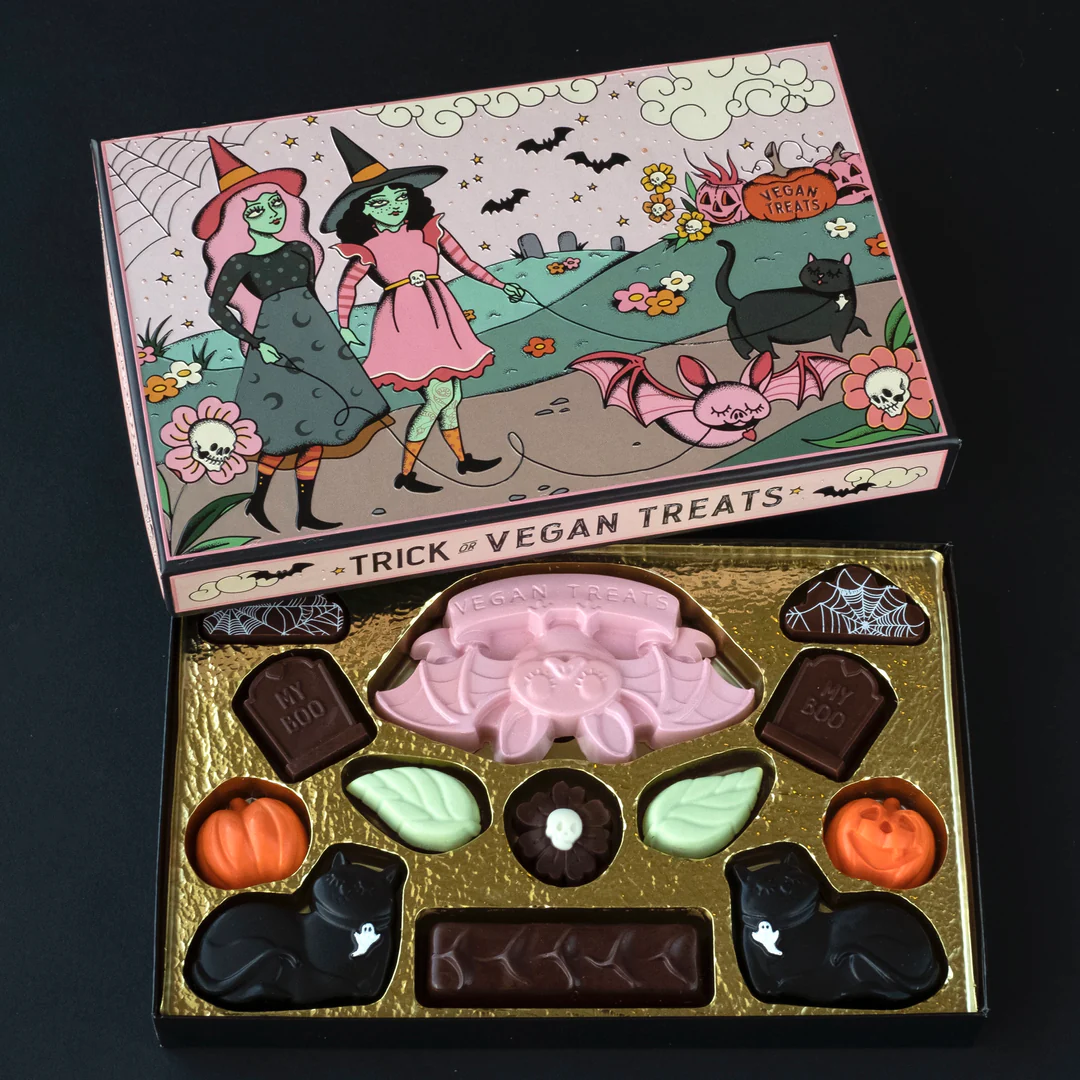 Vegan Treats
1 Vegan Treats
This devilishly sweet vegan bakery in Bethlehem, PA is shipping an indulgent, limited-edition Best Fiends Chocolate Box. The $79.95, 13-piece handcrafted set features a selection of hazelnut praline spiderweb clouds, espresso caramel headstones, peanut butter dream cats, and much more. You can also mix and match Halloween chocolates from the brand for $9.
FIND IT HERE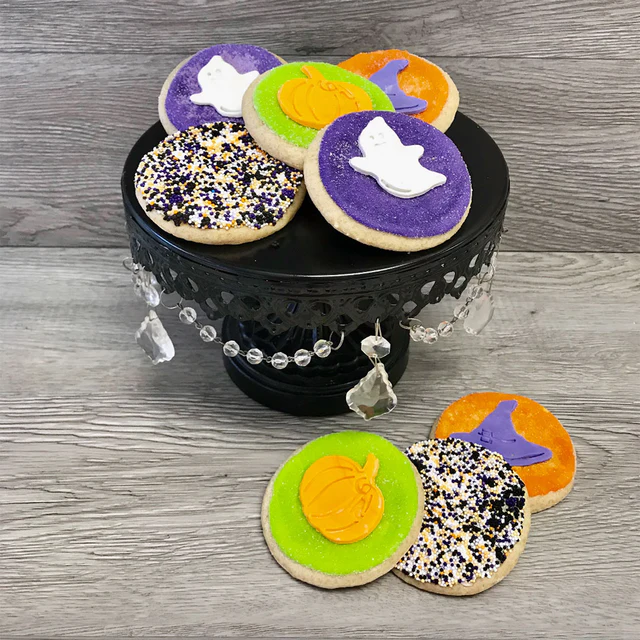 Sensitive Sweets
2 Sensitive Sweets
From brightly colored cupcakes to family-friendly cookie decorating kits, this dedicated allergen-friendly bakery is making sure all kids have something to look forward to come All Hallows' Eve. Get the little ones involved and order the bat cookie decorating kit complete with bright Halloween-colored frosting, sprinkles, and sugar cookies.
FIND IT HERE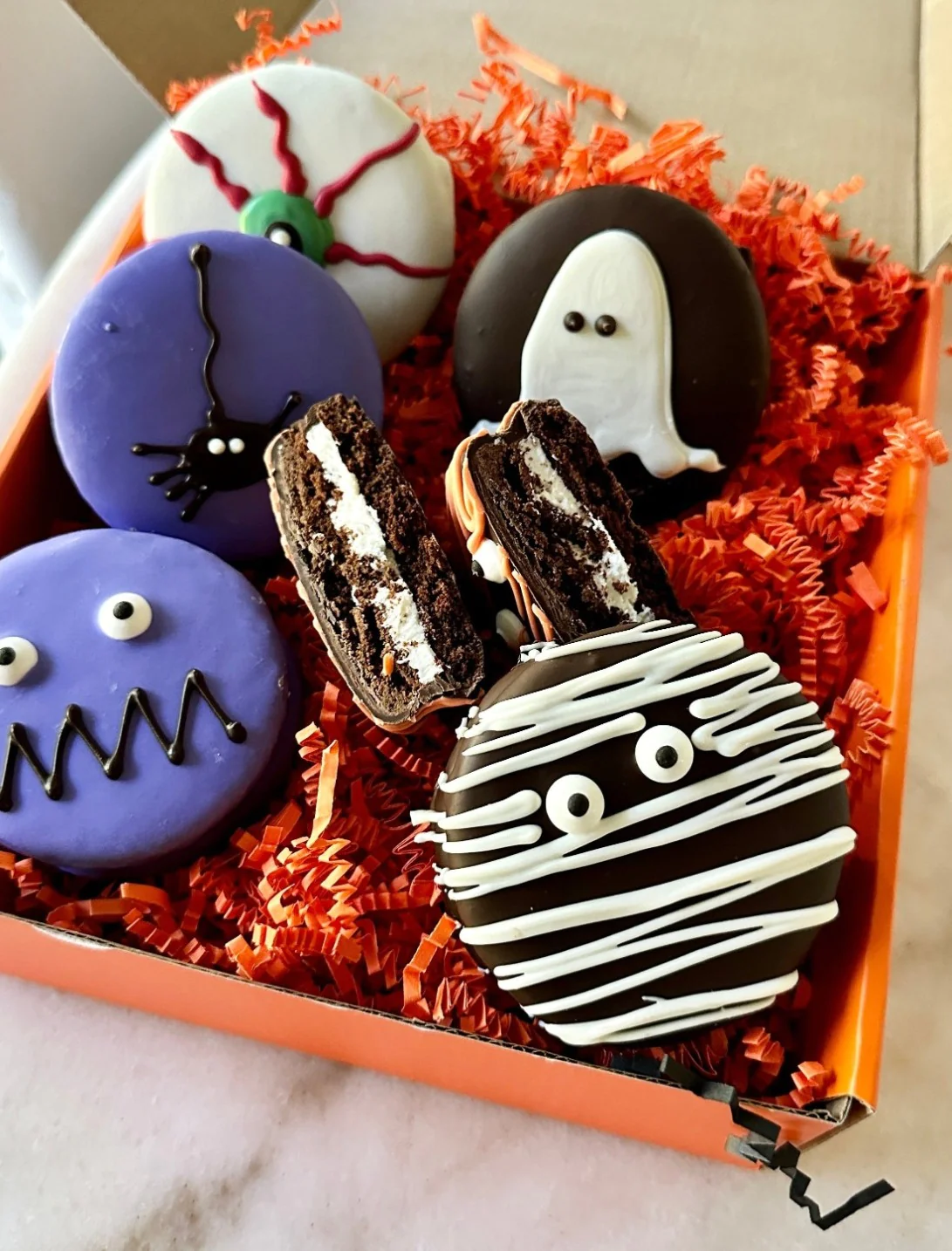 Karma Baker
3 Karma Baker
When there's a holiday around the corner, we look to Karma Baker to dish out delightful gluten-free treats. This year, the bakery is shipping out white chocolate-covered pumpkin cake doughnuts, filled-and-frosted sandwich cookie sets, and even googly-eyed brownies.
FIND IT HERE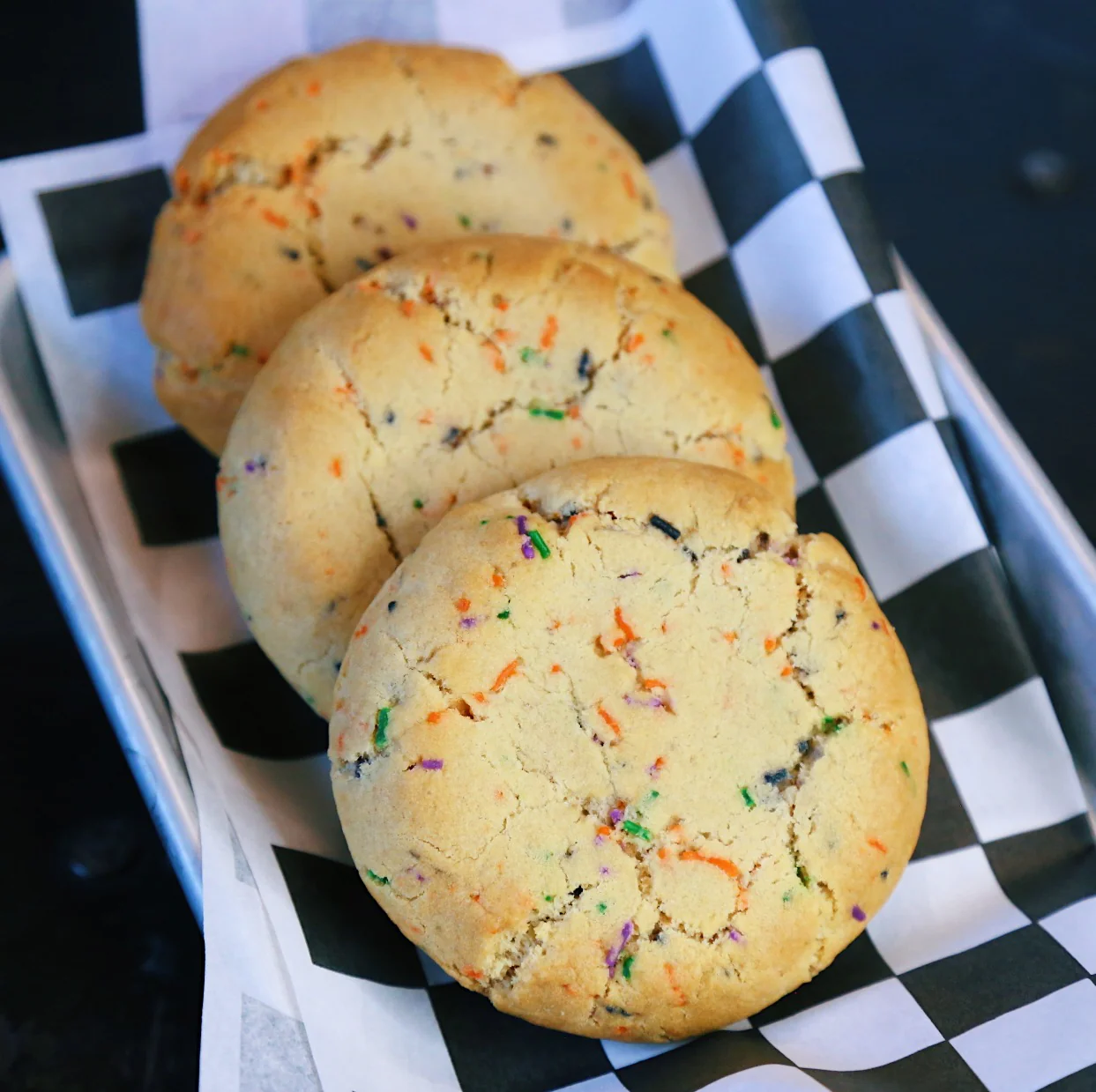 Foxship Bakery
4 Foxship Bakery
Weighing in at a full quarter-pound per cookie, these monstrous goodies are the cookie equivalent to the coveted king-sized candy bar. Seasonal flavors include Salted Pumpkin Pecan Cookies and Halloween Cake Batter Cookies.
FIND IT HERE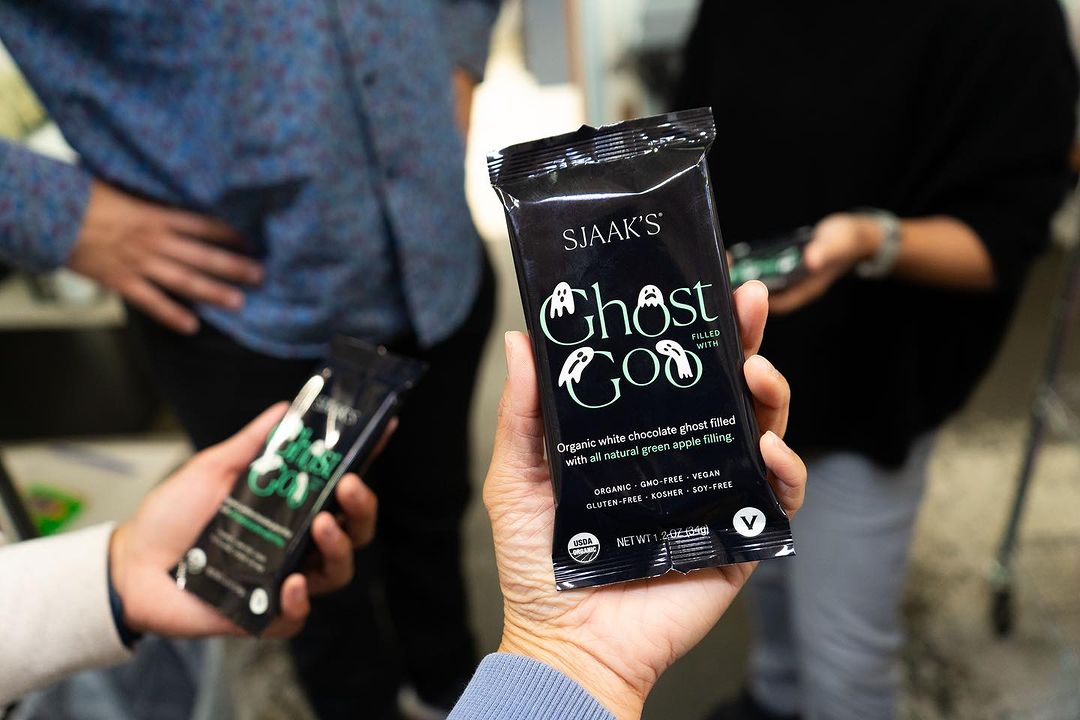 Sjaak's
5 Sjaak's
One stop at this online shop is all you need to fill your candy cauldron. The virtual vegan chocolatier offers full-sized bars in flavors such as Chipotle & Cinnamon in addition to a wide assortment of mini chocolate bites. Our favorite fall morsels include Pumpkin Spice Melk Chocolate, Peanut Butter Crunch Chocolate Frogs, and adorable white chocolate ghosts (filled with green apple slime!). You can also stock up on full-sized versions of Eli's Earth Bars which remind us of Snickers' nutty caramel fillings.
FIND IT HERE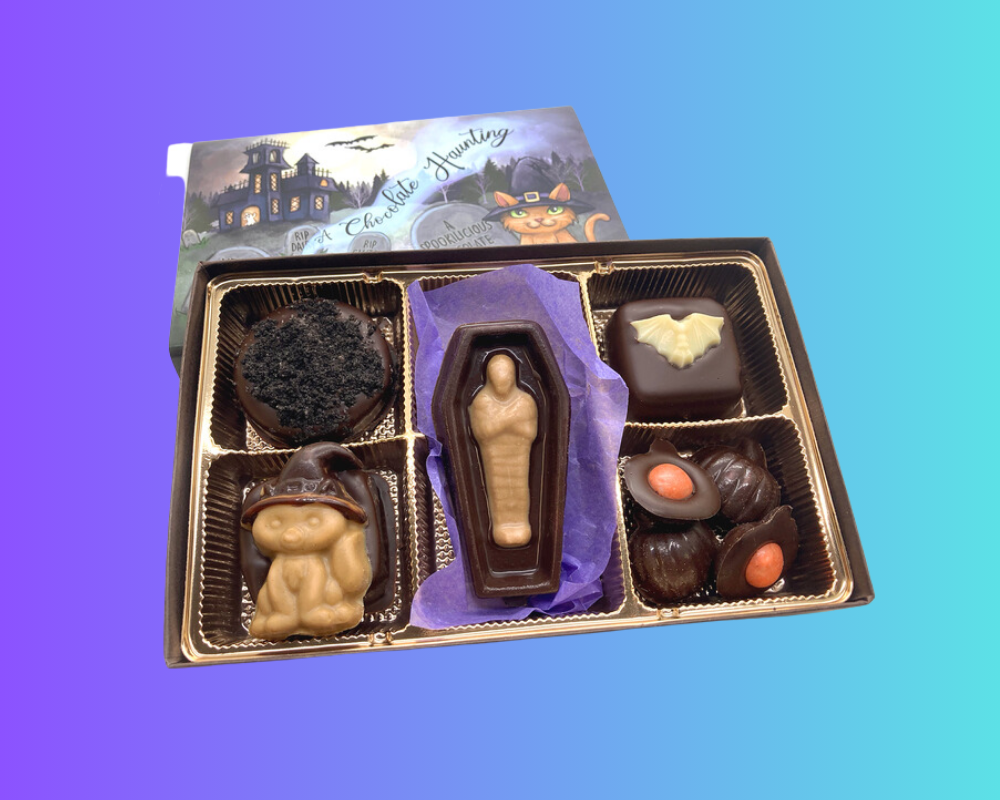 6 Divine Treasures
Choose from the four-piece Skull Truffle box or the elaborate A Chocolate Haunting box complete with a chocolate Deadlicious Mummy, an Entombed Cookie, and other sinfully sweet confections. Vegan-friendly chocolate ghost pops and dark chocolate jack-o'-lanterns are also available à la carte.
FIND IT HERE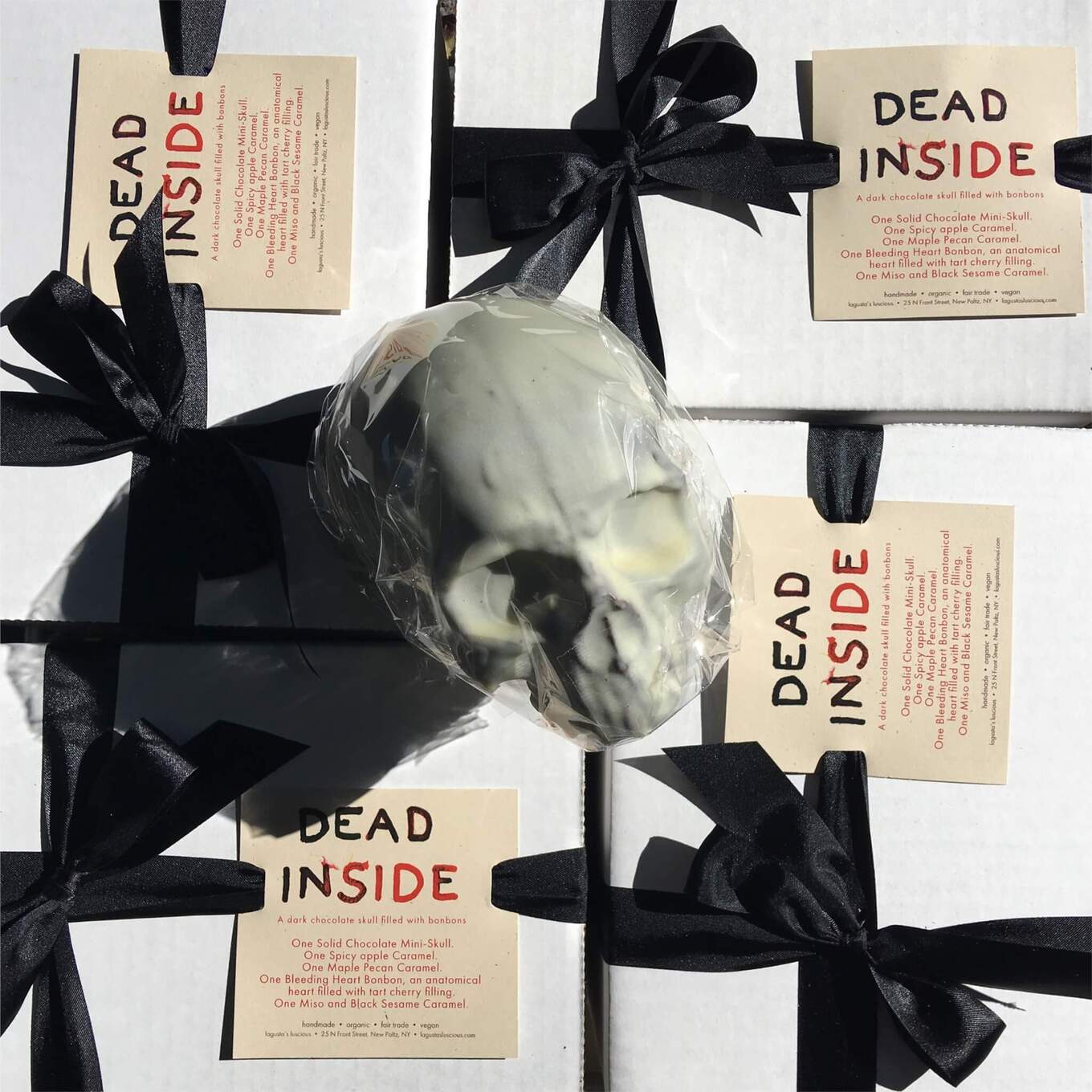 Lagusta's Luscious
7 Lagusta's Luscious
Lagusta's is always on our list for seasonal treats and truffles—but beware, many of its Halloween-themed treats are dead on. If you're more into cutesy renditions of smiling witches and playful pumpkins, the bloody red, anatomically correct Bleeding Hearts box may be a bit much for your sensitive soul. The chocolatier also offers more benign-looking chocolates such as the gorgeous Caramels and Autumn Leaves box and Spiced Pecan Fudge. No matter what ends up in your cart, you can rest in peace knowing that the taste will be to die for.
FIND IT HERE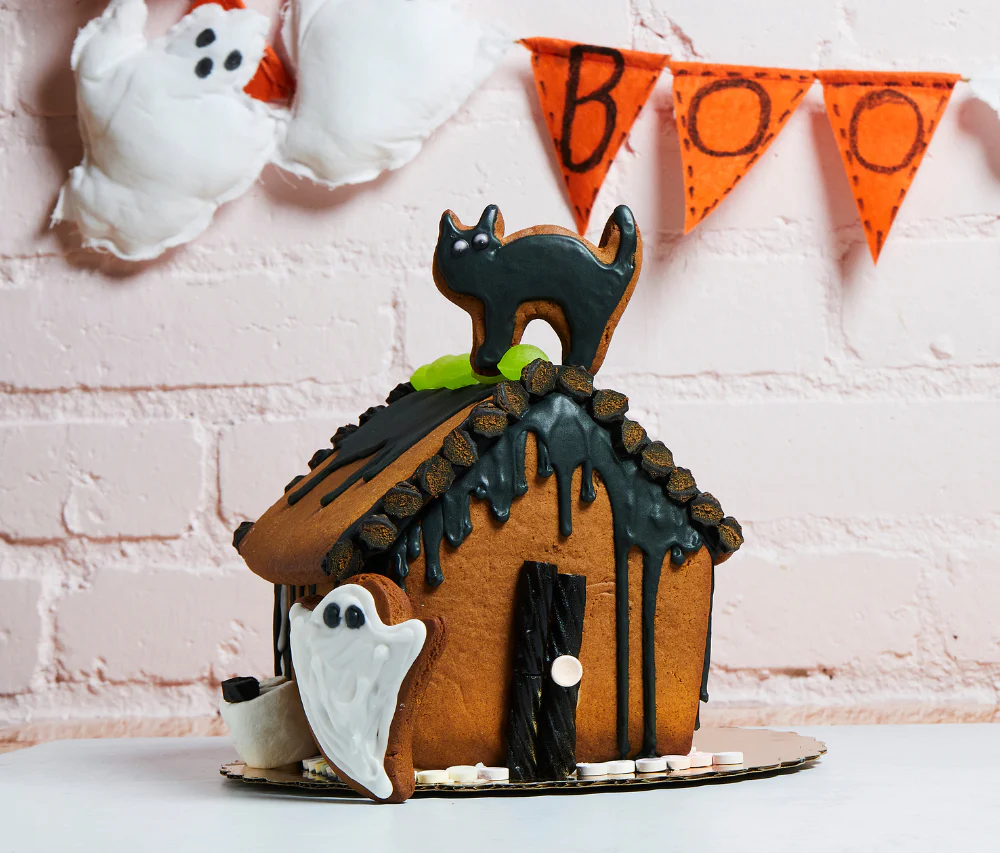 Sticky Fingers Bakery
8 Sticky Fingers Bakery
After nearly two decades in business, you can now order sweets from the vegan Cupcake Wars champion, Doron Petersan. Her Washington, DC bakery is shipping its Eyeball Cake Pops and spicy-sweet Haunted Gingerbread decorating kits across the US. Be warned: unlike most gingerbread kits, you'll actually be tempted to eat the cookie foundation.
FIND IT HERE
Erin McKenna's Bakery
9 Erin McKenna's Bakery
Choosing from this allergen-sensitive baker is like trying to choose a Halloween costume—there are just so many fantastic options. For expertly frosted cakes, opt for the adorable Bride of Frankenstein cake or the mini Halloween Cake. Other great options include Halloween Cupcakes and a simple yet delicious pumpkin pie.
FIND IT HERE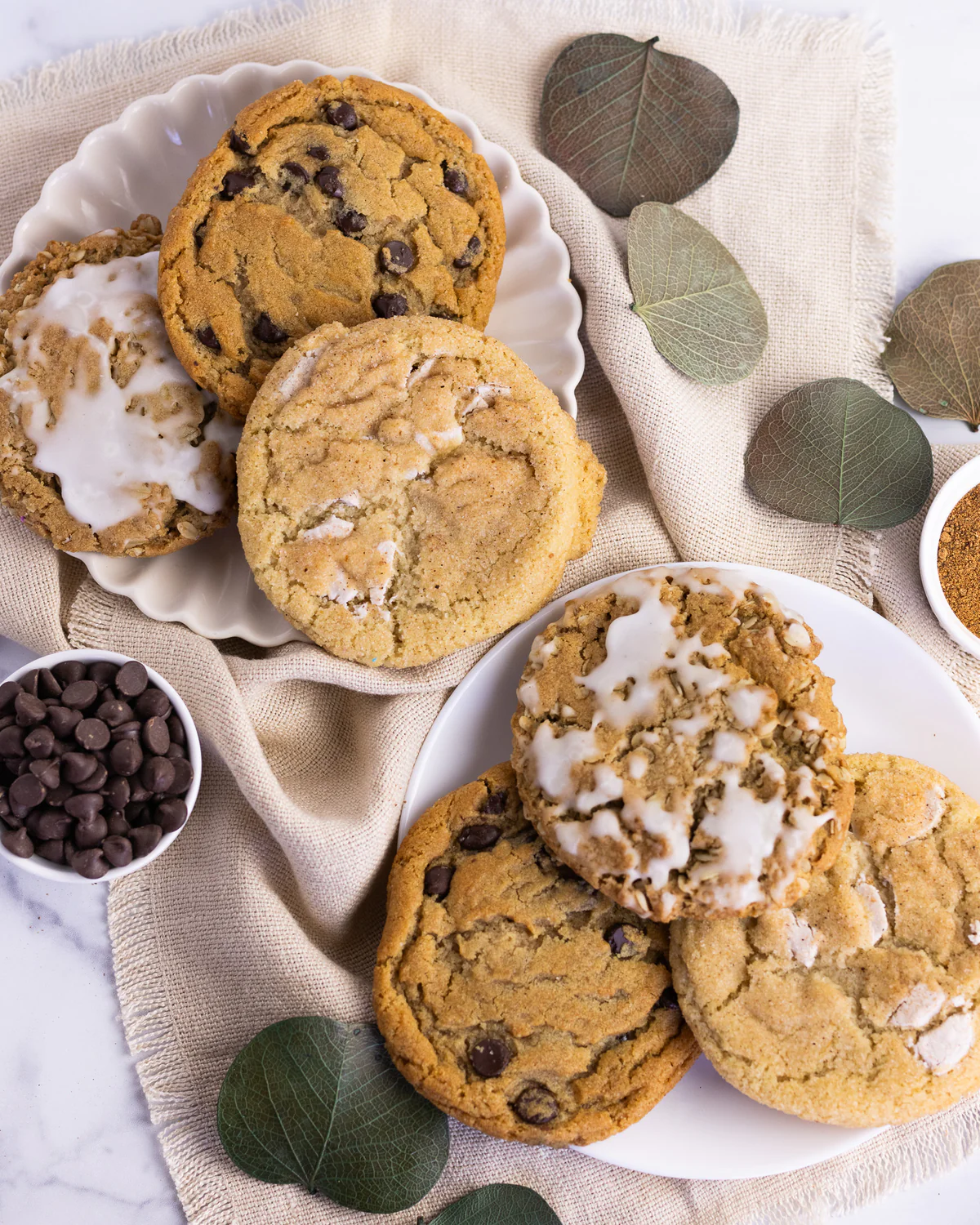 Maya's Cookies
10 Maya's Cookies
While this virtual vegan bakery has evolved into its own storefront, Maya's has continued shipping its crave-able cookies nationwide. The limited-edition Fall Collection features three original flavors: Chai Snickerdoodle, Pumpkin Spice Chocolate Chip, and Iced Oatmeal. Order before it's too late!
FIND IT HERE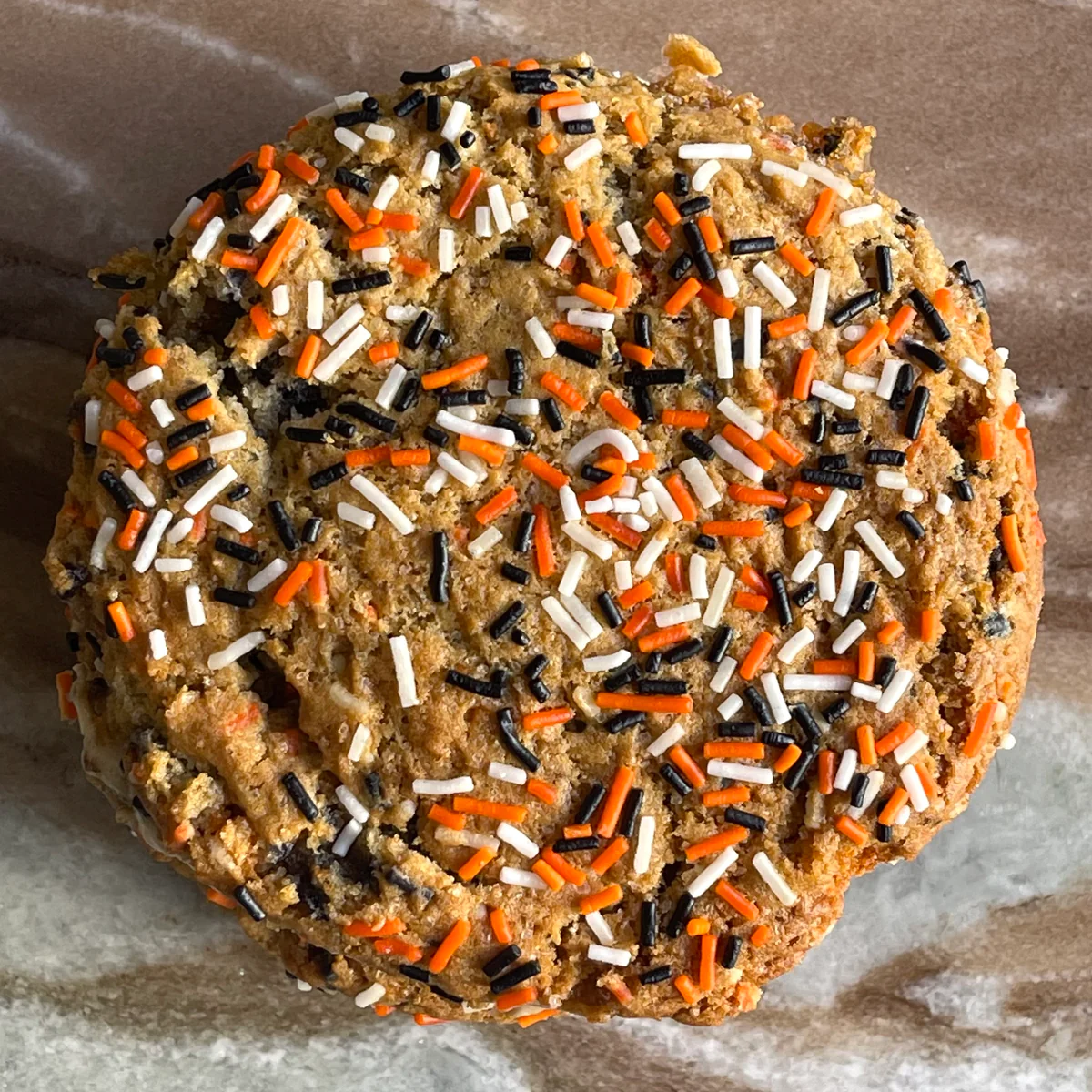 The Naughty Cookie
11 The Naughty Cookie
Cookie obsessed? You've got to get your hands on Naughty Cookies' Ooey Spooky Confetti Cookies. According to the brand, these sweet treats are "delightfully gooey treats are the life of the Halloween party, bursting with eerie excitement in every bite."
FIND IT HERE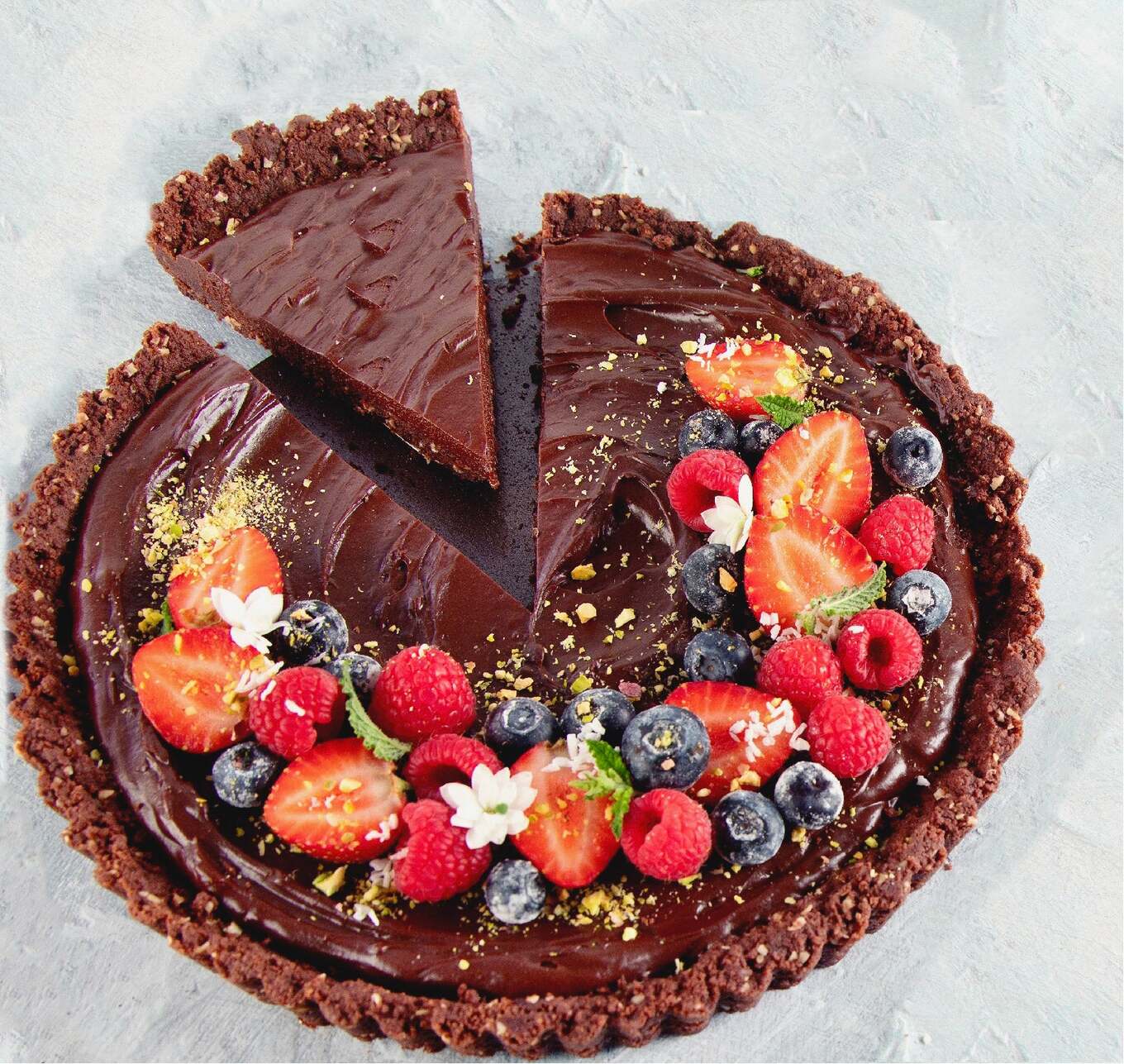 Giselle's Vegan Kitchen
12 Giselle's Vegan Kitchen
For those who prefer more sweet, less spooky treats, check out the fall collection at Giselle's. The dedicated vegan, refined sugar-free, and gluten-free bakery is offering tender pumpkin pies, black forest tarts, and the Vegan Mystical Box, which features a mix of brownies, pies, cookies, and cakes. Giselle's is the perfect pick for anyone with a dietary restriction, or frankly, anyone who wants to indulge without feeling weighed down after.
FIND IT HERE
Clementine's Naughty & Nice Ice Cream
13 Clementine's Naughty & Nice Ice Cream
It may be cold in St. Louis, MO, but this town knows its ice cream. Clementine's inventive and seasonal flavors are innovative, and the vegan options don't take a backseat. This Halloween, stock your virtual cart with a pint (or four) of Vegan Sweet Potato Pie. While the brand is known for being a bit naughty, this flavor is 100 percent nice.
FIND IT HERE
For more vegan Halloween treats, read: