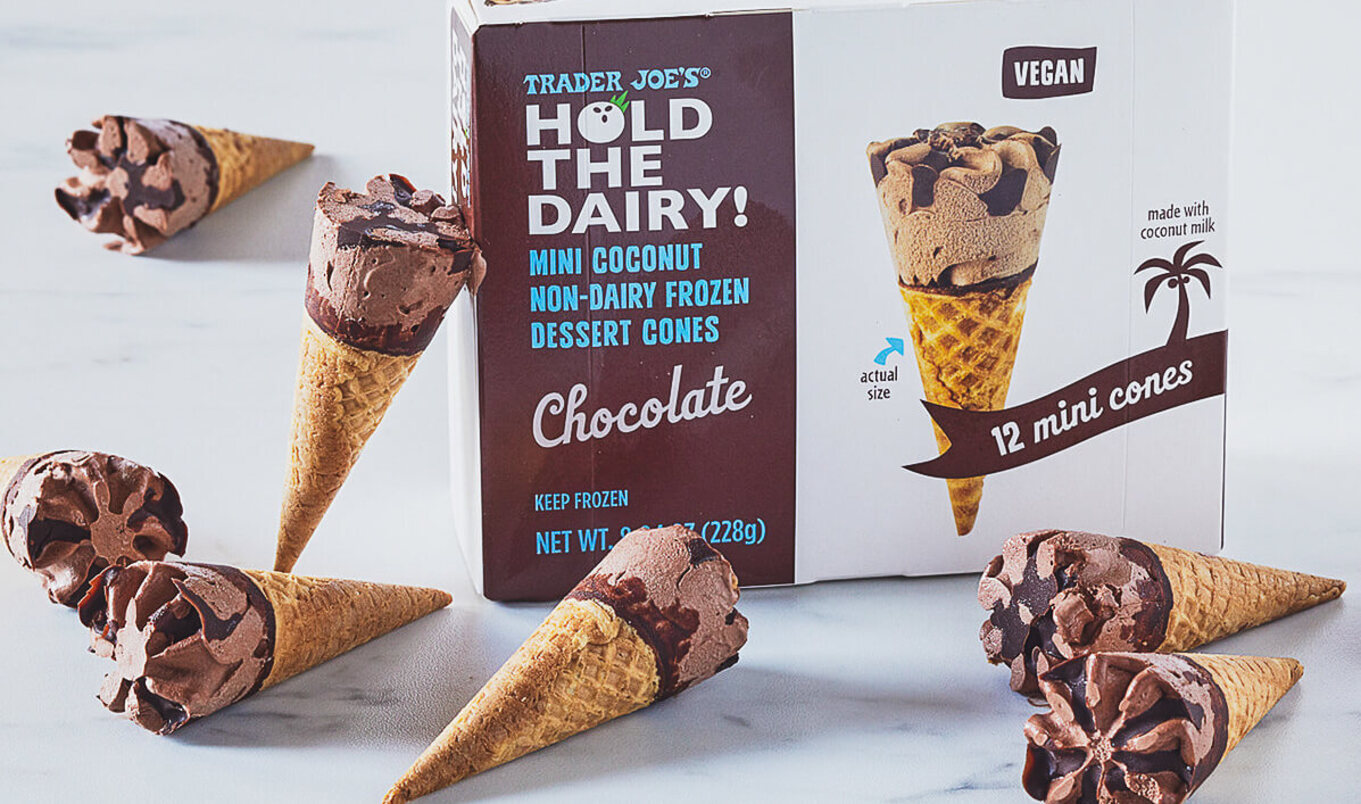 We are completely obsessed with these sweet treats, and you're about to be, too.
August 26, 2023
---
Trader Joe's is consistently changing the game with innovative new vegan twists on classic eats, and we can't get enough. Plant-based ice cream, mochi, cookies, and more are keeping our sweet tooth satisfied, and at budget-friendly prices, our wallets happy.
Whether we're diving into bags of mini, nut-free chocolate sunflower butter cups or biting into chewy, moist snickerdoodle cookies, one thing is for sure: Trader Joe's holds the answer to our sweet tooth cravings.
Trader Joe's launches new vegan products
Trader Joe's has reigned as king of snacks for years, thanks to its exclusive private-label goods. And many of those snacks have long been vegan.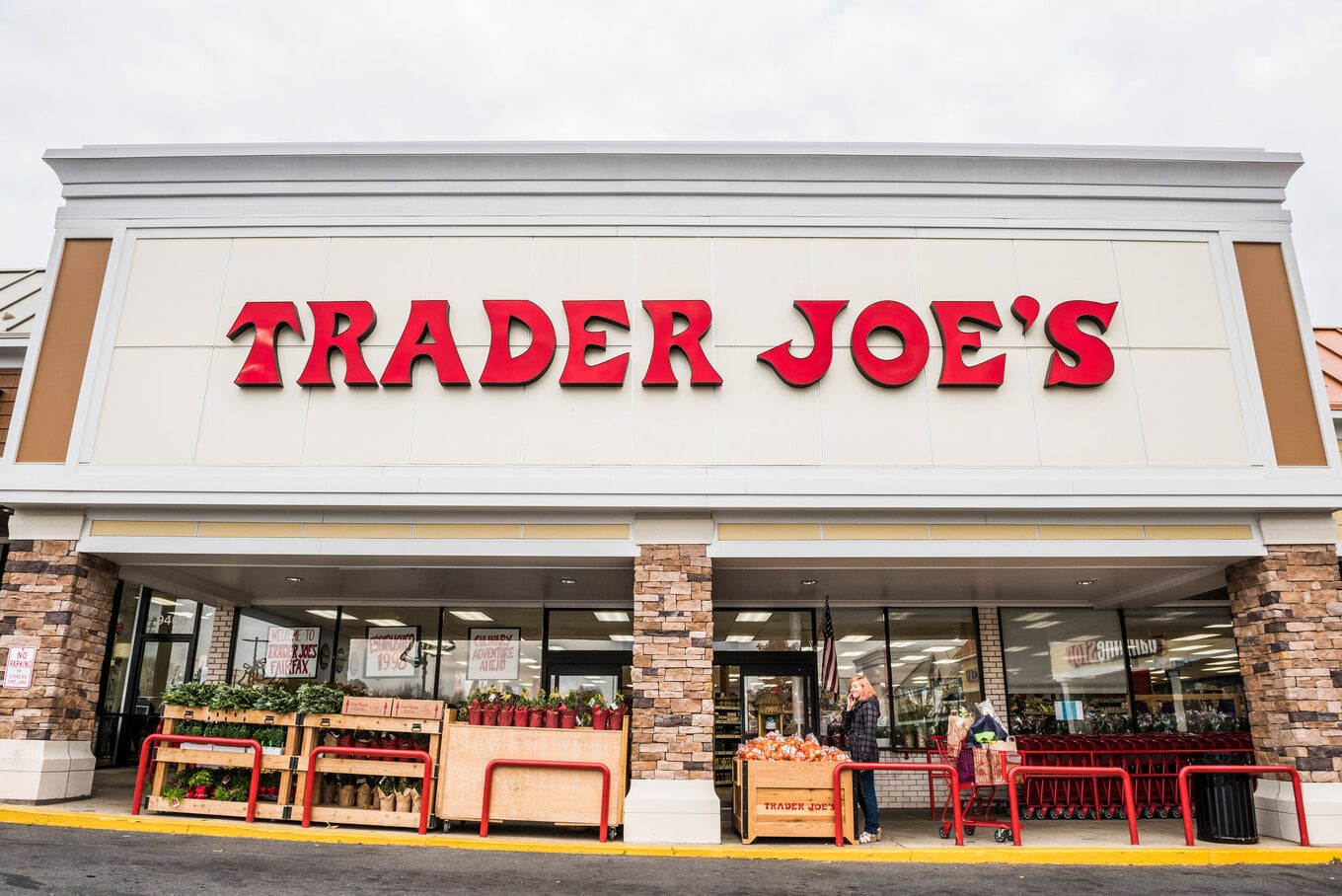 And while Trader Joe's products have a reputation for passing in and out of the store relatively quickly, over the years the popular grocer has carried plant-based products such as dairy-free cheesecakes, vegan ranch dip with a coconut-milk base, ultra-high protein vegan burger patties, and four packs of deliciously sweet and fluffy vegan vanilla cupcakes. While these products may no longer be on the shelves at the grocer, they have been replaced by numerous new and exciting products.
For the best vegan products at Trader Joe's according to VegNews readers, check out the winners of the VegNews' inaugural Best Vegan Trader Joe's Awards here.
Vegan sweets at Trader Joe's
While we can't wait to see what's next from this cult-favorite grocery chain, for now, we are turning our attention to all the luscious, dairy-free, egg-free desserts and sweet bites they currently offer. Here are our 18 favorites: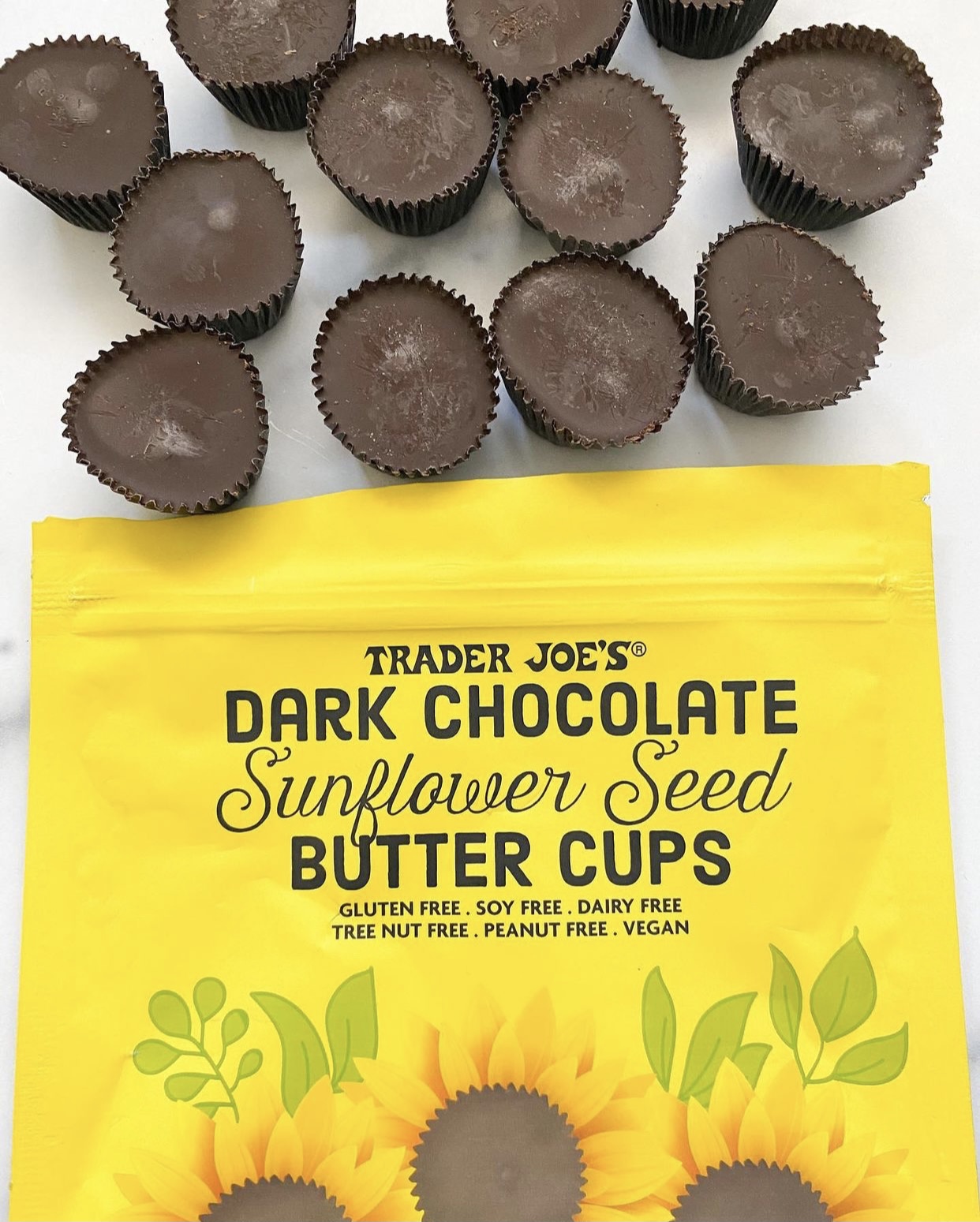 Trader Joe's
1 Dark Chocolate Sunflower Seed Butter Cups
Who needs Reese's? We're so here for these peanut-free dark chocolate sweets, conveniently located by the registers, for a grab-and-go sweet tooth fix. The mini version offers us the perfect chocolate-craving fix.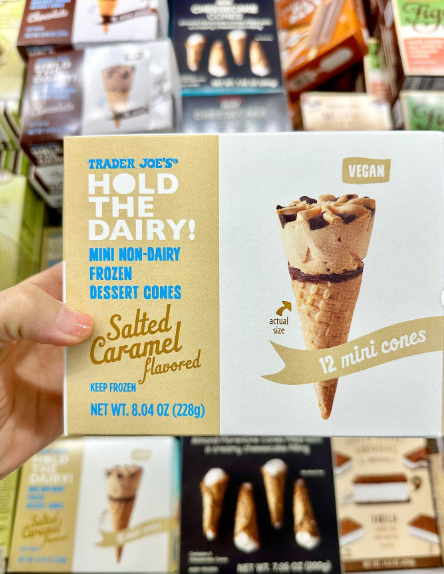 @traderjoesgeek/Instagram
2 Hold The Dairy! Mini Non-Dairy Frozen Dessert Cones Salted Caramel
These miniature cones offer a perfect balance of creamy, dairy-free frozen dessert swirled with luscious salted caramel goodness. With each bite-sized cone, you'll experience the harmony of smooth texture and rich flavor, creating a truly satisfying frozen dessert experience that's both convenient and utterly delicious.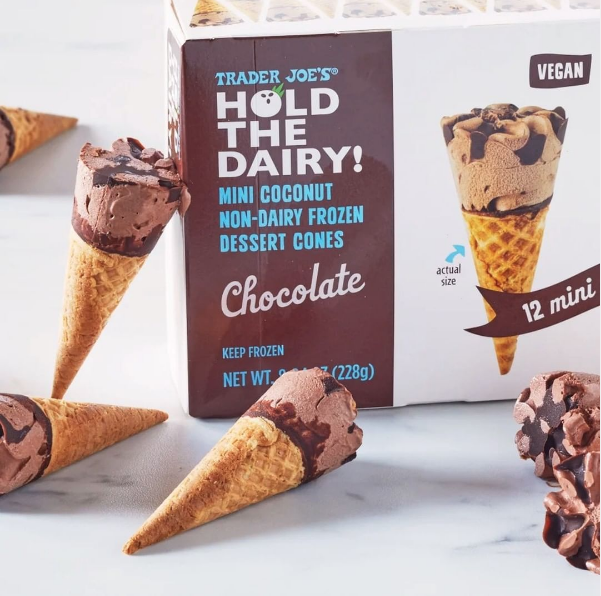 Trader Joe's
3 Hold the Dairy! Mini Coconut Non-Dairy Frozen Dessert Cones
These coconut-based chocolate ice cream cones are drizzled with a crunchy chocolate coating and make for the ultimate single-serving ice cream treats for warm weather days.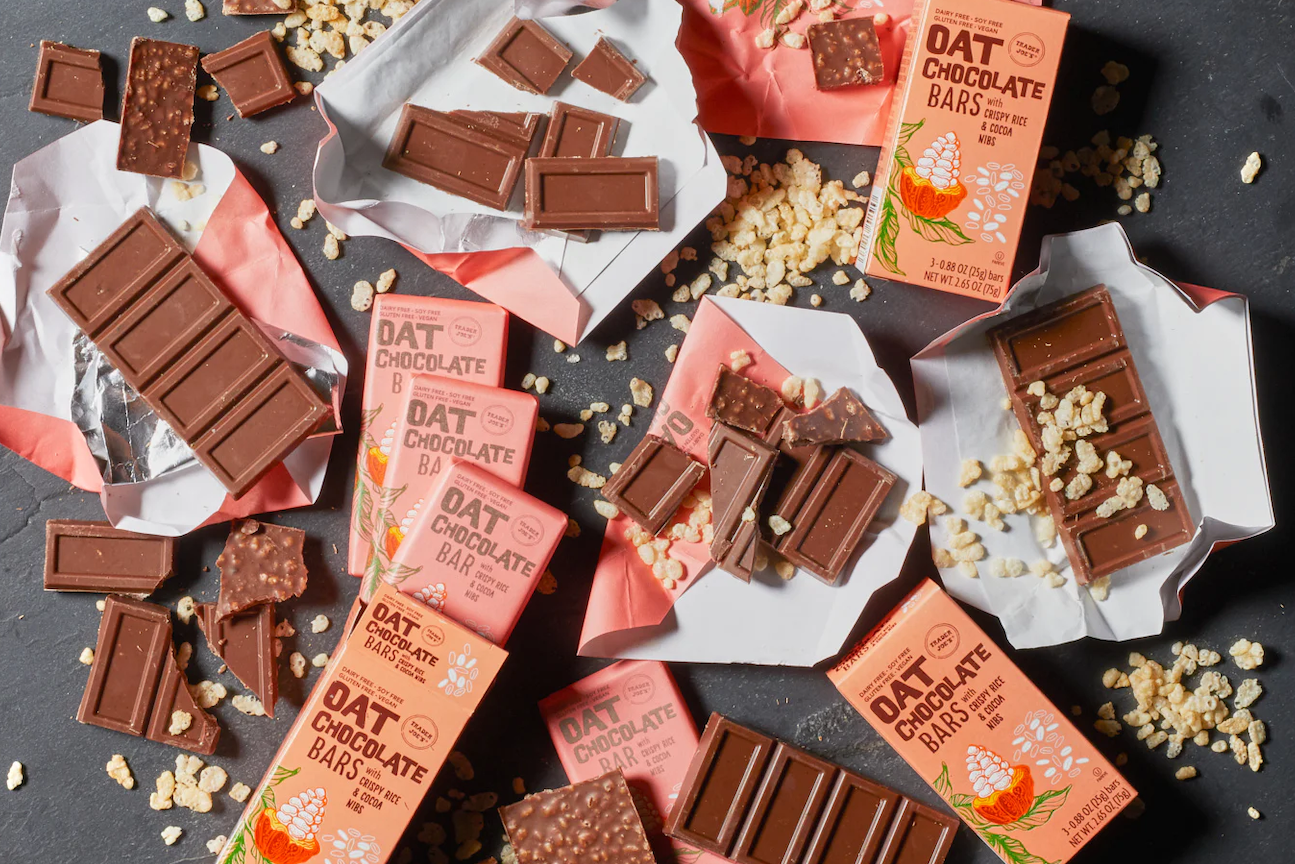 Trader Joe's
4Oat Chocolate Bars With Crispy Rice & Cocoa Nibs
These bars are a delightful fusion of hearty oats, velvety chocolate, crunchy crispy rice, and the exquisite essence of cocoa nibs. With every bite, you'll experience the satisfying contrast between chewy oats and the playful crunch of crispy rice, all elevated by the intense depth of cocoa nibs.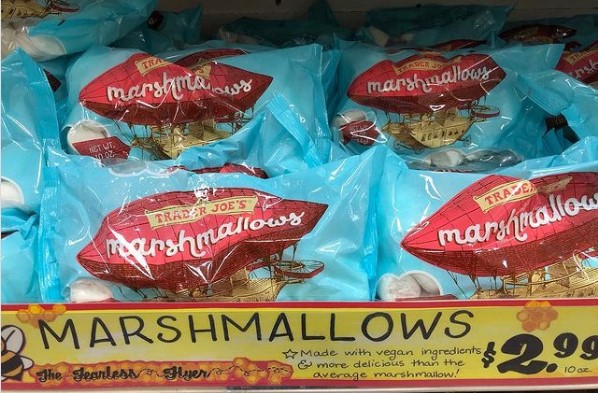 @traderjoesvegan/Instagram
5 Vegan marshmallows
We load up our steamy mugs of soy hot cocoa with these fluffy treats in the winter and roast them over campfires in the summer, but no matter the season, we'll always keep a bag of these gelatin-free marshmallows on hand.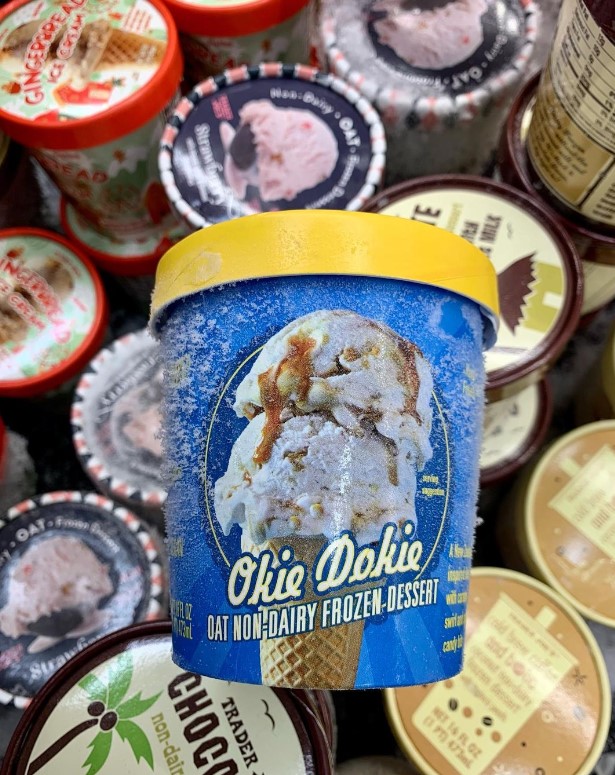 @vegan.traderjoes/Instagram
6 Okie Dokie Oat Non-Dairy Ice Cream
Each scoop of this oat milk ice cream packs in bits of honeycomb toffee and luxurious caramel swirls. We drizzle ours with even more vegan caramel for a dreamy, sweet chocolate-free ice cream treat.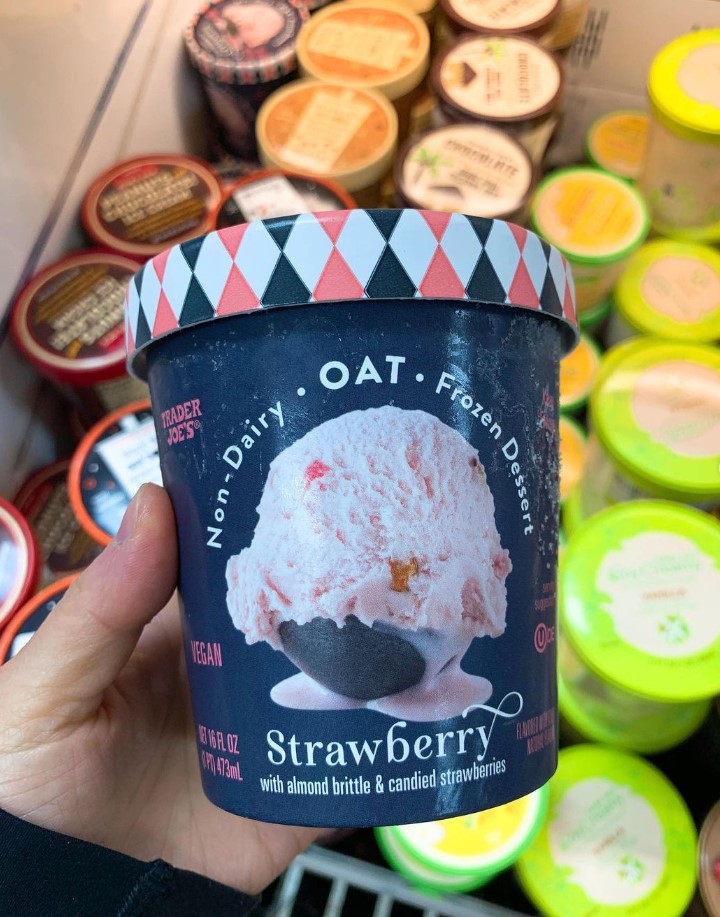 @hello.traderjoes/Instagram
7Strawberry Non-Dairy Oat Frozen Dessert
Don't pass up this pint assuming it's plain strawberry—the super-smooth ice cream is packed with delightfully crunchy almond brittle and sweet candied strawberries that pump up the flavor and texture. This creamy treat will make a strawberry ice cream lover out of anyone.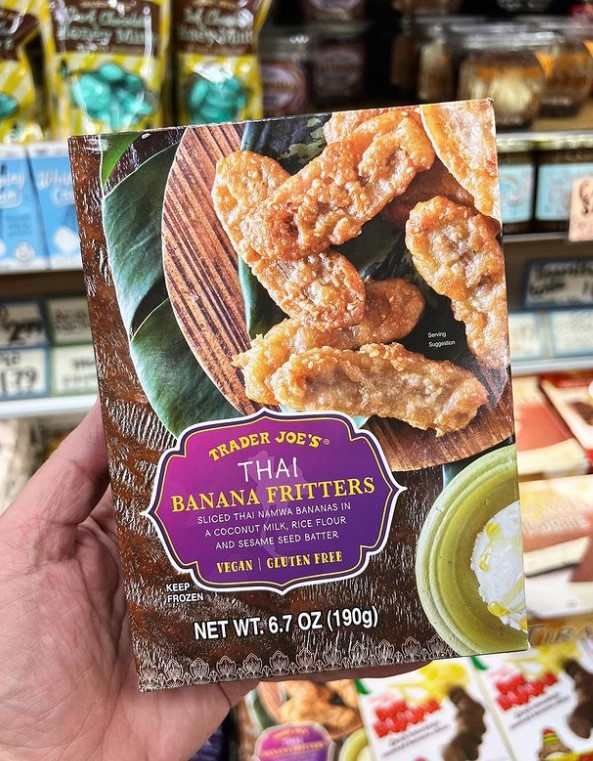 Big Box Vegan
8 Thai Banana Fritters
These rice, coconut, and sesame-battered fritters are made with sliced Thai Namwa bananas and are easy to crisp up to golden perfection in the air fryer. Serve with scoops of dairy-free vanilla ice cream for an easy dessert.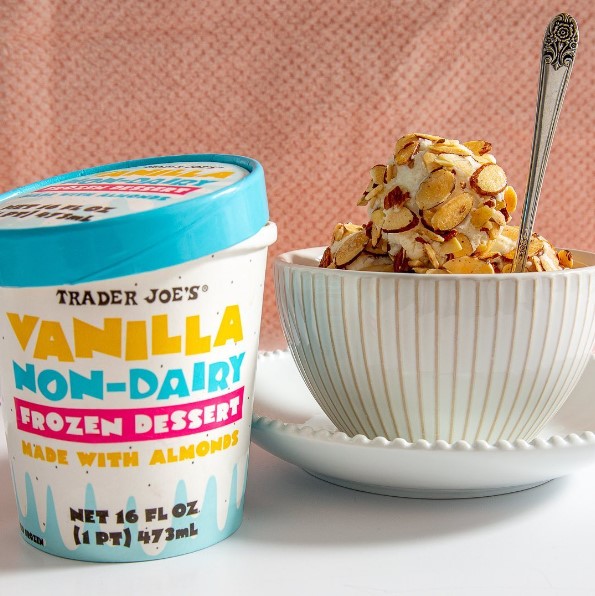 Trader Joe's
9 Vanilla Non-Dairy Frozen Dessert
This almond milk-based ice cream tastes like cake batter. If this is what true vanilla tastes like, we've been missing out for years.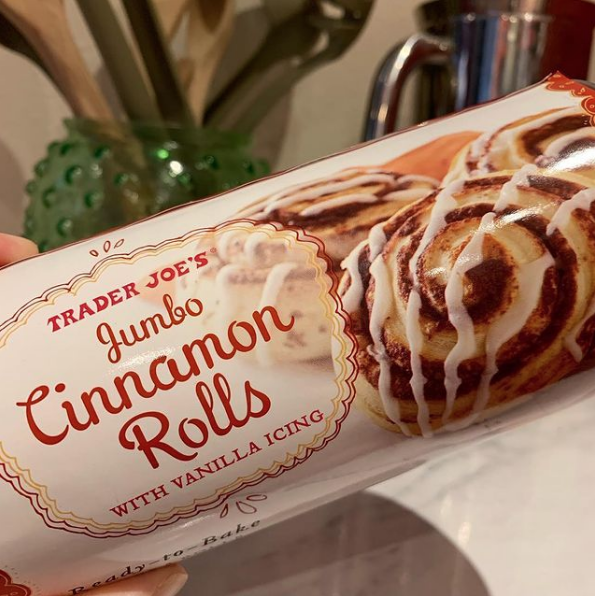 VegNews
10 Jumbo Cinnamon Rolls
Let's be honest, cinnamon rolls are more of a dessert than a breakfast. But there's absolutely nothing stopping us from gobbling down these ready-to-bake accidentally vegan treats in the morning.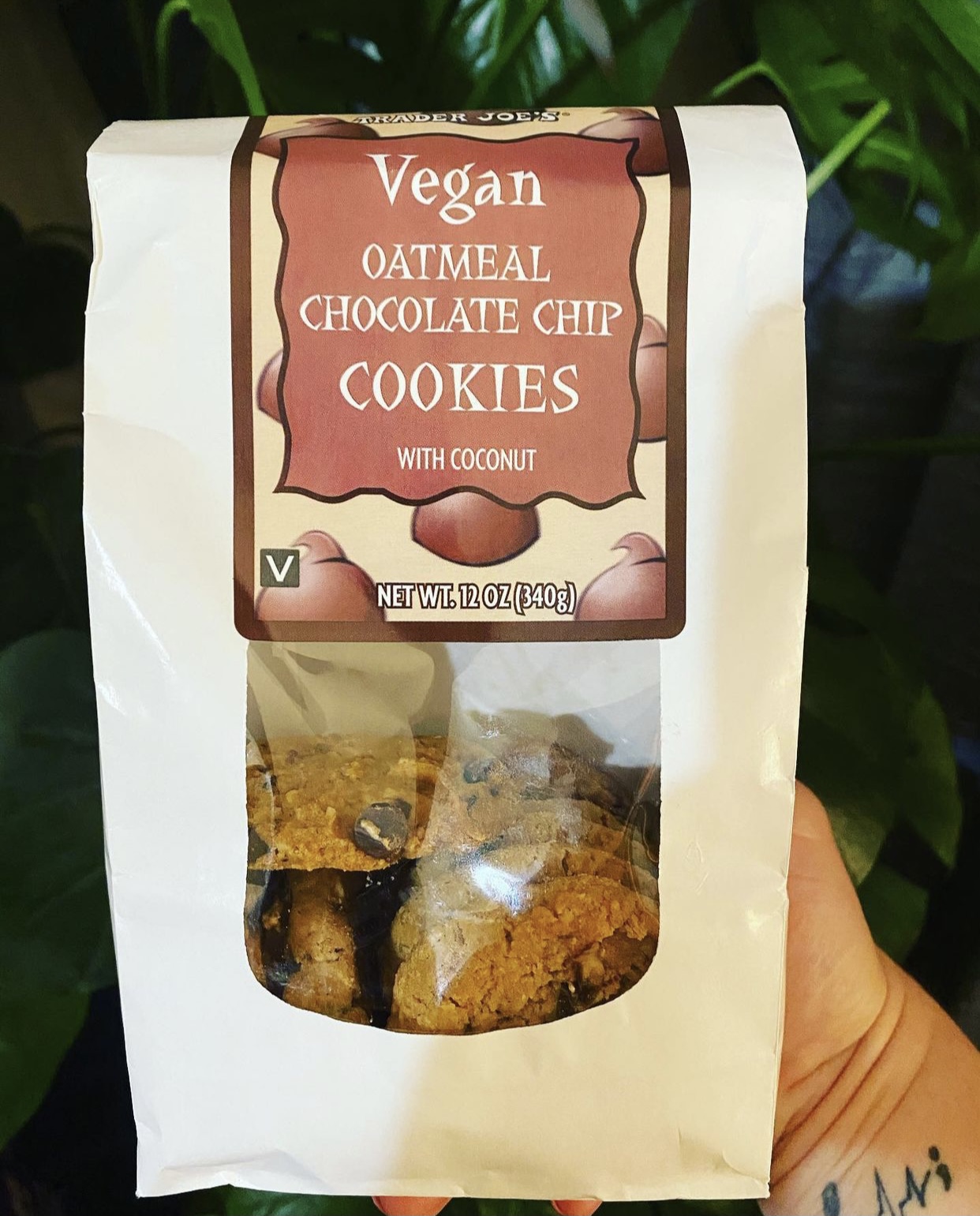 Trader Joe's
11 Vegan Oatmeal Chocolate Chip Cookies
These moist, soft, chewy cookies have saved us on many occasions when cravings have struck. There's no skimping on the chocolate here, each bite is studded with melt-in-your-mouth dairy-free chocolate chunks.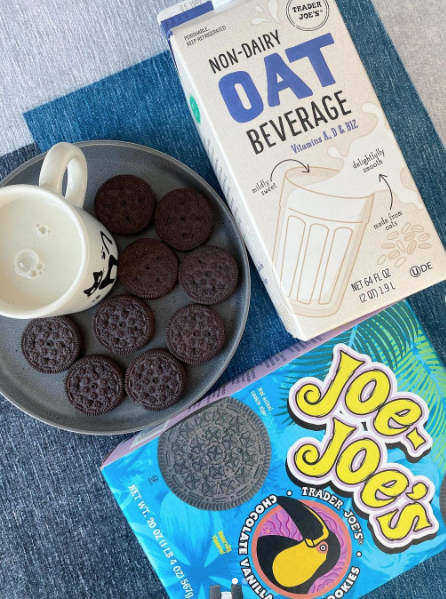 Trader Joe's
12 Joe-Joe's
Who could forget these classic Trader Joe's créme-filled cookies? Buyer beware: the gluten-free Joe-Joe's are not vegan (they contain dairy). Thankfully, the various seasonal flavors such as Matcha, Mango, and Candy Cane provide vegans with plenty of tasty options.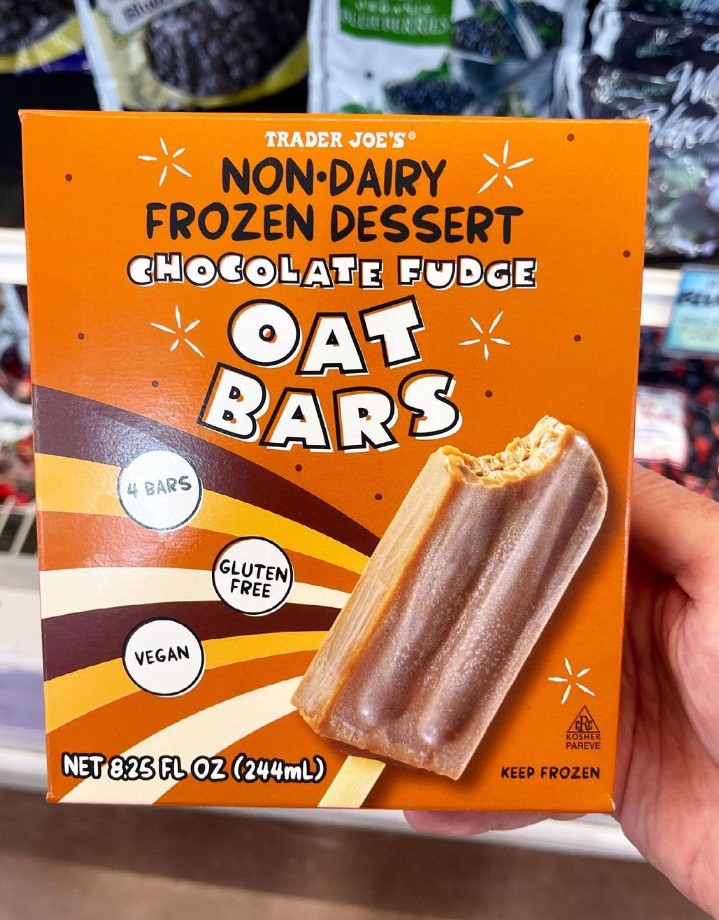 @traderjoesveganitems/Instagram
13 Chocolate Fudge Oat Bars
The fudge bars of our youth get a major upgrade in these dairy-free, oat-based versions from the popular grocer. Scan the freezer section and grab a box (or two) for when a craving strikes.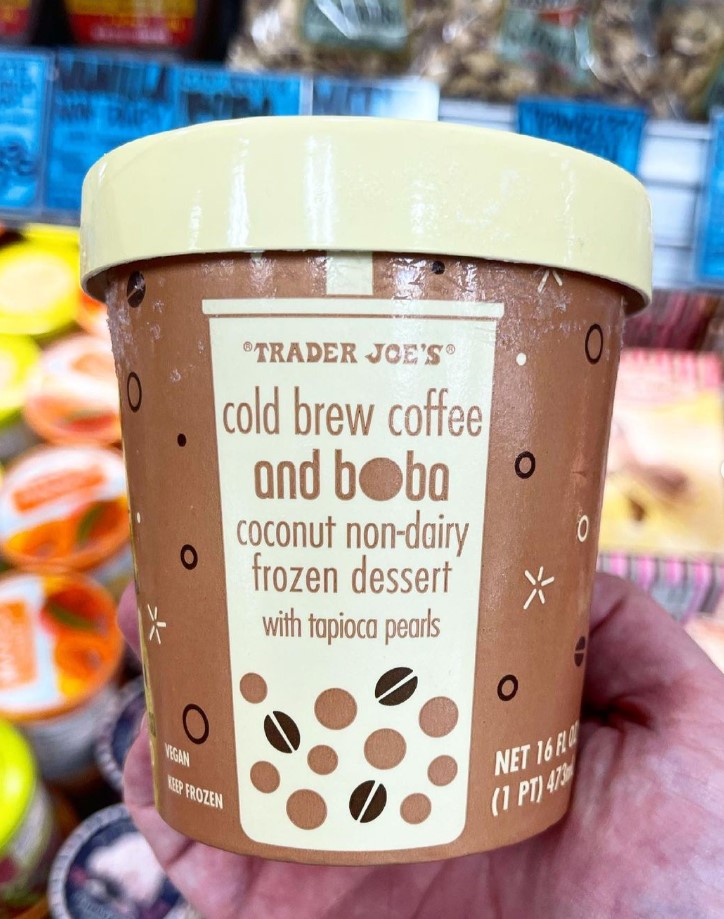 @traderjoesveganitems/Instagram
14 Cold Brew Coffee and Boba Ice Cream
With chewy bites of tapioca pearls, this inventive pint of ice cream quickly won us over and has become a Trader Joe's favorite. The coconut milk base nicely compliments the rich coffee flavor for a well-balanced pint.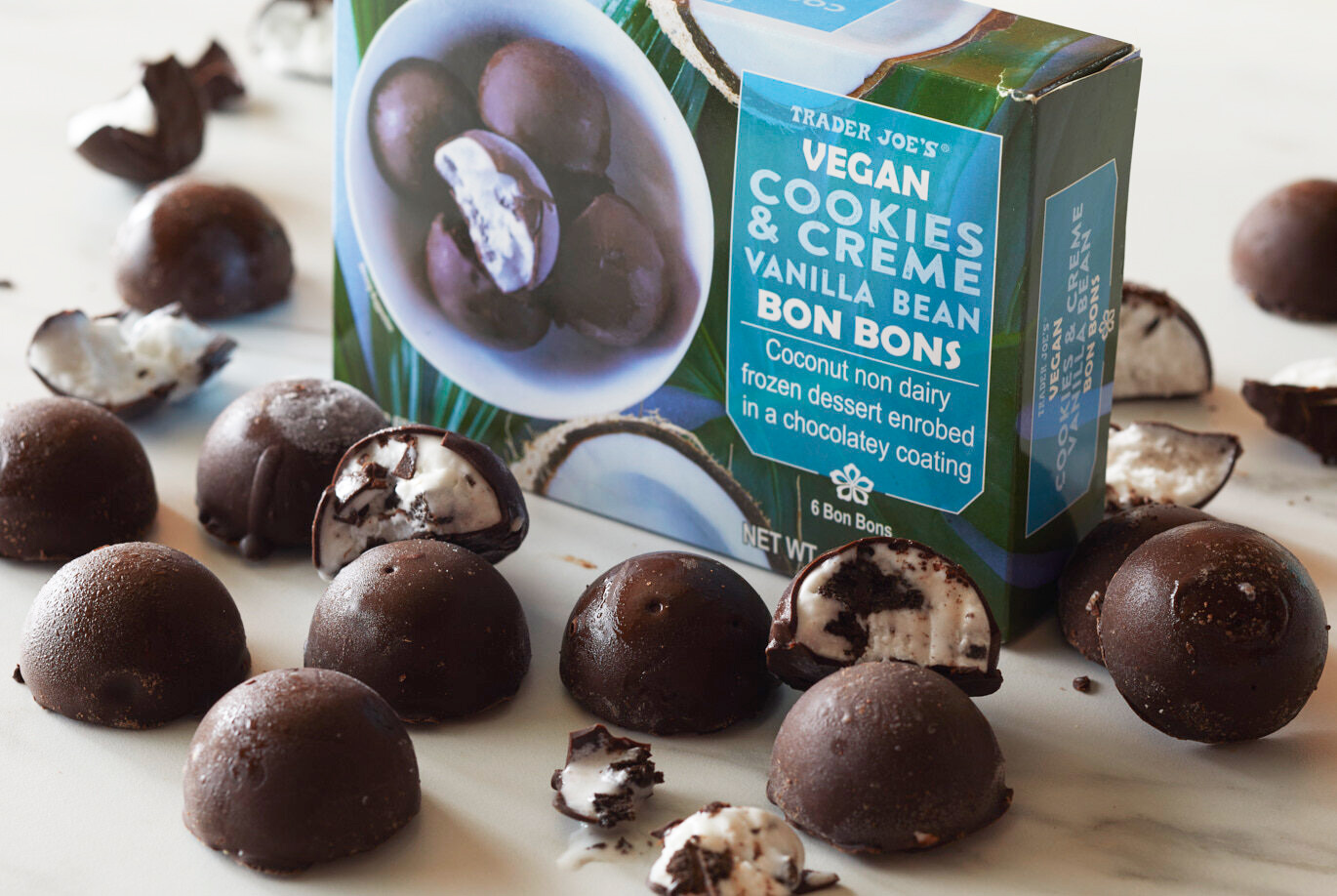 Trader Joe's
15 Vegan Cookies & Créme Vanilla Bean Bon-Bons
Trader Joe's ice cream novelties have gone gourmet! These coconut-based ice cream bites are enrobed in a rich dark chocolate coating that snaps with each bite.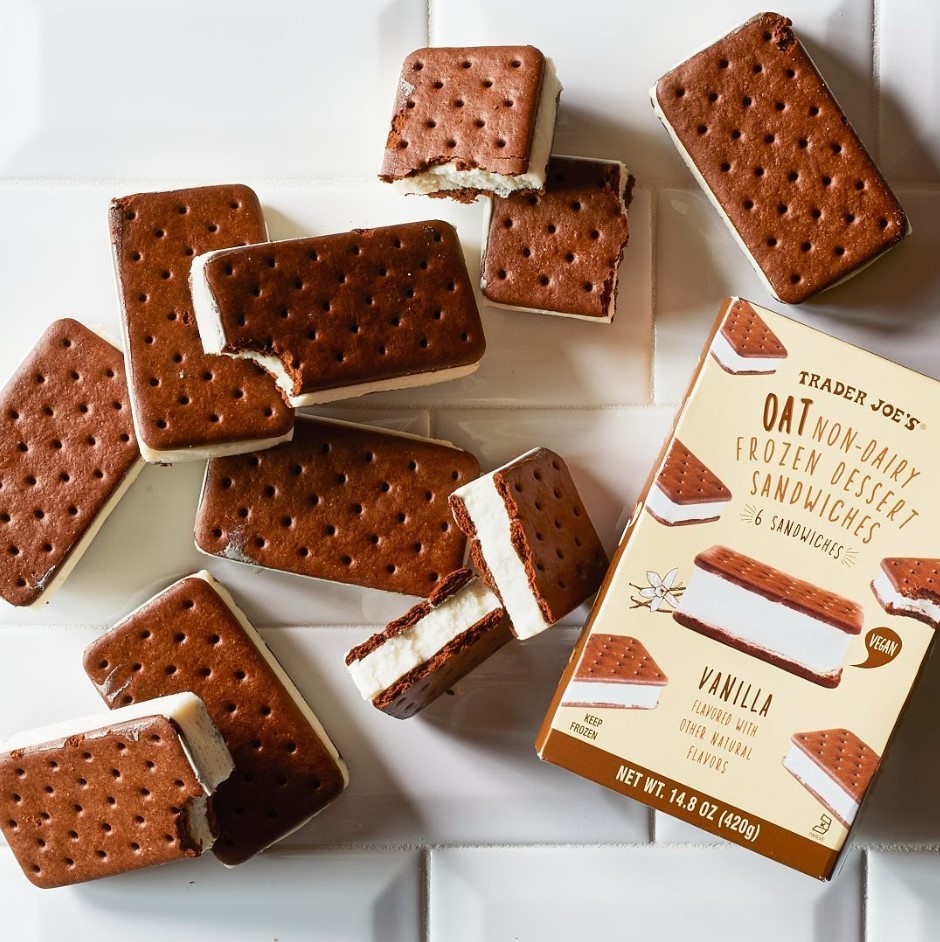 Trader Joe's
16 Oat Milk Non-Dairy Frozen Dessert Sandwiches
The classic, wafer-like ice cream sandwiches have ditched dairy in this rendition by Trader Joe's. A simple vanilla oat ice cream is sandwiched between two chocolate wafers for a kid-friendly treat.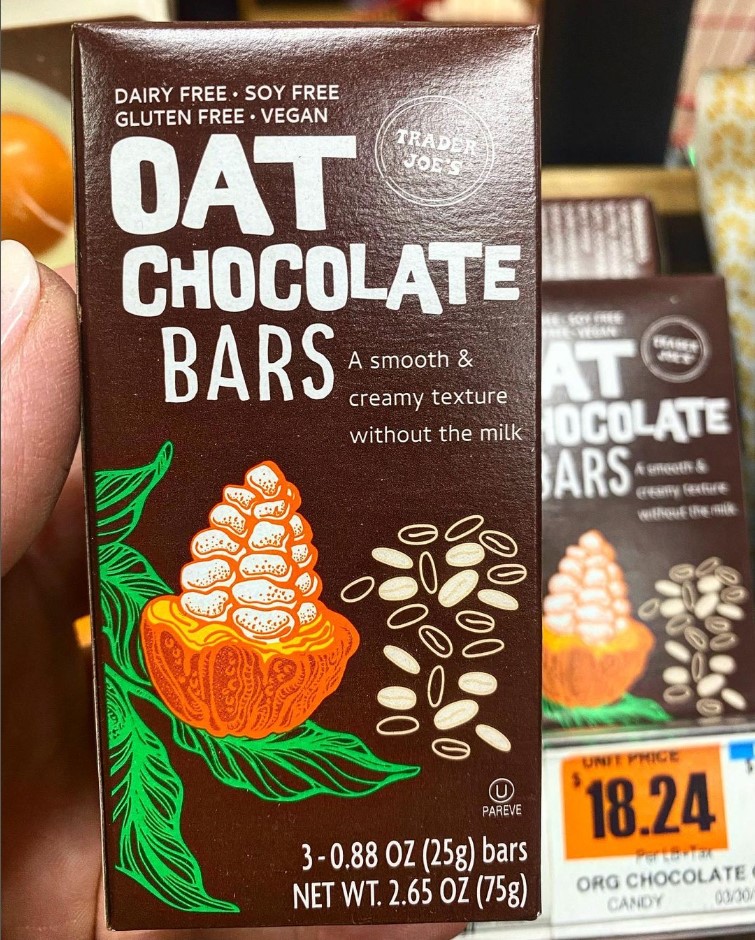 @eatingstamfordct/Instagram
17 Oat Chocolate Bars
Trading in dairy for oat milk? These vegan milk chocolate bars are perfect for s'mores, chopping into cookie dough, melting over baked goods, or eating straight as a bar.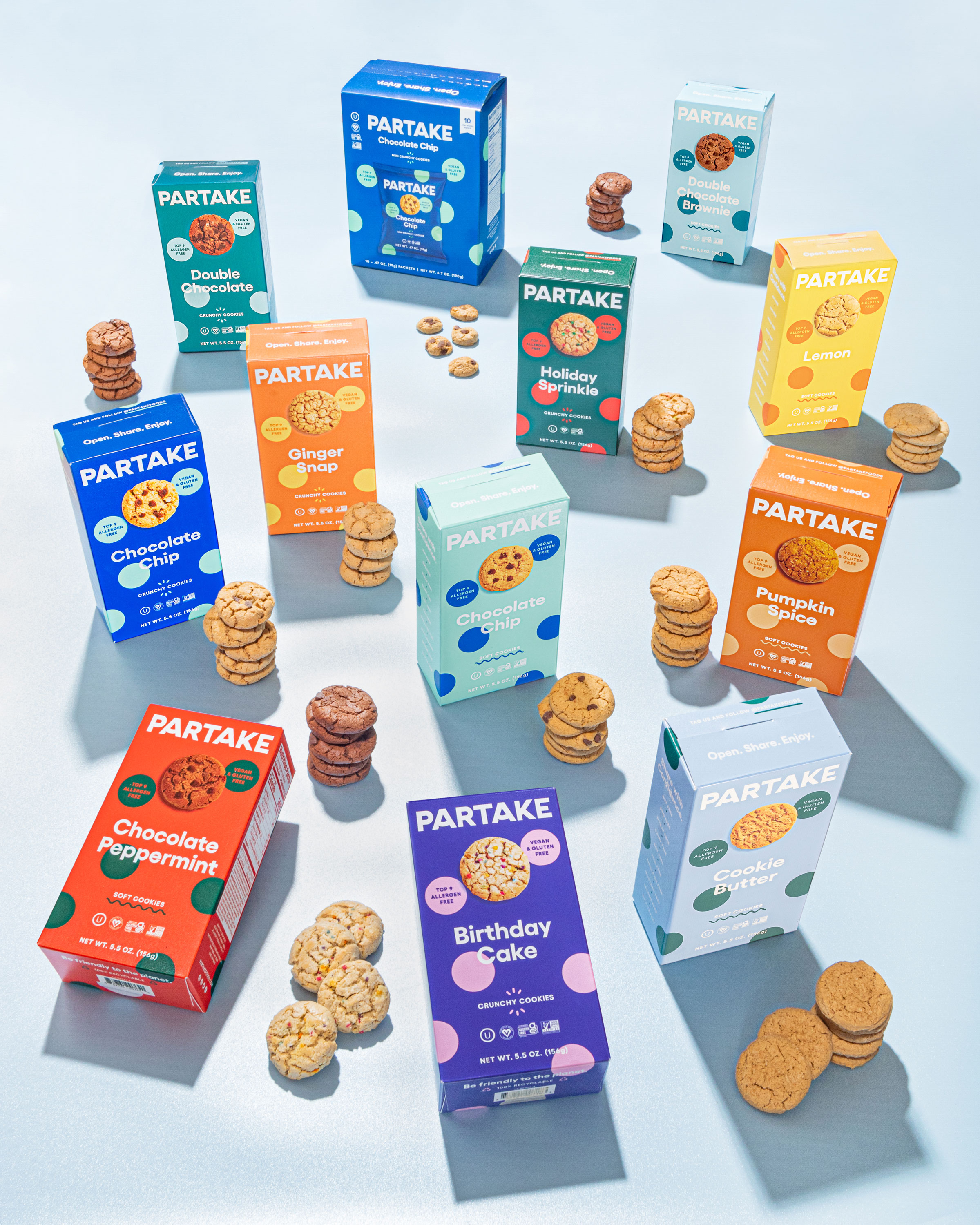 Partake
18 Partake Cookies
These beloved, gluten-free, always-vegan cookies hit the shelves at TJ's and we couldn't be happier! We're munching our way through the mini chocolate chip variety.
For more on Trader Joe's, read: