We're celebrating the spookiest day of the year with scary movies, pumpkin carving, and our favorite vegan candy. VegNews editors conducted a thorough search of the Target candy aisles, inspecting each shelf for animal-free sweets—right down to the ingredients label.
Is candy vegan?
While not all candy is vegan, this doesn't mean vegans don't have plenty of options when it comes to these sweet treats. Thankfully, companies have started displaying "vegan" logos on packaging as plant-based eating has become more mainstream. Still, not all vegan-friendly candy will be labeled as such.
When there's no vegan label to be found, it's best to read the ingredients. You could be missing out on a lot of accidentally vegan candy if your only guide is a vegan marker. When reading candy labels, keep your eyes peeled for these common animal ingredients:
Dairy: Often listed as milk, milkfat, and whey
Confectioner's glaze: Derived from insects, also known as "shellac"
Carmine: Derived from insects
Gelatin: Commonly used in gummy candy, made from boiled tendons, ligaments, or skin of pigs and cows
Vegan candy at Target
Thankfully, this big box retailer has countless vegan options in the candy aisle. Grab a cart (you'll need one) and fill it to the brim with these 22 vegan-friendly treats.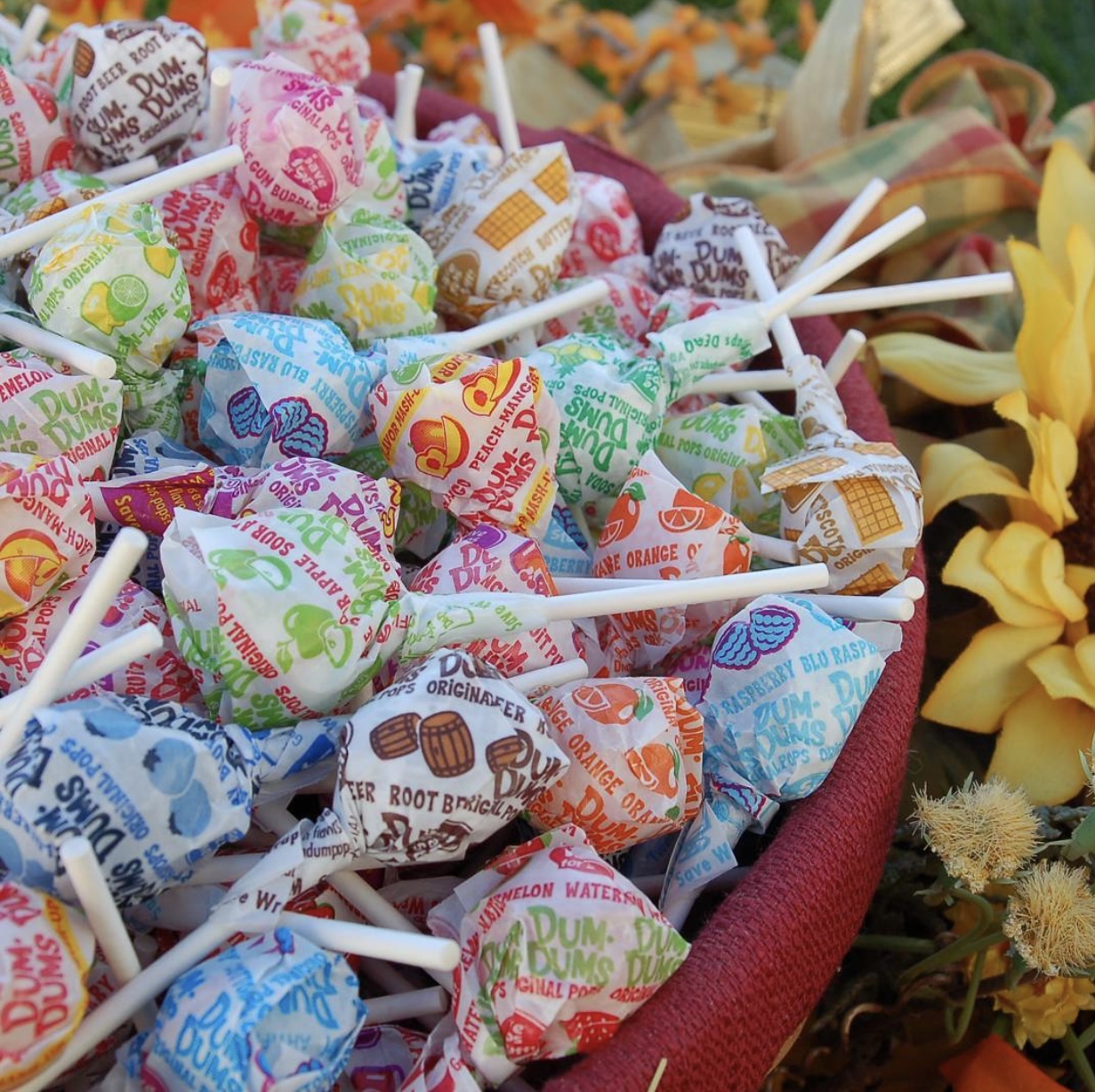 Dum Dums
1 Dum Dums
These mini suckers have stood the test of time—every generation loves them. With 17 flavors, there's a lollie for everyone.
Get them here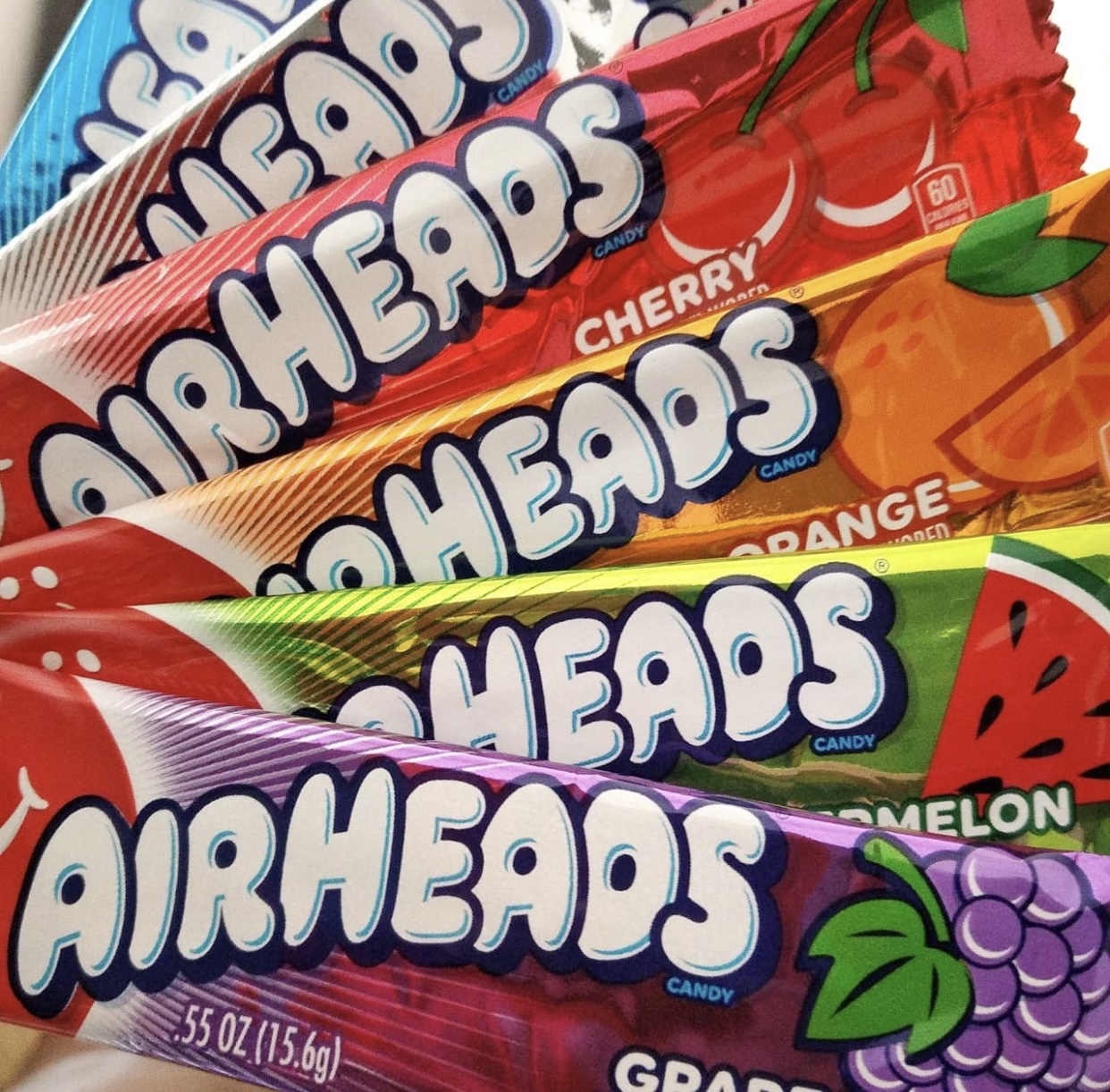 @dulcespop_/Instagram
2 Airheads
Half the fun of these stretchy sweets is molding them like silly putty. Think of it as treating yourself with a toy you can snack on.
Get them here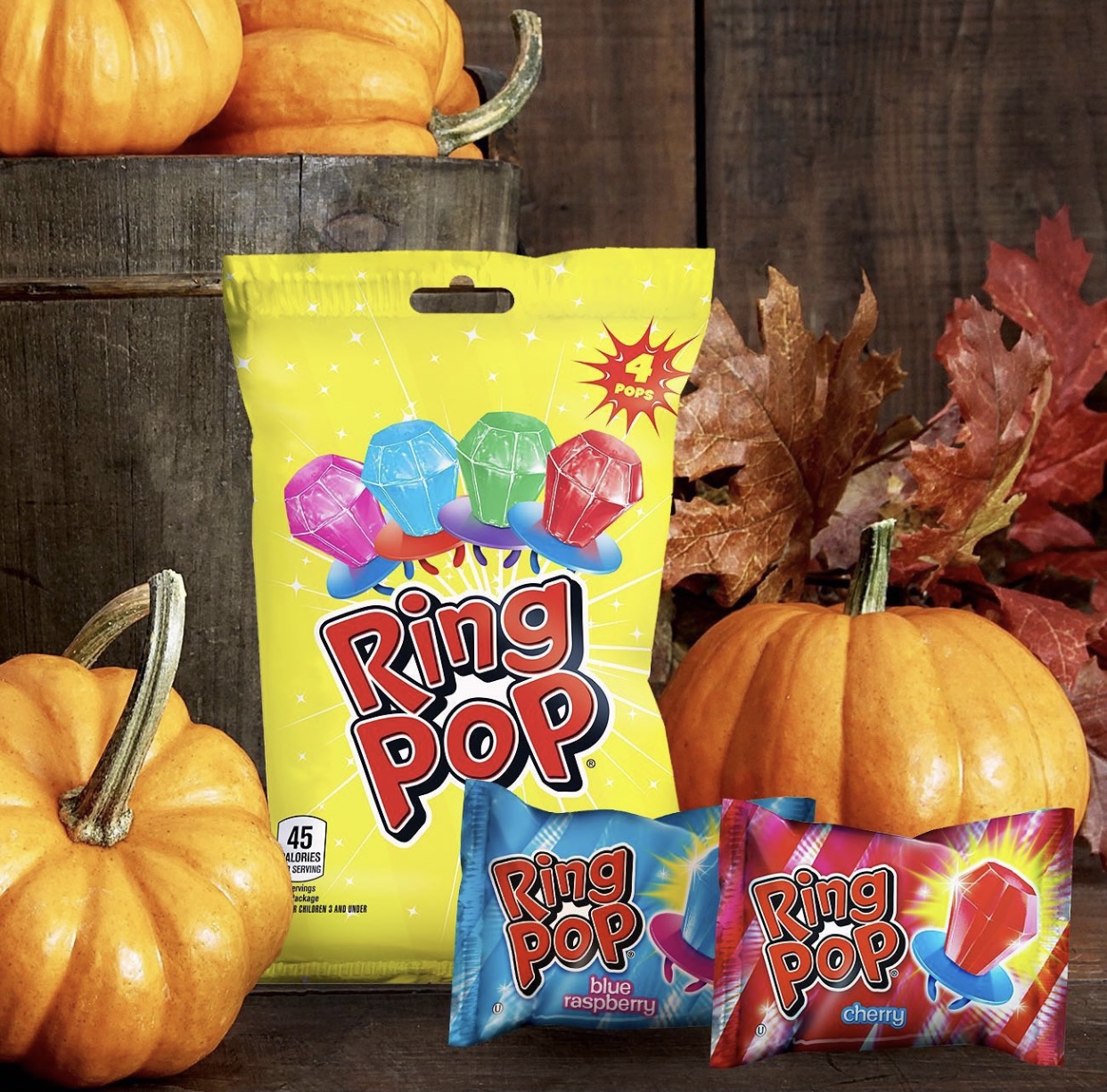 Ring Pop
3 Ring Pops
Really, Ring Pops are just ordinary suckers … yet they somehow taste ten times better because they're candy bling.
Get them here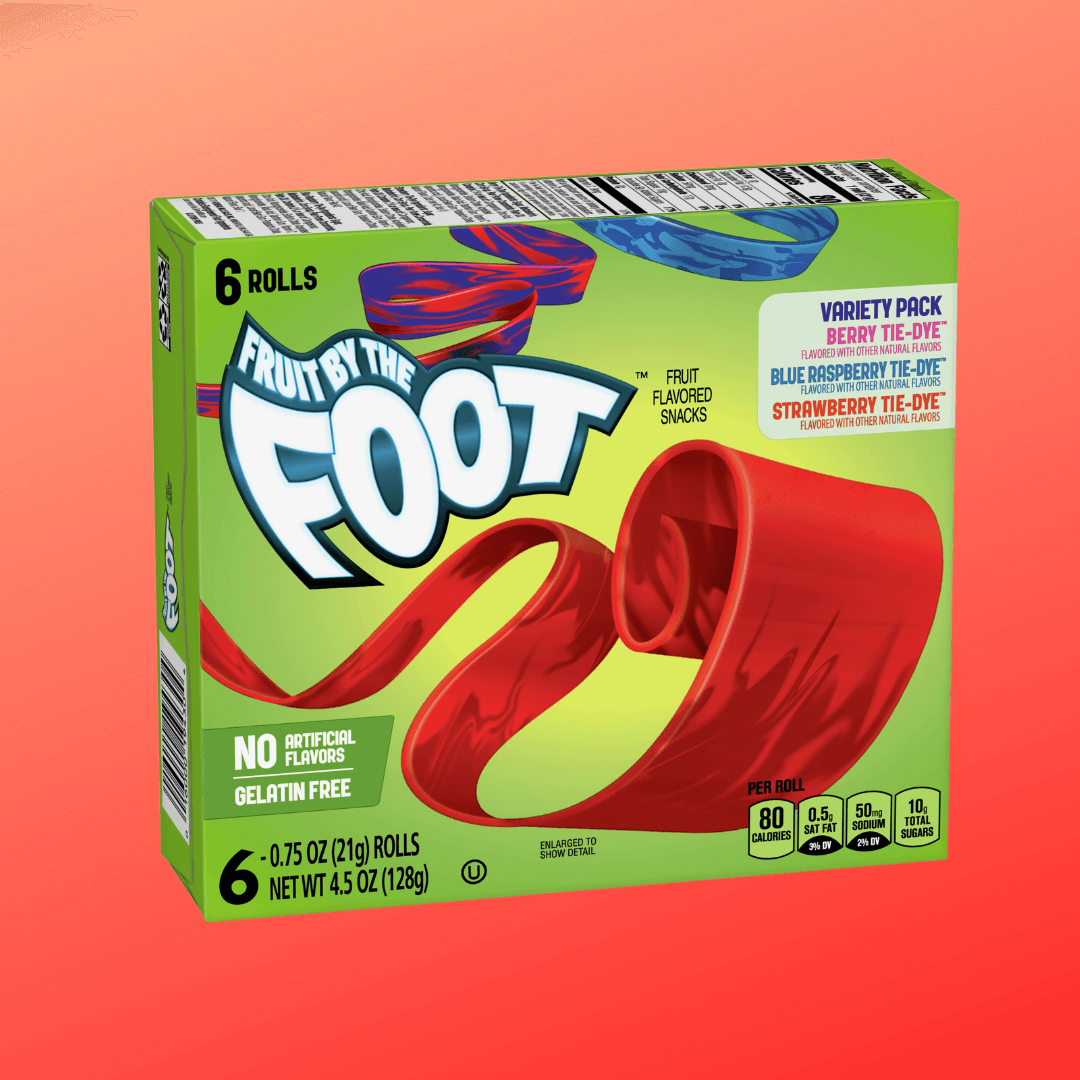 Fruit by the Foot
4 Fruit by the Foot
Rolled into a ball or eaten straight off the lining, there's no wrong way to enjoy this sweet treat.
Get them here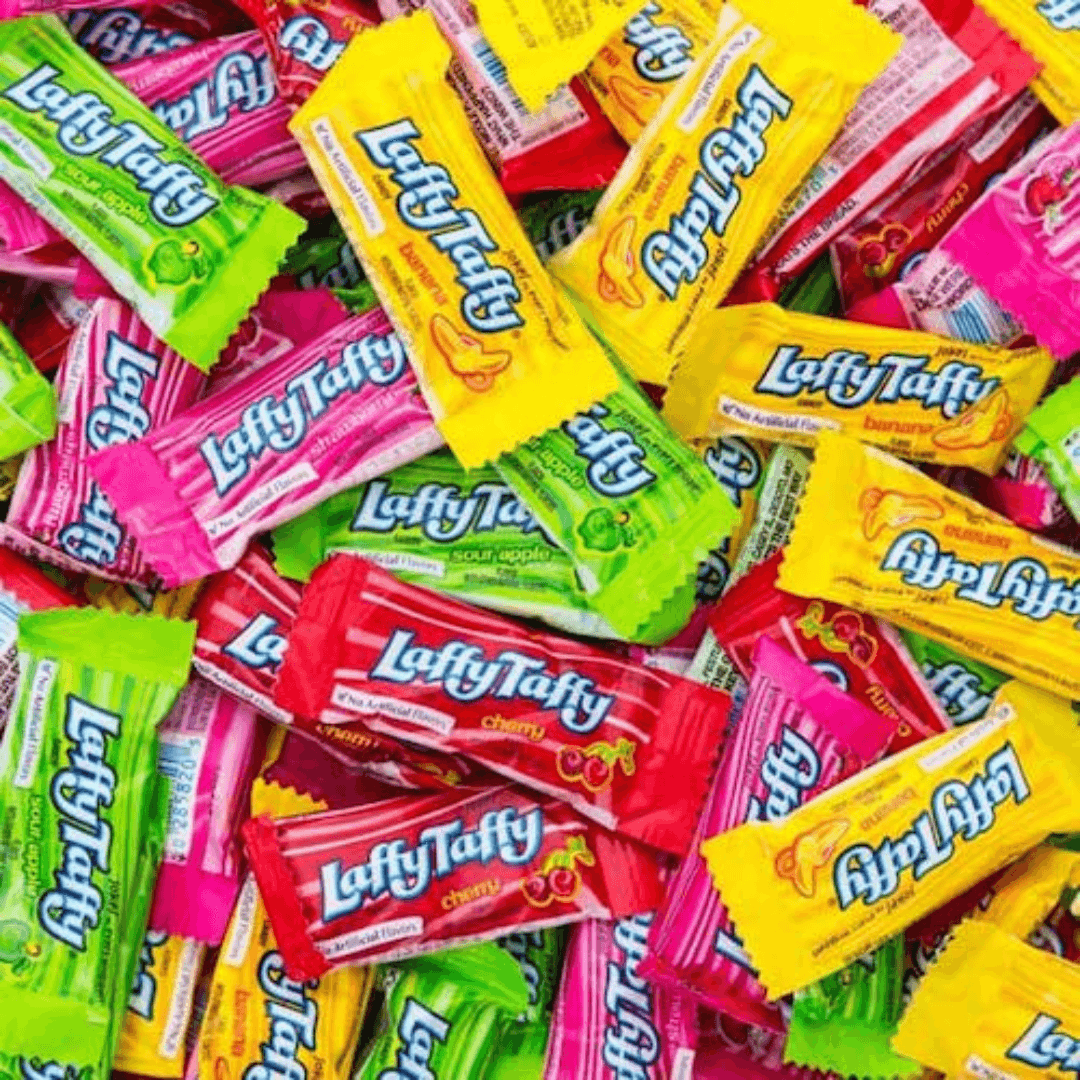 Laffy Taffy
5 Fun-Sized Laffy Taffy
This candy can be a bit polarizing—particularly the banana flavor. Even if you're not a fan, at least read the wrapper for a good pun. Note: only the fun-sized varieties are vegan—the regular sizes contain eggs.
Get them here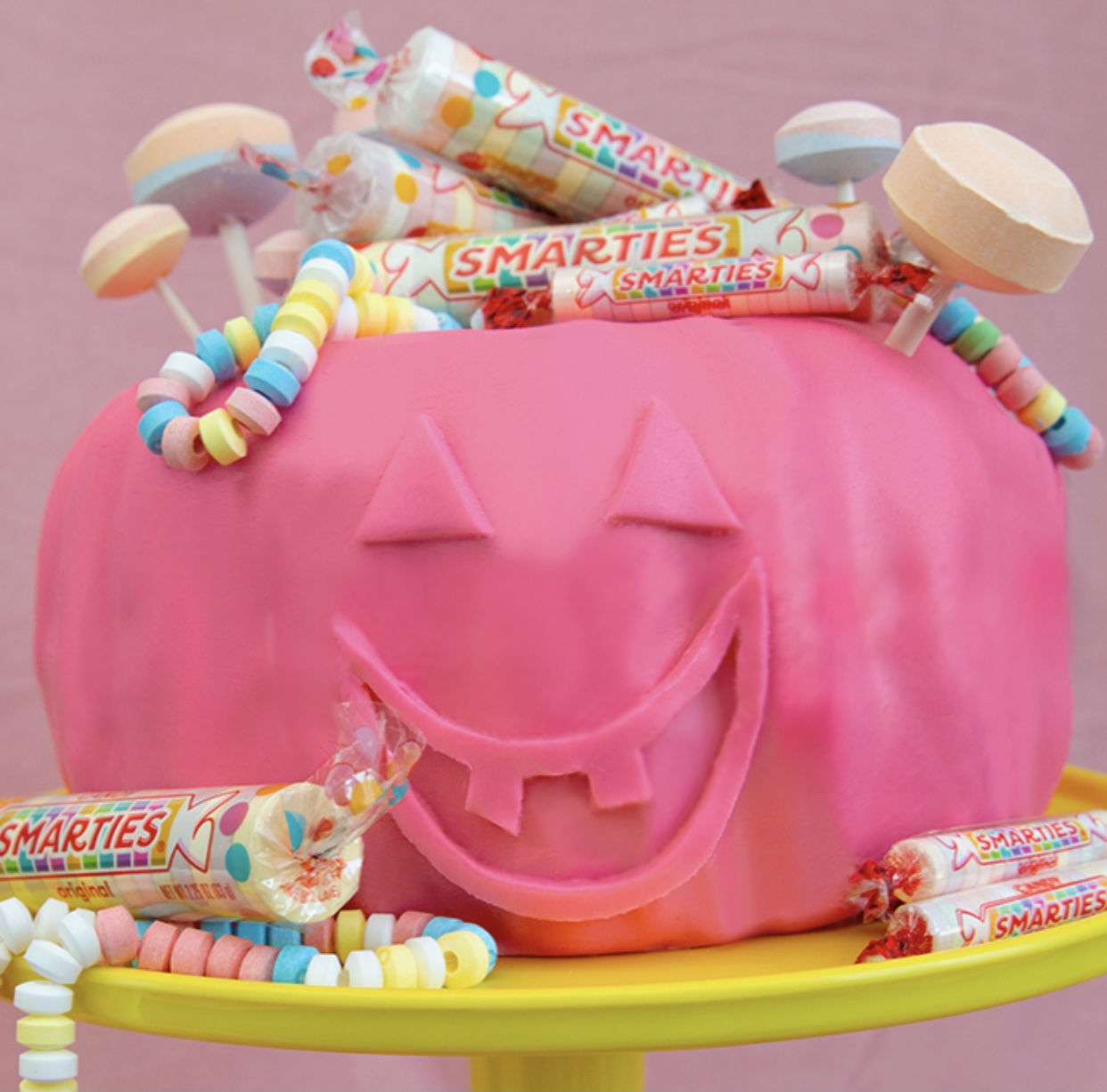 Smarties
6 Smarties
As of 2015, the family-run company was selling 2 billion Smarties rolls a year. Apparently, Smarties are here to stay.
Get them here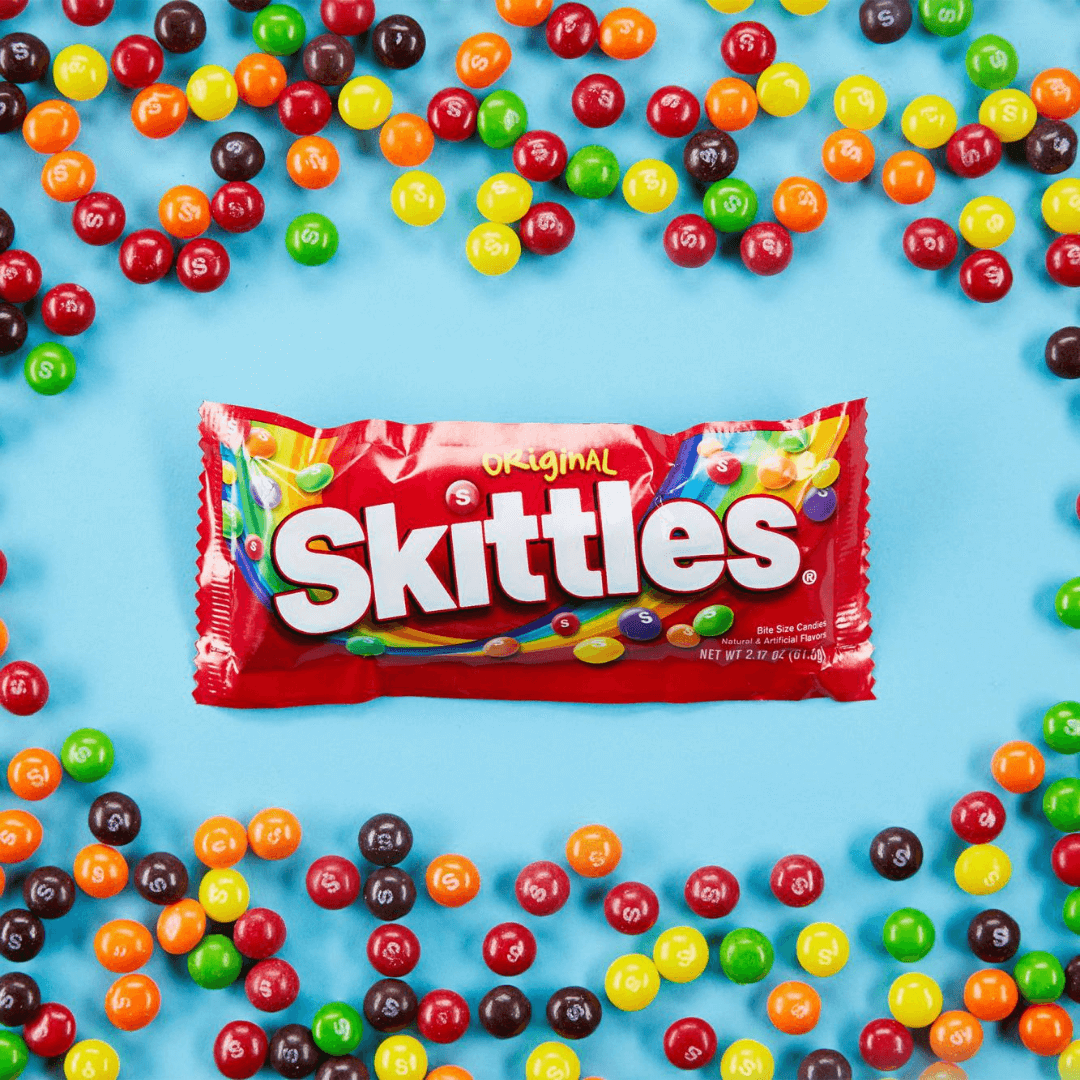 Skittles
7 Skittles
This might not be what the doctors mean when they say "eat the rainbow," but we're going to ignore that thought for the sake of Halloween.
Get them here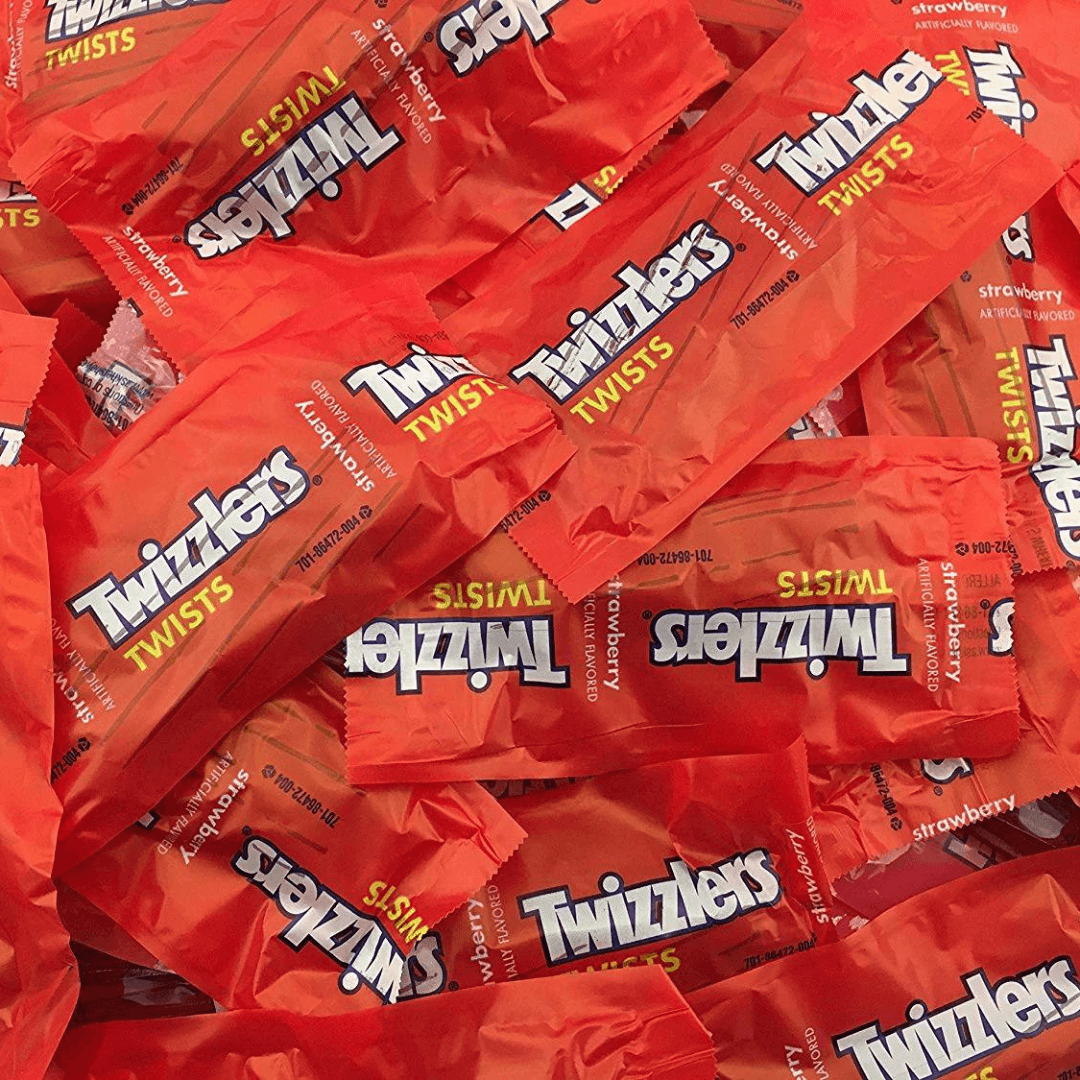 Twizzlers
8Strawberry Twizzlers
These Twizzlers will do the trick for licorice-lovers.
Get them here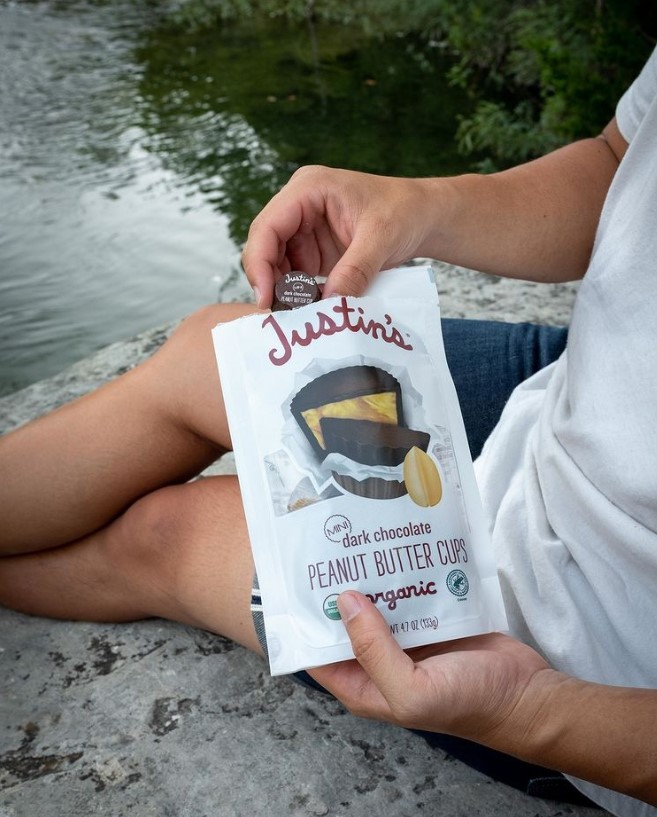 Justin's
9 Justin's Dark Chocolate Peanut Butter Cups
Justin's nut butter cups are the vegan equivalent of Reese's. Target sells both full-sized and minis. And you deserve full-sized treats.
Get them here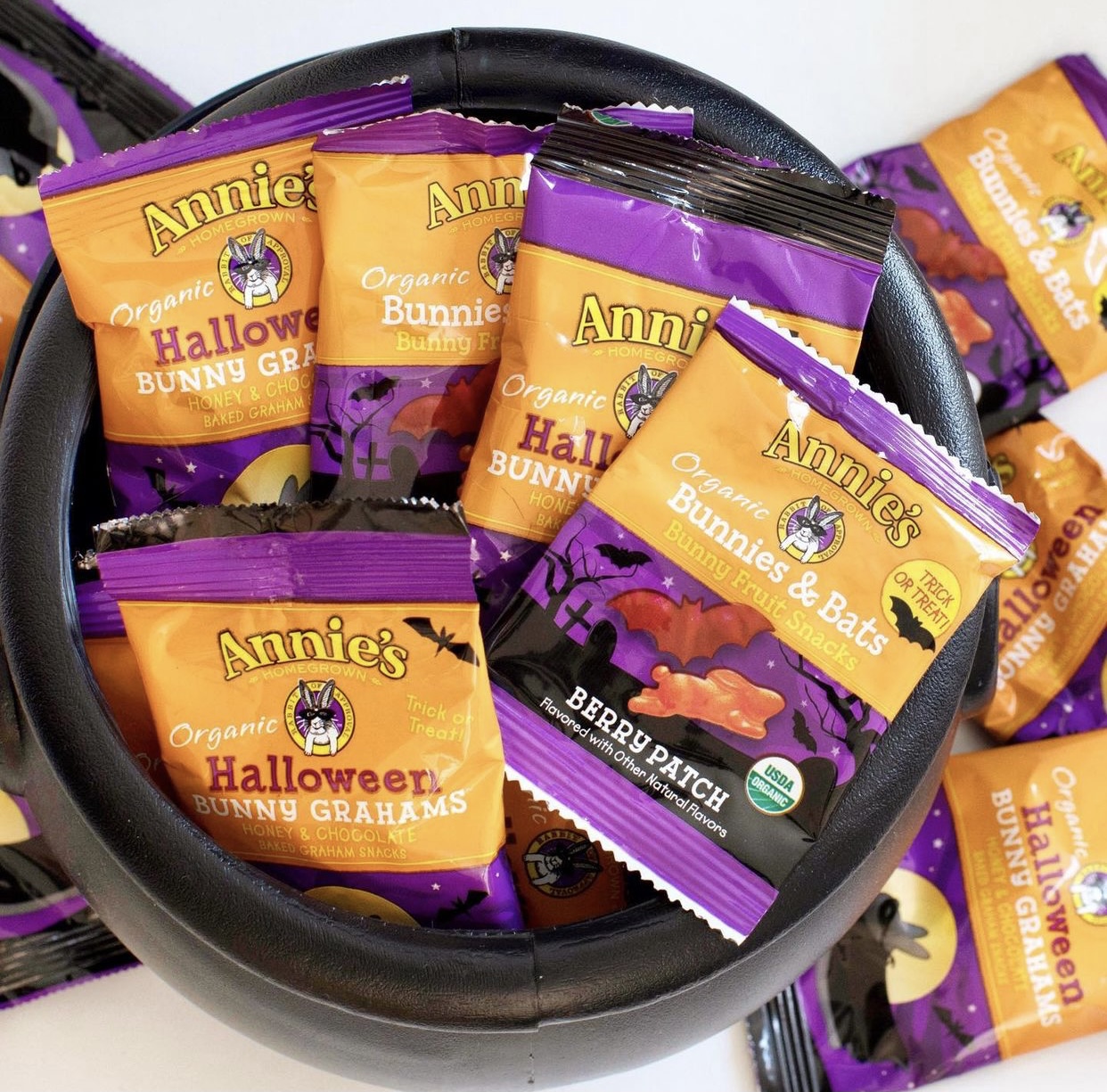 Annie's Homegrown
10 Annie's Bunny Fruit Snacks
If kids had the opportunity to create their own dietary guidelines, gummies, and fruit snacks would definitely be a food group.
Get them here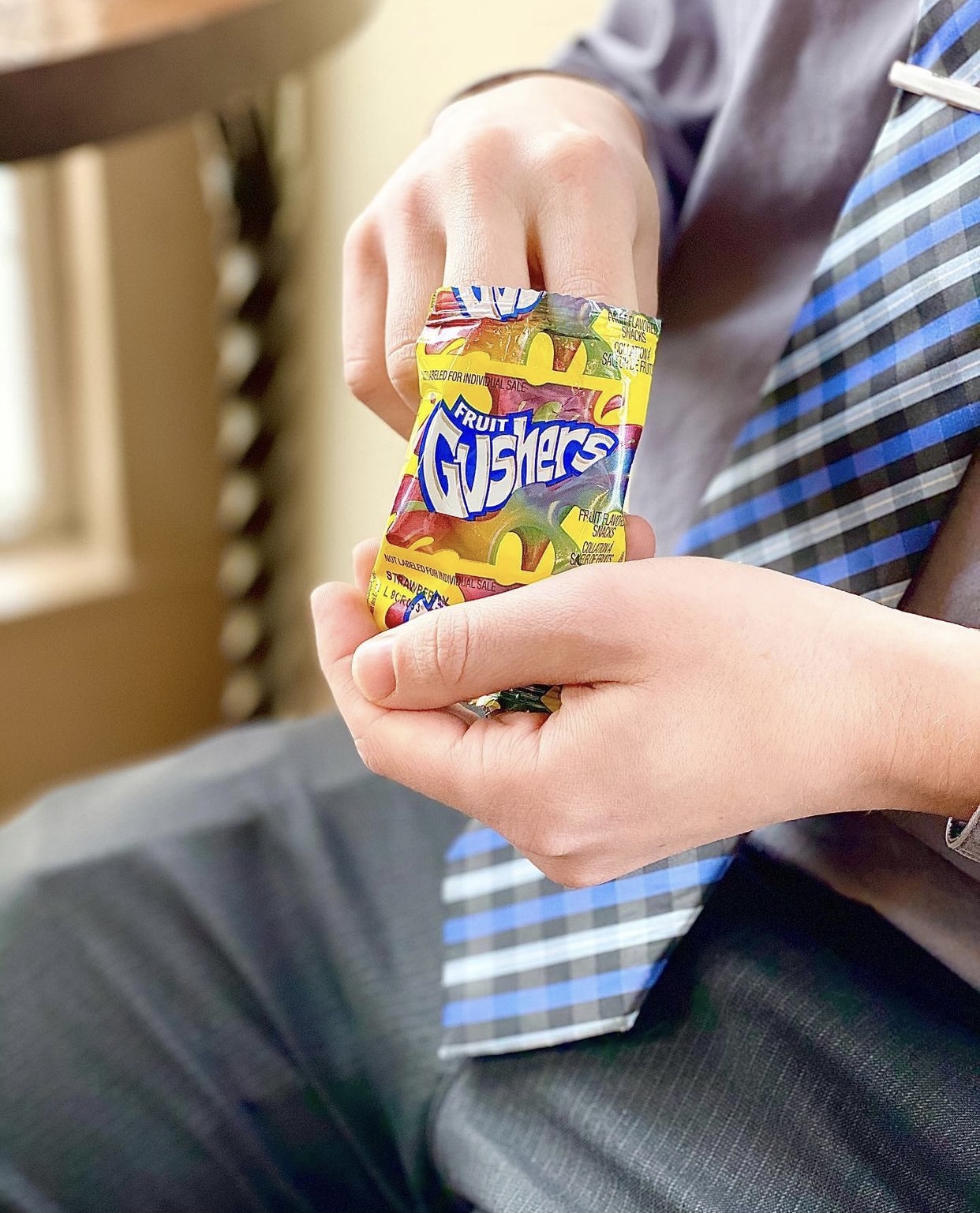 @homeisnorthhaven/Instagram
11 Gushers
90s throwback! While our palates have matured, there's no doubt these squishy, artificially flavored snacks will thrill anyone under the age of 12.
Get them here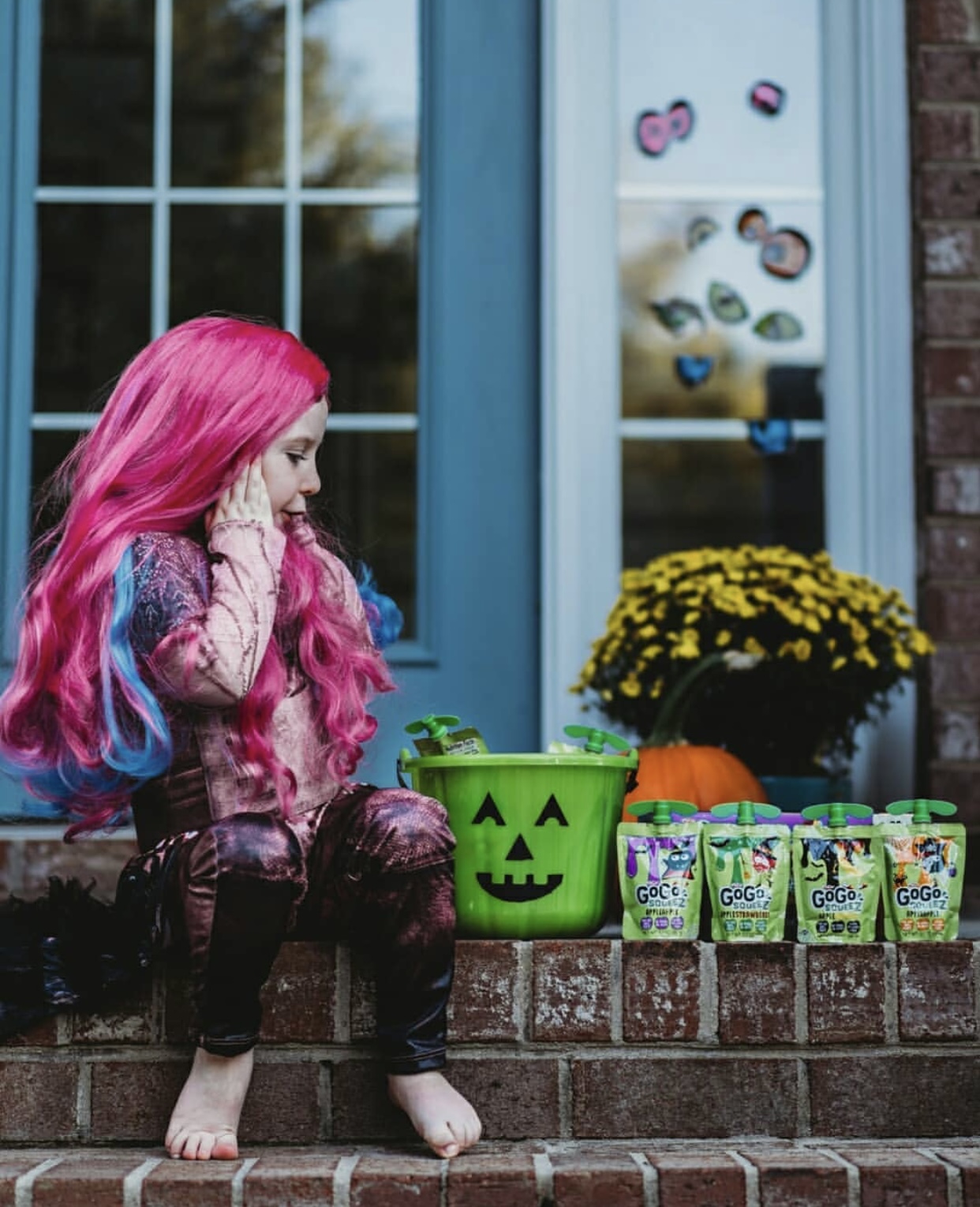 @jenf_25/Instagram
12 Gogo Squeez
Squeezable fruit is all the rage at the lunch table. Vegan-friendly flavors of this applesauce brand include apple, apple cinnamon, apple strawberry, apple banana, and a special Halloween pack in Raspberry Rush and Berry Madness.
Get them here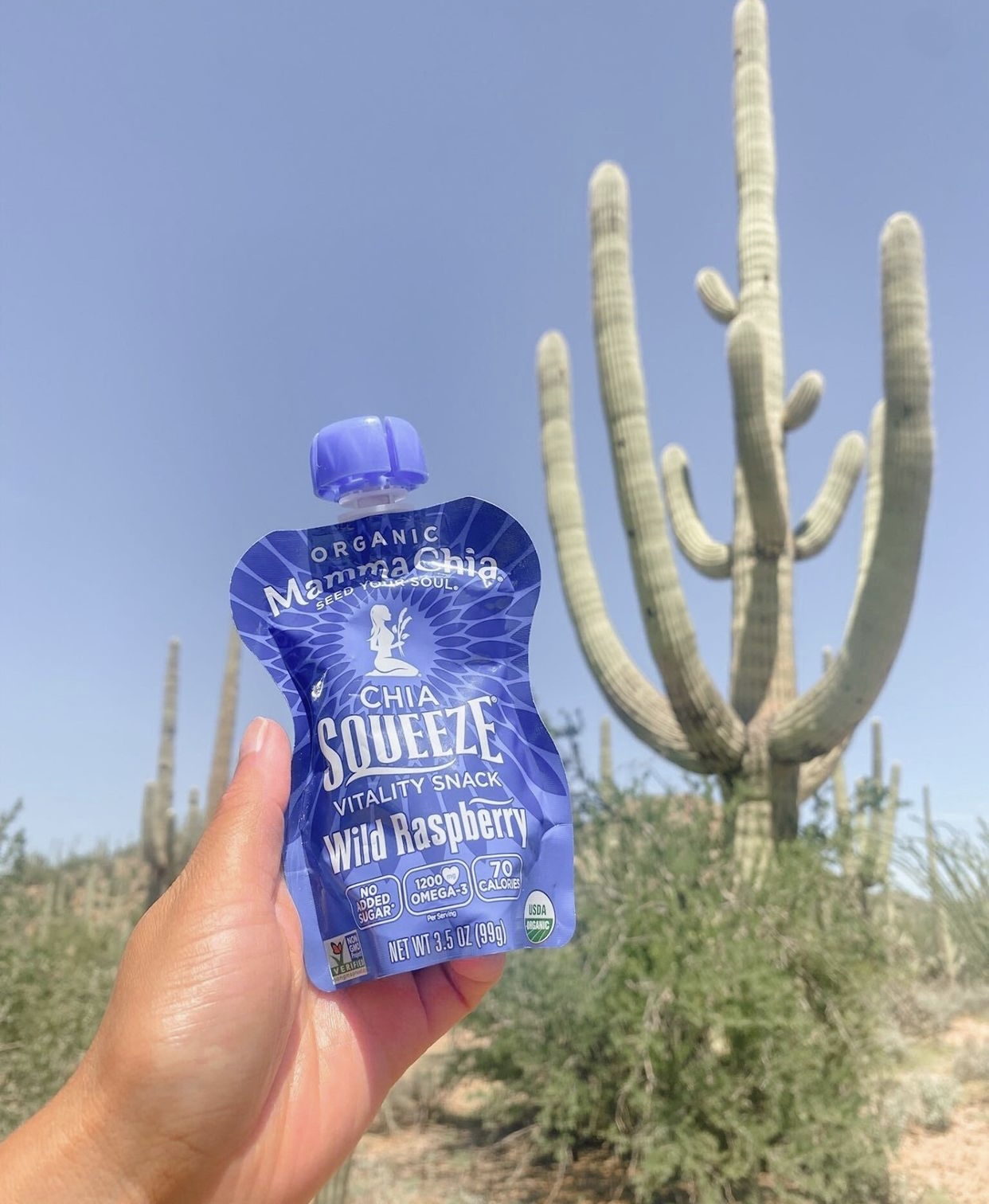 Mamma Chia
13 Mamma Chia Squeeze
The parents might steal these from their kids. The fruity flavors include Blueberry Açai, Strawberry Lemonade, and Wild Raspberry. With all the candy we'll be consuming, we could use a little fruit.
Get them here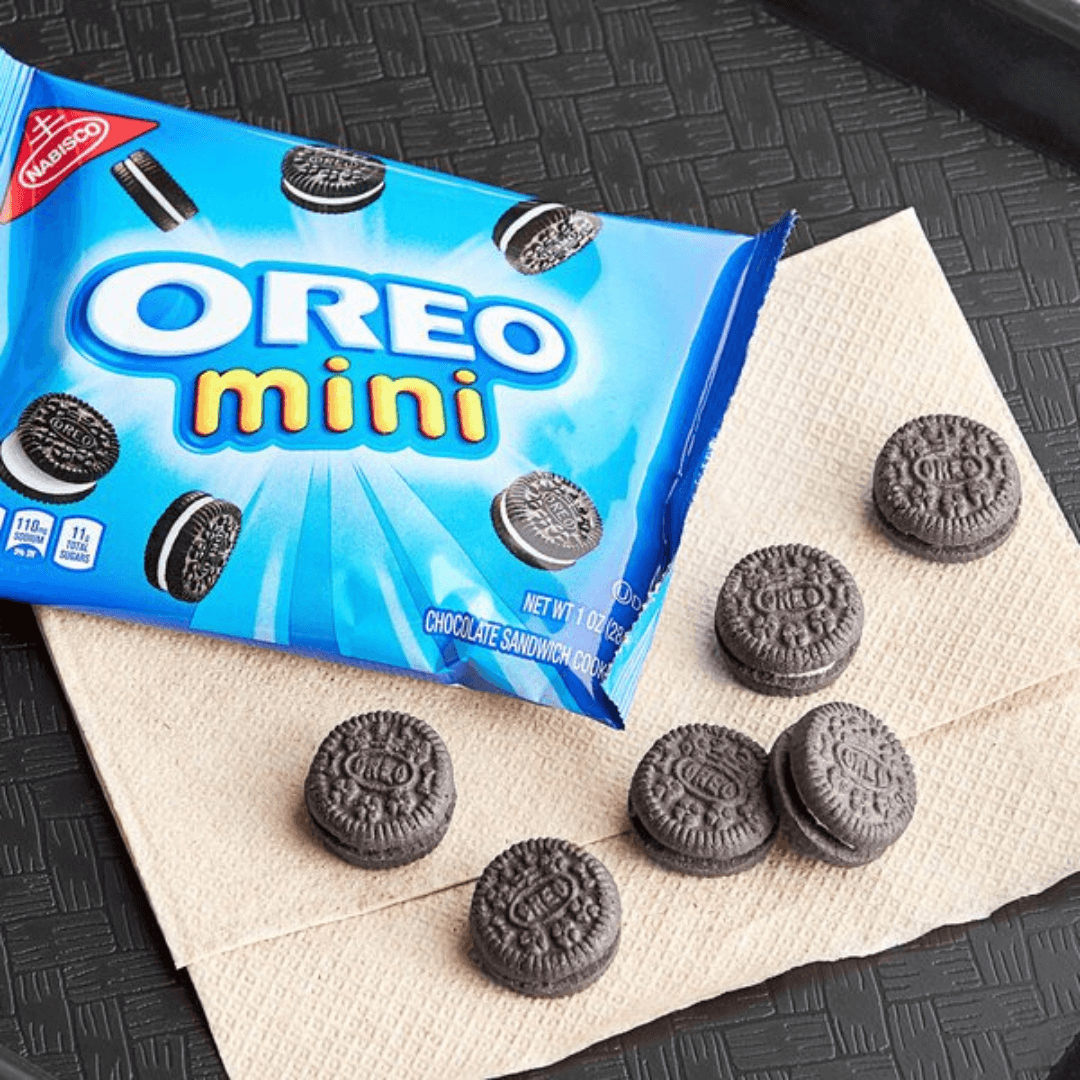 Oreo
14 Oreo Minis
No one can pass up milk's favorite accidentally vegan cookie.
Get them here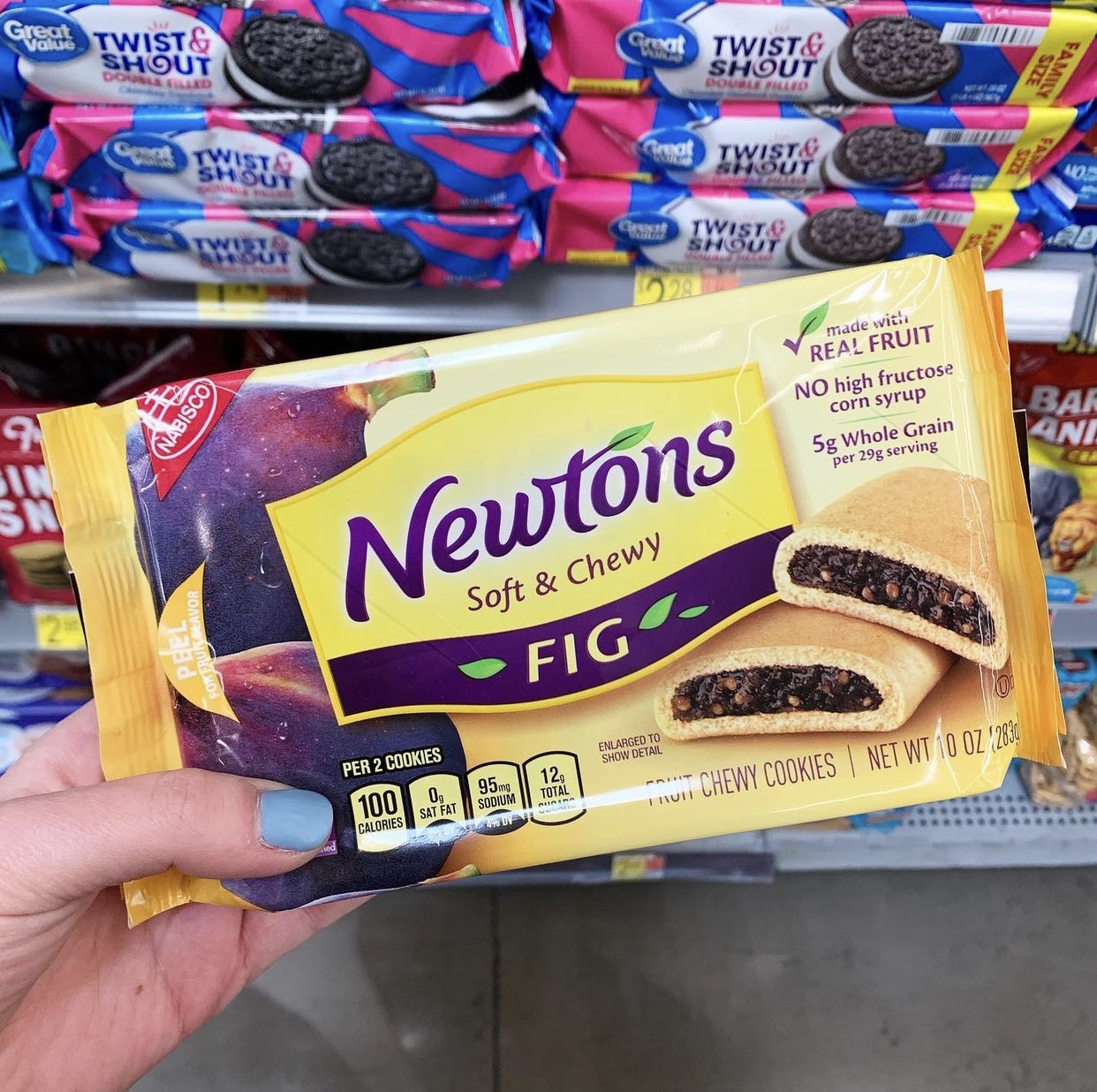 @celebrateall365/Instagram
15 Fig Newtons
Were we the only ones who loved Fig Newtons as kids? These figgy bars aren't just for old people!
Get them here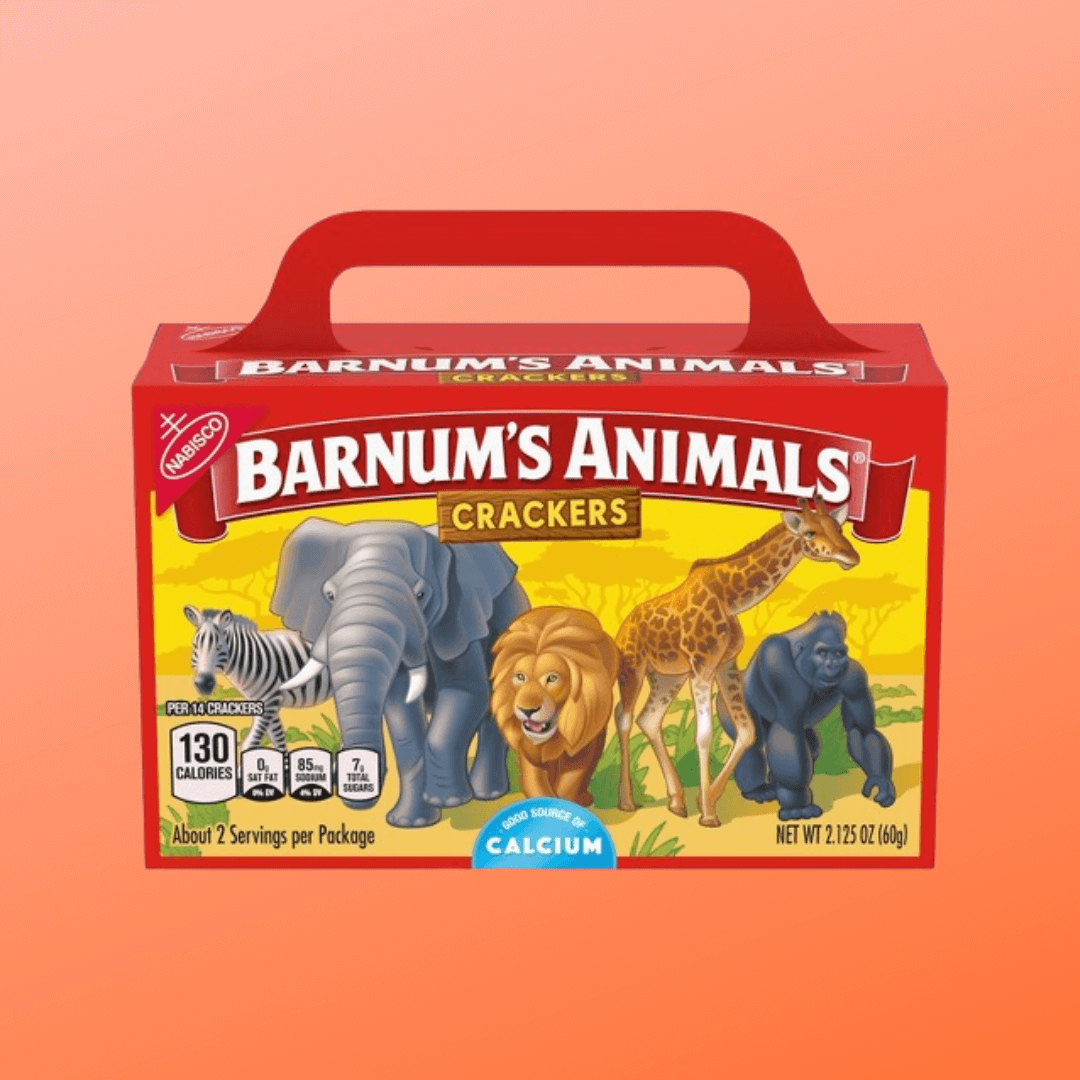 Barnum's
16 Barnum's Animal Cracker Mini-Packs
These classic animal-themed cookies are so old, they're officially retro.
Get them here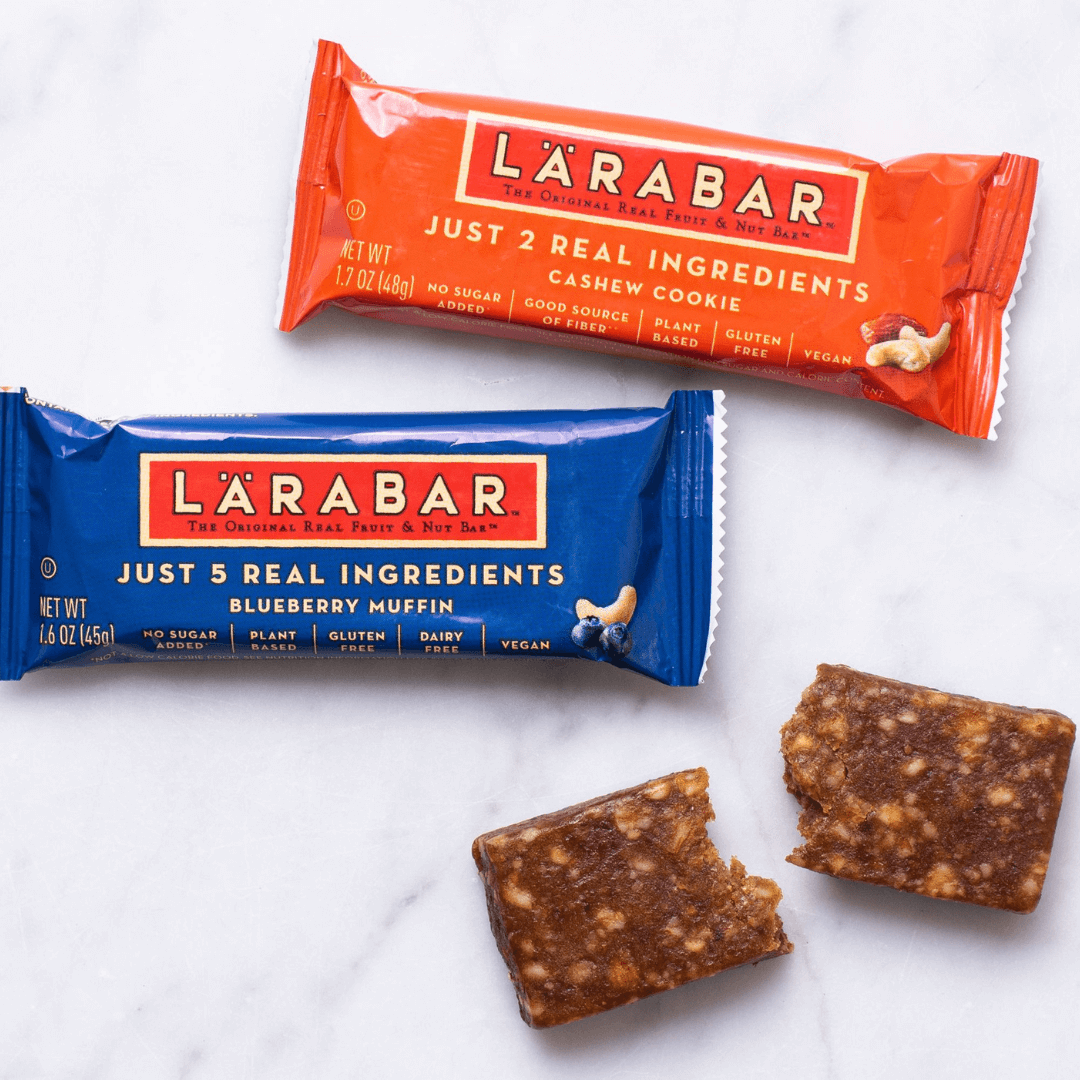 LÄRABAR
17 LÄRABAR
With flavors such as Cherry Pie, Apple Pie, and Peanut Butter Chocolate Chip, you can bet these fruit-and-nut bars will be gone before the night is over.
Get them here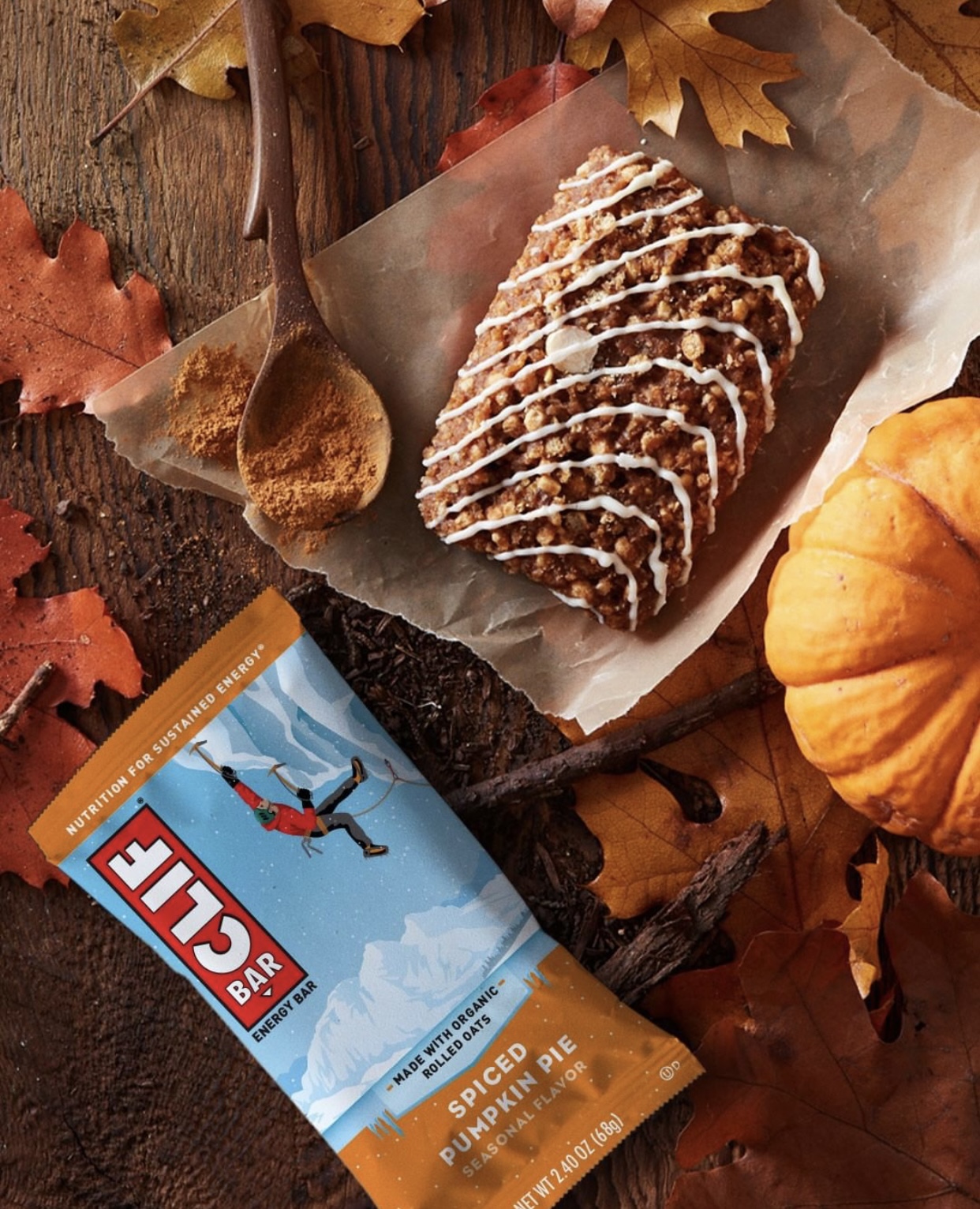 Clif Bar
18 Clif Bars
Go for the nut butter-filled varieties or the minis. They're still sweet but offer a more robust nutritional profile than your standard Halloween candy.
Get them here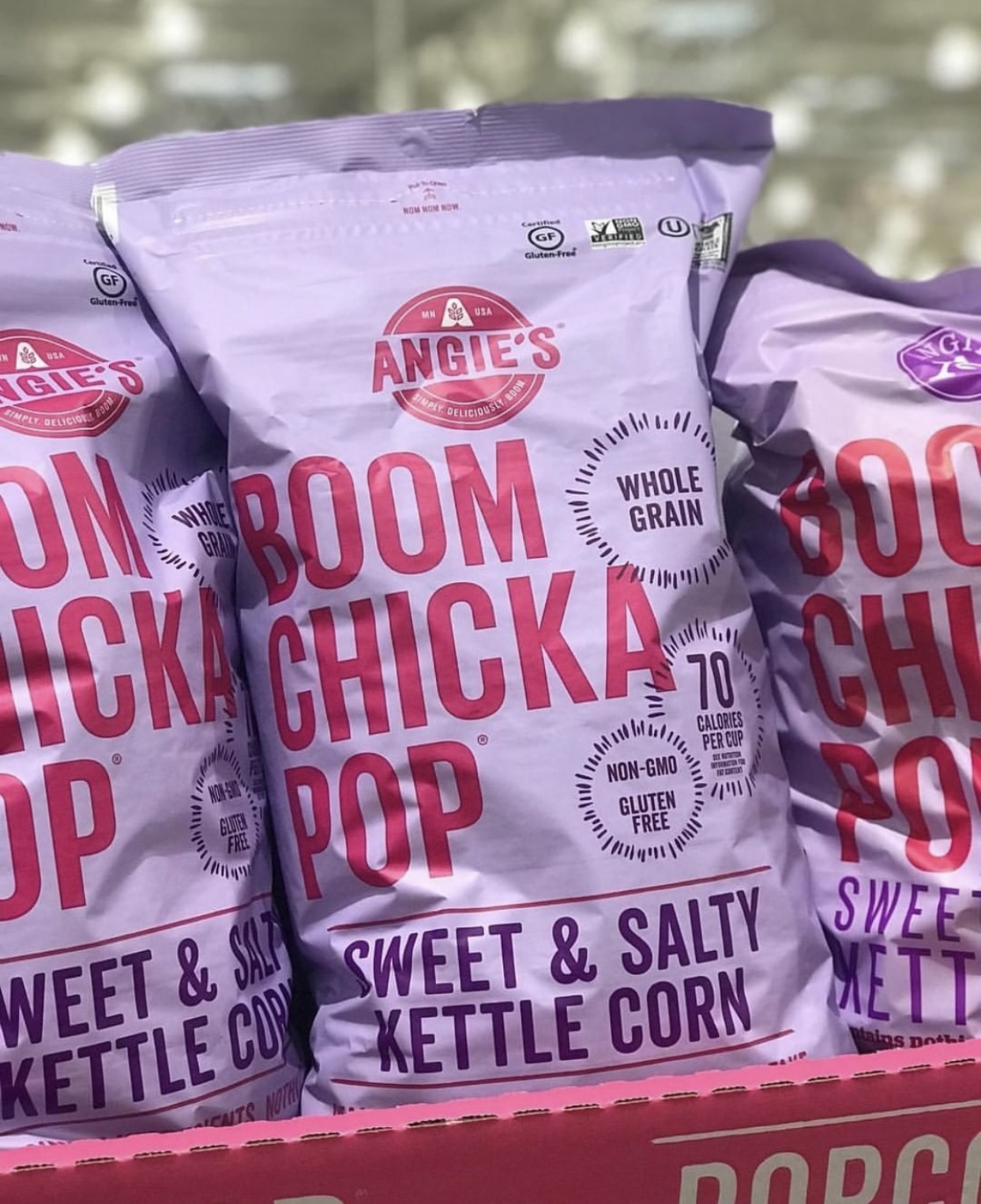 @costcobuys/Instagram
19 Angie's Boom Chicka Pop Sweet & Salty Kettle Corn
Candy can be divisive. Everyone loves kettle corn. The choice is obvious.
Get them here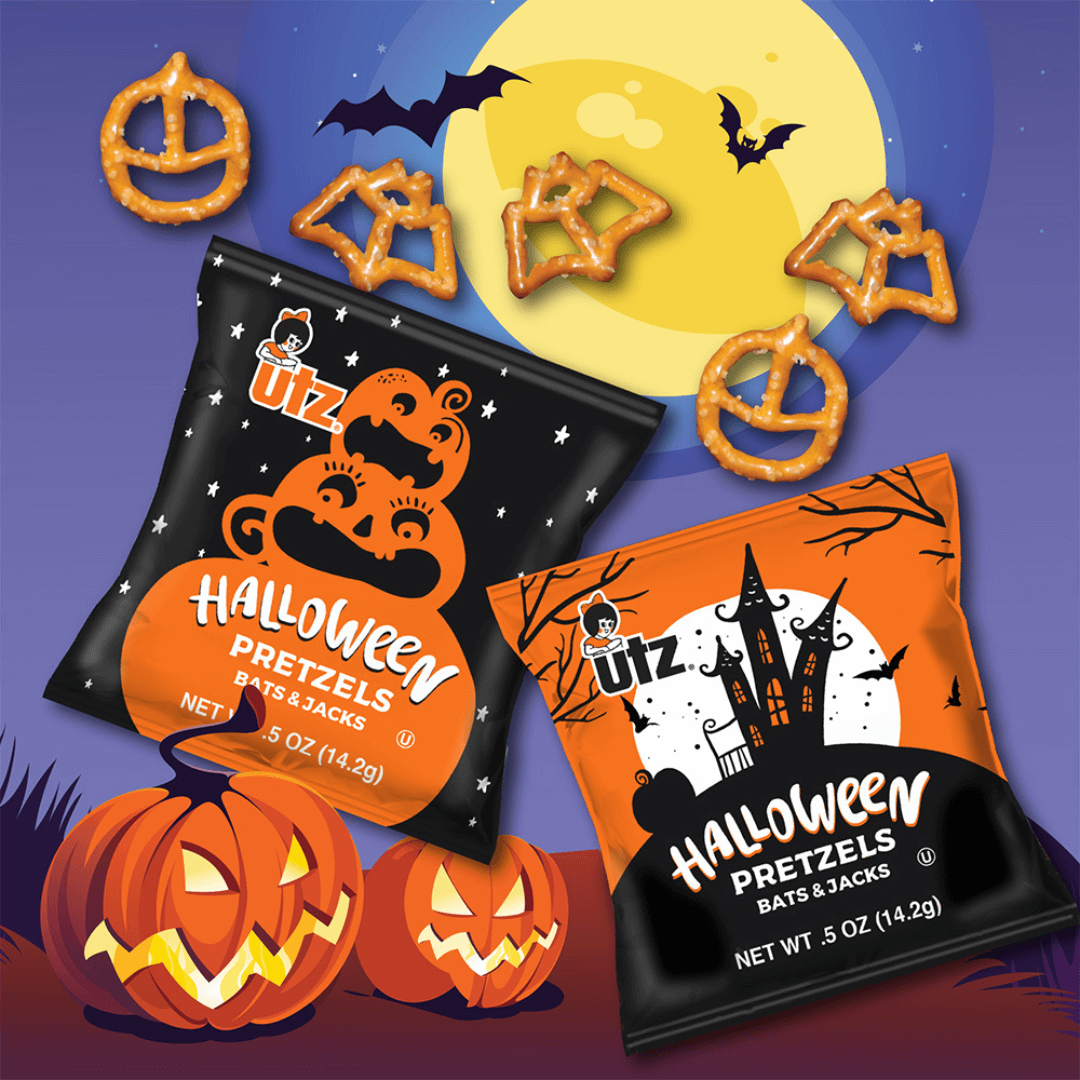 Utz
20 Utz Halloween Bats & Jacks Single-Serve Pretzel Snacks
It's an unspoken rule that every Halloween haul must include a pack of holiday-themed pretzels.
Get them here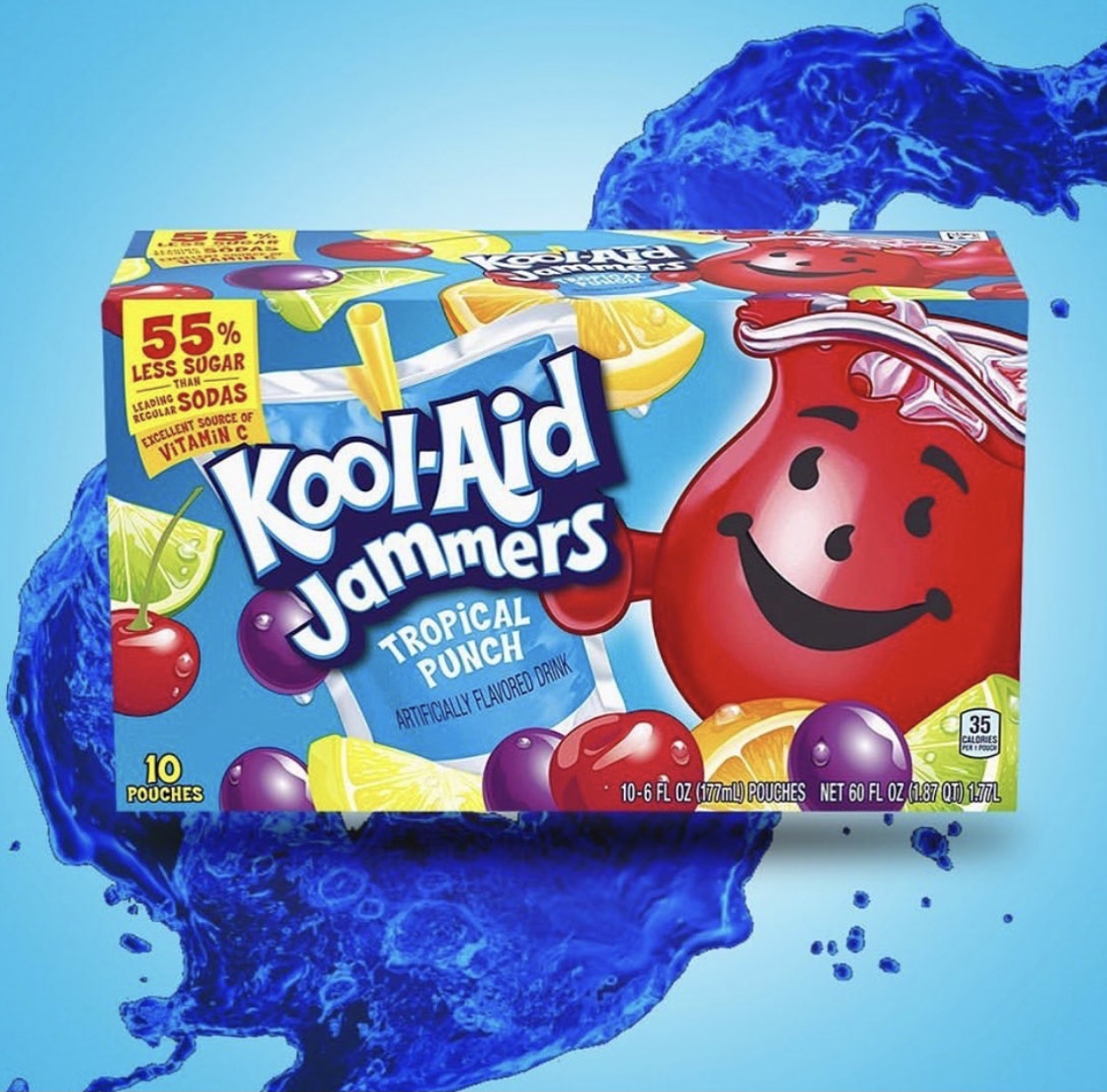 @pauthalemarket/Instagram
21 Kool-Aid Jammers
This Halloween, we're filling our cauldrons with Kool-Aid.
Get them here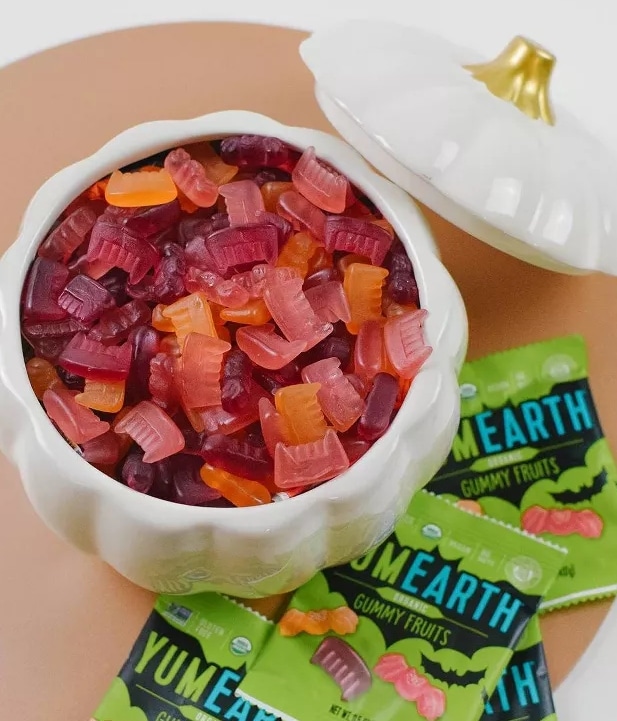 Yum Earth
22 Yum Earth Halloween Organic Gummy Fruit
These vegan Hallowen-themed gummy treats, in bat and vampire teeth shapes, are a true delight.
Get them here
For more vegan Halloween treats, read:
Here at VegNews, we live and breathe the vegan lifestyle, and only recommend products we feel make our lives amazing. Occasionally, articles may include shopping links where we might earn a small commission. In no way does this effect the editorial integrity of VegNews.