Ramen is one of the few foods that can be purchased from a gas station as well as a critically acclaimed restaurant. In the US, most introductions to ramen start with the low end—the brick of squiggly noodles that simply need a bit of reconstituting for a cheap and sodium-heavy meal. Over time, we realize that ramen is more than a processed package of wheat noodles and freeze-dried vegetables.
In Japan and increasingly in the US, restaurants are dedicated to serving all kinds of ramen with an endless array of broths, toppings, and side dishes. While tonkatsu, or pork ramen, tends to be the most popular style, vegan options are emerging and still deliver the same satisfying slurp and belly-warming comfort. Give the instant ramen a rest and check out these fantastic vegan-friendly ramen shops and recipes.
A (very brief) history of ramen
While sources claim this brothy noodle dish originated in China, ramen is most popular in Japan. The dish has served as a cheap yet filling meal option since the early 1900s when ramen food carts began to crop up in Japanese urban areas.
In 1958, Momofuku Ando debuted instant ramen which took off with the middle class as well as the cash-strapped. By 1980, ramen-ya (specialized ramen restaurants) began to pop up in Japan, and the momentum for this dish has yet to abate in the 40 years since.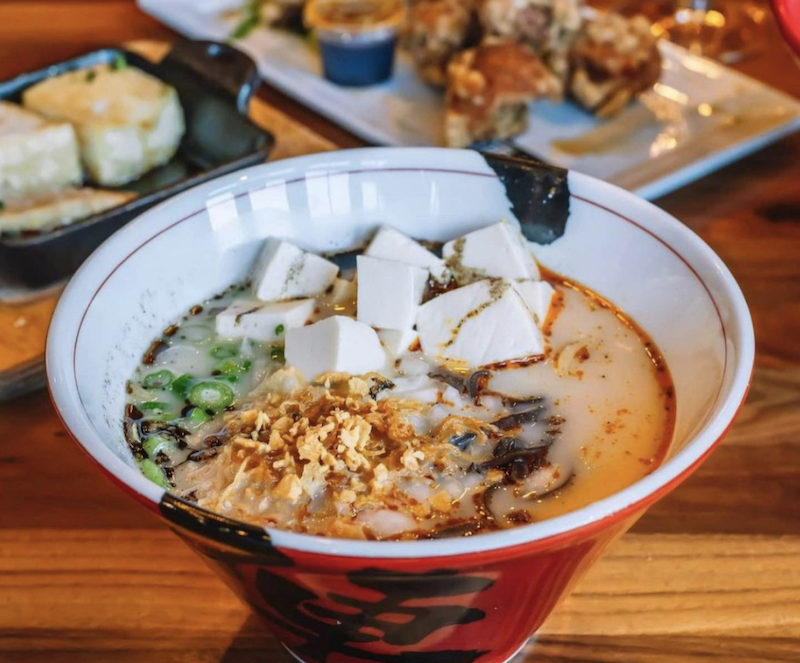 Jinya
What is ramen?
Like pizza, ramen can take many forms, but it generally consists of bouncy, chewy wheat noodles in a seasoned, bone-based broth topped with a variety of meat and vegetables.
Vegan ramen obviously omits the bone broth, leaning heavily on miso, soy sauce, and meaty mushrooms to mimic that salty, warming taste and texture. The noodles can vary slightly in shape, size, and thickness, but most Japanese-style ramen noodles are vegan as-is, consisting of wheat, salt, water, and kansui—an alkalized water that gives the noodles their distinctive bounce and chew. When it comes to toppings, the sky's the limit. However, common vegan-friendly ramen toppings include pickled ginger, scallions, corn, enoki mushrooms, wood ear mushrooms, and menma (fermented bamboo shoots).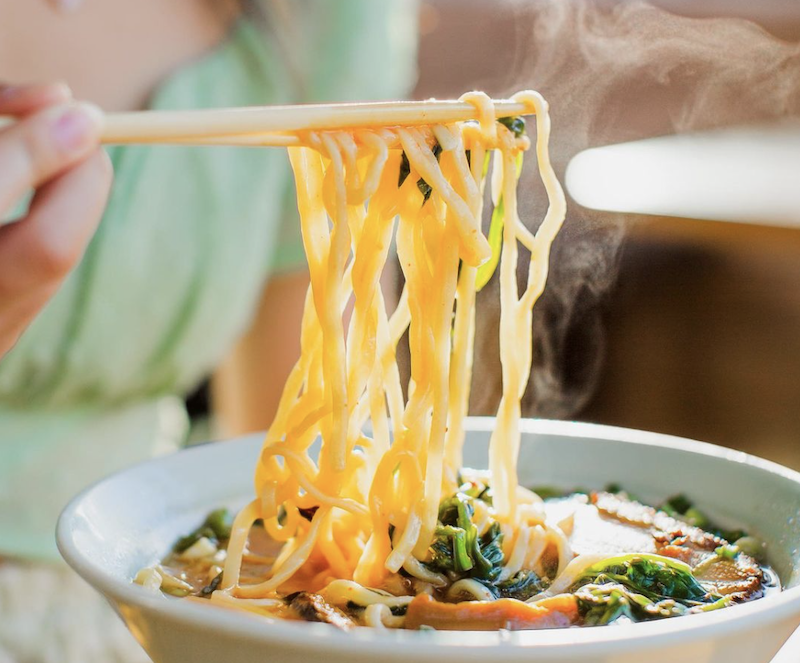 HiroNori
Styles of ramen
There are different ways to categorize ramen, and within each category, there are often sub-categories. However, we're going to abide by the most common subsets found in the States—tonkatsu, shoyu, miso, shio, and tsukemen.
Tonkatsu ramen features a rich, fatty broth made from boiled pork bones. It seems to be the most common style of ramen on the international stage. Despite the fact that the main ingredient in this type of ramen is prohibitively not vegan, plant-based versions of tonkatsu do exist. Scroll down to the recipe section to find one you can make at home.
Shoyu ramen broth is flavored with soy sauce. While traditionally paired with clearer broths made with chicken or fish, it's no longer uncommon to see beef or pork-based ramens featuring shoyu as a prominent flavoring agent. The vegan version of shoyu ramen omits the animal components and marries soy sauce with a rich, flavorful vegetable broth or dashi made from steeped shiitakes and kombu (seaweed).
Similar to shoyu ramen, shio is flavored with salt and typically is paired with a clear broth. Traditional shio ramen is made with chicken stock and flavored with dried fish ingredients, but plant-based options can be easily made with kombu broth.
Tsukemen ramen is ideal for the summertime. It's somewhat of a deconstructed ramen dish prepared by serving cold noodles alongside a hot broth. The eater is meant to dip the noodles into the broth, which tends to be more intensely flavored and a bit saltier than sipping ramen. Tsukemen broth varies widely, making it easy to swap in plant-based ingredients for a traditionally animal-based dish.
7 vegan-friendly ramen restaurants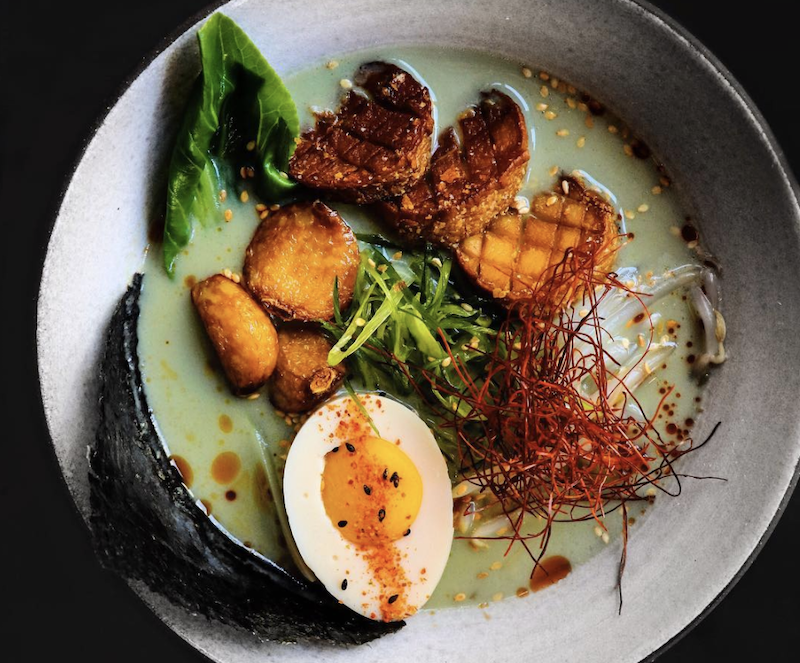 Ramen Hood
1 Ramen Hood
This Los Angeles-based vegan ramen restaurant took Instagram by storm in 2015 when it debuted an incredibly realistic-looking vegan egg atop its plant-based bowls of broth and noodles. Contending with the LA heat, the Grand Central Market stall offers both hot and cold ramen styles, featuring umami-rich broths made with sunflower seeds or smoked onions. Toppings range from meaty katsu-style Omnipork and king oyster mushrooms to vegetable-forward ingredients such as bok choy, nori, shiso leaves, and chili threads.
FIND IT HERE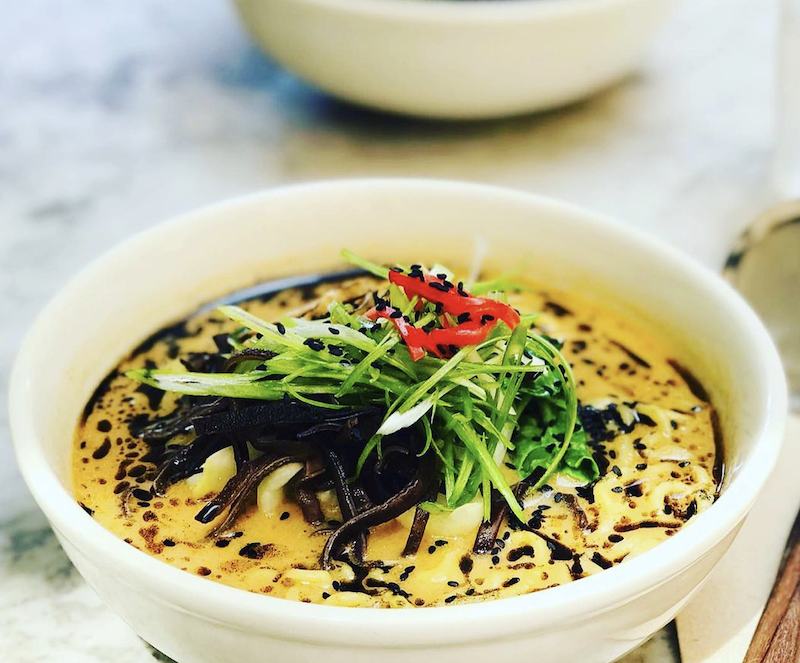 OC_Explorer
2 Freesoulcaffe
Tucked away into a side street in Downtown Orange, CA, this airy bistro has a lot going for it. The vegan pizzas here draw the locals, but those in the know always order the ramen whenever it gets "chilly" in Orange County (below 70 degrees). The three options include a creamy curry topped with tofu and barbecued vegan meat, a homemade kimchi broth with Korean-style vegan protein, and a more traditional miso broth featuring fresh and pickled vegetables and tender king oyster mushrooms. Modifications are politely declined.
FIND IT HERE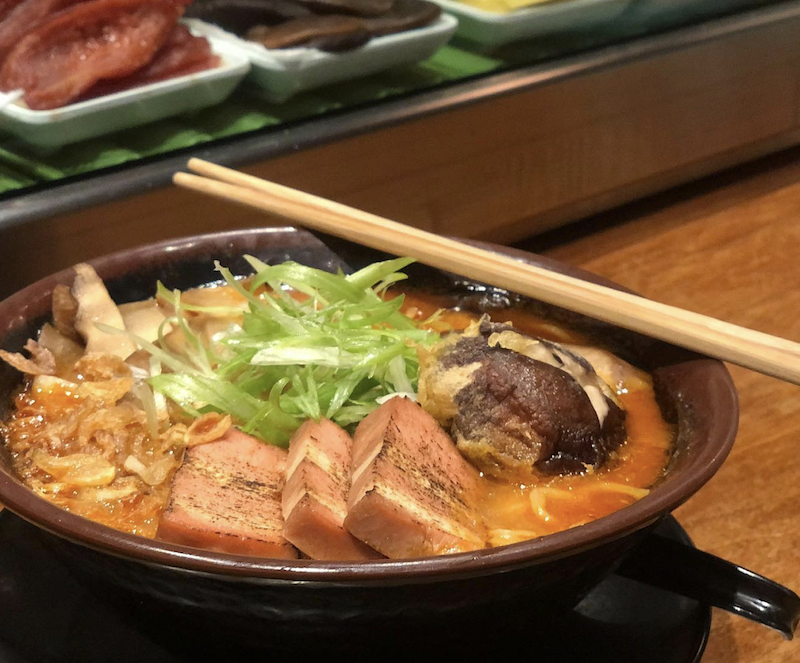 Shizen
3 Shizen
While better known for its plant-based sushi, this upscale San Francisco restaurant makes a solid bowl of ramen to warm you up during the Bay Area winter (aka August—it's surprisingly cold this time of year). The toppings are kept consistent no matter which base you order, but the kitchen offers three distinct broth varieties to satisfy your hunger levels. Choose from the light and delicate shio or the spicy garlic miso. While you're there, order the nigiri or one of the vegetable-forward small plates. It is a sushi restaurant, after all.
FIND IT HERE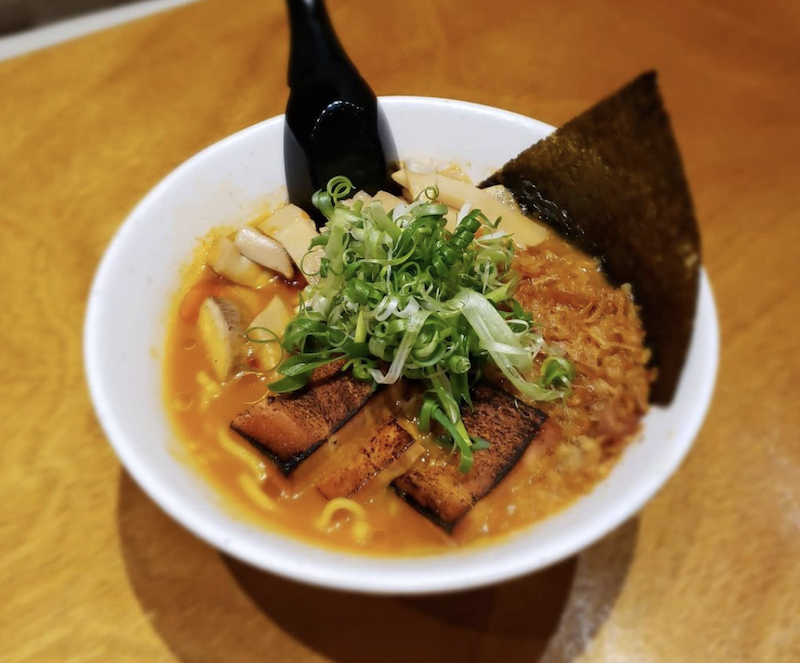 Tane
4 Tane Vegan Izakaya
The inventive specialty rolls are hard to pass up at this popular vegan Japanese eatery in Honolulu, HI, but the ramen serves as a welcome comfort during the rainy season on the island. Four distinct broth styles carry the menu—light shio, earthy shoyu, rich roasted garlic miso, and spicy miso garlic. Each comes with a separate bowl packed with noodles, bean curd charshu (Tane's interpretation of barbecued pork), eryngii mushrooms, tempura shiitake mushroom, nori, and green onion. Pro tip: ask for the dessert menu. You may be lucky enough to visit on a night when they're serving the matcha crème brûlée.
FIND IT HERE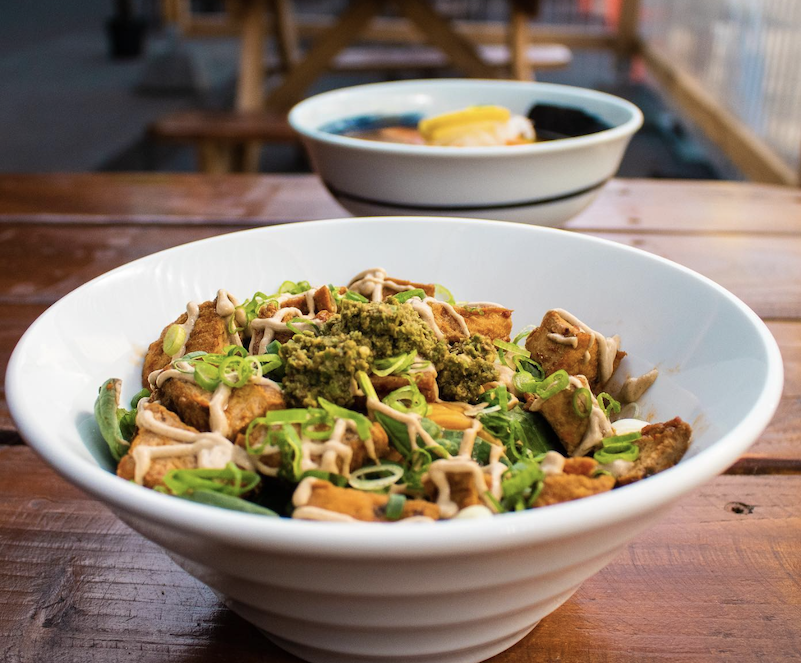 Kayo's Ramen Bar
5 Kayo's Ramen Bar
This Portland, OR ramen spot isn't exclusively vegan, but all but one of the ramen options can be prepared plant-based. We chose this spot not only for its stellar ramen but also for its sheer variety of traditional and inventive broth and topping pairings. With five vegan ramen options to choose from, you could become a regular at this spot and never get bored.
FIND IT HERE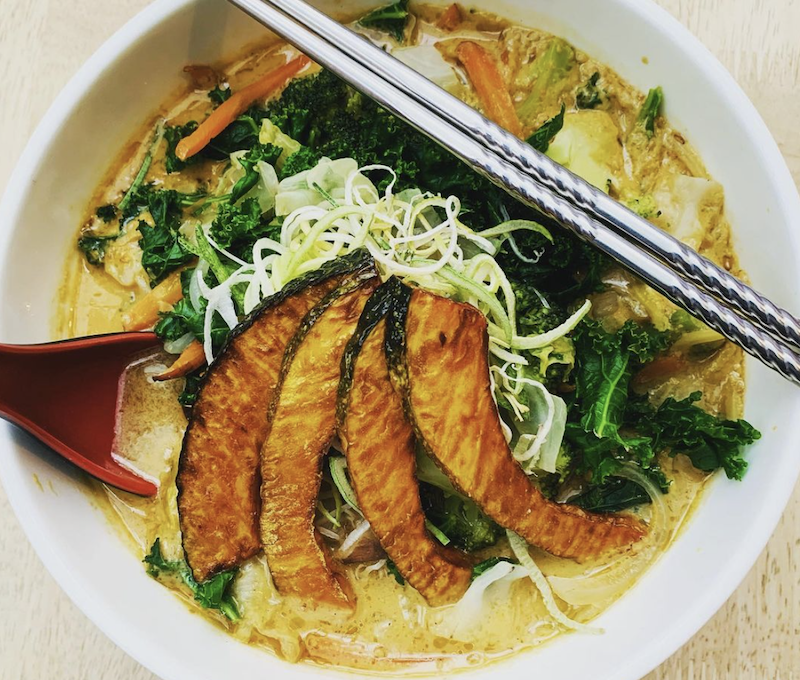 Souen
6 Souen
Vegan with the exception of a few fish items, this macrobiotic New York City eatery offers five kinds of unique plant-based ramen: tahini miso, tahini shoyu, curry miso, curry shoyu, and garbanzo broth. The toppings are strictly vegetable-based (meaning you won't find any Omnipork here) and include broccoli, asparagus, squash, cabbage, carrots, kale, leeks, and onions. You're nearly getting an entire stir-fry on top of your bowl of broth and noodles.
FIND IT HERE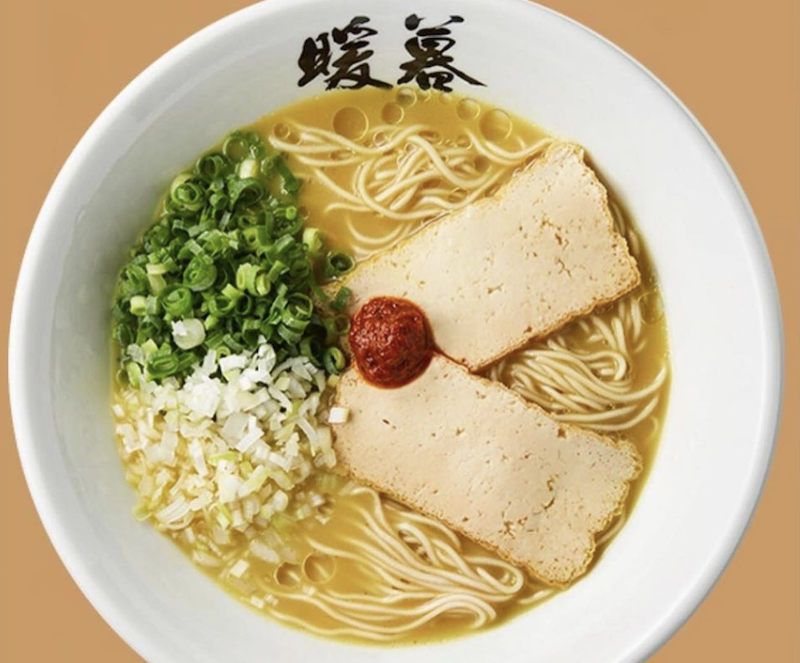 Ramen Danbo
7 Ramen Danbo
Ask for the vegan menu when you roll into this Seattle, WA ramen hotspot. The kitchen offers four varieties of plant-based ramen, each featuring its own style of seasoning and topping options. Opinionated eaters can also customize their bowls from the noodles to the richness of their broth. Ramen Danbo is a solid pick for those in the company of picky eaters or mixed dietary preferences.
FIND IT HERE
7 vegan ramen recipes
If you don't live near a vegan-friendly ramen restaurant or simply have the desire to make your own, here are seven solid vegan ramen recipes. Whether you're a novice or passionate home cook, there's a recipe for every skill level.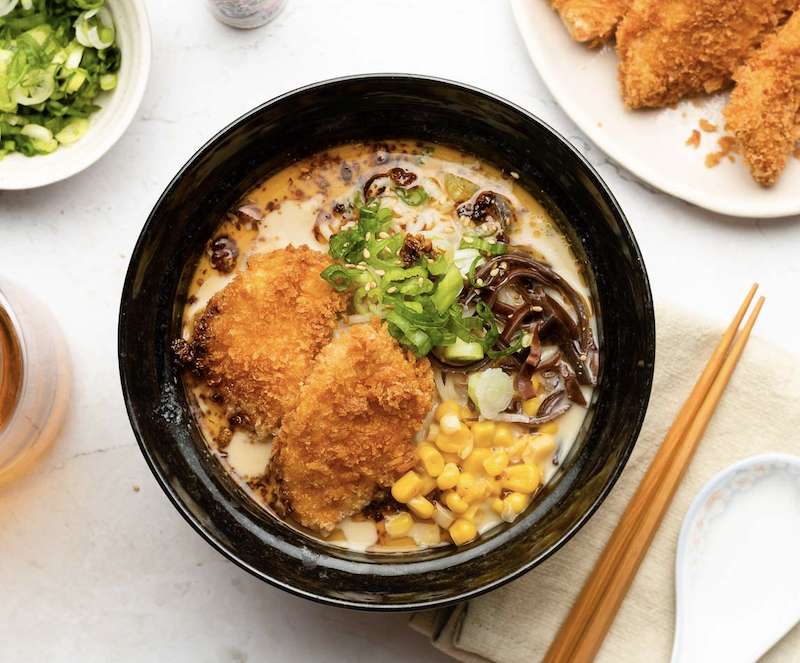 Okonomi Kitchen
1 Tonkatsu Ramen
Vegan tonkatsu ramen is less about mimicking the exact taste of pork and more about replicating the savory, creamy, and rich taste and texture of this bone-based broth. Lisa of the Okonomi Kitchen blog achieves that balance of umami and creaminess with four key ingredients: nutritional yeast, sesame paste, soy milk, and vegan dashi. Once you nail the base, you'll be forever changed.
GET THE RECIPE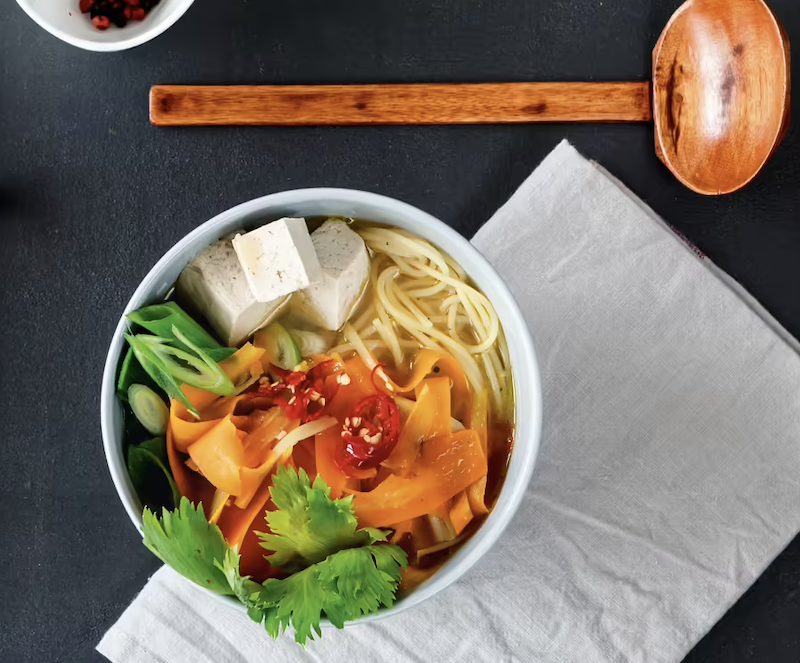 Nadine Horn
2 Speedy Spicy Miso Ramen
Traditional ramen broth can take at least a day to develop its depth of flavor, but you can hack your way to a decent broth if you don't have the time. This simple recipe relies on high-quality vegetable broth, sesame oil, soy sauce, and a good amount of yellow miso paste to create a basic ramen broth. Add tofu, chewy noodles, scallions, jalapeños, bean sprouts, and pink peppercorns to amp up the flavor and textures of this speedy ramen dish.
GET THE RECIPE
Kenji Lopez Alt
3 Ultimate Vegan Ramen With Miso Broth
Kenji Lopez-Alt may not be vegan, but after authoring the 960-page food encyclopedia The Food Lab, we value him as a source we can trust when it comes to solid recipes. He knows how to break down the basics and shepherd the home cook into creating truly impressive dishes. This plant-based ramen recipe layers on the flavor by combing charred vegetables, a concentrated soy-mushroom-and-kombu broth, and puréed ginger and garlic. The roasted sweet potatoes add texture while a finish of homemade mushroom-scallion oil provides the rich, fatty texture of tonkatsu. The resulting dish is creamy, savory, and texturally complex. Yes, it's a project, but a darn delicious one at that.
GET THE RECIPE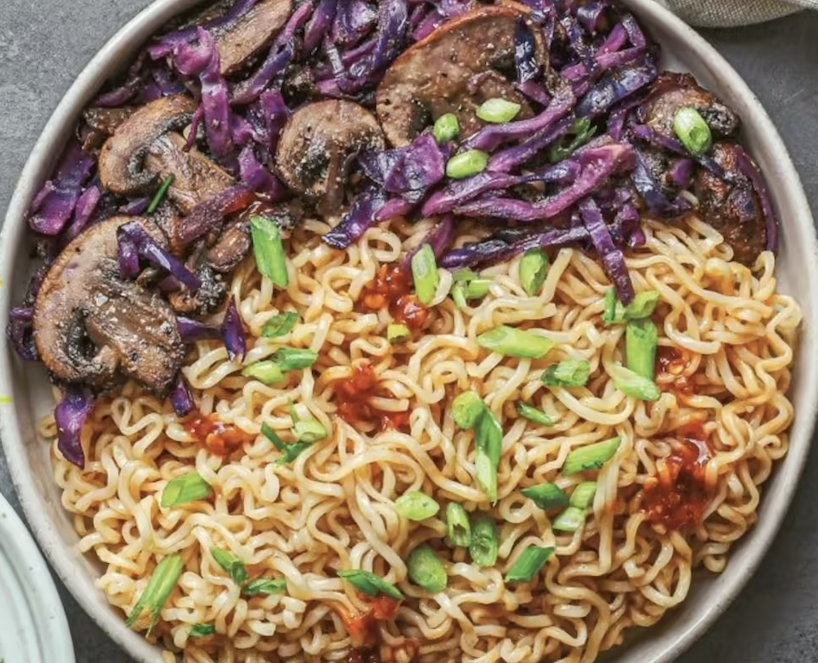 Jannet Grannow
4 Easy Vegan Ramen With Mushrooms and Cabbage
This recipe is straightforward and ideal for beginners. You'll impart flavor into the vegetable broth with the help of mirin, spices, sesame oil, and garlic chili paste. The toppings here are fairly simple—just cremini mushrooms, scallions, and cabbage—so if you have some leftover broccoli, tofu, or bok choy on hand, go ahead and toss it into the bowl. This is a very forgiving recipe and lends itself well to a clean-out-the-fridge kind of meal.
GET THE RECIPE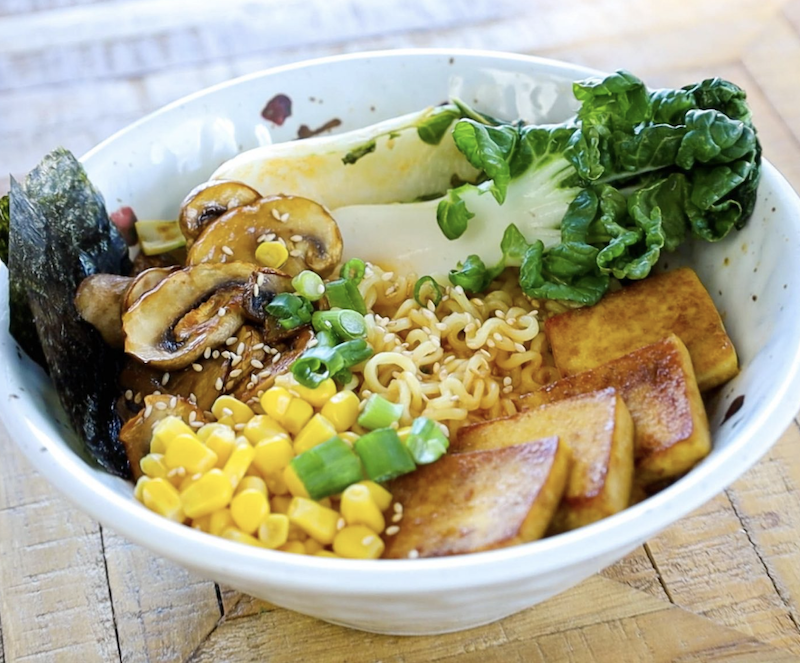 Cheap Lazy Vegan
5 Instant Noodle Gourmet Ramen
Learn how to plus-up a basic package of vegan-friendly ramen with this quick recipe. It's all about the toppings here, because the freeze-dried vegetables that come standard with instant ramen simply don't cut it. By tossing in tofu, bok choy, corn, mushrooms, and scallions, you can transform a boring bowl of ramen into a restaurant-worthy meal. Shortcuts never tasted so good.
GET THE RECIPE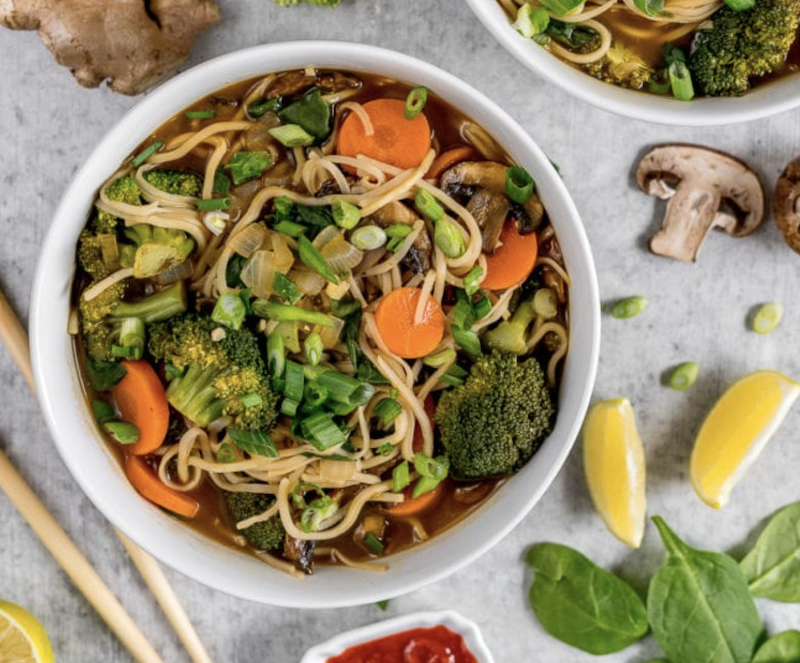 Sweet Simple Vegan
6 $5 Vegetable Oil-Free Ramen
While ramen has been elevated to chic restaurant status, affordability is at its core. Sweet Simple Vegan's recipe uses pantry ingredients and cost-effective produce to create a quality bowl of broth and noodles on the cheap. Sure, it costs a bit more than a package of instant noodles, but it also packs in more sustenance and flavor, making it worth every penny.
GET THE RECIPE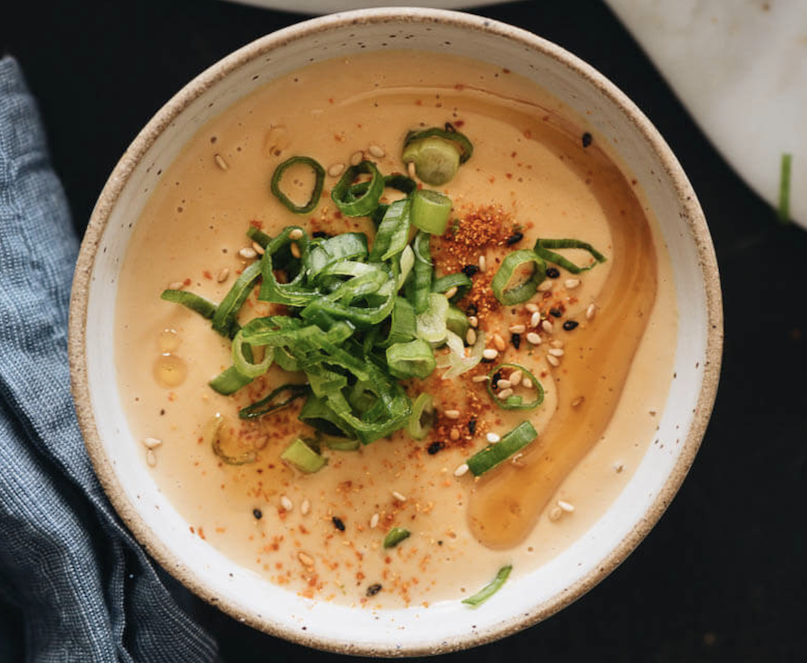 Gastroplant
7 Vegan Tsukemen
Finally, a vegan recipe for dipping noodles. Like Lopez-Alt's recipe, this one is a bit of a project, but you can make extra broth and save it for multiple meals later on. Paired with chewy king oyster mushrooms and savory baked tofu, this is the ramen we've been searching for. Thanks to its interactive nature, this recipe is perfect for intimate dinner parties. Even if you don't make your own noodles, this meal is sure to impress.
GET THE RECIPE
For more vegan food guides, read: