Slather anything in vegan ranch dressing and even the vegetable-averse will happily gobble it up. We're conditioned as children to take our veggies with a quarter-cup of Hidden Valley, and while we've learned to ask for dressing on the side and expanded our options to include vinaigrettes and tahini-based sauces, a good vegan salad dressing remains a crucial component of any leafy green dish.
These condiments quite literally dress up a salad—transforming bland greens into an indulgent dish with a simple drizzle. Whether you toss it all together or methodically stick a fork into the dressing before each bite, a salad without dressing is downright sad. Here are eight vegan salad dressings to buy and to make to gussy up any bowl of greens.
Is salad dressing vegan?
Salad dressing is often not vegan. Ranch, Thousand Island, and creamy Italian-style dressings are mayonnaise-based, so they contain eggs. Many creamy dressings use eggs as an emulsifier, and some dressings contain honey.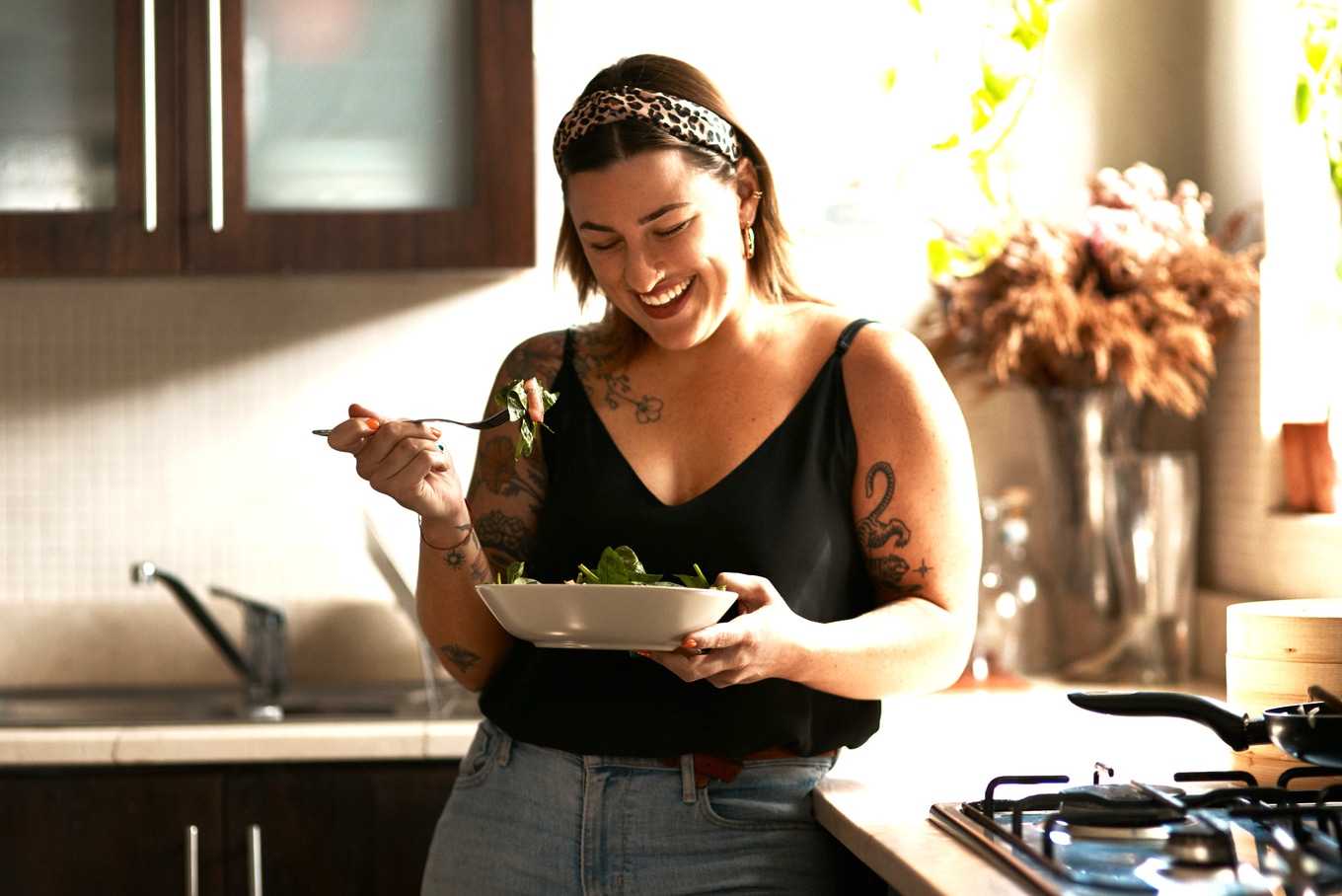 People Images/Getty
Generally, vinaigrettes are plant-based because they are a mix of an oil and an acid, like vinegar or lemon juice. A growing number of brands (even stores, like Trader Joe's) now make vegan versions of dressings that typically contain animal-derived ingredients, so you can keep on enjoying the flavors that you love.
Vegan salad dressings to buy
These pre-made vegan dressings make putting together a big salad for lunch convenient and delicious.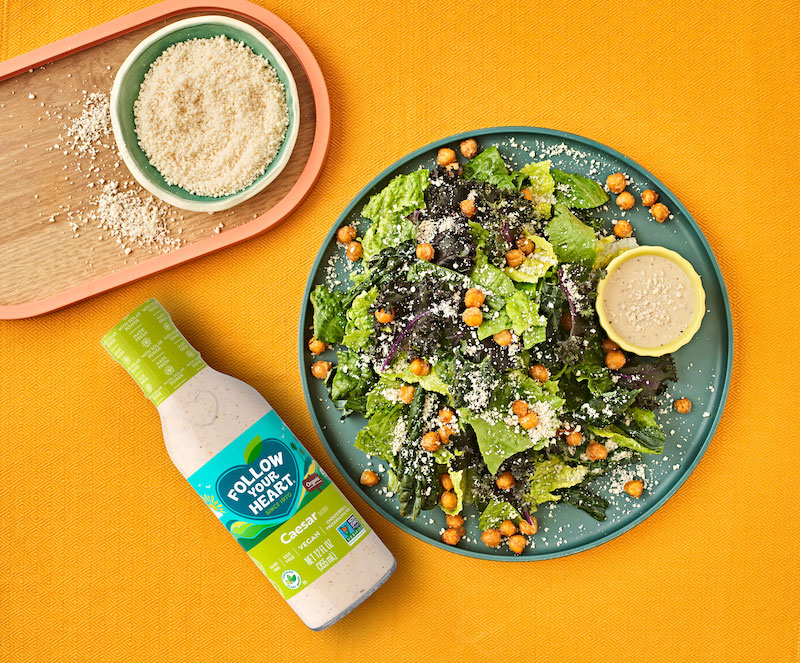 Follow Your Heart
1 Follow Your Heart
Stock up on all six Follow Your Heart vegan salad dressings, and you'll be set for any kind of salad you can dream up. The range includes classics such as plant-based honey mustard, Thousand Island, and Caesar in addition to novelty options like Creamy Avocado Oil Ranch and Bleu Cheese.
FIND IT HERE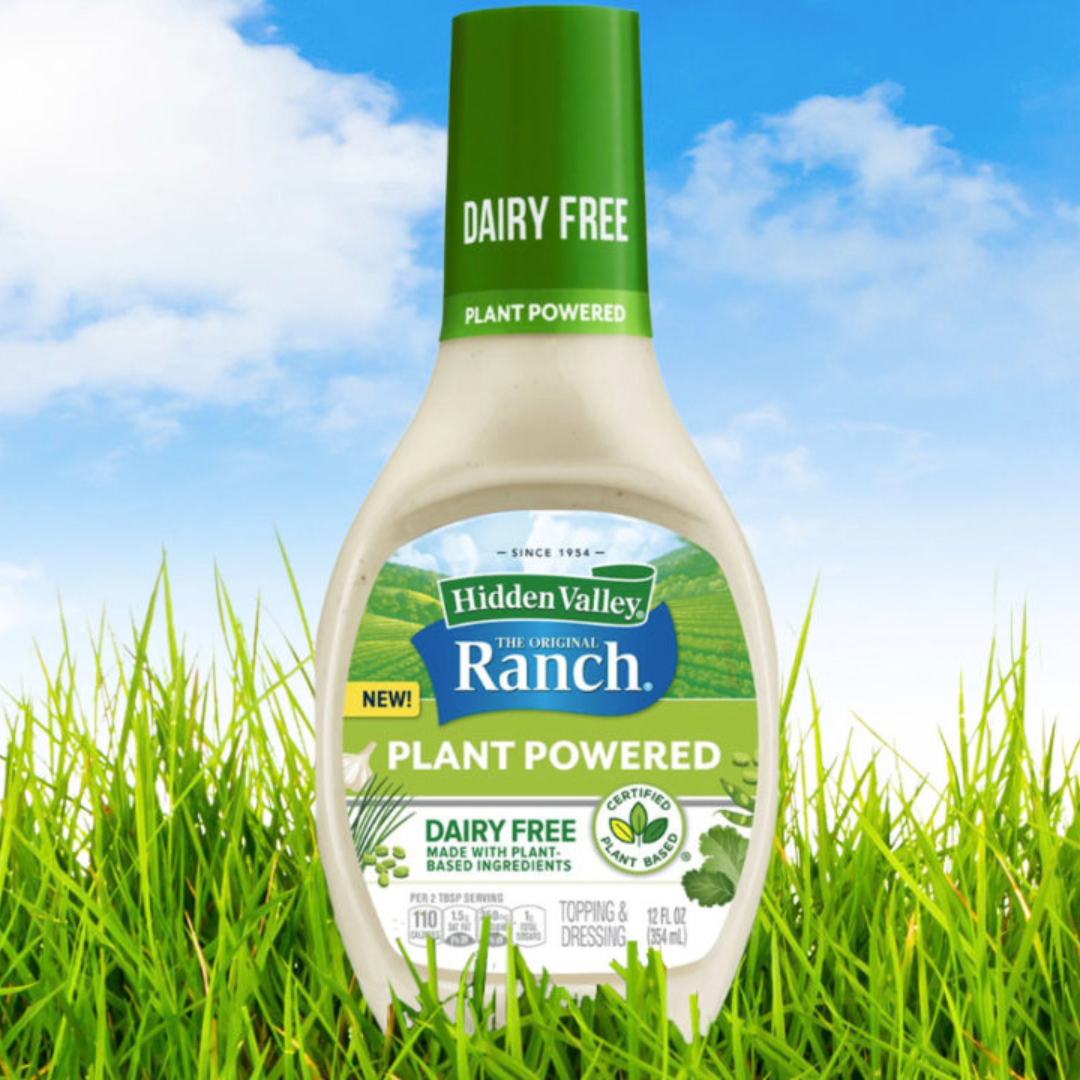 Hidden Valley
2 Hidden Valley
The brand that hooked us all on the creamy blend of secret herbs and spices delivered through a mayo-esque emulsion now makes a vegan version identical to the original. Coined Plant Powered Ranch, the product quietly debuted in 2021, offering a one-for-one swap to its dairy- and egg-based predecessor. Hidden Valley loyalists rejoice.
FIND IT HERE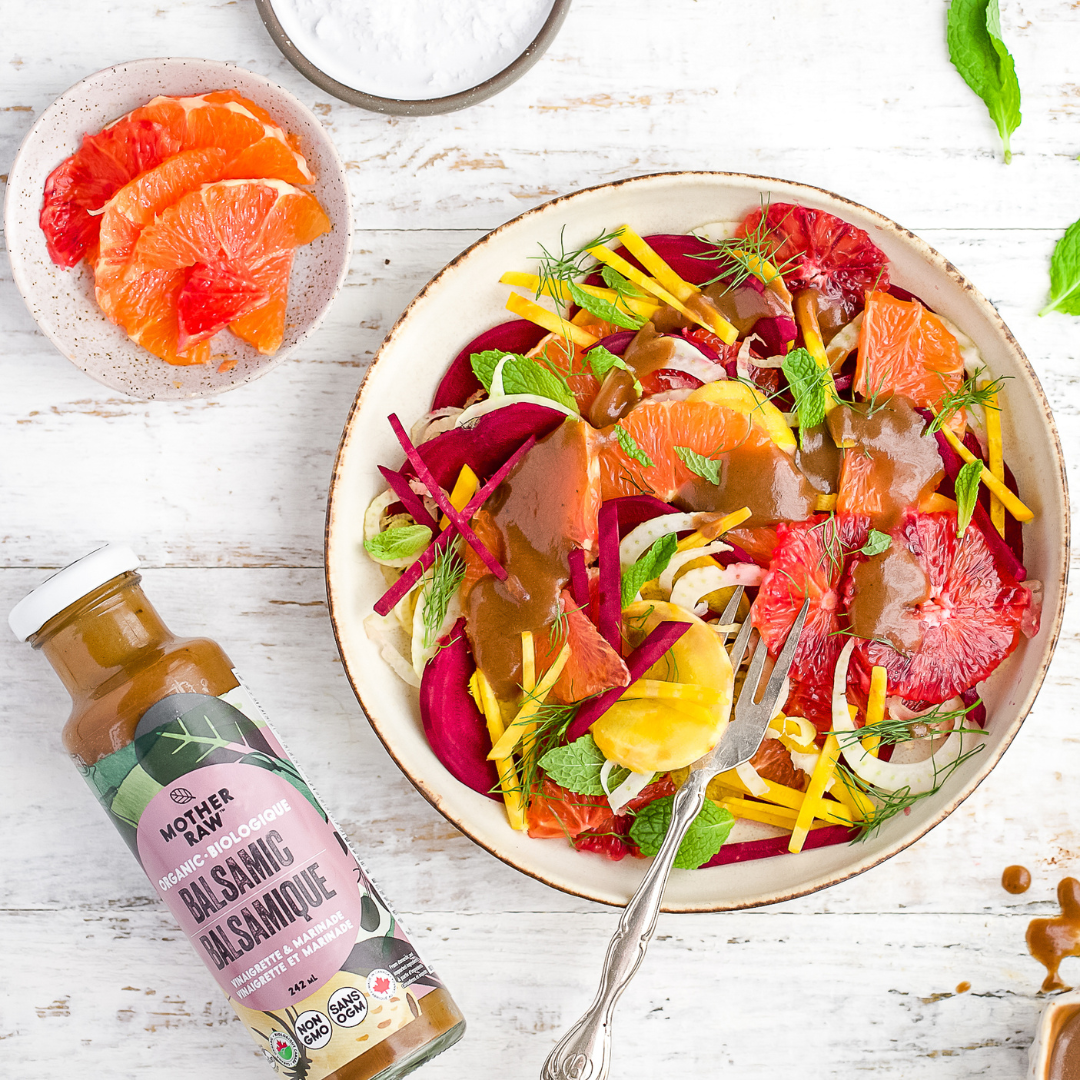 Mother Raw
3 Mother Raw
Looking for a clean salad dressing that won't add junk to your healthy bowl of veggies? All of Mother Raw's products are made with plant-based ingredients that provide nutrition. Our favorites include Balsamic, Smokey Chipotle, Roasted Garlic Caesar, and Lemon Tahini. All of these double as dips in addition to dressings. What's not to love?
FIND IT HERE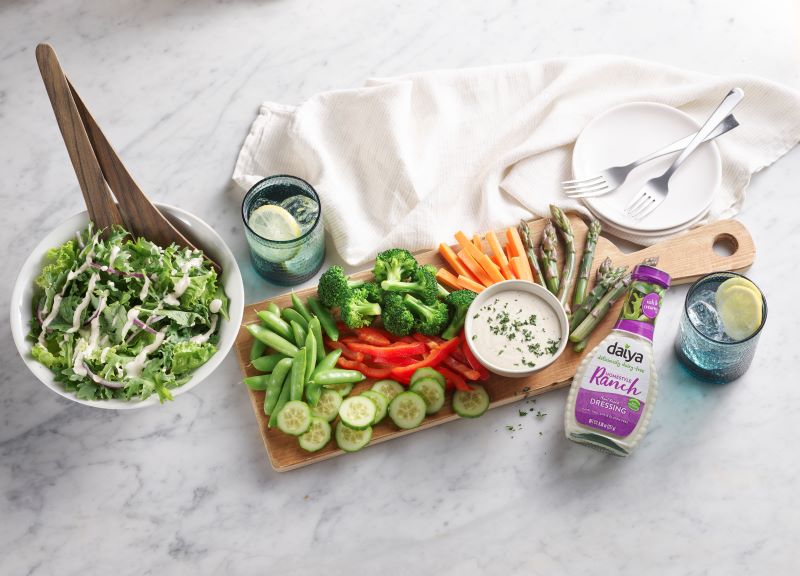 Daiya
4 Daiya
Reach for a Daiya dressing if you're in the mood for something thick and creamy to toss with your leafies. Flavors include decadent Homestyle Ranch, Blue Cheeze, and Creamy Ceasar. These options aren't light, but they're perfect for enticing picky eaters to gobble up a few more greens. Plus, it's okay to indulge in a little decadence every once in a while.
FIND IT HERE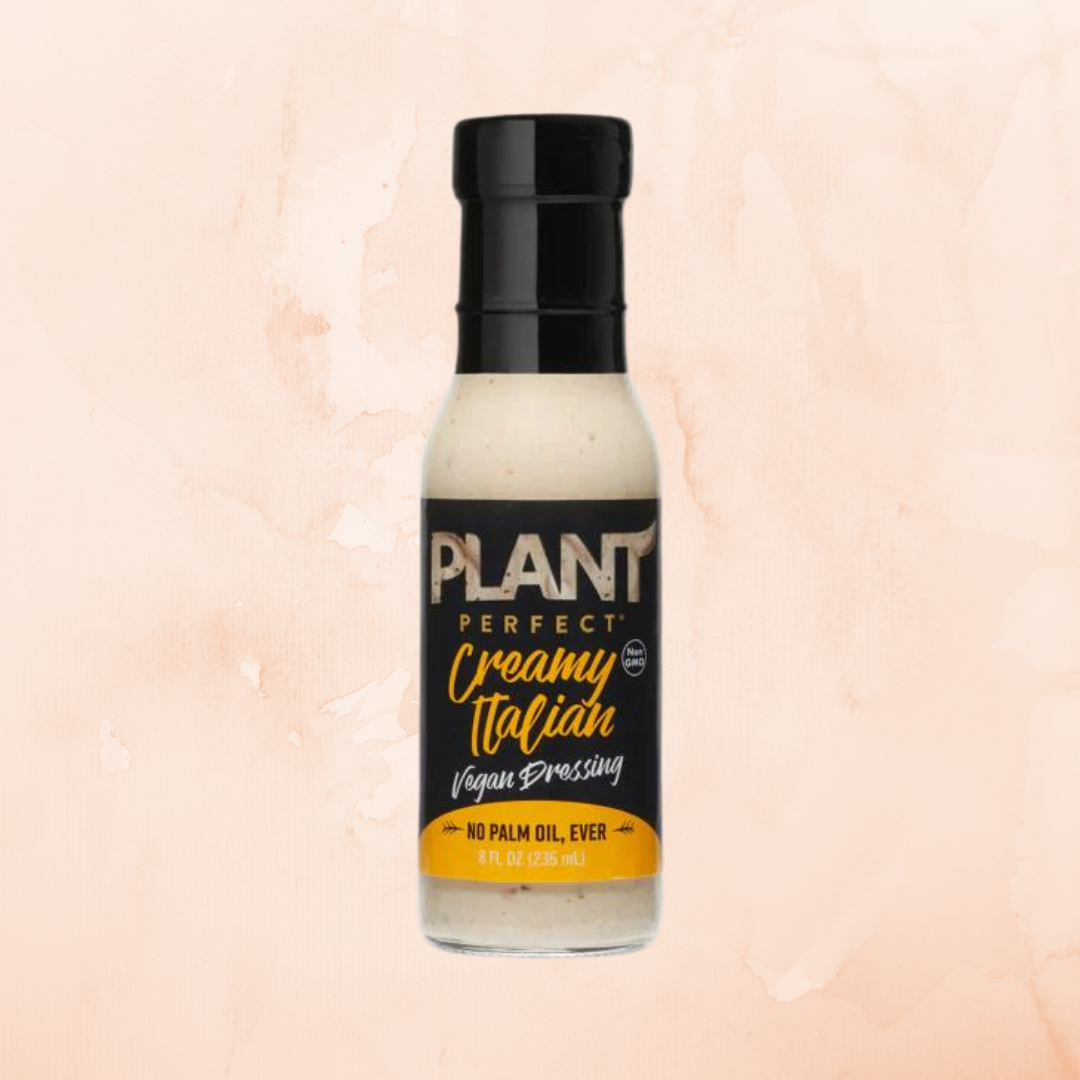 Plant Perfect
5 Plant Perfect
Green Goddess salad dressing is one of the outliers when it comes to condiments, but it certainly has its place in our hearts. Plant Perfect offers a solid vegan option for all who worship this mythical flavor goddess, along with several other tasty products like Creamy Italian, tangy Cilantro Lime and spicy Chipotle Ranch for convenient mixing-and-matching with different flavor profiles.
FIND IT HERE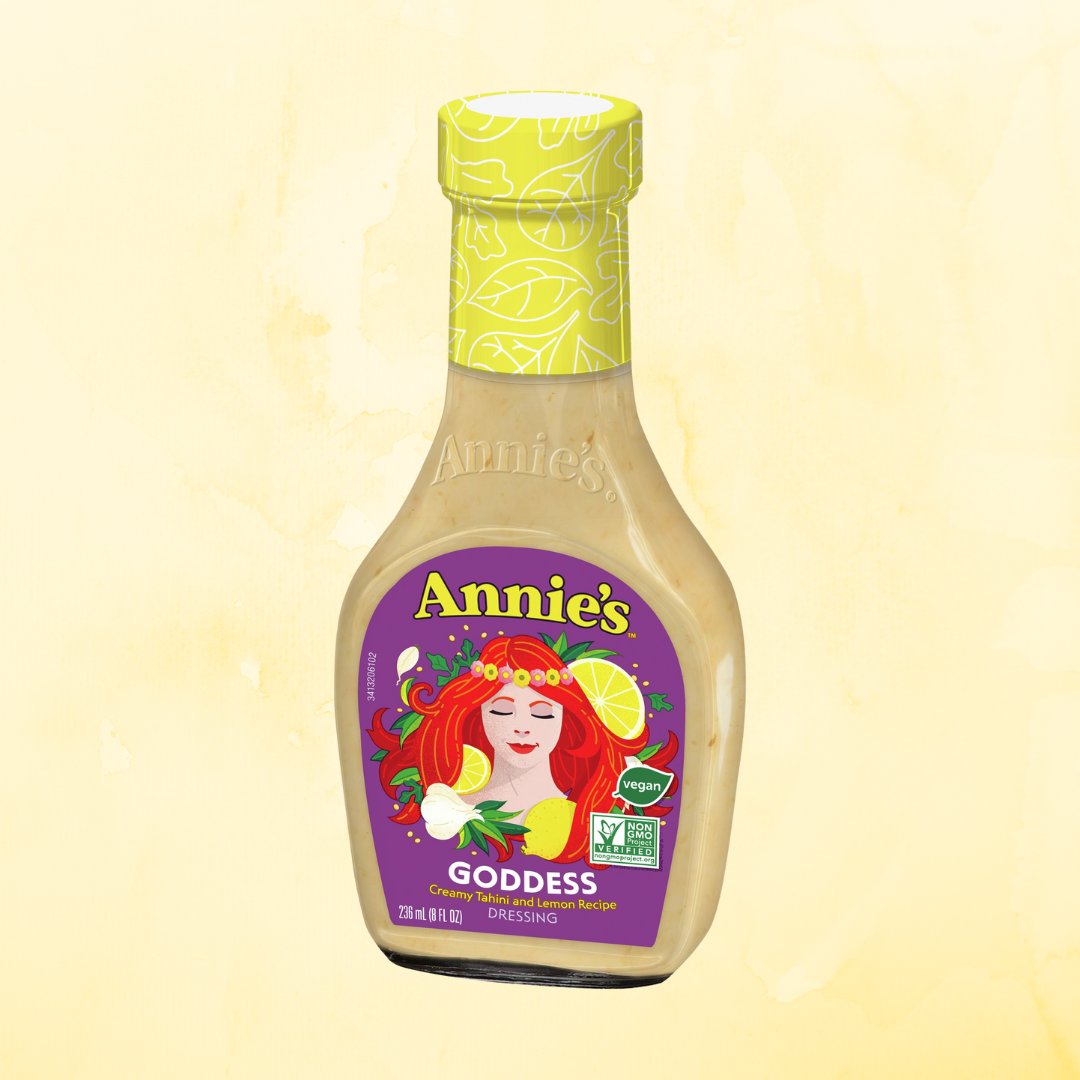 Annie's
6 Annie's
This vegan-friendly brand has plenty of tasty options. The Goddess Dressing is a tangy blend of tahini, lemon juice, chives, and parsley. The umami-rich Organic Shiitake Sesame Vinaigrette gets an extra boost of flavor from toasted sesame oil. Be sure to read the ingredients list before picking up a bottle of Annie's—some of their dressings contain dairy and eggs.
FIND IT HERE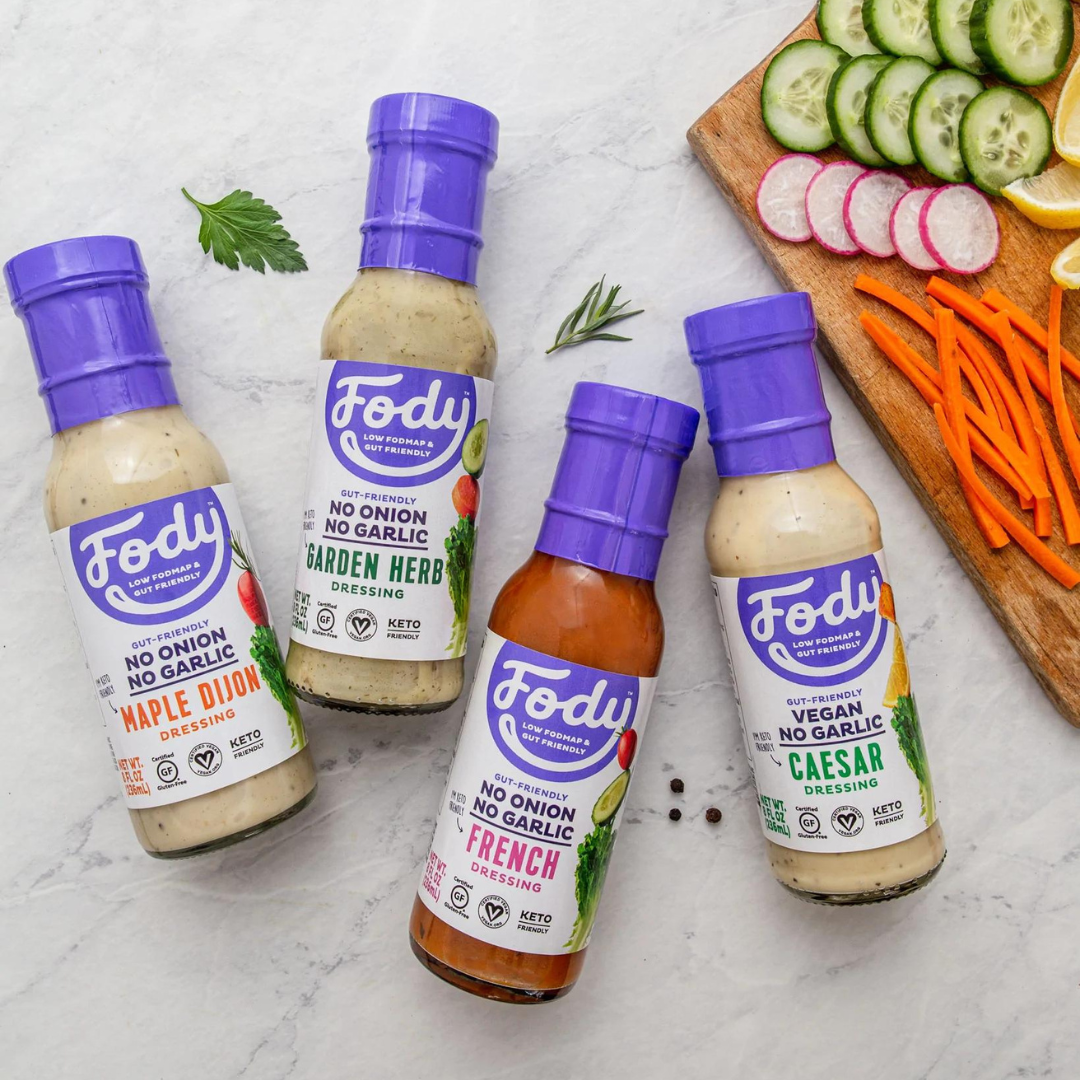 Fody Foods
7 Fody Foods
Looking for a low-FODMAP plant-based dressing to spruce up your salad? Fody Foods is a vegan-friendly brand that makes an array of flavors, including Caesar, Maple Dijon, Balsamic Vinaigrette, and Garden Herb. Every flavor is also free from onions, garlic, and gluten to make it inclusive towards people with frequent tummy troubles.
FIND IT HERE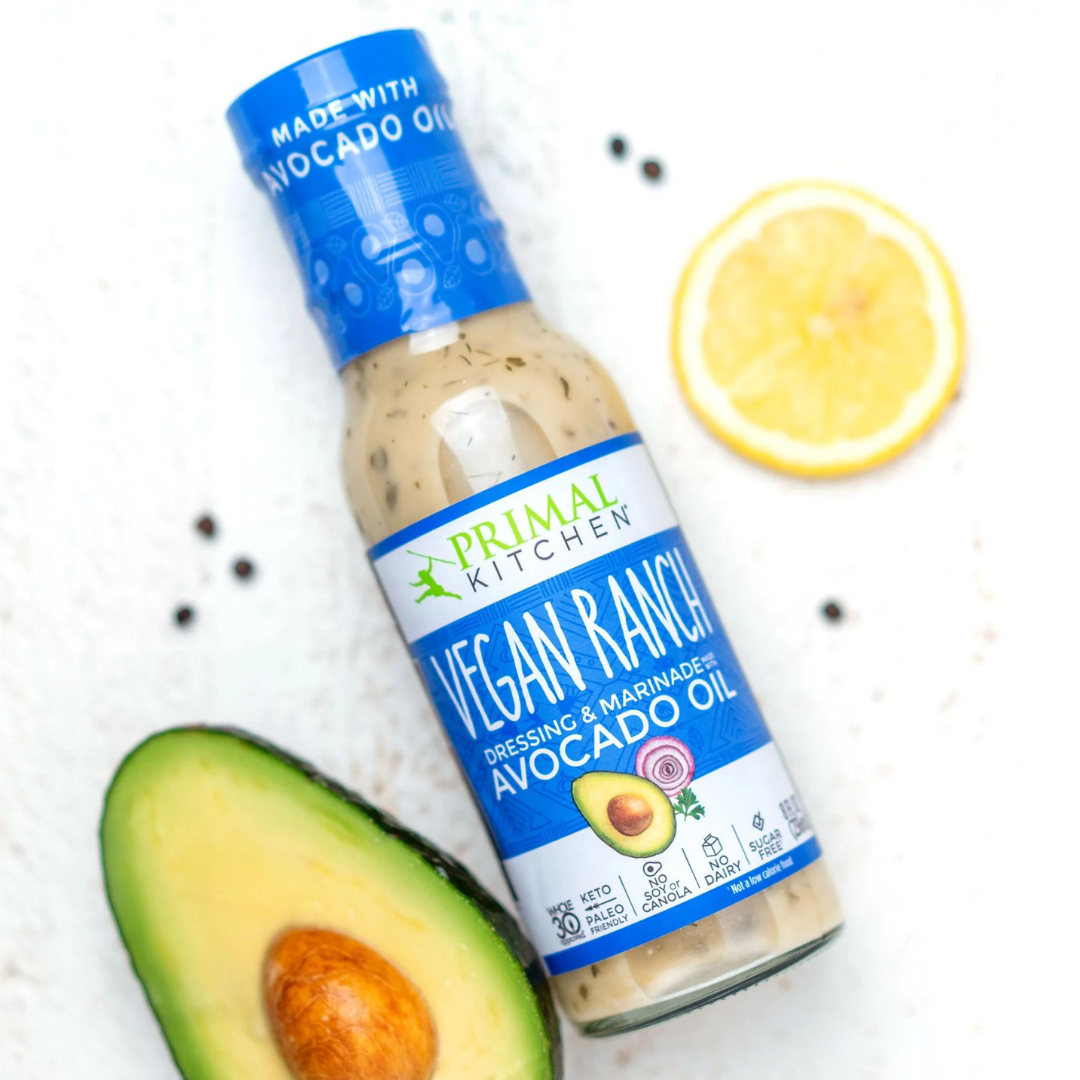 Primal Kitchen
8 Primal Kitchen
Best known for being a paleo diet-friendly brand, Primal Kitchen also makes a handful of vegan dressings, such as vegan ranch, Caesar, Italian Vinaigrette & Marinade, Greek Vinaigrette & Marinade, and Balsamic Vinaigrette & Marinade. The products are also free from soy, gluten, and added sugars.
FIND IT HERE
Vegan salad dressing recipes to make
Keep these plant-based salad dressing recipes on hand for days when you're fresh out or if you're the kind of person who likes to be more hands-on in the kitchen.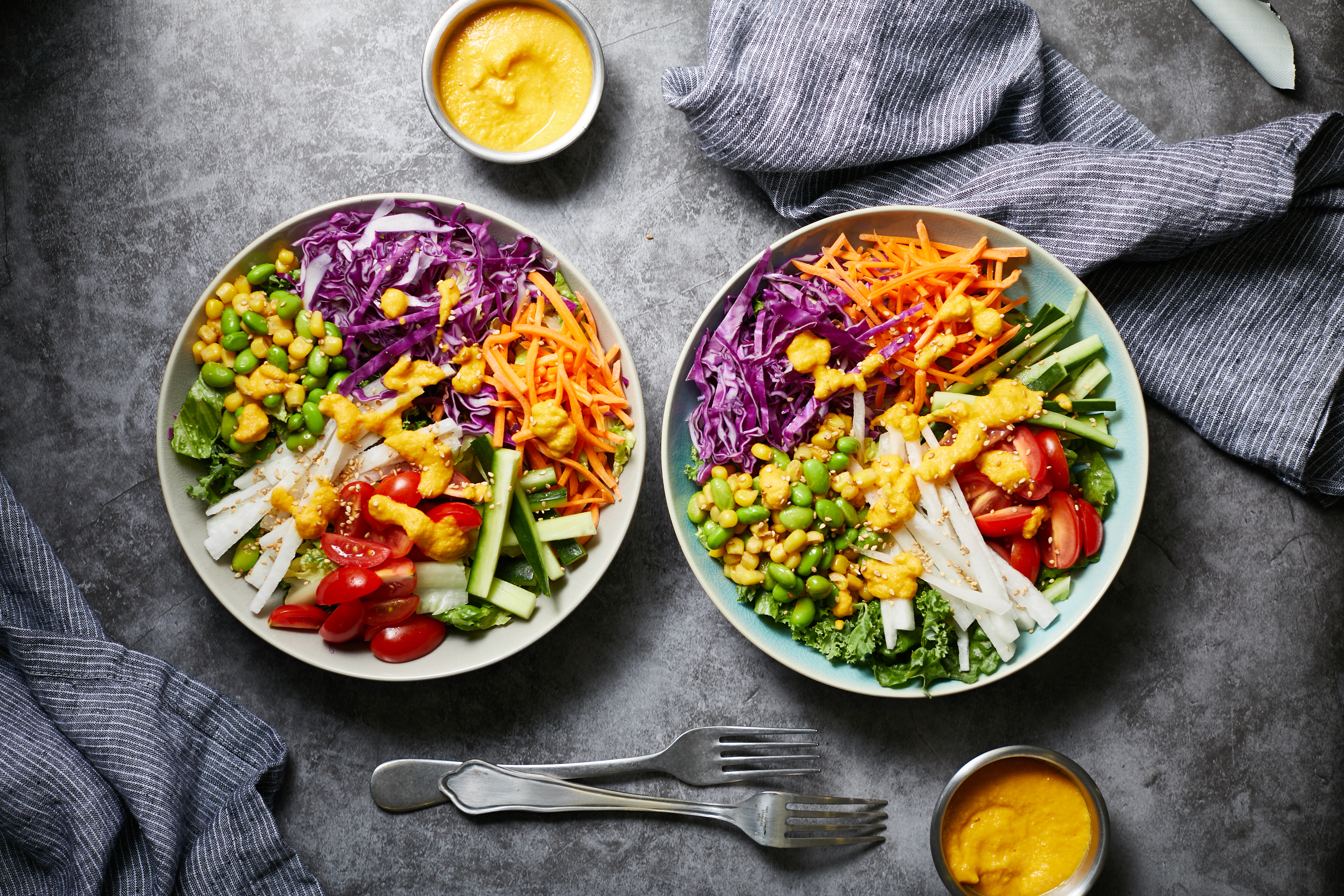 Julieanna Hever
1 Carrot ginger dressing
Offering a citrusy kick without feeling spicy, this light vegan salad dressing provides just the right amount of zing to complement fresh vegetables, tofu, and chilled soba noodles. Not every day has to be a ranch day.
Get the recipe
Ashley Madden
2 Tahini Caesar dressing
Traditional Caesar dressing includes puréed anchovies and dairy to create an addictively good umami flavor profile. The combination of tahini, capers, nutritional yeast, and capers provides the same burst of flavor without the funky fish blend. All you need is a head of romaine, vegan croutons, and this simple dressing to toss together a crowd-pleasing vegan salad.
Get the recipe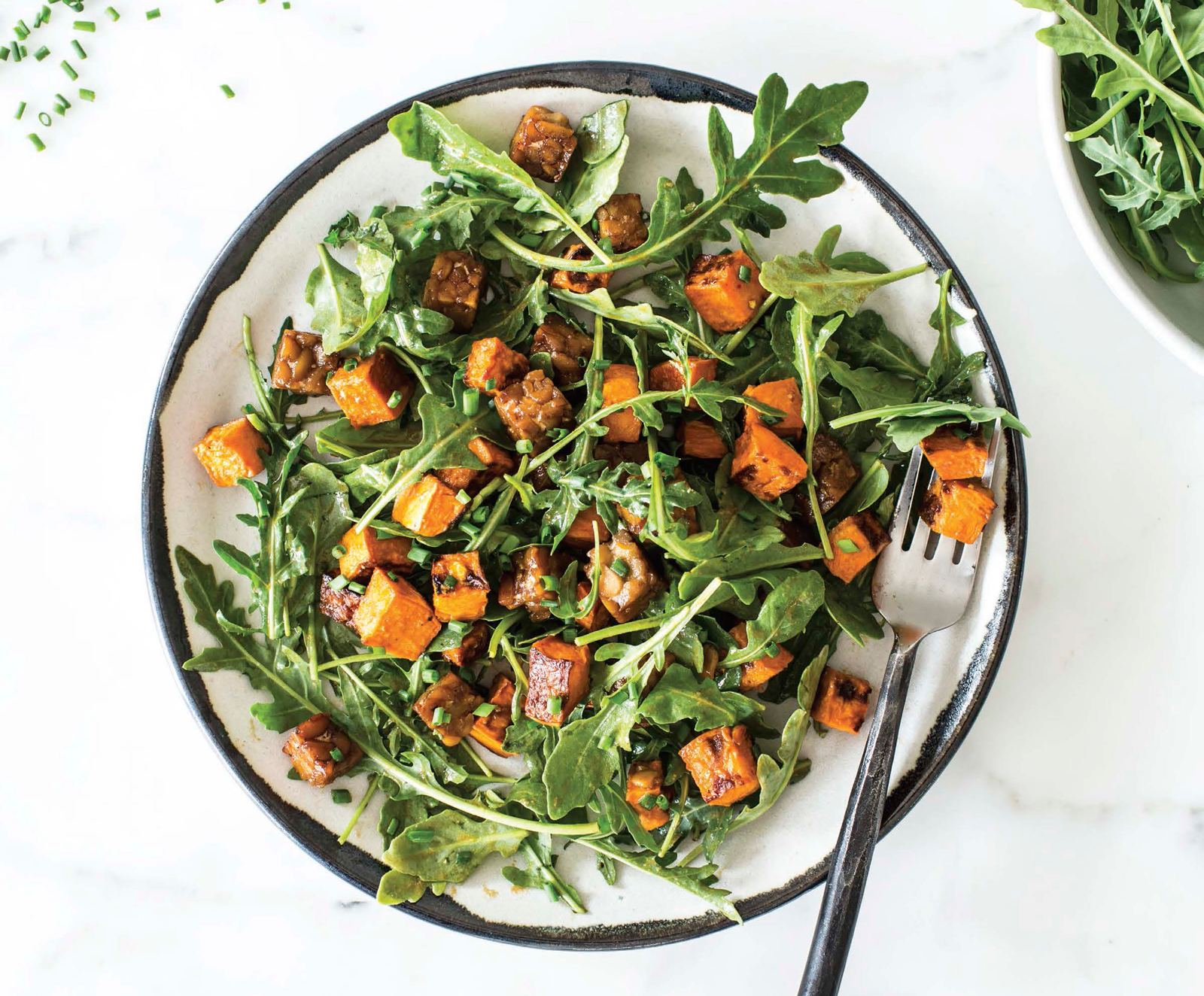 Gena Hamshaw
3 Maple-mustard dressing
Sweet yet tangy, this creamy emulsion of sweet maple syrup and bold Dijon mustard pairs well with a variety of greens from peppery arugula to mild mixed greens. It also doubles as an excellent dipping sauce for vegan chicken nuggets or seared tempeh.
Get the recipe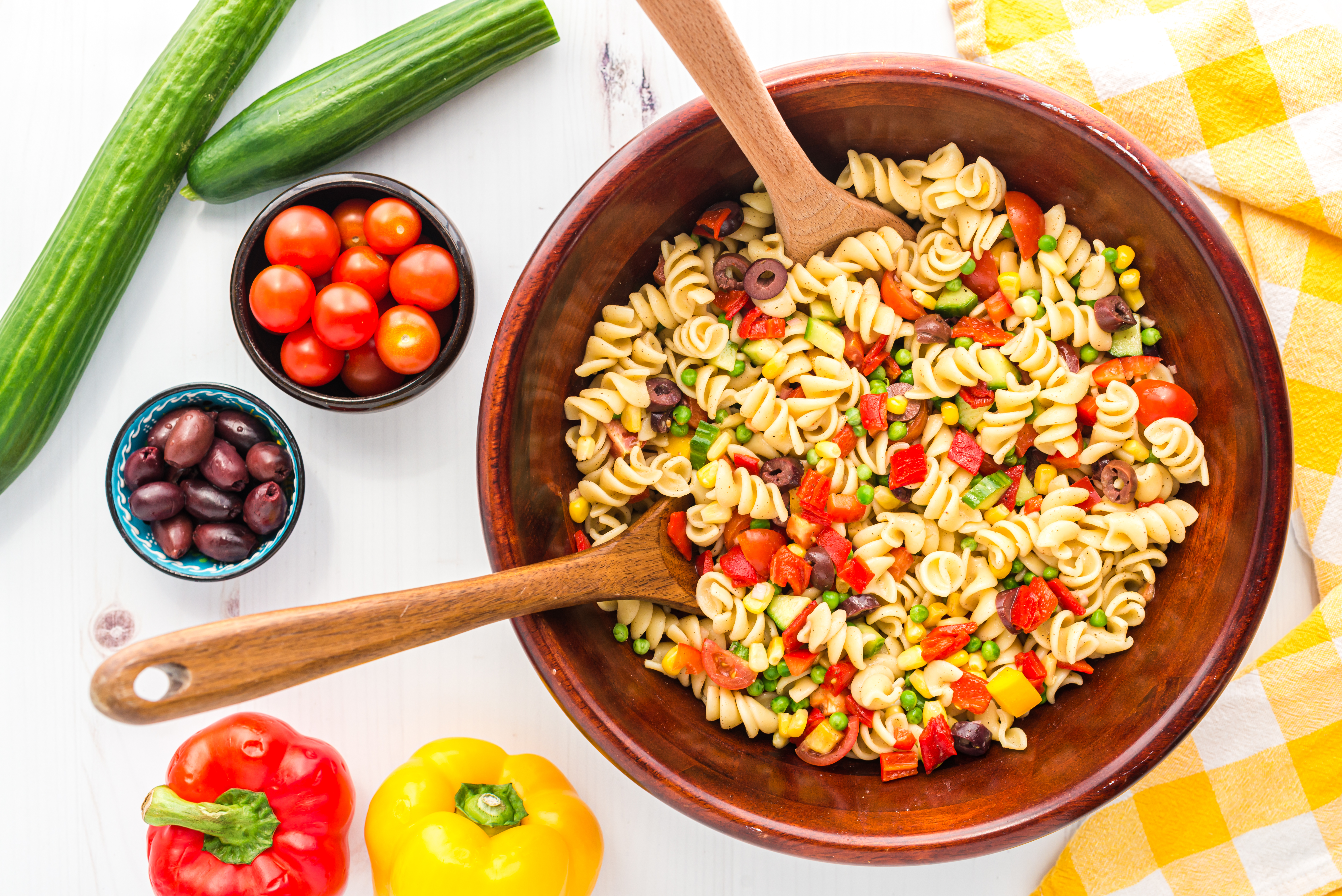 Dreena Burton
4 Italian vinaigrette
There are two fabulous applications for this herby vinaigrette. One is a salad made up of lettuce, red onion, cherry tomatoes, pepperocini, olives, and shaved vegan parmesan cheese. The other is not a salad at all: pasta salad. When toothsome rotini or farfalle pasta sits in this flavorful dressing, pasta becomes even more appetizing. This dish is perfect for outdoor events or hot days.
Get the recipe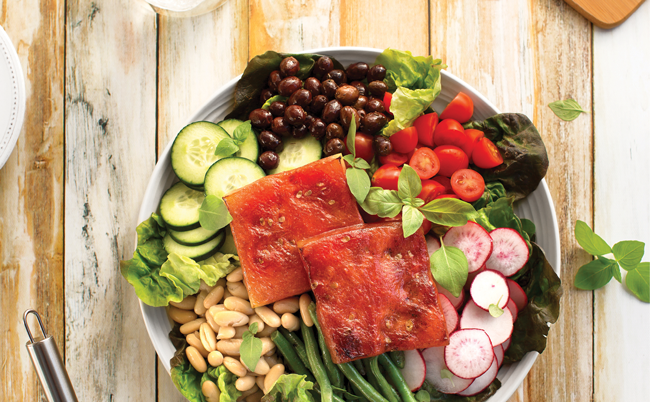 Hannah Kaminsky
5 French vinaigrette
French vinaigrette differentiates itself from its Italian cousin by way of its herbs and spices. The former requires less ingredients and tends to be a bit more versatile when it comes to salad pairings. We love using this on vegan Niçoise salads or even over a very simple bowl of hand-torn greens.
Get the recipe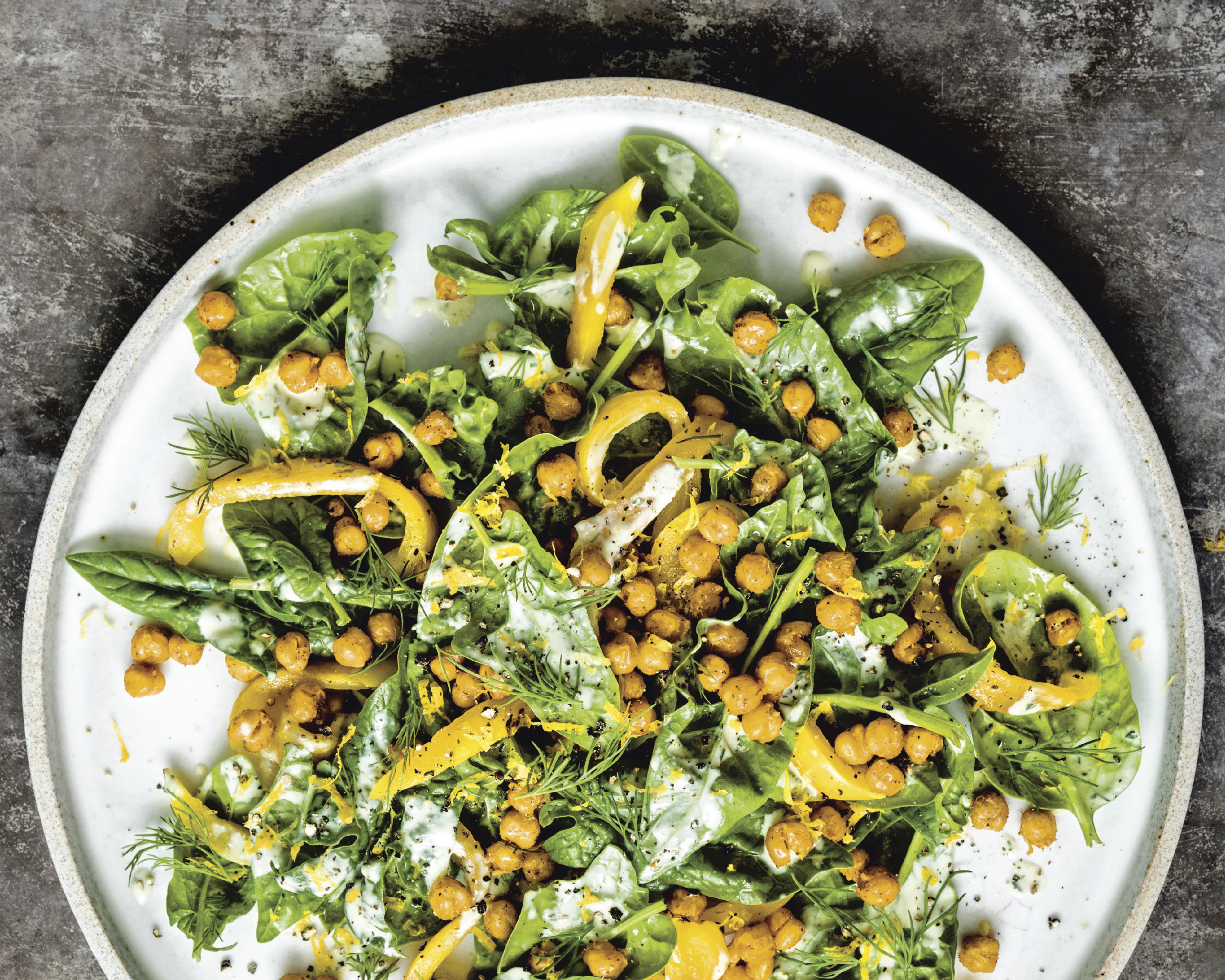 Bryant Terry
6 Creamy herb dressing
Those who believe you can never have too much dill need to try this recipe. It's thick, creamy, decadent, but not heavy thanks to the sneaky silken tofu and plenty of fresh herbs blended in. Generously drizzle this dressing over crisp, hearty greens or dip crudités to your stomach's content.
Get the recipe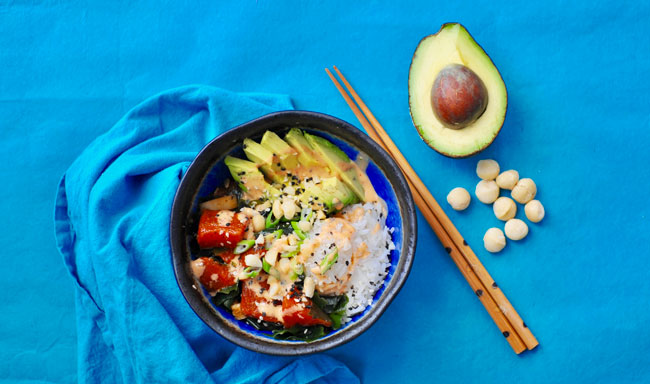 Leinana Two Moons
7 Sesame soy dressing
This standout vegan dressing is creamy, spicy, and slightly nutty—truly emblematic of an umami-based condiment. To tame down the heat, go lighter on the sriracha. Try it over a vegan poke bowl, cold soba noodle salad, or plant-based sushi.
Get the recipe
For more on vegan condiments and recipes, read:
Here at VegNews, we live and breathe the vegan lifestyle, and only recommend products we feel make our lives amazing. Occasionally, articles may include shopping links where we might earn a small commission. In no way does this effect the editorial integrity of VegNews.