At the 1994 Lillehammer Winter Olympics, all eyes were on the American athletes for a few reasons. Firstly, they scooped 13 medals, placing them in the top 10. But sporting talents aside, people were also taken with what some of the US Olympic team members were wearing on their feet: fleecy, cozy, sheepskin boots, otherwise known as Uggs.
After that, and with a little help from Oprah's Favorite Things list, Australian brand Ugg and its signature boots soared in popularity. It seemed like everyone—from Beyoncé to the now Princess of Wales—wanted to be seen wearing sheepskin on their feet in the 1990s and early aughts. And now, as Y2K nostalgia reigns on the red carpet, they're officially back in style.
Unfortunately, the OG Ugg boots contain a number of animal-based materials. But that doesn't mean everyone can't rock this retro footwear. We've rounded up the best vegan Uggs (ok, Ugg-inspired boots) on the market right now. But first, let's take a closer look at why the OG Ugg boots are not vegan.
Are Uggs vegan?
Because it features materials like sheepskin, leather, wool, and suede, the classic Ugg boot style is not vegan. That said, last year, the brand released a new range called Plant Power, which included shoes made with carbon-neutral and plant-based materials, like hemp, Tencel, and sugarcane.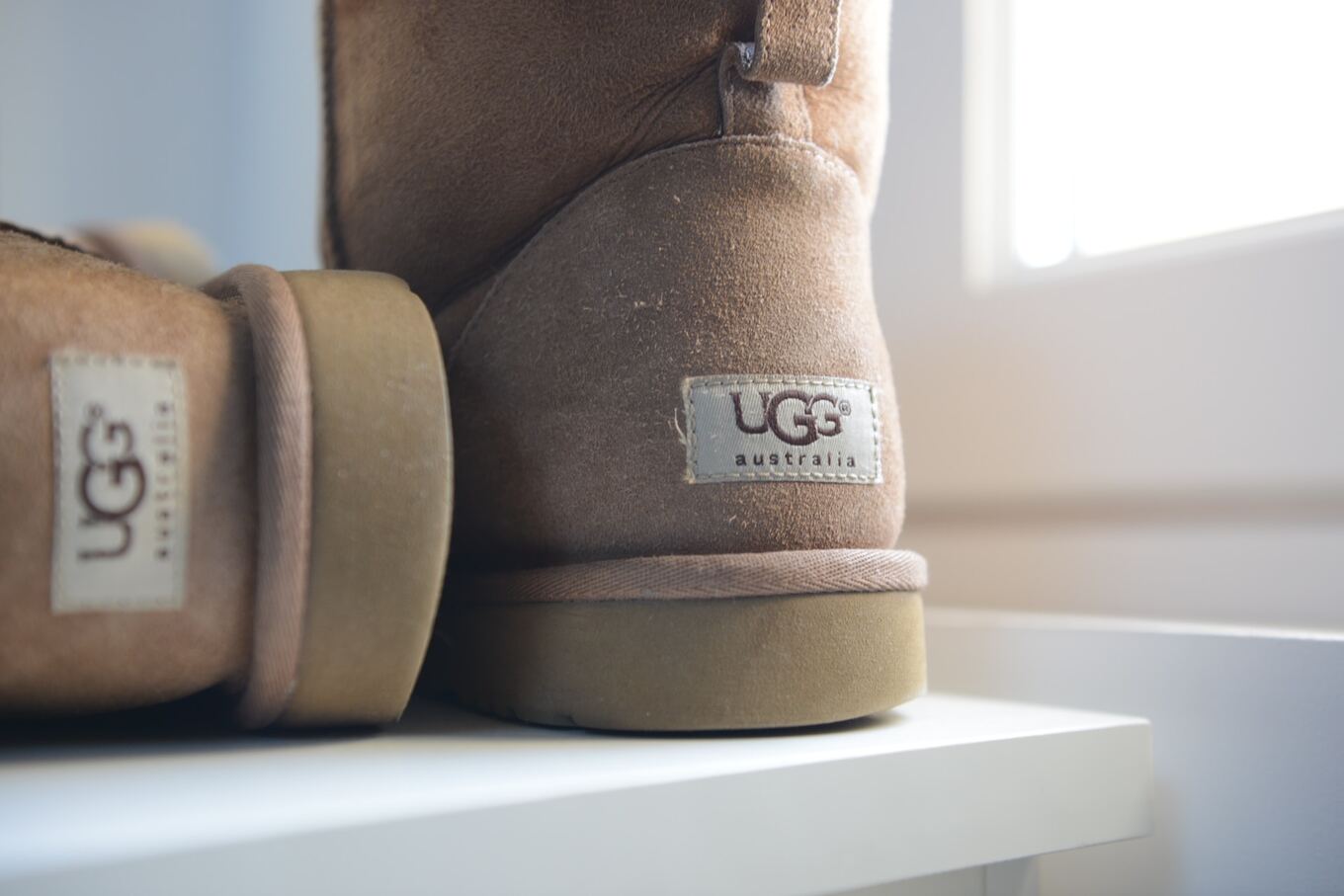 Thibaul Penin/Unsplash
At the time, the brand's president Andrea O'Donnel said Ugg had "taken inspiration" from its "iconic styles" to create new silhouettes for the line, which included sandals, platforms, and a plant-based version of its Neumel chukka boot.
Currently, none of the brand's plant-based styles look like its signature lambskin Ugg boot. But keep your eyes peeled, as Ugg has also claimed that new styles will be added to the collection over time.
Is suede vegan?
One of the key materials used to make Uggs is suede, which features on the outside of the boot. A type of soft leather, suede is not vegan, as it is sourced from the underside of a variety of animals, like goats, calves, deer, and lambs.
While Ugg claims that its animal-based materials are "sourced from animals that have been raised humanely" the truth is, around the world, around two in every three farm animals live on factory farms. Created to maximize profit, these intensive farms keep thousands of animals cramped together—with barely any opportunities to go outside or express their natural behaviors—until it is time for them to be slaughtered.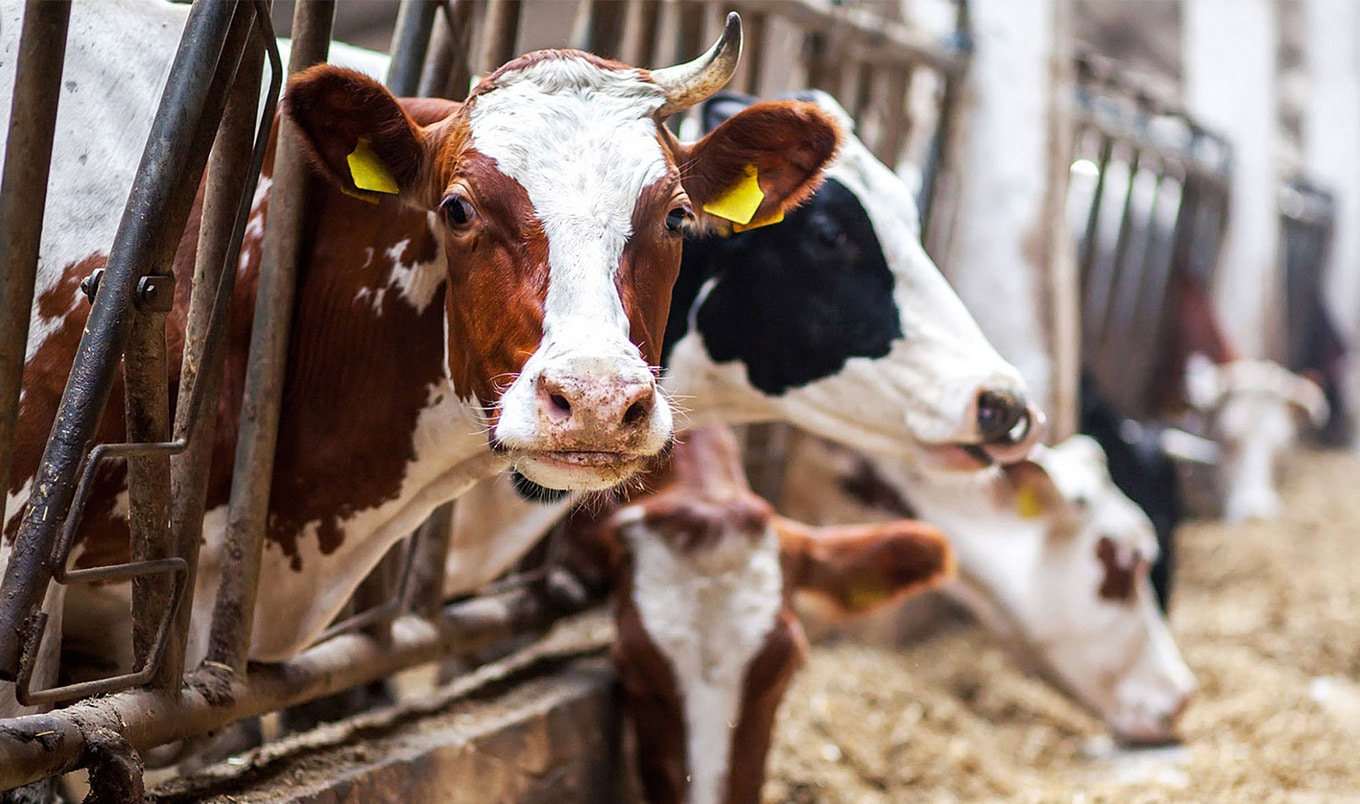 Adobe
And while many may think of materials like leather or suede as separate from the intensive meat industry, that is not the case. They are co-products of the same system and are significantly profitable materials in their own right. In fact, the global leather goods market is predicted to reach a market value of $720 billion by 2030.
Animal agriculture is not only associated with poor animal welfare, but it is also detrimental to the planet. The industry is linked to a number of major environmental issues, including water pollution and deforestation, as well as 14.5 percent of global greenhouse gas emissions.
Is wool vegan?
Wool and sheepskin are two more key components of the classic Ugg boot, and because both come from sheep, neither is vegan.
Like leather and suede, wool is a co-product of the meat industry. Because, while they may initially be bred for their wool, most sheep end up being slaughtered for food at around five to six years old.
In the past, PETA has called out Ugg for its involvement in the wool industry. But after the release of its Plant Power collection, the animal rights organization praised the brand for taking a step in the right direction.
However, it is now encouraging its followers to urge Decker Brands (the owner of Ugg) to ditch all animal products, including wool.
A letter written by PETA to the footwear corporation reads: "Sheep used for their skin and wool are often mutilated, castrated, and violently killed in plain sight of other sheep who will soon meet the same end. Please use only vegan materials, and stop using animals' skin and wool."
Vegan Uggs
Ugg may not have announced it's going vegan (yet), but that doesn't mean anyone has to miss out on wearing the iconic style. There are plenty of vegan alternatives out there for cozy, comfy, faux sheepskin boot lovers who want all of the look but without the cruelty.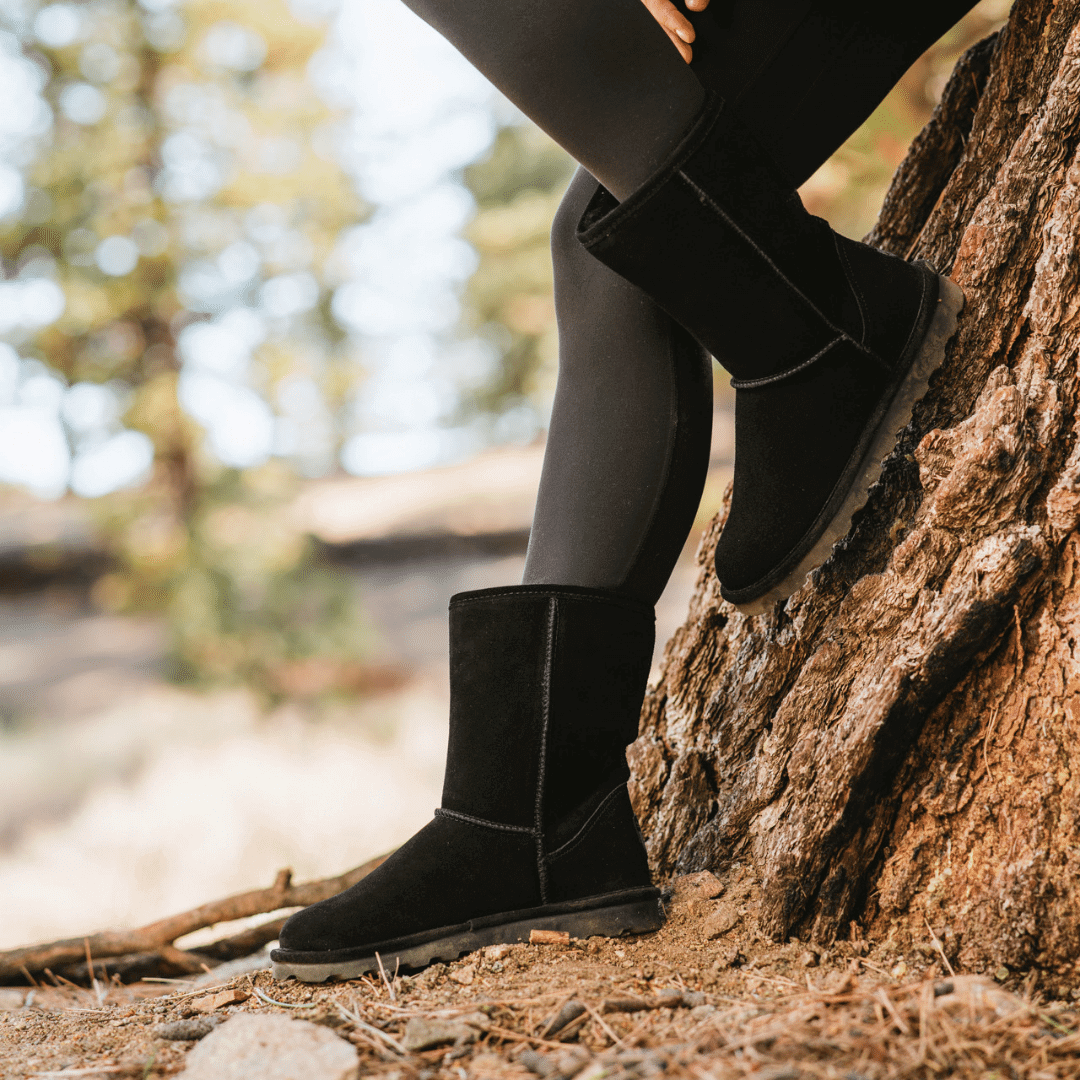 BearPaw
1 BearPaw Elle Short
For 20 years, California-based footwear brand BearPaw has been making cozy boots for men and women alike. The name was inspired by a real-life bear, who the founder, Tom Romeo, saw while sitting on a rock near Lake Tahoe back in 2001. He took the peaceful encounter as a lucky sign to follow his entrepreneurial dreams, and the signature EVA and ELLE boots were created. The initial ELLE style wasn't vegan, but this new version, which features faux microsuede, is 100-percent faux. It's just as comfy as the original, and available in three colors: Black, Charcoal, and Hickory.
Shop now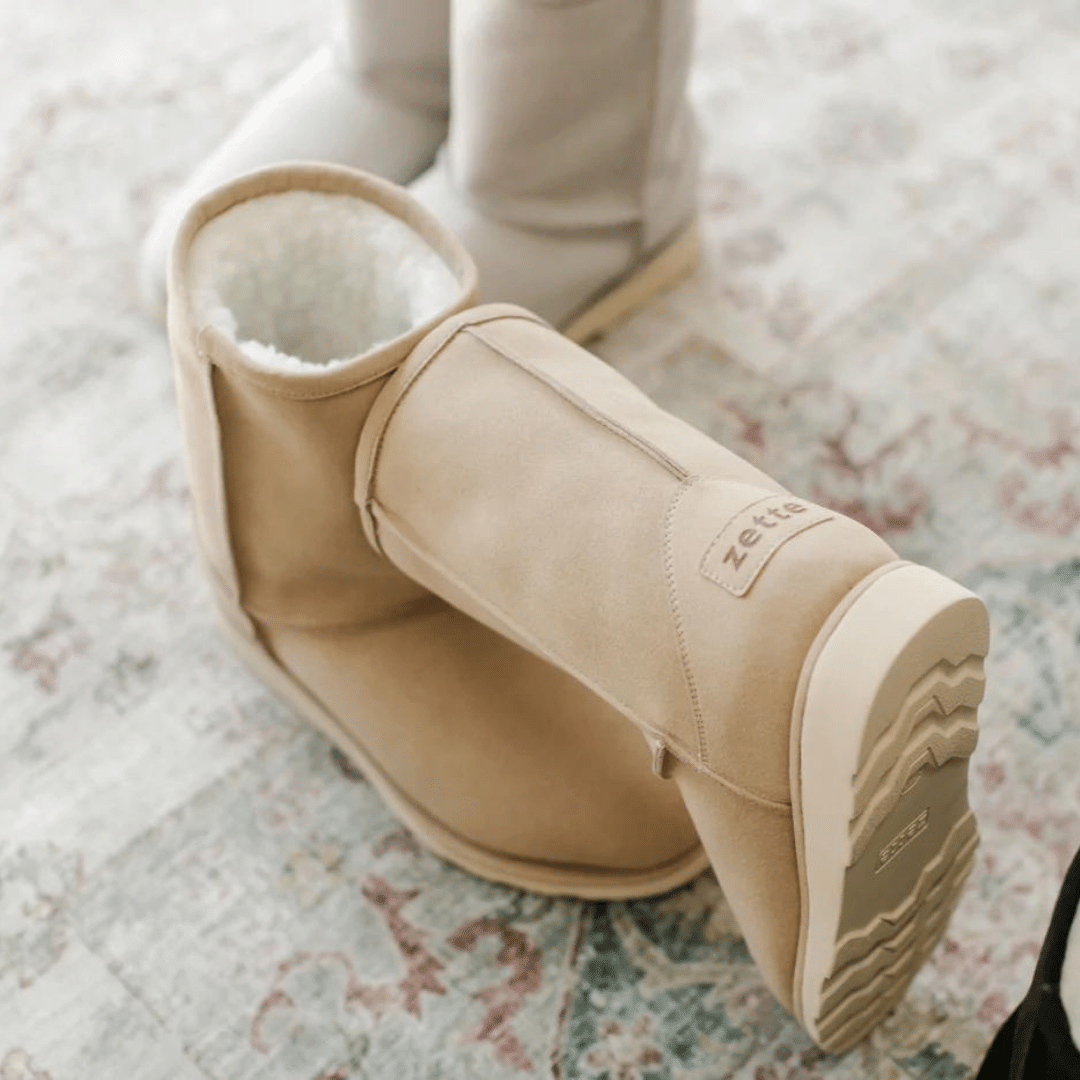 Zette
2 Zette Shoes Willow Boots
Zette Shoes only makes footwear that respects all living things, which is why its boots are 100-percent vegan and made by workers who are treated well and paid fairly. Based in Melbourne, the shoe line was created in 2014 by Vegan Style, an online store and boutique. Its cozy, warm Willow boots are made with microfiber, which is a synthetic material. However, it has been tested and certified by Oeko-Tex, a textile safety label that ensures materials do not include harmful substances.
Shop now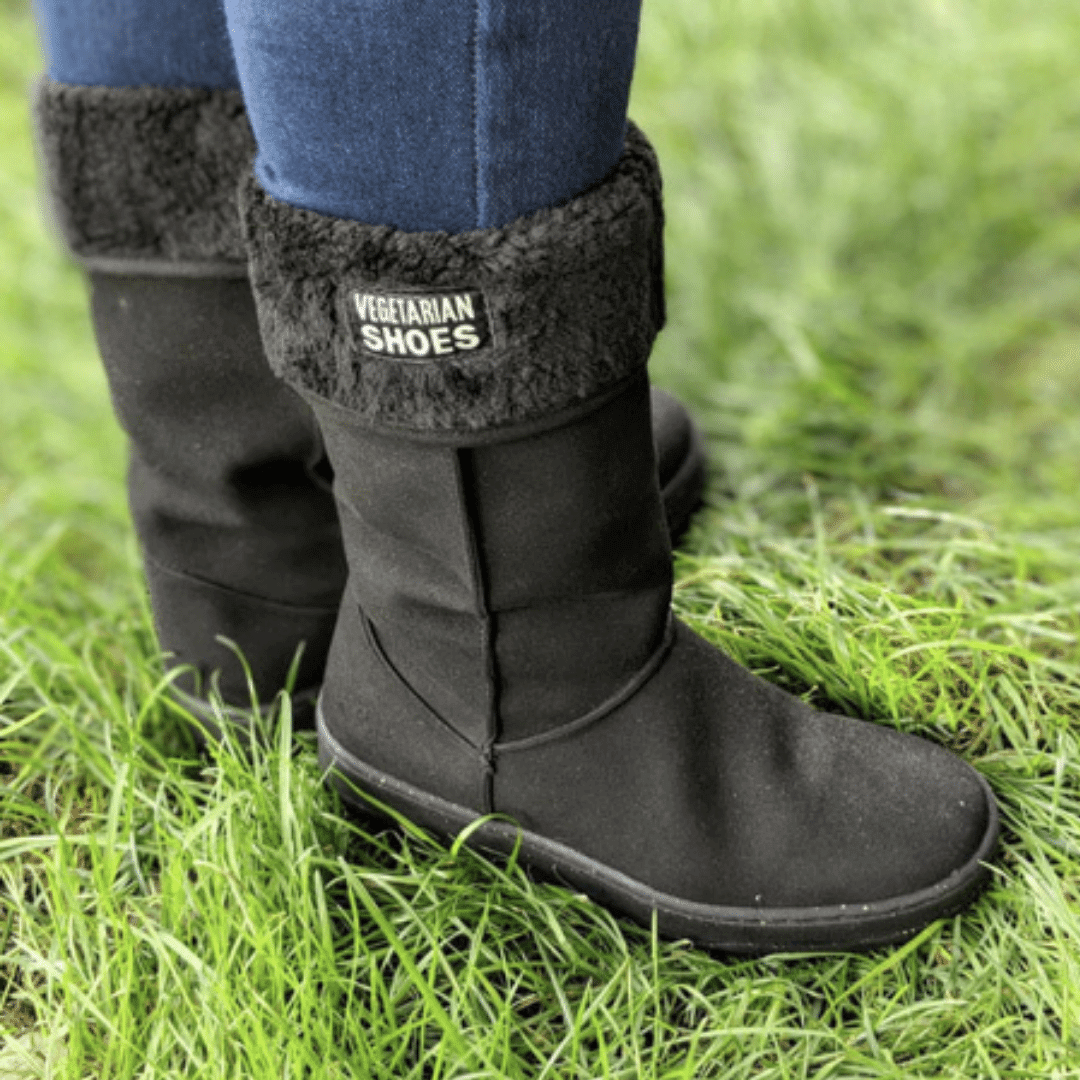 Vegetarian Shoes
3 Vegetarian Shoes Snugge Boot
Founded in the 1990s in Brighton, England, Vegetarian Shoes helped to pioneer the ethical footwear industry. Its commitment to responsible materials has earned it a solid reputation in the vegan fashion world, and now the brand ships its styles all over the world. These comfy Snugge Boots feature a sole made with rubber and cork (both renewable materials), while the rest of the boot is made with Vegetan Fake Suede. Important note: the latter is designed to be almost identical to the real thing, which means it is not waterproof. So take care on rainy days!
Shop now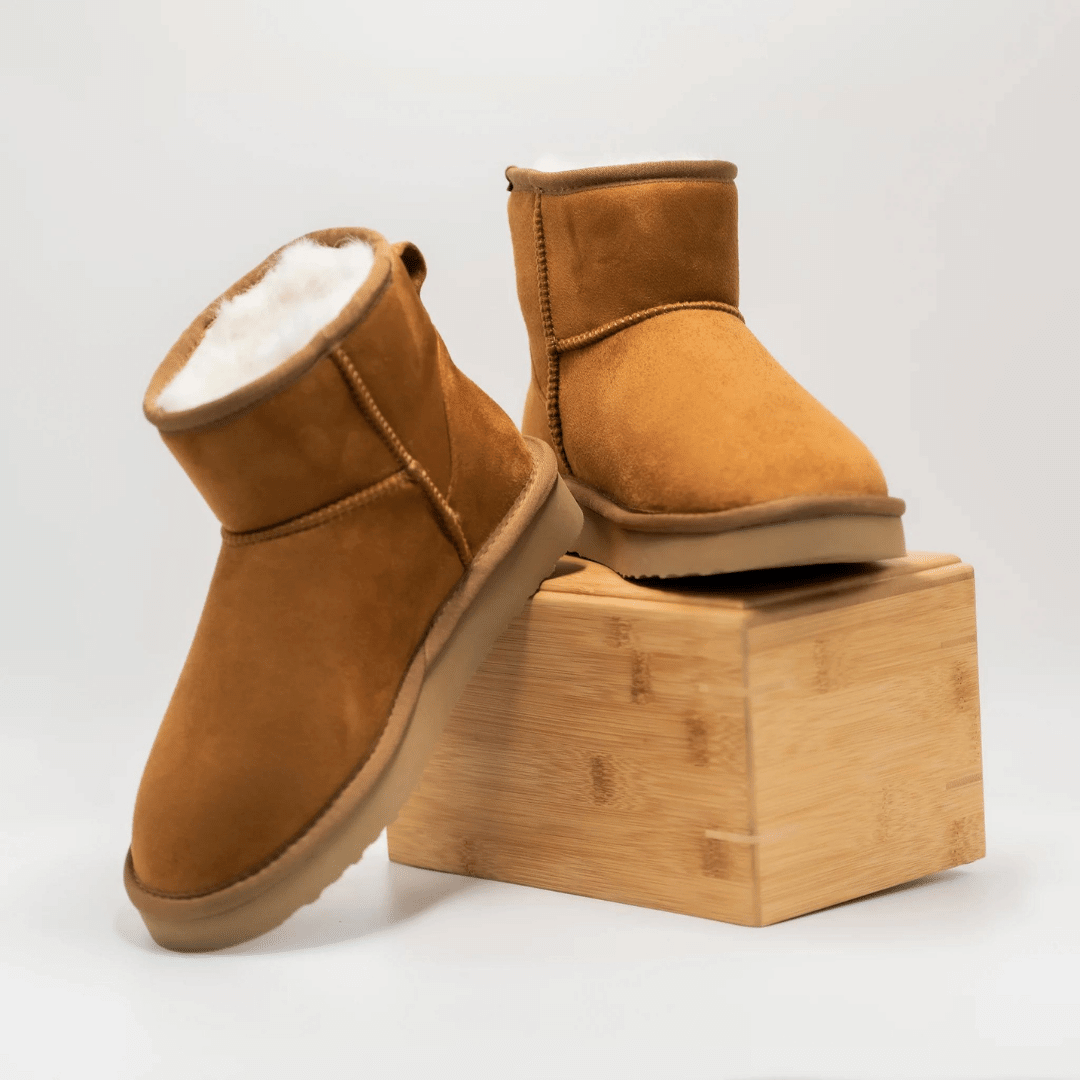 Pawj
4 Pawj Mini Boot
Animal lovers are safe with PAWJ, because it was created by one of their own: Julee Merrill. In fact, the reason she founded the brand, which is based in California, was to create more styles that didn't hurt animals. Like these cute faux suede Tan Mini Boots, the family-run brand offers a wide range of Ugg-esque styles, as well as slippers, Polar Fleece Boots, and Arctic Fleece Shoes.
Shop now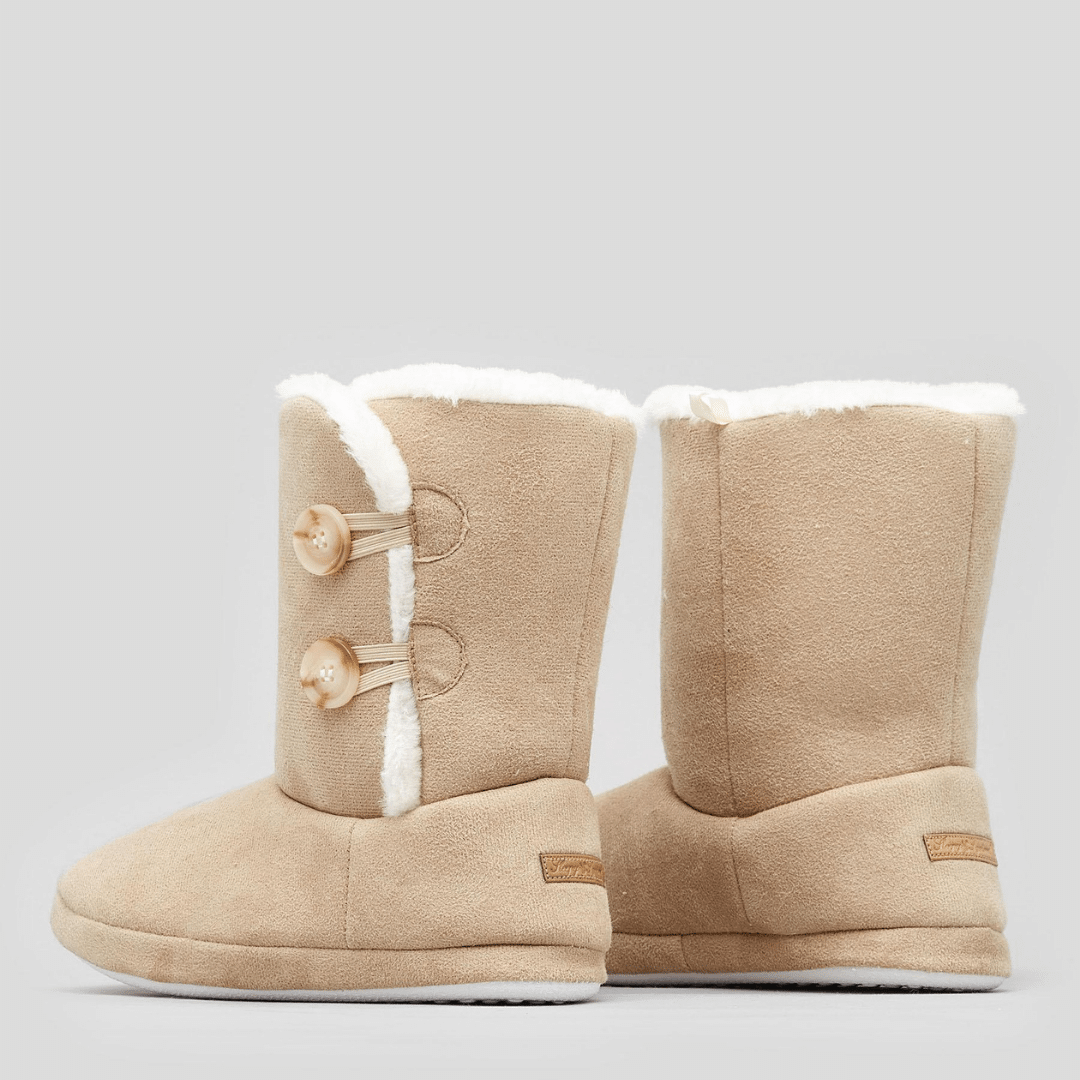 Sleepy Squirrel
5 Sleepy Squirrel Misty Slipper Boots
Australian online shop City Beach ships its wide range of brands all over the world, including Sleepy Squirrel. The brand's Ugg-inspired slipper boot collection is entirely animal-free and instead features faux suede and wool. You can opt for a sweet and cozy Misty style, or if you want something that goes higher up the leg, the brand also offers its Olympia Slipper Boots in Alabaster and Black.
Shop now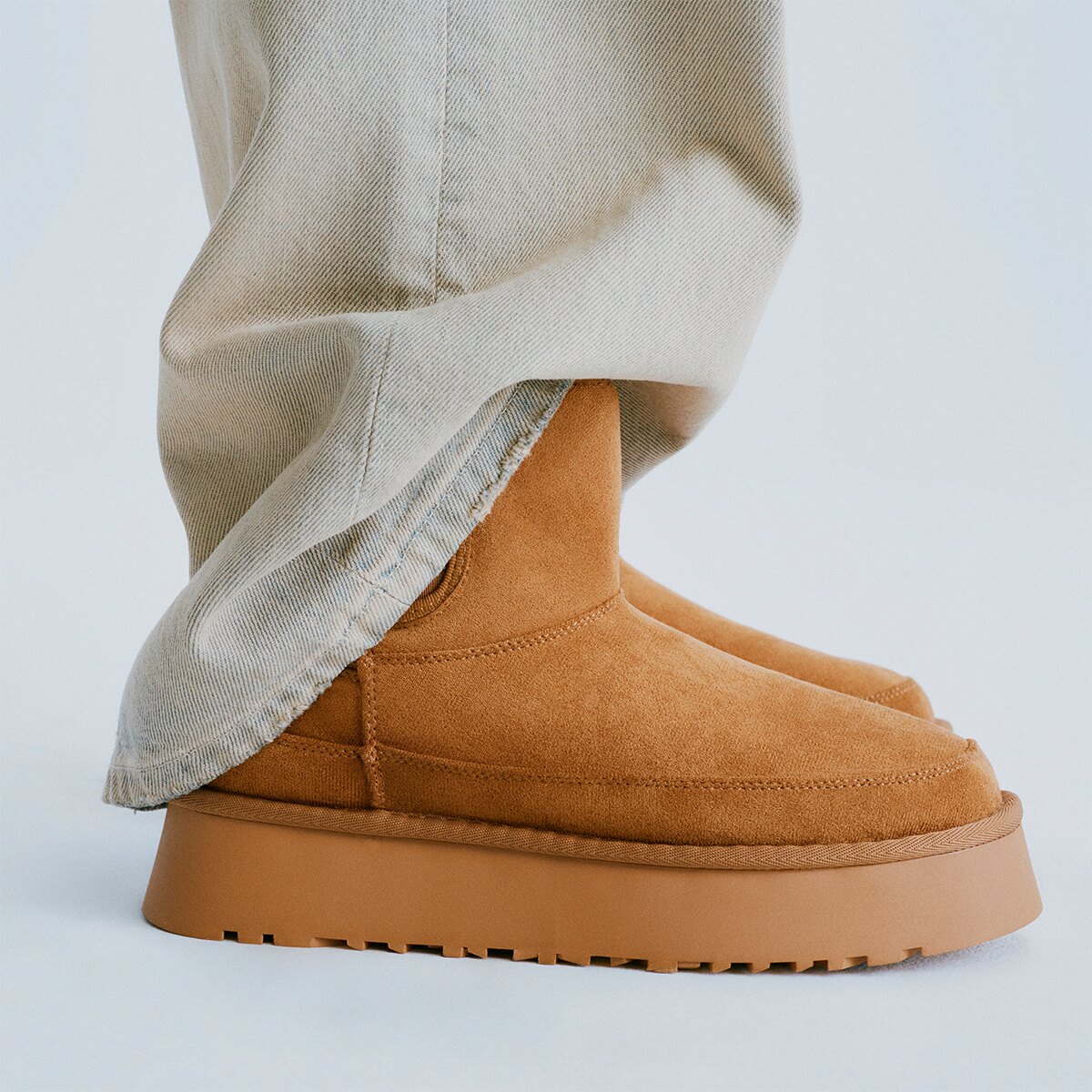 Call It Spring
6 Call It Spring Letstayin Boots
Canadian brand Call It Spring boasts PETA approval, so you can confidently browse through the 100 percent vegan catalogue. The Letstayin boot is the most Ugg-like shoe on offer. Featuring a chunky, two-inch platform, these boots feature faux fur lining, are made with 30 percent recycled materials (from mattresses!), and are waterproof. Choose between Light Beige and Black Textile Microfibre for a more authentic, Ugg-like look.
Shop now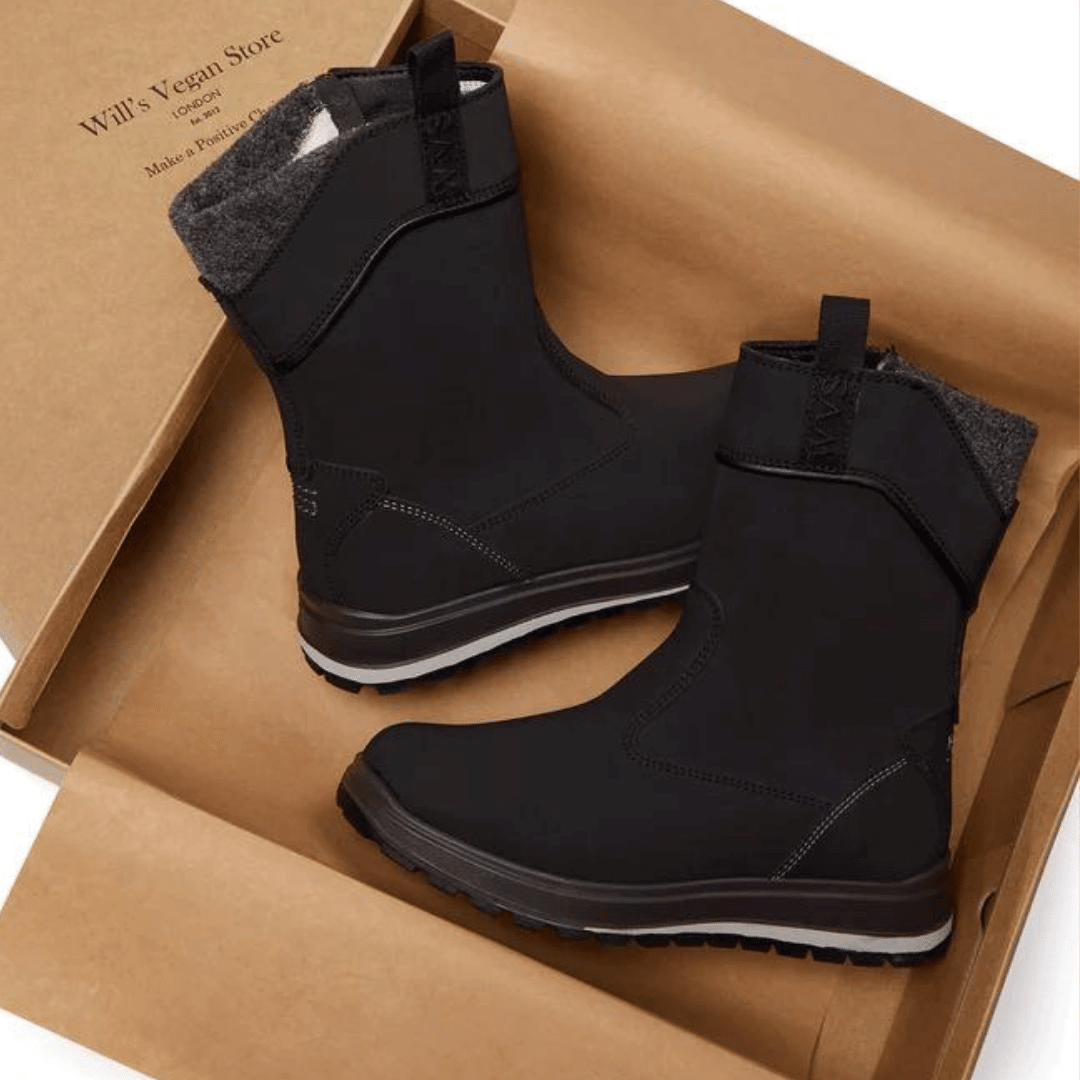 Will's Vegan Shoes
7 Will's Vegan Store WVSport Insulated Country Boots
Back in 2013, Will's Vegan Store started its journey in animal-free footwear. Since then, it has continued with its mission to make products that don't cost animals or the earth and has even received a carbon-neutral certification. The brand is committed to making durable, comfortable footwear that will last you through multiple seasons. These Insulated Country Boots, for example, offer a step up from regular Ugg boots, as they offer all the same comfort, but can also survive extreme weather, like rain and snow.
Shop now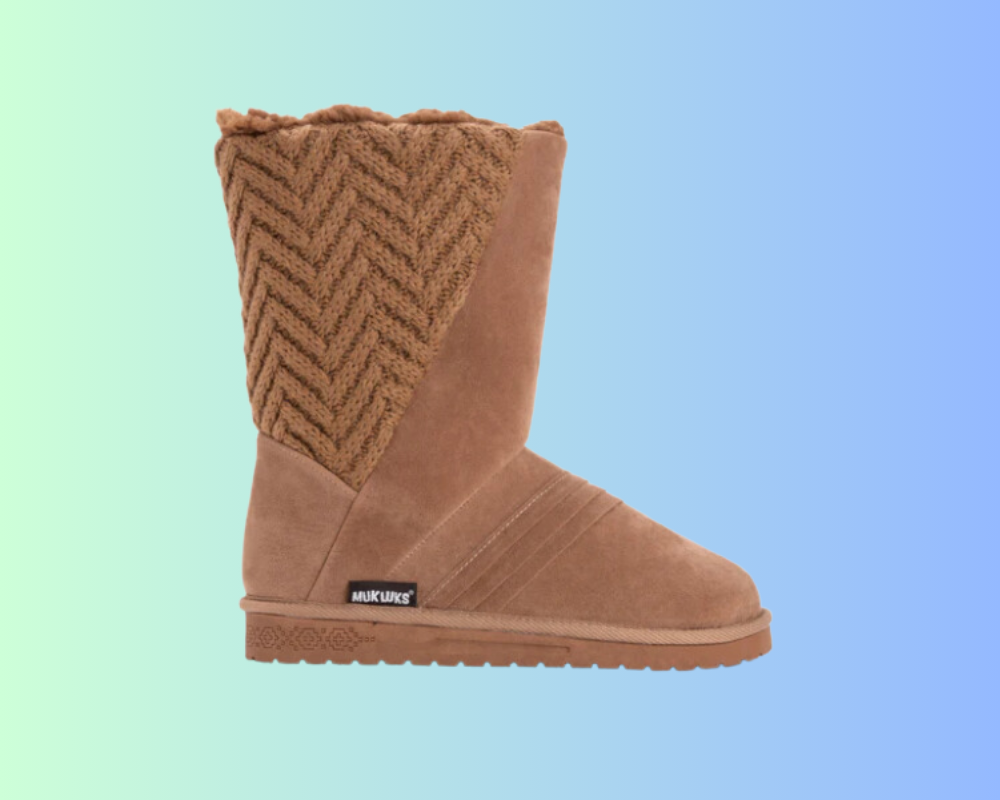 Muk Luks
8 Muk Luks Sarina Boots
Founded in 1972, Wisconsin-based brand Muk Luks offers a number of vegan shoes. The Sarina Boots, made with faux suede and faux shearling, are just one of the vegan styles on offer. These shoes are water resistant, and come in the shade Camel for look reminiscent of Uggs. When shopping Muk Luks' offerings, remember to read the product descriptions to ensure your shoes are free of animal materials.
Shop now
For more vegan fashion and footwear, read:
Here at VegNews, we live and breathe the vegan lifestyle, and only recommend products we feel make our lives amazing. Occasionally, articles may include shopping links where we might earn a small commission. In no way does this effect the editorial integrity of VegNews.