Breakfast is not the most important meal of the day. Brunch is. In Los Angeles, this laid-back, often indulgent meal can be enjoyed year-round on an outdoor patio, sipping cool Bloody Marys and hot matcha lattes. Given the VegNews editorial headquarters are in LA, we're certainly biased, but after countless late mornings spent dining al fresco, we believe this city has some of the best vegan brunch spots in the country. From casual to chic and pancakes to Benedicts, here are the best vegan brunch spots in Los Angeles.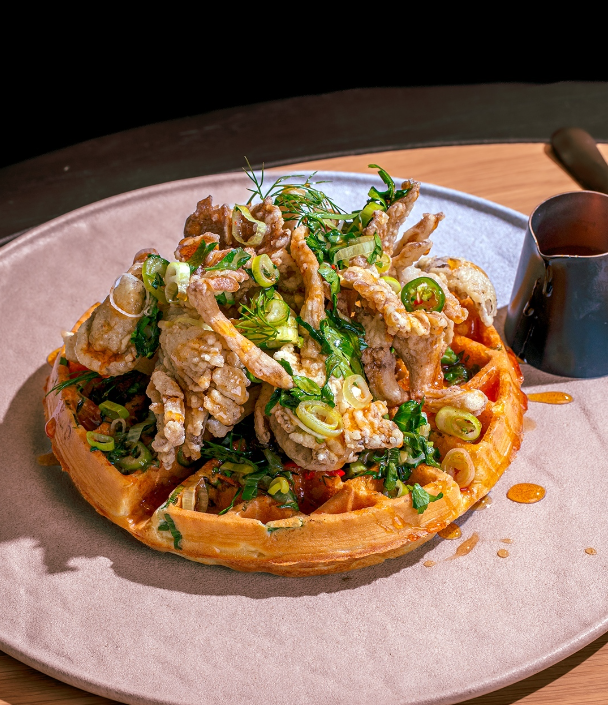 Planta
1Planta
Located next to the picturesque marina in Marina Del Rey, this stunning restaurant is one of 13 locations of the Planta family of restaurants. Sip pink-hued beetroot lattes as you dine on chilaquiles with runny yolk Yo! Eggs, omelettes with cashew crema, French Toast with cornflake granola, and blue corn waffles with candied oranges and berry compote. Coming with a group? Make a day of it and sip on endless mimosas and sake sangria until the wee hours of the afternoon.
Find out more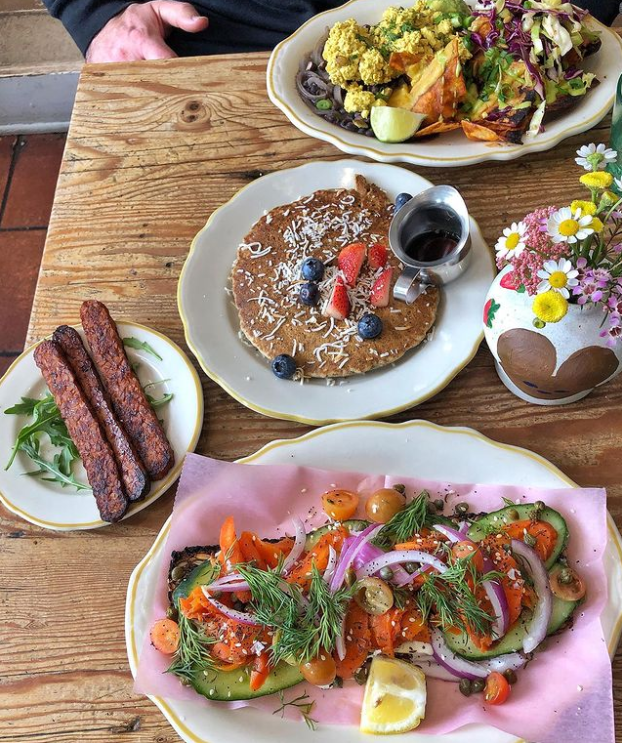 @forkinplants
2
Kitchen Mouse
This charming Highland Park eatery is replete with trailing vines of colorful potted plants, a collection of hot sauces to drizzle on your plates of breakfast tacos and scrambles, dog-friendly outdoor tables, and eclectic art. The vegetarian (and mostly vegan) restaurant is open for breakfast and lunch all week, offering everything from vegan-friendly chilaquiles to breakfast sandwiches and snickerdoodle pancakes (a can't miss! Trust us, order one for the table.) Pair that with a soy cafe au lait and you're set for a perfectly cheerful morning. Take a quick stroll around the corner to check out the eatery's newer vegan bakery and sandwich spot.
Find out more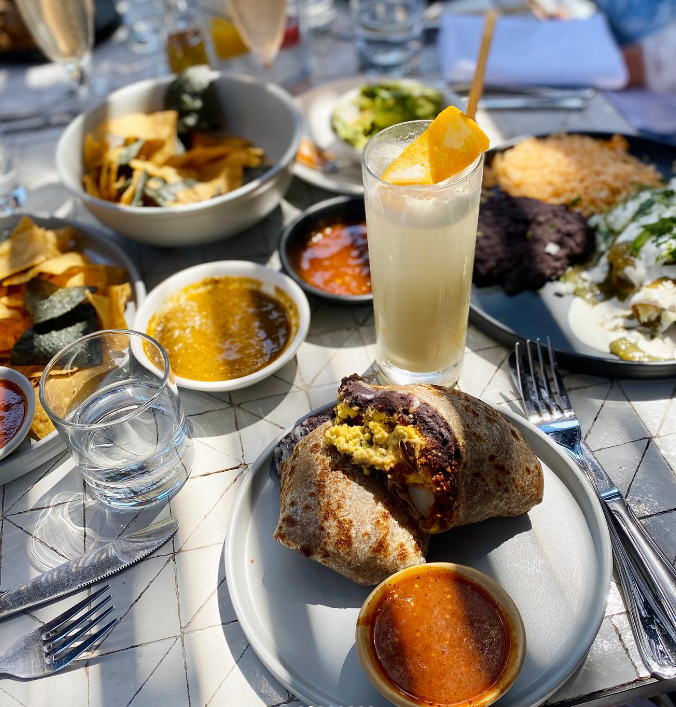 @melsfoodieventures
3
Gracias Madre
The atmosphere at this upscale vegan Mexican restaurant is the perfect combo of relaxed and refined. Whether you're seated indoors or outside on the open patio, you're bound to feel like a VIP. You'll likely see a few bonafide celebrities, too; Gracias Madre is a Hollywood hotspot for those in show business. Not to be outdone by the ambiance, the food and beverage program here is on point. We highly recommend splurging on a brunch cocktail—this place is known for its libations. Enjoy with platters of housemade crepes topped with strawberries, chocolate hazelnut spread, and whipped coconut cream or housemade frittatas with zucchini, jalapeno, cashew mozzarella, chipotle salsa, and black beans.
Find out more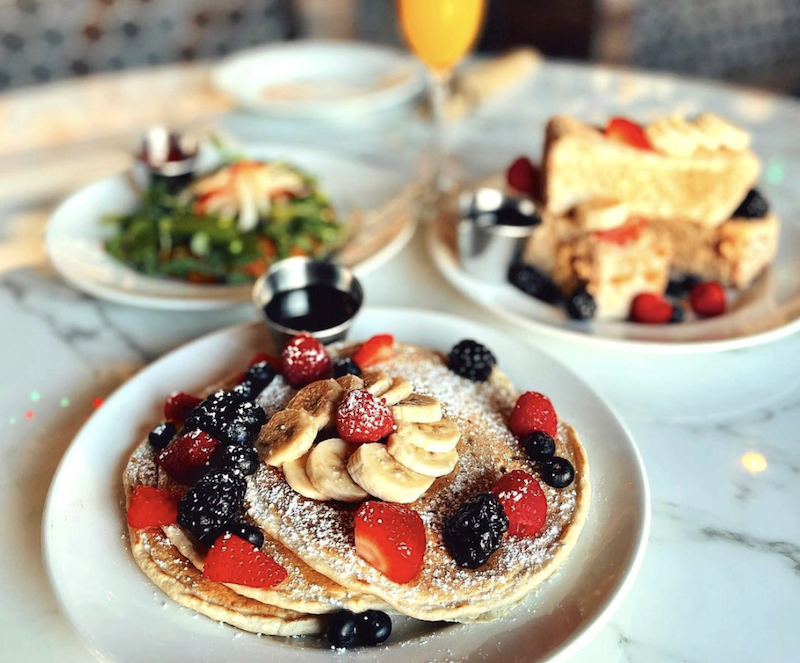 Sarah McLaughlin
4
Margo's
Brunch on a Tuesday? You can at Margo's. This Santa Monica spot considers brunch a daily affair, offering breakfast pizzas and pancakes from 9am to 3pm, seven days a week. Like Gracias Madre, Margo's is known for its cocktails, from Peach Bellinis to Espresso Martinis. Drink in hand, dive into the Jumbo French Toast Sticks, Frittata Espinola, or the incredible Breakfast Pizza (also available gluten-free). For something sweet, stroll by Erin McKenna's Bakery on your way to the beach (it's just one block down and across the street). The vegan and gluten-free bakery makes some of the best allergen-friendly doughnuts, sweet breads, and crumble cakes this side of the 405.
Find out more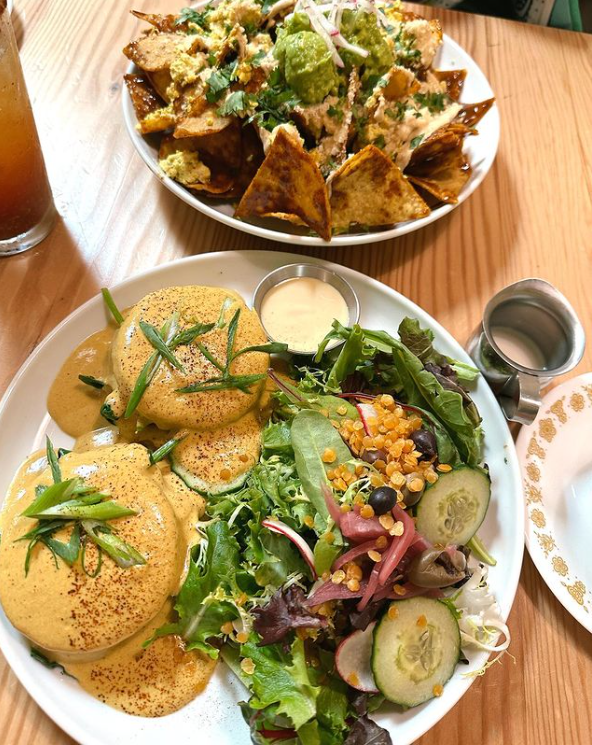 @theveganview
5
Seabirds Kitchen
With locations in both the tree-lined Los Feliz neighborhood of Los Angeles and it's first location in Long Beach, Seabirds Kitchen's vegan brunch is not to be missed. The breezy restaurant delivers outstanding eats, complete with over-the-top Birdy Marys and truly unique dishes. Our tip is to dine with a crowd and try everything, literally. If you're dining solo, get the Biscuit Bomb, no questions asked. It comes with seasoned breakfast tofu, maple-fennel tempeh, baby spinach, an aji yolk sauce, and a sweet maple drizzle on a rosemary cheddar biscuit.
Find out more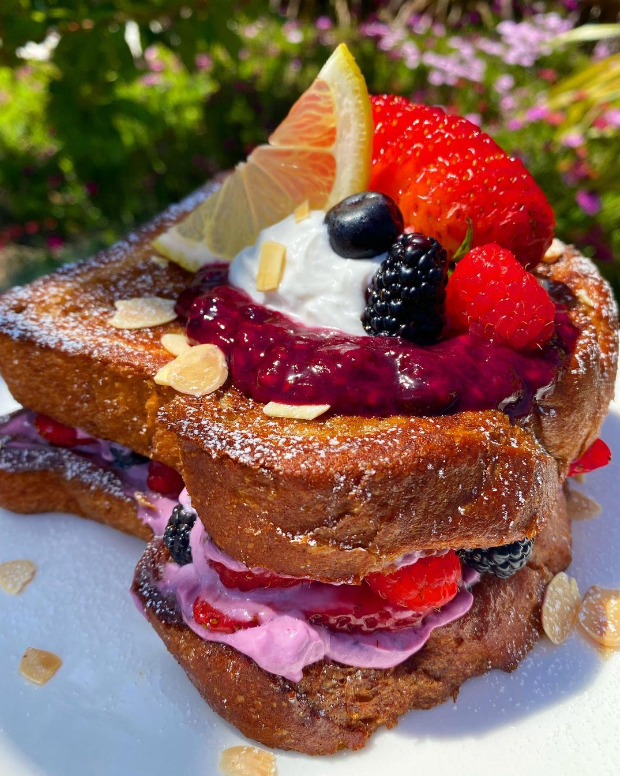 The WIld Chive
6
The Wild Chive
Located in Long Beach—about a half-hour south of Los Angeles proper—this daytime eatery still resides in Los Angeles County. What began as a pop-up, The Wild Chive's decadent menu has earned itself a prime corner spot on a busy street in Long Beach, just a short jaunt from the ocean. When dining here, it's best to go big. Try the Chick'n & French Toast, made with thick slices of caramelized, powdered sugar-dusted potato bread, crispy beer-battered vegan fried Chick'n, and served with country gravy and maple syrup. The Monte Cristo and Grilled Burrizo are two other excellent choices. A nap after a trip to The Wild Chive is certainly valid.
Find out more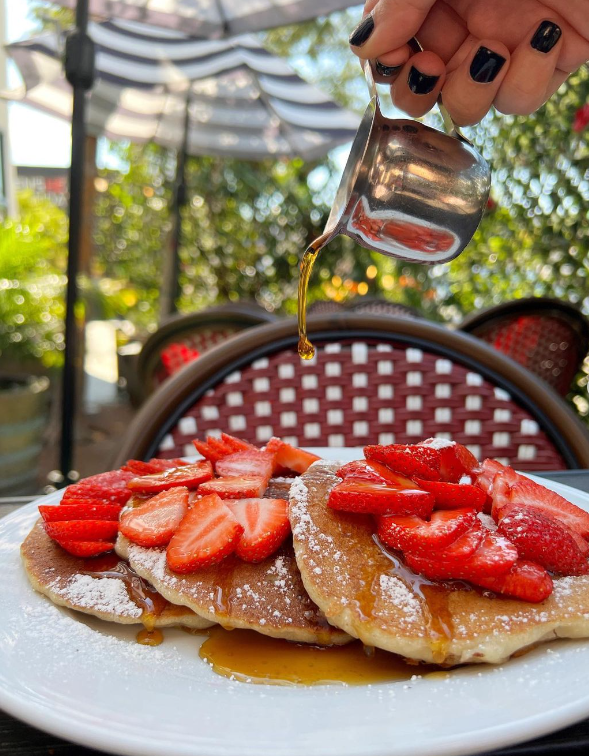 Pura Vita
7
Pura Vita
When you think "Italian restaurant and wine bar," "great brunch" doesn't typically come to mind. However, this West Hollywood and Redondo Beach restaurant knows how to flex its range by way of delivering a brunch menu just as stellar as its evening menu. The morning items are infused with an Italian touch, from the Almond Ricotta Pancakes to the Aurora Breakfast Pizza. Those with a serious appetite should look at the Buongiorno Calzone—an everything bagel-seasoned monstrosity of dough stuffed with housemade ricotta and mozzarella, tofu scramble, roasted red peppers and potatoes, caramelized onions, and jalapeños, all drizzled with cilantro cream.
Find out more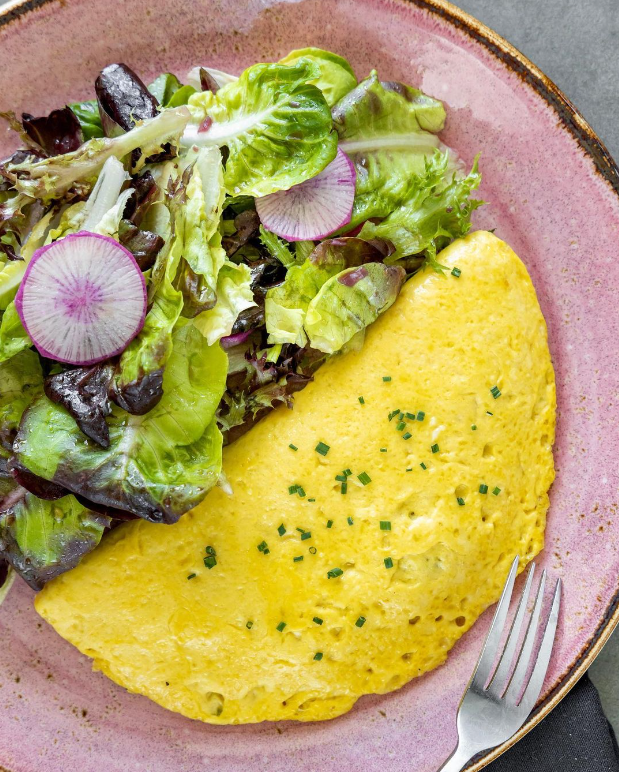 Nics on Beverly
8Nic's on Beverly
Sprouted from the same music executive-turned-restaurateur, Nic Adler, Nic's on Beverly is a cool mixed space venue with a bold brunch menu. The options lean heavily toward savory, including a selection of vegan egg dishes, breakfast sandwiches, and combination plates. The restaurant's signature Detroit-style pizzas are also available during weekend brunch hours. Just want a waffle? They have that, too, albeit slathered in vanilla cream, berries, slivered Marcona almonds, and blueberry maple syrup.
Find out more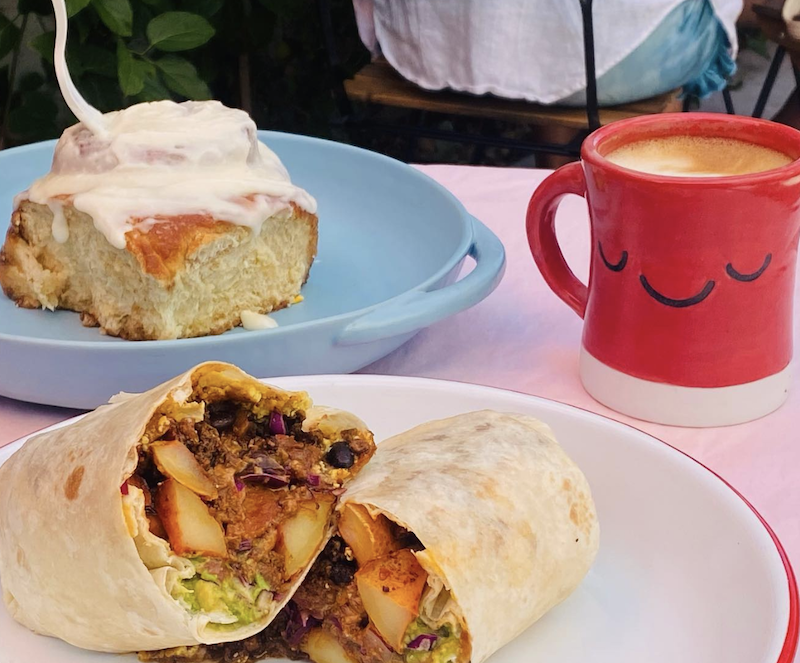 Just What I Kneaded
9Just What I Kneaded
Don't tell Just What I Kneaded founder Justine Hernandez to stay in her lane—she'll create a Pop-Tart after you, shaming your unsolicited advice by way of sweet pastry glaze. Yes, this Frogtown bakery is known for its sweets (including those political Pop-Tarts), but it does so much more. In addition to cinnamon rolls, danishes, and giant cookies, this café offers a full savory menu of thick bagel sandwiches, stuffed breakfast burritos, and flavorful frittatas along with a robust espresso program. There's a good amount of seating outside, so fill your pink pastry box before the goodies run out then linger a while over a soy milk latte and herbed biscuit sammie.
Find out more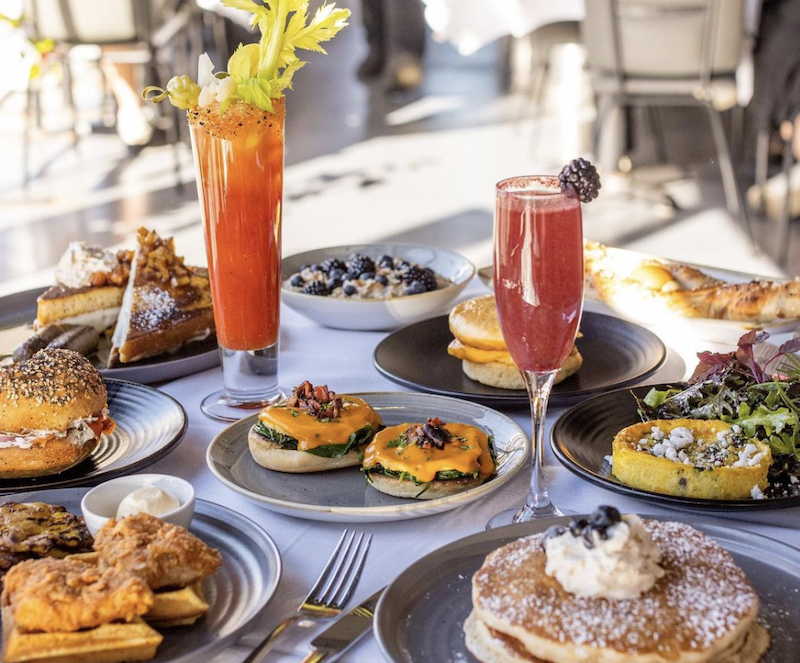 Crossroads Kitchen
10Crossroads Kitchen
Chef Tal Ronen is heralded for bringing the white tablecloth to the LA vegan dining scene. Known for its swanky dinner menu and celebrity clientele, Crossroads brings that same chef mentality to its brunch menu. Try the items made with Impossible meat (did you know that the Impossible sausage we know and love was crafted in Crossroads' kitchen?) or try chef-created plates such as the Khachapuri—a traditional Georgian pastry stuffed with cheese and egg, reincarnated in a vegan kitchen. The Janns Bagel and Stuffed French Toast are also solid choices.
Find out more
Sage
11 Sage Vegan Bistro
With three locations in Echo Park, Pasadena, and Culver City, this popular chain has been a go-to for hungry Los Angelenos since 2011 and was backed by longtime vegan Woody Harrelson at opening. The huge and expansive menu is super kid-friendly and filled with delicious brunch dishes like wild blueberry pancakes, tempeh sausage florentine, coconut-chia granola-coated French Toast, and loaded nachos topped with tofu scramble and hash browns.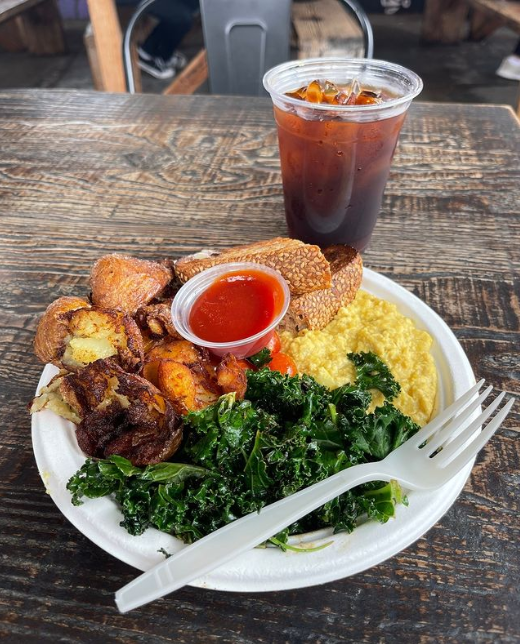 Sarah McLaughlin
12 Spoke Bicycle Cafe
Located on the bustling bike path along the LA River in the Frogtown neighborhood, this popular outdoor eatery doubles as a community hub, hosting live shows, a bike repair shop, and local flea market crawls … all while serving a very vegan-friendly meal. Go for the tofu scramble plate complete with buttered locally baked bread, crispy potatoes, and blistered tomatoes, or opt for the Breakfast Bun where seasoned tofu scramble is nestled onto a griddled soft bun.
For more on vegan California hot spots, read: