It's a real bummer when you're stuck eating carrot sticks and hummus while constantly seeing images of vegan peanut butter cups and solid dark chocolate Halloween skulls. If you're avoiding sugary treats and foods, don't fret … there is what we like to call the "in-between treat." It's when we crave that dopamine response from something sweet or salty but also want to keep our overall health in check. Here are 14 vegan Halloween snacks for that glorious, one-hundred-percent satisfying in-between treat.
Is Halloween candy vegan?
Like many products, the answer is some but not all traditional Halloween candy is vegan. We have a comprehensive list of vegan candy here, but there are a few general rules of thumb that can help you decipher a candy without flipping it over to read the tiny print ingredient list.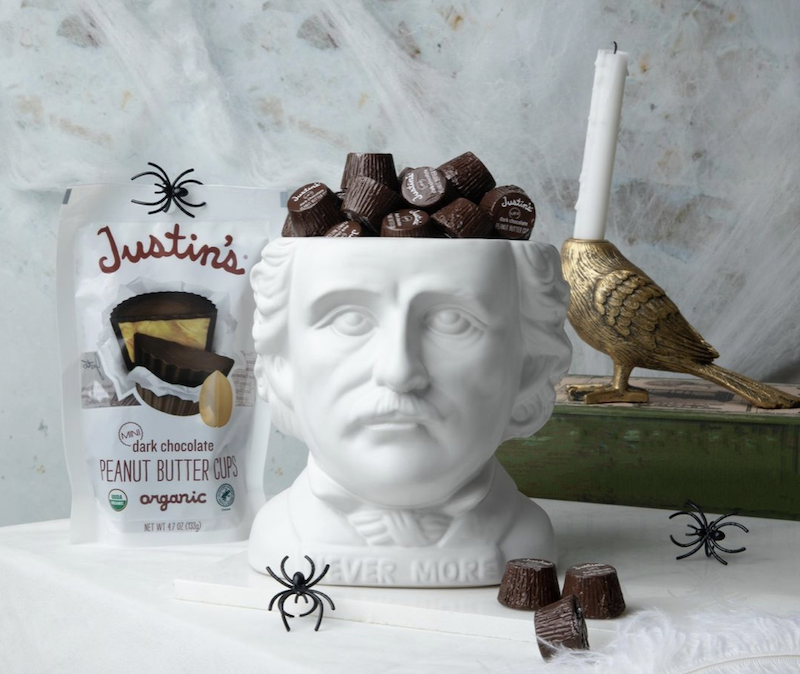 Justin's
The classic fun-sized chocolate-based candies are mournfully not vegan-friendly in the US at this point in time. We're being specific here, because vegan-friendly Cadbury bars are available in the UK and vegan KitKats recently launched across 15 European countries. So, perhaps one day it won't be the case, but your much-beloved American KitKats, Snickers, Reeses, M&Ms, and other chocolate confections contain dairy and sometimes egg.
Fruit-flavored candies are slightly more accommodating. Lollipops (not Tootsie Pops), Skittles, Airheads, and Pez, among others, are free of animal ingredients. Gummy candies are typically not vegan or vegetarian friendly, as they often are made with gelatin.
What's left? Vegan versions of classic candies. There is a store-bought vegan version of nearly every kind of candy you can crave, with the exception of candy corn and Circus Peanuts (sorry Circus Peanuts lovers, the demand just isn't there). Some are listed below, and others you can find in our comprehensive guide to vegan candy linked above.
Is vegan Halloween candy healthy?
Like animal-based candies, the vast majority of vegan candy isn't healthy in regards to its nutrient quality. Candy generally contains high amounts of added sugar and calories while contributing very little in regards to nutrients. This calorie-dense, nutrient-poor ratio broadly classifies a food as unhealthy, or at least not healthful.
However, there is a middle ground between crunching on an apple and telling yourself "it's nature's candy!" and polishing off a full-sized bag of Skittles. The vegan candies listed below are lower in sugar, provide more nutrients, and are generally less processed than the standard, mass-produced candy most of us have come to love. They're still a treat, but when enjoyed in moderation (or even a bit in excess—it's Halloween after all), you won't feel as wicked by indulging.
14 healthier halloween candies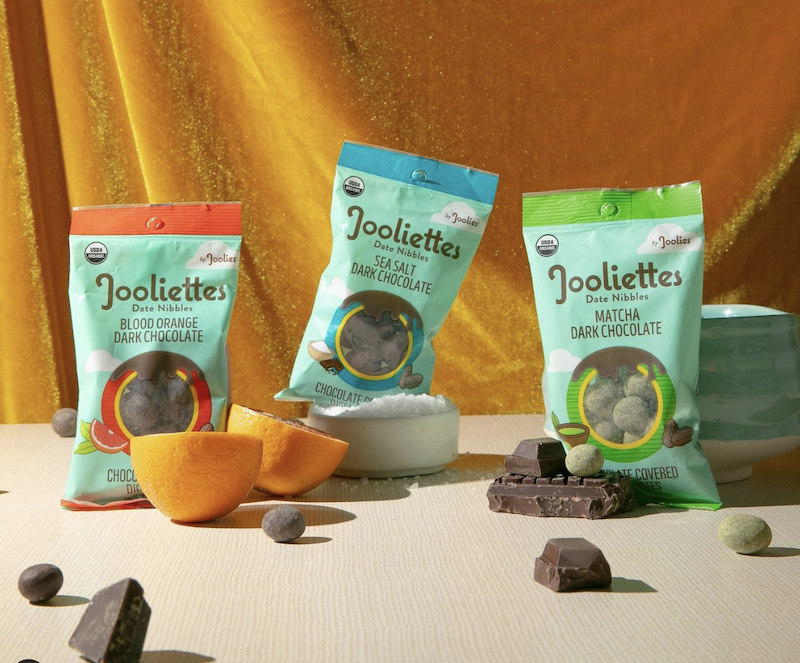 Joolies
1 Joolies
There's something magical about a good Medjool date. They're sweet, caramely, and melt-in-your-mouth good—it's amazing that something this indulgent comes from nature. Joolies offers dates by the box and in single-serve packages, but for something that feels a bit more like Halloween candy, get your hands on the Jooliettes. These snack packs are filled with date pieces coated in chocolate. Flavors include Sea Salt Dark Chocolate, Matcha Dark Chocolate, and Blood Orange Dark Chocolate.
Find out more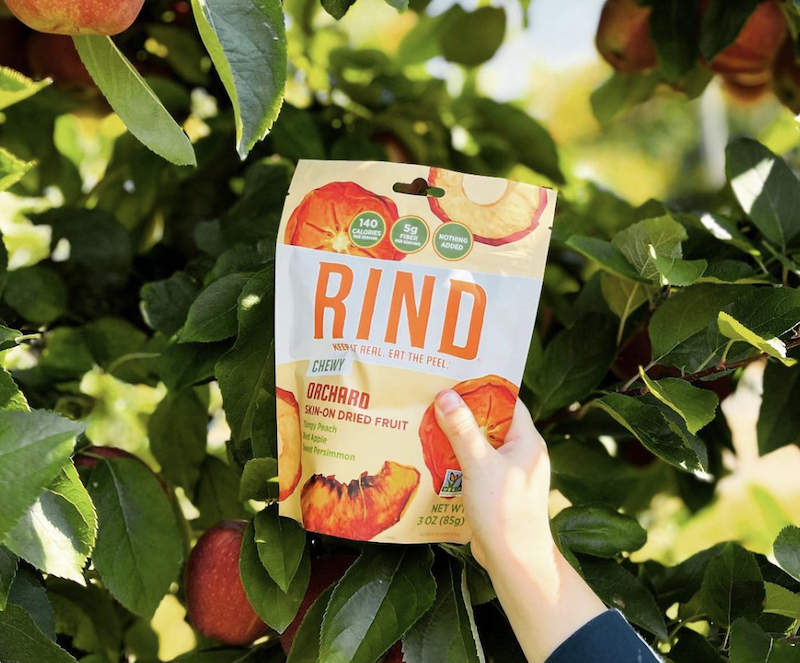 RIND
2 RIND
Fruit is nature's candy, but RIND made it just a little bit better. The brand is known for its skin-on, upcycled dried fruit chips and chewies. Try the kiwi chips for something a bit sweet and tart or the orange chips for a taste of tang. Those who gravitate to gummy candy will enjoy the chewy versions of these chips. The Island mix and Straw-Peary are two of our favorite flavors.
Find out more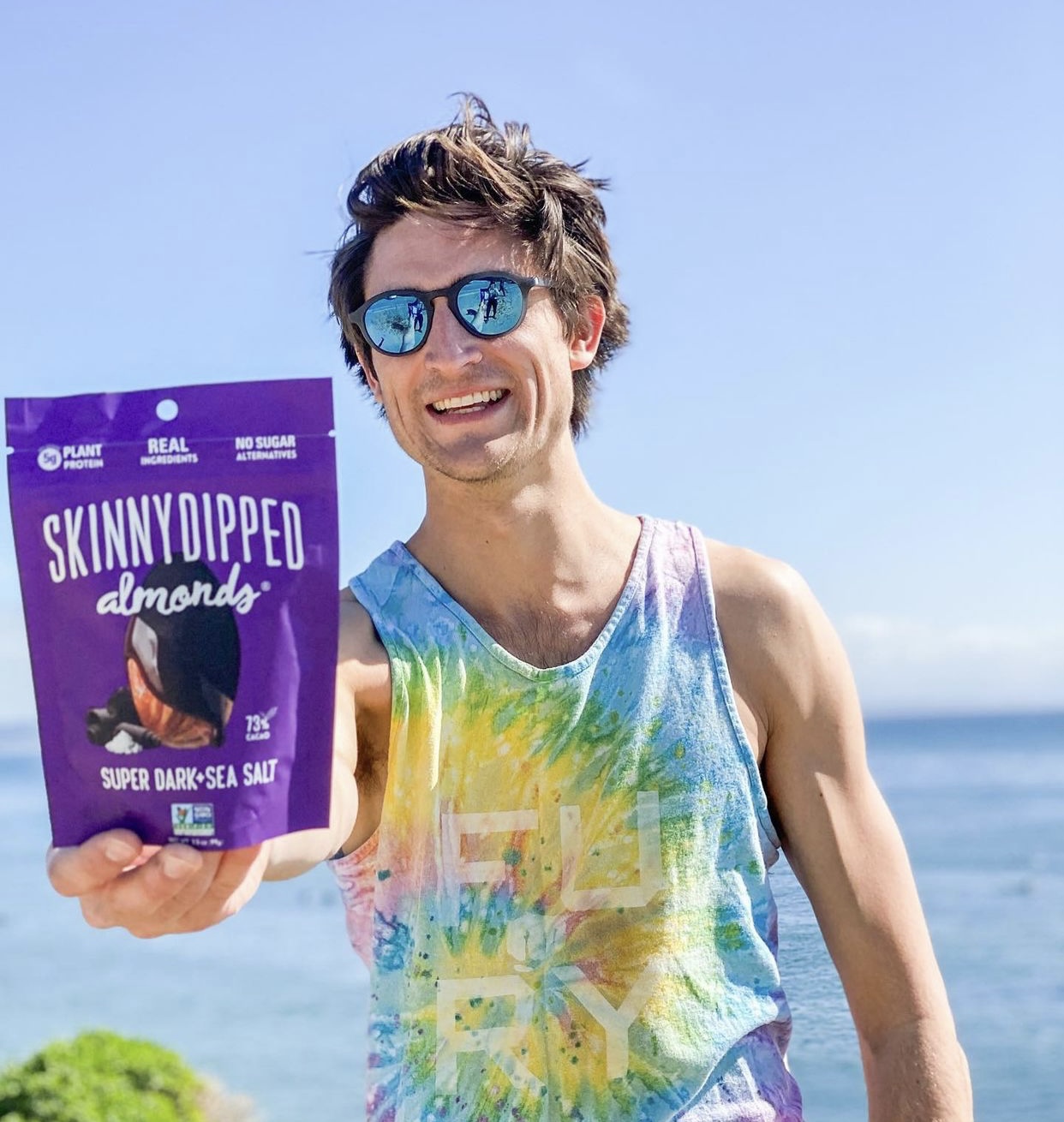 SkinnyDipped
3 SkinnyDipped
These tasty chocolate-coated cashews and almonds are a more whole-foods version of the classic nut butter cup. These satisfyingly crunchy snacks provide a true, unadulterated nutty flavor with a bit of chocolate indulgence. The Super Dark + Sea Salt mini-packs are vegan and perfect for an everyday treat. Skinny Dipped also makes low-sugar nut butter cups, but unfortunately, they contain dairy.
Find out more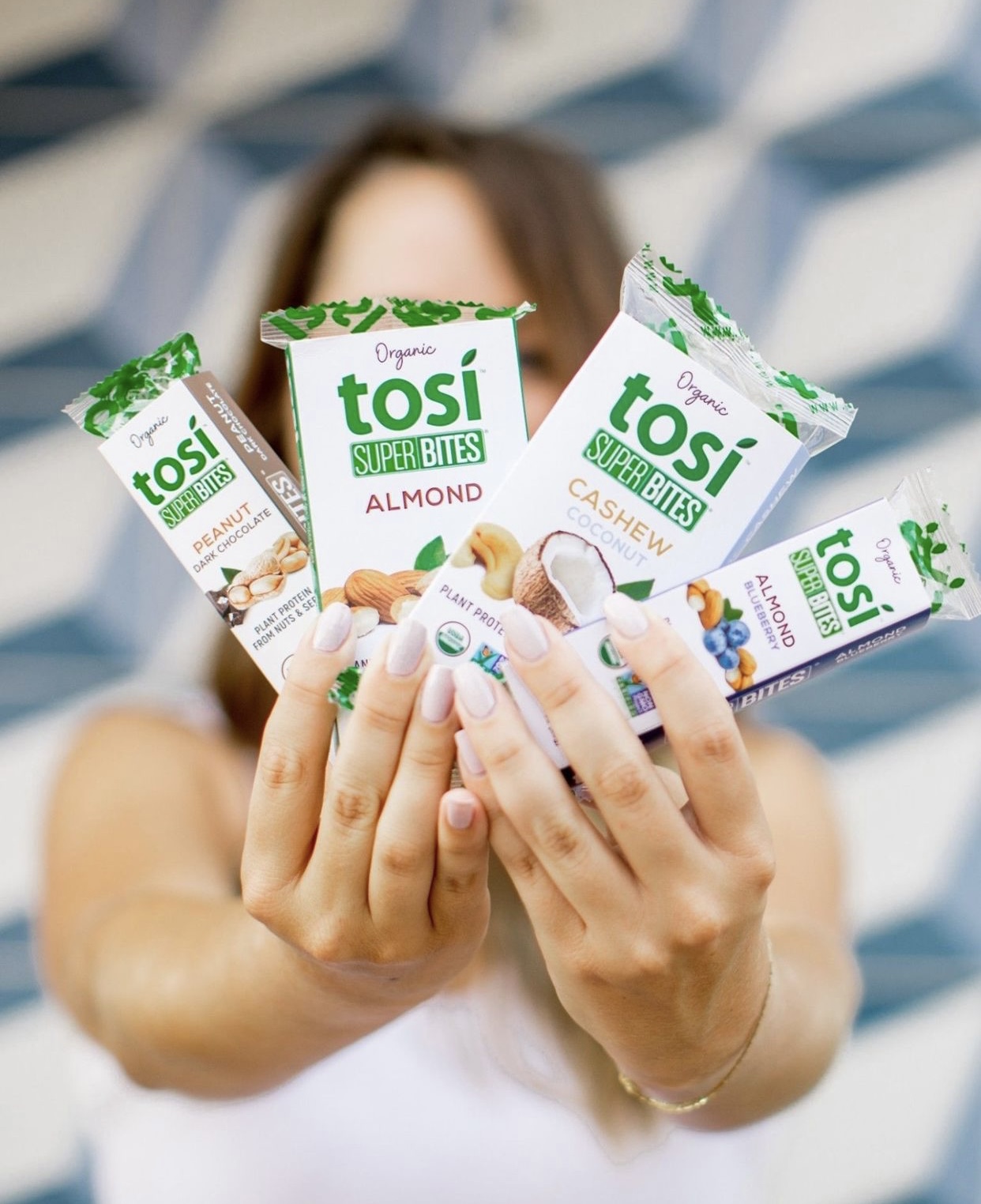 Tosi
4 Tosi
For those who crave crunch, Tosi bars will be your new favorite candy bar swap. Made simply with nuts, seeds, natural sweeteners, and sea salt, these nutty, better-for-you bars are the epitome of sweet-meets-salty goodness. The one-ounce serving is perfect for any time nibbling. Our favorite flavors include Cashew Blueberry, Cashew Coconut, PB+J, and Peanut Dark Chocolate.
Find out more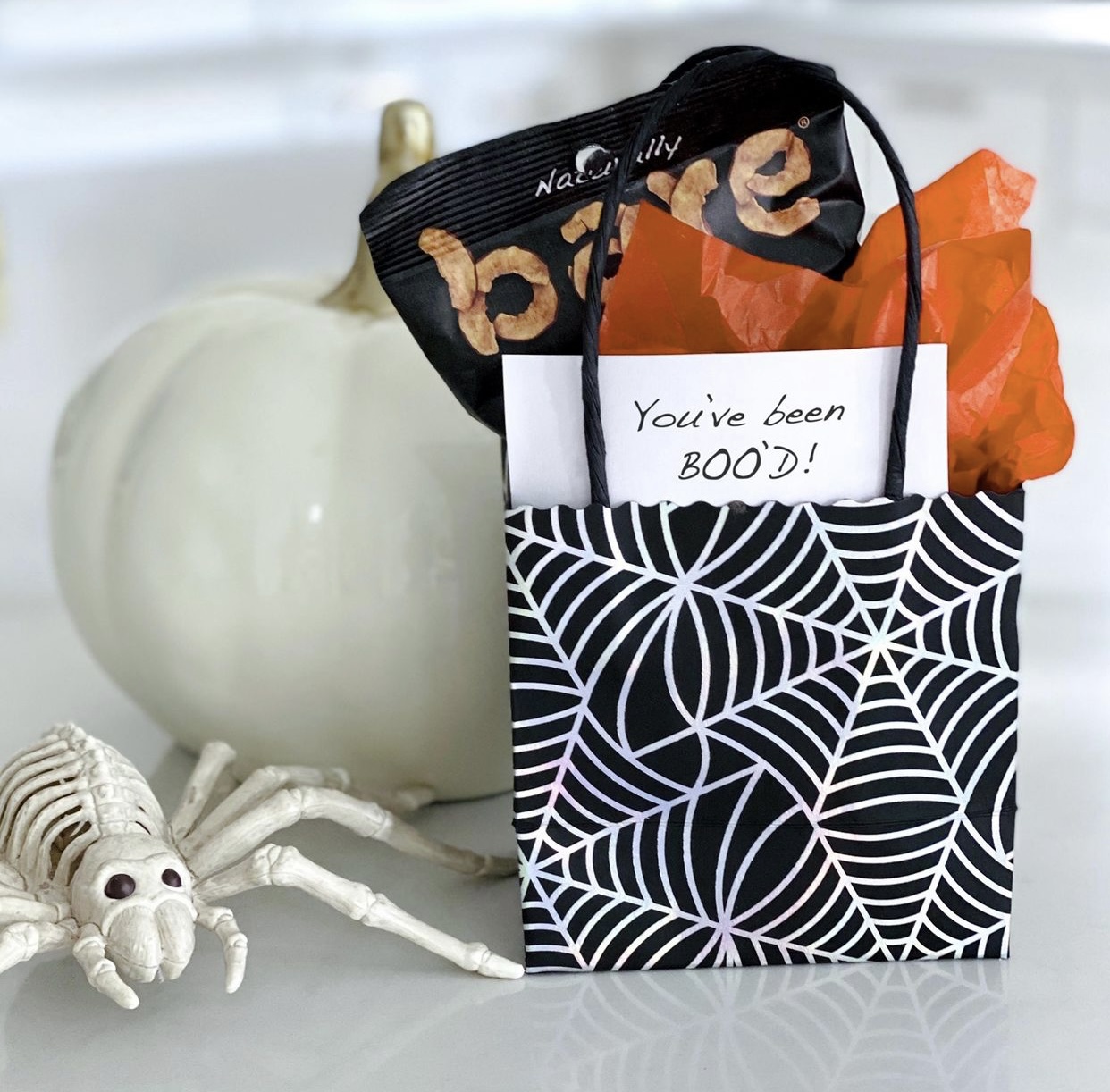 Bare Snacks
5 Bare
Fruit becomes candy when dehydrated and transformed into a crispy snack you can grab by the fistful. This natural snacking company has been around for years, but we finally realized that its spiced apple, banana, and coconut chips actually stand in for a decent Halloween treat. Flavors range from Cinnamon Apple to Strawberry Banana and Toasted Coconut to Chocolate Coconut. We love to mix and match!
Find out more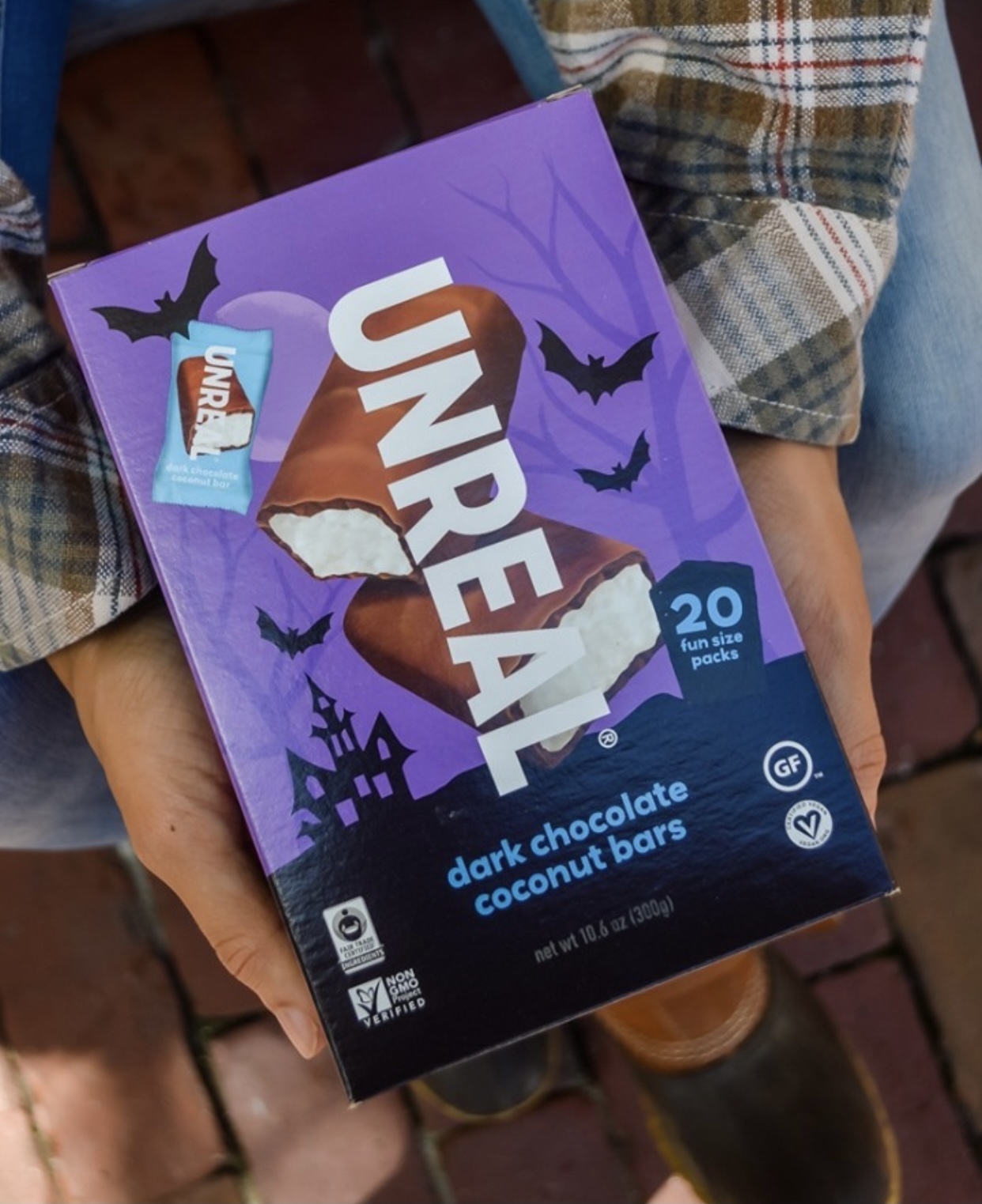 UnReal
6 UnReal
When you're craving candy and a healthier alternative simply won't do, reach for a handful of UnReal goodies. The vegan-friendly company has reformulated many of its bite-sized treats to offer a sweet option with less sugar than its candy competitors (between 36-60 percent less, depending on the variety). Vegan options include Dark Chocolate Coconut Bars, Dark Chocolate Peanut Butter Cups, and Dark Chocolate Almond Butter Cups. Note: the Dark Chocolate Peanut Gems are also vegan, but they have yet to be reworked with less sugar.
Find out more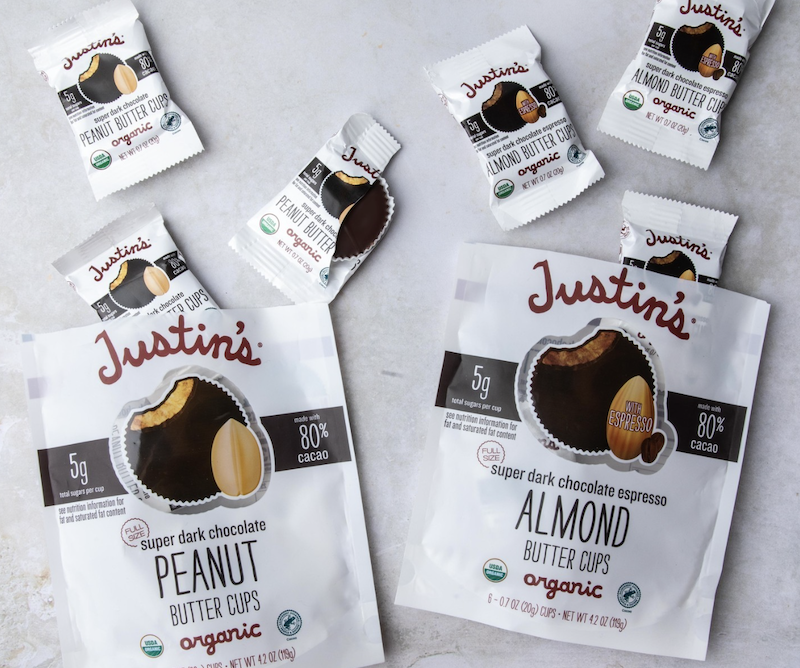 Justins
7 Justin's
We're fans of Justin's vegan peanut butter cups, but when we're looking for a lower-sugar treat, we reach for the individual nut butter packs. It's just like taking a generous spoonful out of the jar, but with built-in portion control. The Chocolate Hazelnut, Vanilla Almond, Maple Almond, and Coconut Almond satisfy that sweet tooth a bit more than the unflavored peanut and almond butter options. Still have peanut butter cups on the brain? The Super Dark line of nut butter cups naturally contain less sugar thanks to their 80 percent cacao content.
Find out more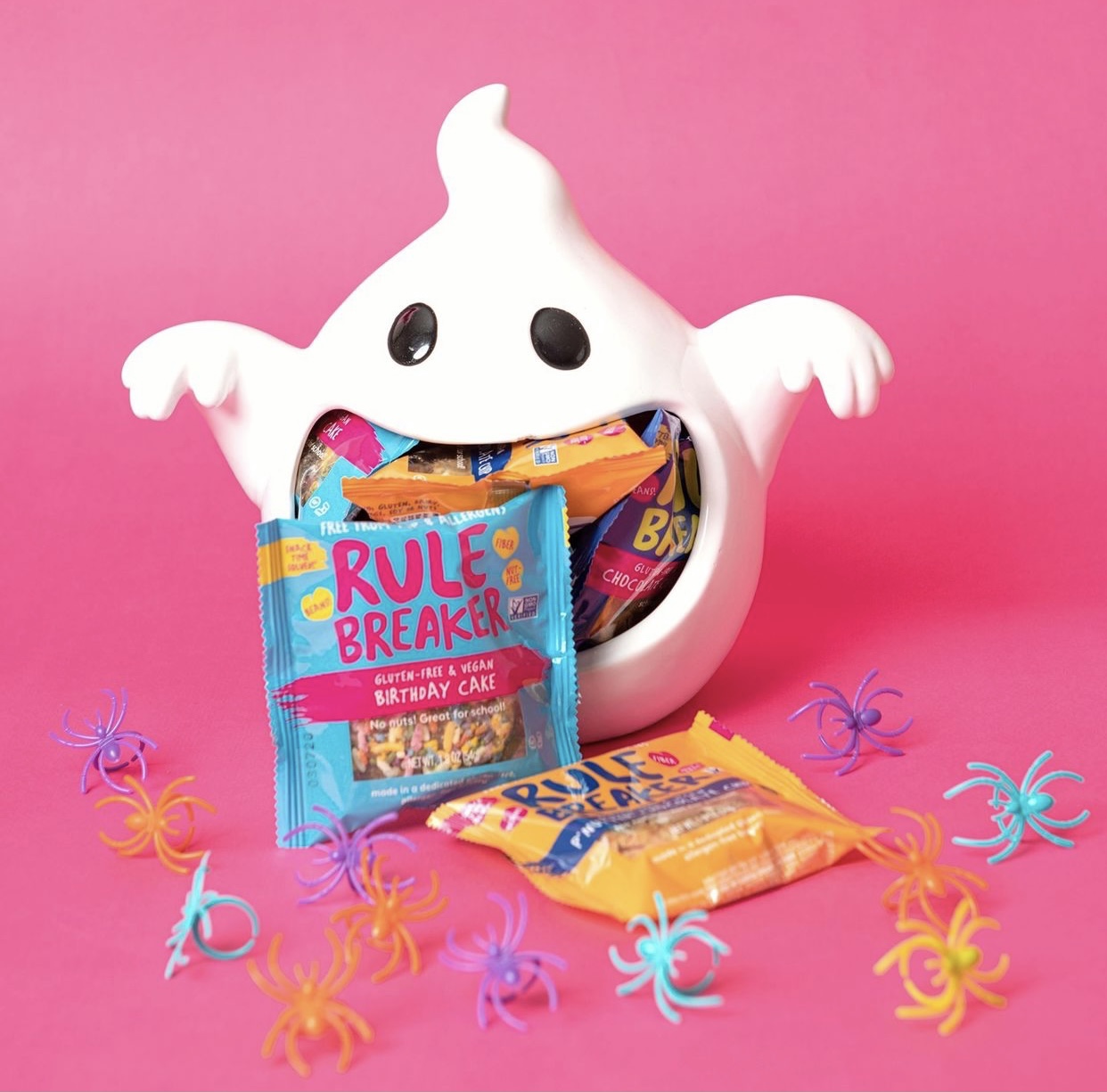 Rule Breaker Snacks
8 Rule Breaker
If houses passed out these chickpea-based blondies in our trick-or-treating days, we would have been over the moon. These tender, chewy blondies are more of an after-dinner treat than a snack, but with chickpeas as the first ingredient, their nutritional profile is far superior in comparison to a candy bar. For a bit of sweetness here and there, the new Rule Breaker Bites are just the thing. These mini-morsels are one-bite versions of the best-selling flavors including Birthday Cake, Deep Chocolate Brownie, and Pumpkin Spice.
Find out more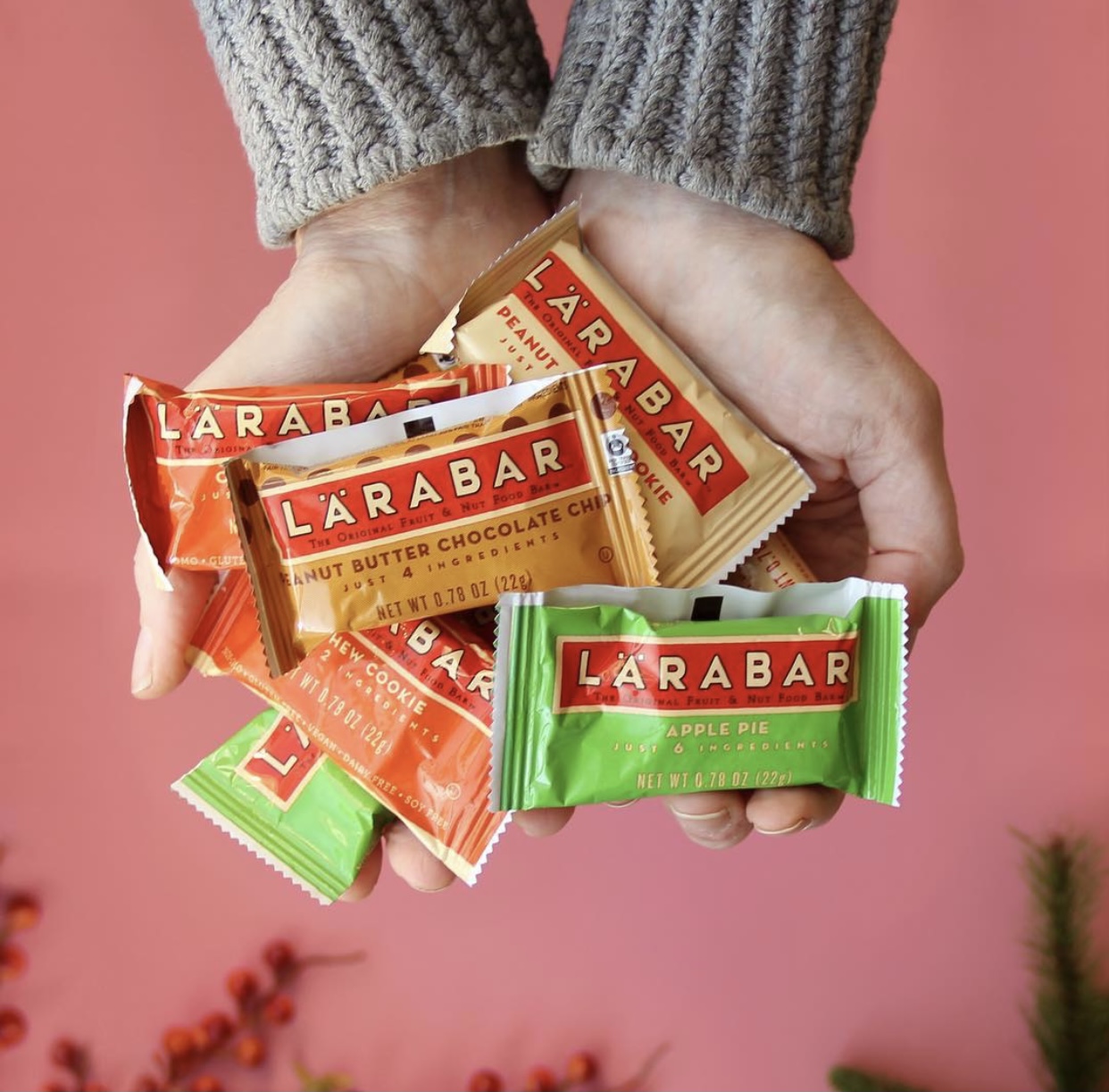 Lärabar
9 Lärabar Minis
Finally, "fun-sized" bars that actually satisfy instead of spiking a sugar craving. Larabar offers mini-sized versions of its three most indulgent flavors: Peanut Butter Chocolate Chip, Mint Chocolate Chip, and Chocolate Chip Cookie Dough. Go ahead, have one of each!
Find out more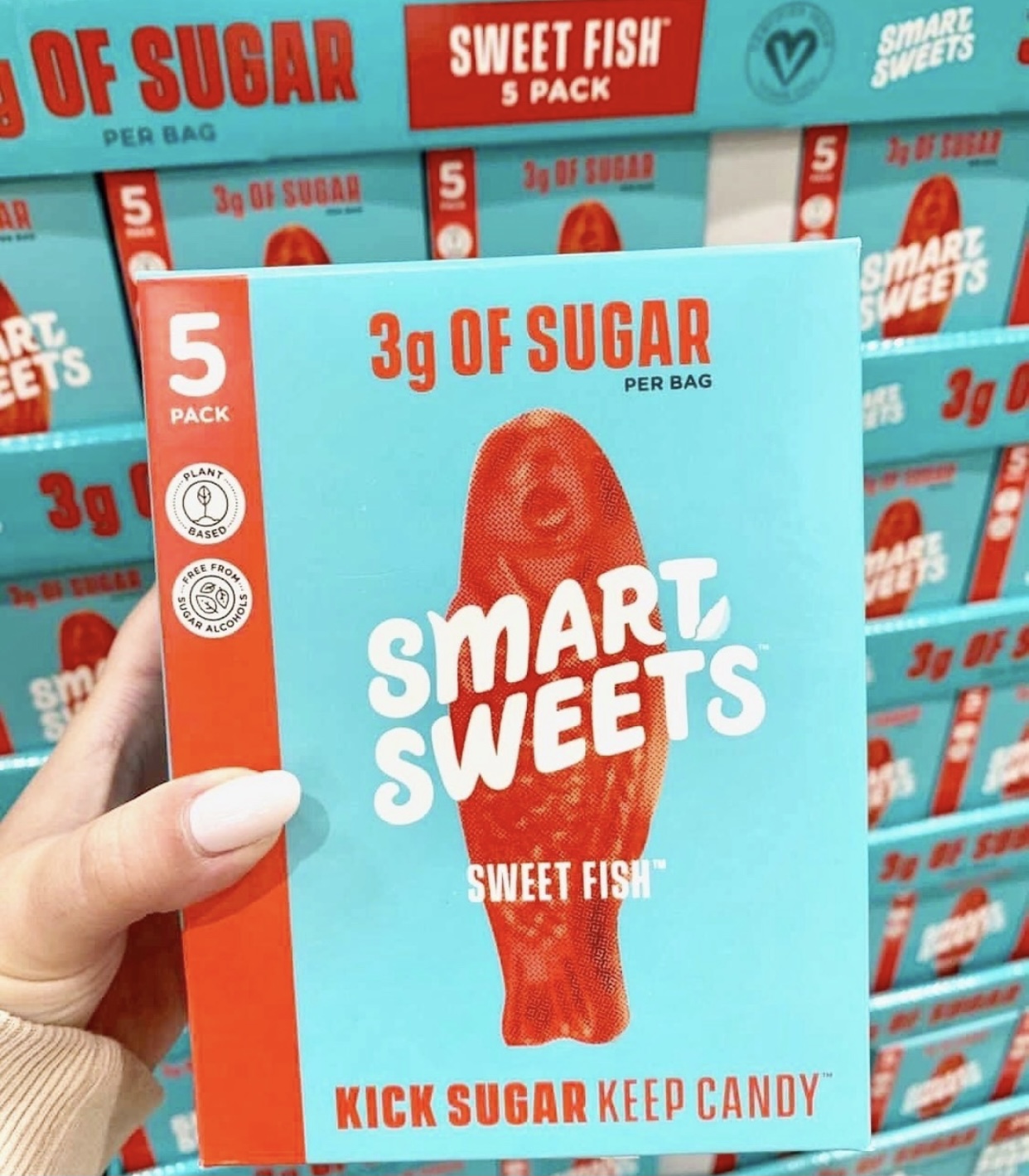 @ww.kristine/Instagram
10 SmartSweets
Gummy fanatic? SmartSweets candies are low in sugar but still provide that sweet, chewy texture you crave. Unfortunately, the new gummy worms are not vegan, but the Sour Blast Buddies, Sweet Chews, Sweet Fish, Peach Rings, Sourmelon Bites, and new Caramels are all animal-free. At only three grams of sugar and 100 calories per bag, there's no worry about going overboard with these kid-friendly candies.
Find out more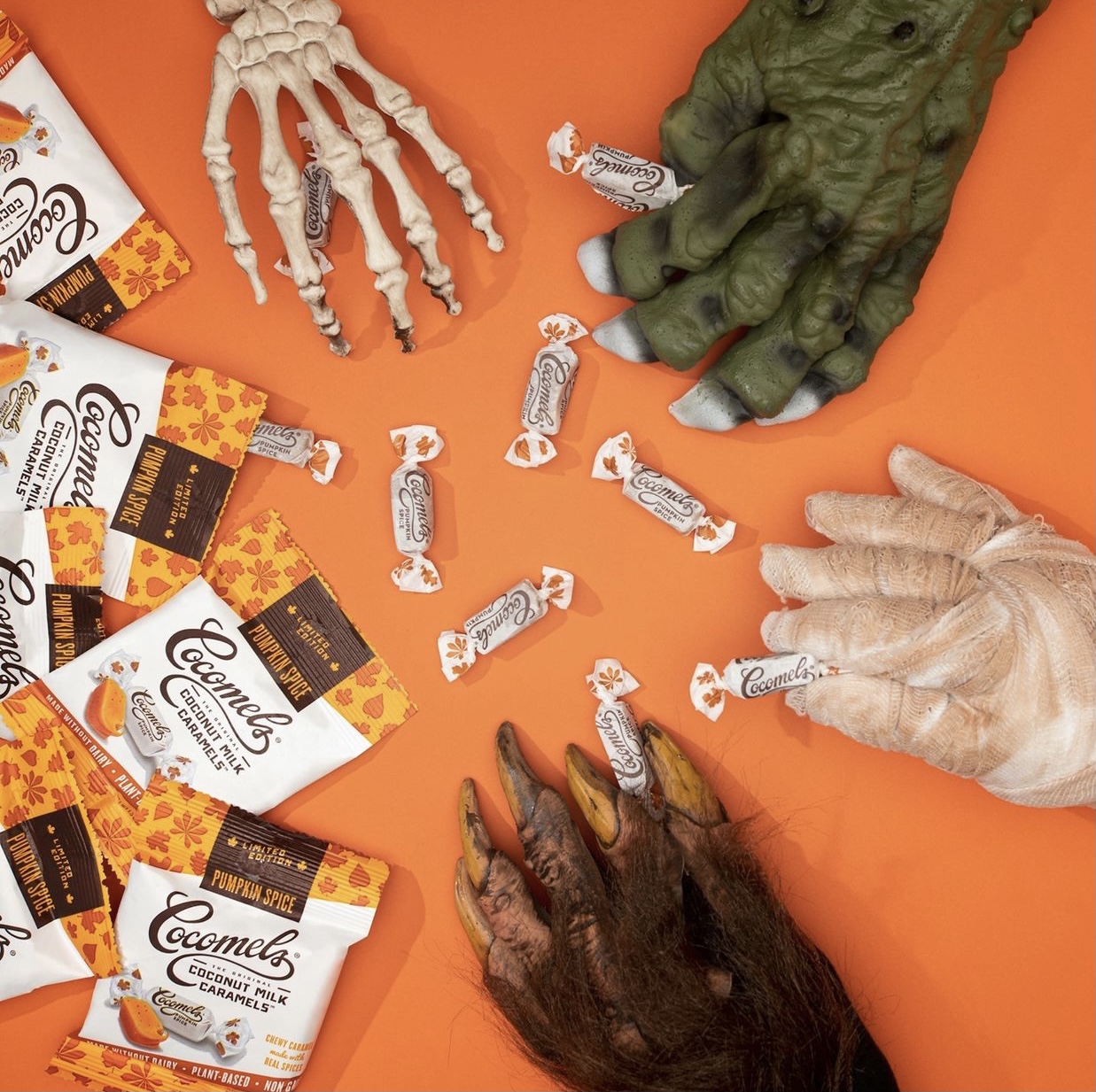 Cocomels
11 Cocomels
During the fall season, we keep these limited edition pumpkin spice caramels everywhere—in our purse, our glovebox, and random dishes throughout the house. Yes, they're that good. While on the sweeter side, each individually wrapped piece contains 30 percent less sugar than a traditional caramel. They're rich, chewy, and perfectly spiced with the flavors of fall. We say a Cocomel a day keeps the fall blues away.
Find out more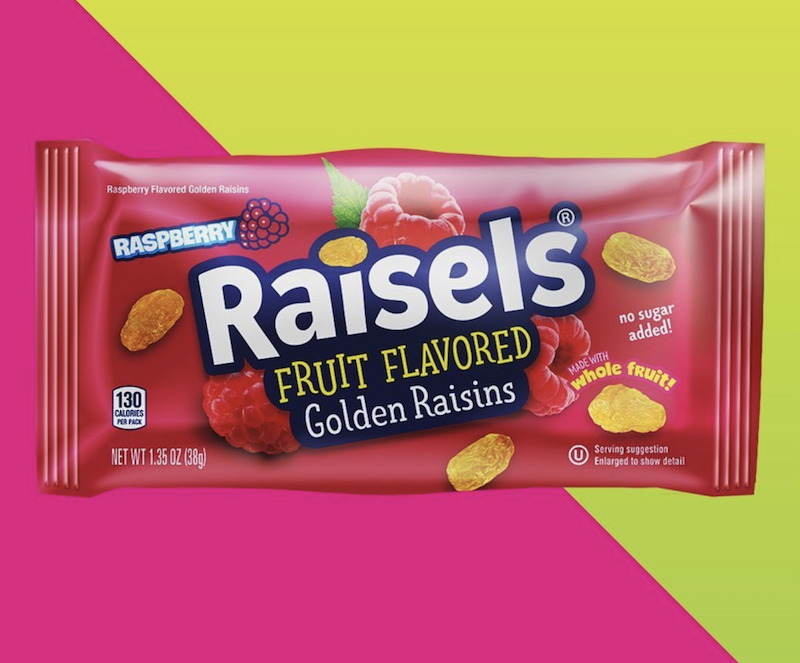 Raisels
12Raisels
These sweet-and-sour snacks will make a raisin-lover out of the staunchest critics. Plump, juicy golden raisins are flavored with a sweet, sour, or spicy coating for a fruit-based treat that tastes like candy. Varieties include Sours Fruit Splash, Sours Orange Blast, Fiesta Pineapple, and Fruit Flavored Tropical, among others.
Find out more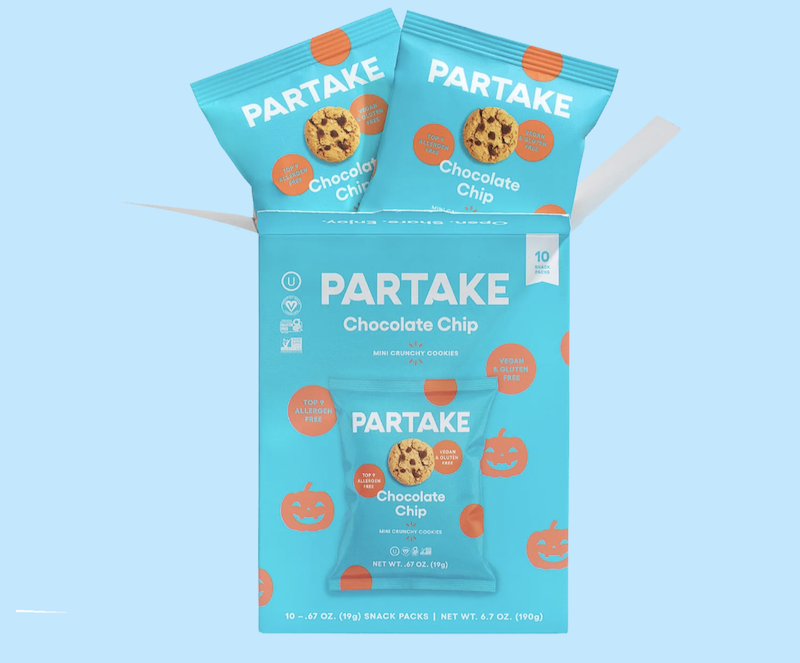 Partake
13 Partake
Some prefer cookies to candy, but handing out loose cookies on Halloween is generally frowned upon. Enter the Partake Halloween snack pack. These mini chocolate chip morsels are free of the top nine allergens, making them safe for all trick-or-treaters. Still have leftovers after the last ghost and goblin have gone? Pour yourself a bowl of non-dairy milk and eat these like cereal.
Find out more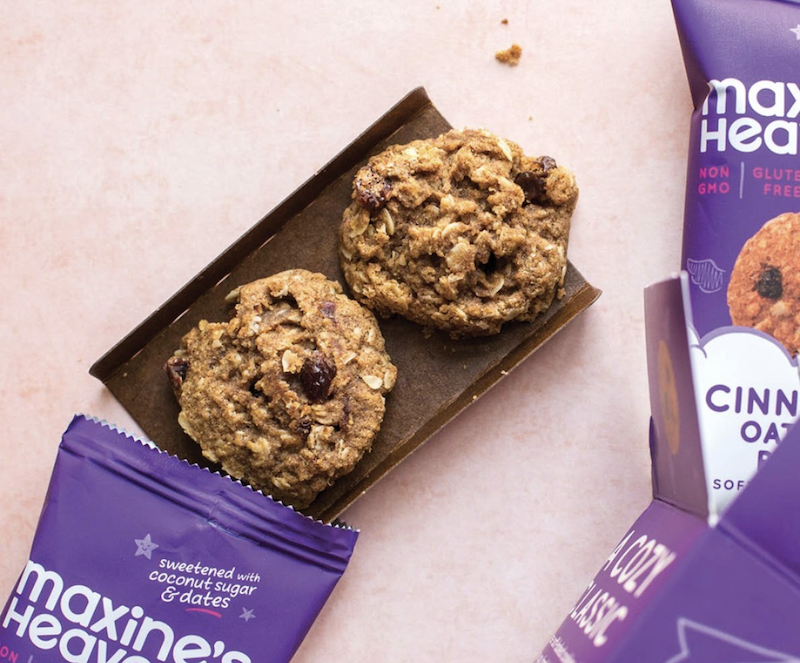 Maxine's Heavenly
14 Maxine's Heavenly
Soft, oaty, and studded with chocolate chips, these wholesome two-bite cookies come in two-cookie snack packs. They're the cookie equivalent of a king-size candy bar, but contain far less sugar. Maxine's delightfully soft cookies are made with ingredients parents can feel good about: gluten-free oats, dates, flaxseed, and organic coconut nectar just to name a few. And with flavors like Chocolate Chocolate Chunk, Cinnamon Oatmeal Raisin, and Peanut Butter Chocolate Chunk, they're an instant hit with the kiddos.
Find out more
For more vegan Halloween treats and candies, read: