Scottish physician James Mounsey spent the majority of his life in fear. In the 1600s, he had been at the bedside of Peter the Great, a Russian Tsar, before leaving Russia for his homeland with a bag of contraband. It wasn't filled with drugs or weapons, but rhubarb.
You might not suspect it, but rhubarb—yes, that sour, seemingly innocent spring vegetable you usually find in desserts—has quite a history. In ancient China, it was used to treat stomach upsets. Eventually, word spread into Europe and Russia regarding the vegetable's medicinal properties, and the rhubarb trade became big business, with the latter establishing a monopoly over the vegetable. It was 10 times more expensive than cinnamon, a highly sought-after spice from Sri Lanka.
If you were caught trying to break Russia's monopoly, you could be sentenced to death—hence Mounsey's pretty valid anxiety levels. But today, we can all relax, because rhubarb has a comparatively innocent existence. Rhubarb roots are still used in Traditional Chinese Medicine, but mostly, you'll find the vegetable in crumbles, cakes, and pies. Here's a bit more about this fascinating ingredient, its nutrition, how to cook with it—and why you should be more than just a little bit wary of the leaves.
What is rhubarb?
Rhubarb, which kind of looks like a reddish version of celery, is a long, fleshy, edible stalk of a perennial plant in the Polygonaceae (or, as it's more commonly known, buckwheat) family. While it's often used in sweet desserts, it's not technically fruit, but a vegetable. The texture is crunchy, and the flavor is extremely tart (which is why it's often cooked with a lot of sugar to reduce the sourness!).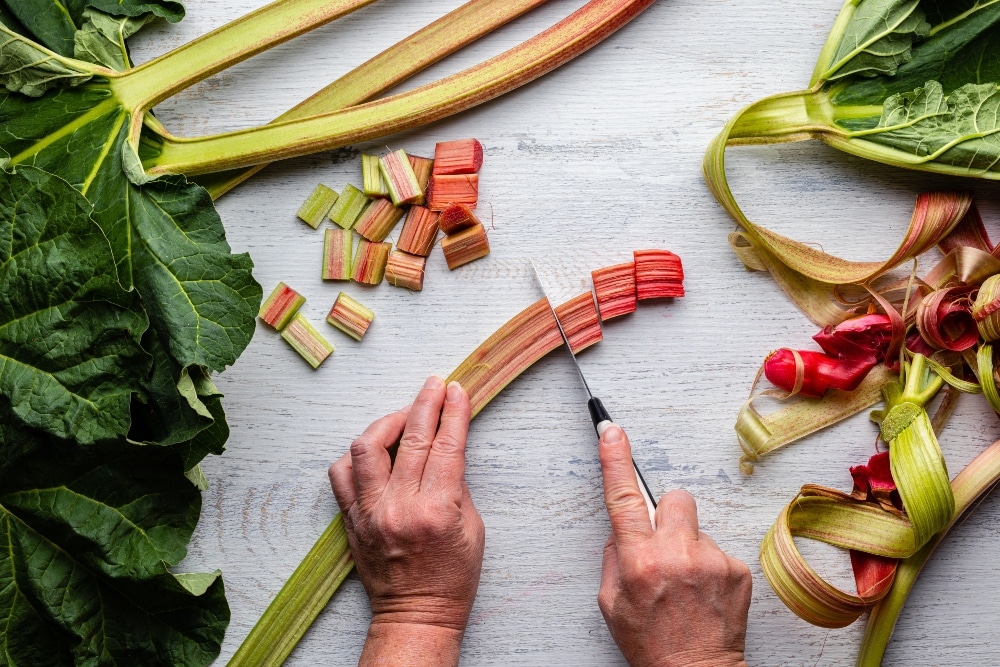 Unsplash
Rhubarb nutrition
Rhubarb is a great addition to dessert recipes because it's low in calories. It's not super high in a range of nutrients like other fruits and vegetables, but it is a source of vitamin C, and it does have a good amount of fiber and vitamin K1. The latter is an essential vitamin for the wound-healing process, as it helps blood to clot. On top of this, it's a good source of antioxidants like polyphenols, anthocyanins, and proanthocyanidins, all of which help to tackle free radicals (aka cell-damaging molecules).
How to cook rhubarb
To enjoy rhubarb, you'll need to cook it first because when raw, the flavor is almost overwhelmingly sour. There are several different ways to cook rhubarb; depending on what type of recipe you're looking to make, you can stew it, roast it, or bake it. If you're making a crumble, for example, the rhubarb is usually baked with the rest of the ingredients. But if you stew it, it works particularly well with porridge or yogurt.
But one important note: unlike the stalks, rhubarb leaves are not edible. If you buy rhubarb with the leaves on from the farmer's market, make sure you remove them. This is because the leaves contain high levels of oxalic acid, which is toxic in high doses.
Vegan rhubarb recipes
The tartness of rhubarb works well when paired with sweet ingredients, which is why you'll often find it in dessert recipes. Whether you prefer muffins, pie, crumble, or cake, rhubarb will fit right in. Here are some of our favorite ways to prepare this super sour vegetable.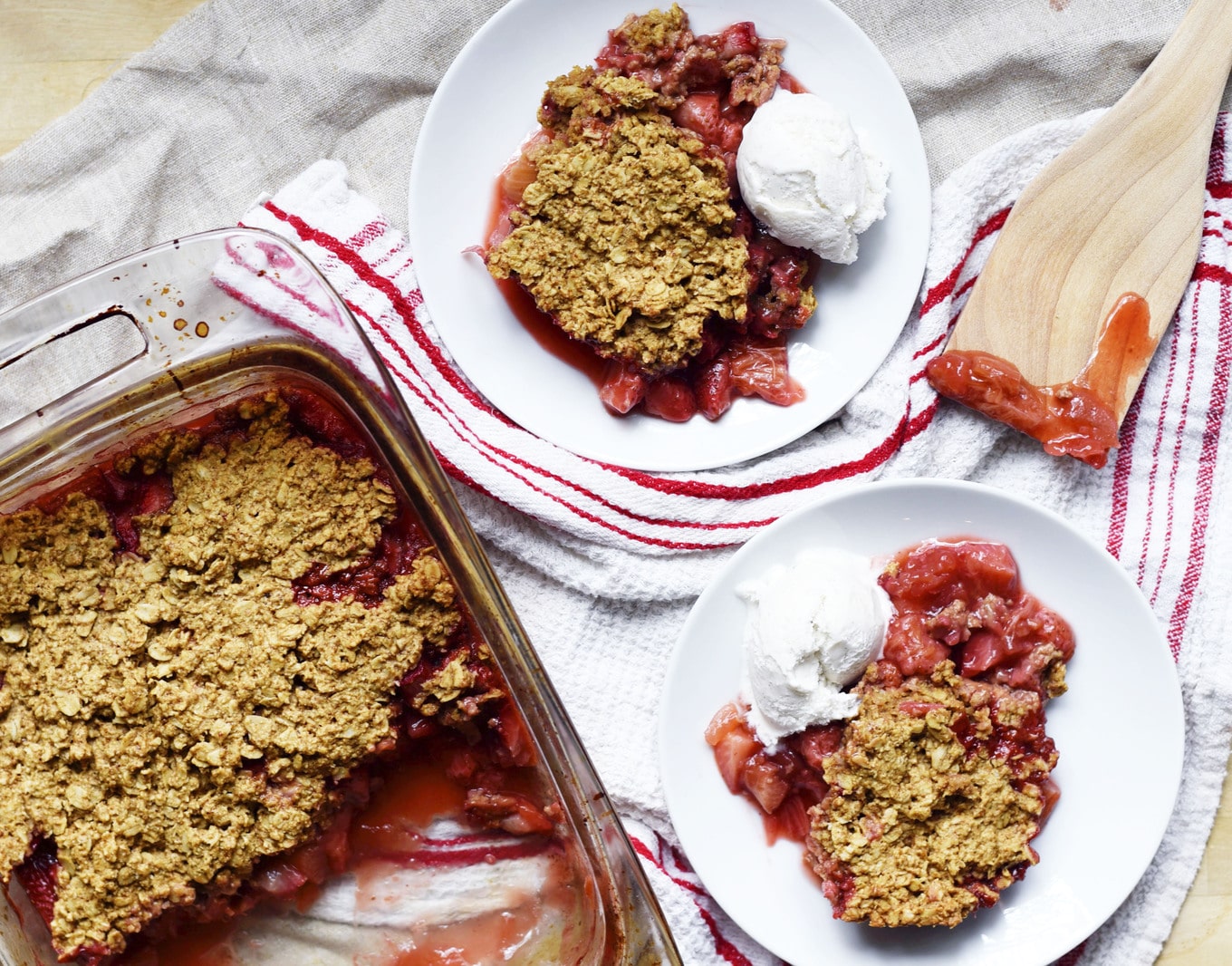 Ilene Godofsky Moreno
1 Tangy-Sweet Vegan Strawberry Rhubarb Crisp
Deliciously tangy, but with just the right amount of sweetness and crunch, this strawberry rhubarb crisp is the perfect spring recipe, ideal for enjoying outside in the sunshine, with a glass of cool lemonade.
Get the recipe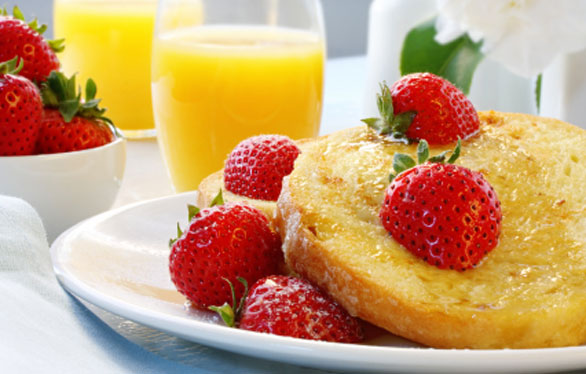 2 Vegan French Toast With Strawberry-Rhubarb Syrup
Ok, so it's not just a dessert vegetable. Rhubarb is also great for those who like something a little bit sweet in the mornings. For an indulgent brunch, make your own strawberry-rhubarb syrup (or if you're saving time, buy it from the store), and then pour it over a stack of freshly made vegan French toast.
Get the recipe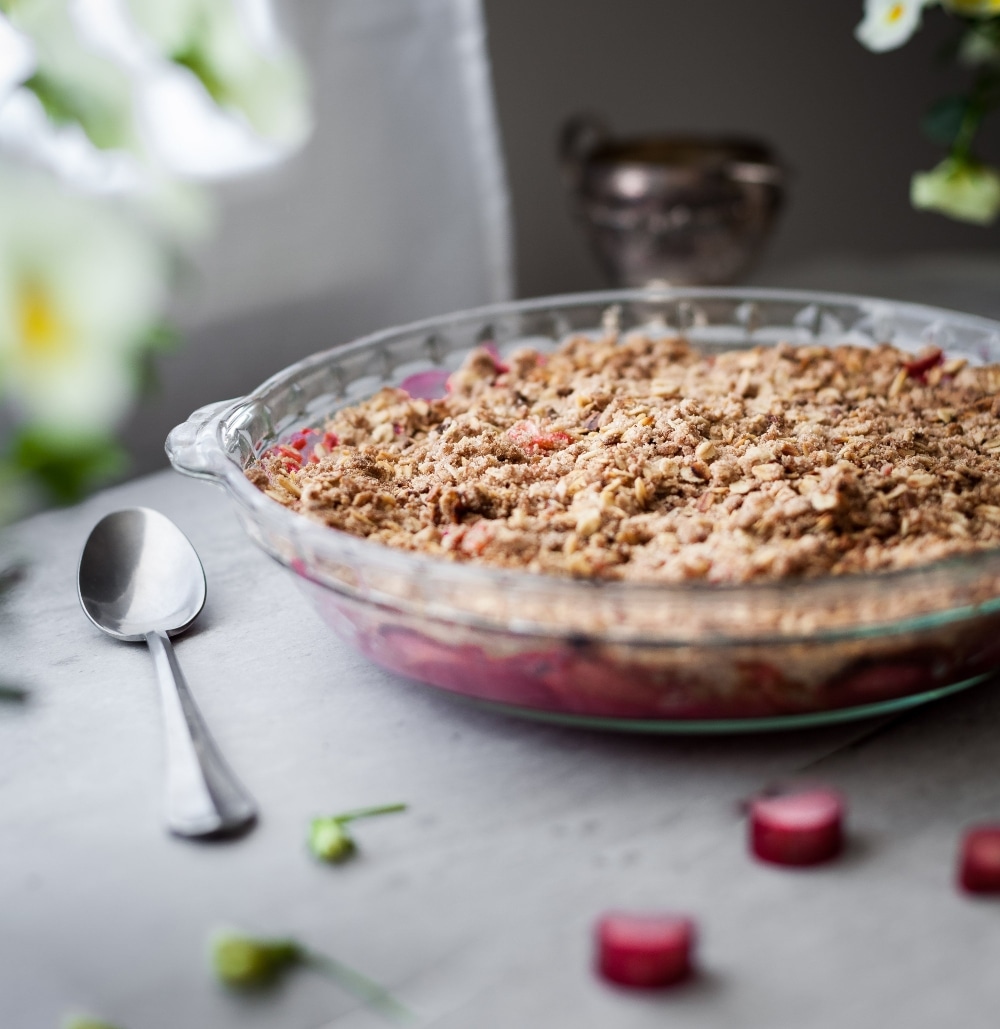 The Simple Green
3 Rhubarb Oat Crumble
Next to apple, rhubarb is one of the best ingredients to enjoy in a crumble. Even better? Combine them together! This version is made with oats, it's low in sugar, high in fiber, and deliciously sweet and satisfying.
Get the recipe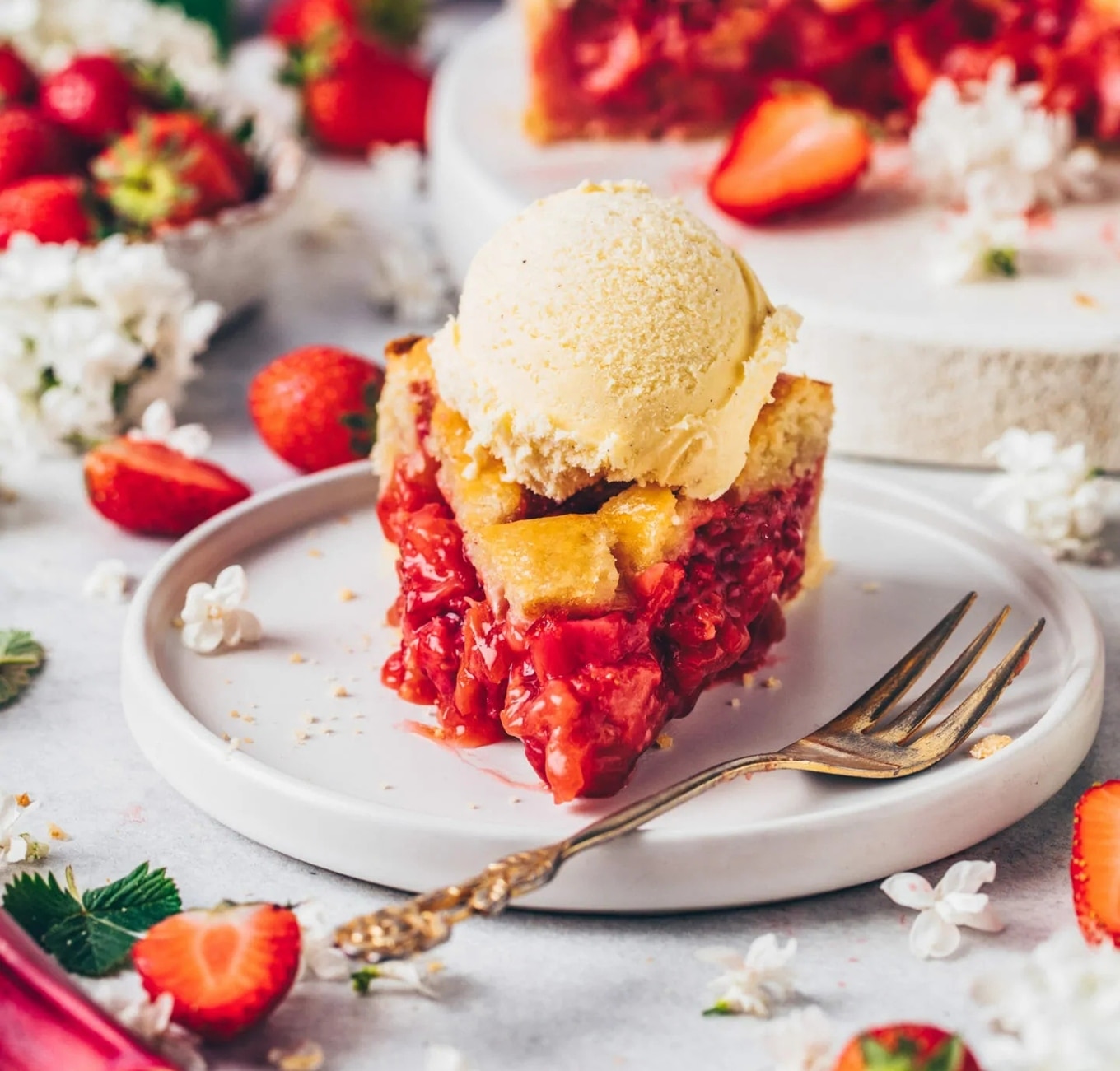 Bianca Zapatka
4 Strawberry Rhubarb Pie
Rhubarb has been used in pies for centuries (which is why one of its nicknames is actually "pie plant"). Cook yourself a slice of history by following this decadent, juicy pie recipe, which combines tart rhubarb with super sweet, fresh strawberries. Don't forget your favorite vegan ice cream for serving.
Get the recipe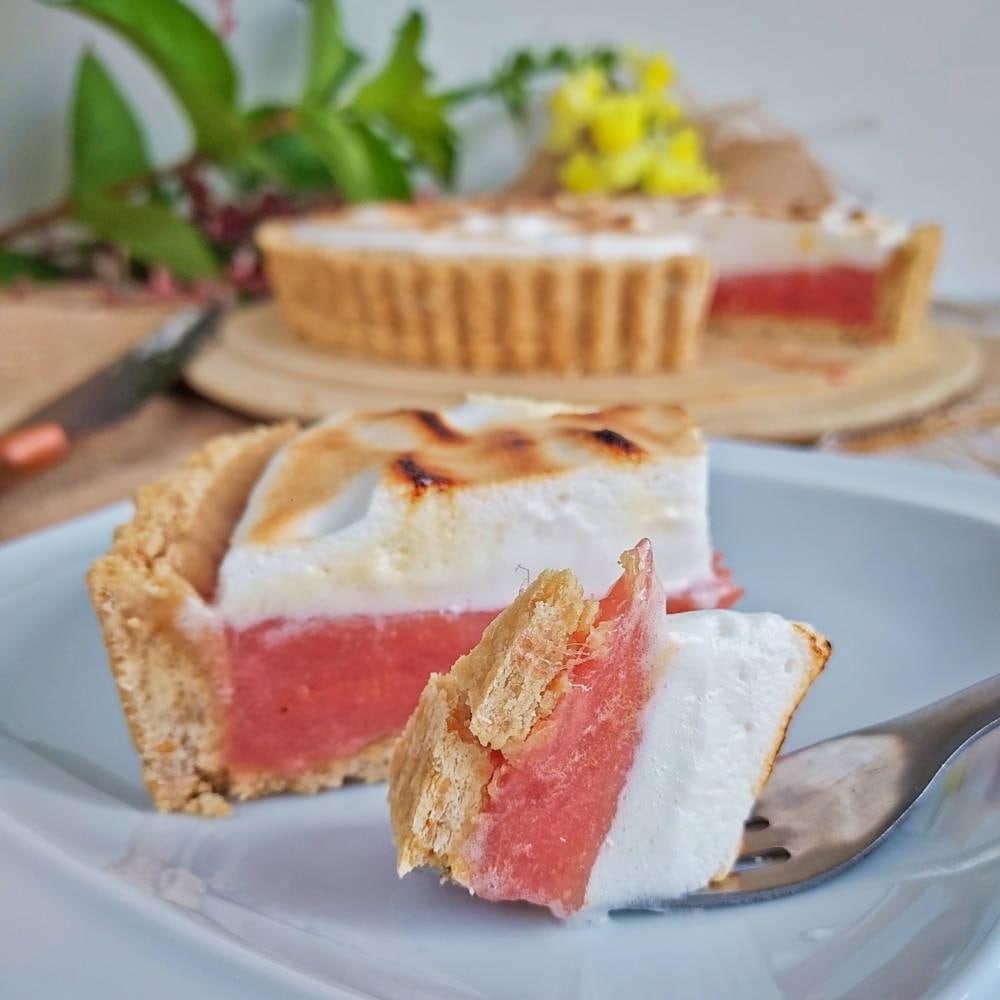 Glutarama
5 Vegan Rhubarb Meringue Pie
If you want something a little fancier, you could upgrade your usual pie recipe to a sweet, sugary, crumbly meringue pie recipe. And no, you don't need eggs to make the latter, because you can use aquafaba instead!
Get the recipe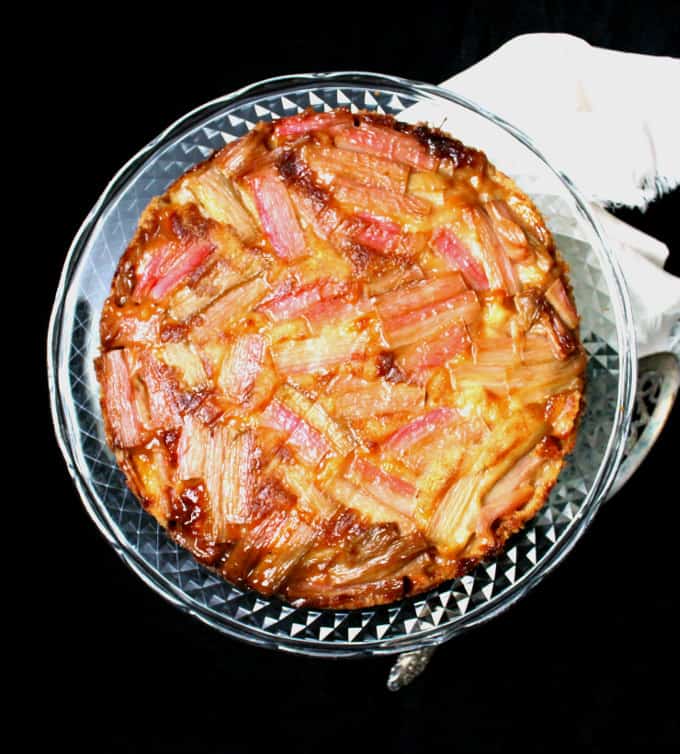 Holy Cow Vegan
6 Rhubarb Ginger Upside Down Cake
Rhubarb complements sweet berries beautifully, but it also works particularly well with warm spices, like ginger. Try it for yourself and pair the two together in this moist upside-down cake, which, let's be honest, looks just as impressive as it tastes.
Get the recipe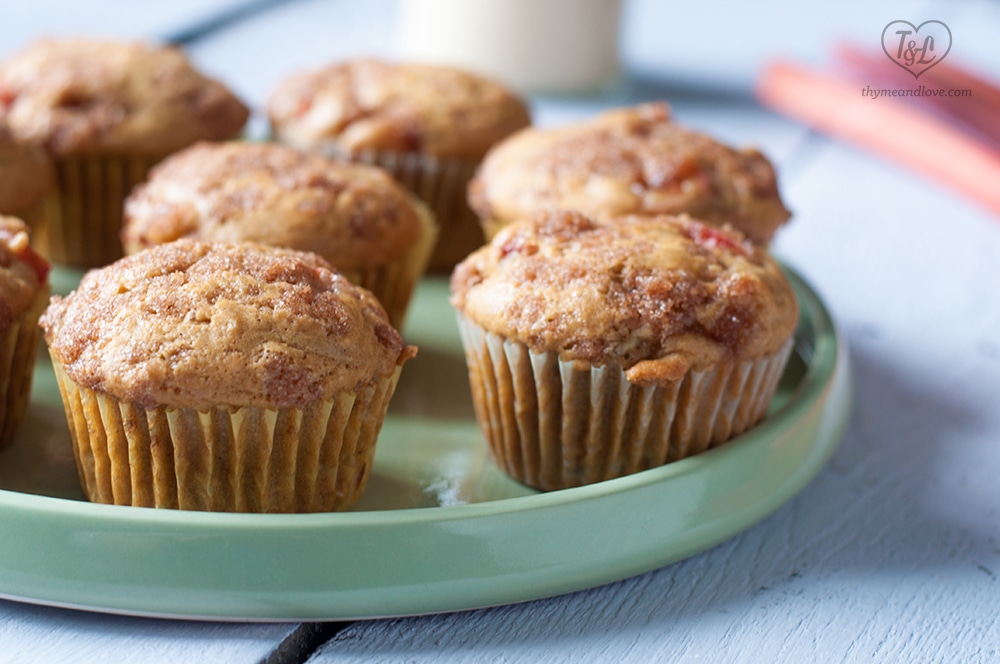 Thyme and Love
7 Vegan Rhubarb Muffins
These vegan muffins feature whole slices of rhubarb, but their tart flavor is balanced out with a sprinkling of sugar on the top of each one. This is a great batch recipe to make on a Sunday or Monday, so you can treat yourself to an indulgent afternoon snack throughout the week.
Get the recipe
For more on vegan food, read: