Unlike the frozen yogurt boom of the early aughts (Pinkberry who?), the poke phenomenon is still going strong. Granted, poke to mainlanders is a very different concept from poke in Hawaii, but the appropriated meal of marinated fish has become so popular outside its state of origin that it can be found from the suburbs of the American midwest to the concrete streets of its urban coastal cities. It's fresh, it's substantial, it's customizable, and now, it can be made vegan. Recipe developers and food bloggers have created hundreds of ways to prepare satisfying plant-based poke, but if your work is ordering out for lunch or you'd prefer to leave the cooking to the pros, here is how to order vegan at virtually any poke restaurant, plus five major poke chains serving solid plant-based options.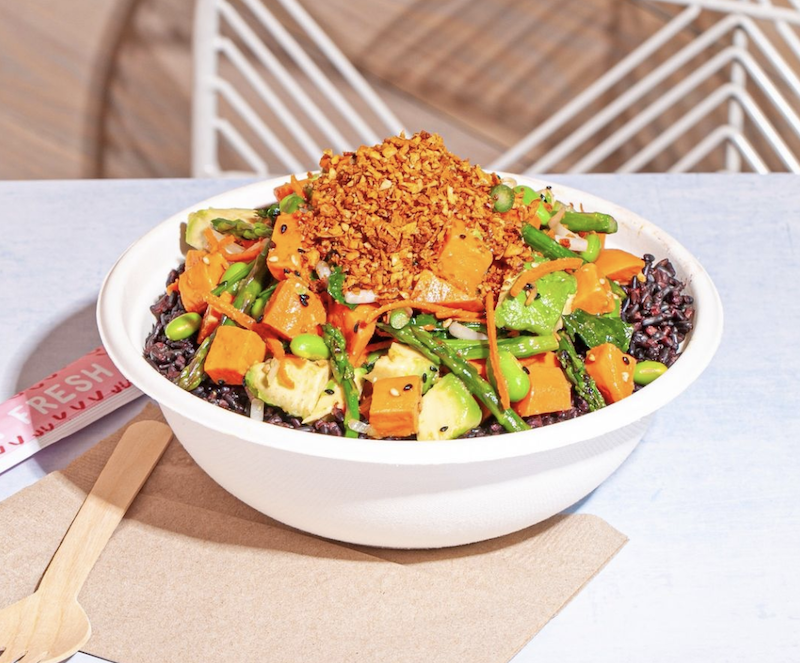 Sweetfin
How to build a vegan poke bowl
Virtually every poke chain on the mainland utilizes the same assembly line-style service model. You'll be greeted with a menu, taken up by the "base" employee, ushered off to the "protein" person, then handed to the staffer in charge of toppings and sauces before the cashier rings up your order—not before asking if you want to add any taro chips or beverages. It's a very simple build-your-own concept, but the options can be extensive and you don't want to be that vegan holding up the line asking about the ingredients for each core component. Follow this guide, and you'll have the basics mastered to order confidently at your local poke shop.
1 Choose a vegan base
At a minimum, most chains offer rice and mixed greens to stuff into the bottom of your bowl. Others expand the options to include quinoa, noodles, zoodles, seaweed salad, and steamed broccoli. Pro tip: you can always go halfsies and split your bowl between two bases. Mixed greens and rice is a solid choice. Most of these bases are vegan with the potential exception of seaweed salad and marinated kelp noodles. In theory, each should be free of animals, but ask to ensure the seaweed is free of fish and the kelp noodles aren't marinated in any animal-based ingredients such as fish sauce or mayo (we've encountered this before).
2 Choose a protein
There's no risk of decision fatigue for vegans when it comes to protein at a poke place. Major chains tend to only carry tofu, though some will offer marinated sweet potato as well. We highly recommend asking for a double (or triple scoop)—the extra portion will help round out your bowl and add a significant protein and texture boost.
3 Choose your toppings
Depending on the chain, some will mix in the toppings with your protein choice while others will simply arrange it all on top of the base (we personally recommend the latter—but we also have control issues). Vegan-friendly toppings typically include sweet and green onions, furikake, corn, edamame, pickled ginger, wasabi, crispy onions, carrots, cucumbers, and either mango or pineapple. Sometimes it's best to be intentional about your topping choices—not all of these flavors work harmoniously together—but when you're hungry, no one will fault you for spending a few extra dollars to go topping-crazy.
4 Choose your sauce
This is where vegans may have to ask their server for a bit of guidance. Fish sauce is a very common ingredient in these sauces—second to eggs and dairy that may be lurking in creamy options like spicy aioli or sriracha mayo. Soy sauce or shoyu, sesame oil, and plain sriracha are fine. However, ponzu and house sauces may contain fish and sweet chili options could include honey. If you're interested in a tasty-sounding sauce on the menu, ask politely if it contains any animal ingredients.
Ingredients to watch out for
We've mentioned a few common poke bar ingredients that typically contain animal products, but it bears repeating. Fish sauce, bonito flakes, honey, and egg-based mayonnaise may be incorporated into a number of innocent-sounding topping and sauce options. Unless the menu already specifies the item is vegan, always confirm ingredients with the staff before ordering any of the following: miso soup, seaweed salad, any sauce other than soy, shoyu, sesame oil, or sriracha; tempura crisps, marinated or dressed noodles, kimchi, and crunchies.
Vegan-friendly poke chains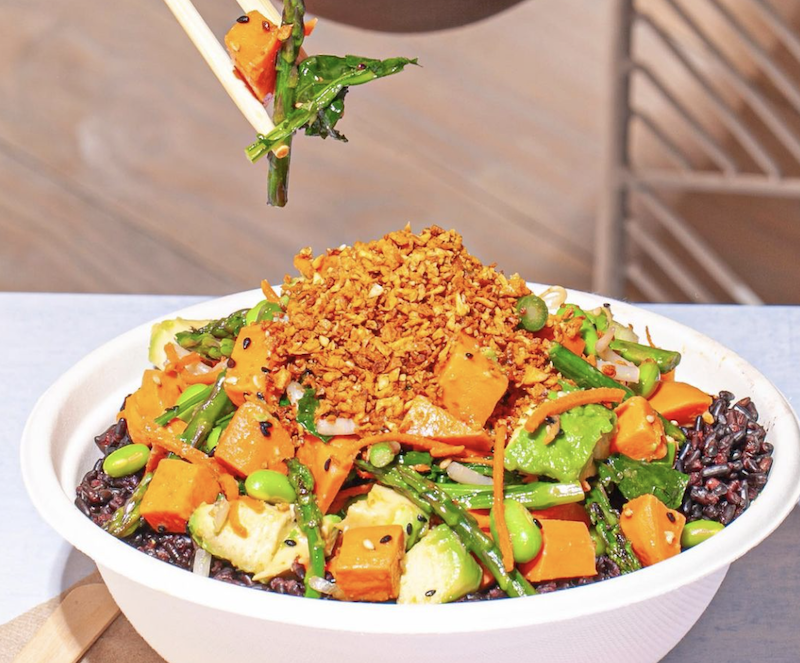 Sweetfin
1 Sweetfin
Helmed by former Top Chef contestant Dakota Weiss, this chef-driven California-cool poke concept is one of the few to offer dedicated vegan signature bowls and protein options a bit more exciting than tofu. Those who shy away from decisions should opt for one of the three curated plant-based bowls: Miso Eggplant & Mushroom, Sweet Potato Ponzu Lime, and Shiitake Chili Tofu. Of course, BYOB is also an option, just avoid the Kelp Noodle Slaw base (it contains mayo) and consult your server when it comes to the sauces, as many aren't vegan.
Find out more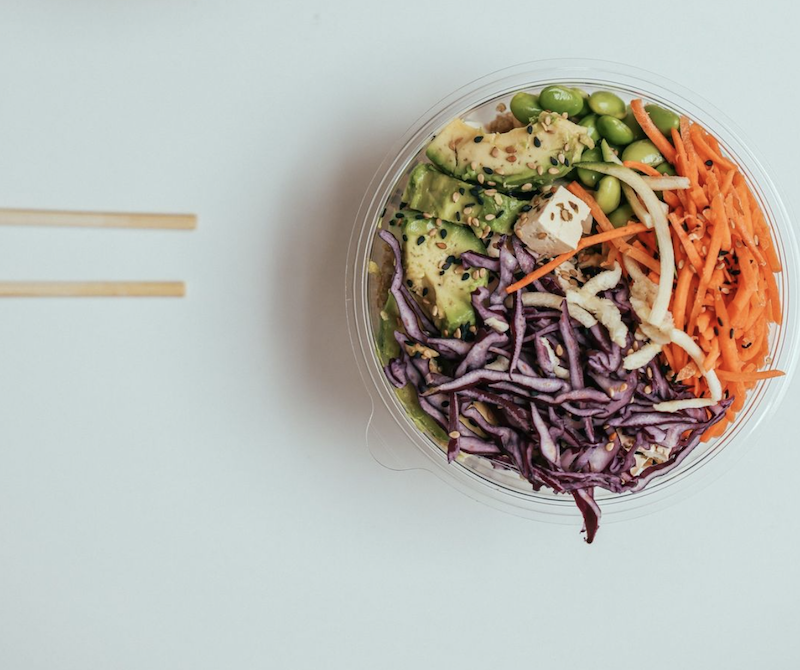 Poke Bros
2 Poke Bros
This growing chain spans the Midwest and portions of the East Coast with 68 locations to its name. When first glancing at the protein options on the menu, seeing an image of mixed greens under the Vegetarian section will certainly be disappointing, but keep scrolling—the tofu is listed under the vegetables. Pile on this singular plant-based protein option then dive into the vegan-friendly topping assortment including edamame, jalapenos, avocado, pineapple, toasted coconut, crushed cashews, and crispy onions. Top everything off with one of the three animal-free sauces: gochujang, ponzu, and sweet soy.
Find out more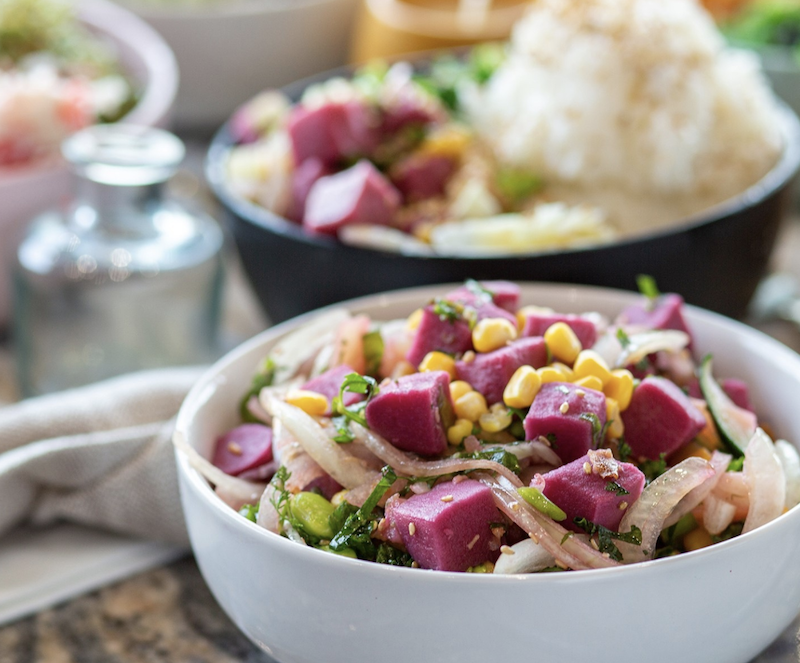 Poke Bar
3 Poke Bar
With dozens of locations spanning from Hawaii to Washington, DC, this poke place offers a vegan item we've never seen at other franchise establishments. Yes, Poke Bar carries the default tofu option, but the "it" vegan protein to try is the Kuleana Tuna. Produced by plant-based seafood brand Current Foods, this sushi-grade vegan tuna looks, tastes, and chews like today's catch—without harming any fish in the process. The mix-ins and topping selection is decision fatigue-inducing—even when you omit the animal-based ingredients. Yes, there's your standard jalapeño, edamame, avocado, cucumber, and such, but the brand also offers shredded kale, fresh cilantro, cucumber and seaweed salads, ginger, crispy garlic, and furikake. Add a flavor-bomb sauce like sriracha, sesame oil, or wasabi shoyu, and you've got a fast-casual bowl that tastes like a sit-down meal.
Find out more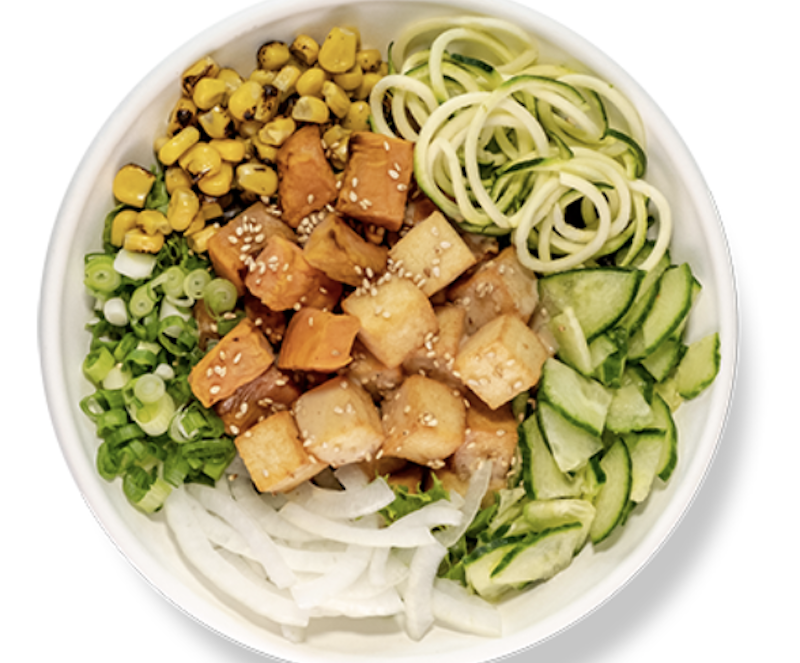 Just Poke
4 Just Poke
Based out of the Pacific Northwest with 16 locations, this spot makes it easy to navigate as a vegan thanks to its extremely helpful online allergen guide. Eat your fill by choosing any four of the bases, tofu or sweet potato protein, the standard toppings, and zesty citrus ponzu sauce. Just Poke gets bonus points for offering a fish-free seaweed salad. We can't get enough!
Find out more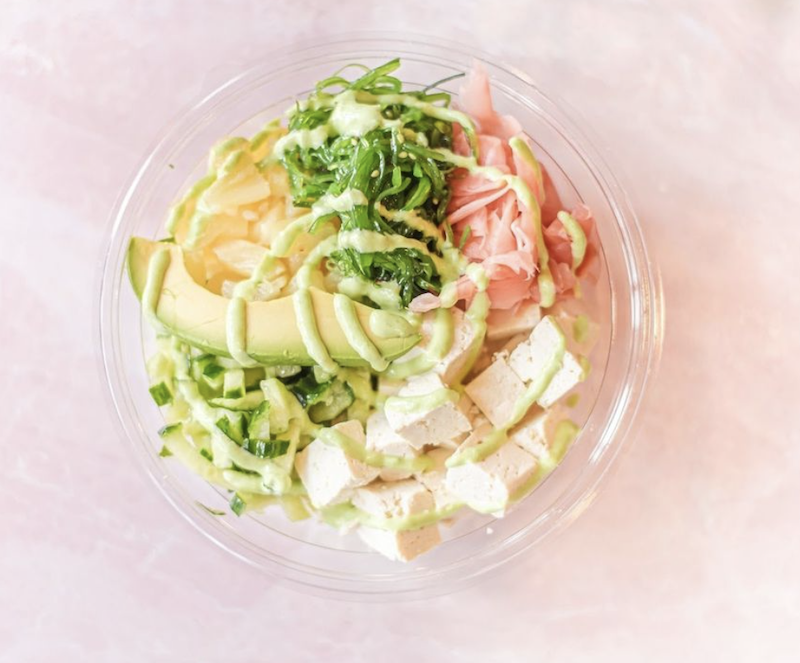 Aloha Poke
5 Aloha Poke
Despite its name, Aloha Poke was born far from the islands. The concept sprung out of Chicago and now boasts over a dozen locations from Houston to Miami to Washington, DC. The vegan options are standard but solid, and the vegan-friendly menu is simple to navigate. Opt for marinated tofu over your choice of cauliflower rice, regular rice, or greens, then pile on the avocado, edamame, ginger, scallions, and seaweed salad. Sauce-wise, the sweet-and-salty Samurai, pure sesame oil, and citrusy Sesame Vin are all vegan-approved.
Find out more
For more vegan guides to your favorite restaurants, read:
What Veggie Grill Founder Thinks About the Future of Fast-Food
Honeybee Burger Founder Leaves Wall Street to Open Vegan Restaurant
How to Eat Vegan at Panda Express