Truly great beauty products can bring out the best in us. They add dazzle to a drab day or give us the confidence to take on the world. Self-care is a journey and when coupled with exceptional products, it can be transformative, which is why it's so important to find the right products for every need. Headed up by VegNews Beauty Editor Aruka Sanchir, we spent months testing, smearing, and smudging hundreds of vegan skincare and makeup products to find the best of the best. From nail polish to perfume, we've tried everything out there, and here's exactly what your vegan beauty bag needs.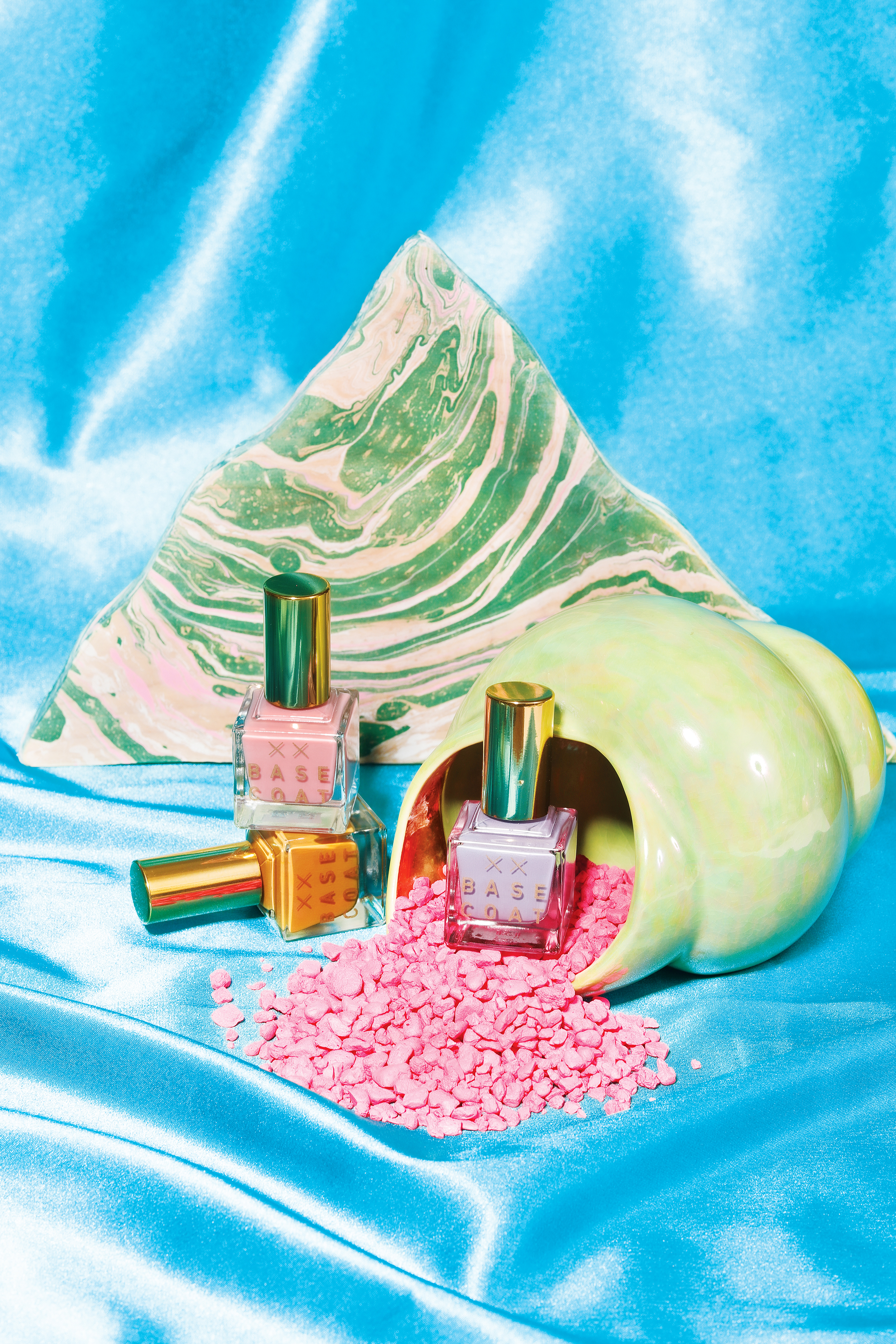 All photos by Emily Utne
1 BEST NAIL POLISH
Base Coat, $20
Growing up in nail salons, Tran Wills knew the hazardous working conditions many deal with. So she launched a revolutionary vegan salon focused on the health and wellbeing of everyone from staff to clients, and now, you! Base Coat's pretty polishes are 10-free, non-toxic, and available in more than 100 seriously stylish pigments to fit any mood.
Shop here
2 BEST BATH PRODUCT
Bathing Culture Mind and Body Wash Refillable Glass, $35
A belief in radical self-care (even while showering) sparked the creation of this woodsy, redwood grove-scented body wash made with sustainably harvested ingredients. Lather up, inhale deeply, and transport yourself to a calming forest without ever leaving your bathroom.
Shop here

3 BEST SKINCARE TOOL
FOREO LUNA Mini 3, $199
Over 8,000 sonic pulses work to reach deep into pores thanks to this handheld wonder from Swedish skin-tech company FOREO. It's like getting a spa massage and facial cleanse all in one.
Shop here

4 BEST EYE CREAM
REN Clean Skincare Radiance Brightening Dark Circle Eye Cream, $49
Staring at our screens 24/7 is really doing a number on our eyes, but don't fret—REN to the rescue! The sustainability-focused brand promises reduced dark circles after just seven days with its effective water-in-oil cream.
Shop here
5 BEST FACE MASK
Sukin Detoxifying Clay Mask, $13
Focusing on naturally derived ingredients, the Australian skincare aficionados at Sukin combine kale, goji berries, and bentonite clay in a detoxifying, restorative, carbon-neutral mask that does it all.
Shop here
6 BEST FOR ACNE-PRONE SKIN
Mad Hippie Day & Night Dual Pack, $34
This powerful serum duo from Portland-based Mad Hippie calms inflamed skin with antioxidant-rich vitamin C throughout the day and lightly exfoliates while you get your beauty sleep thanks to vitamin A. Buh-bye bumps and discoloration!
Shop here

7 BEST MASCARA
Lily Lolo Vegan Mascara, $20
When you find a mascara that's buildable, long-lasting, lengthening, and volumizing, you don't ever let go. London-based Lily Lolo has pioneered the clean beauty movement for years, and this vegan-friendly mascara proves exactly why.
Shop here
8 BEST ANTI-AGING SERUM
Theoderma Fine Line Fix Restorative Serum, $112
Long, stressful days causing unnecessary wrinkles? This fast-absorbing vitamin A-rich serum from veteran dermatology expert Savy Guthrie will instantly diminish those fine lines and leave your skin looking smooth and supple.
Shop here

9 BEST PRODUCT FOR TEXTURED HAIR
Opulent Hair Essentials Groovy Hair Smoothie, $17.99
A styling cream that seals in moisture, defines natural curls, and makes them really POP? Sign us up! Founder Danielle Foster uses her own tried-and-tested formula for soft, conditioned hair that smells as amazing as it feels.
Shop here

10 BEST PERFUME BRAND
Floral Street, $78
Londoner Michelle Feeney joined forces with master perfumer Jerome Epinette to craft fresh and youthful fragrances focused on sustainable ingredients and packaging. Our favorite? The fiery and feminine Neon Rose and spicy and intoxicating Black Lotus.
Shop here