Afternoon tea in the United Kingdom is a lifestyle, just like brunch is in the States. It's more than dainty teacups and tiny treats—it's a ritual, typically served at 3pm, on the dot. Like brunch, the food served at afternoon tea is not inherently vegan, but if we can veganize piles of pancakes and Eggs Benedict, we can veganize clotted cream and scones. Here is everything you need to know to abide by the ritual of afternoon tea while putting a vegan spin on all of the sweet and savory eats.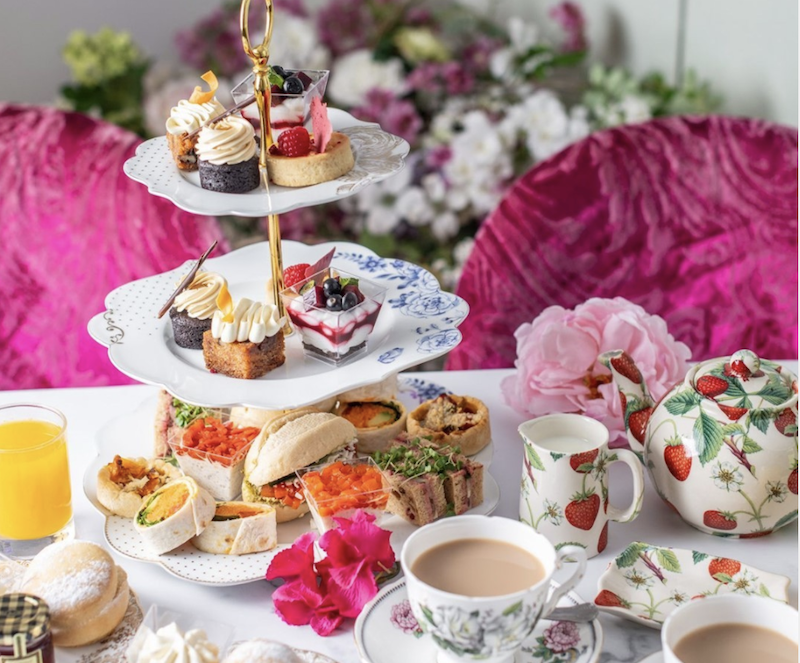 Bridgit's Bakery
How do you set up a vegan British afternoon tea?
First rule of afternoon tea: the setup is just as essential as the food placed upon it. Start with a white tablecloth—we're going for simplistic elegance here. Add a pop of color by placing a vase of flowers at the center, then accent the spread with a thoughtful scattering of lacey white doilies. Are the doilies absolutely essential? No, but they are absolutely classic.
On to the utensils and serving ware. Start with small plates (at least two per guest), teacups, and saucers. Opt for floral patterns, if possible—your local antique or thrift shop should have all of these essentials. Don't worry about matching—a few mismatched items add a touch of Alice and Wonderland-esque whimsy to your afternoon tea. While you're thrifting, keep an eye out for a tiered cake stand. How many tiers is up to you (it depends on how many courses you'd like to serve), but aim for at least three. Finally, you need a teapot. Ceramic is often the go-to, but modern glass teapots allow you to easily serve multiple teas thanks to built-in infusers. Glass options also keep heat in better than more traditional models.
Complete the table with a small bowl of sugar cubes (placed in the center of the table) along with petite milk jugs filled with dairy-free milk. Pro tip: oat milk works best due to its thick and creamy consistency.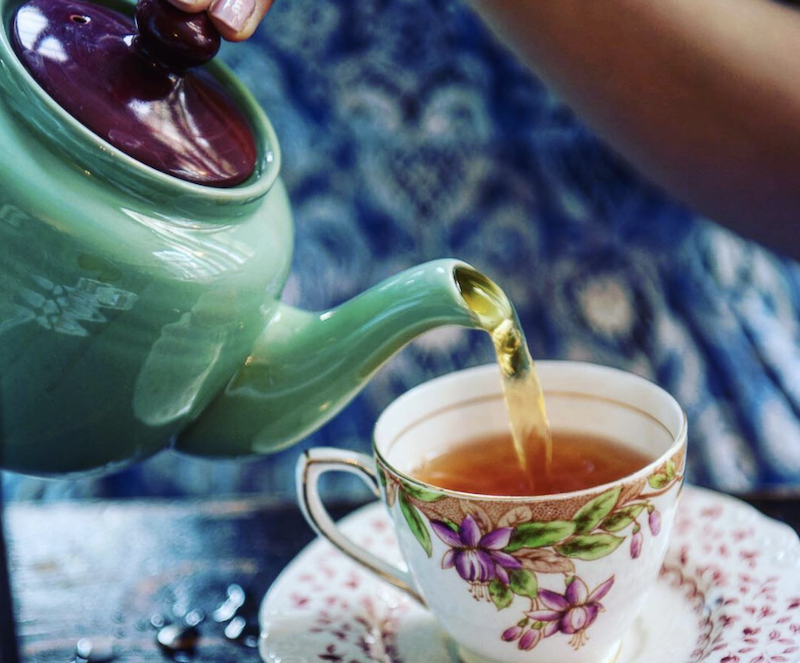 Alice's Tea Cup
What tea should I serve?
Everyone has their own preference. A proper host will have multiple flavors of tea including fruity teas, black teas, and herbal teas. Here are a few options to get you inspired:
Earl Grey tea
Chamomile tea
English breakfast tea
Green tea
Fruit tea (caffeinated or herbal)
Peppermint tea
Infused tea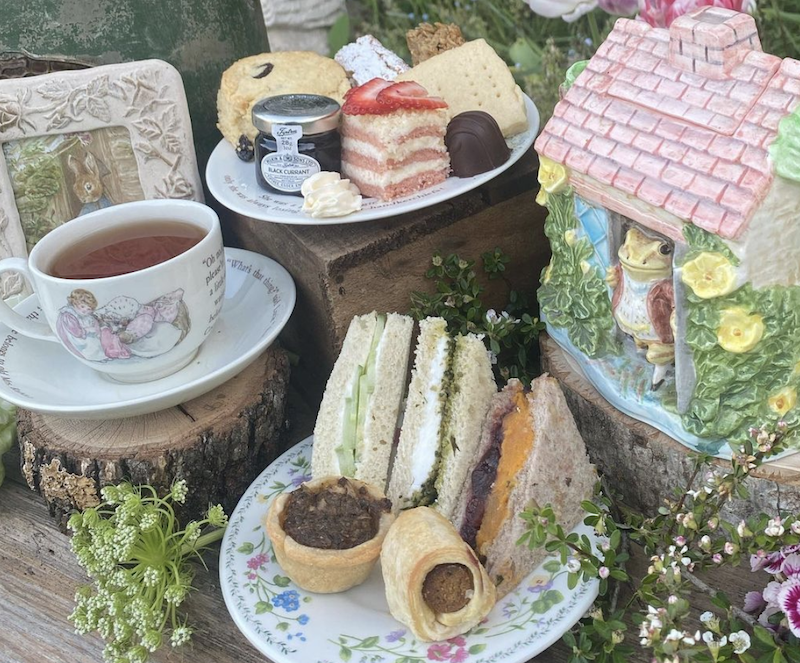 Muir's Tea Room
What kinds of food should I serve?
Some may argue that the best part of afternoon tea isn't the tea at all—it's the food! A proper tea service includes both sweet and savory elements, all arranged in specific tiers. Here's what you need to know to execute the perfect vegan afternoon tea spread.
Bottom Tier
Savory snacks are always placed on the bottom tier. These can include finger sandwiches, mini vegan sausage rolls, tiny pasties, and thinly sliced pinwheels or wraps. The goal is to keep each item clean and neat. Check out the vegan recipes below to get started.
Second Tier
Time for the sweets. From macarons to petit fours, the second tier is home to just about anything sweet you could crave (as long as it's delivered in a dainty, one-to-two bite package). Mix a few store-bought items (like vegan brownie bites or mini cupcakes) with one or two homemade delights. Here are some ideas to get you started.
Top Tier
The top tier is for cream, curds, jams, and scones—all the necessary accouterments that make up cream tea. Here's the secret: you can offer more than one kind of scone! Just make them small so your guests will have room to sample each one. Stock up on an assortment of jams at the supermarket, but you may have to make the scones and creams by hand to keep it vegan. Here are a few recipes to help you out.
Once you have created all of your delicious sweet and savory snacks for your vegan afternoon tea, boil the kettle and wait for your friends to arrive. A classic afternoon tea is the perfect time to gather with friends and family that you haven't seen in a while.
For even more vegan tea time tips and recipes, read:7 Vegan Sandwich-and-Tea Pairings for a Spring Tea Party
Vegan Blueberry Pecan Crumble Muffins
Vegan Buttermilk Oat Cupcakes With Strawberry Frosting
Elliot Radford is a keen vegan foodie who loves to travel and follow a sustainable lifestyle from Manchester, UK.