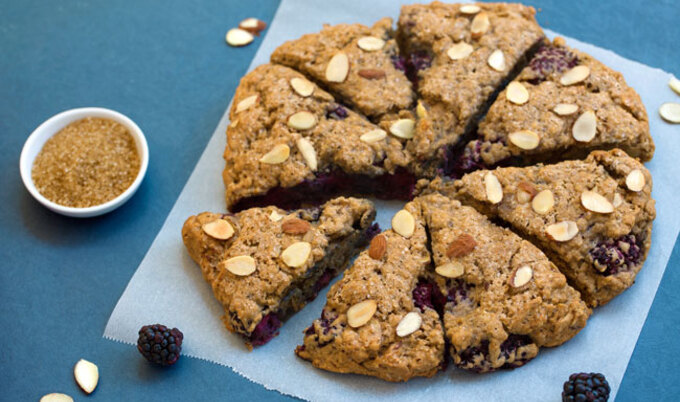 Vegan Blackberry Almond Scones
In addition to their incredible taste, blackberries boast significant amounts of calcium, iron, and phosphorus.
Makes 8 scones
1. Preheat oven to 400 degrees. Line a cookie sheet with parchment paper and set aside. In a large bowl, place flour, sugar, orange zest, baking powder, baking soda, spices, and sea salt, and stir well to combine.

2. Using a pastry cutter or fork, cut margarine into dry ingredients until it resembles the size of small peas. Add soy yogurt, soy milk, and vanilla, and stir until mixture just forms a soft dough. Add blackberries and sliced almonds, and lightly fold into dough.
3. Transfer dough to parchment-lined cookie sheet. Lightly dust hands with flour and gently pat dough to form a 9-inch circle. Using a sharp knife, score circle into 8 wedges, but leave as a whole circle to bake.
4. Bake for 15 minutes, rotate tray, and reduce heat to 350 degrees for another 5 minutes. Remove scones from oven and allow to cool 10 minutes. Cut through scored lines to separate into 8 wedges. Serve warm with jam, vegan butter, or vegan Devonshire cream.
What you need:
What you do: