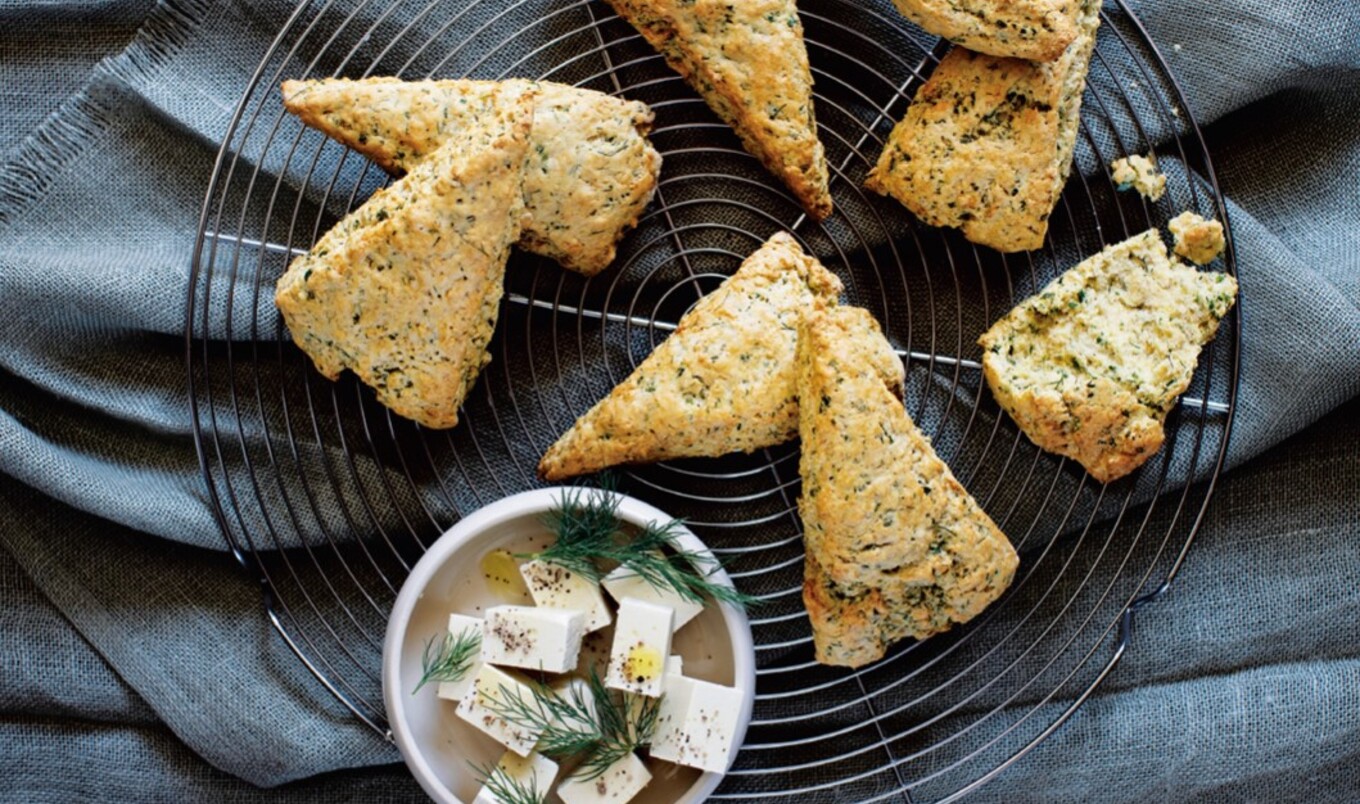 A delightful homemade feta brings a creamy, slight acidity to these buttery biscuits.
September 14, 2023
These buttery, herbed scones from the BReD cookbook are best served warm or lightly toasted with some extra feta, sliced pickled onions, herbs, and arugula, or simply with some vegan butter. You can swap the feta for a store-bought version, but the homemade version is worth the time.
What you need:
For the feta:
1¼ cups macadamia nuts
2¼ cups plus 4¼ cups filtered water, divided
Zest of 2 lemons
¼ cup lemon juice
2 cloves
3½ tablespoons nutritional yeast
½ teaspoon plus ¼ cup salt
2 tablespoons agar-agar flakes or powder
For the scones:
½ cup cold vegan butter, cut into into ¼-inch cubes
2½ cups all-purpose flour
2 tablespoons plus 2¼ teaspoons baking powder
1/3 cup whole-grain spelt flour
½ cup nutritional yeast
1 teaspoon fine salt
½ teaspoon cracked black pepper
1 cup unsweetened soy milk
1¾ cups Macadamia Feta, cut into ¼-inch cubes
2/3 cup finely chopped fresh herbs, such as dill, parsley, and chives
For the glaze:
1 tablespoon plus 2 teaspoons unsweetened soy milk
1 teaspoon maple syrup
½ teaspoon olive oil
What you do:
1. For the macadamia feta, in a 4-cup glass jar or other container, add nuts. Add 1¼ cups of filtered water. Cover and let soak in refrigerator overnight.
2. Lightly spray a rectangular plastic or glass container with a lid, approximately 5½ × 3½ × 1½ inches, with olive oil, then line with a sheet of plastic wrap, pressing into all corners and stretching out as many creases as possible.
3. Drain nuts and transfer to a high-speed blender. Add 1 cup filtered water, lemon zest, lemon juice, garlic, nutritional yeast, and salt. Blend on low speed for 30 seconds, then slowly increase to high speed, blending until mixture is smooth and beginning to heat, 2 to 3 minutes.
4. Add agar-agar. Blend, starting on low speed and slowly increasing to high, for about 4 minutes to activate setting properties of agar-agar. Pour into prepared container and let cool for 15 minutes. Cover with lid and place in refrigerator to set overnight.
5. In a medium saucepan, bring remaining 4¼ cups filtered water to a boil, then add salt. Remove from heat and set aside to cool. Pour cooled brine into a container large enough to fit slab of feta, cover, and set aside in refrigerator overnight.
6. Remove feta from refrigerator. Using plastic wrap as handles, gently lift from container and transfer it to chilled brine container (ensuring feta is submerged in brine). Cover and return to refrigerator for at least 2 days and up to 5 days, depending on how firm or salty you prefer the feta.
7. Gently remove from brine and store in an airtight container in refrigerator.
8. For the scones, preheat oven to 350 degrees. Line a large baking sheet with parchment paper or a silicone baking mat.
9. Into a large bowl, sift together flour and baking powder. Add spelt flour, nutritional yeast, salt, and pepper and whisk. Add frozen butter. Using fingertips, rub butter into flour until mixture looks like breadcrumbs. Add milk, feta, and chopped herbs. Using hands, gently incorporate everything just until a soft dough forms and no dry patches remain. Do not overmix.
10. Lightly flour work surface and dough. Roll out into a rectangle ¾ to 1-inch thick. Using a large chef's knife, cut dough crosswise into 4 rectangles, then cut each rectangle diagonally to make 8 equal-size triangles. Arrange upside down on lined baking sheet, leaving a little space between.
11. For the glaze, in a small bowl, stir milk, maple syrup, and olive oil. Using a pastry brush, lightly brush tops of scones. Bake until tops are golden brown, 15 to 17 minutes. Transfer to a cooling rack to cool for at least 10 minutes before serving.
For more recipes like this, check out:
Here at VegNews, we live and breathe the vegan lifestyle, and only recommend products we feel make our lives amazing. Occasionally, articles may include shopping links where we might earn a small commission. In no way does this effect the editorial integrity of VegNews.