How many articles of clothing do you have? Most of us own more than we need. There's a happy medium between wearing the same sweatshirt and jeans every day and struggling to find yet another hanger in your overflowing closet. A capsule wardrobe is an intentional collection of stylish and functional must-have apparel items that can be easily mixed and matched to create new looks out of just a handful of pieces. Not only will it save you money and space, it's also an incredibly sustainable way to dress. Here is how to build a vegan capsule wardrobe you'll love out of our 10 favorite sustainable brands.
What is a vegan capsule wardrobe?
A capsule wardrobe is a small selection of essential clothing items that can be easily mixed and matched year-round. Capsule wardrobes allow us to be intentional in not only what we wear, but where we buy our clothes from. This includes considering how our clothes are made and what they are made of. For many, opting for eco-friendly and vegan fabric is an underlying factor.
A capsule collection is most effective when we avoid fast fashion and impulse purchases. According to earth.org, discarded clothing and fabrics account for 92 million tons of waste each year. Ultimately, the key to building a sustainable capsule wardrobe is to be mindful of your selections and to eliminate new fast-fashion items from your wardrobe.
How to build a capsule wardrobe
There are several considerations to make when building your vegan capsule wardrobe such as the number of pieces you think you will need and the variability of the seasons where you live. According to Elizabeth L. Cline, author of the Conscious Closet, a capsule wardrobe is not necessarily defined by the number of pieces within it, but rather the versatility and intentionality of those pieces. Typically, somewhere between 10 and 40 mindfully selected pieces suit most capsule collections.
Being intentional in your clothing purchases will guide you as you build your vegan capsule wardrobe. For example, your wardrobe should generally reflect your location and lifestyle. If you live in an area where temperatures vary throughout the year, or you frequently travel, your capsule wardrobe should reflect that. The same principle applies to those living in stable year-round climates.
As you begin to build a capsule wardrobe, it's necessary to first look at what you already own. Donate pieces that no longer serve you—if you haven't worn it in a year, it's time to find that article of clothing a new home. From there, fill in the gaps with new sustainable pieces that you are missing. Select versatile pieces in coordinating colors that suit your personal style. Remember, a capsule wardrobe has room for fun statement pieces—you don't have to go all black or choose only neutral colors. The beauty of a capsule wardrobe is its minimalism—with just a few items of clothing to keep track of, you can easily recall what you have and what will match most of your pieces.
The final tip to keep in mind when building your capsule wardrobe is that it is not completed overnight. Instead of a huge shopping spree, make it a gradual process. As the seasons change, you'll be able to identify any gaps and selectively purchase an item or two to round out your curated collection.
10 essential items for your vegan capsule wardrobe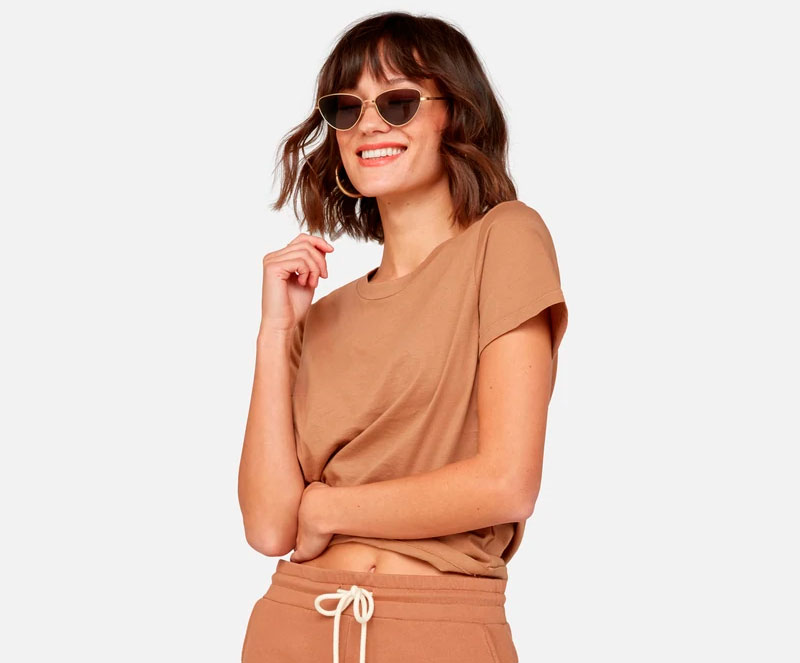 MATE the Label
1 Basic tee
Every capsule wardrobe requires at least one basic T-shirt. MATE the Label specializes in creating eco-friendly basics using non-toxic dyes and Global Organic Textile Standard (GOTS) cotton. This company ensures its workers are paid living wages by tracing its entire supply chain. MATE is also a vegan fashion brand and never uses animals or animal byproducts in its products. This comfy, slouchy tee flatters a spectrum of body types and can be dressed up or down with a pair of relaxed joggers or the perfect pair of jeans.
Find it here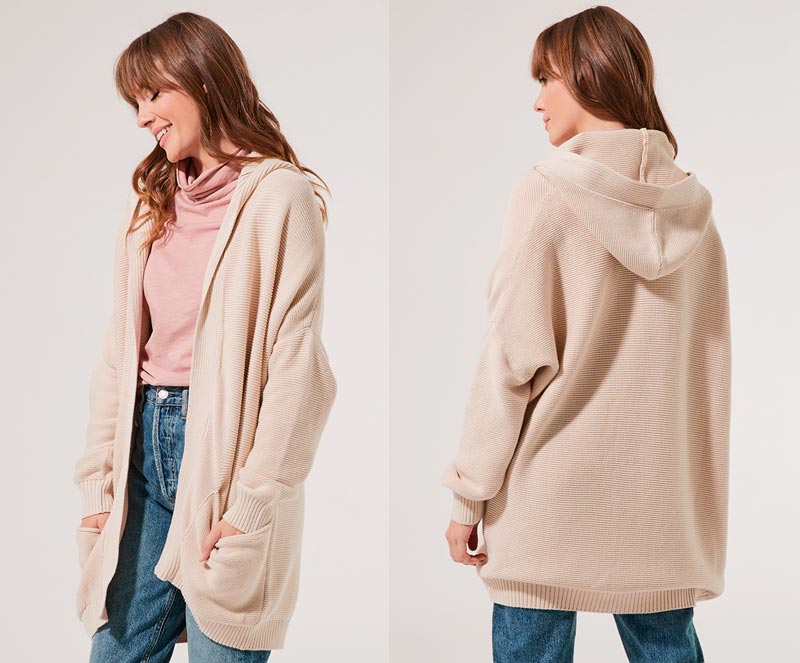 Pact
2 Staple cardigan
Cardigans are a staple for any capsule wardrobe as they can be paired with pretty much anything. This cardigan from Pact is made with 100-percent organic GOTS-certified cotton. This wool-free garment is made in a Fair Trade Certified factory in India that provides worker rights and pays a living wage. Further, this ethically made piece conserves nearly 130 gallons of water compared to fast-fashion competitors. Pact is a sustainable company that sells a variety of other fair-trade garments as well. Drape this cardigan over a casual jeans-and-tee look or a cute summer dress.
Find it here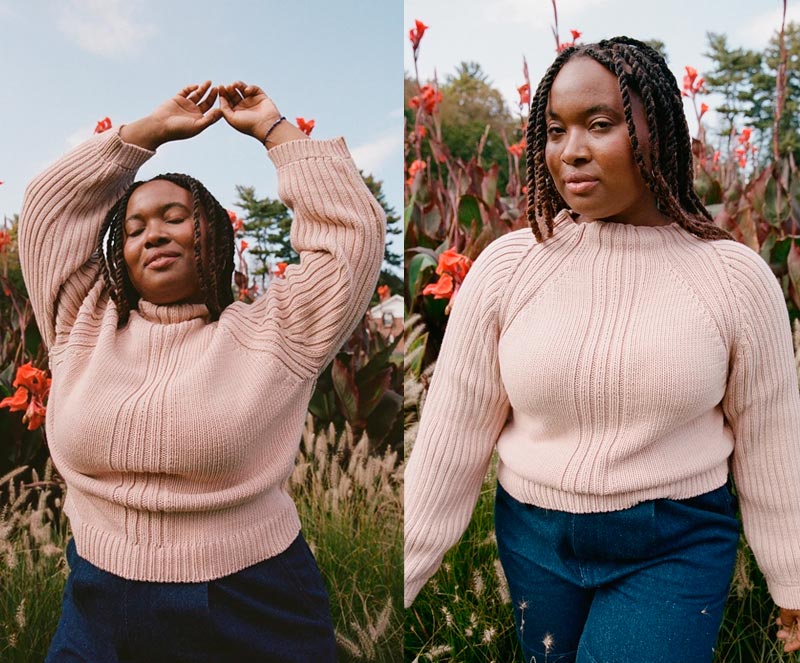 Kordai Studio
3 Warm sweater
Every sustainable capsule wardrobe needs a chunky vegan sweater. This pullover by Kordal Studio is made using 100-percent organically grown cotton and contains no animal byproducts. This luxurious piece is also botanically hand-dyed, helping to limit the amount of wastewater produced during manufacturing. All Kordal products are intentionally crafted to be gentle on your body and the environment. Pair it with jeans or a high-waisted skirt.
Find it here
Amour Vert
4 Cotton trousers
Looking for a more sustainable pair of pants? Try these upcycled cottonseed cupro trousers by Amour Vert. These pants are made by upcycling linter—the tiny fibers of cotton found within cottonseed that are too small to spin on their own. Amour Vert directly works with mills to create their own fabrics from sustainable raw fibers and materials. Most Amour Vert products are made in the USA in limited quantities in order to eliminate excess waste. This company focuses on reducing its CO2 footprint, conserving water, and combating deforestation. Tuck in a basic tee and you're set for any number of occasions.
Find it here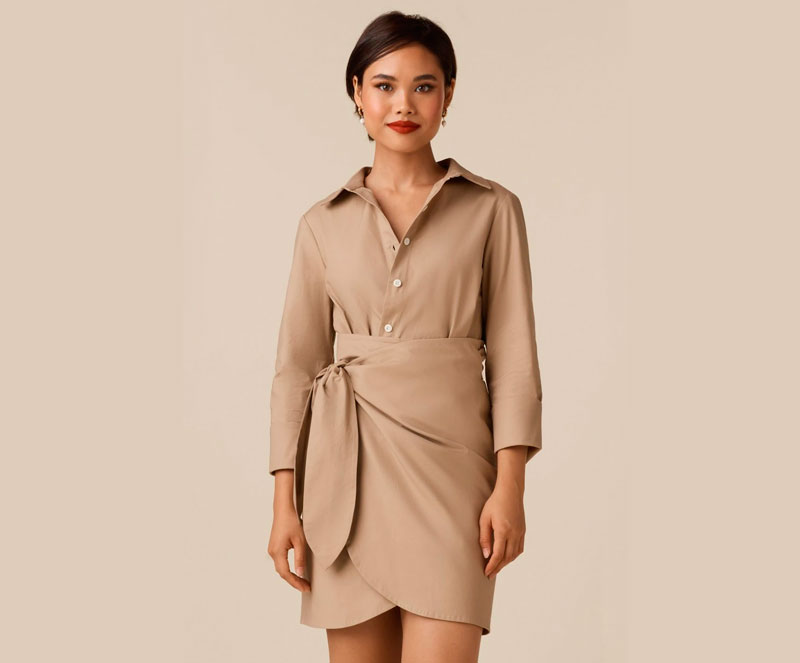 Vetta Capsule
5 Versatile two-piece set
What's one major contributor to environmental waste? Deadstock fabric—unused or leftover fabric that often ends up in landfills. Vetta Capsule, a sustainable fashion house specializing in capsule wardrobe pieces, utilizes vegan deadstock fabric in this versatile two-piece wrap dress set to help keep this often discarded textile out of landfills. Pair the blouse and skirt together or mix and match with other pieces from your capsule collection for added flair.
Find it here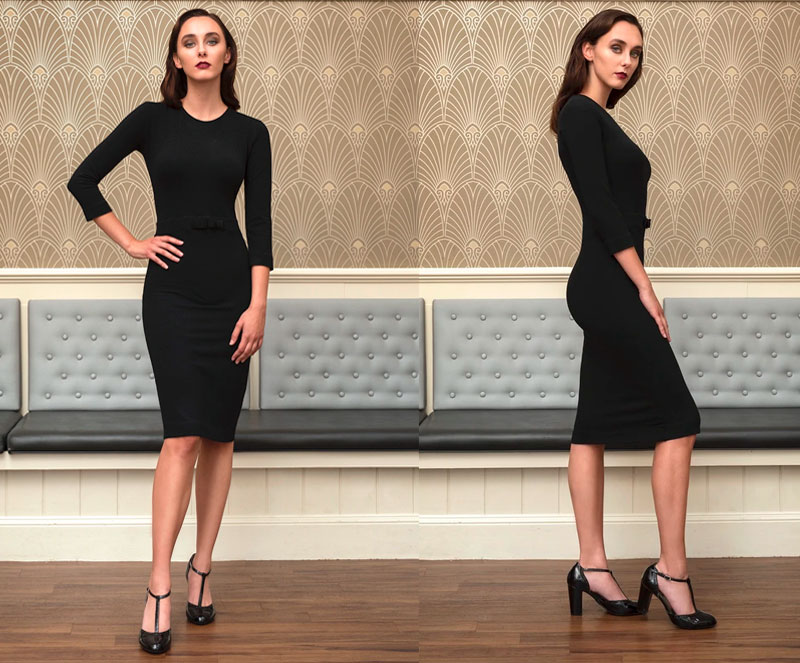 DEVINTO
6 Classic LBD
No capsule wardrobe is truly complete without a little black dress (LBD). This sustainable dress by DEVINTO is mindfully crafted with a specialty french terry fabric composed of bamboo and organic cotton. Bamboo is a sustainable plant as it requires significantly less water than other crops typically used in apparel, does not require fertilizer, and grows at an exceptionally fast rate. All DEVINTO garments are made using ethically sourced and sustainably harvested materials. What's more, every piece is handmade to order to minimize environmental waste. DEVINTO even repurposes its leftover fabric to create the world's most comfortable eco-friendly underwear. All you need is a pair of heels or adorable flats to hit the town in style.
Find it here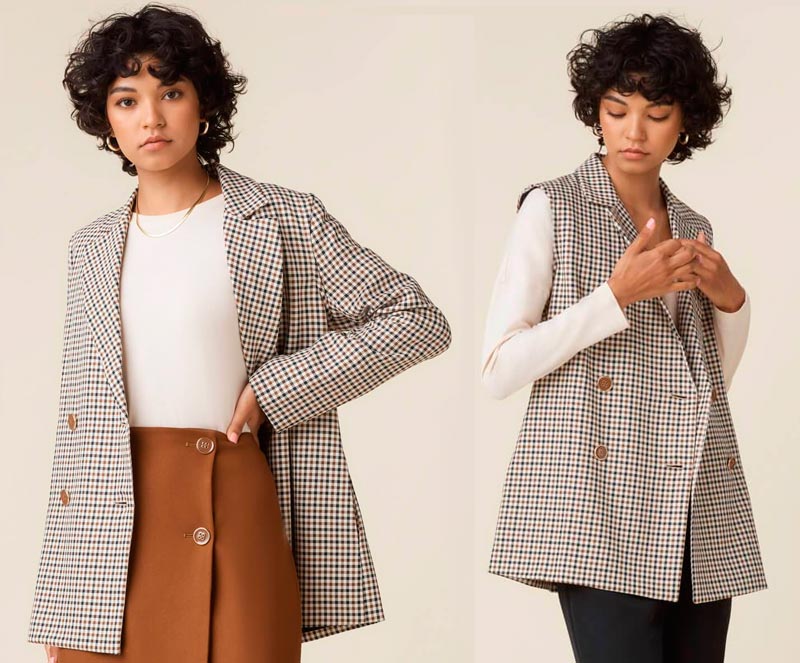 Vetta Capsule
7 Convertible blazer
Companies are becoming more creative in how they make and source their fabrics. This convertible blazer from Vetta Capsule comes as no exception. This versatile piece is made with 100-percent GRS Certified Recycled Polyester from water bottles. Go from day to night and customize your look as a blazer or as a vest. Convertible pieces are perhaps the most functional pieces to include in your capsule wardrobe as they're multi-purpose and can save you money, space, and time. Due to the nature of this garment, opt for tossing it in a micro-poly wash bag to prevent microparticles from washing away into natural water systems.
Find it here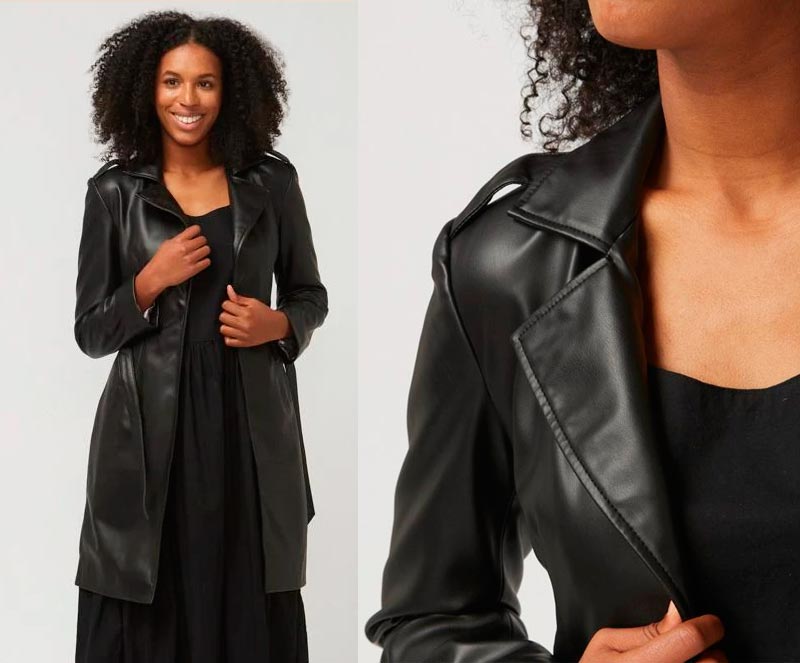 James & Co
8 Leather trench coat
Sustainable vegan leather has finally become mainstream, and this trench coat by James&Co checks all the boxes. This garment is made using eco-leather—an environmentally friendly animal-free fabric that utilizes a safe water-based treatment process to create a vegan leather that is soft to the touch. This vegan jacket can also be constructed with plant-based cactus leather or with pineapple leaf leather in various colors. James&Co ensures its suppliers comply with a strict Supplier Code of Conduct. We love to bring this along when sporting an LBD—it gets chilly!
Find it here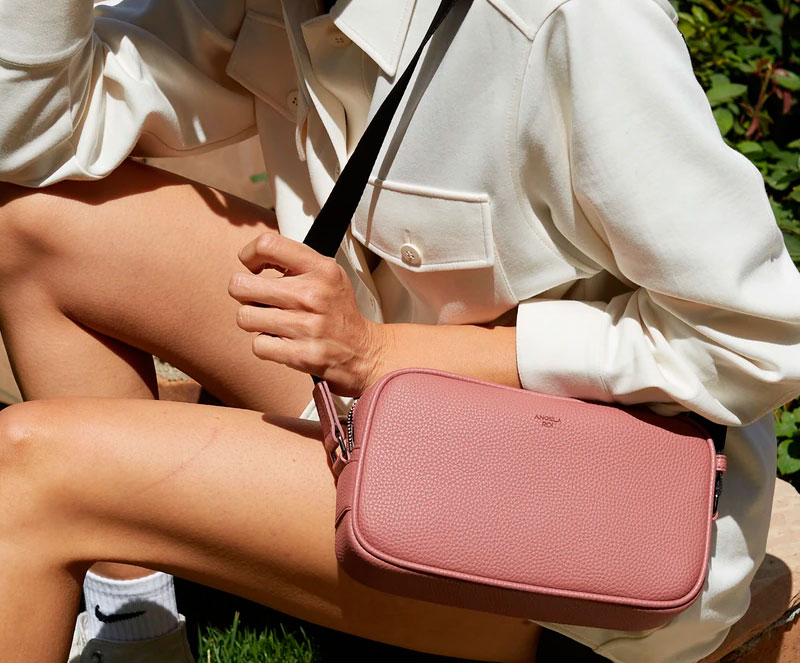 Angela Roi
9 Vegan leather handbag
Angel Roi's vegan leather handbags have become a household name for their classic styles and use of non-animal materials. The brand also utilizes the latest technology to expand on its plant-based leather options, such as cactus leather. Cactus is a sustainable crop that requires little to no water to grow. Additionally, this ethical fashion brand ensures transparency in its supply chain through quarterly audits. Angela Roi does not implement child labor and ensures that all workers are paid a living wage while working in a safe and comfortable environment.
Find it here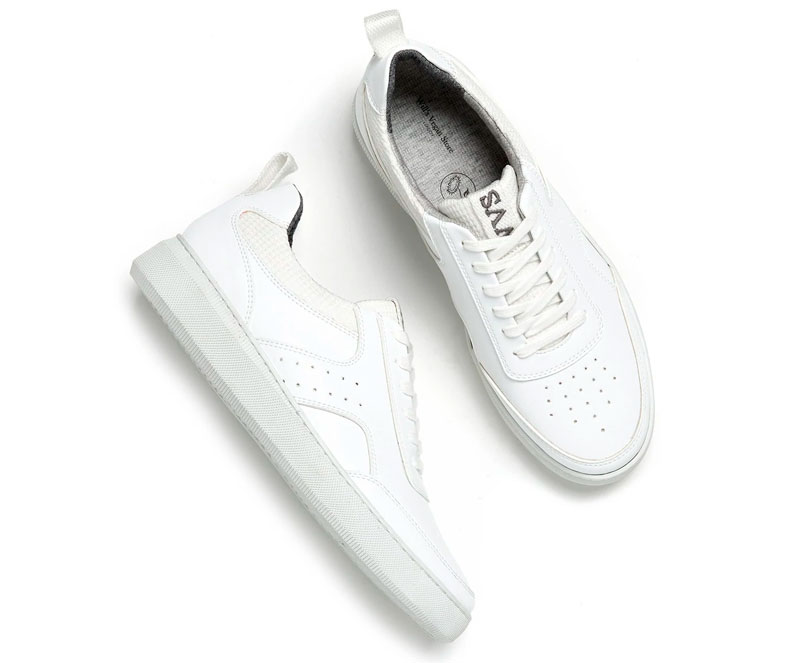 Wills Vegan Shoes
10 Comfortable sneakers
If you want to know the real scoop on how sustainable your capsule wardrobe is, look no further than Will's Vegan Store. The retailer includes a detailed product description of what eco-friendly materials are used for each garment. These kicks are made with vegan Spanish leather and Tencel, a sustainable fabric derived from FSC certified wood sources. Much of the shoe is certified compostable and biodegradable and will easily match most items in your vegan capsule wardrobe.
Find it here
For more vegan fashion, read:
Two Guys in Mexico Just Made Vegan Cactus Leather
Stella McCartney Has a Sustainable Vegan Bloomingdale's Shop
Adidas to Launch Vegan Mushroom Leather Shoes