World record-breaking salads, preposterous pumpkins, and enormous cookies are only a few of the big ol' vegan things we adore.
December 18, 2016
---
Last week we were all about the small things in life, but now we're living large. From fascinatingly enormous vegetables, to gigantic food creations we're afraid to try without the supervision of a qualified physician, the world of vegan can be quite over the top. Sure, gluttony isn't always a good thing, but during the holidays, anything goes. That's why we're taking a closer look at 10 enormous, monstrous, gigantic foods, fests, and freakshow spectacles that make living cruelty-free such big fun.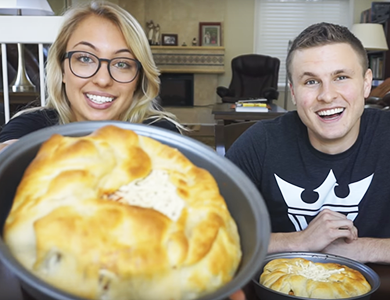 Giant Vegan Pizza Cake
While combining pizza and cake may be blasphemous in some circles, we vegans know that sometimes we need to have our cake and eat our pizza, too. Vegan video blogger Supreme Banana created a huge cake-like pizza pie by stuffing personal vegan mini-pizzas (sans cheese from Pizza Hut) into a pie tin filled with Pillsbury crescent roll dough, then stuffed it with ooey-gooey Daiya mozzarella cheese. We must say, this is vegan gluttony at its finest.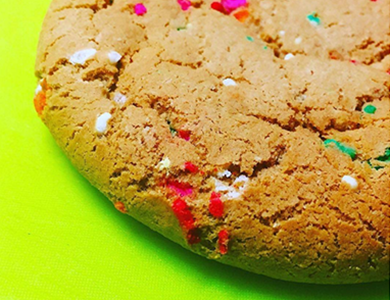 Giant Vegan Cookie
Regular cookies are just fine and dandy, but have you seen the monstrosities from Lenny & Larry's? These things are the size of your face and packed with more protein than a tofu steak for two. The fact that they're really tasty and come in flavors such as Birthday Cake, Snickerdoodle, and Double Chocolate Peanut Butter Swirl really doesn't help in our quest to eat just half.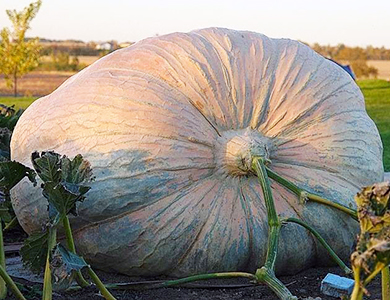 World's Largest Pumpkin
The best kind of food competition in the world is when farmers try to out-vegetable each other by growing world record-holding crops. Currently, Beni Meyer of Germany holds the world record for growing the largest pumpkin at 2,323 pounds! We can't stop thinking about how many pies we could craft from such a formidable gourd.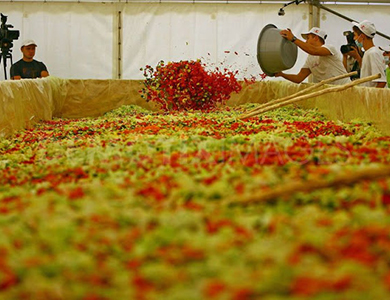 World's Biggest Salad
In 2012, over 1,000 people got together in Romania to chop 23 tons of vegetables—including tomatoes, cucumbers, onions, carrots, and iceberg lettuce—then tossed them with salt and olive oil in a salad bowl that was nearly 60-feet long, ten feet wide, and two feet deep. The resulting salad won both the Guinness Book of world records and our veggie-loving hearts.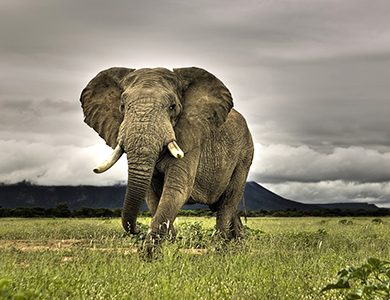 Biggest Herbivorous Animal
We're sure you've seen memes on Twitter where the text "but where do you get your protein?" is overlaid onto a photo of a gorilla going to town on some leaves. And while gorillas are grand indeed, the biggest herbivore around is the African bush elephant. These gentle beings grow to weigh up to 13,000 pounds (of mostly muscle), all on a diet strictly comprised of plant shrubbery, which checks that protein question at the door!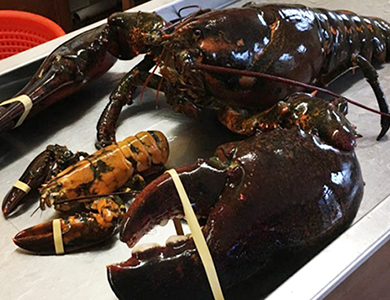 Giant Lobster
A few weeks ago, a vegan woman in Nova Scotia rescued 100-year old giant lobster King Louie from a seafood shop that was planning to sell him off to be used as a promotional prop at local businesses. The 23-pound lobster made it back into the cold waters of the Bay of Fundy, where he was initially caught thanks to her quick efforts. How do we like our giant lobster? Swimming with his grand-lobster friends, safe and sound.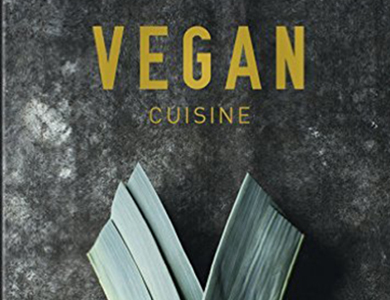 Big Vegan Book
We love ourselves a hefty vegan cookbook, but Vegan Cuisine by Jean Christian Jury and Joerg Lehmann is the mother of all large format coffee table books—with a giant $125 price tag to match. With nearly 500 pages, weighing in at more than six pounds, and packed with over 800 recipes, the sheer grandeur of this masterpiece is big in our book.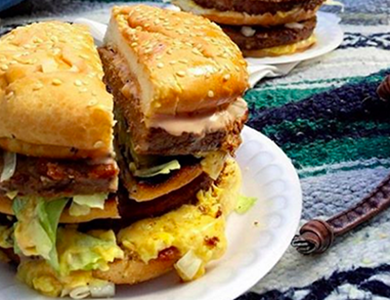 Giant Festival
Intimate vegan gatherings are nice and sweet, but big ol' festival blowouts get our little compassionate hearts pumping. Luckily, festivals celebrating all things vegan have been attracting massive crowds all year long. If we had our pick, we'd hit every single one from Los Angeles to London to Toronto—which over 50,000 people attended last year—and back.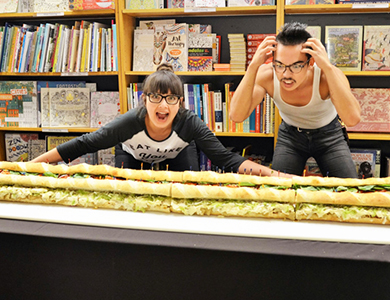 Giant Submarine Sandwich
Aubry and Kale Walch over at vegan butcher shop Herbivorous Butcher in Minneapolis made two six-foot sandwiches for animal-activist and famed musician Moby when he came to their town for a book tour back in May. One sub was loaded with the shop's homemade plant-based turkey, camembert, and bacon onion jam, while the other was a savory chicken caprese. We know that it has been well over seven months since the event, but we're still hoping someone saved us a piece.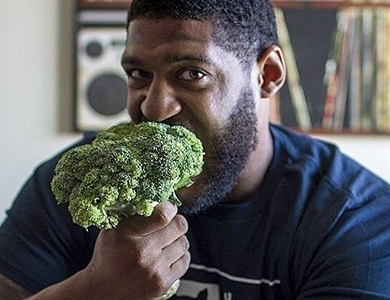 Giant Vegans
As much as we love enormous salads, popular fests, and gigantic cookies, it's the big hearts that really matter. Football player David Carter—also known as "The 300-Pound Vegan" by his blog of the same name—is one of the biggest, loveliest vegans around. The fact that Carter actively supports animal-activist organizations such as Vegan Outreach, and travels the country to speak with college students about choosing a compassionate lifestyle, proves that his stature is as gigantic as his heart.