Increase the competition at your Super Bowl party this year with a chip-and-dip battle that ensures you're eating for the win.
January 31, 2018
---
The New England Patriots and Philadelphia Eagles might be the biggest stars at this year's Super Bowl, but our vegan chip-and-dip round-up is guaranteed to stir up some unexpected competition at your football party. To throw the best Super Bowl party ever, we decided to pair some of our favorite vegan chips with the best plant-based dip recipes on the web. The result is a Super Bowl-worthy snack roster that will leave you agonizing over which combination to choose, as each delectable duo brings something different and delicious to the playing field. Which pairing will reign champion over your stomach? We suggest setting out a few of these combinations, and everyone wins!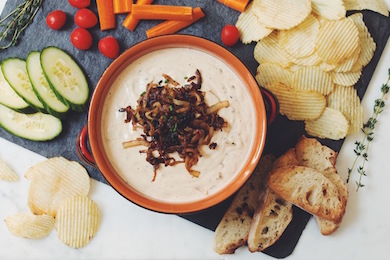 1. Beanfields White Bean with Sea Salt Chips with Caramelized Onion Dip
Is there anything better than a classic caramelized onion dip? Yes—onion dip with Beanfields White Bean with Sea Salt Chips! The light, crisp flavor of these bean and rice chips pairs nicely with the robust flavor of the sweet tanginess in your classic onion dip. Try this caramelized version from Hot For Food.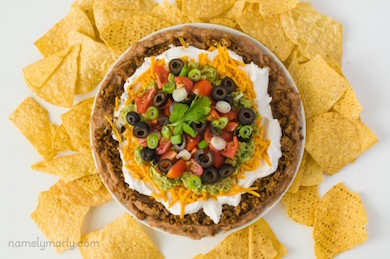 2. Trader Joe's Quinoa & Black Bean Chips with Vegan Seven-Layer Dip
A seven-layer dip, especially this flavorful and plentiful recipe from Namely Marly, requires a substantial chip. Fortunately, the Quinoa and Black Bean chips from Trader Joe's fit the bill. These chips have a subtle flavor that allows the dip's complex flavors to shine, and are sturdy enough to scoop and dip all seven layers at once.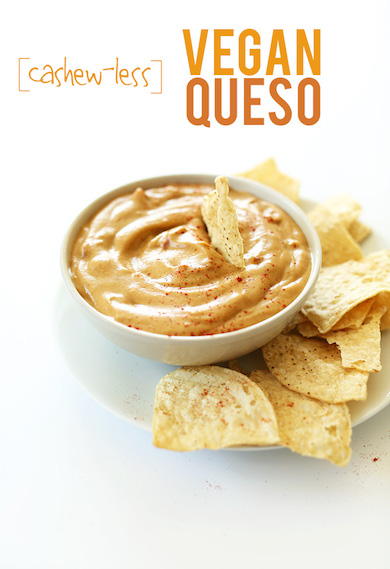 3. Late July Bacon Habanero Clasico Tortilla Chips with Vegan Queso Dip
These corn chips from Late July are seasoned with spicy habanero peppers and a sweet, smoky bacon flavor. Undeniably delicious on their own, these chips are taken to a whole other level when paired with a vegan queso, and Minimalist Baker's eggplant-based version does just the trick!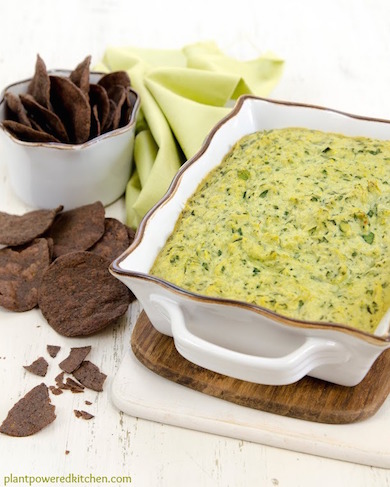 4. Simply 7 Sea Salt Lentil Chips with Creamy Artichoke Spinach Dip
Few dips evoke the coziness and comfort of a warm, gooey spinach artichoke dip. Although it's traditionally served with tortilla chips, we recommend subbing in these nutritious lentil chips from Simply 7. These chips' unique, earthy flavor perfectly complements a classic, green dip—pair with this super-creamy veganized version from Plant-Powered Kitchen.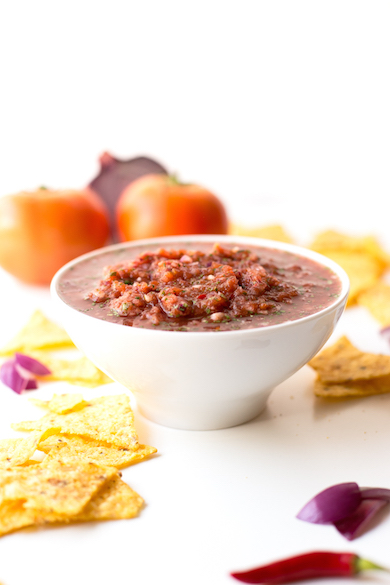 5. Tostitos Cantina Traditional Tortilla Chips with Simple Restaurant-Style Salsa
A classic restaurant-style salsa—such as this one from Simple Vegan Blog—requires an equally classic tortilla chip. Tostitos is our pick for dipping into the spicy tanginess of this easy-to-make salsa. With options from scoops and rolls to bite size and traditional, there are so many ways to dip with this chip.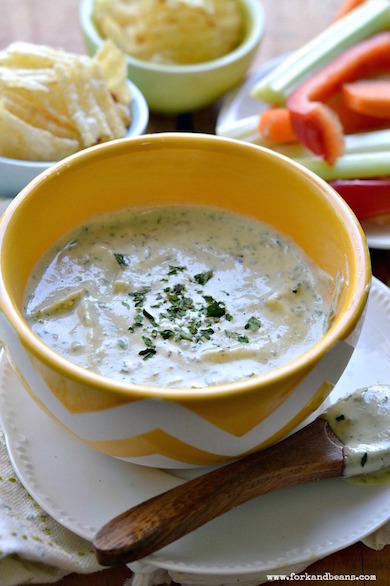 6. Beanfields Ranch Bean and Rice Chips with Vegan Ranch Dip
This combination doubles the ranch goodness! Beanfields Ranch Bean and Rice Chips have nailed the "cool" ranch taste all on their own, but we say go big and put it together with an equally yummy ranch dip such as this one from Fork & Beans.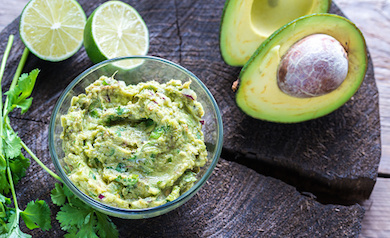 7. Terra Plantains Sea Salt Chips and Guacamole
Tortilla chips and guacamole are classic, but this not-so-traditional guacamole from Leslie Durso features sun-dried tomatoes, which brings new life to this favorite pairing. Give things a twist and pair with Terra's beautiful 3-ingredient Plantains Sea Salt chips. You'll never look at chips and guac the same!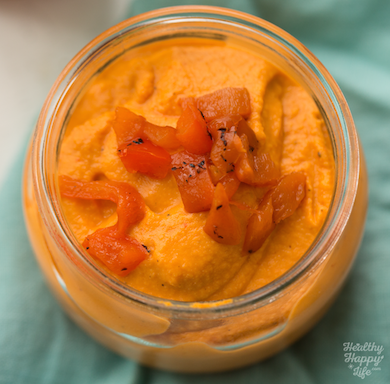 8. Stacy's Garden Veggie Medley Pita Chips and Roasted Pepper Hummus
Hummus is the ultimate vegan dip. With so many varieties, you could literally create hundreds of pairings. The medley of herbs, tomatoes, and onions in the Garden Veggie Medley Pita Chips from Stacy's lend themselves pleasantly to a roasted red pepper hummus. Try this spicy recipe from Healthy Happy Life (bonus sandwich recipe included!).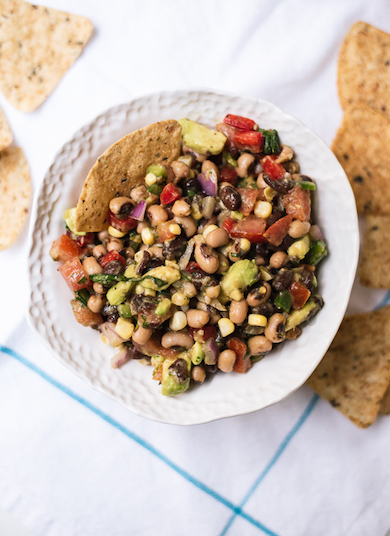 9. Terra Crinkled Sweet Potato With Sea Salt and Healthy Cowboy Caviar
This cowboy caviar from Cookie & Kate has all the familiar bean and veggie fixings of the Texas favorite, but without all the fat thanks to a lighter Italian dressing. For an unexpected savory surprise, we've teamed this chunky dip with Terra's Crinkled Sweet Potato With Sea Salt chips.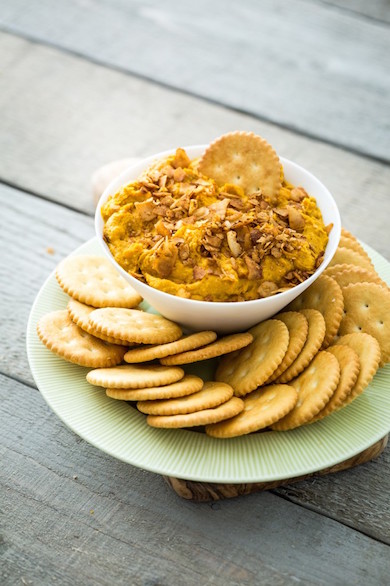 10. Earth Balance Vegan Cheddar Flavor Kettle Chips and Vegan Cheddar Bacon Dip
Bacon and cheese might seem like a vegan culinary illusion, but the cheddar-flavored kettle chips from Earth Balance and Keepin' It Kind's chickpea-based, coconut bacon-studded dip make it a reality.
Stephanie Dreyer is the founder of VeegMama, where she helps families cook and eat healthier.