From plant-based burgers to vegan apparel, we can't wait to eat, smell, see, and wear the bounty of cruelty-free goods available to us this year!
January 6, 2017
---
The vegan world is bulging at the seams, with new things to try around every corner. With 2017 upon us, it's time to get down to business sampling the amazing new vegan products, foods, restaurants, and getaways that await us. Here are the 17 cruelty-free things we can't wait to jump into during 2017!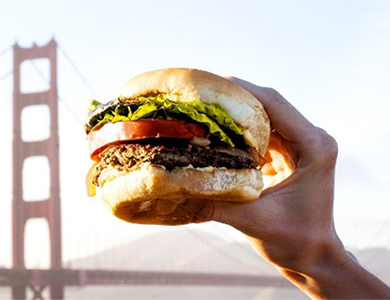 Impossible Burger
It seems as though 2016 was the year of the vegan burger, and this beauty—produced by Impossible Foods—reigned supreme. This year, we're excited to sample and compare the burger creations at Los Angeles' vegan restaurant Crossroads with San Francisco's La Jardinere. In the wide world of vegan burgers, there are no winners or losers; only deliciousness on a bun.

Veggie Grill
More burgers? Why not? We snuck in a taste of the new Beyond Burger at a Los Angeles location of Veggie Grill and later at a Walnut Creek location—but in 2017, we're hitting all 28 fast-casual restaurants to devour these succulent, juicy patties! We'll take several orders of buffalo wings while we're at it.

Ripple
Now that the pea-based milk brand is expanding to 6,000 Target and Walmart stores nationwide, sipping on some Ripple just got way more convenient. Given the explosive growth of the dairy-free industry, we're betting that in 2017 our morning cereal will finally find its perfect liquid companion.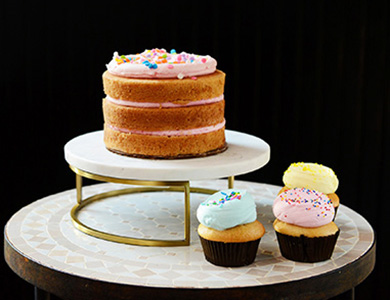 Sweets by Chloe
We're talkin' all the sweets made by Chloe Coscarelli at her new(ish) fully vegan bakery that sits adjacent to the flagship West Village location of her vegan eatery, by Chloe. Chocolate matcha babka, here we come!

Screamer's Pizzeria
… and while we're on the East Coast, we're drooling for the pies at this vegan pizza shop in Brooklyn. We will be piling on the vegan mozzarella, seitan pepperoni, and oyster mushrooms, grabbing a dozen cannoli, and washing it down with a frosty Maine Root Beer. Mmm!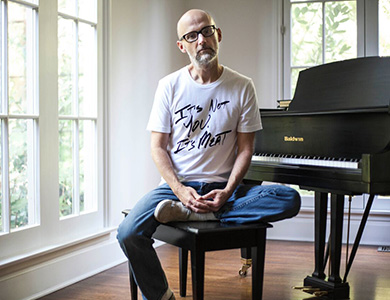 BEETxBEET Apparel
Our favorite vegan musician Moby recently partnered with cruelty-free apparel company BEETxBEET to promote new designs that he models himself. Made from 100-percent combed and ringspun cotton, we'll take a few of those "It's not you, it's meat" shirts in case we need to dump a couple carnivores in the coming months.

Matthew Kenney Retreat
Given our many incredible dinners at Matthew Kenney's Plant Food + Wine restaurants, we'll bet our spiralizer that the chef's new venture—a one-week, all-vegan resort program in Kauai, HI—is going to be a big hit once it launches in May. While we wait, we'll hit up his new eatery inside the Beverly Hills location of Neiman Marcus.

Sunfed
Developed by New Zealand entrepreneur Shama Sukul-Lee, we're booking our ticket across the world to get our hands on this pea-protein based vegan chicken that cooks up best in curries. Sukul-Lee adds no artificial colors to her products, meaning we can keep our bodies free of junk this year.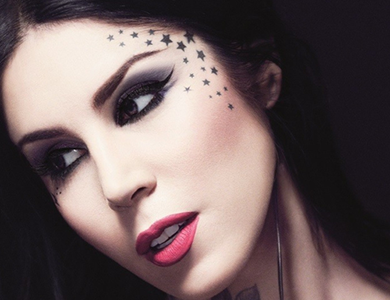 Shade + Light Contour Palette
Tattoo artist and makeup mogul Kat Von D veganized her popular face contouring palette—by removing carmine from the formulation—and we're excited to play around with its six shades to freshen up our look. Von D is also getting into the fashion game with the forthcoming launch of a vegan shoe line in collaboration with cruelty-free company Mink. Now if we could just get our hands on Von D's ever-creative wardrobe, we'll be all set.

Miyoko's Kitchen European-Style Cultured Butter
We've been using this spread since it launched last year, but now that Miyoko's vegan butter is available at Trader Joe's (for the very fair price of $4.99), we can't wait to stockpile this tangy, buttery spread that's best enjoyed on a piece of crusty bread.

The Big Fat Truth
Proof that there is something good to watch on TV, we're popping a bag of nooch-covered popcorn and settling in for episodes of plant-based wellness show The Big Fat Truth—from the creator of The Biggest Loser, JD Roth—once the series launches on Z Living.

Ad-Rock's Vegan Shoe
We're thrilled to slip our feet into these water-resistant, all-vegan kicks created by Los Angeles company Keep, in collaboration with musician Ad-Rock of Beastie Boy fame. The best part? All proceeds from the $97 per pair shoes go toward helping wellness organization Planned Parenthood.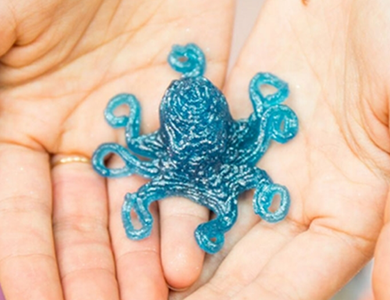 3-D Printed Gummies
We can't get over how cool it is that not only can we chow down on gelatin-free gummies from German brand, Katje's, but the company makes their candy fully customizable—in various flavors, shapes, and even custom messages—created by an uber fancy 3-D printer.

El Palote
The husband-and-wife owners of traditional Mexican restaurant El Palote in Dallas nixed all animal products in 2016, and we haven't yet had a chance to sample their reportedly delightful tamales, tortas, tacos, and pastries in the new year. Texas, here we come!

Grab-n-Go Tofurky Sandwiches
While we're in travel mode, heading to the United Kingdom for a packaged deli sandwich by classic vegan company Tofurky isn't too much of a hassle, right? We promise to avoid the tallow-laden £5 banknotes while we're there!

New Wave Shrimp
The Silicon Valley-based vegan startup says that they've nailed the flavor and texture of shrimp using soy protein and red algae. We're imaging our first experience with New Wave's shrimp to be rounded out with a little vegan cocktail sauce and a lemon wedge.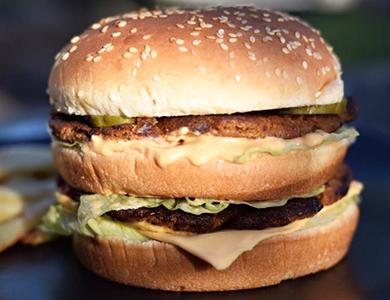 The Big McInnes
Canadian James McInnes debuted his veganized take on McDonald's iconic Big Mac last year. While previously only available through the take-out window of McInness' McVegans food truck, the burger—along with No-Egg Muffins, Bacun Quarter Pounders with Cheese, and Beer Battered "Fish" Sandwiches—has found a permanent place of residence with Globally Local, a fast-food joint slated to open in mid-January.