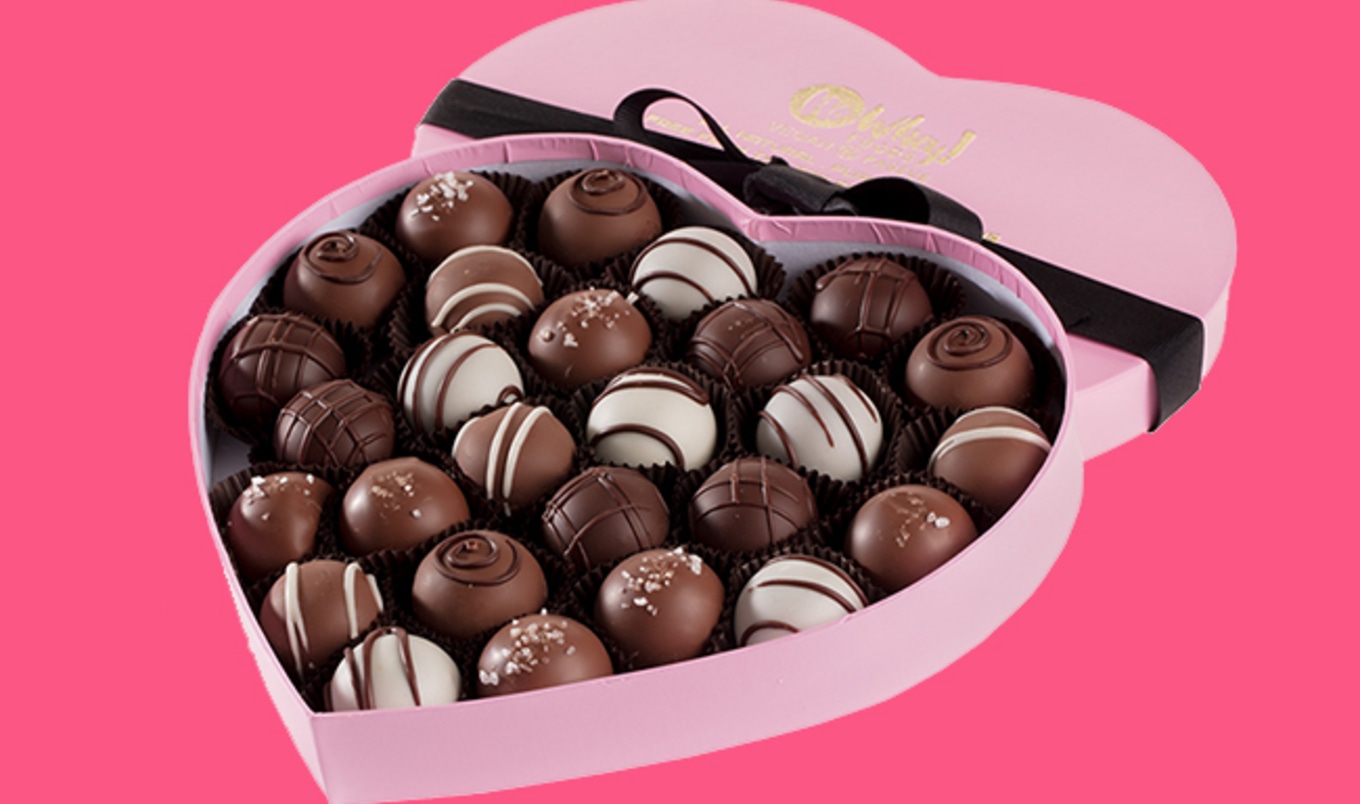 We're fantasizing about special love-day proposals that are sure to sweep any food-loving vegan off their cruelty-free feet.
February 13, 2017
---
I have spent the last eight or so Valentine's Days on my own, engaging in activities that ranged from crying into a pint of dairy-free ice cream to YOLO-ing it at a club with similarly single friends. This year, I managed to score a nice-lookin' love-day partner and as of this week, my very not-vegan boyfriend and I have been together for just over one month. Needless to say, the idea of marriage is far in the future—and I'm not even sure I'm the type that wants to get hitched. However, a girl can still dream about the romantic ways in which she wants to be swept off her feet. While fantasy proposals often involve beautiful scenery and grand gestures, I'm really just into vegan food. So without further ado, these are my five dreamy, food-centric Valentine's Day proposals.

Cocktails by (and with) Chloe
Spending a casual afternoon at by CHLOE in New York's West Village is already a dream come true (if I can get a seat, that is), but this Valentine's Day, the vegan eatery has some pretty enticing specials that set the stage for a perfect proposal. We would order the "Beet Mine Burger" to start, which features a ruby-hued beet and lentil patty, sautéed oyster mushrooms and kale, pickled onions, and truffled basil aioli. We'd proceed to get tipsy with the help of Chloe's "The Merry Valentine" cocktail—an array of pink juices spiked with tequila and sweetened with raw agave. When we're a few cocktails deep, he'll pull out a baked vegan onion ring—which he made the night before following by CHLOE's recipe—and slip it onto my finger while I sob tears of joy. As a bonus, I'd request that Chloe Coscarelli herself be on hand just in case I need a recovery shot of kale-infused something or other.

Romance at Romagna
If the whole by CHLOE thing falls apart (as onion rings aren't too sturdy), we'll head over to the other side of Bleecker street to classic Italian eatery Romagna. The restaurant started veganizing at the beginning of the month after the Veganizer herself—Kiki Adami—planted the seed of potential vegan success within chef/owner Lorenzo Lorenzi's heart. I used to speak Italian when I was a kid, and his second generation Italian roots—by way of Long Island, NY—mean that he sort of does, too. It would be a great place to practice our language skills, and maybe for him to ask some important questions in Italiano.

Date at the drive-thru
The boyfriend lives in Northern California's wine country, and while you'd think a proposal at a lush vineyard would do the trick, I'm leaning more toward Amy's Drive-thru in nearby Rohnert Park. He has been dining there regularly and speaks very highly of the vegan broccoli mac n' cheese. What's more, he's spotted regular-Joe construction workers eating everything from burritos to burgers from the very vegan-friendly fast-food joint. I picture us sitting at one of the booths, looking lovingly into each others' eyes in between bites of The Amy—a double-decker beast of a burger complete with vegan cheese and spicy sauce. He'd stand up on the table, and before being apprehended by the staff, would pop the big question. At which point, I would make sure all that sauce was fully wiped from my face.

"Will you carry me?"
Here's a secret: I live in San Francisco and vegan cinnamon roll shop Cinnaholic is a short train ride away in Berkeley. Despite this, I have yet to sample their fluffy, customizeable creations. I'd love it if on Valentine's Day, every single one of those mouthwatering cinnamon rolls had "will you marry me?" swirled all over the tops in different frosting flavors (peanut butter, raspberry, salted caramel; I'll take them all!) I would have to bite into at least 10 of those sweet, sweet pastries, would likely fall into a sugar coma, and then lose use of my legs so he'd have to piggyback me back to the car.

Classic chocolate box
Vegan chocolate company No Whey Foods is fully on-board with Valentine's Day, and features several candy options. The Heart Truffle Box is filled with an assortment of vegan chocolates in flavors such as milk-like fudge, raspberry, coffee, and salted caramel, with some drizzled in vegan white chocolate. Now, this box comes in two sizes and if he knows me, he'll go for the large one—stuffed with a whopping 25 truffles. I will attack this box with such fervor he'll forget to tell me that there's an engagement ring nestled somewhere between all the chocolate. And everyone knows that nothing screams "this one's a keeper" like watching your girlfriend plow through an entire box of chocolate, even if she accidentally swallows a paycheck's worth of jewelry.

Happy Valentine's Day, boyfriend. Also: no presh.
Anna Starostinetskaya is a news writer at VegNews and hopes that her boyfriend, Robert, isn't embarrassed by all this wacky banter.

Photo courtesy of No Whey Foods