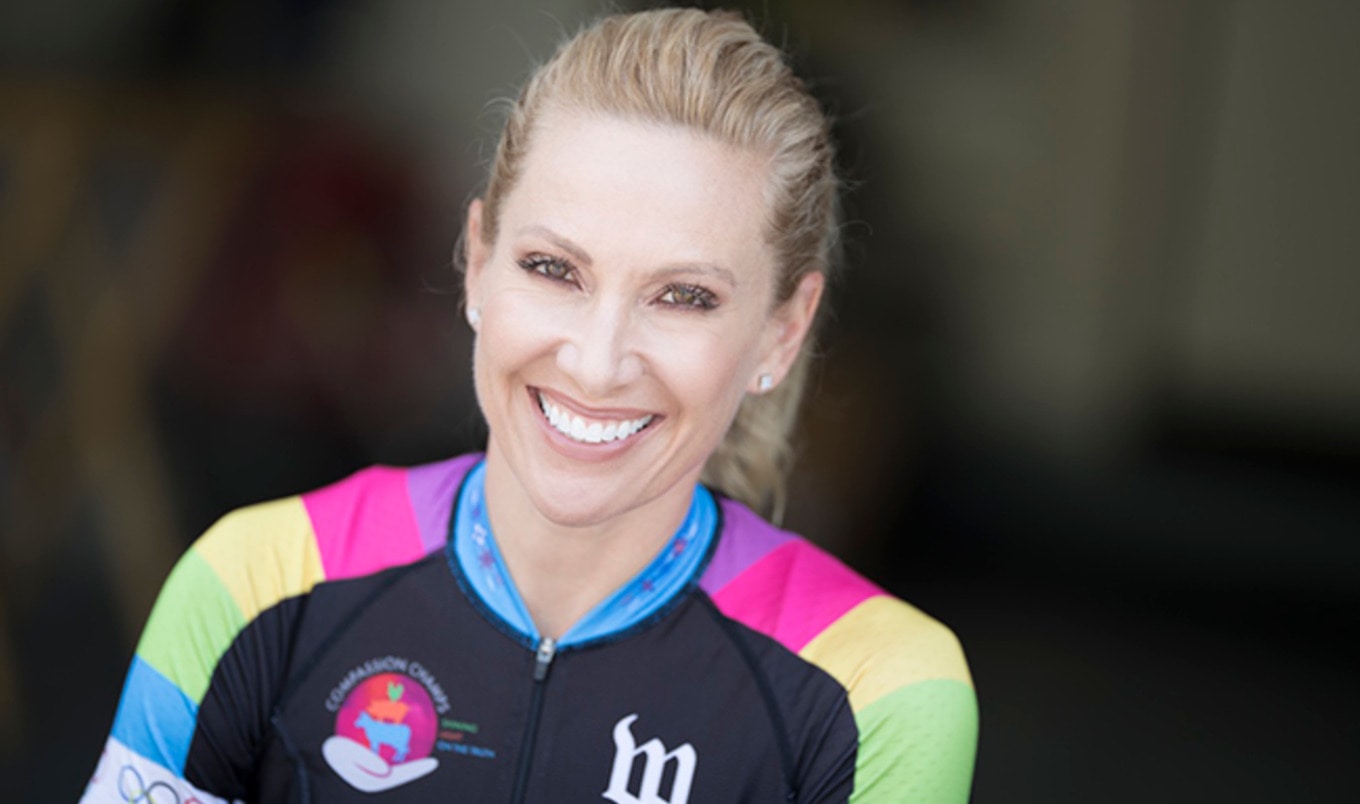 Dotsie Bausch is one of many high-profile vegans speaking at this weekend's vegan music and food event.
November 15, 2017
---
Dotsie Bausch has an impressive resume. Along with her jobs as a television sports analyst, speaker, ambassador, and nonprofit founder, Bausch is a 2012 Olympic silver medalist in cycling. Although few can claim this latter accomplishment, Bausch has set her sights on a much larger goal: to promote compassionate eating for a healthier, more sustainable, and ethical world. She has harnessed her platform to spread the plant-based movement through multiple channels, including her TEDx talk "Olympic Level Compassion," volunteering at her local animal shelter, and founding the Compassion Champs nonprofit organization. Bauch is also a featured panelist at Saturday's Circle V music and food festival in Los Angeles. We spoke to her about her appearance this weekend and learned more about her journey as a vegan professional athlete. Here are a few highlights from our conversation.
On going vegan
Bausch transitioned to a plant-based diet well into her professional cycling career. With several national championships and a world record in women's track, she made the 2012 Olympic team and ditched animal products in the midst of her Olympic training. "I remember wondering if I would have the strength and stamina on this new eating path to even make the Olympic team," Bausch says. "I didn't care if I didn't. Eliminating all cruelty from my plate was more important than anything I would ever do, and I knew in my heart it would shape what I stand for."
Favorite fuel
Anyone who questions the variety of a vegan diet needs to speak with Bausch, as her diet is refreshingly unregimented. She eats everything from spirulina smoothies to Hilary's breakfast sausages and Miyoko's Kitchen cheese. She also loves nuts, seeds, Himalayan sea salt, sun-dried tomatoes, avocados, figs, cold-pressed flaxseed oil, and a variety of grains. "I never cooked before going vegan," Bausch says. "Now, I can't get enough of creating in the kitchen. I just threw a 100-percent vegan 70th birthday party for my mom for 45 meat eaters. It was a huge success."
Pursuing her plant-based passion
Bausch capitalizes on her professional cycling achievements to educate others about the benefits of a vegan diet. "I am known in cycling, nationwide, as 'the vegan,'" Bausch says. "I talk about it often and educate as much as I can." "During Veg Week a few months ago, we did a huge push, and many cyclists tried [veganism] for a week and never looked back. I have friends who live in very un-vegan-friendly towns who have made the transition and have reversed diseases they were fighting, lost weight, and they are feeling better than they ever have. It's changing their whole life because now that they are living in alignment with their core values of mercy, empathy, and compassion. Their lives are opening up to so many new possibilities."
Most recently, Bausch launched Compassion Champs as a way to further her belief that veganism is the most compassionate way to live. "We are creating not just an organization but a movement," Bausch says. "I coined the term 'Olympic Level Compassion' to encapsulate our belief that each person has the potential to spread goodness in a unique, monumental, and far-reaching way." The organization focuses on individual, everyday change, as well as change within the professional athlete world. She offers one-on-one mentors for those looking to adopt a plant-based diet, and she initiated Compassionate Champs' first campaign, #XMilk, to persuade world-class athletes to drop their "Got Milk" sponsorship.
Bausch wrote letters to these sponsored athletes, which were co-signed by plant-based athletes such as Rich Roll, John Lewis, Seba Johnson, Kenny Anderson, and Brendan Brazier. "I hoped I could have an impact given that I was also a top-level athlete who competed without cruelty," Bausch says. To date, #XMilk has successfully convinced two athletes, one Olympic Gold medalist and one Ironman Champion, to ditch their dairy sponsorship beginning January 1. "In the future, athletes going vegan will blossom and become the new norm."
Circle V
Bausch became involved with Circle V through her relationship with Mercy For Animals. According to her, Circle V is "education, camaraderie, acceptance, understanding, and compassion." She hopes non-vegan attendees will leave the event knowing the truth behind animal agriculture, and that this will inspire them to change their lives for the better. She loves that the festival highlights veganism through amazing food and education and also enjoys the fun of it. "It's a chance to let go and celebrate together. There's no judgment. We let loose, dance, and feel close to the people who are fighting the good fight. It's an emotional high all day and all night!"
Tanya Flink is a certified Master Personal Trainer based in Orange County, CA and host of "The Vegan Potluck" podcast.