Nut butter will forever be a staple in our pantries. A spoonful of almond butter is the perfect pick-me-up for when we're feeling a little peckish, and tahini-stuffed dates are one of our go-to pre-workout snacks. The humble peanut butter and jelly sandwich is something that we will never, ever tire of—especially on days where we don't feel up to cooking. But, is nut butter healthy? And are all nut butters vegan? We're here with answers.
Is nut butter vegan?
Most nut butters are free from animal products and therefore, they're suitable for vegans. In its purest form, nut butter is made by blitzing or grinding nuts into a paste. The ingredients you want to watch for include anything that comes from an animal. Brands are known to use honey, milk powder, whey protein, collagen, or egg whites in nut butters, so remember to skim the ingredients list before you make a purchase.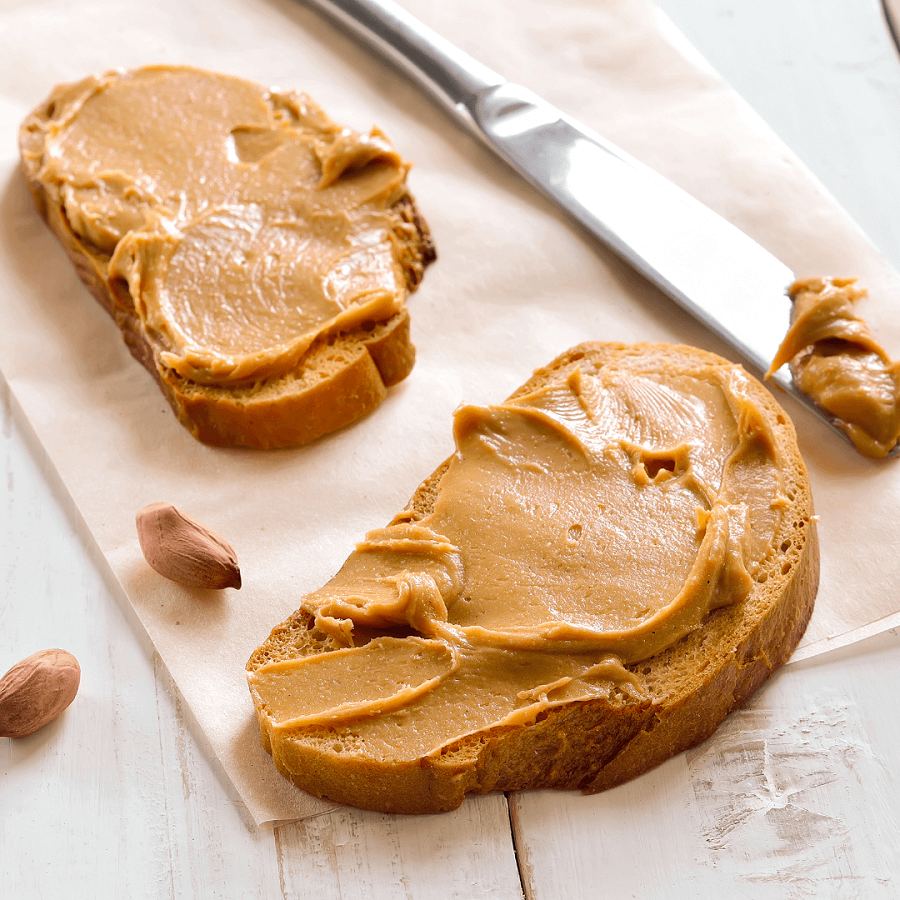 Canva
Some nut butters are made from just one ingredient, while others may contain salt, sugar, or added oil. These are plant-based, but some vegans may avoid nut butters that contain palm oil due to the controversial ingredient's ties to deforestation, primarily in Indonesia and Malaysia. The destruction of these biodiverse regions is a threat to many species, including the endangered orangutan, pygmy elephant, and Sumatran rhino. This destruction of forests and peatlands also contributes to global warming, as the practice releases heat-trapping carbon emissions into the atmosphere.
Is nut butter healthy?
The specific nutrients vary between nut butters but generally, they contain a number of healthy nutrients, including protein, fat, vitamins and minerals, fiber, and phytochemicals such as zinc.
Nut and seed butters generally contain heart-healthy polyunsaturated fats, which help lower "bad" low-density lipoprotein (LDL) cholesterol. If you're looking for a healthy nut or seed butter to eat regularly, watch for anything that contains partially hydrogenated oils, which are a trans fat. Trans fats are known to raise LDL levels and decrease high-density lipoprotein—the "good" cholesterol.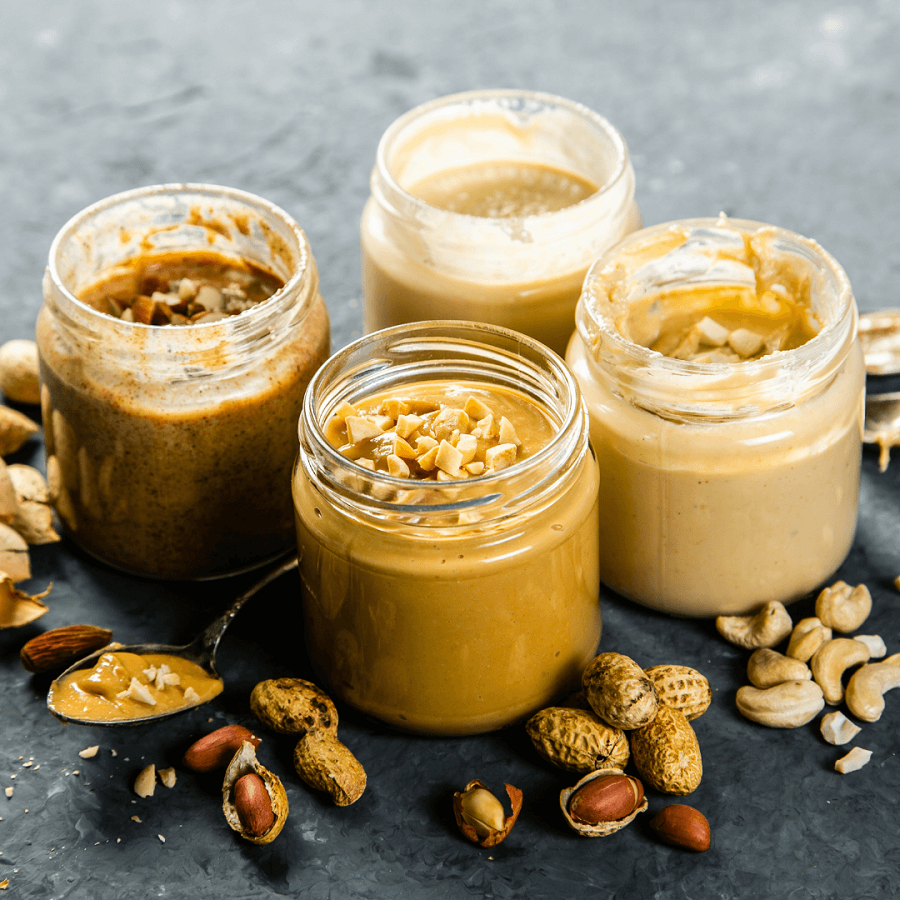 Canva
Nut butters are also calorie-dense, so the serving size tends to be small. However, this isn't one-size-fits all guidance. "While a serving of nut butter is typically two tablespoons, this doesn't mean that you always have to limit yourself to this amount," explains Stephanie Wells, MS, RD. "The right amount for you will depend on your age, metabolic rate, and fitness or nutrition goals. If you're trying to build muscle or have a poor appetite and need a way to get extra calories, eating more than two tablespoons of nut butter could be a great way to meet your needs."
If you're watching your sugar and salt intake, you may want to pick an option that's made from just nuts and seeds. Some nut butters also contain added oils, which help stabilize the final product—meaning that it's the type that you don't need to stir.
"While not harmful, the extra oils just aren't necessary," says Wells. "And although sweetened nut butters are still great sources of protein and other nutrients, it's best to limit your overall intake of added sugars."
What's the healthiest nut butter?
Opt for one of these six nut butters for snacking, cooking, and more.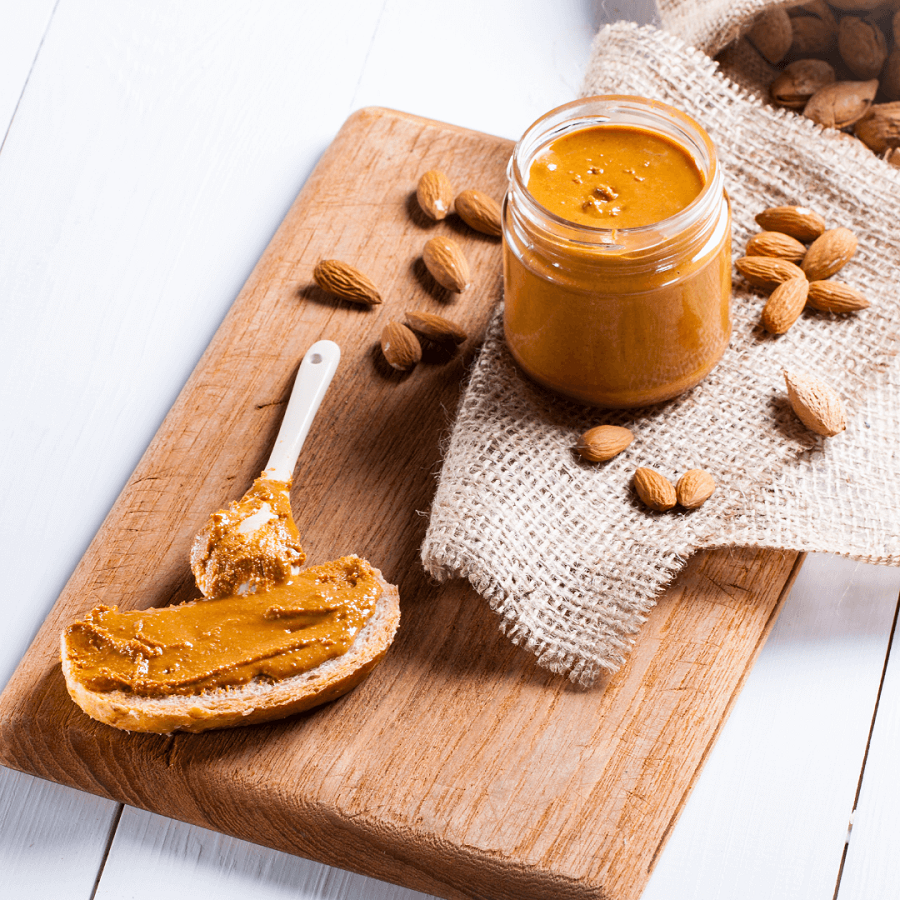 Canva
1 Almond butter
Almond butter makes for a great post-workout snack, thanks to its combination of protein (around seven grams per serving), fiber, and healthy fats. It is high in monounsaturated fat, which lowers LDL cholesterol and raises HDL cholesterol. It can also help control blood sugar after eating. Almond butter also contains more vitamin E, calcium, and iron than peanut butter. Compared to peanut butter, it's higher in fiber, lower in saturated fat, and lowest in carbohydrates.
Look for almond butter that's made from dry roasted almonds and free from added sugar and oil. We like Whole Foods' 365 Creamy Almond Butter because it's made from just one ingredient.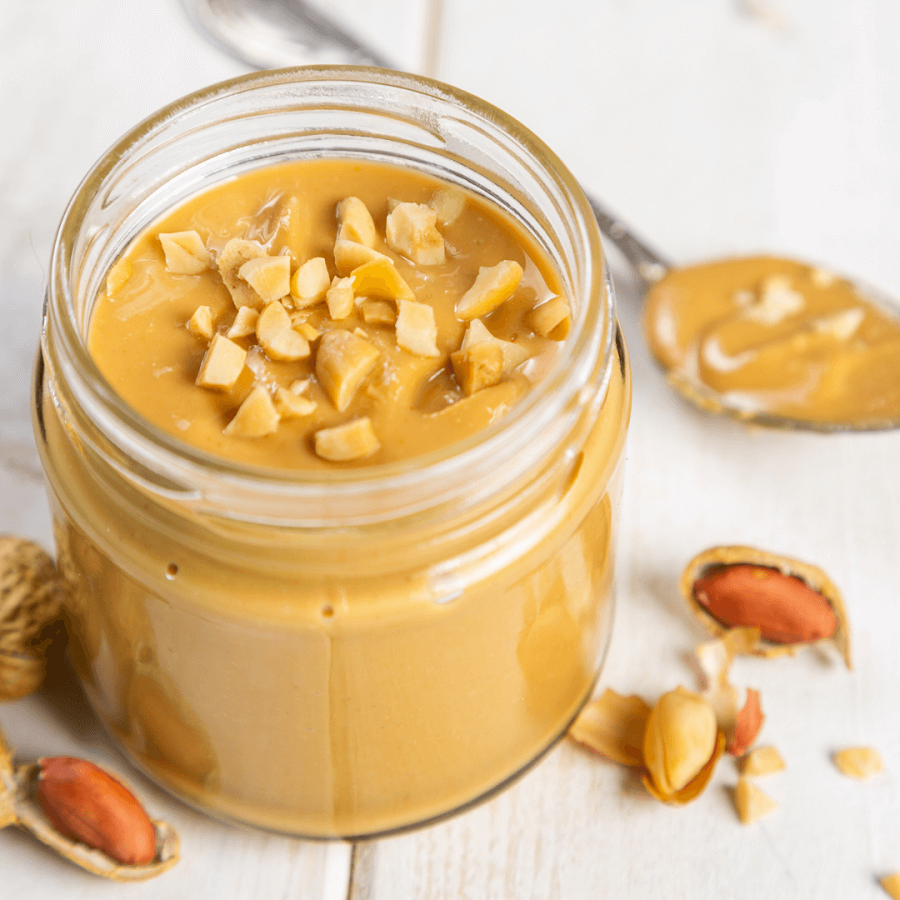 Canva
2 Peanut butter
Arguably the most popular nut butter, thanks to PB&J sandwiches, peanut butter is an excellent source of monounsaturated fats and vitamin E which is important for blood, brain, and skin health. It also contains some B vitamins, magnesium, potassium, and selenium. At eight grams per serving, peanut butter is a good source of protein. Plus, it tends to be the most affordable option for nut butter.
We love eating it by the spoonful, adding it to smoothies, or using it in recipes, like these peanut butter coconut oat bites. Try Santa Cruz Organic's Creamy Light Roasted Peanut Butter, which contains roasted peanuts and less than one percent added salt.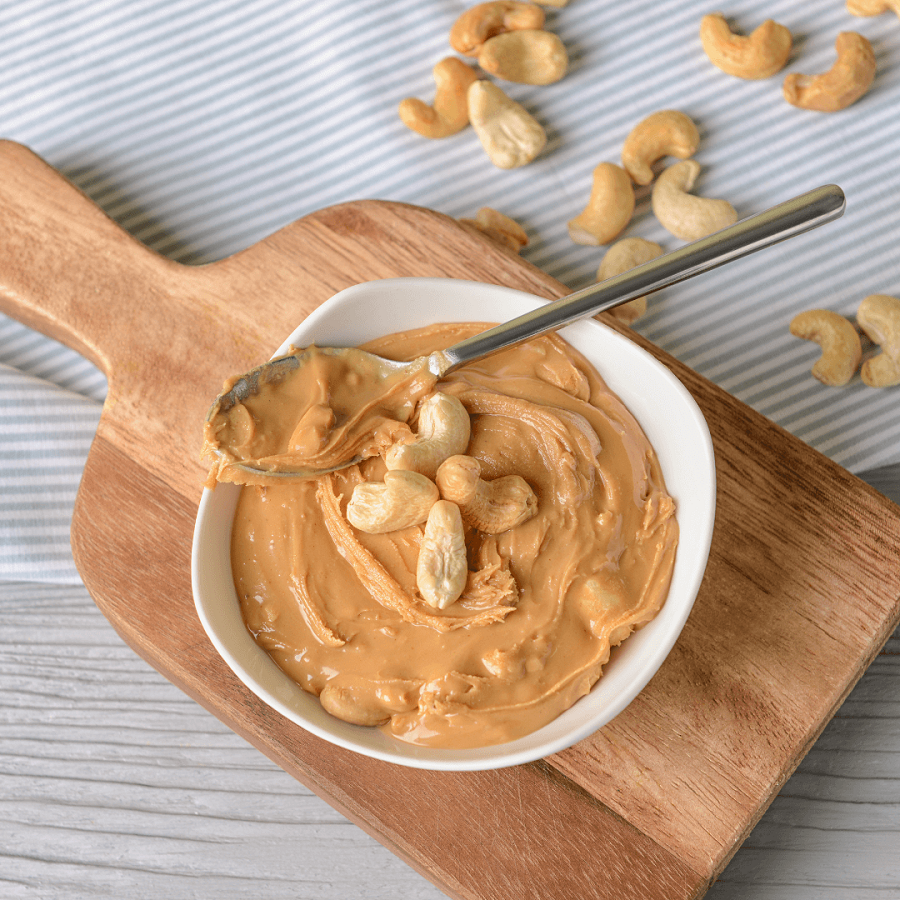 Canva
3 Cashew butter
Cashew butter has a thinner texture and fattier flavor compared to other nut butters, making it a popular addition to vegan desserts, like this salted vanilla bean cashew butter fudge. It is lower in protein than almond butter or peanut butter, at six grams per two-tablespoon serving, packed with healthy monounsaturated fats, and a variety of vitamins and minerals. A serving of cashew butter contains 10 percent of your daily value of iron, according to USDA data, as well as trace amounts of calcium, potassium, magnesium, and vitamin K.
Seek out a cashew butter that contains few added ingredients. This Creamy Cashew Butter by Georgia Grinders contains only slow-roasted cashews and a little bit of sea salt.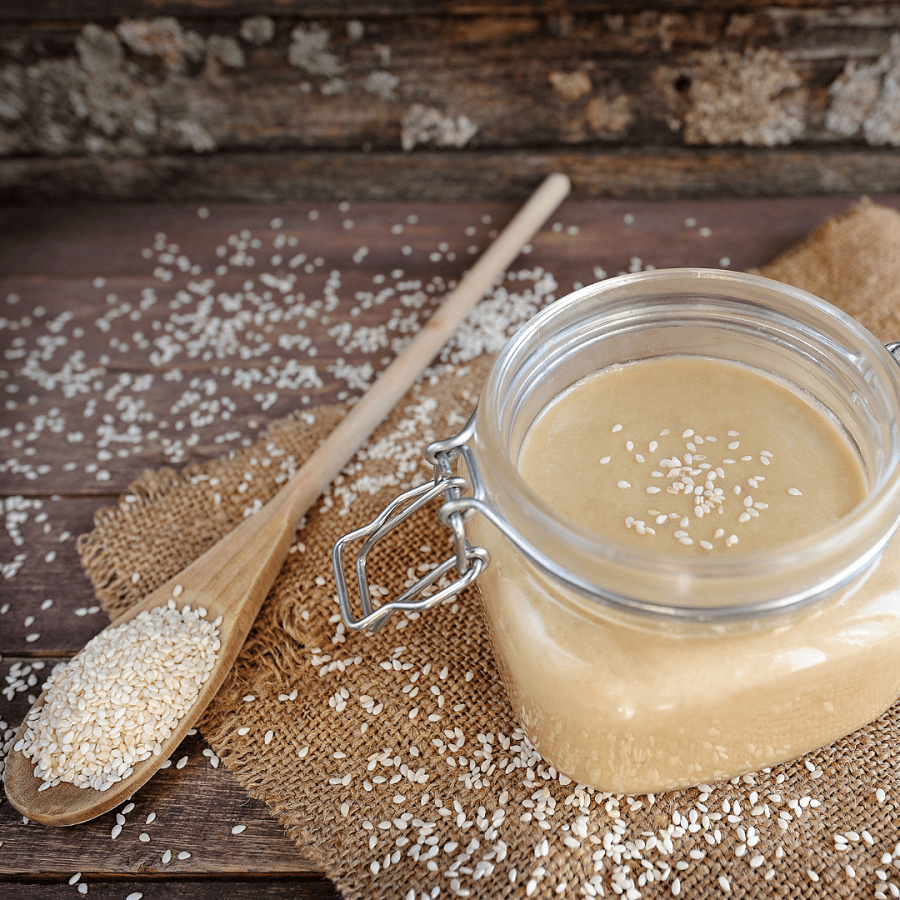 Canva
4 Tahini
Made from toasted and hulled sesame seeds, tahini is a staple ingredient in Middle Eastern, Eastern Mediterranean, and some North African cuisines. This versatile ingredient has a thin, creamy texture and rich, nutty flavor with a bitter finish that lends itself well to dishes such as hummus, baba ganoush, and halva as well as desserts like homemade vegan cookies and dairy-free ice cream.
Tahini is lower in calories than other types of nut butter and is a good source of protein, healthy fats, fiber, and an array of vitamins and minerals. It's an especially good source of copper, which is essential for iron absorption, as well as phosphorus, selenium, iron, zinc, and calcium. As for benefits, studies have shown that sesame seeds can help lower "bad" LDL cholesterol.
Choose tahini that's made from sesame seeds and nothing more, like this single-source paste from Soom.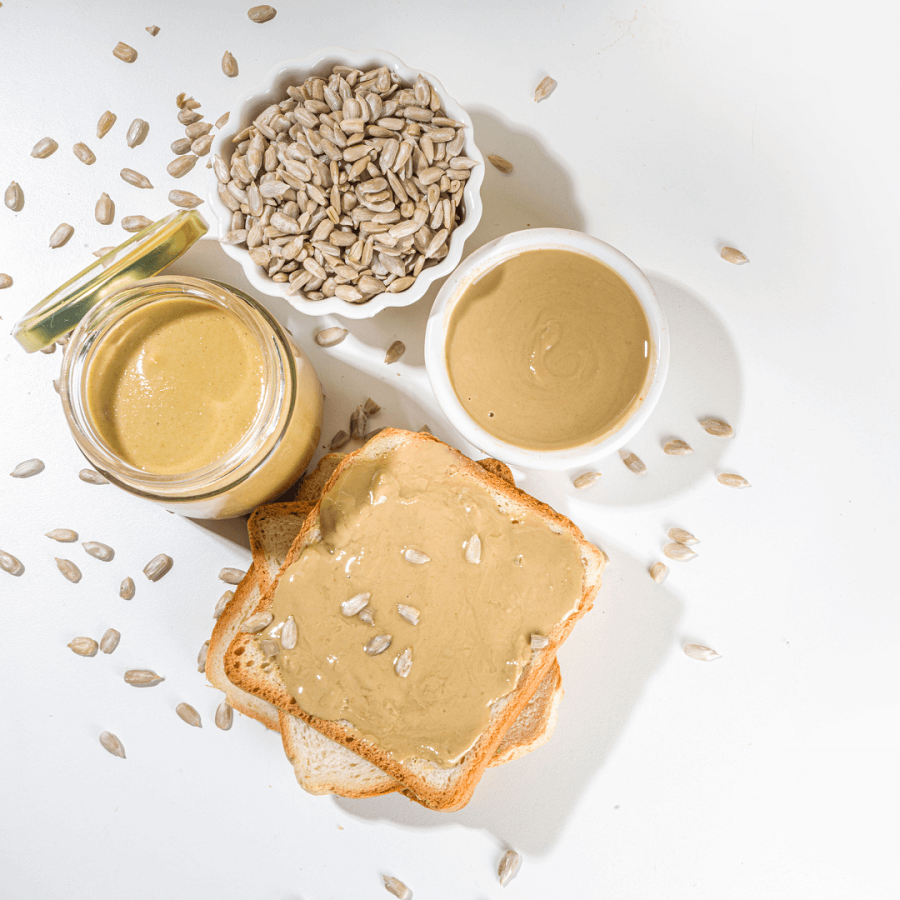 Canva
5 Sunflower seed butter
Perfect for people with nut allergies, sunflower seed butter also happens to be among the healthiest options as far as nut butter is concerned. Sunflower seeds have a slightly bitter taste, so salt and sugar are often added to balance out the flavor.
Nutrition-wise, sunflower seed butter is calorie-dense, containing mostly monounsaturated fats with small amounts of polyunsaturated fats. At 5.6 grams of protein per two-tablespoon serving, it contains less protein compared to other types of nut butter. It contains more copper, magnesium, phosphorus, zinc, iron, and vitamin E than peanut butter.
If you're being mindful of caloric intake, then look for a sunflower seed butter that contains no added sugar, like SunButter's No Added Sugar variety.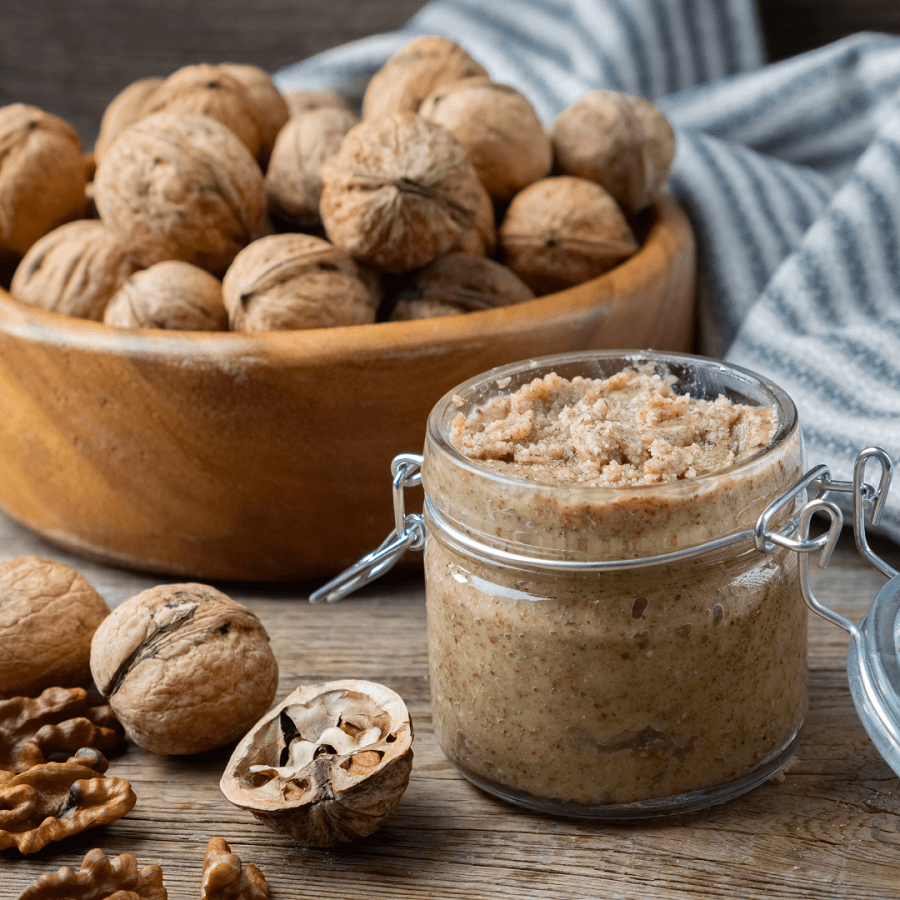 Canva
6 Walnut butter
Among nut butter, walnut butter is not high in protein, nor is it particularly high in heart-healthy fats or trace minerals—though, it does contain small amounts of iron, calcium, and potassium. Walnut butter's strength lies in its omega-3 and omega-6 fatty acid content. Omega-3 from plants is called alpha-linoleic acid, which has been linked to a lower risk of dying from heart disease. Walnuts also contain polyphenols, which are known to help lower inflammation.
Many commercial walnut butters contain more than one variety of nut, like Artisana Organics Raw Walnut Butter with Cashews. But, you can also make your own 100-percent walnut butter by adding one to two cups of walnuts to the bowl of a food processor, then grinding them until a smooth paste is formed, about one minute. For a smoother, sweeter, and nuttier walnut butter, arrange raw walnuts on a baking sheet and roast them at 350 degrees Fahrenheit for eight minutes. Allow it to cool before adding to the food processor, and add salt and sugar to taste.
For more on health and nutrition, read:
Here at VegNews, we live and breathe the vegan lifestyle, and only recommend products we feel make our lives amazing. Occasionally, articles may include shopping links where we might earn a small commission. In no way does this effect the editorial integrity of VegNews.