According to the most recent revision of the US Dietary Guidelines for Americans (revised 2020), fortified soy milk is nutritionally equivalent to cow's milk. Considering the fact that dairy is still a food group and government recommendations hardly touched on the sweeping prominence of lactose intolerance (one out of every three Americans can't digest dairy), this is a significant callout.
Despite the fact that it took decades for the US government to acknowledge this fact, the truth is that certain dairy-free milks contain comparable nutrients to cow's milk—including protein. Granted, not all non-dairy beverages are created equal. If you're looking for a high-protein dairy-free milk, here is what you should reach for next time you pour yourself a cool, tall glass.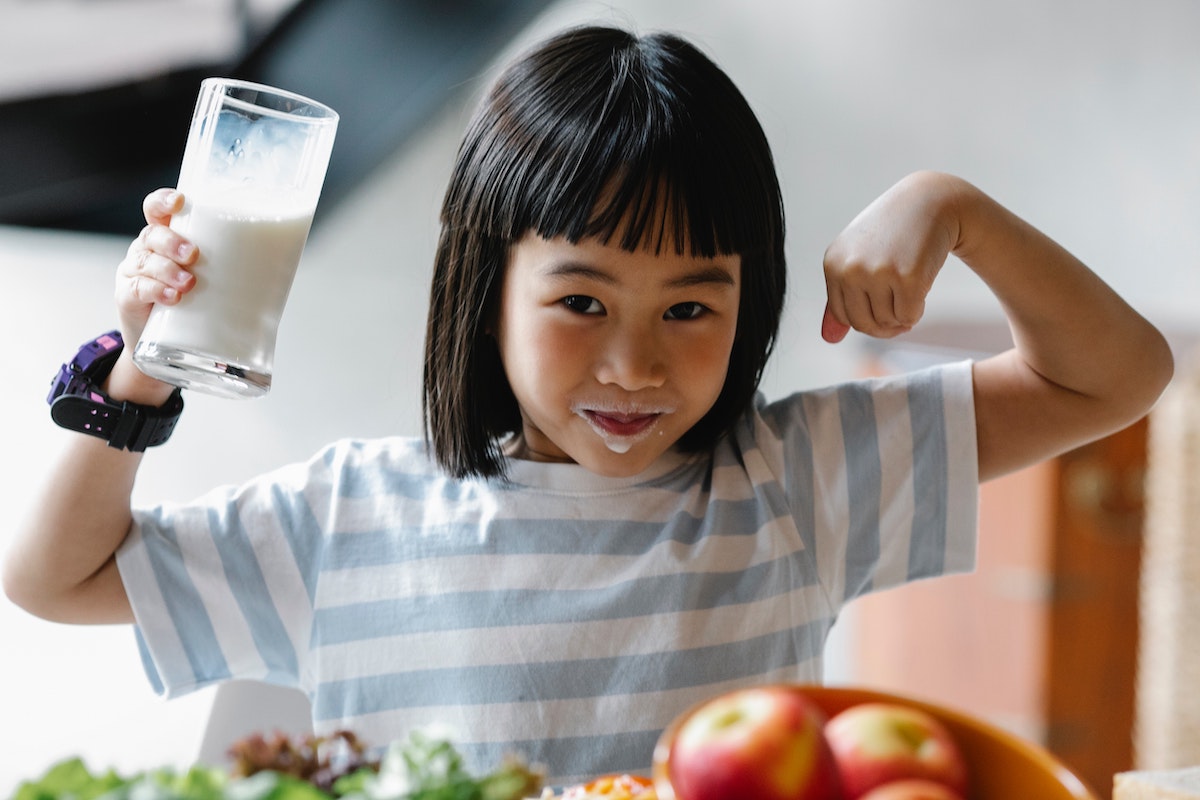 Pexels
How much protein does milk have?
No matter what the fat content is—skim, two percent, or whole—a standard eight-ounce serving of cow's milk contains eight grams of protein. There are a few outliers—some brands may offer a fortified version, pumping up the protein to 13 grams per serving, as seen with certain Fairlife products. Granted, that specific company faced a media storm of backlash and a lawsuit after horrific videos of systemic animal abuse and neglect surfaced back in 2019. Yes, some cow's milk brands may contain just a bit more protein than non-dairy options when manufacturers tinker with the product, but is it worth the animal cruelty? Considering there are other ways to get plenty of protein, most would say no.
Cow's milk has long been touted as the optimal source of protein. We've seen milk ads with Olympians and commercials promising parents that milk is necessary for their children to grow "big and strong." But the reality is that milk is just one of the thousands of foods that provide a substantial amount of protein. Milk is a source of protein—it's not the only source. Plenty of plant-based foods contain more than enough protein for every individual, even bodybuilders. For high-protein vegan recipes, click here, or keep reading to learn just how much protein is in dairy-free milk.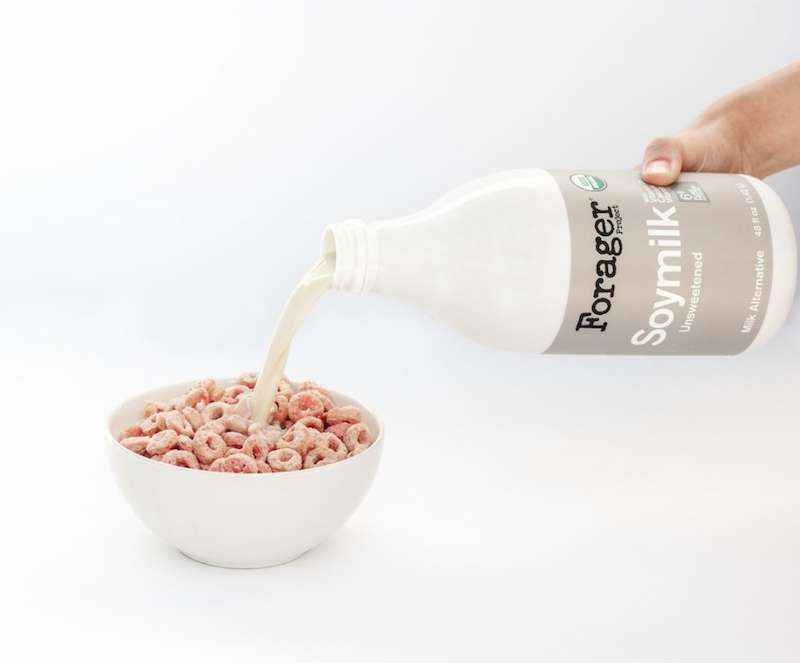 Forager
How much protein is in dairy-free milk?
We've come to learn that you can milk anything—that goes for mammals and plants. Browse any supermarket or natural food grocery shelf and you'll find dairy-free milks made from oat, almond, soy, rice, barley, hemp, quinoa, bananas, coconuts, cashews, sesame seeds, and more. While the protein found in cow's milk is fairly consistent at eight grams a cup, the protein in plant-based milks varies as broadly as these ingredients.
On the lowest end of the protein spectrum you'll find rice, coconut, and almond milk—all range from one to two grams in their unfortified states. Hemp and oat milk tend to be middle-of-the-road at three to four grams while pea and soy milk top out at eight to 10 grams per standard serving. If you enjoy a certain type of non-dairy milk (say, oat milk) that's not in this top tier, look for brands that fortify their products for additional protein. Below are just a few of the best vegan milk protein sources.
5 High protein dairy-free milks
The protein content of dairy-free milk can range from a measly one gram per serving to an impressive 10 grams (when fortified). Here are the top plant-based milks to sip on for maximum protein.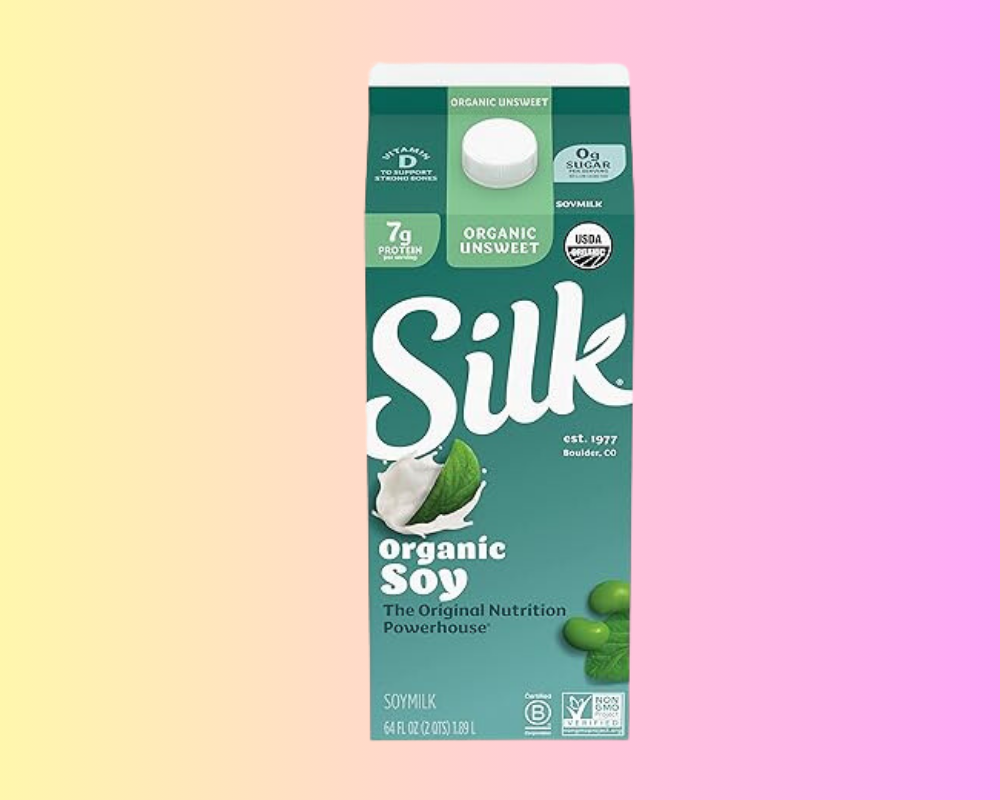 Silk
1 Soy milk
While soy has slowly fallen out of popularity thanks to oat and almond milk, its superior nutritional value should not be ignored. Soy milk naturally contains eight grams of complete plant-based protein, and it is the only plant milk recognized by the USDA as nutritionally equivalent to cow's milk. Pro tip: soy milk makes for the best microfoam on espresso beverages. Sorry, oat.
Find it here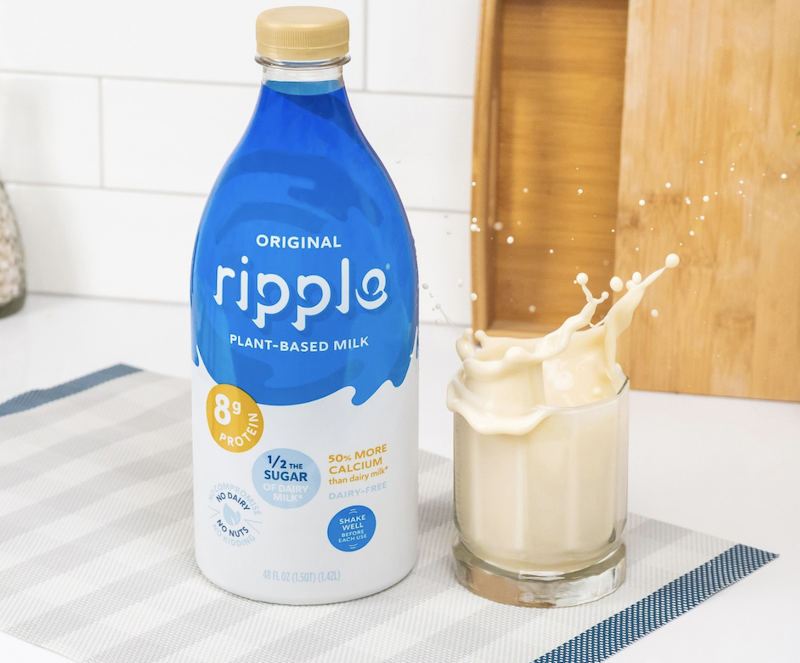 Ripple
2 Pea milk
Ripple is the brand to thank for bringing pea milk into the market. Made with yellow split peas (no, not the green mushy kind served with fish and chips), pea milk is another robust vegan protein option with eight grams per serving. Ripple also offers a single-serve protein shake packed with 20 grams of pea protein for those looking for a significant post-workout protein boost. Like soy, pea milk is extremely versatile and can be enjoyed by the glass or used in sweet or savory dishes.
Find it here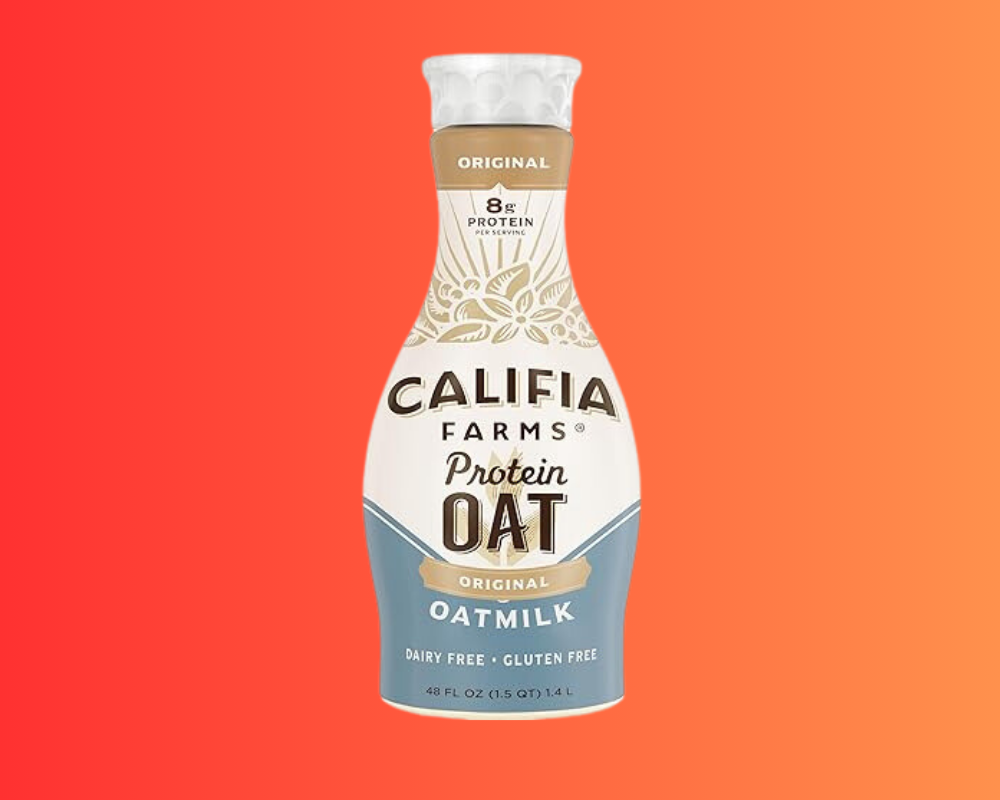 Califia Farms
3 Fortified oat milk
Oat milk is certainly the milk of the moment, even amongst non-vegans, but its protein content doesn't stand up to soy or pea milk. The standard oat milk clocks in at a sensible but not overly impressive three to four grams of protein. Those unwilling to comprise their ultra-creamy lattes for a dip in protein should consider a fortified option such as Califia Farm's Original Protein Oat Milk. In addition to water and oats, this beverage is mixed with pea protein to provide a comparable eight grams of protein per serving.
Find it here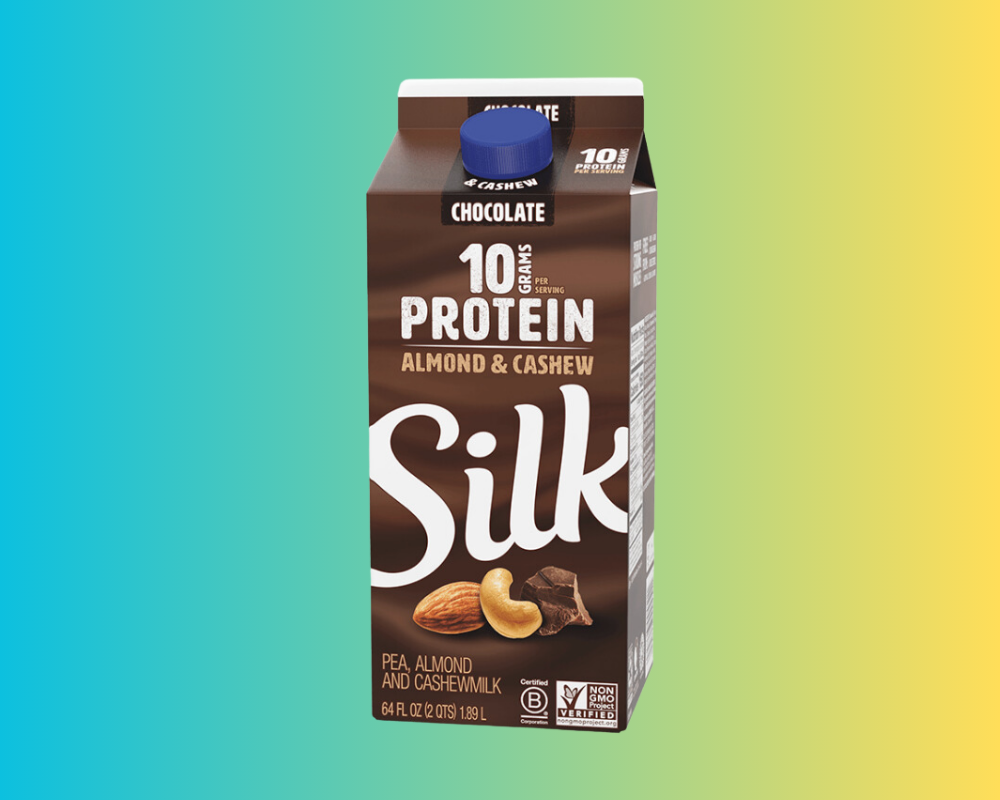 Silk
4 Fortified blended milks
Some brands blend non-dairy milks to get the best of both worlds. Coconut cashew, coconut almond, and almond cashew are among the most popular dairy-free blends. Some of these products hover in the three to four gram range of protein, but Silk's fortified Almond & Cashew milk contains 10 grams of protein thanks to the inclusion of pea protein. This protein-heavy drink comes in Original (sweetened) and Chocolate. The latter makes for a terrific post-workout smoothie or healthy dessert when blended with a frozen banana and a scoop of peanut butter.
Find it here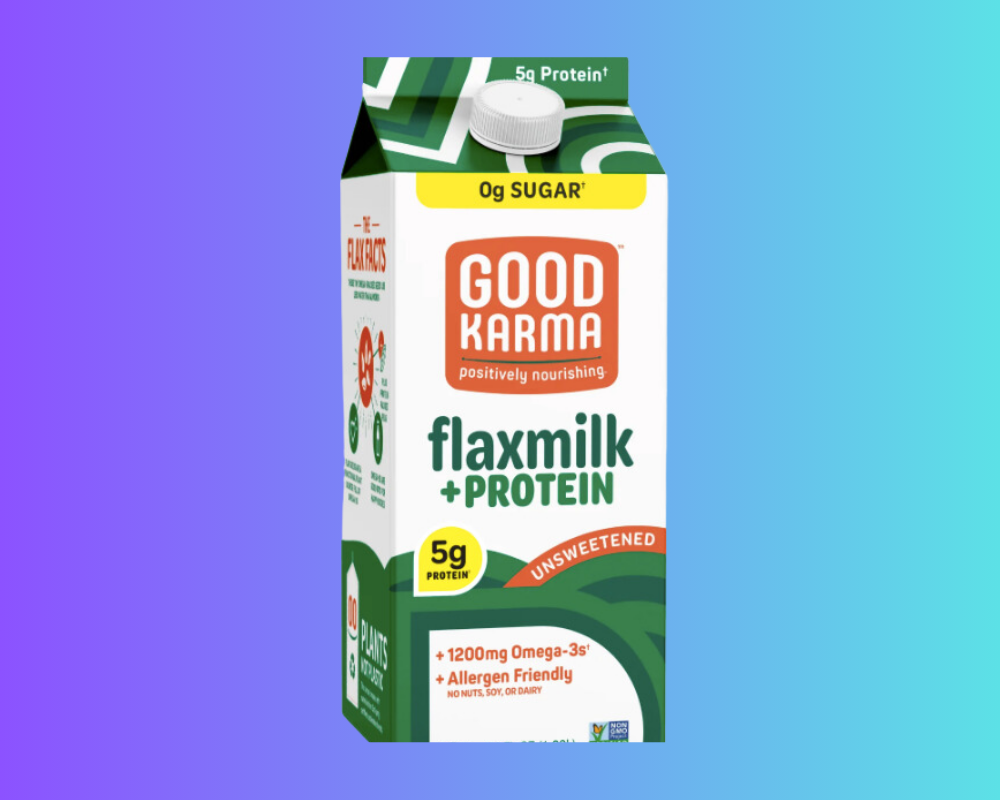 Good Karma
5 Fortified flax milk
Get a dose of healthy omegas and a hit of protein with a pea protein-supplemented flax milk. Good Karma's Flax + Protein option delivers five to eight grams of protein and 1,200 milligrams of plant-based omega-3s. Flavors include Unsweetened and Sweetened Vanilla and plain Unsweetened. Try it over cereal or your morning oats for boost of protein first thing in the morning.
Find it here
For more on vegan health and nutrition, read:
Here at VegNews, we live and breathe the vegan lifestyle, and only recommend products we feel make our lives amazing. Occasionally, articles may include shopping links where we might earn a small commission. In no way does this effect the editorial integrity of VegNews.