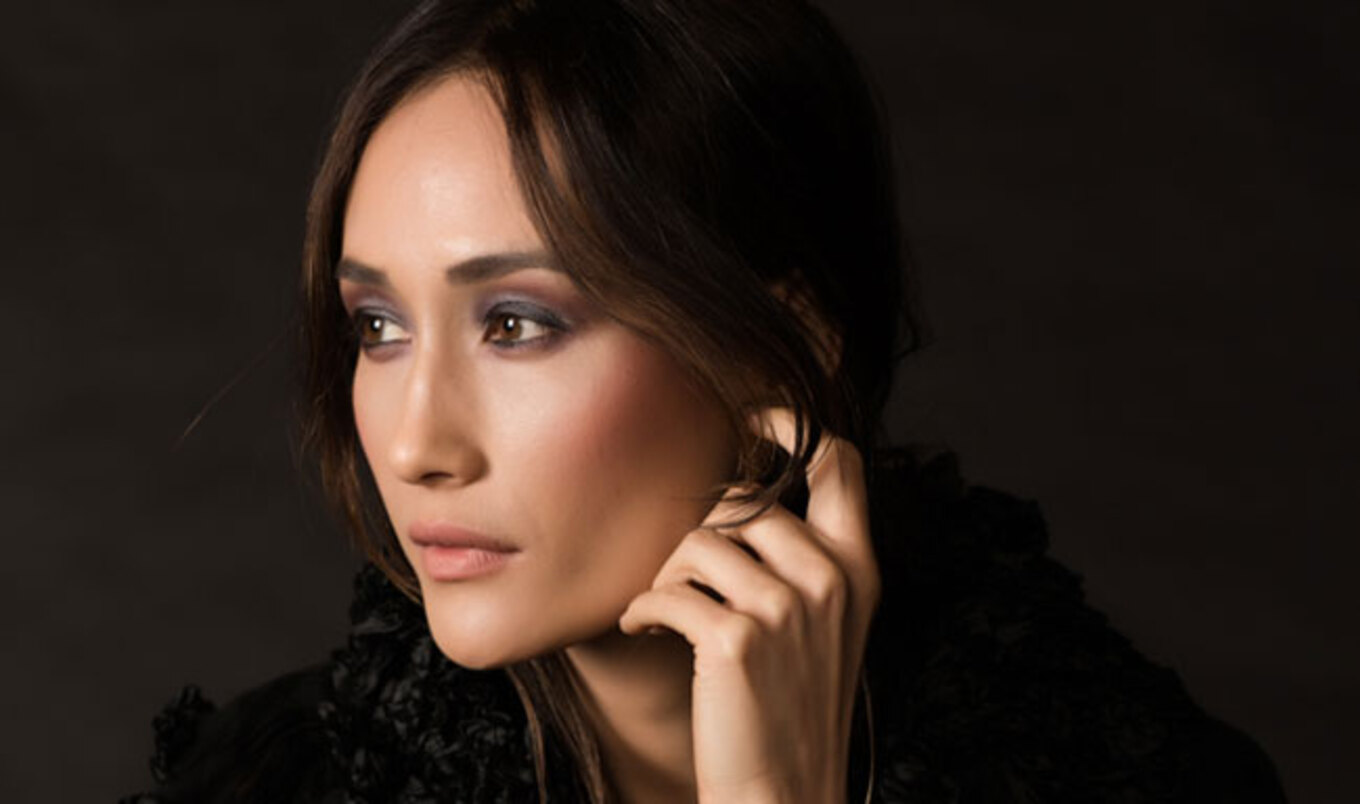 "Injustice is a pet peeve of mine—pun intended."
September 28, 2017
---
Television and film actress Maggie Q is busy. Besides her roles on The CW's Nikita, the Divergent film series, and ABC's new drama Designated Survivor, she's also a long-time vegan (nearly two decades!) who uses social media to promote animal welfare. Rather than post pictures of red carpets and workout selfies, Q (real name: Margaret Quigley) uses her Instagram account to advocate for animal-based nonprofit organizations. With so much amazing work in the animal-welfare world, we knew it was time to talk to the vegan celebrity to discuss her takes of food, culture, and activism. Here are some highlights from our conversation.
VegNews: What's your vegan story?
Maggie Q: I transitioned to a plant-based diet about 19 years ago while living in Hong Kong. I attended a concert, and a PETA Asia employee was tabling outside of the show. I was watching her, and it didn't seem anyone was paying much attention to what she was offering. It made me feel bad for her, so I walked over. We connected, and she sent me information on animal-welfare in the fashion, food, and entertainment industries. It made me sick, but nothing prepared me for the truth of the environmental impact of meat production. I quit cold turkey and never looked back. I didn't understand how I could have ever claimed to love animals but hadn't made the choices to protect them.
VN: You come from a mashup of very meat-centric cultures … Polish, Irish, Vietnamese, Hawaiian. Is your family supportive of your plant-based lifestyle? Have you faced challenges in balancing your cultural food traditions and vegan diet?
MQ: I have two sisters who don't eat meat and one who is transitioning slowly. My mom and dad have had several health scares in the last few years, and because of those issues, they are now paying attention and looking to make the change. Everyone comes into the light in their own time. The beginning was very hard because, culturally, Vietnamese food isn't vegetarian. Our signature dish, Pho, is beef. I told my mom if she wanted me to still eat our food, we needed to invent a vegan version together. She was into it, and we did! I don't feel challenged because my convictions are so rooted in compassion. If someone doesn't see that, it truly isn't my problem.
VN: How do you use social media to promote veganism?
MQ: It took me a long time to get into social media. I wasn't looking at it from the right perspective. I saw too much vapidness, and I didn't want any part of it. I was finally convinced that the things I care about could have a platform, and that's when everything changed for me. I do the most work for animals with WildAid, PETA, Animals Asia, Best Friends Animal Society, and The David Sheldrick Wildlife Trust. I also work with an African nonprofit called Kageno that allows for eco-tourism opportunities in rural areas of Kenya that threaten the wild forests that border their towns. If you can create awareness and a fiscal opportunity elsewhere, the animals and the environment can be left alone. My friend Shawn Henrichs does something very similar with the Giant Mantas in Indonesia that are being hunted into extinction.
VN: In regards to meals, is there such a thing as a typical day for you?
MQ: With my work schedule, "typical" is hard. One thing that rarely varies is my morning. Wheatgrass, turmeric, ginger, and lemon shot. Blended green juice, and a smoothie to go. I also try to get in a daily dose of probiotics. I use ActivatedYou, which is a supplement brand I co-created with Dr. Edison de Mello.
VN: How are the vegan eats on set? Do you find it challenging to find something healthy and vegan with craft services?
MQ: No, because I don't deal with food from production. It's not real food. I don't find it challenging because if there is nothing ethical to eat, I fast. It gives me better clarity, and I celebrate it. However, on Nikita, I worked so many hours and needed so many calories (that) I hired a chef who learned the art of vegan cooking and mastered it! I loved her, and I miss getting food from her every two hours! Yes, that's how often I ate.
VN: Do you notice others in your field adopting a more plant-based approach?
MQ: It's night and day! Twenty years ago, every actor I worked with thought I was insane. Even my representatives. An actor on my current show, Designated Survivor, turned vegan with his wife and daughter a couple weeks ago. He made the "announcement" to me at work, and I jumped up and hugged him. It was amazing to witness the lightbulb go on. The tune has changed, mightily so.
Tanya Flink is a certified Master Personal Trainer based in Orange County, CA and host of The Vegan Potluck podcast.