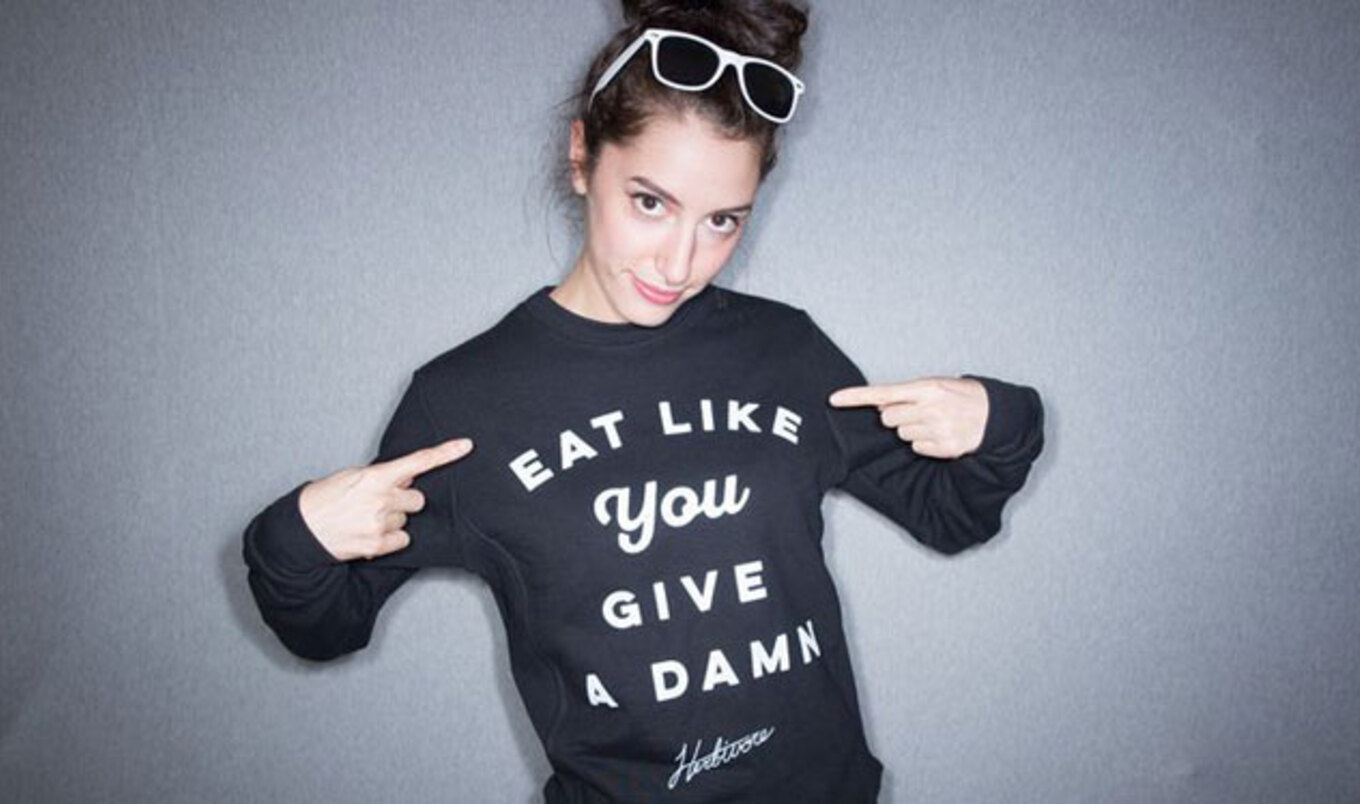 Whether you want to get political, snarky, or flirtatious, there's a vegan t-shirt for you.
August 10, 2017
---
As the plant-based movement grows, more fashion designers are adding apparel with pro-vegan messages to their collections. The slogans featured with these clothing lines are as varied as vegans and often show how a plant-based life is as fun and stylish as ever. And with so many companies emerging at a rapid pace, we figured it was time to highlight a few brands that'll have you proudly displaying your ethics at yoga class, veg fests, a night on the town, or a quick trip to the grocery store. Here are 11 of our favorites.
1. Vegetaryn
Taryn Rasgon, founder of Vegetaryn, is a Los Angeles-based social media influencer with her own apparel line of pro-plant tees, tanks, and sweatshirts that caters to both men and women who love good puns (and a bit of sarcasm). One of her most popular items is the "#Vegan AF" t-shirt, which was created with the help of Instagrammer Vegan Fat Kid. The shirt is bold enough to make a statement but also subdued enough to wear around your grandparents or young cousins who aren't yet in tune with millennial lingo. Wear this at your local vegfest, and you'll be nodding and fist bumping with everyone else proudly rocking this hashtag. Or, if you're looking for something more whimsical, check out the "Uni-Corn" tank or the "If Looks Could Kale" sweatshirt.
2. Eat Healthy Designs
If you want to flaunt your love of vegetables, check out the tops at Eat Healthy Designs, as the brand's "Every Day I'm Brusslin'" women's tank and unisex tee is sure to crack a smile wherever you go. A cozy alternative for colder weather is the "Food Heart" pullover sweatshirt, which displays a large heart made from fruit and vegetables. Pair this hoodie with jeans for a chilly morning at the farmers' market, and don't forget your Brussels sprouts!
3. Vegan Bodybuilding
Vegan bodybuilding is no longer an anomaly thanks to Robert Cheeke, one of the sport's most prominent and longstanding representatives. Cheeke created his "No Meat No Problem" muscle and t-shirts for his fellow iron-pumping vegans, and wearing one of these will stop all of those annoying "but where do you get your protein?" questions.
4. The Herbivore Clothing Company
The Herbivore Clothing Company has been promoting "cruelty-free culture" since 2002 with their chic and compassionate t-shirts, tanks, sweats, accessories, and stickers. For something edgy, check out the "Eat Like You Give a Damn" signature line, which comes in a variety of colors and styles for both men and women. For the environmentalist, opt for "The World Used to be Cooler" tank or tee.
5. In the Soulshine
Spread compassion for animals and people by purchasing one of In the Soulshine's positive messaging tees. This brand employs a team of tailors from Bali and compensates them with a salary three-to-five times higher than the average tailor's salary in Bali. We love the "Be Nice" or "Vegan Vibes" shirts that promote a kinder world for all living beings, and the fact that the brand also offers a children's line.
6. The Dharma Store
If you're up for starting a conversation, The Dharma Store's "Ask Me Why I'm Vegan" t-shirt is the obvious choice. Dress it up with a few accessories for a party, and you have a unique way to begin a conversation with a stranger. The company also produces a variety of graphic tees for men and women with more lighthearted messaging such as "Vegan Burrito Por Favor," "You Had Me at Vegan," and "Kale Yeah!" Buy one of each, and don't feel guilty about the packing, as all shipping products are recyclable or 100-percent biodegradable.
7. Cowhugger Vegan Boutique
To show off your cow-loving spirit, check out the expansive collection at Cowhugger Vegan Boutique. Guys will love the Hero Cow T-Shirt, which pictures a cow with a cape on top of a globe. For girls, try on the "Compassion Looks Good on You" Flowy Racerback in peach. Don your favorite new bovine tee for a visit to your local farm sanctuary, and share the love.
8. Crazies and Weirdos
Show off your vegan superpowers with Crazies and Weirdos' "Clark Kent Was Vegan" t-shirt. Not only will you get a cool shirt but you will also help the company raise funds for an animal-rights organization. Every three months, the brand launches a new t-shirt campaign for a specific non-profit, and a portion of its sales are donated to this animal-friendly organization. Move over Superman, Crazies and Weirdos are the real heroes.
9. Vegan Power
If you follow VeganFatKid on Instagram (or see him in person eating all the vegan things in SoCal), you might have noticed him rocking a black tee with with a hot pink and turquoise "Vegan" logo. Founder Tim Moore shows off his vegan flair by wearing this shirt everywhere, from eating vegan doughnuts at Donut Friend to training at the gym. Fun, cool, and casual, this tee will be your new go-to when you can't decide what to wear.
10. Happy Healthy Vegan
Get your tie-dye on with a Happy Healthy Vegan shirt or tank top. If the '60s aren't your thing, don't worry, as you can still display your vegan pride with one of the company's solid-color tees, tanks, and three-quarter style shirts.
11. Compassion Co.
Apparel line Compassion Co. provides the perfect conversation starter if you want to advocate for the cruelty-free lifestyle. Messages such as "You Can Live Without Cheese," "Humane Meat Does Not Exist," and "Anything You Can Eat I Can Eat Vegan" are sure to spark commentary from the cheese-loving, "grass-fed" community. If you're feeling gutsy, flaunt one of these tees at your local fair, and see if you can change a few people's perspectives about that foot-long corndog they're about to eat. Just remember, keep it kind and courteous. The goal is to inspire change, not spark an argument.
Tanya Flink is a certified Master Personal Trainer based in Orange County, CA and host of The Vegan Potluck podcast.