Vegan celebrities and professional athletes are no longer the rare find they once were. While it's always exciting to see a celebrity in the wild—like spotting Kourtney Kardashian at Crossroads in West Hollywood—we're even giddier when we discover a non-vegan star visiting a plant-based restaurant. Just this past week, John Travolta and Ben Stiller were seen on two separate occasions dining at plant-based eateries—both to celebrate their daughters' birthdays, who both coincidentally are named Ella. Aged 20 and 22, these Gen Z daughters may just turn their dads vegan by way of exceptional vegan food. Here is what we found out.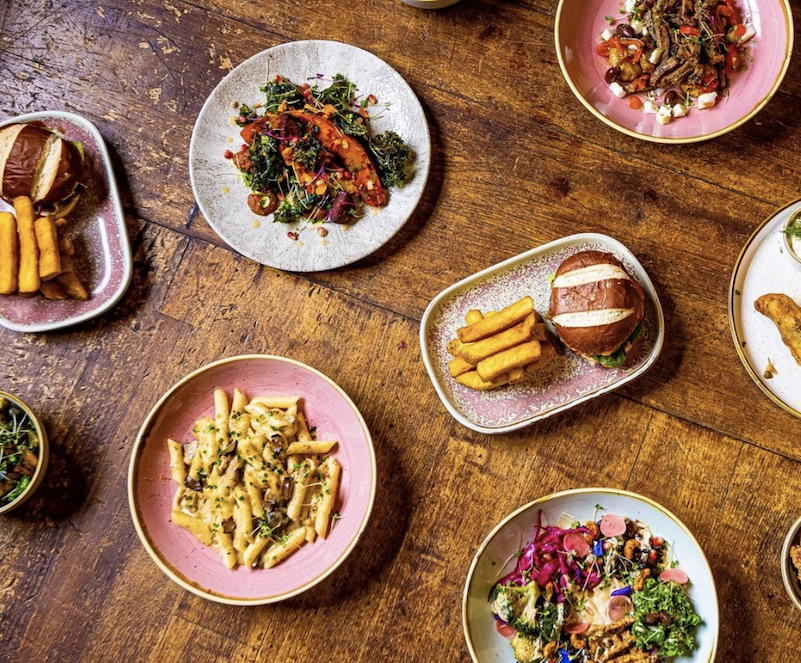 Erpingham House
John Travolta at Erpingham House
The front-of-house staff at Norwich's Erpingham House was a bit surprised when a reservation was made for six under Travolta's name. The American actor landed in the UK to shoot a short film titled The Shepherd and wanted to treat his daughter to dinner for a birthday treat, as any dad would. Ella Bleu Travolta turned 22 on Sunday, April 3, and the father-daughter duo celebrated at the cottage-chic Erpingham House restaurant with four other guests. Restaurant manager Anna Burnard recounted the Travoltas' order, citing a vegan cheeseburger, kale chips, and a mushroom pasta, among other items. After spending a few leisurely hours at the table, John thanked the chef for the meal and took a picture with the staff.
Earlier in the week, the Travoltas shocked the staff at The Old Forge—an intimate, six-table eatery and bed and breakfast in Thursford, UK. While heavily seafood-based, the restaurant accommodated Ella's vegan diet by offering a stuffed avocado appetizer and a vegetable main entrée. Both received approval from the young actress and musician.
Since John is still on set for The Shepherd, we'll be watching closely to see if a repeat visit to Erpingham House occurs.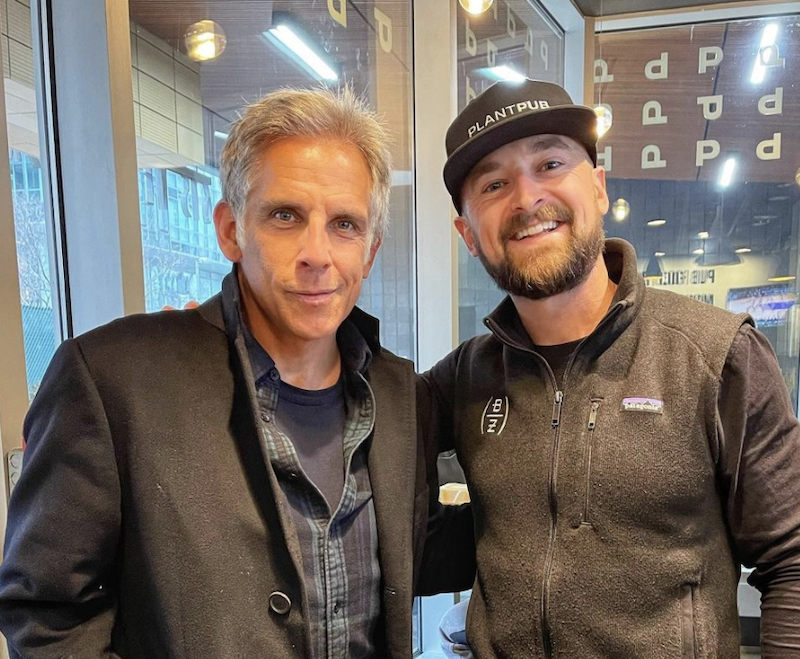 PlantPub
Ben Stiller at PlantPub
The Stillers were just in town for a day when they decided to pop into PlantPub for an early birthday celebration. The popular Cambridge, MA vegan restaurant was packed when they arrived, but when a table opened up at just the right time, the pair canceled their takeout plans for dine-in instead. PlantPub co-owner Pat McAuley said the Stillers ordered pub fries, a buffalo chicken caesar wrap, a Margherita pizza, an Impossible burger (no pickles), a root beer float, and an Oreo frappe (aka a milkshake). Ella Stiller told McAuley the place was "vegan heaven" when he struck up a light conversation with them. Like Travolta, Ben and Ella posed for pictures with the staff after the meal and tipped generously.
This was the second major celebrity sighting at PlantPub, according to McAuley. Zendaya of Euphoria fame was seen enjoying a spread of vegan comfort food with her boyfriend and dog at PlantPub last month. The duo sampled the vegan pepperoni pizza, burger, nachos, pub fries, fried chicken sandwich, and topped the meal off with a root beer float and Oreo frappe—just like the Stillers. One thing is clear: if you ever find yourself at PlantPub, get the pub fries, the float, and the frappe—these items are two-for-two in celebrity endorsement.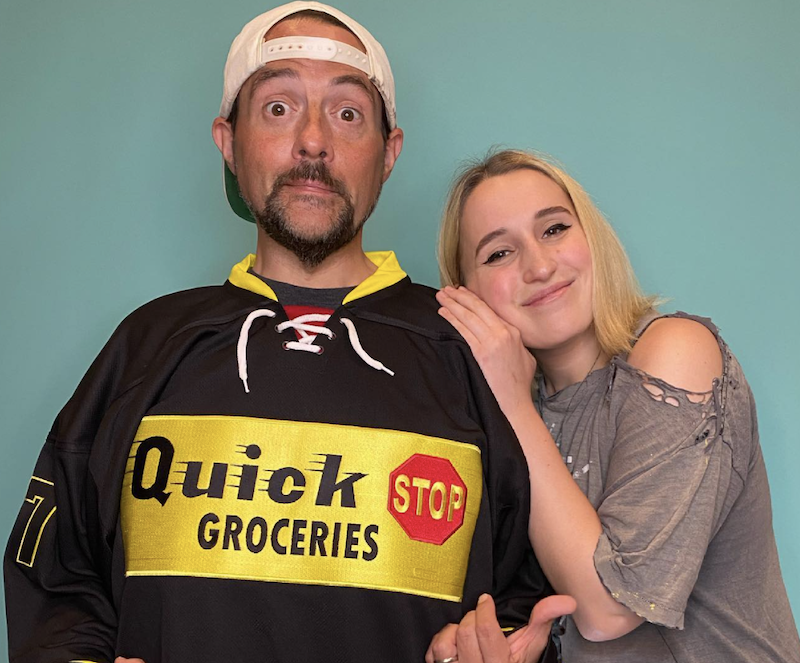 @HarleyQuinnSmith/Instagram
Celebrity father-daughter duos
Travolta and Stiller may not be vegan (yet), but it's encouraging to see them give it a try to make their plant-based daughters happy. If the Ellas did convince their dads to go vegan, it wouldn't be the first time. Harley Quinn Smith famously had a hand in convincing her dad, filmmaker Kevin Smith, to adopt a vegan diet after he suffered from a serious heart attack in 2018. While the plant-based trend is more popular among the millennial and Gen Z populations, these young people are helping to influence older generations.
As with the Smiths, entire vegan celebrity families are also becoming more common. Ellen Pompeo famously instituted a vegan household back in 2018, and many vegan celebrity moms and dads have raised vegan kids such as Alicia Silverstone, Jenna Dewan, Kimberly Elise, Emily Deschanel, Mayim Bialk, and Woody Harrelson.
Celebrity or not, it seems like one of the most effective ways to convince someone to give plant-based a try is through good food. A slice of hot, perfectly foldable pizza, a juicy burger, or an Oreo-studded milkshake is universally appealing no matter who you are … they all just happen to be vegan.
For more on vegan celebrity news, read:
Why Hollywood's Celebrity Hotspot Is Vegan
Barack Obama Celebrates Birthday with a Vegan Feast
Why Celebrities Are Investing in Vegan Businesses