Latkes, challah, rugelach, and even brisket are made kinder and more delicious by nixing all animal ingredients.
December 2, 2016
---
Hanukkah is an eight-day festival that's filled with traditional Jewish foods that warm the soul. The holiday of lights puts a glimmer in our eye every time we think about the aroma of a fresh batch of veganized latkes or a steaming bowl of matzo ball soup. While meat and milk can never be eaten together according to kosher laws, many traditional recipes contain one or the other. This year, we're making it easier than ever to practice kindness during Hanukkah by eliminating all animal products from iconic Jewish dishes. Here are 10 foods that can be easily veganized for enjoying by the glow of the menorah this Hanukkah.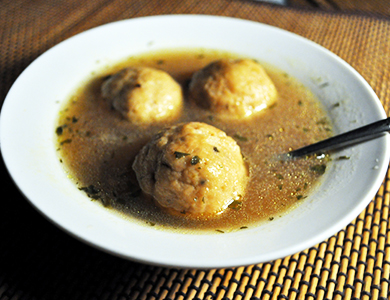 Matzo Ball Soup
Many Jewish grandmothers will tell you that the secret behind a good matzo ball soup is schmaltz—or solidified chicken fat. We beg to differ. A great matzo ball soup is a mix of aromatic veggies cooked down in a rich vegetable broth and adorned with several gorgeous matzo balls. These steamy recipes from blogs The "V" Word, The Edgy Veg, and Hell Yeah It's Vegan prove that schmaltz has no place in matzo ball soup.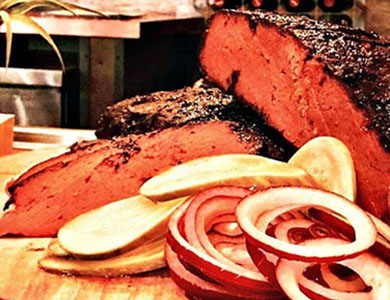 Brisket
A great resource for Jewish vegans is Jewish Veg—an organization that encourages members of the Jewish faith to opt for plant-based lifestyles. The group boasts prominent advisory board members, such as animal-rights legend Alex Hershaft, and the Humane Society of the United States' Paul Shapiro, amongst other notables. Another perk? Jewish Veg has a scrumptious recipe for seitan-based brisked that's braised in red wine. For you non-cooking types, we hear Dallas' vegan eatery V-Eats makes an eyebrow-raising brisket of their own.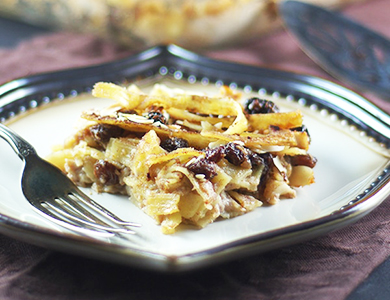 Kugel
A craveable carby dish, this noodle casserole makes for a unique dessert (yes, noodles for dessert, what's the problem?). The base is usually farfel (egg noodles) which get a hefty coating of a sweet cream cheese sauce mixed with eggs before hitting the oven. Blogger Audrey Snowe's vegan version uses gluten-free ribbon noodles, a cashew-based sweet cheese sauce, and tangy raisins folded in for an extra sweet treat.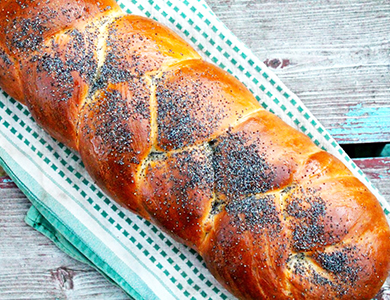 Challah
A braided bread used in many-a traditional Jewish celebration, the original version is normally coated in egg wash to give the top a sheen. Turns out that plant-based milk (such as soy or cashew) makes a viable substitute for the wash, and a chickpea flour base combined with active dry yeast creates a fluffy, brioche-like texture with zero animal products. Sarah McMinn over at My Darling Vegan perks her challah up by topping it with poppy seeds, but you can opt for sesame or go au naturel.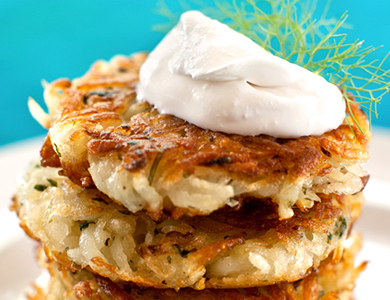 Latkes
These tiny pancakes—made with grated vegetables—are what Hanukkah is all about! Go classic potato or switch it up with other grated root veggies (such as carrots, beets, and sweet potatoes). The binding agent is traditionally eggs, but vegan cookbook queen Isa Chandra Moskowitz' recipe (lifted from her classic cookbook Veganomicon) creates perfectly crispy latkes with just corn or potato starch. We like ours hot straight from the pan with a big dollop of chunky applesauce. Speaking of which…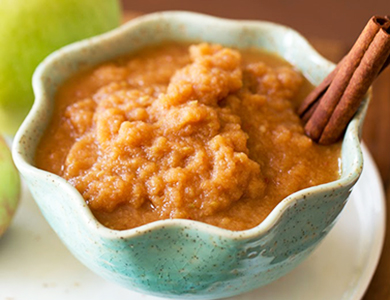 Apple Sauce
A traditional condiment to latkes, this one is already usually vegan, but that doesn't mean we can't dress ours up with creative flavors. Start with a classic recipe and make it tart with the addition of cranberries, spicy with a dash of cayenne, or add a pinch of salt for a salted caramel apple flavor before slathering it all over your latkes of choice.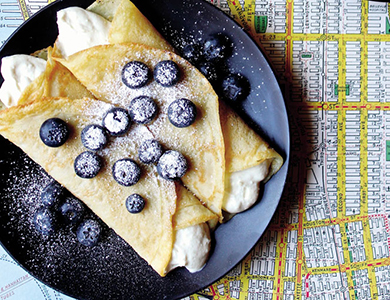 Blintzes
Every culture has its version of delicate pancakes, and Jewish cuisine is no exception. Blintzes are thin, crepe-like pancakes usually stuffed with sweetened cheese or fruit fillings. The batter is made with eggs and milk, but every good vegan knows that a simple swap for plant-based alternatives will result in just-as-delicious pancakes. Excerpted from Annie and Dan Shannon's cookbook (inspired by Julia Child) entitled Mastering the Art of Vegan Cooking, these blueberry blintzes—made with a smooth tofu and vegan cream cheese filling—are perfect for your holiday spread.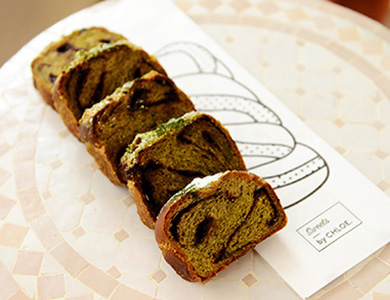 Chocolate Babka
A pull-apart dessert bread that melts in your mouth, we're not ashamed of eating this chocolate-filled wonder for breakfast during the entire eight-day celebration. Similar to banana bread but with airy pockets of chocolate, the key to a great babka is lots of butter (vegan, of course!). Make your own with Oh Holy Basil's stunning recipe or, if you're near New York City, pop into Sweets by CHLOE to pick up its version of the Hanukkah staple—which adds an aromatic dose of matcha to the bread.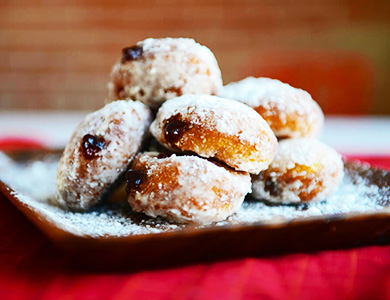 Sufganiyot
If you love doughnuts as much as we do, you'll want to make several batches for the holidays. Other times of the year, we might consider baking our doughnuts to eliminate some of the gluttonous-factor. However, oil is celebrated during Hanukkah as it is used to light the menorah, giving us very good reason to go full-fry on these powdered, sugar-topped wonders. Jewish vegan activist Mayim Bialik's version nails the classic, jelly-filled recipe, but feel free to experiment with vegan custard, dairy-free Nutella, or chocolate fillings.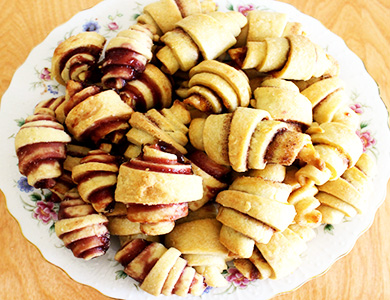 Ruggelach
More dessert? Yes, please! These bite-sized pastries are what Hanukkah dreams are made of, and making them sans animal products is a cinch. Start with a simple dough recipe, choose your filling of choice (perhaps crushed hazelnuts, apricot jam, or cinnamon sugar), cut, roll, bake, and then cry happy tears as you devour them by the dozen.
Photos courtesy of Hell Yeah It's Vegan, V-Eats, Unconventional Baker, My Darling Vegan, Hannah Kaminsky, Kathy Patalsky, Annie Shannon, Mikey Pozarik, PETA, and It's Raining Flour