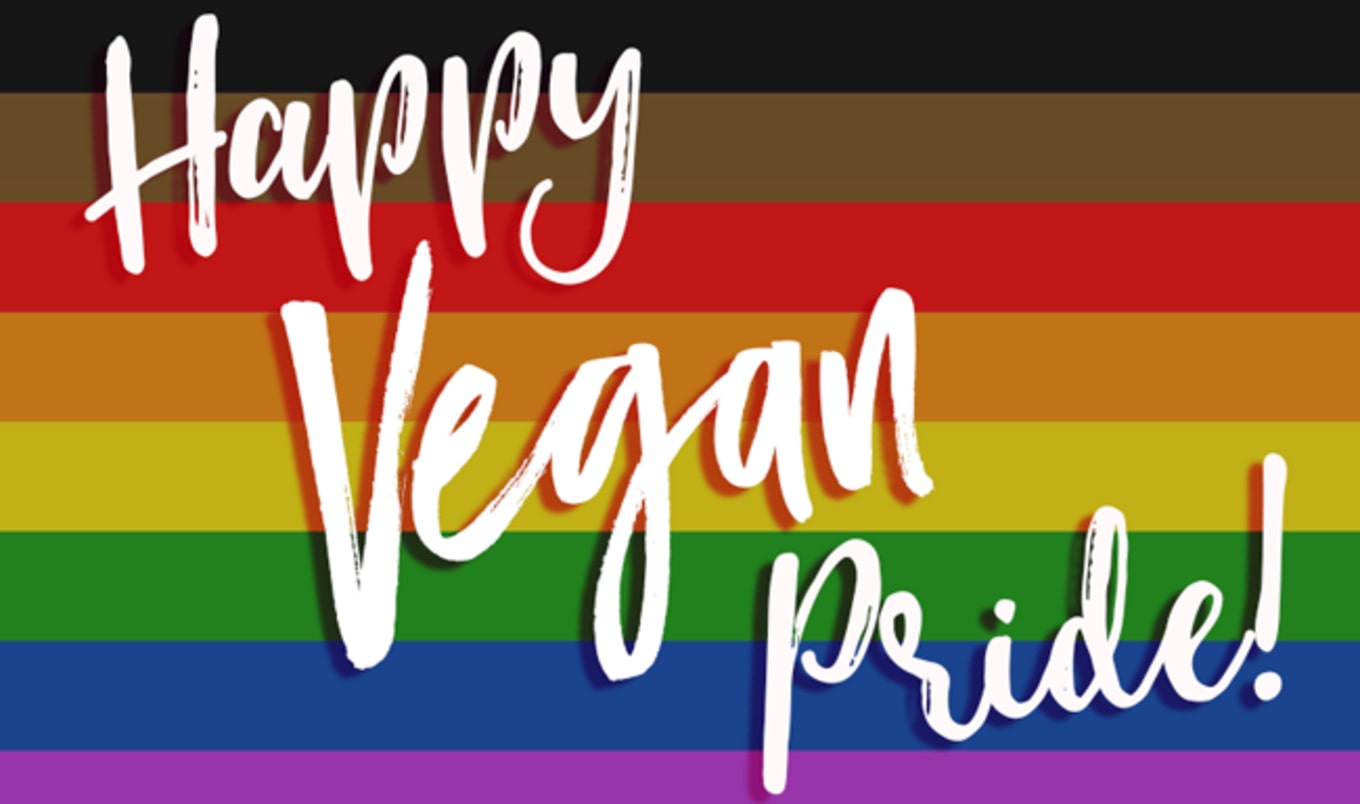 Pride Month is here, so be loud, proud, and cruelty-free with everything from rainbow colored eats to multi-hued makeup looks.
June 15, 2017
---
June is the official Pride Month to celebrate and bring awareness to LGBTQ rights, equality, and expression. Veganism is all about spreading compassion and egalitarianism, so we are reveling in this glorious opportunity to shower ourselves in intersectional bliss and embrace love for all. Here are 15 vegan foods and finds to help you rock your rainbow pride.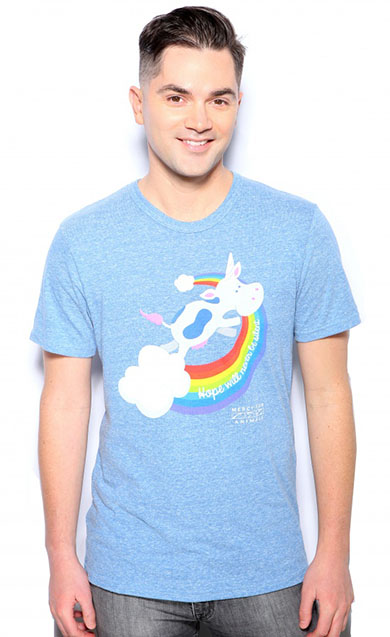 1. Vegan Pride T-Shirt from Mercy for Animals
Rock your pride this month with this cute and powerful tee from animal-rights group Mercy For Animals (MFA). Emblazoned with the phrase, "Hope will never be silent," MFA makes a point of always marching in Pride parades to show that intersectional activism is essential to growing a social justice movement.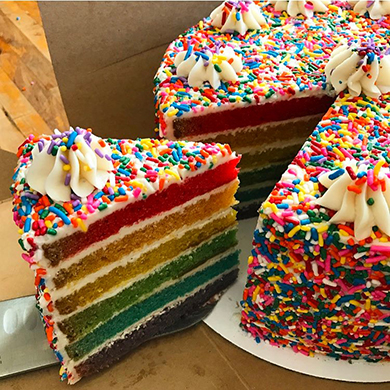 2. Rainbow Cake from Pie, Pie My Darling
These layers of moist vegan rainbow cake from Pie, Pie My Darling are even more delicious when they're celebrating LGBTQ pride. Six tiers of heavenly vanilla cake and vegan buttercream funfetti frosting will make you feel like you've already leaped across the rainbow and found your pot of gold.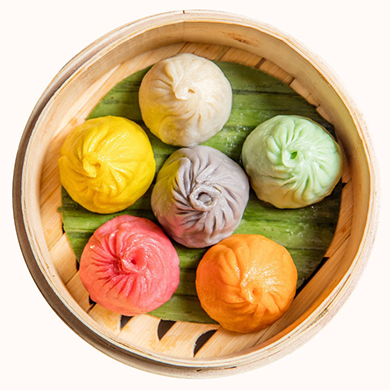 3. Vegan Hargow Dumplings
MEGU New York is offering their unique rainbow dumplings during the month of June to honor the LGBTQ community. The brightly colored dough is produced using fresh-pressed, housemade vegetable juices and is filled with a blend of roasted cauliflower, sweet corn, shiitake, and fresh ginger.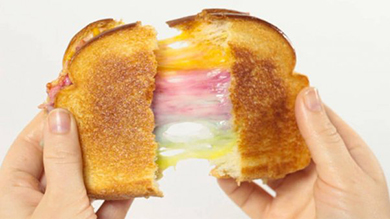 4. Vegan Rainbow Grilled Cheese DIY
PETA (People for the Ethical Treatment of Animals) brings us a simple recipe for magical melty vegan grilled cheese that lets you taste the rainbow. This DIY sammie is perfect to pack in your on-the-go bag and munch on while you're marching in your local Pride parade.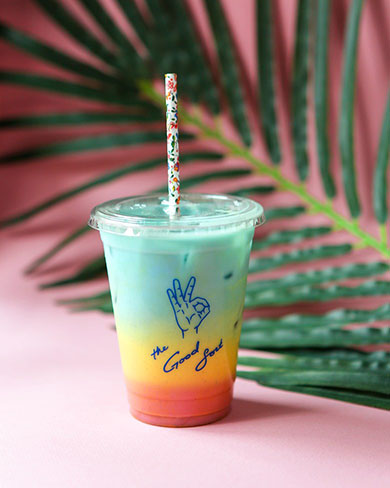 5. Iced Rainbow Latte
This rainbow latte from The Good Sort may look sugar-loaded, but it is actually made up of healthful ingredients like blue algae, turmeric, beetroot, and oat milk—producing a bright and colorful cool summer drink that is pretty much gay-tastic.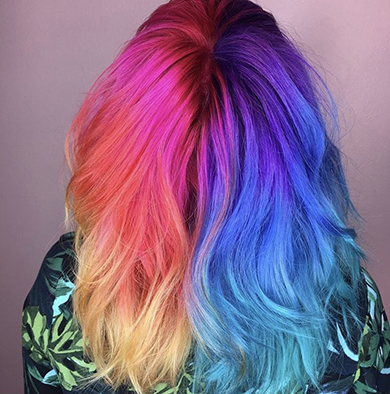 6. Rainbow Hair using Good Dye Young's Vegan Dye
Fearlessly embrace the rainbow using this vegan hair dye line founded and created by Hayley Williams of pop punk band Paramore. They offer wild colors like Steal My Sunshine bright yellow and Ex-girl hot pink to produce truly magical hair looks.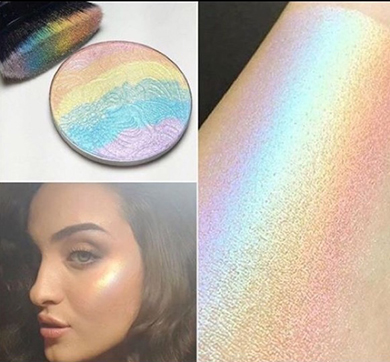 7. Kaleidoscope Rainbow Highlighter
Wear your pride on your cheeks this month with Chaos Makeup's rainbow highlighter, and you'll be sporting a magical, dewy, iridescent glow faster than you can say "equality." This product contains a mix of violet, orange, gold, green, blue, and red highlighters and comes packaged in an adorable white seashell-shaped compact.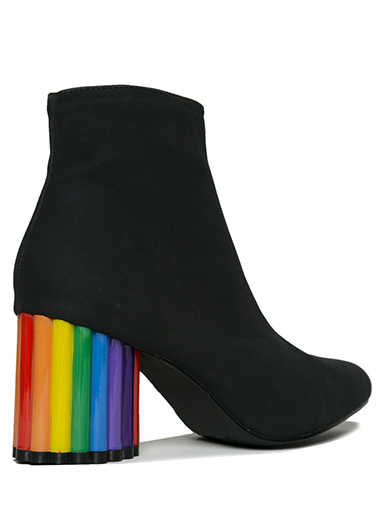 8. Vegan Rainbow Heeled Booties
If you're looking for the perfect colors to pop and show off your spirit this month, make sure to strap on these rainbow heeled shoes to complete the look. YRU's Rainbow Road booties are made from vegan black suede and complimented by this bold, technicolor three inch heel. These gorgeous boots are an ideal addition to your Pride after-party ensemble.
9. Vegan Rainbow Popsicles
Food blogger Love is in my Tummy is embracing Pride month with these luminous rainbow layer vegan popsicles. All you need to make your own celebratory, summery pops is an array of colorful fruit, a popsicle mold, and this simple recipe.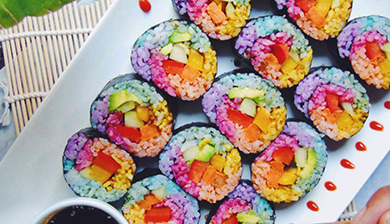 10. Vegan Rainbow Sushi
You can eat the rainbow, thanks to The Indigo Kitchen's simple recipe for creating this brightly colored sushi. They employ the use of spirulina, turmeric, beet powder, purple cabbage, and Gochujang to naturally dye their sushi rice and then fill the rolls with fresh veggies like bell peppers, avocado, cucumber.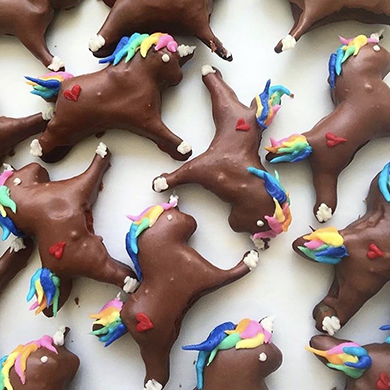 11. Rainbow Unicorn Doughnuts
Oakland, CA-based eatery, Hella Vegan Eats, co-founded and owned by queer people of color, consistently produces intensely decorated, brightly colored, over-the-top sweets for every occasion, and you can count on Pride month being one of them. Not only does this cafe offer delicious, cruelty-free treats for Pride month, but they aim to "work hard to advocate for trans/queer/POC's visibility in the food world."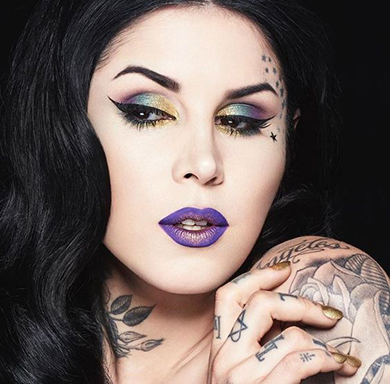 12. Kat Von D Serpentina Rainbow Eyeshadow Pallette
Kat Von D's Serpentina Pallette is complete with eight matte and metallic colorful shades of cruelty-free shadow that will let you create a dazzling rainbow look as you embrace LGBTQ activism. This 100% vegan palette will pair perfectly with a multi-hued outfit and a bold lip color to show off your enthusiasm for social justice.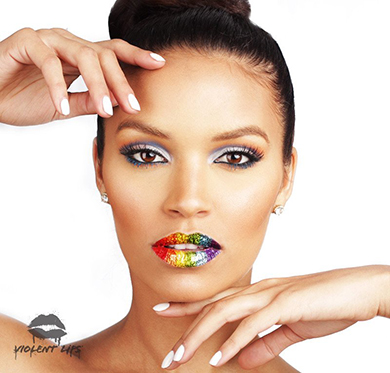 13. The Rainbow Glitteratti Temporary Lip Tattoos
Violent Lips' temporary lip-fitted tattoos let you rock intricate micro-designs on your mouth that last anywhere from 4 to 8 hours. Your mouth will be heralded as a work of art as you strut this vegan and cruelty-free Rainbow Glitteratti appliqué at your town's Pride celebrations.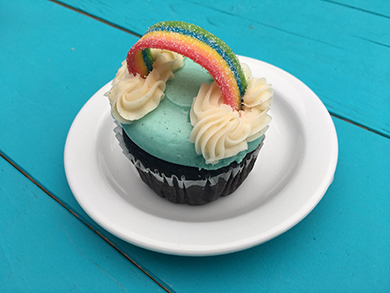 14. Rainbow Cupcakes at Fare Well
If you happen to be in the D.C. area, swing by Fare Well's eatery for a Pride month-inspired rainbow cupcake. This rich chocolate cupcake is topped with electric blue vegan buttercream and a sugary sweet rainbow candy strip to produce a truly festive sweet treat.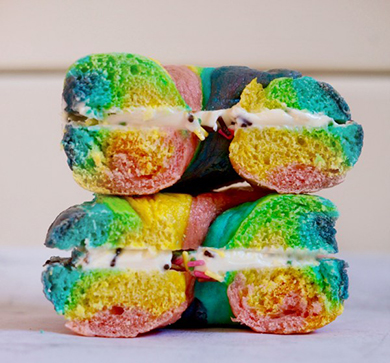 15. Rainbow Bagels with Vegan Funfetti Cream Cheese
Tiny Kitchen Chronicles, a blog that crafts "omnivore-approved vegan comfort food," have perfected the delectable Rainbow Bagel with Vegan Funfetti Creamcheese. This aesthetically enticing treat is easy to create yourself with swirls of breezy vegan food-colored dough. It's almost too pretty to eat.
Courtney Lodin and Sarah McLaughlin, VegNews' editorial assistants, will be celebrating Pride while decked out in all the colors of the rainbow and embracing the beauty of intersectional equality.