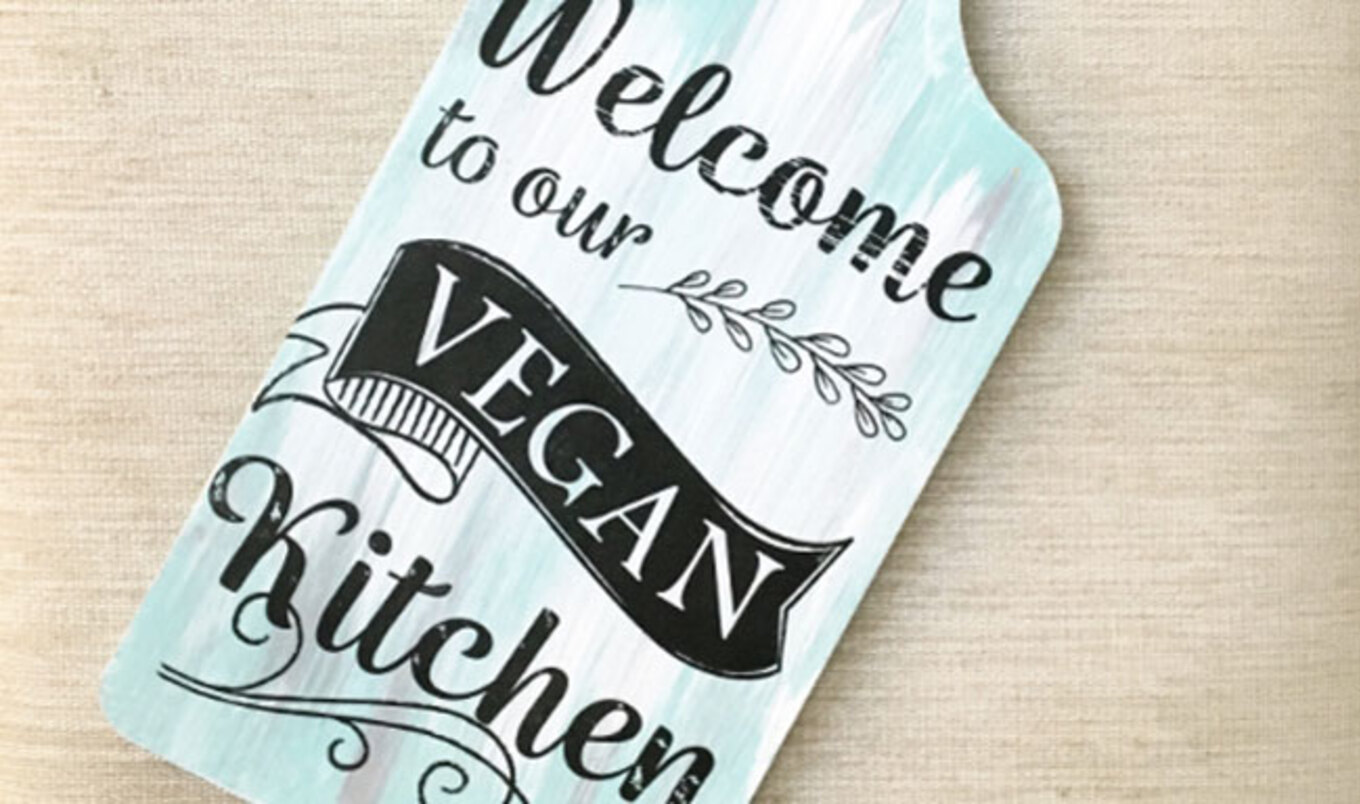 Find inspiration to cook at home with plant-based kitchen décor.
July 31, 2017
---
Need some motivation to cook more at home? Similar to buying a new workout outfit as an incentive to go to the gym, fun kitchen accessories can give you inspiration to dust off those plant-based cookbooks and dine (and dive) in. Whether you're catering to a crowd or a table for one, these five must-have vegan accessories will get you excited about your next meal at home.

1. Vegan utensils
You know the old trick of pretending a spoon is an airplane as a ploy to get children to eat? Guess what? The premise works for adults, too, as the power of positive association resonates with everyone, regardless of age. There are dozens of companies that now offer hand-stamped utensils with playful, plant-based messaging. To veganize your kitchen, check out Milk & Honey Luxuries on Etsy to purchase a simple "vegan" fork. Or, go all out and buy a spoon for all your favorite meals, including the "I heart peanut butter," "my oatmeal spoon," and a specialty spoon that says "nice cream."

2. Fun wall art
Turn your kitchen into a miniature art gallery with affordable aprints of your favorite farmed animals. Often, farmers' markets will include art vendors, and if you live near an area with a cluster of galleries, ask to see if they host regular art walks—you can meet the artists themselves and haggle for a better deal. Don't have an eye for art? No worries, as SignUpforLove produces tasteful signs that add a touch of compassion to any cooking space. Check out the "Welcome to our Vegan Kitchen" cutting board-shaped sign or any of their other designs. Bonus: each purchase will support the fundraising efforts to build a farmed-animal sanctuary.

3. Sassy aprons
Many animal-welfare non-profits sell plant-promoting aprons to make cooking look like a runway show. We love Mercy For Animals' "Give 'Em Lovin' Not the Oven" apron, but you can also find chic designs from your favorite clothing line, at local vegfests, or at Etsy. Whatever design you choose, you'll look like a vegan Julia Child in no time.

4. Mugs with a message
Forego your $5 almond-milk latte for some homemade brew in your new favorite coffee mug. Depending on your style, there are hundreds of items online from which to choose. Amazon and Etsy have almost every design imaginable, from simple white "vegan" mugs to more humorous messaging such as "Kale Yeah I'm Vegan!" Novelty stores and gift boutiques are also great places to find the perfect replacement to your daily disposable paper coffee cup, such as this "Catfinated" mug from Modcloth.

5. Eco-friendly bowls
Even if your favorite take-out offers compostable containers, that waste can still add up, so save some money and the environment by purchasing a set of coconut bowls. Coconut Bowls began when the founders realized that billions of coconut shells get discarded and burned as waste every year, resulting in carbon dioxide and methane emissions. The company repurposes these shells and turns them into beautiful, reusable bowls. These are the ideal vessels for your favorite home-cooked Buddha bowl, smoothie bowl, nice cream, or stir-fry. You can also purchase natural chopsticks, bamboo straws, and utensils to compliment your eco-friendly bowl. Don't know what to make? Browse through the company's recipes section for delicious, vegan meal ideas. With options such as Mung Bean Fettuccine and Spiralized Raw Zucchnini in a Raw Creamy Spinach Alfredo Sauce, Citrus Soba Summer Salad, and Carrot Cake Nice Cream, who needs take-out?

Tanya Flink is a Master Personal Trainer based in Orange County, CA, and host of The Vegan Potluck podcast.